Are you thinking of the perfect houseplant for your space? Satin Pothos (Scindapsus pictus) is the ideal one.
The Satin Pothos, native to southern Asia, are timeless tropical plants belonging to the Arum family tree.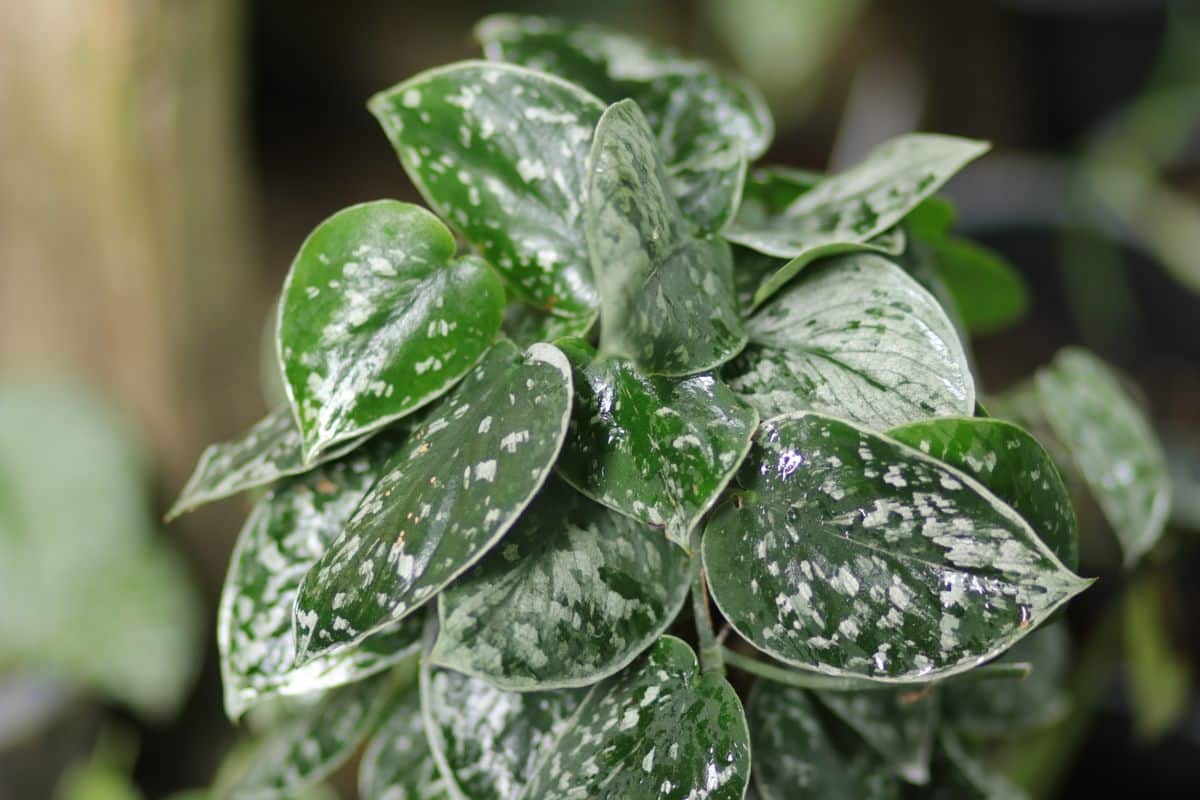 They are sturdy perennial vines that are hardy in USA zones 10 - 12. If grown under the right conditions, they can attain an overall maturity height of 5 - 10 feet in length.
This plant has beautiful dark green foliage with silvery dots and streaks splattered all over it. Their bloom period is mostly during Summer.
The Satin Pothos are pretty different from Pothos. The difference between both vines can be seen in the variegation of their foliages.
Below is a detailed satin pothos growing guide that will teach you how to grow and care for the plant.
Jump to:
Satin Pothos Growing Guide
| | |
| --- | --- |
| Common Names | Satin pothos, silk pothos, silver pothos, silver philodendron |
| Scientific Name | Scindapsus pictus |
| Family | Arum |
| Plant Type | Vine |
| Mature Size | Four to ten feet length |
| Sun Exposure | Bright indirect light indoors |
| Soil Type | Potting soil mix |
| Soil pH | 6.1 to 6.5 |
| Bloom Time | Summer |
| Flower Color | Inconspicuous |
| Hardiness Zones | 10-12, USA |
| Native Area | Southeast Asia |
| Toxicity | Toxic to pets |
The Satin Pothos can very well pass for a low-maintenance plant. However, the right conditions must be established to get the plant appropriately based enough to survive without regular care and maintenance.
Below is an outline of the essential requirements of the plant.
Soil Requirement
A nutrient-dense potty mix comprising pine bark, peat moss, vermiculite, or perlite with adequate drainage is perfect for growing this plant. If you are making your potting mix yourself and notice it draining slowly, the best option would be to aerate the soil.
More perlite and peat moss can be added to the soil to improve aeration and more effective drainage.
You set the plant up for a life of struggle when you plant in wet and soggy soil.
In addition, keep soil pH between the range of 6.1 to 6.5.
Watering Requirement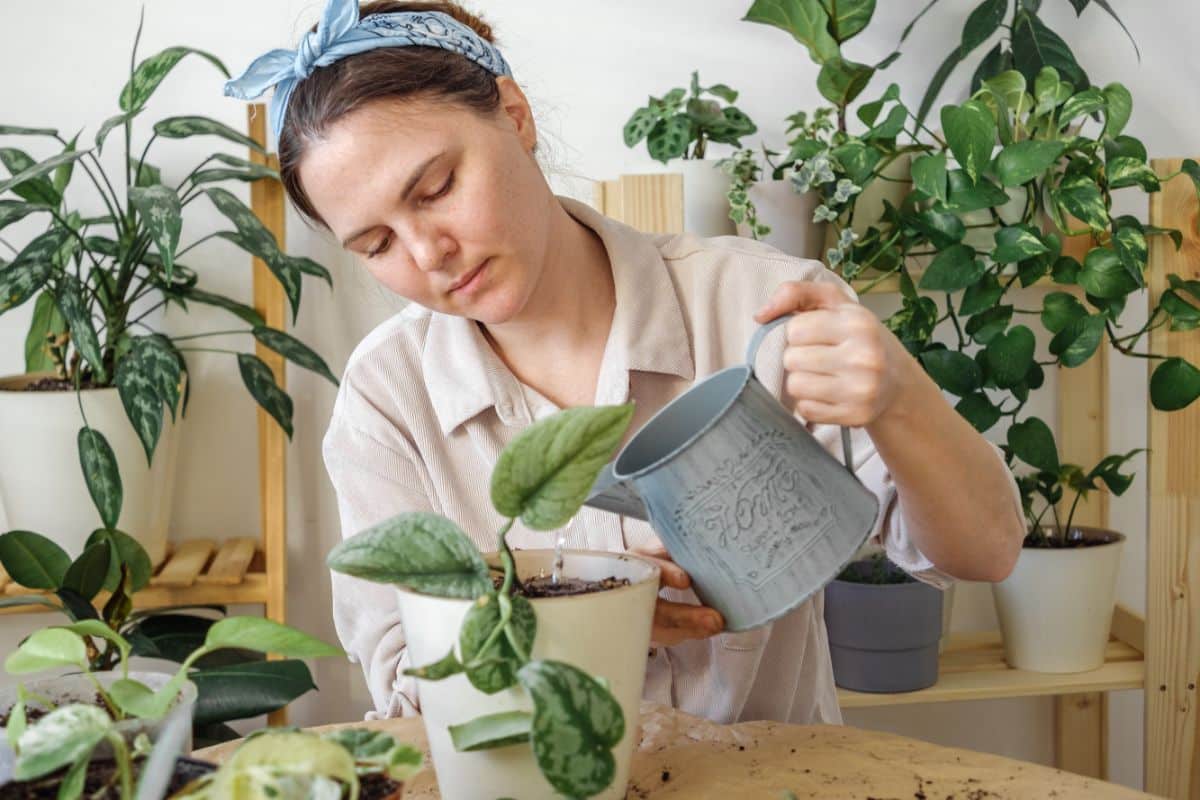 By all means, avoid overwatering the Satin Pothos plant. Watering should be done only when it is essential.
You know the plant needs to be watered when two inches of the topsoil feel dry when you touch it. You only need to dip a finger into the ground to ascertain if it needs a drink or not.
Foliage curling is another sign that your plant needs a drink.
Make sure you give the plant sufficient water whenever it needs it. You know it has had its fill of water when you notice it seeping out of the drain holes.
Watering should best be done with room temperature water. However, rainwater can be used to irrigate the plant.
Temperature And Humidity
Satin Pothos are not cold tolerant at all. This forms the primary reason why they are mostly grown indoors. If exposed to cold, they get adversely affected, become damaged, and might die.
They prefer sufficient warmth and need humidity as well. When it gets too much dry air, the leaf tips might turn a brown color.
The best range of growth temperature should be between 65 - 85°F. The combination of this and a 45% relative humidity around your plant make it thrive. Your plants will suffer damage when indoor temperatures drop to or below 60°F.
If there is a need to increase humidity, it can be done by placing the container on a tray with pebbles and water. However, you must ensure that the roots are not in any way in contact with the water to avoid rotting.
Humidity can also be boosted with humidifiers, or better still, if your bathroom has adequate lighting, your plants can be kept there to grow as bathrooms are naturally humid environments.
Do not attempt to mist because if you do, you cannot prevent the aerial roots from absorbing moisture. This would, in the long run, lead to overwatering.
Quick Tip: If you have issues with humidity levels and your plant keeps getting brown tips, consider investing in a digital hygrometer to help monitor humidity.
Light Requirement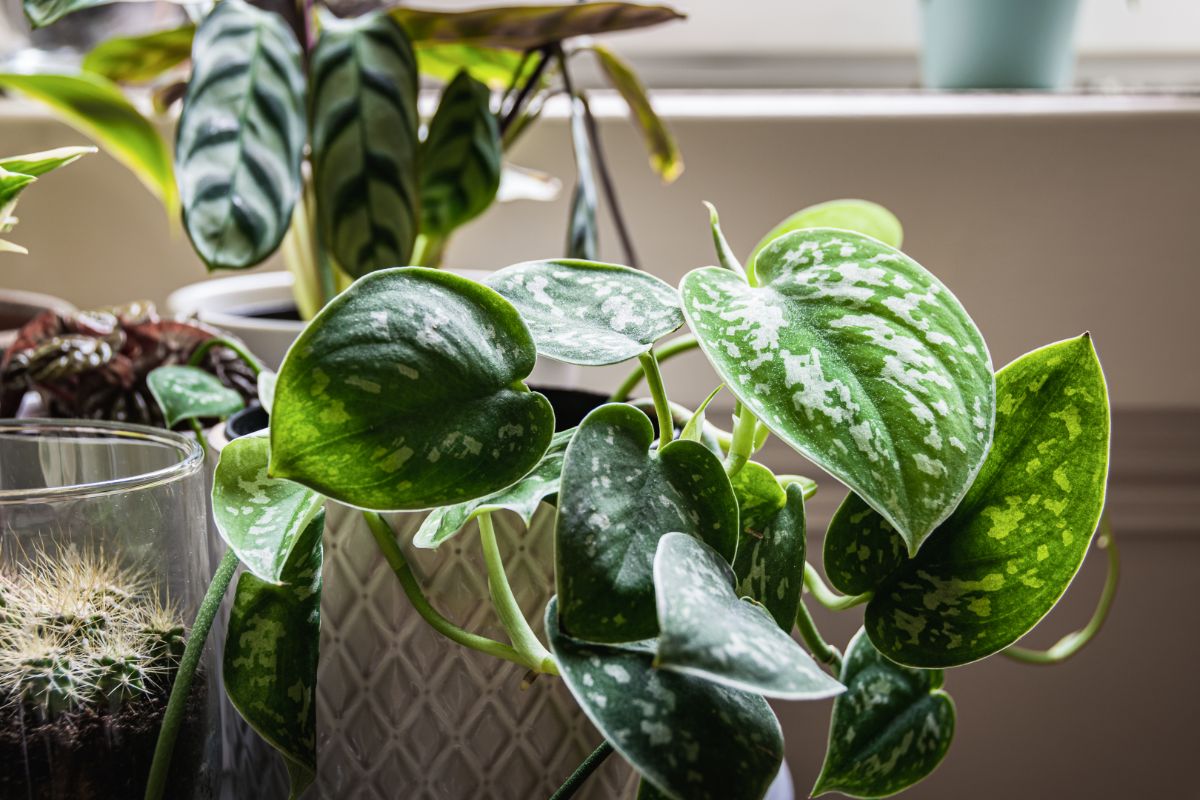 For this plant, bright but indirect light is needed. Pay attention to the twist here; the light should be bright but not focused on the plant directly.
Do you wonder what happens when direct sunlight is used? They would get scorched by it, wither, and their variegation would be lost.
On the other hand, if it is made to grow without sufficient light, its growth would not be a healthy one. The Satin Pothos will to an extent, tolerate low light conditions but usually at the expense of its signature silvery markings, which may diminish in the long run.
If the plant is placed by a window where direct light comes through, it is best to have a curtain fixed to protect it.
In periods like spring or summer, when the outdoor temperature warms up, plants can be brought outside temporarily. However, it would help if you were sure to place it in a partially shady spot and return it indoors when cooler temperatures come.
Fertilizer Application
An ideal fertilizer would be a slow-release fertilizer or, more preferably, an utterly water-soluble one specifically made for houseplants. Most seasoned farmers would have it further diluted to half its strength before use. The ideal time to apply fertilizer would be throughout its active growth season, from spring to fall.
Fertilizer should be applied to the plant religiously, once a month. However, it should be stopped once it's winter until it is spring again.
Pruning Requirement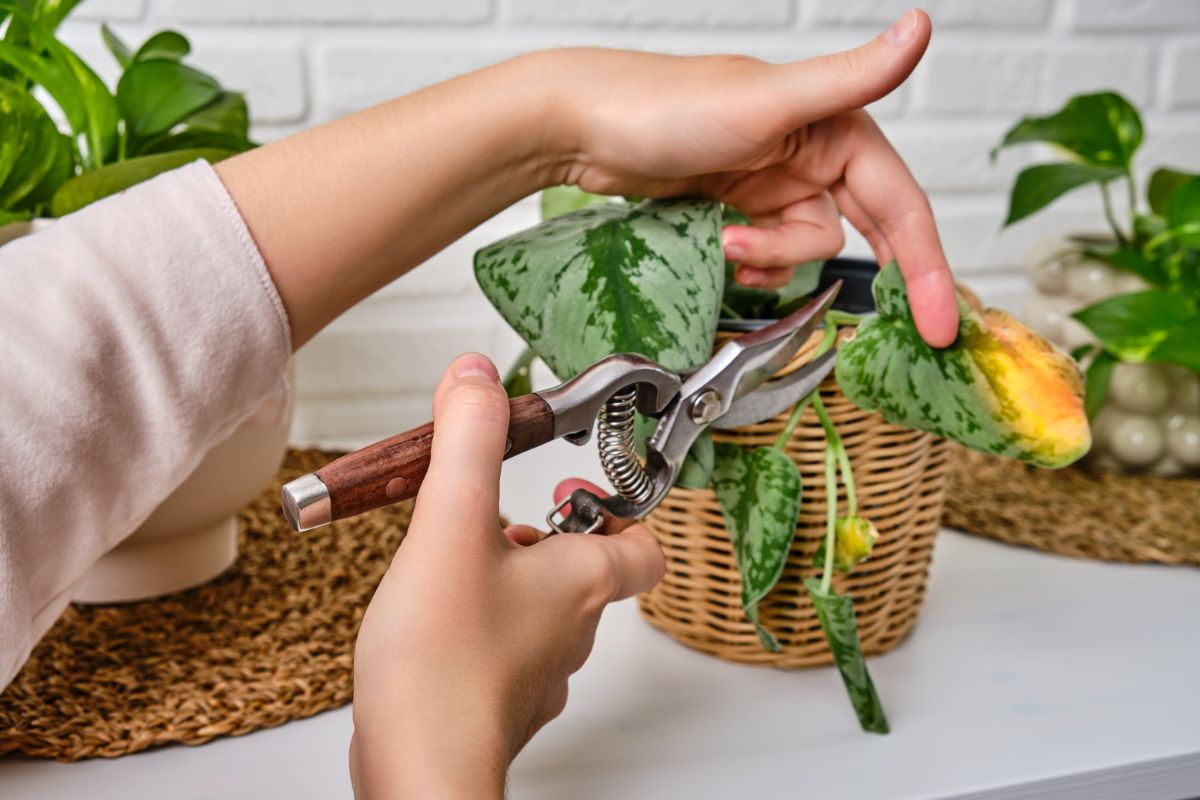 For the Satin Pothos, pruning needs are meager but become very important when the plants grow too long. Pruning, in this instance, would help to enhance the plant's outlook, making it look neat.
Another reason why cutting the plant back is advised because it promotes new leaf growth that will, in the long run, make your plants grow fuller and look more robust.
You know the plant is due for pruning when the vines are becoming long and looking sparse. Dead or damaged-looking leaves should also be snipped out.
Pruning is best carried out in spring, preferably when the active growing season begins.
Quick Tip: To avoid transferring any unforeseen pest or disease to your plants through your pruning tools, have them sterilized with alcohol before use.
Potting & Repotting Process
You know there is an urgent need to have your plant re-potted when they go out of dormancy during spring, all through to summer, or outgrow their present container.
This should occur every two years max, depending on the growth pace of your plant. When this happens, the roots stick out from the drainage holes.
It is important to note that plant transfer should be done at the start of the growing season and the next size of the container is to be used, not one that is many sizes bigger.
This would reduce the risk of the plant getting overwatered or the soil retaining water and staying soggy.
How to Repot Satin Pothos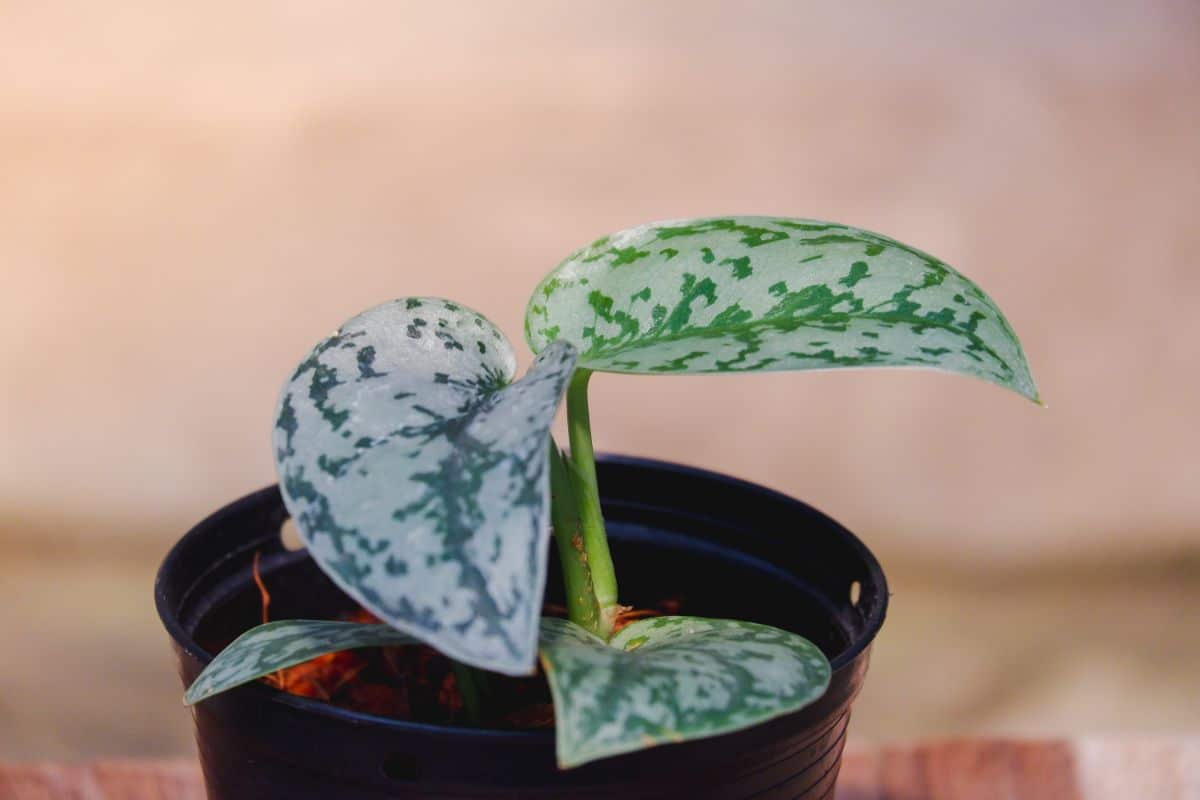 Add a quarter full of rich, well-drained, and nutrient-dense soil to the new container, then water sparingly to settle the soil.
Carefully eject your plant from its container and as you do so, check for bunching at the roots. If noticed, have them separated.
Put the Satin Pothos plant in its new container. Any container can be used as long as it has adequate drainage.
Please fill the container with potting mix, pressing it to stay firmly around the plant's base.
Has the soil been watered once before you see it seep out from the bottom drainage holes?
You can now have your plant fixed in a spot where they can be further nourished with bright, indirect sunlight.
Satin Pothos Propagation Methods
Propagation is necessary for continuity. When it's spring or summer, get about 4 inches of the tip of your healthy plant trimmed out.
Once done, have it put into a 4 inches deep pot with some potting soil mix and functional drainage holes.
Remember also to follow the right growth conditions for this newly transferred plant. The ideal soil requirement is evenly moist soil, bright but indirect light, and the same humidity levels.
Progress should be visible after about 30 days or so. By this time, new growth would have been noticed, indicating that the plant had been successfully established.
Propagation of stem cuttings should be done in a water or moist potting mix.
Common Satin Pothos Pests and Disease Problems
Pests likely to disrupt the excellent growth of the Satin Pothos plant are usually spider mites or scales. Otherwise, we can say that the plants are, to a large extent, free from pests and diseases.
To get rid of the spider mites and scales, wash them off the leaves thoroughly, especially the leaf undersides.
You should also note that on no account should oil be used to make the leaves shine. You will only end up with clogged plant cells, creating breathing issues for the plant.
If there's pest infestation on the plants, you can get rid of them with horticultural oil, or insecticidal soap specifically meant for houseplants.
Avoid diseases like root rot by using soil with excellent draining capacity and watering correctly. Overwatering has been proven to be the primary cause of root rot in plants.
A significant sign of root rot is black, looking at foliage and stems.
What Are The Different Types Of Satin Pothos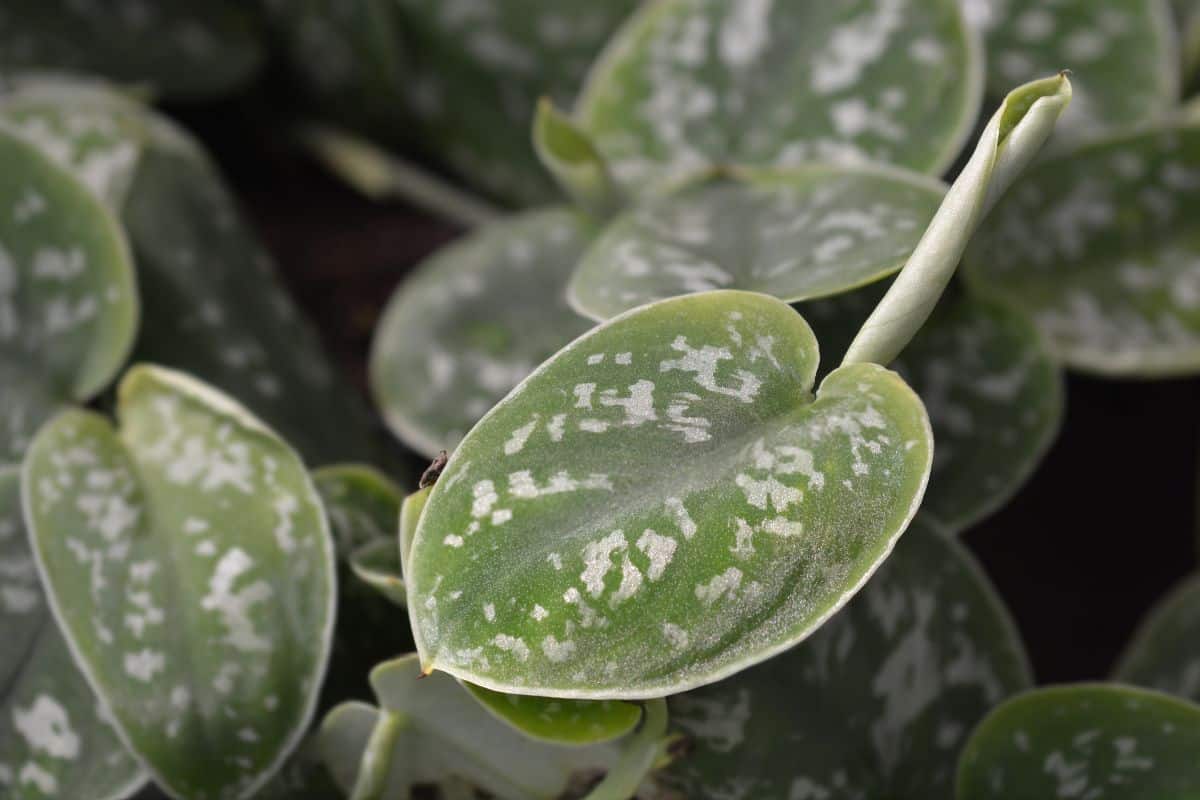 There are three main cultivars of the Satin Pothos; as expected, the difference lies in their variegation. They are:
· Scindapsus pictus 'Exotica': This cultivar has the most significant and darkest green leaves of all three cultivars with increased variegation.
· Scindapsus pictus 'Silvery Anne': The Silvery Anne has more increased variegation. Some of its leaves look white-silver colored with tiny hints of green.
· Scindapsus pictus 'Argyraeu': Argyraeu means 'silver,' which explains the silvery lines on its foliage. A beautiful plant with silvery spots and lines taking over the dark green leaves.
The Argyraeu is an RHS Garden Merit award-winning plant.
Conclusion
The Satin Pothos, also known as the Silver Pothos, Silver Philodendron, or Silk Pothos, is your go-to low-maintenance houseplants.
The key points to note when growing this perennial vine is to do so in rich, well-drained soil, water it only when needed, and apply fertilizer religiously every month.
The plant would indeed thrive in temperatures between 60 - 80°F. They should also be kept where they can get a good supply of bright but indirect light and humidity levels slightly above average.
With all these essential aspects duly obeyed, your plant will be established well enough to continue its growing process problem free.