If you want to add a high-producing fruit tree to your garden, especially for someone living in hardiness zones 5 to 8, you should consider growing Rainier cherries. It displays excellent versatility, which means it can survive several growing areas. It can produce lots of cherries early in the year.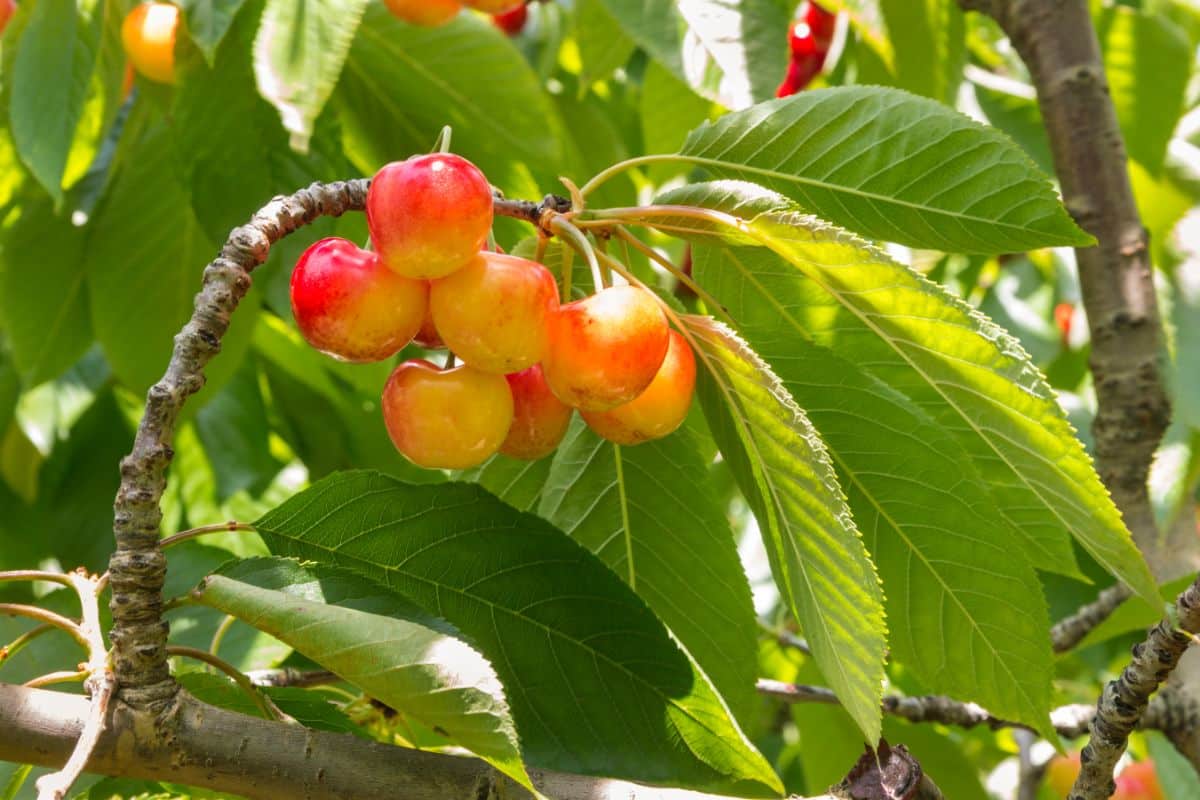 Cherries are delicious fruits, and the Rainier cherry plant produces some of the sweetest you'll ever find, and you can enjoy their different species by adding them to desserts, jams, etc.
However, rather than buy them at the shop, you can grow them using the following rainier cherries growing guide and expect the optimal production of fruits.
Jump to:
Essential Facts About Rainier Cherries
| | |
| --- | --- |
| Common Names | Rainier Cherries |
| Scientific Name | Prunus avium 'Rainier' |
| Family | Prunus – Fruit Trees, Cherries |
| Plant Type | Fruit, Trees |
| Mature Size | 10 to 15 feet in height, 10 to 15 feet in spread |
| Sun Exposure | Full Sun |
| Soil Type | Moist but Well-drained Chalk, Clay, Loam, Sand soil |
| Soil pH | Acid, Alkaline, Neutral (7 to 8.5) |
| Bloom Time | Mid Spring to Early Summer |
| Flower Color | Nil |
| Hardiness Zones | 5 to 8 |
| Native Area | America |
| Toxicity | Non-Toxic to both Humans and Pets, Consumptible. |
Rainier Cherries are considered the most famous type of cherry in America and the favorite for every gardener and plant enthusiast. You most likely see a rainier cherry whenever you see yellow and red cherries in any local grocery store. Most people often mistake Royal Ann Cherry for Rainier Cherries since they have unique coloring.
In other words, both varieties produce an incredible blend of red and yellow that are stunningly sweet to savor. However, the latter is the most popular for some reasons, mainly because it offers the sweetest flavor and unbeatable taste and will have people return for it all the time.
Last update on 2023-09-24 / Affiliate links / Images from Amazon Product Advertising API
Besides being the sweetest, rainier cherries are also very expensive than other varieties. They are a lovely blend of Van and Bing cherry varieties that create the famous Rainier Cherry that we presently know and cherish.
This plant is also notable for its yellow interior flesh, unlike the red of the typical cherry you see. But how do you grow and care for them?
Rainier Cherries Growing Guide
The best growing guide for rainier cherries requires you to dig a hole with the same depth as the plant's root ball and at least twice as wide. Insert your plant into the hole and observe to ensure the root flare stays at or just on top of the soil's surface.
Then, backfill the hole and cover the area using mulch to retain soil moisture and suppress weeds. Most importantly, ensure the growing spot you choose always gets full sunlight and provides good well-draining soils that suit your cherry trees.
Then, ensure you give them the proper care possible. Read down to find out the essential care guide for rainier cherries.
Light Needs
Rainier cherry is a sun-loving plant that requires full sun to produce the sweetest cherries. So, you must grow them in spots where they can receive at least eight hours of sunlight daily.
However, you must protect them from the afternoon sun if you live on the southern edges of the USDA hardiness growing zones.
Soil Needs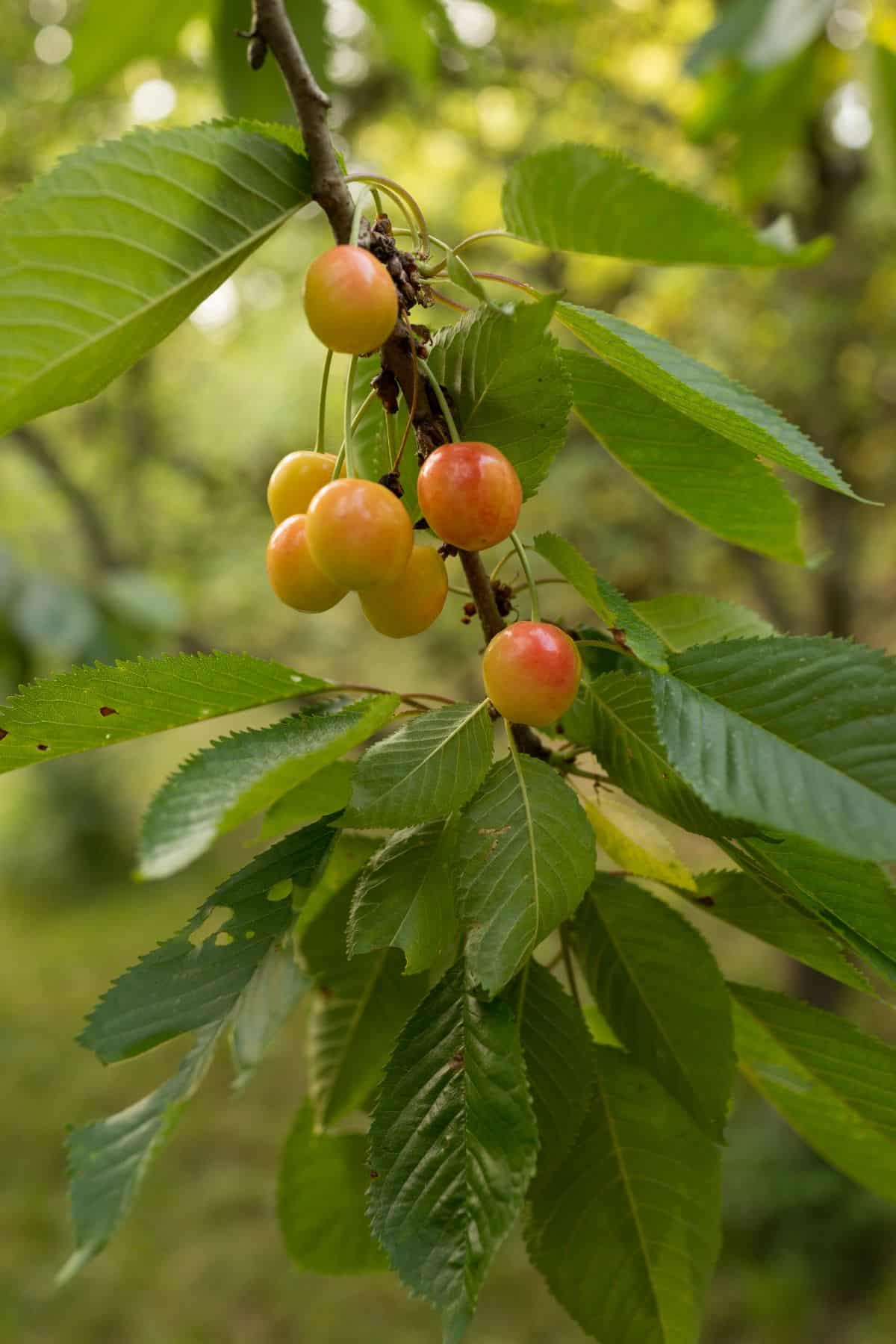 Before growing rainier cherries, their soil requirement is another factor you must consider if they produce tasty fruits. The best soil for this plant is sandy loam soil or thick loam rich in organic matter. Ensure the soil contain a little to medium alkaline pH of 7 to 8.5.
Again, ensure you don't grow the rainier specie in a spot with a high salt concentration and alkaline. Another essential factor to consider is that the soil is moist but well-drained. Try not to grow your delicious cherry in clay soil, as it is not ideal.
Watering Conditions
Rainier cherries do not require overwatering; underwatering will not make them fare better. Water them less once the weather starts cooling off. During the fall and winter, water this plant once every two to three weeks for about ten minutes per watering.
In other words, watering should be done about once every 10 to 14 days in the growing season. You can increase the rate in drought season, during the heat wave, or any other conditions in which the soil looks to dry out faster than it should.
On the other hand, if your cherry plant gets at least one inch of natural rainfall, stop watering for another 10 to 14 days.
Temperature/Humidity Needs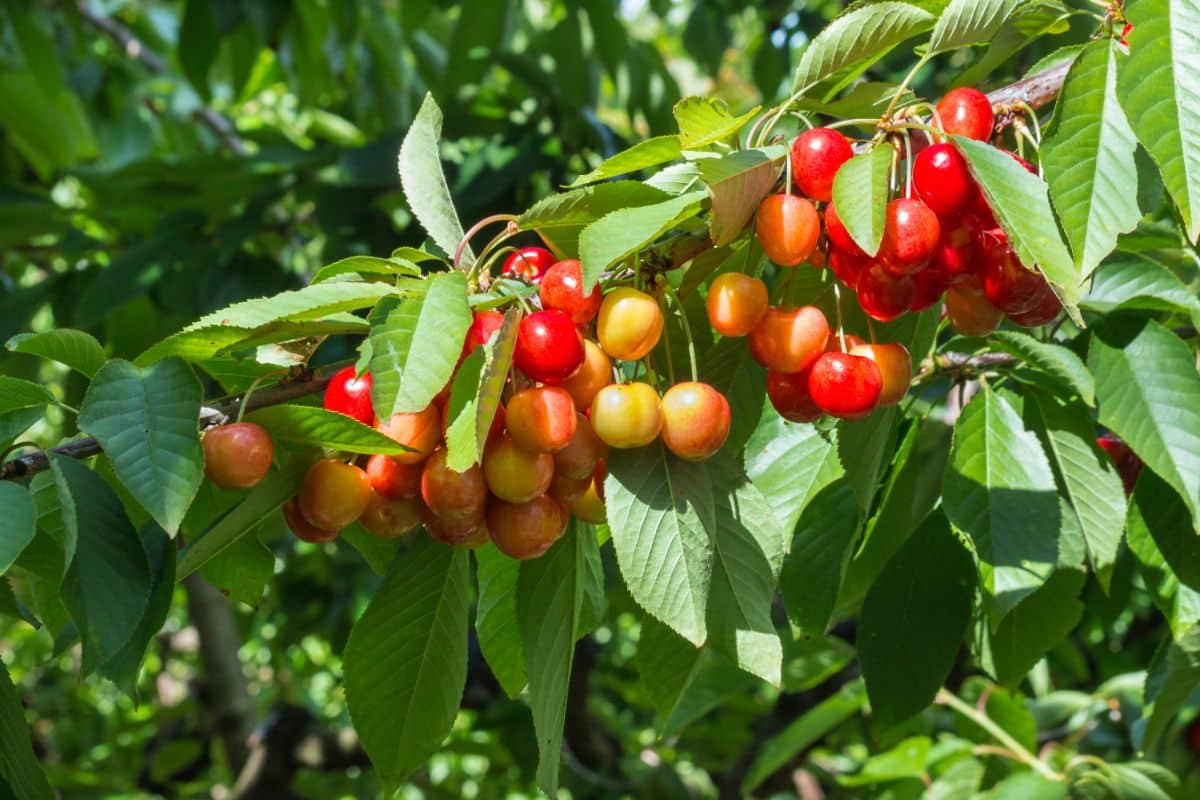 Rainier cherries love a drier and cooler environment; hence, as part of their growing cycle, they tend to encounter dormancy during winter. Younger cherry species can tolerate frost a little yet are prone to late frost.
They leave dormancy once the weather starts to warm up and cannot tolerate the low temperatures. When the tree buds during the arrival of late frost, it doesn't bud fast.
So, you can secure your young cherries using a burlap tree. However, you can do the same with your indoor plants' setup since the trees are protected from external cold.
Fertilizing Needs
Rainier Cherries love to be fertilized. So, feed them enough nutrients to ensure they stay healthy and produce fruits. When fertilizing, dig a hole around the external circumference of the tree crown, about 38cm deep and 28cm wide. If you are fertilizing at the base, you can use organic nutrients.
Sprinkle the fertilizer evenly all over the trench before backfilling the soil. Fertilize twice a year, the first time before blooming to offer nutrients for the blooms, and the second time when the fruit becomes more extensive, supply nutrients for fruit growth and maximize the yield.
Pruning Needs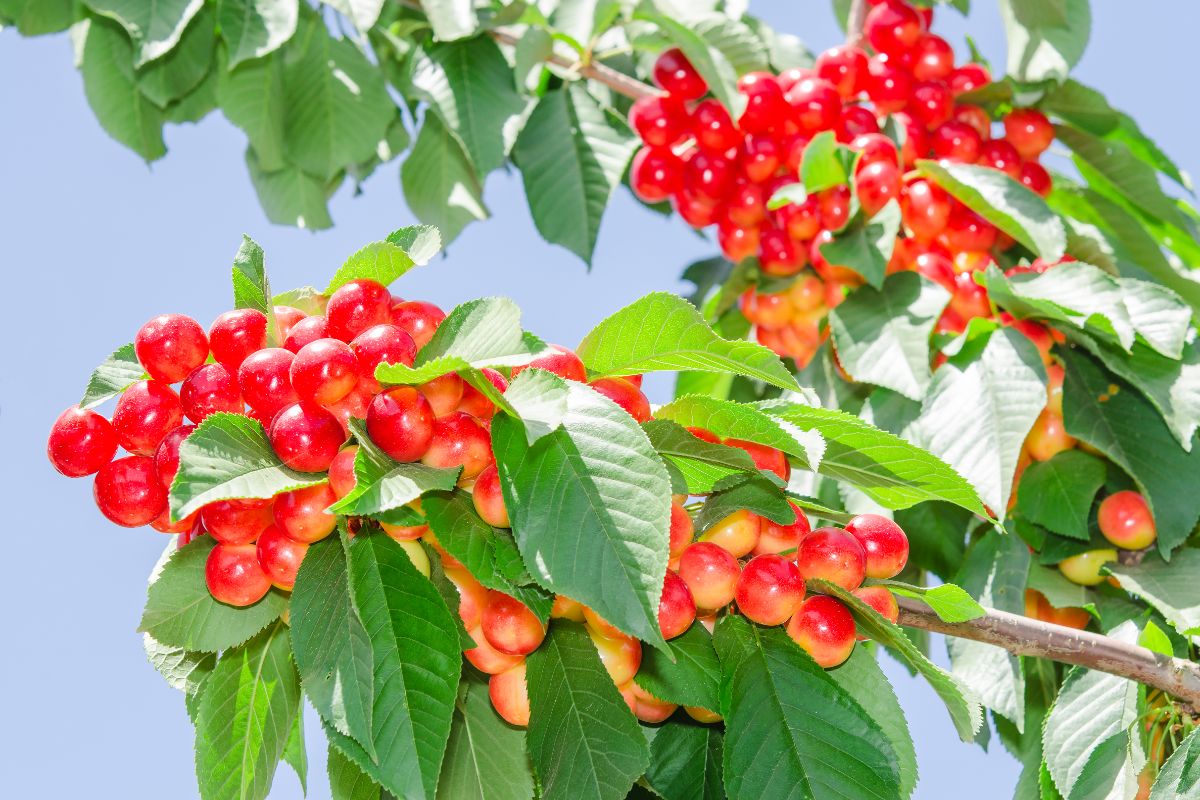 Rainier Cherries germinate on branches with solid budding abilities. However, the branches quickly get overcrowded and require continuous pruning to keep a great shape, air circulation, and light exposure in the tree.
Pruning also helps to scare pests, prevent any potential disease, and allow the leaves to get sufficient sunlight.
Cherry trees can produce a lot of fruit without any artificial pollination. Since they can yield good fruits and maintain their growth and quality, it would be best to prune some flowers and fruits.
It will enable them to save the nutrients for the remaining fruits, thus, reducing the large number of fruits and improving the quality and flavor of the remaining ones.
Winterizing
Rainier cherries offer excellent treats every year. They provide great blooms during spring or fall and sweet or tart cherries during the summer for gardeners with fruit-bearing cherry trees.
While cherry plants possess distinct USDA zones, generally, tart cherries do well in zones 4 to 9, while rainier cherries thrive in zones 5 to 8.
Even though they sometimes require the cold climate to become dormant, giving them some adequate winter care is also a good idea. Winterizing cherry trees will ensure their survival in the colder periods of the year.
Pollination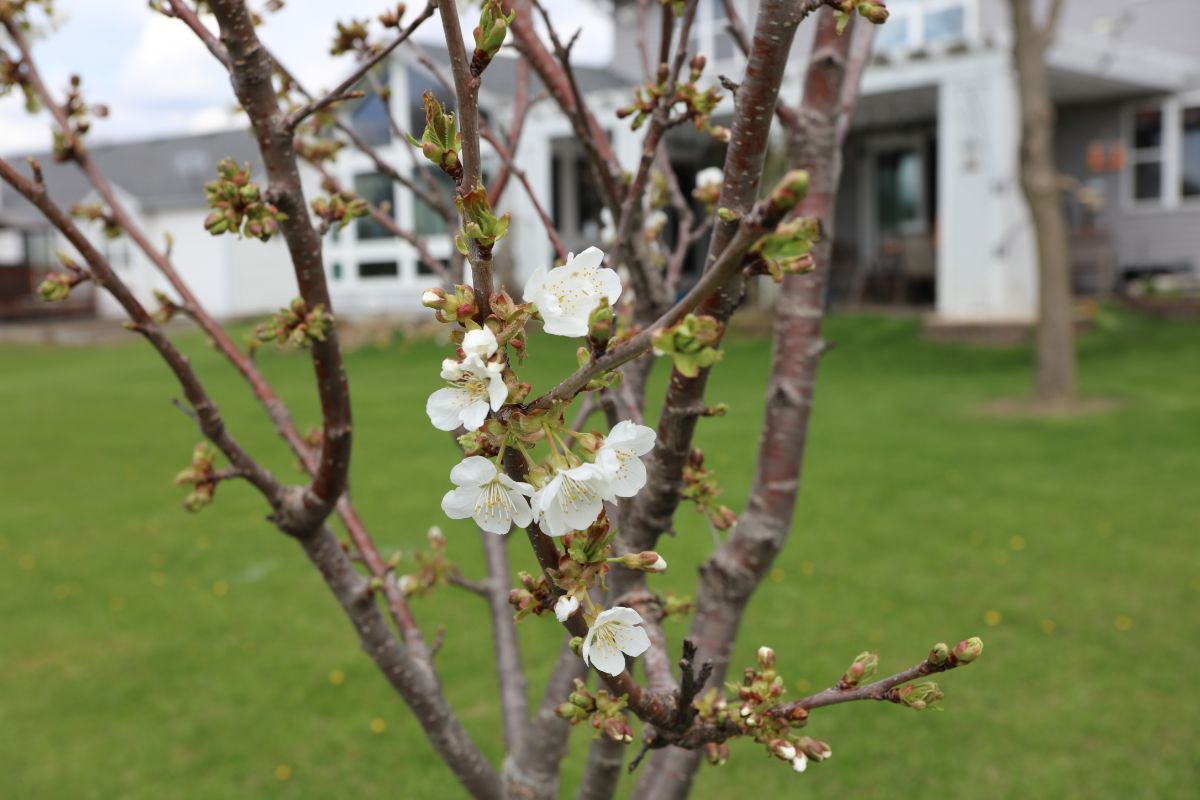 Like other cherry plant varieties, the Rainier cherry plant is valuable for its fruits and for growing stunning blooms during spring. However, although it produces many flowers, it is not a self-fertile specie.
In other words, it will require a companion plant that can enhance cross-pollination and necessitate the development of fruits. Luckily, several trees can carry out this function, such as the Montmorency cherry tree, the Bing cherry tree, and the Stella cherry tree.
Harvesting
One of the main reasons why Rainier cherries are highly recommended and favored above others is that they don't take too long before some of their fruits can be harvested. Often, the best time to harvest their fruits is between May and June.
At this time, few other cherries will even hardly produce fruits. Once it ripens, the cherries on a rainier tree tend to come in yellow with shades of light red. You can also pluck the fruits easily, thus leading to an early and easy harvest.
Rainier Cherry Tree Varieties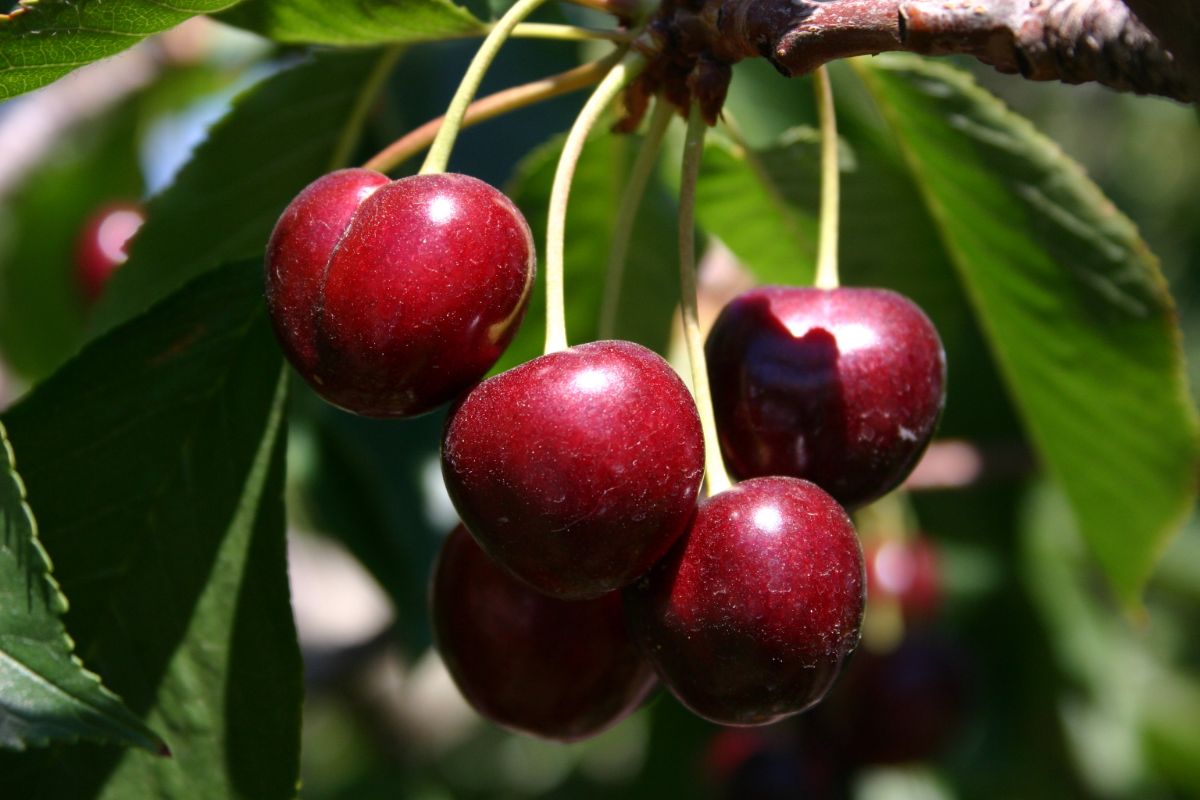 Rainier cherry has different varieties with almost identical features. Below is a brief highlight of some of the most common among them.
White-gold Cherry: Like the rainier cherries, the white-gold variety is self-pollinating and doesn't require another tree to produce fruit. Its fruits come with a golden blush color and are sweet.
Bing Cherries: Most commonly found in Washington, the Bing cherry variety is on top in terms of commercial sweet cherry and is heart-shaped. It produces firm, large, juicy fruits, rich mahogany, or deep red.
Lambert Cherries: Lambert cherry produces bright red fruits and is tasty, especially when you eat them straight from the tree. The fruits can also be used for baking since the texture will remain when cooked, and you can commonly find them during the summer.
Propagation of Rainier Cherries
Even though Rainier cherries can be propagated through seed, you can multiply them using semi-hardwood or hardwood cuttings, otherwise known as grafting.
Here, it can be done by picking healthy and robust 3 to 4 buds that have completely developed for grafting in mid-spring or directly using buds for grafting during the summer. Read on for the steps of propagation.
Propagation by Cutting/Grafting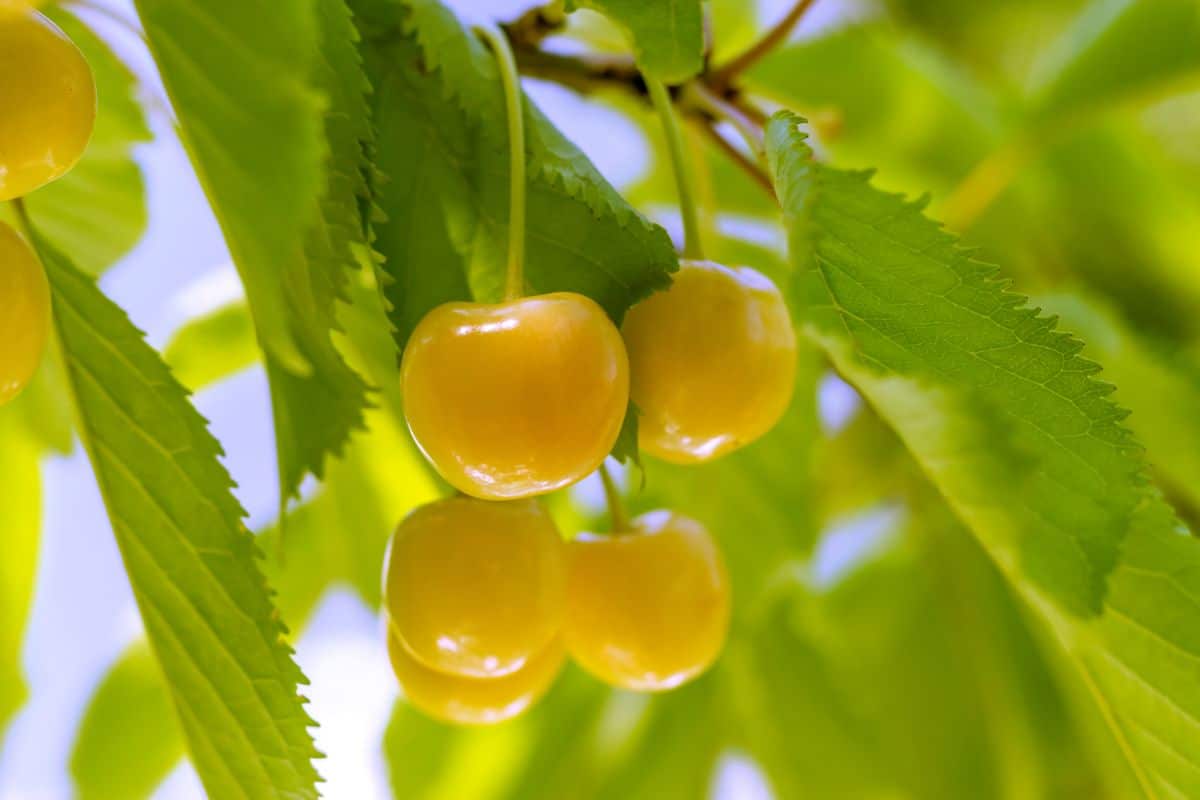 1. Here, the first thing to do is to fill a pot with potting mix, half perlite, and half sphagnum peat.
2. Water efficiently and allow it to drain off.
3. Pick your branch with leaves and three to four nodes of a tree less than five years old.
4. You can pick cuttings from more tender branches with sharp, sterile shears for older trees.
5. Prune around an eight-inch section using a horizontal angle and strip away the leaves underneath.
6. Insert the cut end into several rooting hormones and dip the cutting inside the soil. Place a plastic bag or the bottom of a milk jug on the pot if you like.
7. Ensure it is moist in a sunny spot by misting it twice daily.
8. Continue to remove the bag or jug to enhance airflow more every day. However, after about three months, when you have discovered new growth, remove the plastic bag or milk jug.
9. Depending on the container size you used, transplant the sapling to a larger pot to care for as an indoor plant until it is required for planting outdoors.
Common Rainier Cherries Pests & Diseases
Despite the attractive features that made them famous, the Rainier cherries can be susceptible to cracking after heavy rains while ripening.
The plant can be affected by canker, powdery mildew, or blight. Other common diseases you must beware of include knot disease, spot, and rot. Again, watch out for crown and root rot, a fungal infection in many soils.
Frequently Asked Questions
What is the best month to grow rainier cherries?
The best period to grow rainier cherries is early spring or late fall. This period is when the ground is soft and possesses a higher moisture content. Ensure you plant them in a sunny spot with proper air circulation and deep, well-drained soil.
What Is So Unique about Rainier Cherries?
Rainier cherries have many exciting features, but the most unique among them is their lower acidity levels, which cause them to possess higher Brix (sugar content). Therefore, rainier cherries are more delicious than Dark sweet cherries. Again, this specie has a much shorter growing season than other varieties.
How long does it take for rainier cherries to produce fruits?
Rainier Cherry is not a rapid-growing specie; hence, it can take the tree about five years to become established and produce fruits.
Do you require two Rainier Cherry trees to bear fruits?
Since rainier cherry is not self-fertile or self-pollinating, it will require another type to help it produce fruit.
Do rainier cherries possess invasive roots?
Yes, rainier cherries possess invasive roots, given that they can cause damage to structures. In other words, if you plant these trees close to homes or walkways, they can destroy these structures by falling on them in the wind or in contact with water if they get knocked down by the storm.
How many cherries will one tree produce?
There is no specific amount of fruit that the cherries can produce, but an approximation, you can find up to 7,000 cherries in a tart tree and 250 in cherry pie. It means a tree can bear up to 28 cherry pies. There are at least 100 whole cherries in an 8-ounce glass of cherry juice.
How long does a rainier cherry tree live?
Approximately, rainier cherries can live up to 16 to 20 years. It is a statistic calculated by the popular Tree Help.
Conclusion
Besides its sweet nature for consumption, rainier cherries can add color and beauty to your garden space thanks to their stunning bloom and fruit colors.
It is not difficult to grow and maintain; as through the guidelines above, you can expect this unique specie to produce lots of sweet cherry fruits that it is famous for.