Gum drops are seedless, juicy grapes that you have never seen before. This medium-sized sugary candy spots an oval shape that is green at first, then develops into a round-shaped, dark purple-red color.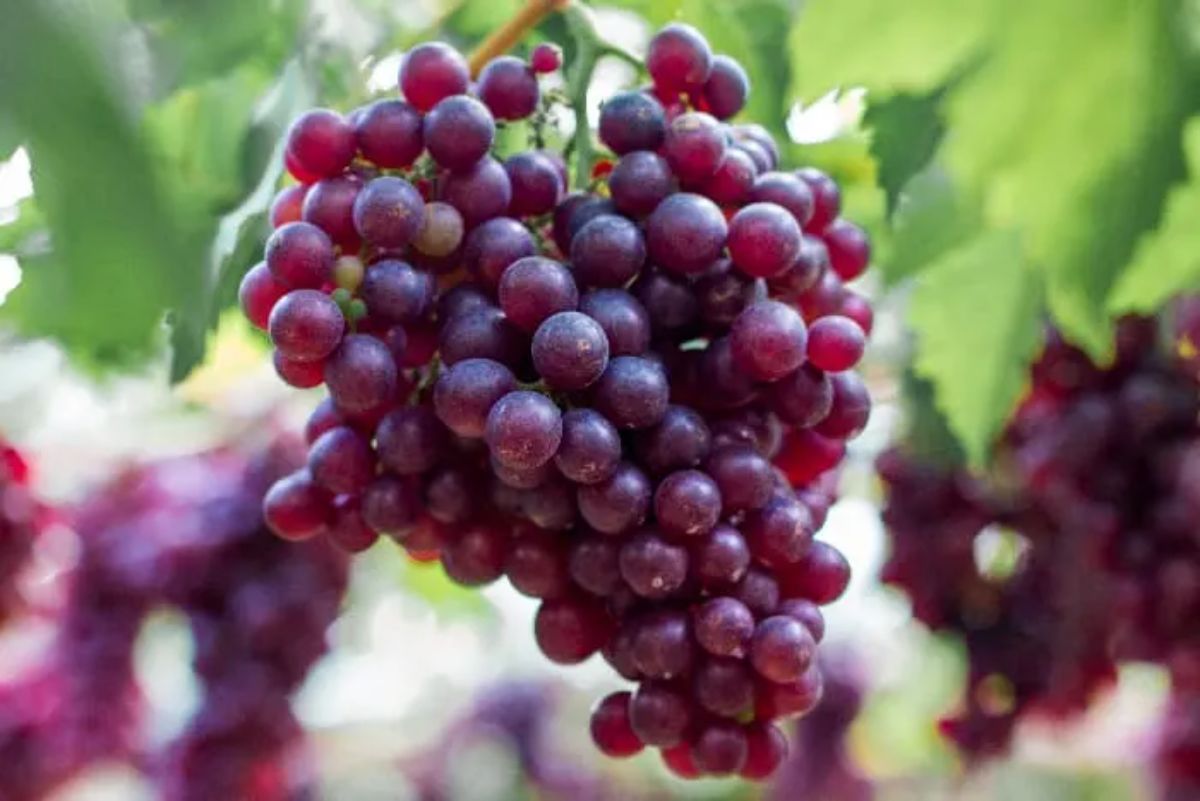 Do you wonder why these grapes are so unique? Well, Gum drop grapes came about after over 11 years of cross-breeding at the San Joaquin Valley Grapery, California.
It is a product of intense work and collaborations between the owners of the Grapery and their fruit geneticist in the person of David Cain, at the IFG (International Fruits Genetics)
A set of taste testers unanimously named gum drop grapes. They all agreed the taste was similar to gummy bears and called it so.
This article is a detailed gum drop grapes growing guide and variety information!
Jump to:
Where Can You Find Gum Drop Seeds/Cuttings?
The fact is, Gum Drop grapes are strictly licensed for the sole use of the San Joaquin Valley Grapery, owned by Jack Pandol and Jim Beagle. This makes finding the plants, cuttings, or seeds for sale extremely difficult, if not impossible.
Gum drop grapes can, however, be enjoyed in their in-season, which happens to be around late July - early August when they can be found in stores.
Gum drop grapes are in very high demand and, as a result, do not last on the shelves of grocery stores as lovers of the grapes do not waste a chance in clearing them off when it is seen.
Do you want to know what the craze for these grapes is all about? Get one and share your experience with us!
Growing Guide Of Gum Drop Grapes
Gum drop grapes are patented and specially licensed for use by the Grapery only; therefore, they cannot be found to purchase. However, growing the grapevines from the stems of grapes purchased at the supermarket is an excellent effort at growing these great grapes.
Although you are not promised to record success with this method, as seeds and cuttings remain the best way to grow them, it is very much possible, although not at all easy.
Below are some guidelines you can follow in your gum drops growth journey.
Planting Requirements
Spacing is one important factor to consider when growing the Gum drop grapes. To this end, you need to ensure that the intended planting site is very spacious.
This is because, in developing the Gum drop grapes, you are expected to give at least a 6 feet spacing between one vine and the next.
Grapes, in general, are known to have extensive root systems that need no restrictions to spread out.
When growing in a container, ensure that you use one that is large enough; else, you can get manage by placing one vine only per container.
They need to spread their roots without any hindrance, whether planted in the ground or in containers.
Soil Requirements
Gum Drop Grapes require well-drained soil, full of moisture but not soggy. Soggy soil would lead to a case of root rot which you do not want.
Watering Requirements
Gum drop grapes will need adequate watering during their active years of growth. Watering should be done weekly in the first two years
Light Requirements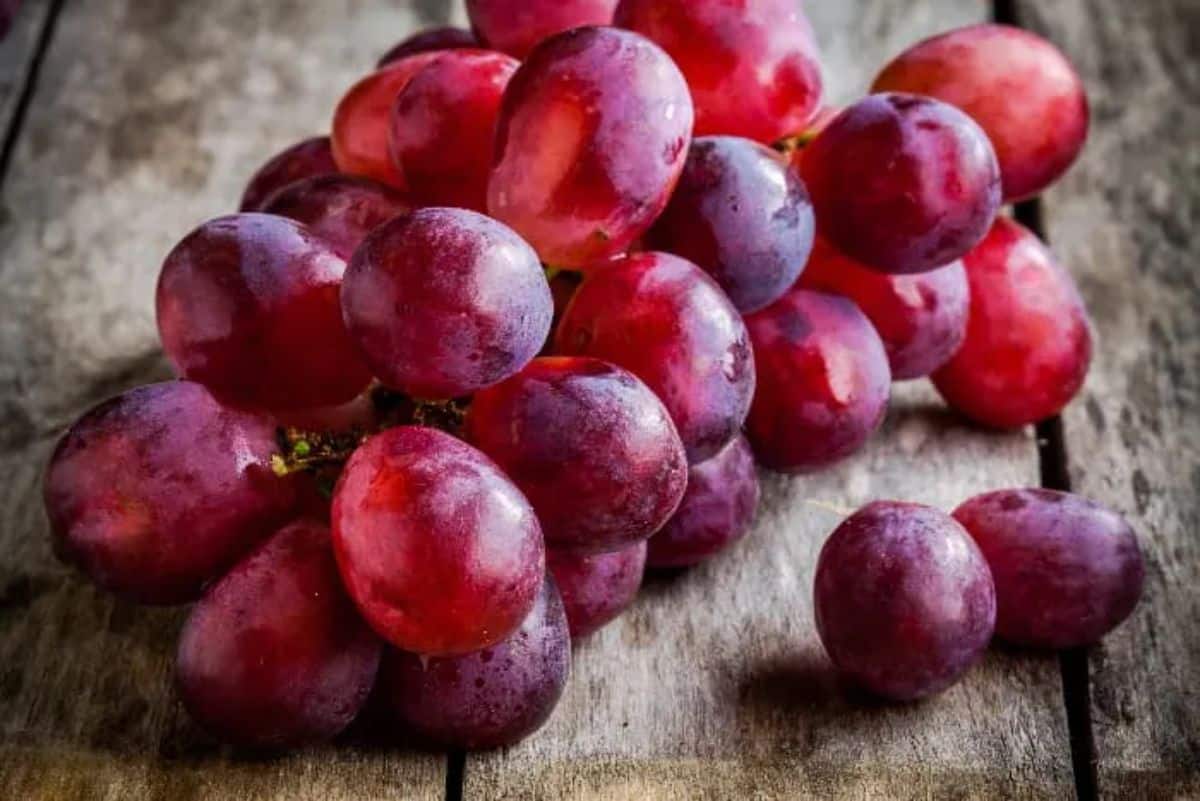 Grapes naturally desire full sun to grow optimally, and gum drop grapes are no exception.
The best thing you can do for your plant is to grow them in a place where it can be sure of getting at least 6 hours of sunlight.
Pruning Techniques
Pruning is an essential aspect of maintenance. Periodic and strategic pruning will see that your plants stay neat and produce more fruits.
Pruning will, however, not be necessary for the first year of growth. It only becomes important in the 2nd or 3rd year when you notice old canes on the plant.
Canes are where you can find the growing grapes. This is why you need to be careful when pruning these canes to ensure that you do not trim canes less than a year old, as that would mean no grapes.
Grapes grow on canes that are at least a year old. Therefore, you are to prune off wilt canes or those that bore the fruits of the previous season.
Pruning right can also help control the plants' spread and enable you to manage it better.
Varieties Of Gum Drop Grapes
We have a lot of varieties of grapes in the Gum drop line, and they can be differentiated by their color and the overall way they look.
Some of these varieties are named; "Candy Hearts, Candy Dreams, and Candy Snaps." They are all uniquely different but have one thing in common - a fruity taste.
Let us have a look at each one of them below.
1. Candy Hearts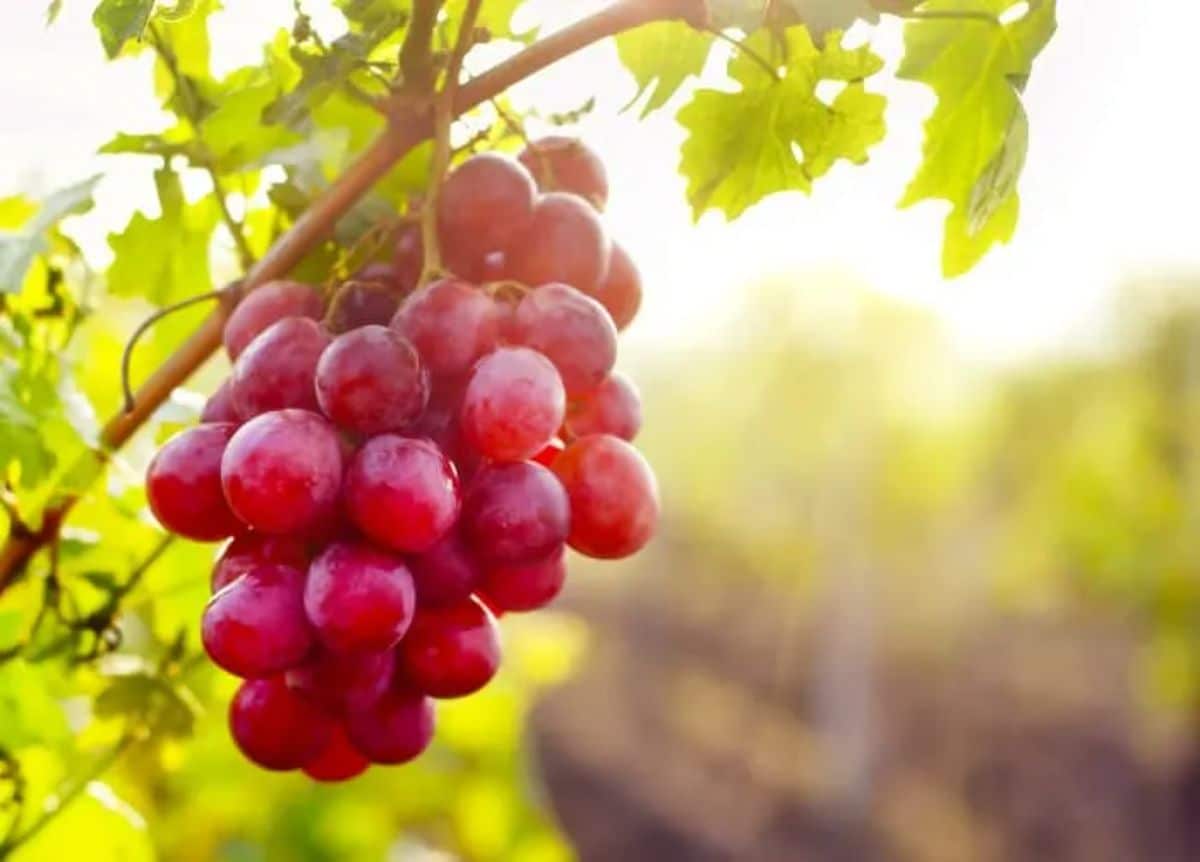 The difference between this variety and the candy snap is in size, color, and taste. Candy Hearts are a bigger size, and they have a less vivid color with a tan-colored base and a hint of Muscat in its taste.
They will usually be seen in stores anytime from mid-August.
2. Candy Dreams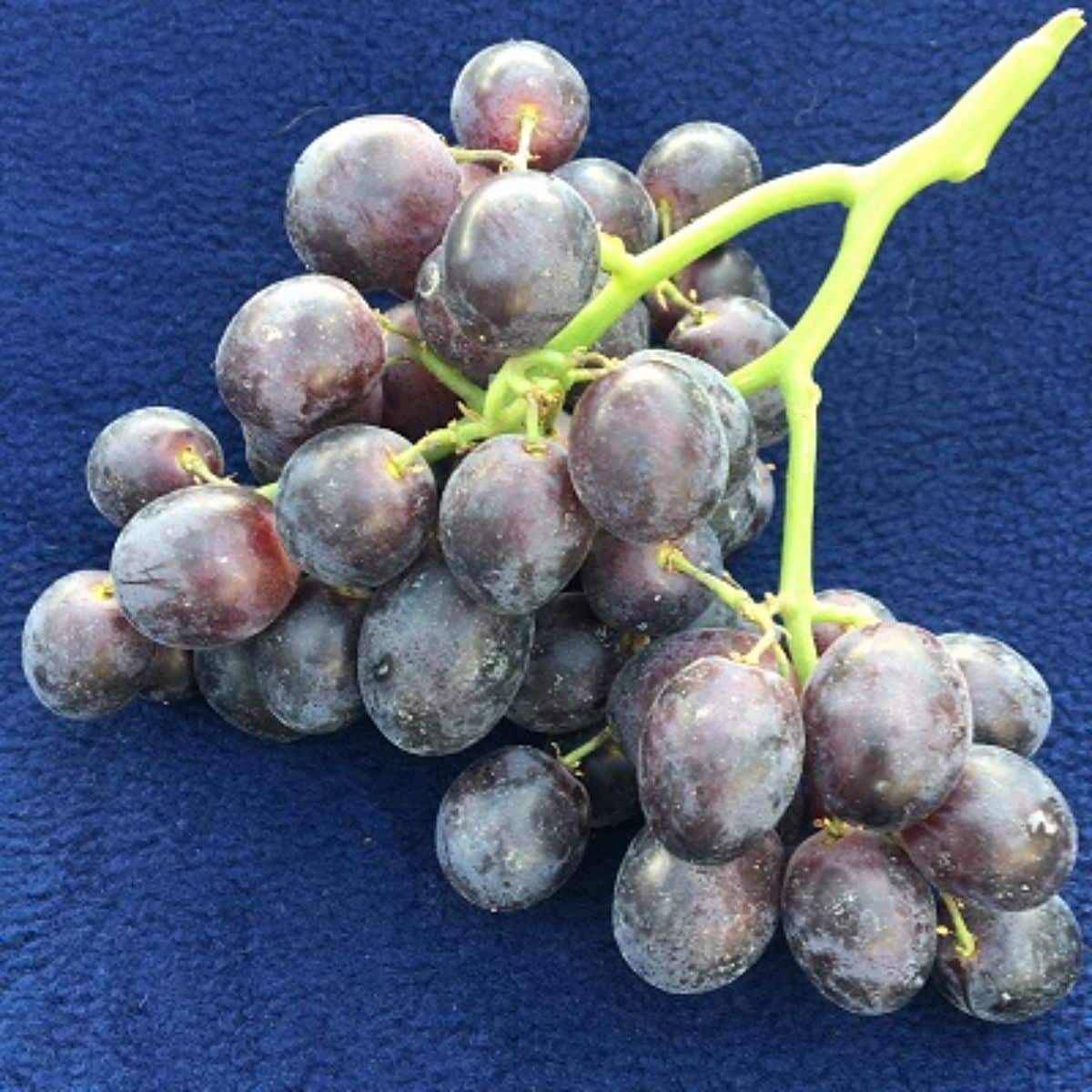 This variety of Gum drops can easily be assumed to be most people's favorite. The black-colored grapes have a rich, fruity flavor that keeps you wanting more just from a bite.
You can easily find them in stores anytime from late August.
3. Candy Snaps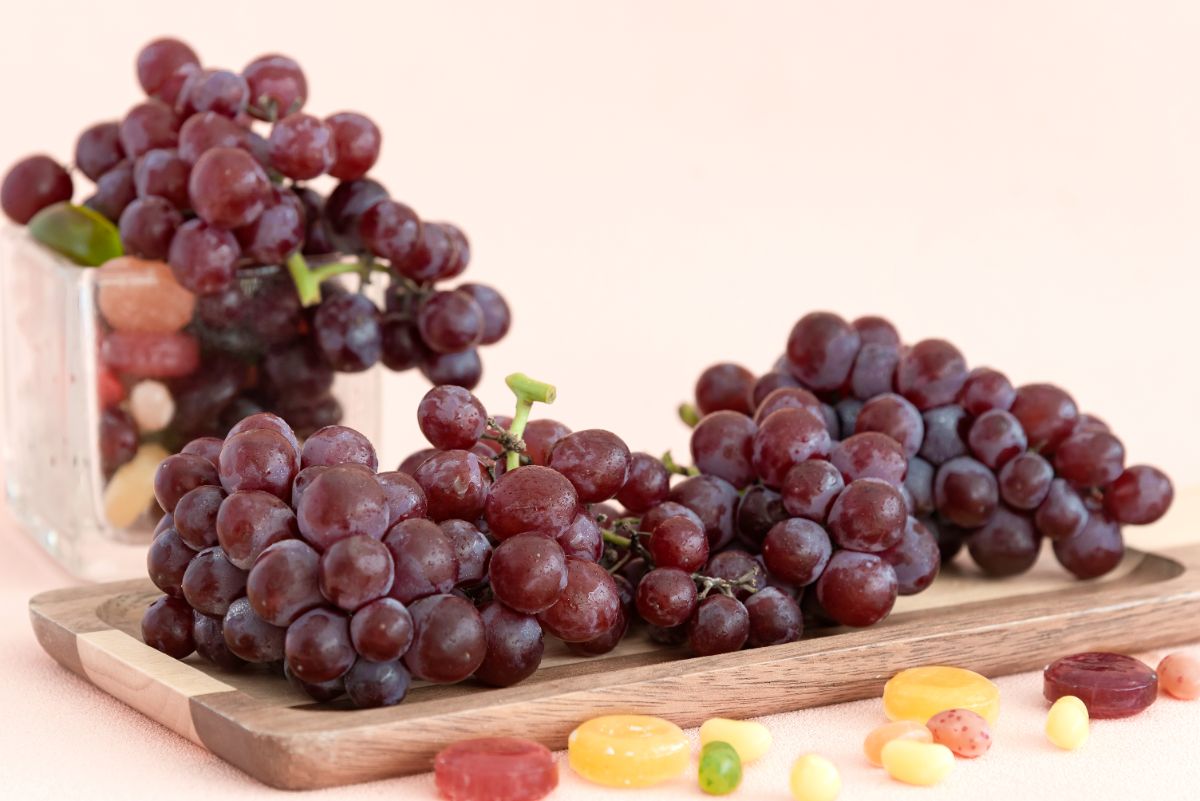 The Candy Snaps are gum drop grapes that ripen too quickly. You are most likely to see candy snaps in stores at the beginning of the season, around late July, to be specific.
They are average-sized, red-in-color grapes with a taste that bears a hint of strawberry.
Other Varieties Of Grapes That You Can Grow At Home
Knowing how difficult it is to plant Gum Drop grapes at home because of the unavailability of its seeds or cuttings, we present to you other equally sweet grapes that you can conveniently grow and enjoy in the comfort of your homes.
There are thousands of grape varieties that you can grow, but we will be pointing you in the direction of grapes that are viable alternatives to the Gum Drop grapes only
Find them outlined below
Champagne Grapes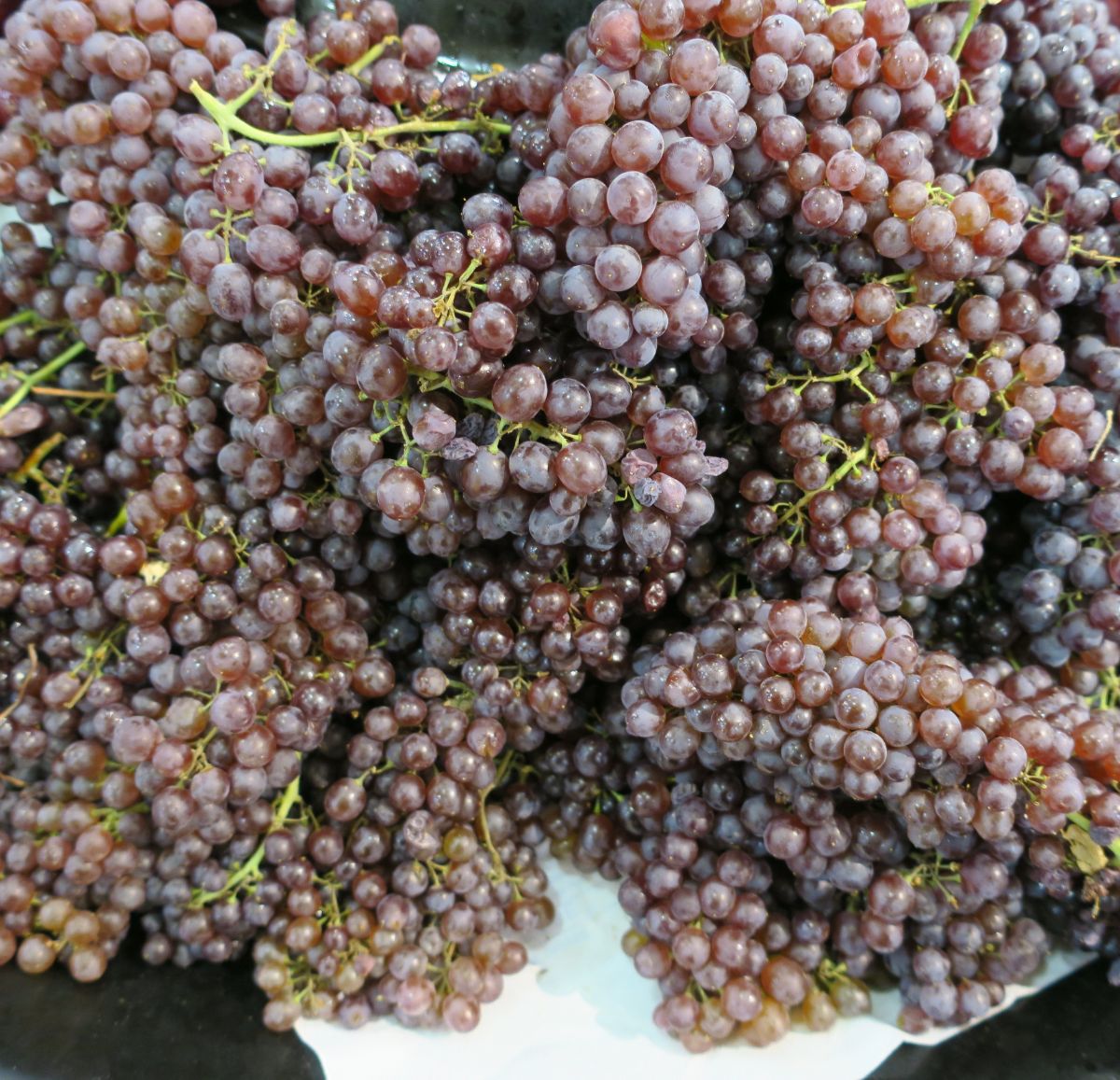 An excellent pick of variety anytime, any day. People of all age groups enjoy the champagne grape.
They are small-sized grapes that look so much like bubbles in a champagne glass, the reason why they are named "Champagne grapes."
Growing and maintaining these plants is a straightforward plus; they make a great addition to your meals both in aesthetics when placed on the table and nutritionally.
Concord Grapes (USDA Growing Zones: 4 - 9)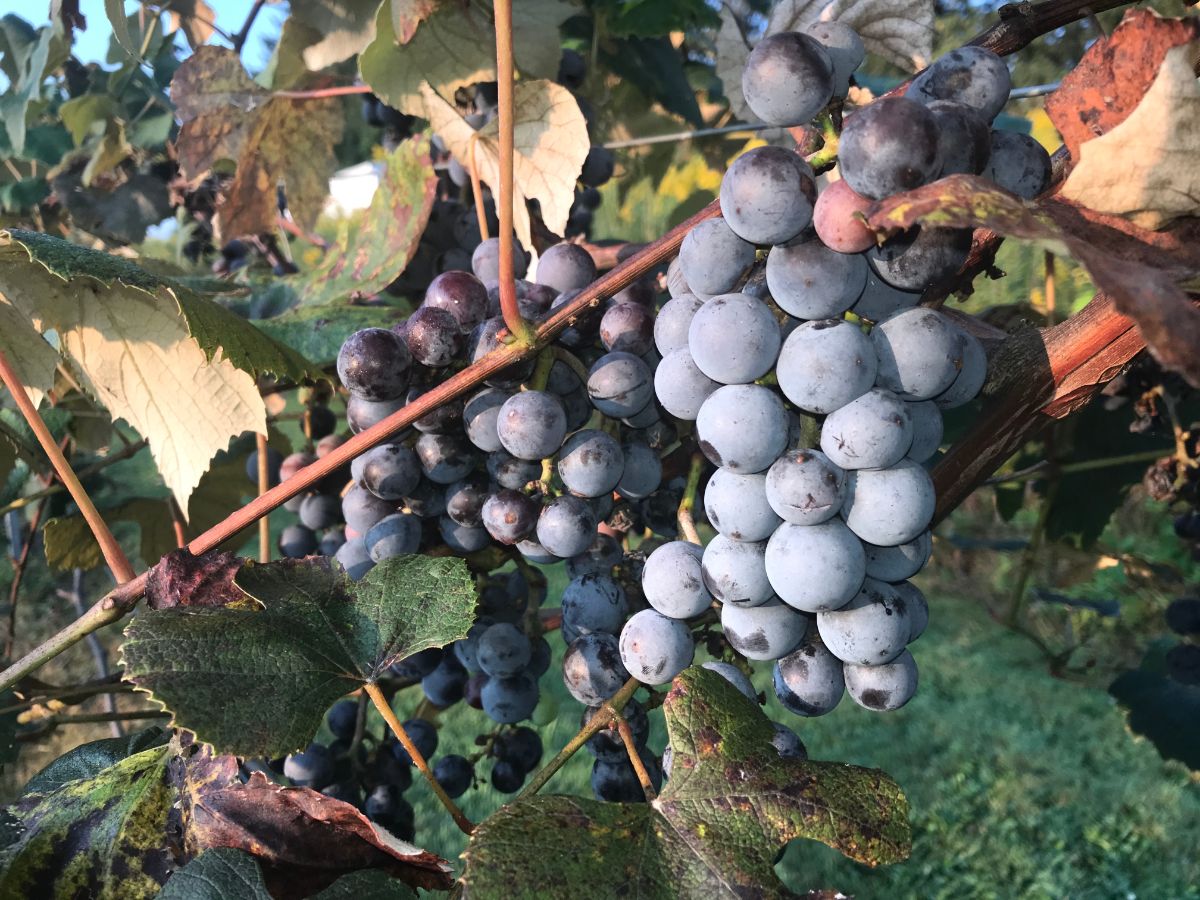 Concord grapes are cold, hardy, purple-colored grapes from the United States. They are great-tasting grapes that have a pleasant sugary taste that is almost the same as that of Gum drop grapes.
There are also a host of other benefits attached to them. They are easy to grow and maintain(even first-timers can record success with growing this plant), they are fast-growing plants, and with them, you can have grapes to enjoy and snack on all season long.
Concord grapes are especially perfect for jelly and grape juice production.
They are a great alternative to gum-drop grapes and are worth considering.
Thomcord Seedless Grapes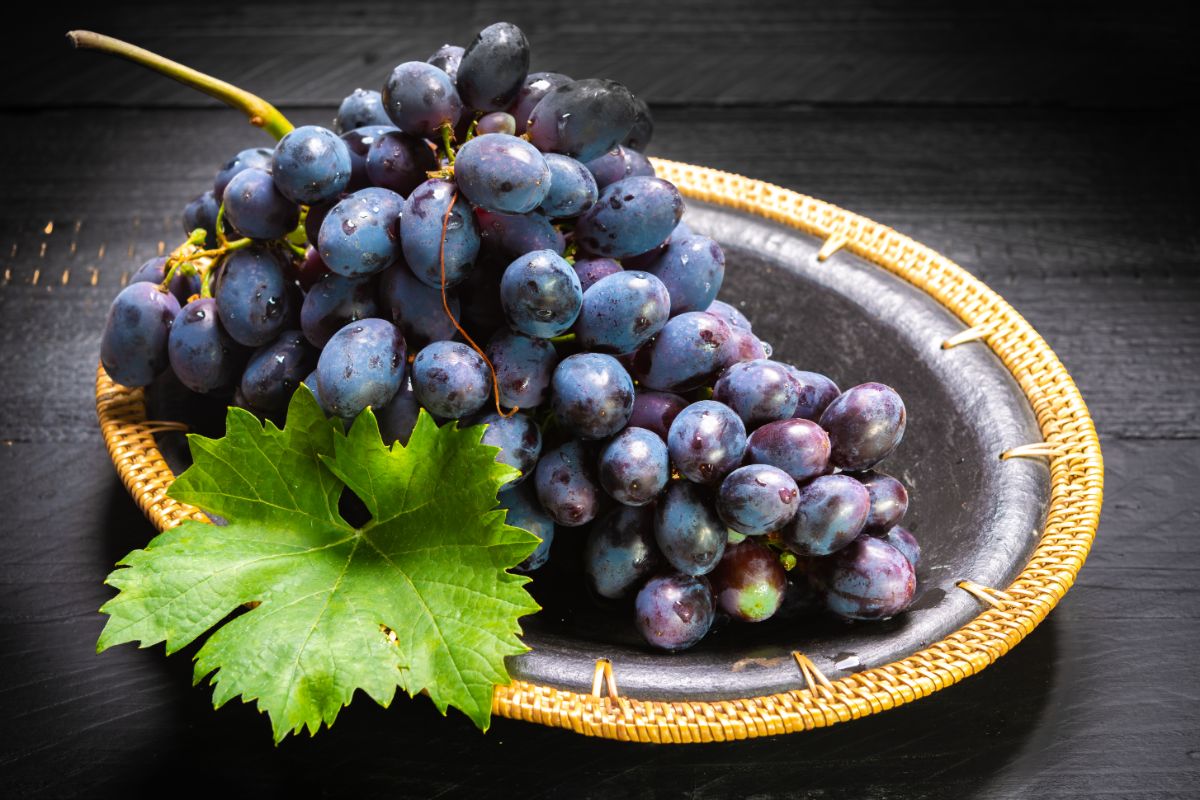 Thomcords are non-problematic and can be grown quickly.
The great thing about growing them is the eventual yield of massive tasty grapes that you can use whichever way you please, either for deserts or other purposes.
As the name implies, the Thomcord grapes are without seeds.
Uses Of Gum Drop Grapes
Gum drop grapes can be used in different ways. You can infuse them into recipes and use them as toppings for your salads, ice creams, yogurts, or even paired with dessert preparations.
You can have them baked into cakes or roasted and served alongside meat dishes.
Try also freezing gum drop grapes and adding them to cocktails, juices, and beverages.
Unlike other grapes, gum drop does not lose their flavor when frozen.
Gum drop grapes also make a great, healthy snack option.
Frequently Asked Questions
Which Is Better, Cotton Candy Grapes And Gum Drop Grapes?
We cannot categorically say which is better, but we can state the apparent differences between the two and hope you get to taste them and decide for yourself.
Cotton Candy, the most popular variety of Grapery, tastes very sweet to just a little sour. The taste of Gum drops can be really sweet or just sweet with a bit of sourness. They have a fruity gummy taste, while cotton candy tastes like, well, cotton candy.
Lastly, with the gum drop grapes, you have three varieties under the same packaging, while the cotton candy has just one, with other types still in the works.
Are Gum Drop Grapes Toxic To Pets?
Very much so. Grapes, in general, are not fit for consumption by pets. They are highly toxic as pets cannot metabolize the fruits as humans can.
The effects are disastrous. Grape consumption by pets has once been linked to kidney problems.
Therefore, they should be kept away from pets, as even taking them in the tiniest of doses can cause significant damage.
Final Note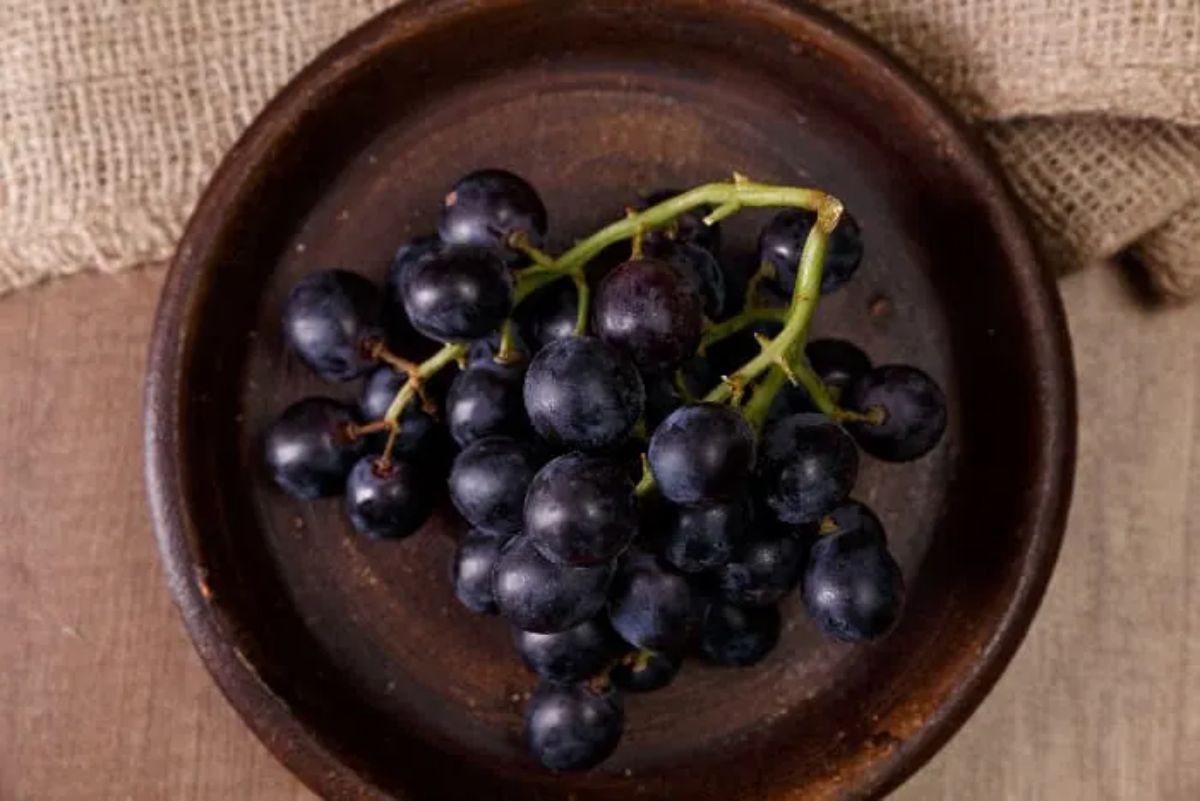 On the package of Gum Drops grapes, you will find a label that reads, "Enjoy a gummylicious flavor every time you bite into our new Gum Drops grapes. These tasty luscious jewels are naturally raised and picked when they reach the peak of flavor."
Following this description, we can be sure of two things; one is that the taste of the Gum Drop grapes is, indeed, undisputably fantastic, and secondly, the grapes are indeed patent and grown privately, which confirms our assertion that its seeds and cuttings will be almost impossible to find.
Good luck finding some to grow or, better still, make do with any of the equally great-tasting alternatives above.