Black Sapphire grapes are black, long, seedless grapes shaped just like a log. They are about 2 inches in size, tubular-shaped, with a uniquely sweet flavor that cannot be found in other grapes. They look black but are colored dark purple.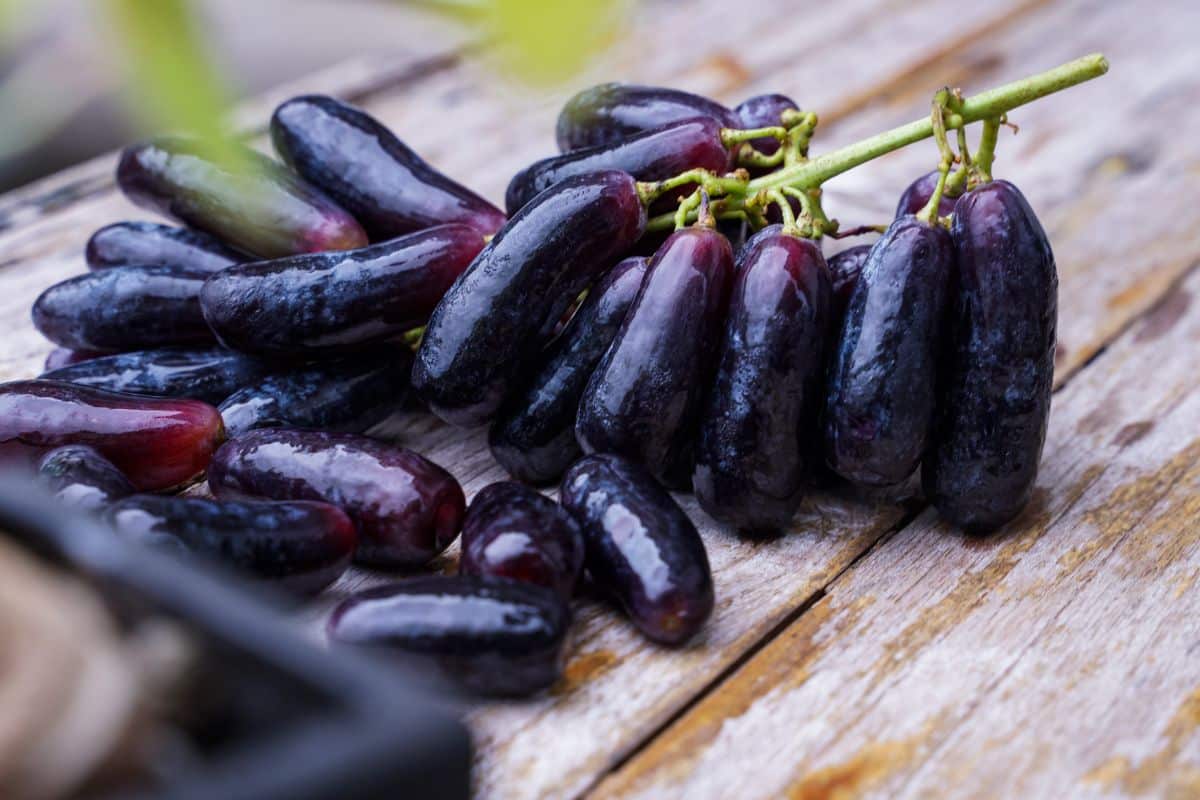 Black Sapphire grapes are unique grapes that are as sweet as they are nutritious. They are, however, seasonal fruits that cannot be seen all year round.
The grapes are naturally crossbred and not genetically modified, as some people are prone to believe. They are grown on farms somewhere around Mildura in Victoria and Western Australia.
Jump to:
Growing Guide Of Black Sapphire Grapes
Black Sapphire Grapes have specific commercial farms with the consent to grow them. This is because they are licensed fruits, and not everyone is allowed to plant them.
The International Fruits Genetics (IFG), however, gives different growers worldwide consent to grow Sapphire grapes. This is why you see supplies from South American countries and other places.
If you are lucky to get the seeds or cuttings, perhaps by writing to the growers, below are the care guidelines that will see you grow them successfully.
Choosing A Planting Site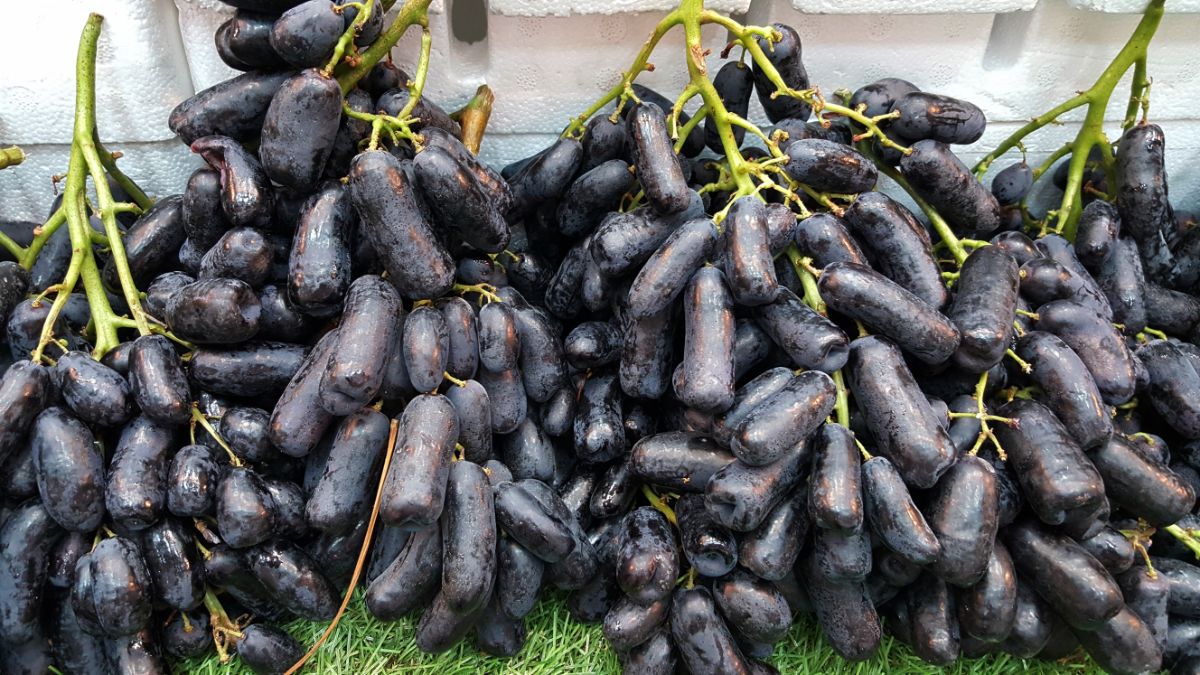 When planting grapes, you must select a site with enough space.
This is because grapes have massive root growth and are usually planted 6 - 12 feet apart from each other to enable the root spread unhindered.
A sunny spot is also an essential factor when choosing a planting site. A bright, Southern location is just ideal for them.
How To Plant
A planting hole has to be dug. The best way to go about digging this hole is to check for the size of the vines root ball and drill a spot that is two times larger than it.
Then, with the help of a gardening fork, loosen the soil around the sides and base of the hole.
After this is done, use the soil removed in the process of loosening, enrich it with the organic matter then, and then fill the hole partly.
Have your vine planted so the graft is about 5 - 10 cm above ground level. Make sure that the roots are well spread out.
Intensive watering should come in next to fully establish the roots.
A critical aspect of growing the Black Sapphire Grapes that you must know about is that a support system for its vines has to be put in place before or shortly after being planted.
A support system can be a trellis, an arbor, or a wall. This will hold the vines in place as they grow and mature.
Soil Requirements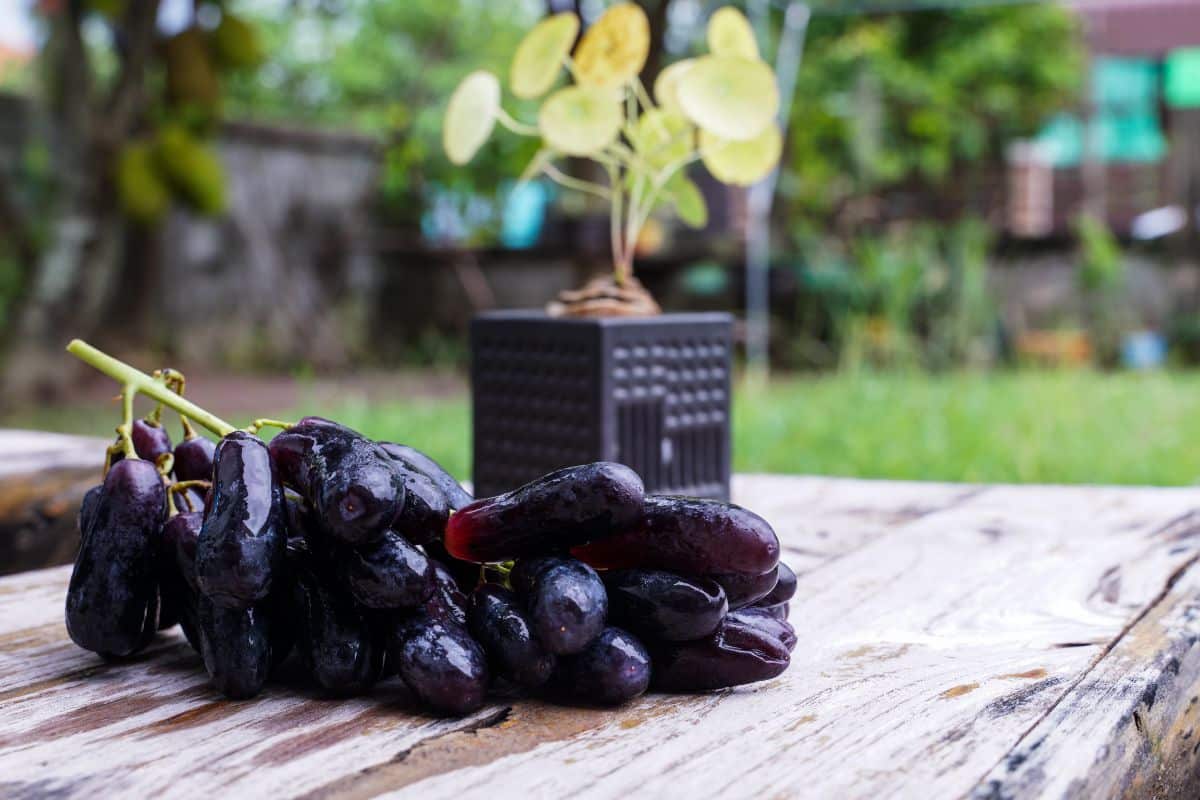 A well-drained, fertile, loamy soil enriched with organic matter such as leaf mold, well-rotted manure, or the like.
Light Requirements
Black Sapphire Grapes, just like most grape varieties, would naturally need full sun to grow optimally.
Watering Needs
The plant will require adequate watering in the early stages of its growth, but afterward, when fully established, it will be fine with occasional watering.
For best results, water new vines once a week in their first year of growth. This should be treated as necessary, especially for hot/dry regions.
Pruning Requirements
Pruning is vital for any grapevine. Good pruning sees that the plant does not produce too much foliage, so much that it becomes a shade.
The problem with this is that the massive foliage hinders the plant from creating fruit buds for the following year.
Pruning is done right by removing old/diseased/dead canes, giving healthy ones more room to flourish. This will get the plant to become more productive.
Pruning is best carried out in early spring before the buds develop.
Propagating Techniques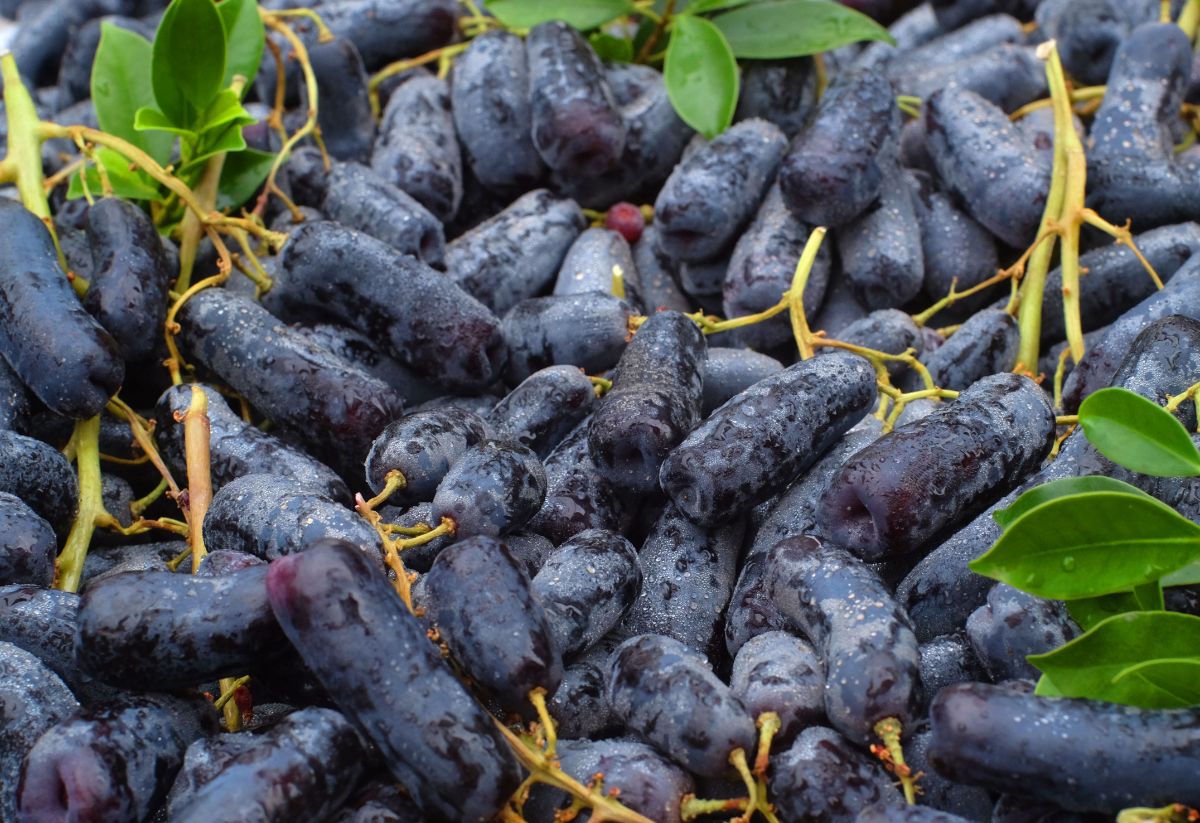 Propagation of the Black Sapphire Grapes is best done using seeds or cuttings.
With the help of a garden scissors/knife, snip out a cutting of about 14cm, yank out the leaves at the lower end, then dip into a rooting hormone mix to fortify it.
After that, place it at the edge of a pot of moist compost and water well to firmly establish the plant.
Variety Information Of Black Sapphire Grapes
Black Sapphire Grapes are delicious, quite alright, but we present to you equally great tasting, if not better-tasting, alternatives to this unique fruit. Read about them below.
Moon Drops Grapes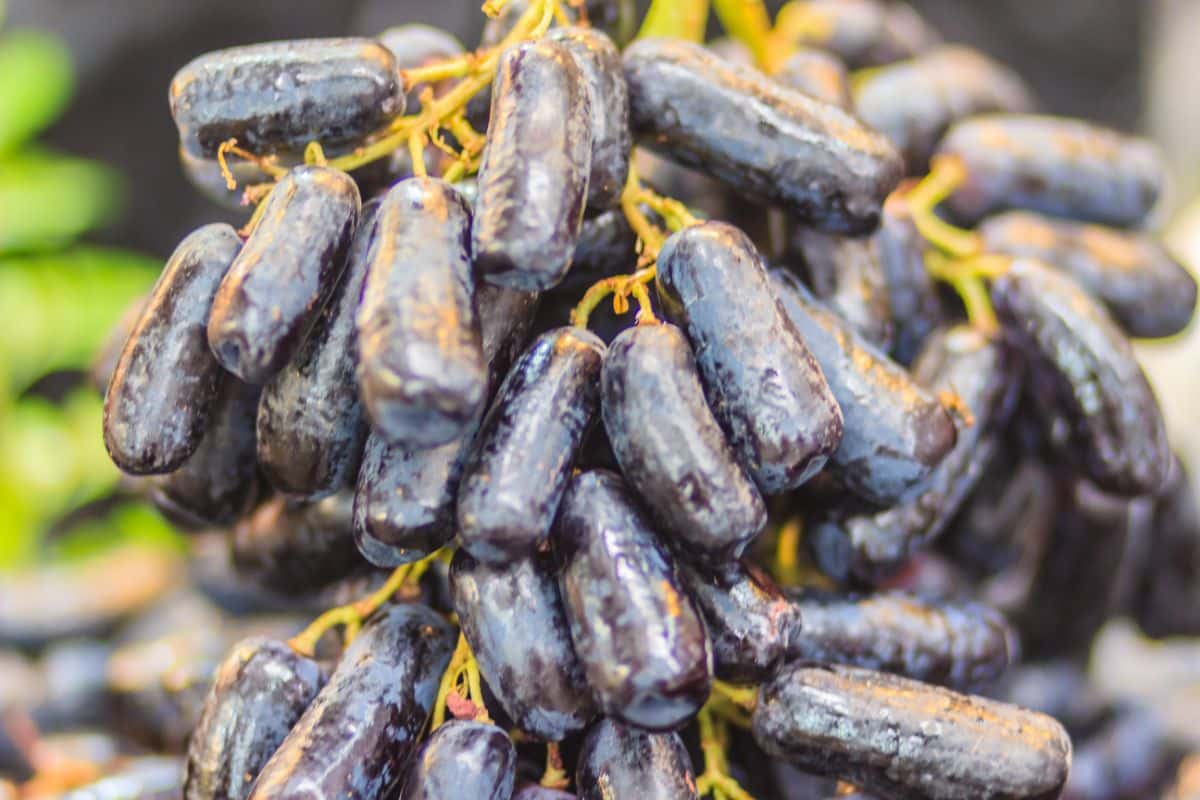 Moon Drops grapes, and black Sapphire have a lot of things in common. It can be argued that they are both the same grape, but are they?
The tiny yet significant difference between the Sweet Sapphire and Mon Drop grapes can be traced down to who grows them.
The IFG has given licenses to growers around the world to grow Sweet Sapphire. This is why you see the product of these delicious grapes come in from Chile and other south American countries, Mexico, California, and other parts of America, etc.
The Moon Drop grapes, on the other hand, are grown by the Grapery - the same producers of cotton candy and gum drop grapes.
We, in particular, find the Moon Drop grapes to be better tasting, not entirely because the Grapery is behind its production, but because of the extra effort put into producing them.
The fruits are allowed to ripen well, attaining the highest flavor level before plucking them. This is the reason why you will not see them displayed on shelves till late August.
Have you had the chance to try both sides by the side? We will like to know what you think.
Midnight Beauty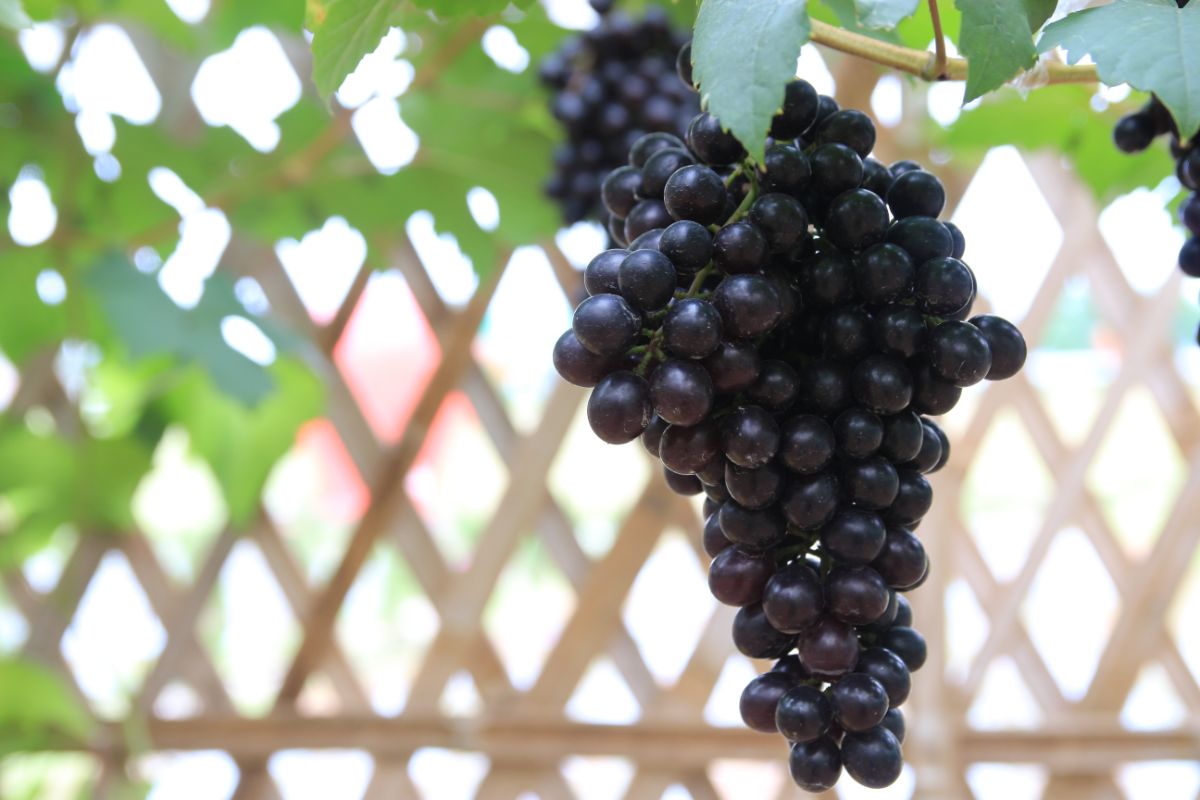 Midnight Beauty is dark grapes that originate from California. The long medium/large-sized grapes are products of crossbreeding between Fantasy seedless grapes and an undisclosed variety.
Midnight Beauty and the black Sapphire grapes are similar in color and somewhat in shape. They also have a crisp taste, like Sweet Sapphire.
Black Emeralds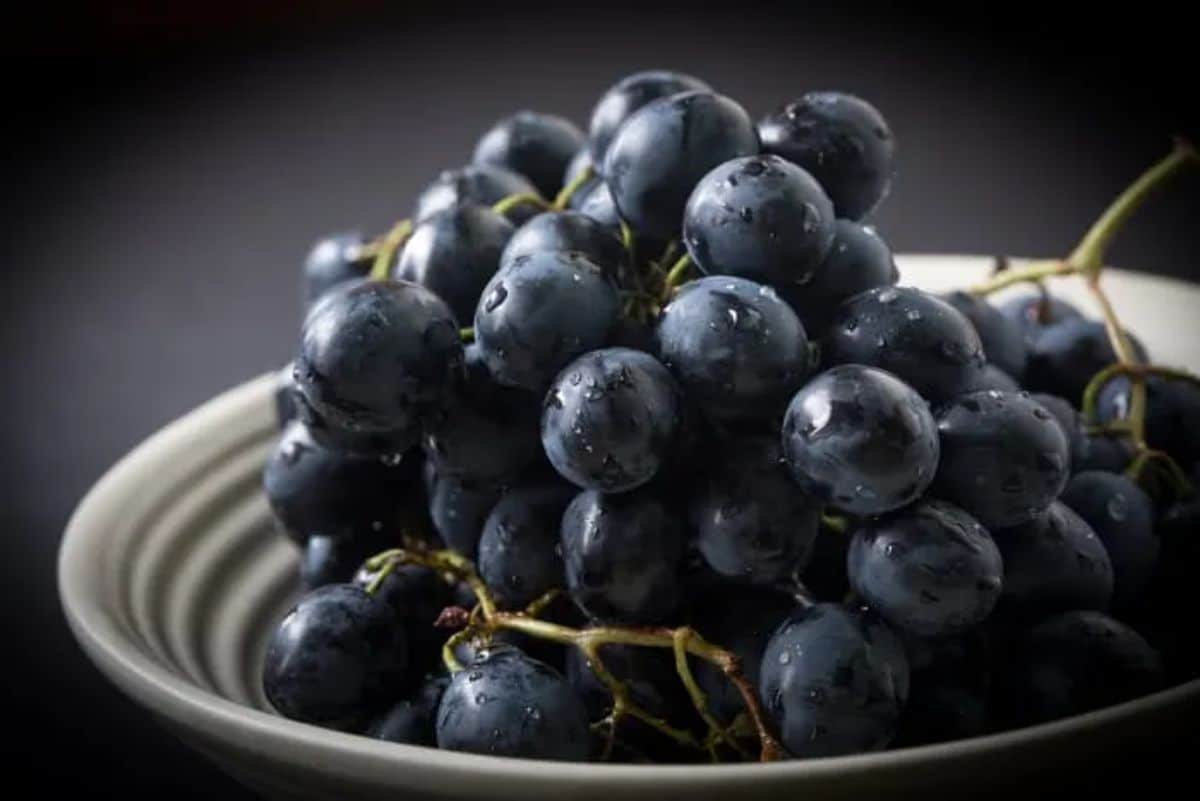 An equally great-tasting black grape. They make you enjoy the fresh taste of grapes very early in Mid-May.
Ron Tarailo and David Rammings are the geniuses behind this incredible creation. Its edge over other black grapes is that it ripens way before others, making it stay competition free in the market.
Black Emeralds are not entirely seedless, you might see a few seeds in them, but they are edible.
Like the Black Sapphire grapes, they too are dark colored and have a crunchy taste.
Sable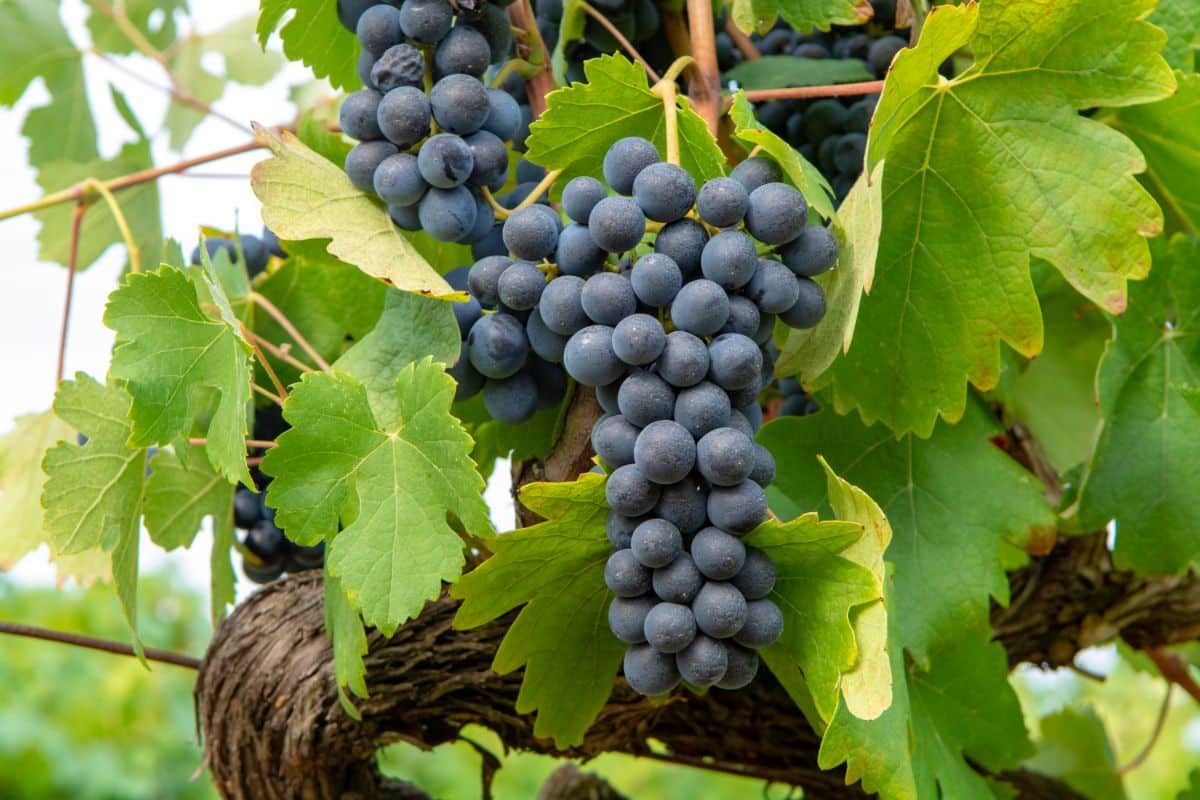 Developed in 1988, Sables are dark-colored, seedless grapes that are one of the most sought-after dark grapes in the market.
They are grown in different places like Chile, Asia, Australia, the United States, and other countries worldwide.
They are oval and quite chewy with a crisp feel.
Black Monukka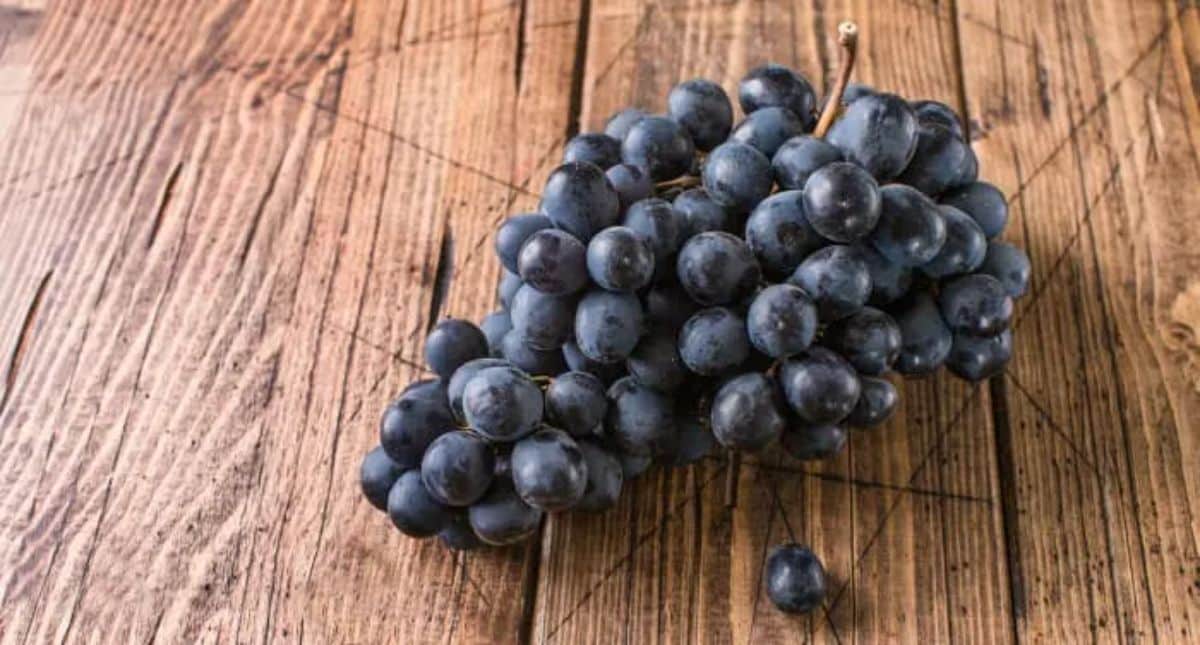 Dark purple-colored and seedless, too, just like the Black Sapphire grapes. The Black Monukka are pretty hardy plants and versatile too.
They can be consumed fresh, used for wine production, and like their name, monukka, which means raisins in Persia, also make great raisin grapes.
Although their origin is unknown, research seems to point to Uzbekistan or Azerbaijan.
Different Ways To Use The Black Sapphire Grapes
Black Sapphire grapes make a fantastic addition to fruit/basic salads. They can also be infused into recipes, giving your dishes a higher level of sweetness that cannot be found in other grapes.
They can also be used as appetizers and toppings too. Try combining them with cheese, too; they make a great contrast of salty and sweet.
Other culinary experts use these grapes to create raisins. They can also be cooked in several ways to make jams, sauces, desserts, and much more.
Lastly, Black Sapphire grapes make great snacking options.
Frequently Asked Questions
When Are Black Sapphire Grapes Available For Purchase?
Like most fruits, black Sapphire grapes are seasonal. They are bound to be in season and available in fruit stores, grocery stores, or the farmer's market around early February - March for those raised in Southern regions and August for those raised in the northern areas.
What Are Some Of The Best Ways To Store Excess Grapes?
Having trouble consuming your grapes and don't want them going bad? You can store them in the following ways:
Freezing: Easiest method there is. Store in Ziploc bags and preserve in the freezer.
Juicing: One of the simple ways to salvage your excess grapes and enjoy your leisure time
Dehydrating them: You can try using them to make raisins.
Infusing them into a recipe: There are many recipes to choose from.
Roast them: Ever tried roasted grapes before? You should!
Final Note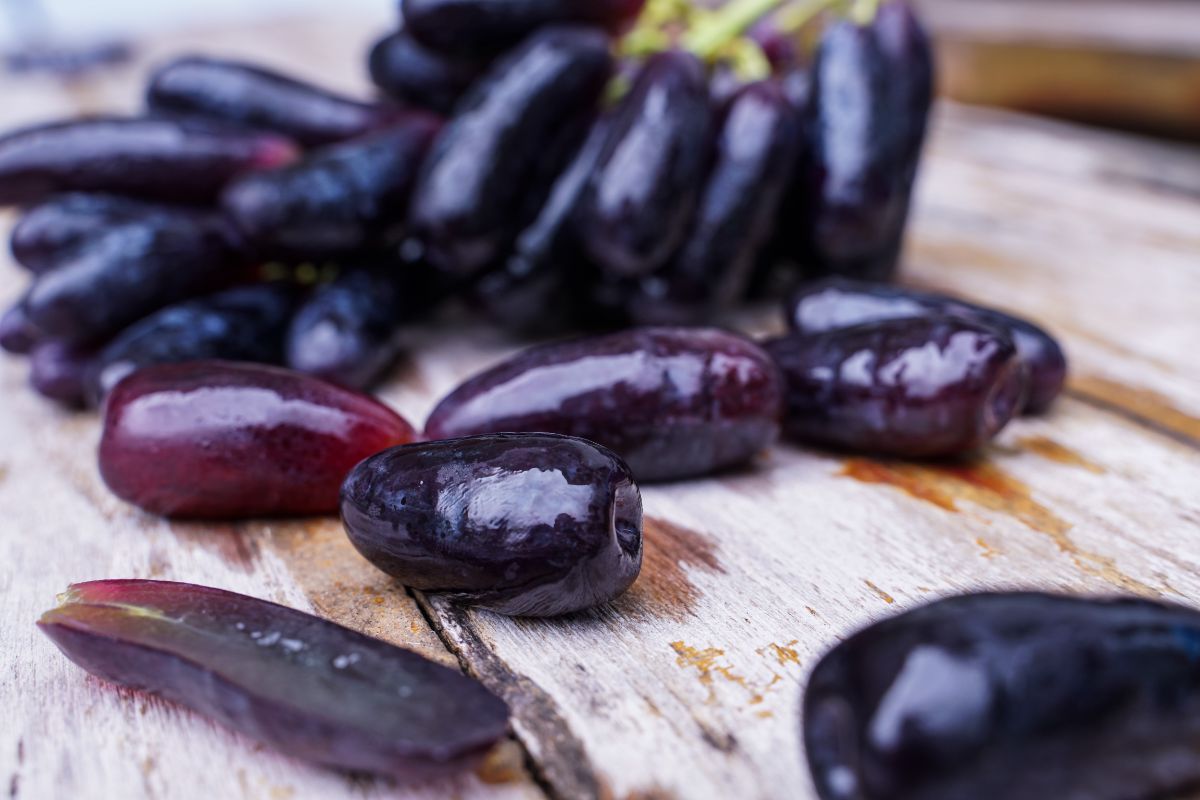 Black Sapphire Grapes are like the perfect fruit snack enjoyed by everyone irrespective of age.
An additional plus is that they are highly nutritious fruits, low in days, calories, and cholesterol.
If you are fortunate enough to lay your hands on its seeds or cuttings or lucky to be one of its appointed growers, you will have no trouble whatsoever growing them as long as you follow their appropriate conditions of growth.
Do have a swell time enjoying these firm and crunchy berries.