Wondering when to plant gladiolus bulbs? Well, gladiolus bulbs/corms are best planted in March and April when the soil has warmed up.
Gladiolus is a flowering perennial plant that originates from the family of iris. These wonderful flowering plants are attractive and relatively hardy in temperate zones. They bloom in August and will give your garden bright and colorful flowers, hence the reason for their popularity. Apart from that, they are also easy to grow.
This article will enlighten you on the best time to plant gladiolus bulbs and also some other steps you need to know about caring for your planted gladiolus bulbs.
Can I Plant Gladiolus Bulbs in March?
The best time to plant your gladiolus bulbs is in the spring; March and April once the soil has warmed up i.e. About 55F.
They prefer full sun to grow well however they will still thrive in partial shade. The soil must be rich and has enough water, and you can apply a little fertilizer to boost the soil nutrient and stimulate growth.
Break the soil and loosen it to about 12-15 inches and sow the bulbs/corms. Gladiolus bulbs will take between 2-3 weeks to sprout and between seventy to ninety days to bloom.
Sow your gladiolus bulbs and ensure that the pointed end faces up and cover it with soil with care using your garden hand-trowel. Ensure to provide enough water especially if you live in an area that gets less than 1 inch of rain per week. They need plenty of water for optimum growth.
You can plant your gladiolus bulbs in rows or bunches ensuring enough space about 3-6 inches apart to allow them to grow bigger. You can stagger their planting for two weeks if you want to get better flower succession.
The soil should be moist throughout the growing time. Propagation of gladiolus is done through their bulbs/corms.
Can I Plant Gladiolus Bulbs in June?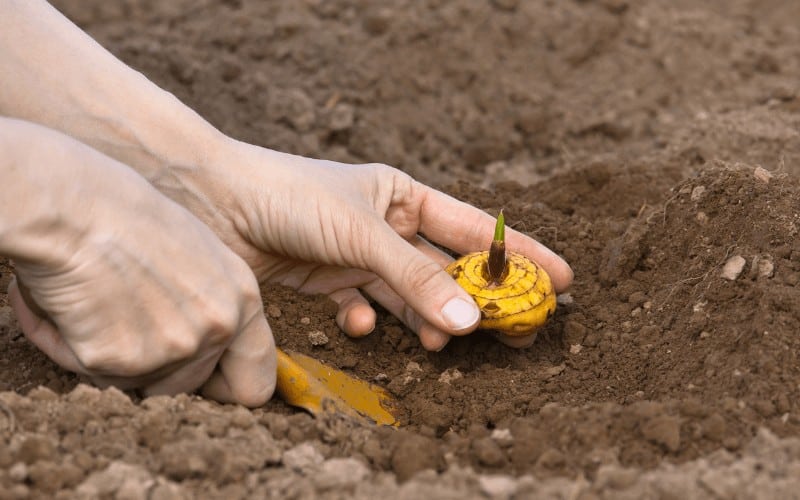 Gladiolus flowers grow on tall spikes which give them the name sword lily. They grow to approximately six feet (6ft) high.
There are well over 250 species of them which provides you with an opportunity to choose from. The tall gladiolus can be planted from March to June however; this may depend on the USDA zone you live.
Gladiolus bulbs are planted in zones 6-10 and can withstand full sunlight. Planting your gladiolus bulbs end of winter and midsummer is recommended.
It is best to plant them after experiencing the last frost or after the last frost. Gladiolus bulbs perform well in the warmer months but cannot thrive in the winter months.
Gladiolus bulbs are quite sensitive to temperature changes as sunlight and warmth will facilitate growth and help bring the bulb/corm out of dormancy.
Stakes are provided for corms when planted to provide support for the tall gladiolus flower spikes.
After this, the corm begins to sprout root from underneath.
Is It Too Late To Plant Gladiolus Bulbs?
One of the questions often asked by gladiolus lovers is to know exactly when to plant gladiolus bulbs, especially if they live in frost prevalence zones.
Start sowing your gladiolus bulbs in mid-spring. They take approximately 70 to 100 days to grow and produce flowers.
Planting gladiolus bulbs in summer i.e. mid-July is not advisable. Plant your gladiolus between March to mid-June. So, planting them within these months is not too late- end of winter and midsummer.
They are hardy in USDA zones eight to eleven while in zones six to seven, they perform excellently well provided the corms are protected by good mulch.
Gladiolus bulbs are easy to care for as any soil suitable for growing vegetables is also good for them.
Growing and Caring For Gladiolus Bulbs
Just like any other flowering plant, gladiolus also requires some basic cares for optimum growth:
Good sandy loam soil of 55F
Adequate sunlight. Gladiolus thrives well in full sun.
Healthy bulbs/corms with large-size diameter
Adequate water supply
Mulching
Give space of 6-8 inches apart
Plant in row if growing as cutting flowers
Plant in groups of 7 or 8, if planted in beds of annual
Don't apply fertilizer until first growth
Prevent self-sowing by deadheading the stalks
Conclusion | When To Plant Gladiolus Bulbs
Gladiolus bulbs are easy to grow and care for. There are over 250 species and each has unique features especially in colors.
Hopefully, you already know when to plant gladiolus bulbs. To achieve optimum growth and awesome bloom, plant your gladiolus bulbs/corms in spring in March or April as soon as the soil has warmed up. Late planting is mid-July
Gladiolus plants prefer full sun to thrive better. Sowing gladiolus with one and a half to two (3/2 to 2) inches in diameter is preferable.
Related Posts: