We independently research and recommend the best products here. This article contains affiliate links. If you make a purchase after clicking on a link, we may earn a little commission at no extra cost to you.
When considering which fertilizer works best for plants indoors and in an outdoor garden, liquid seaweed fertilizer is a good option.
Seaweed fertilizers are organically compiled micronutrients that are natural, sustainable, and harmless.
They are by far one of the best ways you can add nutrient-packed goodies to your soil. And these goodies do a lot of benefits to your plant.
I'm not the only person who believes that. You do, too, and that's why you are concerned with how you can identify the best liquid seaweed for plants.
Seaweed fertilizers are not just partly beneficial like most, they are a natural solution you've been searching for, and they constitute my entire plant nutrient arsenal.
With my hands-on experience with these types of fertilizers, I understand where and what to look for, and I'd give you that secret in this article.
So, how can you know the best liquid seaweed to opt for?
Let's find out!
What Is Liquid Seaweed Fertilizer?
Just as the name suggests, Liquid seaweed fertilizers are derived fertilizers from natural sources, seaweed.
The making process involves collecting the seaweed, removing some saltwater by washing the weed carefully, and finally allowing the weed to decompose in water. Some refer to it as fermentation.
But the point is that the plant material is left in water until it breaks down into a liquid or becomes quite slurry.
Kelps, a large brown seaweed, are a typical example of the seaweed used in making the seaweed fertilizer. The liquid seaweed is extracted from the ferments of these leaves, and these extracts have been in use for over a decade.
So far, they've been a reliable go-to even for commercial crop production and improving the general performance of crops.
Read Also: Best Fertilizer for Geraniums
Most recently, the trend towards using sustainable green products has increased. And as a result, products like the seaweed fertilizer are getting a lot of fame both commercially and in home gardens, and they are used to meet plant demands.
These are examples of fertilizers referred to as biofertilizers or biostimulants. And placed side by side with conventional fertilizer, they perform a lot better and produce better results.
Most seaweed fertilizers are kelp-derived and rich soil additives with sufficient micronutrients. They also have a significant N-P-K element that contributes to the effectiveness of plants.
But liquid seaweed isn't the only available form of seaweed fertilizer. They can also come in other forms. For clarity, here are the 4 ways you could buy seaweed fertilizer (types of seaweed fertilizer).
Types of Seaweed Fertilizer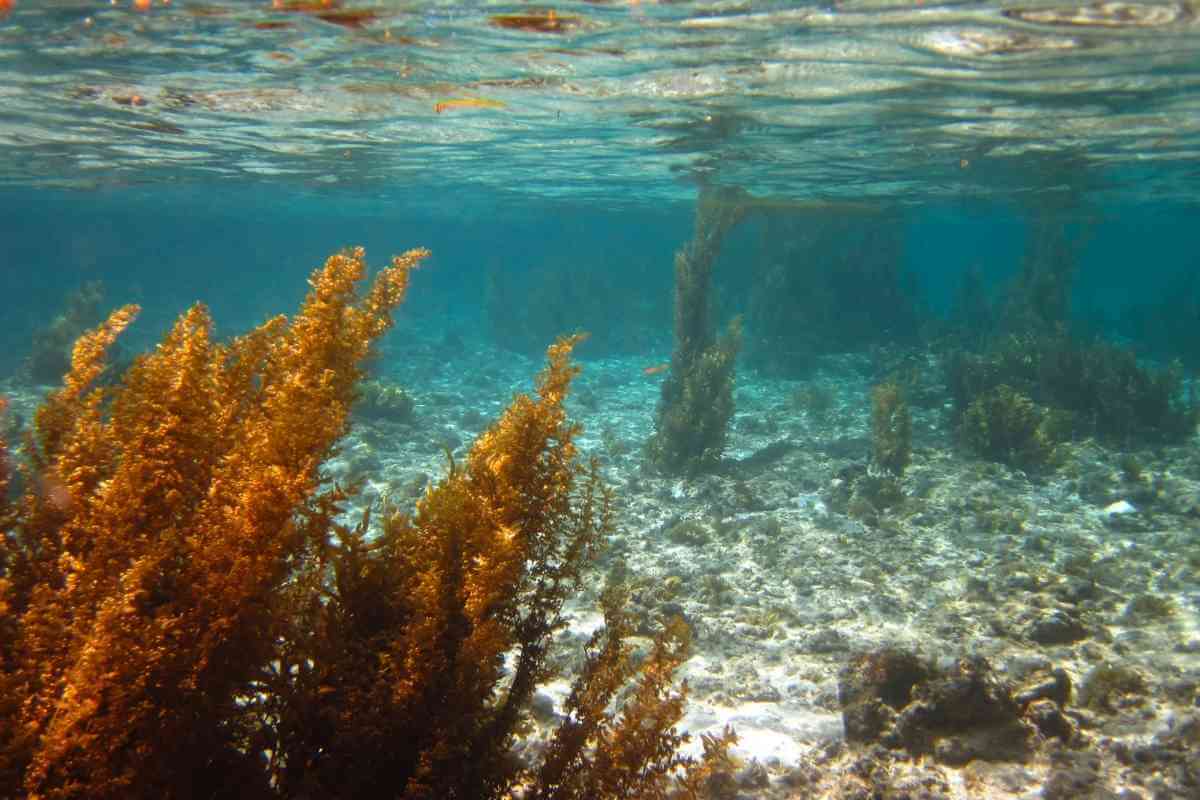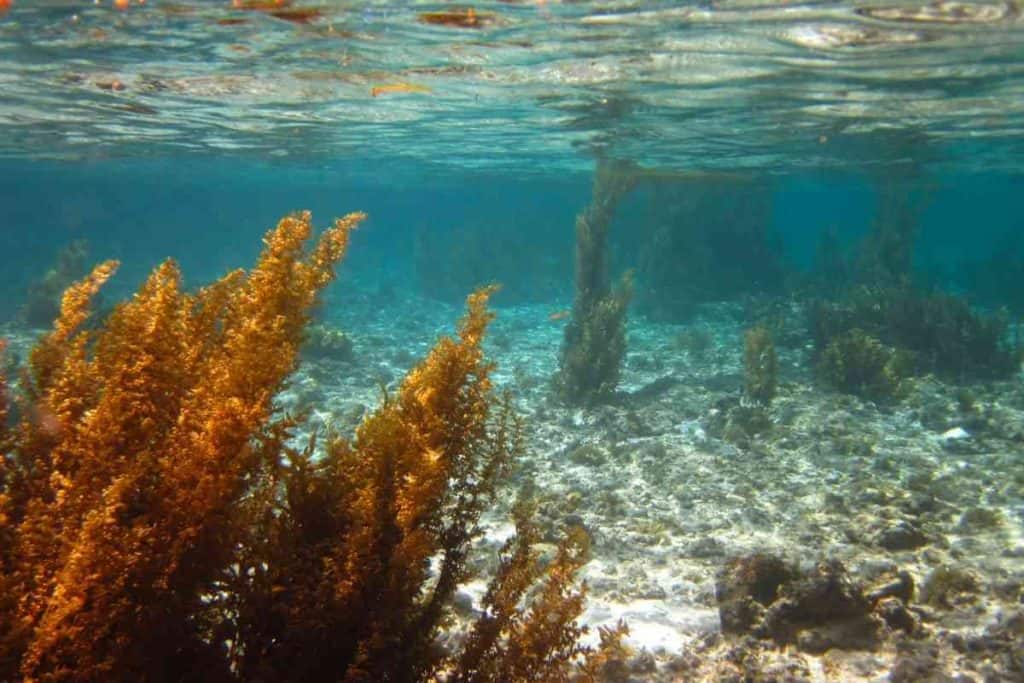 1. Liquid seaweed
For container growers, I find liquid seaweed as one of the best possible options. It makes it much easier for plants to access the nutrients found in the fertilizer produced by straining and soaking kelp in water.
2. Seaweed/kelp meal
While Seaweed liquid is prepared by directly soaking the seaweed in the water, the seaweed meal is made by air-drying the seaweed or kelp.
3. Seaweed extract powder
The seaweed extract powder is usually made by heating seaweed to remove all the present water content. After heating, we'd have a solid content that can be smoothened into powder for use.
4. Calcified seaweed
Calcified seaweed is not one of the examples of seaweed fertilizer made from kelp. It has different types of calcified coral and some unique algae that are all harvested from the sea.
Generally, these kinds have about 50% calcium and the usual minerals, which are highly beneficial to plant growth.
That said, let's now look at my recommended and best liquid seaweed for plants:
Best Liquid Seaweed For Plants
I've helped paint a mental picture of what you can expect from a reliable seaweed fertilizer. But, unfortunately, that's not enough to recognize one when you see them.
After deep-end research on the type of seaweed fertilizers that most people prefer and the types I've had hands-on experience with, here are my recommendations on the top 3 liquid seaweed fertilizers you can try out right now!
1. Organic Liquid Seaweed and Kelp Fertilizer Supplement
Organic Liquid Seaweed and Kelp Fertilizer Supplement by Bloom City, Quart (32 oz) Concentrated Makes 180 Gallons
FULLY ORGANIC SEAWEED AND KELP: A seven species blend of Ascophyllum Nodosum, Palmaria Palmata, Ecklonia Maxima, Laminaria Saccharina, Chlorella Vulgaris, Arthrospira Platensis, and Chondrus Crispus.
EXTRACTED TO PROTECT NATURAL ENZYMES: Clean Kelp's unique processing techniques give the cleanest possible kelp extract.  Get all the benefits of natural kelp enzymes and hormones without the non-nutritious fibrous pulp that gives other kelps their thick, brackish appearance.  You can see the difference.
SIMPLE AND SAFE TO USE FOR ALL PLANTS: Add to every watering, it's that easy. No risk of over application, plants love kelp. Clean Kelp aids in every stage of growth for root and stem health.
FOR BOTH PLANTS AND LAWNS: Add Clean Kelp to all of your houseplants, vegetable garden, and your lawn for healthy green plants.
FORMULATED AND MADE IN THE USA: Designed by botanists and plant chemists. Bloom City chooses only the highest quality ingredient sources and manufacturing methods to create the world's best craft growing nutrient systems
Last update on 2023-11-30 / Affiliate links / Images from Amazon Product Advertising API
Unlike the easy DIY seaweed fertilizer that you'd soon learn, the kelp supplement by bloom city is made in the USA by botanists and well-read plant chemists. That makes this liquid seaweed well optimized for any plant.
Every part of this fertilizer works the nutrient magic in your plant.
Read Also: Which Plants Like Seaweed Fertilizer?
Also, it's organic, having a great blend of Ascophyllum Nodosum, Arthrospira Platensis, Ecklonia Maxima, Laminaria Saccharina, Palmaria Palmata, Chlorella Vulgaris, and Chondrus Crispus.
Environmentally friendly and organic seaweed kelp
Protects the natural enzymes
Easy to use and safe for all types of plants
Works for plants and lawns
Results are not immediate but surely
Organic fertilizers are generally bulky and require more labor than synthetic. And the supplement by bloom city is no exception
---
2. Super Seaweed Humic Acid Blend- Soil Hume
Organic Super Seaweed Humic Acid Blend- Liquid Sea Kelp for Grass and Plants - Soil Hume - Simple Grow Solutions- Natural Lawn & Garden Concentrate- Use with Fertilizer Program (32 Ounce)
Blended with 4% Seaweed: Liquid Sea Kelp Concentrate blended with Ascophyllum Nodosum Seaweed harvested in the Icy North Atlantic
Blended with 4.5% Humic Acid: Soil Hume is a Highly Concentrated form of Liquefied Carbon Derived from the Highest Quality Humate Source, Leonardite. Leonardite is Considered by many to be the Highest Quality form of Humic Acid
Versatile Formula for Lawn and Garden: Soil Hume Can help increase the Transfer of Nutrients and Help your Lawn, Garden and Plants Uptake Nutrients more Efficiently
Use Alongside Lawn Food Fertilizer Program. Can be used on all grass types including Bermuda, St. Augustine, Zoysia, Buffalo, Centipede, Florida Palmetto, Bahia, Fescue, Ryegrass & Kentucky Bluegrass
Application Rates for Garden: Use on Indoor Plants, Flowers, Roses, Tomato Plants, Vegetables, Fruit, Citrus, Garden Landscape, Hardy trees, Seeding, Over seeding and New sod. Use Alongside Plant Food Fertilizer Program
Last update on 2023-11-30 / Affiliate links / Images from Amazon Product Advertising API
The seaweed fertilizer has the power to transform your soil into your dream habitat for whatever plant. The look and feel of it tell you everything you need to know.
It's an excellent choice for commercial farmers; it's unique and is a nutrient-packed mix for all types of plants. It's the complete package that answers all your plant nutrient needs.
The super seaweed loosens compact soil and can break apart hardpan. And it is safe for a nursery or flower bed.
It's environmentally friendly
Protects the natural enzymes and perks up your gardens and lawn
It works for any plant
It doesn't show immediate results
It might dent an already growing plant upon application
---
3. MicroLife Super Seaweed Professional Grade Organic Liquid Concentrate Root Stimulator
Last update on 2023-11-30 / Affiliate links / Images from Amazon Product Advertising API
MicroLife Super seaweed is unique like every other example of seaweed fertilizer I've provided. As a pro-multi-purpose foliar nutrient spray, it offers more than 100 essential plant minerals, which include amino acids, carbon, and protein.
It's an organic fertilizer and safe for all types of crops. Generally, the Micro Life can improve the nutrient in the soil while strengthening the plant to become more resilient to stressors.
MicroLife super seaweed is eco-friendly and organic
Act quicker than most liquid seaweed fertilizers
It's multi-purpose and can work for all sorts of plants
It Costs more than most liquid seaweed
---
Liquid Seaweed Fertilizer Compositions
The additional benefits of using a liquid kelp fertilizer are remotely related to its unique component, which is quite different from what we have in regular fertilizer.
When the seaweed decomposes, a lot of natural elements are released into the liquid. Most of which are very uncommon, unregular, but highly beneficial to plants and compost soil.
You might already know some of these components as plant regulators. However, we'd take a discourse on what some of these components are and what they do.
Related Post: How Do You Bring Dead Soil Back To Life?
Potassium found as organic byproducts in seaweed fertilizer help to increase the plant's overall hardiness and innate ability to withstand drought, salinity, cold, guard against diseases, temperatures, and pathogens.
Hormones present in the cells of the kelp before fermentation ends up in the liquid seaweed fertilizer.
And when these fertilizers are used on plants, these hormones serve as supplemental hormones. This means that plants do not have to expend energy on making personal hormones.
Five important hormones are common in plants. They include; auxins, cytokinins, gibberellins, abscisic acid, and ethylene. Each of which works together or solely to influence plant growth.
Benefits of Liquid Seaweed Fertilizer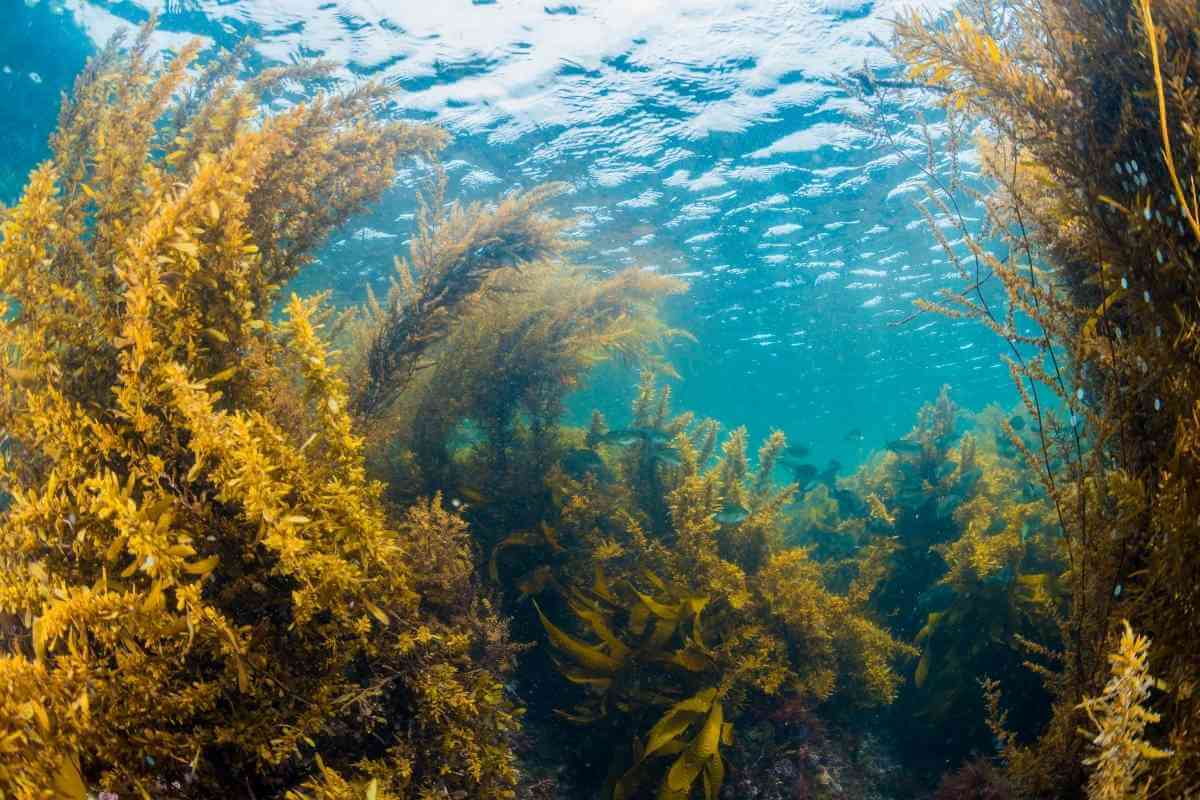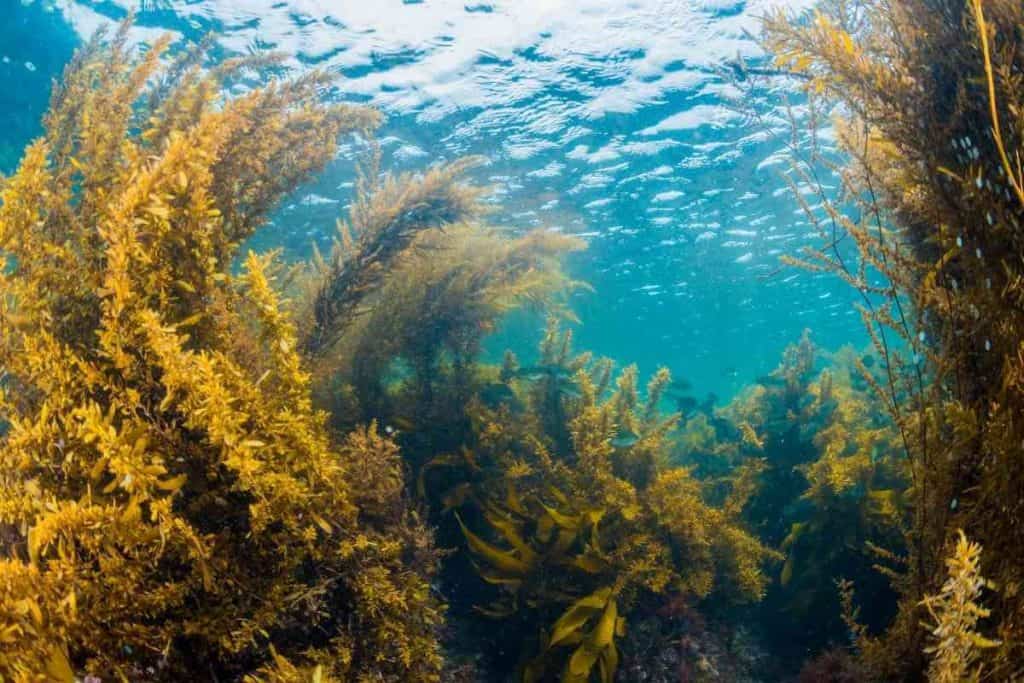 Liquid seaweed fertilizer is often reliable as it provides many nutritional values for most crop plants.
Regardless of whether you are opting for the powdered, liquid, or choosing to use a simple DIY method as an application, it can't be overlooked that this fertilizer still has many beneficial characteristics it induces in plants.
Categorically, the liquid seaweed fertilizer enhances plant vigor, improves root development, aids chlorophyll synthesis, favors earlier flowering, fruit set, and aids uniformity of fruit.
Other benefits include retards senescence, prolonged product shelf life, advanced nutritional quality, improved stress tolerance, drought, salinity, and frost. It also alleviates diseases that bacteria or fungi could cause.
Liquid seaweed can aid better pest control of troubling insects, soil nematodes, and any common annoying pest.
Initially, seaweed feed was engaged on a more DIY approach which was merely by direct application of kelp to the plant and soil. But it took a lot more time to complete the breakdown of its nutritional value before the plant could use it.
Over the years since the liquid seaweed became more live stream, it's been adequately studied and optimized to ensure that we can derive the best of what it offers for our crop.
Many organic farmers and gardeners prefer it because, alongside its benefits, it offers zero to none downside that could badly affect their crops.
I find myself alongside many organic farming consultants recommending the liquid seaweed spray. And this shouldn't have anything to do with whatever product or fertilizers you've decided to add to your plant menu. Ensure you've got the seaweed on constant reps.
How to Make Your Own Liquid Seaweed Fertilizer
Making your bed fertilizer would largely depend on how close you are to a beach. Or how else could you possibly get your hand on the significant raw material? Seaweeds!
Now, even if you live near a beach or have unmatched access to one, you might have to check if it's legal to take any of it before taking it.
An interesting use case includes using seaweed kelp with seaweed garden mulch. These are all great resources for your plants. But be sure to take what you need and leave a significant part of this seaweed on the beach.
Sometimes it's a habitat for embryos of sea creatures, and other times, it serves as food so leave a handful.
Read Also: Plants In The Ocean
One thing to love about the DIYs of the liquid seaweed fertilizers, it's that they are effortless.
If you intend to make a very basic liquid seaweed fertilizer, then all you've got to do is:
Load up the plucked seaweed in an airtight container
Fill that container with water
Note: It's not advised to rinse the salt first. But if there's a way you can tell if the salts are pretty excessive, then you can cautiously rinse the seaweed to get rid of a large portion of salt.
After mixing the seaweed in the water, you can't immediately expect that it's ready for use. Allow the mix to sit or settle for 2-3 weeks. It should stay longer in cold weather.
When done, you should get a foul, distasteful smell which is not a bad thing as it shows that an anaerobic fermentation has occurred.
And that's one of the signs that tell you the seaweed fertilizer is ready for use. You could also reduce or eradicate the smell by adding a few effective microorganisms.
If you were patient enough and allowed the seaweed mixture to stay long enough, all the seaweed would decompose or dissolve; however, even if you still have some undissolved in the container, you can throw it in your garden or on your soil as mulch.
When you're prepared to use, mix the decomposed seaweed mixture with water in a 1:10 ratio. The application could be made directly to plants.
Notably, the DIY seaweed kelp fertilizer might not be as concentrated as most commercial kelp fertilizers, which are perfectly fine because they still do the job you require.
Frequently Asked Questions
Which Seaweed fertilizers are best?
In my opinion of which seaweed fertilizers are best, I'd choose:
These are not essentially your everyday seaweed as it's very potent and intermixes with dirt more rapidly than most.
Is seaweed fertilizer Good for plants?
Seaweed fertilizers are organic fertilizers. They use the natural elements as vital ingredients for making these fertilizers which them highly valuable soil fertilizers.
Which is better, seaweed or fish fertilizer?
Fish fertilizers are great and are made from pulverized fish. But the seaweed fertilizer is purely organics and mixes more rapidly with planting dirt. So, while both might be a good substitute for the other, the seaweed fertilizer is incredibly swift in action.
What is the NPK of liquid seaweed?
Liquid seaweed has an NPK ratio of 1-0-4, which is a high nutrient combination and gets quickly released to the planting dirt.
Is liquid seaweed good for a vegetable garden?
Actually, Yes! It's just suitable for vegetable gardens; the liquid seaweed is excellent for all sorts of gardens. Check the section on components of the liquid seaweed fertilizer to understand why it's so efficient.
Read Also: Potting Soil Vs Topsoil For Grass