We independently research and recommend the best products here. This article contains affiliate links. If you make a purchase after clicking on a link, we may earn a little commission at no extra cost to you.
Every gardener or farmer knows the importance of fertilizers. They are essential if the plants in the gardens and farm are going to perform well.
Fertilizers serve to supply the plants with necessary nutrients for survival and growth. There are different fertilizers suitable for different plants. But what is the best fertilizer for geraniums? Well, that is precisely what we're going to show you in today's article.
Let's get started!
What Is the Best Fertilizer for Geraniums?
What Is Geranium?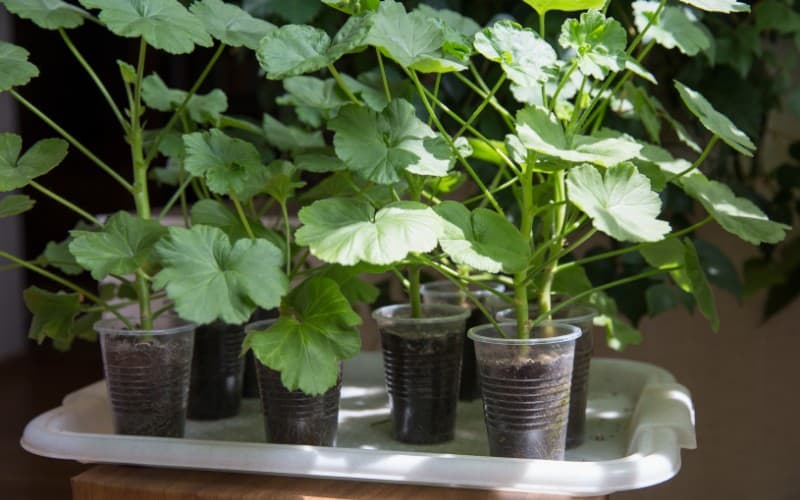 These are plants that belong to the pelargonium genus. Most gardeners plant the geranium because of its diverse scents, color, and growth. They can grow outdoors or indoors. Generally, geraniums don't need too much fertilizer. Outdoor geraniums won't grow if you add excess fertilizer to it.
They need slow-releasing fertilizers so that rain does not wash away the nitrogen present in the fertilizer. Outdoor geraniums use a completely dry fertilizer with a mixture of organic matter. These fertilizers need to be added every four weeks, especially during the geranium's period of growth.
For the geraniums inside, they even need far less amount of fertilizers to thrive. Don't add fertilizers immediately after planting. Do so when the geranium is established. The soil for planting geraniums indoors should consist of peat, a part of sand, and a part of the soil.
What If You Don't Add Fertilizers to Your Geranium?
If you don't add fertilizers to your geranium, you will have a plant that lacks vital nutrients, leading to deficiency. Most fertilizers for geranium supply nitrogen, phosphorus, and potassium, and when any of these two nutrients are lacking, the effect will show on the body of your plant.
An inadequate supply of nitrogen can cause your plant to have stunted growth. The leaves will turn yellow, and the development will be slow. If phosphorus is lacking, the leaves of your plans will grow dark, and the plant's growth affected.
When the deficiency gets too much, the leaves go from dark green to reddish-purple. The next thing that usually follows is the end of the plant.
Potassium leads to necrosis or plant death in extreme cases. The plant parts that are mainly affected when potassium levels are low are the lower leaves, edges, stalks, and stems.
Read Also: Best Electric Snow Blowers For Garden
Geraniums Fertilization Problems
Sometimes, what causes deficiencies in the plant is a result of the additions to the planting soil. If you add any organic matter that has not decomposed well, it will take the nitrogen meant for your plants and use it to decompose. So, whenever you are adding organic material, make sure it has adequately decayed.
The most common means of applying fertilizer to outdoor and indoor geranium is using fertilizers that are soluble in water. But it would be best if you took care when you use this method.
You have to continually feed your plant with water, mostly the indoor plants that won't be touched by rain. Why? Because the fertilizers used are salts, and when salts build-up without water to balance them, the plant will be stunted.
Best Fertilizer For Geranium Plants
There are many fertilizers around, but which is perfect for your geranium? Let us find out.
1. Algoflash/Algoplus For Geranium
Last update on 2023-05-30 / Affiliate links / Images from Amazon Product Advertising API
There are just so many plants you can fertilize with algoflash like violets and hibiscus. It helps the buds of flowers to bloom and makes your geranium grow very well. Don't be surprised if you know a lot of gardeners who use algoflash.
The salts present in the fertilizer does not harm the roots. They maintain the fertility of the soil. Another reason this fertilizer is a popular choice is that it is safe, not just for the plant but also for the environment.
Algoflash does not have a specific color or smell. It supplies the geranium with 12 essential nutrients and some trace nutrients as well. The nutrients in algoflash are instrumental in the production of healthy flowers and strong roots. It is also water-soluble, needing a substantial amount of water to work.

Pros
Algoflash/algoplus is completely soluble in water
Algoflash does not have any foul smell-or any smell at all
The fertilizer is eco-friendly
The application of the fertilizer is pretty straightforward
Mineral-based
Cons
You need to use a lot of water to mix the fertilizer
It needs to be thoroughly applied for it to work. This may be an expensive thing to do in the long run, especially if there are many plants to fertilize
2. JR Peters INC Blossom Booster Fertilizer
J R Peters 52024 Jacks Classic No.1.5 20-20-20 All Purpose Fertilizer
All indoor and outdoor plants, tree, vegetables and surf
It feeds both through the roots and the leaves. This formula of nitrogen, phosphorus and potassium provides fast green-up and rapid leaf expansion
Indoors it is especially effective on foliage plants, keeping leaves green. A proven performer in the vegetable garden for generations
Last update on 2023-05-30 / Affiliate links / Images from Amazon Product Advertising API
The fertilizer from JR Peters is best known for its ability to cause flowers to bloom and blossom. It dissolves easily in water and is suitable for both outdoor and indoor geraniums.
JR Peters INC fertilizer also improves the color of the flowers of the geranium. Roots and leaves are not outside the scope of JR Peter's influence as it supplies nutrients to them.
This fertilizer has a reputation for reviving anything it comes in contact with, targeting and depositing nutrients onto the plant's stomata. JR Peters fertilizer removes run-offs that endanger the environment.
For your flowers to keep budding and flourishing all year long, you have to use this formula. The fertilizer does not work only with geraniums but on other plants like garden greens and orchard plants. You can as well apply them after a transplant.
The best way to use this fertilizer is to dissolve it with water and spray using your watering can.
Spray every day for seven to fourteen days. It is best to use this fertilizer when it is the time for the plant's buds to set.

Pros
The JR Peters fertilizer is affordable
It is easy to mix and use
It is a multi-purpose fertilizer. You can use it for other plants
It helps transplanted plants to grow properly
Supplies flowers nutrients to bloom all year round
Cons
The fertilizer works best when the buds are setting
You will need to use a lot of water to dissolve the fertilizer
3. Oscomote Smart Release 274150 Plant Food
Sale
Osmocote Smart-Release Plant Food Plus Outdoor & Indoor, 1 lb.
OSMOCOTE QUALITY: Osmocote is the original slow-release plant food. Decades of rigorous field testing confirm product effectiveness with hundreds of plant species in a variety of climate and soil conditions.
OSMOCOTE'S BEST FORMULA: Each homogeneous granule contains 15-9-12 NPK plus micro and secondary nutrients and feeds up to 6 full months.
OSMOCOTE'S SECRET: Soil temperature controls how Osmocote releases its nutrients, and more importantly how nutrients are taken up by the plant. Replenishment and feeding are in natural harmony.
OSMOCOTE'S DIRECTIONS FOR USE: 1 pound of Osmocote covers 37.5 sq. ft. (approx. 6' x 6'). Works best when mixed into 1 – 3 inches of soil. Package includes applicator. In containers, mix 1 pound with 19 gallons of potting soil.
OSMOCOTE IS MISTAKE-PROOF: Even if over-applied up to 3x the recommended rate, Osmocote does not 'burn' the plant.
Last update on 2023-05-30 / Affiliate links / Images from Amazon Product Advertising API
Oscomote has 11 essential nutrients that aid the proper growth and functioning of the plants. It can work on almost any kind of plant.
The oscomote releases the nutrients gradually into the soil and ensures a blooming harvest. You can apply it at any time of the year.
You can apply it to both indoor and outdoor plants. Apply twice a year with enough water. The oscomote works best with warm weather and when the plant is actively growing.

Pros
Unlike some fertilizers, it does not damage or burn the plant if it comes in contact with them
It is easy to apply
The effects of the fertilizer are long term
The packaging is convenient for storing fertilizer
Cons
It does not dissolve easily in water
It may cause sustained harm to the environment
4. Southern Ag Max Acid Water Soluble Fertilizer
Last update on 2023-05-30 / Affiliate links / Images from Amazon Product Advertising API
One of the selling points of this fertilizer is its effect on natural microorganisms in the soil. It has a combination of nitrogen and phosphorus, which causes the plant to grow speedily.
The potassium and iron present ensures that the plant grows strong too. It is a multi-purpose fertilizer; you can use it for lawns, houseplants, trees, and roses.

Pros
The fertilizer causes plants to bloom with almost surprising speed
It is water-soluble
It contains a large amount of nitrogen
Helps the proper functioning of soil microorganism
Cons
It takes time for the fertilizer to dissolve in water
It is expensive
5. Miracle-Gro Water Soluble All Purpose Plant Food
The selling point of this fertilizer is its ability to deliver nutrients speedily and in an accessible form. Perfect for trees, houseplants, and flowers.
It quickens the growth process and does not harm the plant. It enhances the green color of plants and is water-soluble.

Pros
It is safe to use on all plants
It dissolves and spreads quickly
It does not harm the plants
Cons
You have to measure the fertilizer correctly before applying it
6. Joyful Dirt All Purpose Plant Food and Fertilizer
All Purpose Plant Superfood and Fertilizer | Makes 4 Gallons | Organic Premium Concentrate | Easy Use 3oz (1 Shaker)
CERTIFIED ORGANIC PLANT FOOD: Concentrated, premium plant food and fertilizer specifically formulated for indoor and outdoor plants. Joyful Dirt comes in a convenient shaker bottle for easy application.
EASY TO USE: One simple shake of Joyful Dirt plant food onto the soil on each side of the plant and then water normally. Or, you can mix Joyful Dirt directly into your favorite watering can. Use once a month or as often as every watering.
CONTAINS: We cracked the code on caring for your plants using only the highest quality nutrients and superfoods.
RESULTS: Joyful Dirt produces noticeably more healthy and vibrant plants. We are incredibly proud of our certified organic formula.
SAFE: Peace of mind. Joyful Dirt is safe for pets and kids.
Last update on 2023-05-30 / Affiliate links / Images from Amazon Product Advertising API
Joyful dirt fertilizer ensures that your geraniums grow healthy and large. The fertilizer quickly gets to the roots to provide nutrients.
It is natural, pet safe, and anti-pest and disease. Mix two spoons of Joyful dirt in a water gallon and spray at the geranium's base. Apply it monthly to get the best out of it.

Pros
It is easy to apply
It has mycorrhizae that help it absorb water and nutrients quickly
It is 100 % organic
Cons
It comes in a small, expensive bottle.
It has a negative effect when you apply in excess. The plants may die
What To Consider When Buying Geraniums Fertilizer
As a gardener, I believe you already know the importance of feeding your herbs and flowers with healthy micro-nutrients. Even if your garden is already blessed with super topsoil, you must understand that plants attract food and the soil gradually lose their fertility.
But when you feed your plants with the needed nutrients, you restock the ground, giving them what they need. Geraniums generally need excess nutrients and adequate grooming so they continue to bloom all season.
Whether your plants and herbs are struggling to get their head out of the pots, or you just want to grow the strongest and healthiest blooms, choosing the right fertilizer for geraniums will make all the difference.
In case you don't know, plants do care about the source of their nutrients. What they need to grow healthy is classified based on the elements, which are natural like nitrogen, potassium, potash, phosphorus, etc. These are all the nutritional requirements for the healthy growth of your greens'.
Therefore, depending on your geraniums fertilizer needs, when trying to buy one for this plant, you want to pay attention to the following nutrients:
Read Also: Best Garden Tractor Review
Nitrogen Deficiency: Buy a nitrogenous fertilizer if you found that the lower leaves of your geraniums turn yellow, and the upper leaves' growth is stunted. This the best way to treat yellow leaves on geraniums.
Phosphorus Deficiency: Use phosphorus-rich fertilizer if the side portion of geraniums leaves turn dark green and the lower parts of the plant turn brown. When the condition is severe, the lower part of the plant will turn reddish-purple color and die.
Potassium Deficiency: Potassium-rich fertilizer is what you need if you notice a burn sign at top of the geraniums leaf that comes towards the bottoms of leaves. This is known as necrosis.
Geraniums Fertilizer Application Rate & Dosage
There's no denying that geraniums plants need fertilizer to grow and bloom; however, over-fertilizing this plant can also hinder growth. So, you must know the correct fertilizing dosages for healthy geraniums.
This will usually depend on the brands and the fertilizer's NPK number. The good thing is that you will often get instructions from the manufacturers. Follow those strictly to prevent any damage to your plants.
The dosage is usually written on the product's packaging, so you will want to study that properly before applying the fertilizer. Else, seek expert advice!
How Often Should I Fertilize Geraniums?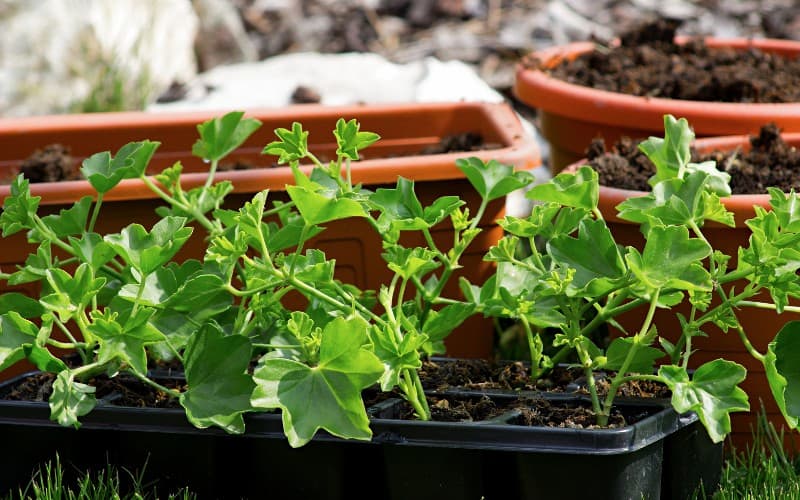 How often you fertilize your geranium plant totally depends on a few factors.
Typically, geraniums are heavy feeders, meaning that they will always need more fertilizer the more they grow. That said, geranium plants that are already grown need to be fertilized at least once every 4 weeks or thereabouts.
However, if you do not want to spend lots of time fertilizing your geranium plants, go for fertilizers that last all season, which are slowly released into the soil in few proportions.
But aside from this, it's also worth mentioning that the kind of soil you use equally plays a significant role in this aspect.
For example, if you've added a good amount of compost or manure into the soil, then it will be wise to delay fertilizer application for some time to give the natural organisms some time to do their work.
Frequently Asked Questions
Do Fertilizers Age?
Fertilizers age but very slowly, especially if stored properly.
When is the best time to apply fertilizer to geraniums?
Applying fertilizer in hot and warm can burn the plant leaves. Fertilize the geraniums in cool and cum weather. Early morning and early evening may be the best time to apply fertilizer to the geraniums.
What Are the Essential Nutrients That Must Be in A Fertilizer?
The essential nutrients that must be in fertilizer are Nitrogen, Potassium, and Phosphorus.
Can Fertilizers Harm My Geranium?
Some fertilizers could harm your geranium if you applied it in excess.
Conclusion
When you care properly for your plants, you get a great reward, a bumper harvest. Some soils do not have all it takes to support your plant's growth, hence the need to use fertilizers.
So if you've been wondering what is the best fertilizer for geraniums, we hope this article has given you enough insight into the type of fertilizer you should always use for your beautiful geranium plants.
Do let us know if you have questions.