We independently research and recommend the best products here. This article contains affiliate links. If you make a purchase after clicking on a link, we may earn a little commission at no extra cost to you.
As a gardener, the best time-saving measure you can take is to apply mulch. This goes for everywhere from flower beds to vegetable gardens.
The best mulch can make a significant difference in your garden. Mulched gardens grow healthier, resist drought, and have fewer weeds than unmulched ones. Done correctly, it'll let you spend less time weeding, watering, and controlling pests.
Mulching isn't just about creating attractive garden beds. Mulch is also a critical part of landscape management due to its ability to retain soil moisture and control weeds.
However, with so many types of mulch on the market, it can be tough to choose a good one. From compost to shredded bark, we've covered the mulch basics here to help you select a suitable one for your garden.
Furthermore, while you may see mulching as a basic part of gardening, there is a lot to learn about the various types of garden mulch and the benefits of each kind. We'll also show you how to compare and contrast the different types of mulch and when to use them.
Best Mulch for Garden
Benefits of Mulch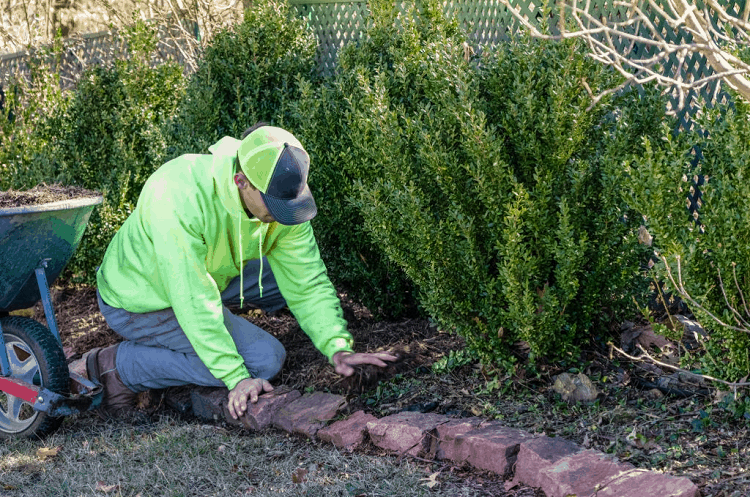 Adding mulch in your garden has lots of benefits. In the summer, mulching helps the soil to retain moisture, so you don't have to be frequently watering your garden.
In the hot sun, soil also has a tendency of drying out faster and harden. Mulching will also help with this. It protects the soil from direct sunlight.
Additionally, as I mentioned earlier, mulch equally prevents weeds. By adding mulch to your planting bed, you'll be able to block light from openings in the soil, thereby reducing weed germination.
Adding a thick layer of mulch will also help to ensure that the weeds will not see the light of day.
With time, the types of garden mulch made from organic materials break down and boost soil structure and fertility. This especially happens with compost used as a mulch. The nutrients will encourage soil organisms and help in plant growth.
NOTE: While a concentrated layer of mulch is good, don't do it too much. 2-4 inches is the recommended depth for a mulch layer.
Best Mulch Reviews
1. PlantBest Mega Mulch
The PlantBest Mega Mulch is one of the best mulch for garden – it comes in brick form. You can just drop the brick in a wheel barrel, add some water and the brick will decompose.
This will give you enough mulch to cover up to 2.5 cubic feet. The formula claims to last for about 2-years with Akron-mils miracle mulch.
With the mulch's ability to retain moisture, your water bill will be reduced to a great extent. It'll also keep your lawn damp for an extended period.
Additionally, this formula equally helps in impeding those annoying weeds. It's merely a set and forget mulch. The PlantBest Mega much can be a fantastic way to add some beauty to your lawn.
Depending on how much of your lawn you want to cover, a single pack should be more than enough to cover a small or medium-sized garden.
You can also buy an 8.8-pound pack for a yard that you don't have to spend so much time on if you had not used mulch.

Pros
The all-natural beautifying ground cover that lasts up to 2 years
Beautifies outdoor areas
Retards weed growth
Reduces watering
Prevents soil erosion
Reduces watering
Keeps slugs away
Very easy to use
Cons
Some users complained that it lacks quality control
2. EZ-Straw Seeding Mulch with Tack
Let's face it: Getting your yard and lawn just right can be one of the toughest tasks you will handle. Between the freedom of doing whatever you want and the uncountable design options, it may look like you have lots of decisions to make.
But keeping it simple is an excellent way to go when you don't have enough time to care for your garden and lawn.
EZ-Straw Seeding Mulch with Tack will give you the lawn you've always wanted. It's the best add-on solution for grass seed planting.
EZ-Straw Seeding Mulch has processed straw with a bonding agent, giving straw a tackiness that holds it together. It's designed to prevent soil erosion and your seeds from washing away.
That's not all, it also speeds up germination, helps with less watering, and biodegrades, so you won't have any mess to clean up. This formula is also safe for children and pets, 99% weed-free, and protects seed from birds.
This Mulch is equally a lightweight option made with grass seeding and organic straw. You can use it to protect your current grass from torrential wind and rain. The formula can also speed up germination.
Overall, if you want a product to spot-treat your lawn, or that you can use with other plants, then EZ Straw's Mulch is an excellent choice. You can equally add more grass seed to it and use the mulch to hold it in place for best growth.

Pros
Biodegradable (no mess to clean up)
Safe for pets and children
Accelerates germination
Protects the grass seed from windy areas, heavy washout, birds and other animals
Requires less watering
99% weed-free
3. Double F Farms Premium Organic Mulch
This is simply one of the best mulch for potted plants. Fiber Organic Potting Mulch is a unique mixture of long-lasting coconut husks and fiber.
This attractive, porous, and lightweight mulch creates a useful covering for all your potted plants, giving you less work, as well as mold-free and healthier plants.
Adding mulch to your potted outdoor and indoor plants can be beneficial to their health, while also keeping them looking neat and pretty.
Keep your guests impressed by simplifying your plants' beauty with some mulch in their pots. This mulch makes for the ideal soil cover to top off your plants.
Additionally, the layer prevents soil splash from potted plants while equally lowering soil compaction and root decay to keep your garden clean and healthy. The mulch layer equally reduces water evaporation to provide plenty of moisture and aids with less watering.
You can also add the Fiber Mulch into your potting mix to offer extra pore space. This mulch can change your potted plant's health, which is popular to keep around in your home.

Pros
Very affordable
Minimizes soil compaction and root decay (the number one reason for potted plant failure)
Keep your soil in the pot
Prevent weeds and soil mold
Lowers evaporation and retains moisture
Prevent potting soil from splashing onto your furniture, plants and planter
Cons
It's too lightweight
Small quantity
4. GreenView Fairway Formula Seed Success Biodegradable Mulch
GreenView Fairway Formula Seed Success is a mixture of starter fertilizer and seeding mulch that helps maintain moisture in the planted area, to aid successful germination of grass seeds. This 10-pound bag can easily cover up to 200-square feet.
The paper mulch is biodegradable and is formulated with fertilizer, a wetting agent, and special tackifier that keeps mulch in place, protecting the seed while it germinates – even on windy and rainy days, or when seeding a sloped area.
It does not come with grass seed – you select the grass seed that's suitable for your lawn. Biodegradable mulch is an excellent, environmentally friendly choice for those that want to continue living in a green, supportive environment.
This garden mulch formula will help keep your grass moist for extended periods to prevent the constant watering of your lawn. It is perfect to use for spot treating those irritating bare areas in your yard.
You can use it with your choice of grass seed to encourage a robust and seamless yard. The formula is similar to something a professional would use.
If you're worried that your mulch will be harmful to the environment in the long run, then you're safe. This mulch pretty much takes care of itself, and soon, you will have an attractive lawn all over again.

Pros
Very easy to use
Great for bare spot repair use
Keep grass seed moist while it germinates
Covers 200 sq ft
Contains starter fertilizer
5. Blommer Cocoa Shell Mulch (best organic mulch)
Organic mulch may seem to be redundant. You may think that "mulch is natural;" however, most mulches add needless ingredients into their formula.
Excitingly, Blommer's Cocoa Shell Mulch does not contain any additive that doesn't benefit your greens, like fillers. Rather, this mulch is formulated with the outer shell of cocoa beans.
That's correct; chocolate isn't probably so unhealthy – when used properly, of course. Our favorite dessert makes for some excellent mulch. And its vibrant brown color looks fantastic when used in different styled lawns.
Furthermore, the cocoa bean shells are made to retain water, keeping your plants moist longer, but never gets soggy or gross regardless of the weather. Interestingly, one-inch of mulch is more than enough to hide weeds and ward off future ones.
Read Also: Mulching Around Trees and Shrubs
This is a fantastic option for homeowners looking to beautifully style their lawns without having to spend plenty of time and money on unnecessary yard accessories. Green conscious gardeners can equally appreciate renewing resources.

Pros
Attractive brown color
Helps maintain your garden
Formulated with the outer shell of the cocoa bean
Retains water and never becomes gross or soggy
Will not bleach out
Cons
It's too lightweight
It's somewhat inconsistent
6. AMERISCAPE 55554 Cedar Mulch
Mulch made of bark is one of the most widely used ones. This is because they are healthy, look good, and last longer when used on your lawn. A good mulch will lower maintenance, and using a formula with cedar bark or pine will keep your lawn and plants looking fresher.
The Ameriscape Cedar Mulch is formulated with high-quality cedar chips and offers you the best mulch experience. This product is treated for the red appearance and is made to resist rot while equally keeping away insects – a common problem with most mulches.
Interestingly, this formula could also be a beautiful decorative mulch for your yard. There are lots of landscaping jobs using mulch where you can customize and design your lawn and yard to your taste. This mulch is simply one of many steps, but it can help in the appearance of your yard.
Finally, despite being designed with rich, dark cedar, this formula has been treated red. Thus, if you prefer a less striking color, then look elsewhere.

Pros
Contains 100% cedar bark and wood, with no fillers
Made from quality cedar chip
Best decorative ground covers
Rot and insect resistant
Picking Mulch for Your Garden
There are certain things you need to consider while choosing the best mulch for garden. One such things is the types of mulch and the one that'll be suitable for your yard.
There are basically two kinds of mulch:
Organic mulch
Inorganic mulch
Organic mulches consist of formerly living material like chopped leaves, pine needles, grass clippings, straw, compost, shredded bark, wood chips, sawdust, and paper. While inorganic mulches consist of geotextiles (landscape fabrics) and black plastic.
Both types of mulch inhibit weeds, but organic mulches equally help to improve the soil as they decay. On the other hand, inorganic mulches don't break down and augment the soil, but under some circumstances, they're the best mulch for garden.
For Instance, black plastic helps to warm the soil and emits heat in the night, keeping heat-loving vegetables such as cherry tomatoes and eggplant cozy and vigorous.
Types of Garden Mulch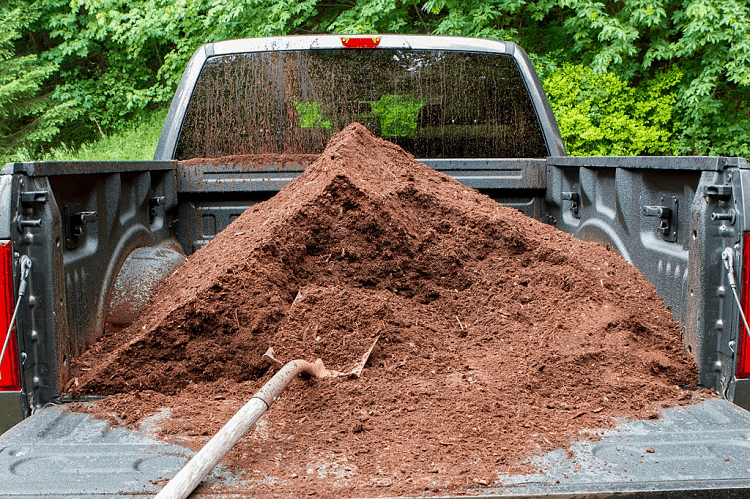 Here are the different types of mulch you should know about:
Straw
Straw mulch features a beautiful golden color that looks amazing in the garden. It's equally a little slower to break down than grass clippings or leaves. Some gardeners prefer smaller, more shredded straw pieces while others like larger straws.
Straw is naturally used in more utilitarian gardens like vegetable gardens, and under strawberry plants. Additionally, straw does a beautiful job of keeping mud out of your edibles.
However, you have to ensure that the straw is free of weed seeds, else it can result in more weeds than it prevents. (Oat straw is always particularly weedy).
Shredded Bark
Shredded bark is another type of mulch, and it's one of the most common and least expensive. It comes from a range of sources, including cedar trees. Also, shredded bark is one of the best mulch for slopes, and it breaks down somewhat slowly.
Furthermore, some shredded-bark mulches are byproducts from other industries, and they're considered environmentally friendly. We'd suggest you check the mulch packaging for more information.
It's worth noting that shredded bark can absorb some nitrogen from the soil as it decays. If your soil is poor, adding a little amount of organic fertilizer to the soil can keep your plants healthy.
Pine or Cedar Bark Chips
It's slower to break down these bark nuggets than shredded bark, but they also don't stay in place. They're typically not the best type of mulch for slopes or other areas where heavy rain may wash them away. The chips will tend to float and depart like boats.
The nuggets are available in a range of sizes – and the bigger the lump, the longer it lasts.
Compost
Compost looks exactly like soil, apart from the fact that it's darker, so it really starts out plants well. While this mulching material is quick to break down, it adds to your soil structure the fastest.
Additionally, it's pretty much affordable – and you can easily create your own rich compost for free. It's also worth noting that many municipalities equally give away compost.
Stones and River Rock
Stone and river rock doesn't break down in the landscape as they're inorganic materials, so you don't need to reapply them every year. However, it equally means that they do not improve your soil over time.
You want to be careful when using stone as a mulch – stones tend to get really hot. Also, people often use stones as mulch in cactus and rock gardens.
But if you choose to use rocks and stones as a mulch, it's essential to cover your soil first with sheer landscaping fabric. This will help to prevent weeds from growing.
Read Also: Benefits of Perlite to a Garden
How to Mulch
There are two basic rules for using mulch to fight weeds in a garden. First of all, lay the mulch down on already weeded soil, then lay down a thick enough layer to dissuade new weeds from growing through it.
It can take a 4 to 6-inch layer of mulch to totally prevent weeds, although a 2 to 3-inch layer is often enough in shady spots.
Furthermore, if you know that a garden bed is filled with perennial roots or weed seeds, you can use a double-mulching tactic to stop a weed explosion. Set plants in place, water them properly, spread newspaper, then top it with mulch.
Mulches that equally retain moisture, such as wood chips, can slow down soil warming. During the spring period, pull mulch away from bulbs and perennials for faster growth.
Moreover, a wet mulch piled against the stems of vegetables and flowers can make them rot; so you'll want to keep mulch about 1 inch away from stems and crowns.
Mulch piled up against woody stems of trees and shrubs can equally lead to rot and aid rodents (such as mice and voles) to nest there. Therefore, keep deep mulch pulled back about 6-12 inches from trunks.
FAQs About Garden Mulch
Which type of mulch is best?
One of the most widely used mulch is the one made of bark. This is because they are healthy, look beautiful, and last long when used around a lawn.
That said, the best mulch will require less maintenance, and using a product with pine or cedar bark will keep your lawn and plants looking fresher.
What is the best mulch to prevent weeds?
Well, the best mulch to prevent weeds is equally the most affordable. Free materials that also benefit soil include leaves, compost, wood chips or sawdust, grass clippings, or straw. Mulches that are made of these formulas are known to prevent weeds.
What kind of mulch lasts the longest?
Coarse organic mulches (like bark nuggets) can last up to 3-years. These bigger mulches work pretty well around trees and shrubs.
What color of mulch is best?
Mulch that is red can look good as a background for plants with yellow flowers. Lots of people like brown as the most natural-looking mulch; however, they often make exceptions and uniquely use black mulch in a specific area of a yard.
Must you remove old mulch before applying a new one?
For a yearly bed, it's good to remove old mulch before tilling the soil and adding compost.
NOTE: Your mulch should not be more than 3-inches thick in a planting bed; therefore, by adding only an inch or so every time you mulch, you'll be fine by only removing the mulch every other year.
Do I have to pull weeds before mulching?
It's vital to remove weeds before applying mulch; this is because mulch can't kill weeds. You can either spray the plants with herbicide, hand-pull weeds after an irrigation or rainfall, or simply dig up weeds with a spade or other tool.
Additionally, you shouldn't apply mulch until the weeds are completely dead.
What is the best time to put down mulch?
The best time to put down mulch is normally mid- to late spring. While seedlings can actually work their way through a thin layer of mulch, it could be impossible to penetrate too deep a layer.
Is black mulch dangerous?
Typically, most colored mulches are often dyed with harmless dyes, such as carbon-based dyes for dark brown and black, or iron oxide-based dyes for red.
However, some cheap dyes can be dyed with toxic or harmful chemicals. It can equally be detrimental to individuals spreading this mulch and animals digging in it.
Can too much mulch kill plants?
While every plant grows well with mulch, too much of it can also kill them. The key to fostering a healthy landscape is to determine when enough is enough.
Essentially, two to four inches is the best depth for mulch around shrubs and trees. Realistically, thicker layers of mulch can harm plants.
Conclusion
Hopefully, you've been able to choose the much that's best suitable for your garden and lawn.
The best mulch is usually the one that meets the needs of your landscape. We'd suggest you carefully take stock of your plants to know what you need.
If you want to cover your garden beds based on looks alone, then a colored or inorganic mulch might be all you need. But if growing fruits and flowers is your ultimate goal, you should go for organic mulch.
Happy mulching!