We independently research and recommend the best products here. This article contains affiliate links. If you make a purchase after clicking on a link, we may earn a little commission at no extra cost to you.
Mulching your trees and shrubs will energize them and make grow healthier, which is why we'll be showing you the best mulch for trees and shrubs today. Mulch helps conserve moisture, reduce weeds, moderate soil temperature, and beautify your yard.
Aside from that, mulched plants also grow better than similar, unmulched plants in the garden. The two basic types of mulch are organic, such as bark and shredded leaves, and inorganic, such as gravel.
Many mulches can equally improve water use, for example, by softening the effect of raindrops, so the soil surface loosens, opens, and ready to take in water.
However, despite all these wonderful benefits of mulching, it can also be one of the worst things you do for your shrubs and trees if you abuse it.
In this guide, you're going to learn how to use mulch the best way and the best mulch for shrubs and trees.
Let's start by showing you our favorite trees and shrubs mulch in a table, before discussing the actual meaning of mulching!
Best Mulch for Trees and Shrubs
What is Mulch?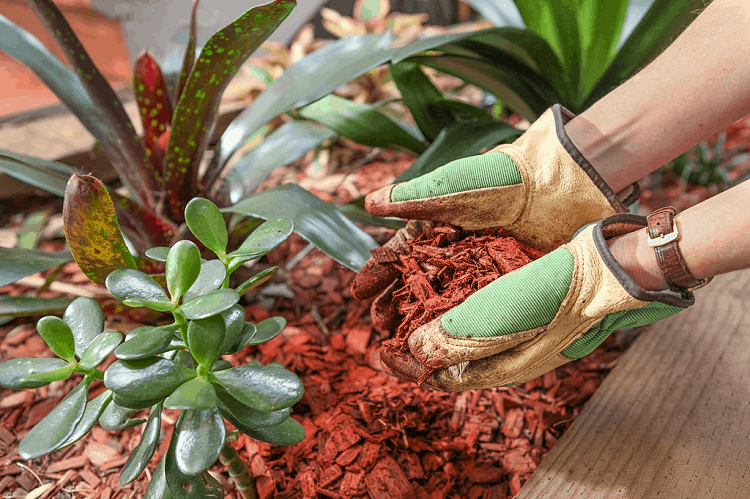 Mulch is a material that is used to cover the ground. It comes in different forms, such as black plastic, pebbles, straw, even the marbles.
When you spread any of these materials underneath a shrub or tree, it will hold off the lawn so you don't need to spend more time mowing them. Aside from that, mulches also help to preserve water by slowing down evaporation from the soil surface.
Mulches also contribute to the health and nutrition of trees or shrubs. As any organic material rots, it discharges nutrients, making plant foodstuffs already in the soil easily accessible to roots. Exclude marbles, pebbles, or black plastic for this.
Organic materials are the best mulch when it comes to trees and shrubs. And apart from the numerous benefits they have for plants and the soil, they are often cheap or totally free.
That said, let's now look at some of the best mulches for trees and shrubs:
Trees and Shrubs Mulch Reviews
1. Plow & Hearth Recycled Rubber Permanent Garden Mulch Border
The Permanent Mulch Recycled Rubber Border takes the work out of the landscaping. This is one of the best mulch for trees and shrubs. It discourages unwanted plant growth but allows air, water, and nutrients to pass through.
The product will blend beautifully with your landscape – and you'll like the manicured look it gives your yard. Additionally, Permanent garden mulch is durable, so you don't have to buy, shovel, haul, and rake bulk mulch each spring.
Recycled tires are shredded and transformed into lightweight, resilient designs for flower and veggie gardens, landscaping around the foundation of your home, specimen trees, and shrubs, garden paths, etc.
Interestingly, this mulch is very easy to use. Simply lay it down and roll it out. It can be cut to fit around shaped beds, growing trees, and narrow pathways.
Unlike bulk mulch, the Permanent Mulch Border is scatter-proof and sits tight. Pets (and other creatures) cannot kick it up, it won't be blown away during fall leaf cleanup, and it will always look immaculate and tidy on your yard.
Furthermore, Perma Mulch is a practical solution to lots of garden and yard problems. It does not only stop unwanted plants and minimize yard work, but it also looks attractive and is easy to use. It's also designed to withstand extreme weather conditions.

Pros
Allows water and air through
Natural-looking blocker
Easy to use, cut-to-fit
Made from recycled rubber tires
Long-lasting, durable, won't fade
Looks like real wood mulch
Cons
It's labor-intensive
Somewhat costly, but worth it
2. Oldcastle Lawn & Garden Green Thumb Mulch
This black mulch aids moisture retention. It is the ideal accent to walkways, flower beds, and natural areas.
For people that are interested in an excellent mulch for shrubs and trees, the Oldcastle Black Mulch is a great option that you can buy in bulk.
The company is one of the popularly known players in the industry and has many years of experience creating high-quality mulch. Also, this black mulch is color dyed but maintains its color effectively.
We really like the fact that deters weed control, which is the primary reason why people often get this for their shrubs and trees in the first place.
It gives your garden an adorable look. It's also worth stating that it helps to regulate the soil temperature properly. This can be a lifesaver in the severe heat of the summer or cold of the winter months.

Pros
A beautiful accent to your garden
Helps maintain your garden
Retains moisture
3. AMERISCAPE Cedar Mulch
Ameriscape has been providing the outdoor living industry with high-quality mulch products for over two decades; offering the best decorative ground covers.
The product is made from quality cedar chip and contains 100% cedar bark and wood, with no nasty fillers. Interestingly this mulch product is both insect and rot-resistant. These are the primary reasons why most people choose this brand if they are set on cedar mulch.
In other words, it is absolutely made from quality cedar wood and equally has an appealing odor at the same time. Believe it or not, the scent does matter for some people. It's yet another great choice when it comes to the trees and shrubs mulch.
Finally, this mulch is excellent for shrubs and trees, and you can get fantastic coverage while at the same time avoiding spending lots amount of money.

Pros
2 CUFT Natural Color
Contains 100% cedar bark and wood
Contains no fillers
Rot and insect resistant
Made from quality cedar chip
Best decorative ground covers on the market
4. USA Pine Straw Premium Pine Needle Mulch
Beautiful color, this is an impressive mulch material for planting gardens and beds. It works really well on slopes and hills. It's also lightweight, easy to install, and over 2x more area per square feet than regular mulch.
The USA Pine Straw Mulch is a very commonly used organic mulch and is highly recommended as you can use it to protect your trees and shrubs as well as the root system.
We like the product because it is effortless to spread and does not make a mess everywhere. It also helps in retaining moisture and preventing vicious bugs and weeds from coming around your soil and tree roots.
However, the only real drawback of this mulch is that it's somewhat unattractive and won't look nearly as lovely as a traditional black or brown mulch, which will clearly make your garden more vibrant.

Pros
Great for all gardens and planting beds
Loved by plants
Enhances the beauty of your home without damaging the ecosystem
Lightweight and so easy to install
5. FibreDust CoCo Mulch
Fibre Dust Coco Mulch is a compressed mulch block. It's produced by crushing coconut husks, and it has many benefits over bark mulch. For example, coco mulch does not float and can be used on sloped areas, unlike bark.
Due to coconuts high lignin content, this mulch will outlive bark mulch. It'll give you up to 3 years of mulching aid without refreshing. Each block expands to around 2 cubic feet of the mulching medium after being hydrated with about 4 gallons of water.
Besides, with a "rust" like appearance, FD Coco Mulch will bring aesthetic color into your landscape and is ideal for any mulching job. It's not harmful to pets and does not attract insects.

Pros
100% Coconut husk
Contains no additives
No assembly required
Adds excellent aesthetic look to your outdoor landscape
6. Agfabric Easy-Plant Weed Block Mulch
Agfabric weed control fabric keeps the ground clean and helps with drainage. It's widely used for irrigation work, weed barrier, building project, road paving. It's also a top-rated mulch for trees and shrubs.
Furthermore, Agfabric landscape tarp does well in drainage, filter, protection, isolation, and reinforcement. Weed control cloth helps to prevent direct sunlight. The strong structure of the fabric itself also helps to stop grass or weed from going through, effectively discourage the growth of grass or weed.
Fast drainage of surface water along with the pebble layer and sand layer under the ground cloth can efficiently hamper the reverse osmosis of soil particles.
The laying structure of this mulch makes sure that the air of the root has some degree of mobility. It's fantastic for the growth of plant roots – and helps to prevent root from decay.
That's not all; it also prevents the extra growth of potted roots. And the ground cloth can stop the roots of plants from drilling into the ground, and consequently enhance the quality of potted plants.
Overall, this is a very brilliant mulch for trees, and I'm sure a simple trial will convince you.

Pros
Corrosion-resistant
UV resistant and antioxidant
Anti-microbial
Good water and air permeability
Convenient construction
What to Consider when Choosing a Mulch for Trees
What makes good mulch?
Well, several factors should be considered when buying mulch for any purpose. Here are some of them:
Mulch Texture
From experience, medium-textured mulch is the best. Fine particles have the tendency of packing down and retaining moisture, which then evaporates before getting to the plant roots. Obviously, coarse-textured materials may be too absorbent to hold sufficient amounts of water.
Nutrient value
Organic mulch offers nutrient-rich humus as it decays. This equally helps to improve soil structure.
Aesthetics
The type of mulch chosen is usually a personal preference. Go for the look you desire. Most people use organic mulches due to their several plant benefits.
Preferably, organic mulch should be composted or else treated before use so that insects, weed seeds, and disease microorganisms are killed. Generally, composted mulch has a more uniform texture than the one that is not composted.
Composting is perhaps not needed for insect and disease control if the mulch originates from healthy plants. However, if the mulch has been sitting outside indefinitely, then weed seeds are probably present.
Availability
You also want to consider the availability of various mulch material and whether or not you have to haul it yourself. Interestingly, bulk materials may be available for free from your community.
Read Also: Kale Unfriendly Plants
Types of Organic Mulching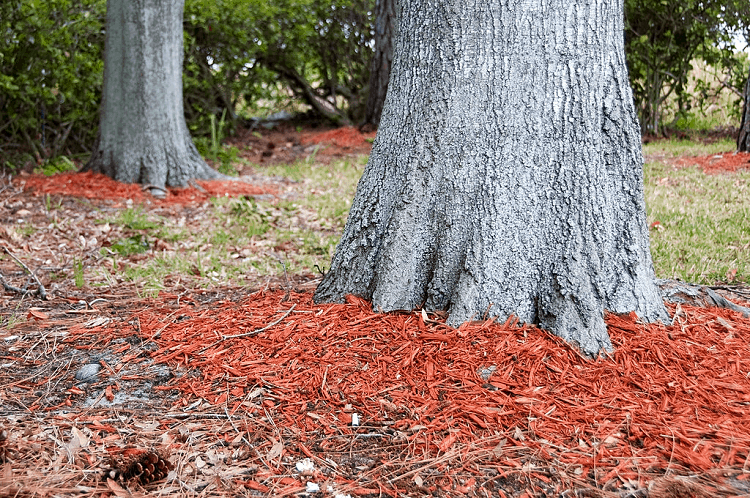 Here are the various kinds of organic mulching:
Grass Clippings: Compost or dry before using. You should mix this with other materials to boost porosity and minimize matting. It's a good source for some nitrogen but equally higher alkalinity. This may compromise nutrition.
Hardwood Bark: Shredded bark or pine bark, you can purchase this as bags of large or small chips – and it's long-lasting.
Composted Leaf Litter (leaf mold): This is an excellent source of nutrients but may boost weeds if not composted thoroughly.
Hardwood Chips: Always available and usually free from municipal sources.
Mushroom compost: Mushroom compost is also a great source of nutrients when you mix it with soil or other materials. It's also a source of vast amounts of alkalinity and sometimes salts.
Animal Manure: Animal manure is obviously an excellent source of nutrients. It's also advisable to compost it before applying; otherwise, plant damage (burn) may occur because of high salt content. Preferably, mix it with a coarse-textured material.
Pine Boughs: Pine Boughs is mostly a fantastic covering for perennials in the winter.
Peat Moss: This type of mulch easily compacts as a result of fine texture and dries out quickly. It's best mixed with soil and other materials. However, it's not recommended as a top dressing because water will not penetrate when dry.
Pine Needles: This one is not widely available, and we recommend mixing it with other materials except soil acidity is desired.
Shredded Leaves: Leaves have a variable texture and can be easily collected and shredded at home. Shredded leaves can be mixed into the soil in the fall and allow to naturally break down during the winter for enhanced soil quality.
Sawdust: Sawdust is also another popular mulch type. You'll want to compost this one first or mix it with a nitrogen source (fertilizer and/or manure) before applying.
Oak sawdust helps to acidify the soil and is perfect for azaleas, blueberries, and rhododendrons. However, it's not recommended to use sawdust from treated lumber.
Straw: Straw has a coarse texture; therefore, it persists a long time, but can easily blow away unless you mix it with other materials. Straw is generally not ideal as a landscape mulch but offers winter protection and cover for grass seed.
Sewage Sludge: A great source of nutrients. The good thing is that composted sludge is always available commercially (i.e., Nutricomp or Milorganite). It should be mixed with soil or incorporated with other composted material.
How To Apply Mulch
Now, let's talk about how to apply mulch in trees and shrubs:
For medium to coarse-textured materials, spread mulch under shrubs, trees, and throughout planting beds to a depth of 3-4 inches (as recommended).
Then pull mulch away from the bases of shrub and tree trunks, making a donut-hole (as shown on the left image below). Avoid piling it up against the trunk. This is also known as volcano mulching.
Excess mulch on the trunk leads to moisture build-up, creating good conditions for diseases, insect pests, and decay (as shown in the right image below).
Ideally, the mulched surface around a tree should reach the drip line of its branches, or cover a 4 to 5-foot diameter area around the tree trunk. Remember that the larger the mulched region, the more beneficial it'll be.
Finally, it's advisable to check the mulch depth yearly and replenish as necessary.
IMAGE
Correct mulching on the left, incorrect mulching on the right
Frequently Asked Questions
Is mulch good for trees?
Yes, mulch is good for trees (when applied the right way). Mulching around trees helps to conserve moisture, reduce weeds, and improves the soil, which consequently helps your tree stay healthy.
However, piling mulch too high and covering your tree's trunk (also known as "volcano mulching)" can result in decay.
What is the best mulch for trees?
A medium-textured mulch is the best for trees. This type of mulch will retain water and won't starve the tree's roots of oxygen.
Fine-textured mulch gets easily compacted and can deprive your tree's roots of oxygen. And coarse mulch is too porous to maintain sufficient water needed for your trees to survive.
Why do you mulch around trees?
The benefits of mulching a tree cannot be overemphasized. It helps to insulate the soil, thus helping to provide a buffer from cold and heat. It also holds enough water to help the roots stay moist – and it keeps weeds out to prevent root competition.
How do you mulch a mature tree?
Start by meticulously pulling mulch back from your tree's trunk until you expose the root flare, being careful not to harm the bark. The best approach is to pull mulch 8-10 inches away from mature trees and 3-5 inches away from young trees.
Best Mulch for Tress | Conclusion
Hopefully, you've been able to pick one among the best mulch for trees and shrubs listed here. If not, we'd advise you carefully check them out one more time, taking note of their features, pros, and cons. This will help you to make the right choice.
Mulching trees and shrubs is undoubtedly a great idea. Among its many advantages, mulch suppresses weeds, conserves soil moisture, and protects plant's trunks from damage from string trimmers and mowers.
However, while mulching may appear to be an easy task, it does take some amount of understanding to do it properly. And while mulching has countless benefits, if applied the wrong way, it can do more harm than good to your garden, yard, and landscape.