We independently research and recommend the best products here. This article contains affiliate links. If you make a purchase after clicking on a link, we may earn a little commission at no extra cost to you.
Maintaining a garden or a large yard requires a lot. Apart from human resources, investment, and planning, you need a suitable machine that will help reduce the physical labor.
If you want to cut down on how much resources you put into maintaining a garden, then a tractor is a must-have for you.
A garden tractor is designed to handle a variety of garden tasks. Whether to haul small garden, pull trailers around, push or blow snow, grade the driveway or plow and dress the soil, a garden tractor can ramp up the power and efficiency needed to get them done.
A lot of gardeners have spent a fortune buying the wrong tractor. Knowing you are going to spend above $1000 for a tractor, it is vital to learn from the experienced geeks.
On this page, you will find everything you will need to buy the best garden tractors for your garden.
Best Garden Tractors
Why You Need a Garden Tractor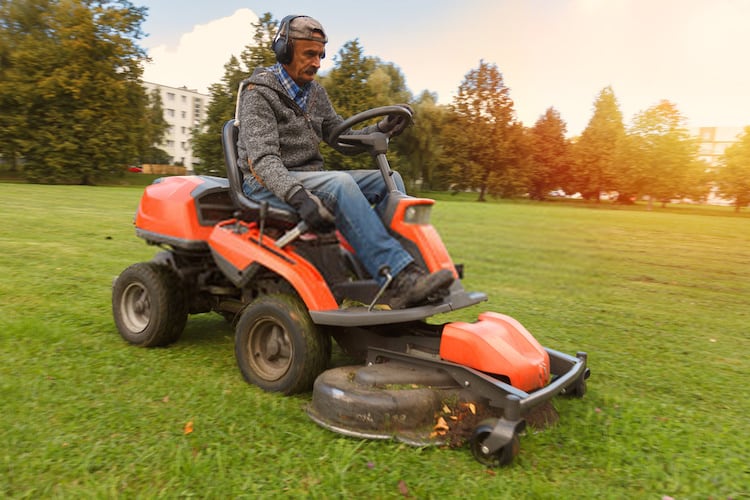 A garden tractor is a luxury vehicle that serves different gardening purposes. This machine is designed to carry out lots of heavy-duty, time-consuming gardening jobs at a time.
As you already know, doing some of these gardening jobs can be a chore, especially if you're doing it alone. But with a good lawn tractor, you'll be able to do the job in less time, while enjoying the entire process.
It is durable and more powerful with more horsepower. Therefore, if you have a larger lawn, garden, or yard area, you need a garden tractor to make things easier for you.
That said, here are other benefits of garden tractor that you should know:
Offers More Comfort
You can comfortably sit, relax, and mow your field with a garden tractor. It reduces manpower to a significant extent, as you won't be required to walk and mow your garden and lawn manually.
These tractors are designed a comfortable seat that will enable you to relax and mow for an extended time without getting tired. Interestingly, you can even ride the tractor like a car, while working on your garden.
Requires Less Maintenance
Lawn tractors are built with the latest technologies that require less maintenance. The earlier models of lawn tractors needed constant maintenance unlike what we have now.
Manufacturers were able to bring a better solution by using advanced technologies and materials in today's tractors, thereby reducing the maintenance frequency.
Different Models
Garden tractors come in different models and are manufactured by different brands. Each one tractor is ideal according to the acres of land you will be mowing – and you can buy based on your needs, such as budget, attachments, and features.
No Grass Clippings
After cutting the grass back in the days, you'll be required to collect the clippings manually, which is usually a time-consuming and tedious process. This is because grass clippings are incredibly tiny and hard to collect.
But garden tractors have made the process of collecting those clippings easier and effortless. Today, you can do it simultaneously while cutting it – and it won't spread too much dirt around your lawn or garden.
Faster Mowing
This gardening equipment will save you a bunch of time while working as it can mow a large field in less time. It lets you work at a higher speed, while still neatly cutting the grasses.
Appearance Of Lawn
Mowing your yard with a garden tractor gives it a wonderful and stunning appearance – it will typically look greener and cleaner.
Sadly, you will see lots of lawn tractor options on the internet and your regional market, which makes it quite challenging to find the right one.
But we've got you covered!
Just check out our in-depth and unbiased garden tractor reviews below and pick the one that'll perfectly serve your gardening needs.
Best Lawn Tractor Reviews
1. Husqvarna Z254 54 in. Hydrostatic Zero Turn Tractor
Husqvarna Z254 54 in. 26 HP Kohler Hydrostatic Zero Turn Riding Mower
26 HP Kohler engine provides reliable startups and a max speed of 6.5 MPH
A patent-pending park brake system automatically activates or deactivates as the steering levers are moved outward or inward
Air induction mowing technology draws air from the top and bottom of the deck, improving grass and delivering a superior cut
Reinforced steel stamped cutting deck is made of heavy flat-stock steel for maximum durability
Clippings can be discharged, mulched or bagged (mulching kit and bagger attachment sold separately)
Last update on 2023-05-30 / Affiliate links / Images from Amazon Product Advertising API
This garden tractor gives you supercut on any kind of grass. With the 26 HP Kohler engine, you are guaranteed reliable startups and smooth operations. It has got a maximum speed of 6.5MPH.
Even if you are not satisfied with other features of this machine, you will love the durability of the cutting deck. It is a reinforced steel stamped cutting deck.
With the motion of the steeling levers either outwards or inwards, it automatically activates and deactivates the patent-pending park brake system, respectively.
The cutting deck uses air induction mowing technology to give a supercut on the grass. This mechanism works by drawing air from the top and bottom of the deck.
With this tractor, you can choose to discharge, mulch, or bag the grass clippings. However, you should note that the mulching kit and bagger attachment does not come with the purchase of the tractor. You may have to buy them separately.
Using the Husqvarna's Z254 gives you an excellent job for mowing small garden. It may not be the best option for a large space with varying terrain.

Pros
Zero-turn radius
24hp engine maximizes power
Ergonomic control panel
LED lights on the bumper
Maintenance-free transmission
Cons
Grass buildup under the cutting deck is an issue for bushy lawn
2. Husqvarna New RedMax RZT54
The Husqvarna RedMax RZT54 gives you a better cutting radius as it features a wide 54 in. cutting width. This means you can finish the job faster than others with a smaller cutting deck. It is made from reinforced steel, which makes it durable and rugged to work on irregular terrain.
The tractor is powered by the Kawasaki 24HP engine, which supplies sufficient power to perform the entire necessary task.
Because of the hydraulic wheel-drive, it is easy to maneuver. This also allows the mower to rotate around its axis. All these make it easy to use while giving you a professional job.
Still on the easy to use feature, it has got ergonomic control which makes it convenient for beginners to use. All necessary controls for performing most of the tasks are at your fingertips.
It uses both air and power/fuel for cooling of the engine. This helps increase the performance of the engine as it works on a more difficult task.
Just like the first mower tractor reviewed above, the Husqvarna RedMax alternate between three cutting styles, including collection/bagging, mulching, and side discharge.

Pros
54-inch cutting width
Comfortable ergonomic 18-inch high back seat
Three cutting blades
air and power/fuel engine cooling system
3. Husqvarna YTH18542 42
The gives you full control with the feature of sterling. It is Foot pedal-operated, which features a hydrostatic transmission, thus giving you variable speed control.
This heavy-duty garden tractor is powered by an 18.5HP Briggs and Stratton Intek engine for maximum performance.
This tractor is versatile. It can perform other variations of tasks other than just mowing the garden. Some of the other jobs you can use this for include lawn fertilization and moving heavy garden tools around.
This is made possible with the attachment design to attach tow-able accessories and mulch kit.
The ergonomic seat, coupled with the comfortable sterling wheel, makes the operation smooth and easy. You can work on your garden for hours without feeling fatigued or backaches.
With the improved airflow technology within the deck, it ensures a clean, consistent cut always.
Overall, with the superpower engine from Briggs and Stratton, we think this is a great garden tractor to buy. It comes with a 2-year warranty. Unfortunately, it may not cover the replacement of some of the engine parts except workmanship.

Pros
Hydro-static transmission that features a metal housing
Three grass management options
Performs variable jobs because of its attachment
No clogging of grass underneath the cutting deck
Cons
Warranty may not cover replacement of engine parts
4. Husqvarna TS354XD
If you need a garden tractor that can give you more cut area, then you have no better option than the Husqvarna TS354XD. It gives you a wide-cut range with the 54" ClearCut fabricated cutting deck. The cutting deck is rugged as it is made from reinforced 10-gauge steel.
The tires are big and well threaded, which makes it great to accelerate and descend hills. It is also advantageous when working on wet and slippery grasses.
The Husqvarna TS354XD is powered by a 26 HP Kohler V-Twin 7000 Series engine. We love the oversized and thick steering wheel that gives you easy navigation and control with little effort.
Read Also: Best Retaining Wall Ideas
The seat is comfortable and has got armrest. So you can work for hours without experiencing back fatigue.
This machine is all you need to perform all the jobs that can be done in a garden. With the front and rear-mount feature, you can attach a range of garden tools to make your work faster.

Pros
Wide-cut range with the 54" blades
Large rear tires make it rugged
A good range of front and rear attachment option
Easy to operate and maintain
Powerful 24HP engine
5. Husqvarna MZ61 61 in. garden tractor and mower
HomeRight C800971.A Super Finish Max HVLP Paint Sprayer, Spray Gun for Countless Painting Projects
PAINT SPRAYER FOR COUNTLESS DIY PROJECTS: The HomeRight Super Finish Max paint sprayer offers the ultimate DIYing experience. It's great for applying a great finish on small to large projects like fences, decks, furniture, cabinets, dressers and more.
ADJUSTABLE SETTINGS TO SUIT ANY PROJECT: You can adjust the air cap to spray horizontal, vertical, and round. You can also adjust the material flow control knob to quickly increase or decrease the material output
MORE POWER=SPRAY MORE MATERIALS: Offers 450 watts of powerful spraying experience. It sprays a wide variety of paints and stains such as chalk type paint, milk paint, latex paints, enamels, primers, clear sealer, polyurethane, stain and varnish
3 BRASS SPRAY TIPS: Brass spray tips offer superior performance over plastic counterparts. Use the 4.0mm (red) tip for primer/latex paint, 2.0mm (green installed on sprayer) for latex and chalk paint, and 1.5 mm (blue) for stains and sealers.
Last update on 2023-05-30 / Affiliate links / Images from Amazon Product Advertising API
A garden tractor with a powerful engine and the ability to do more tasks makes it the best garden tractor worth buying. Though expensive, you will get the value for every buck spent. So let's look at some of the features.
The tractor is powered by a 27HP engine. This is probably in the range of best engine power you can get for a garden or lawn tractor. The Briggs and Stratton endurance engine provides reliable startups and high ground speeds.
It gets the job faster than others reviewed here with its wide 61-inch cutting deck that provides commercial-grade power and incredible ergonomics. The deck is fabricated from 1-gauge steel. All these combined gives it the strength to take on rugged grasses and terrain.
The system offers the 3 grass management mechanism, which includes discharging, mulching, and bagging.
The overall operation has been designed to be comfortable for the user as it features a high-back seat with armrests, foam-padded hand grips, including amazing dampeners.
The Husqvarna MZ61 is adaptive and versatile. It will perform everything you require from a garden tractor. With its front and rear attachment, you can work with garden dump carts, snow blades, snow throwers, graders, aerators, brooms, rollers, spreaders, dethatchers, and more.

Pros
Commercial grade garden tractor
Rear tires are large and give good grip
Efficient engine power
Attachment support a range of garden tool
Cons
You will need to wear earplugs
6. Ariens IKON-XL 60" Zero Turn Mower
Just like the Husqvarna MZ61 reviewed above, It has got a pretty wide cutting blade. The Ariens 915228 features a wide cutting deck of up to 60 inches.
These are probably one of the widest you will see in a garden tractor. Though you can find some designs with as much as 90 inches cutting deck, they may not be practicable for domestic use.
It has a feature of a 3-Blade Fabricated Mower Deck to give you better cutting power. With up to 13 different cutting height positions ranging from 1.5-4.5 inches, you can give your garden that preferred cut.
The Ariens 915228 is powered by a 25HP Kohler 7000 Series OHV Engine. The dual hydro-gear, combined with the hydrostatic transmissions, gives you great speed, which increases the pace at which work is done.
It's a zero-turn mower; this means that maneuvering around the yard will be easy.
When working on a large garden, comfort is paramount; this is why they have included a high-back padded seat with armrest and springs.

Pros
Easy to ride
Powerful and reliable engine
Ideal for larger lawn and garden
Comfortable mowing section all through
Cons
High fuel consumption than others with same engine rating
7. Troy-Bilt 382cc 30-Inch Premium Lawn Mower
This is one of the cheapest garden tractors you will find out there. The good thing is that, despite the price, it still manages to possess some features that other highly-priced mowers have got.
The Troy-Bilt lawnmower is powered by a 382cc Auto Choke OHV engine. It gives you a maximum speed of 4.25MPH while alternating between 6-speed transmissions. So you can mow your field at your own pace.
The 30-Inch cutting deck has got 5 adjustable settings for varying the cutting height from between 1 ¼in. to 3 ¾in.
With a small turning radius of 18 inches, coupled with a manual power take-off, it provides for impressive maneuverability and easy and fast blade engagement, respectively.
The tires are not as impressive because they are not large. They can be easily stuck in the mud, so this is not ideal for lawns with soft soil.
The sterling and seat are both comfortable. This means you can work for hours on your mower without feeling fatigued.
We recommend this for lawn owners who have got a small garden and want to upgrade from a hand-held mower to a ride-on mower. Backed with their 2-year warranty, you get the value for your money.

Pros
Cuts grass evenly like carpet
Entry-level mower for low budget
Compact for easy maneuverability
Open front gives the driver a clear vision
Cons
Small fuel tank
Not recommended for mowing hills
Small cutting blades offer small coverage
What to Consider When Buying a Garden Tractor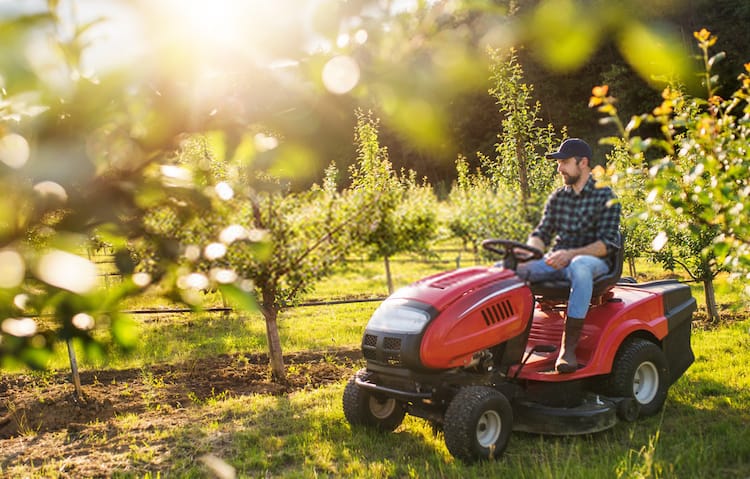 Unlike other garden tools, tractors are expensive. Hence, you wouldn't want to guess. You have to buy with certainty to avoid spending a fortune on the wrong one.
It is in this light that we highly recommend going through this section to enlighten your knowledge in picking the winner.
Understand your garden
This is a significant factor to consider. There is so much to it than you think. The first thing here is to measure the size. They are measured in acres.
If your lawn is less than an acre, you should go for a light-duty tractor. Anything under 15HP for engine rating and 42 inches for the cutting blade is a great choice.
On the other hand, if you have got a large garden above an acre, then you should consider opting for a more heavy-duty tractor greater then 16HP engine and up to 60-inches blade.
Secondly, you need to know the type of topography and terrain of the yard. For hills or steep terrains, tractors designed with hydrostatic transmission are best for these.
Attachment option
The most common attachment you will find on most of the garden tractors is the bagger mulcher for the management of the grass clippings.
When buying a garden tractor, you will want to find out if the company offers this option. Normally, it is not ideal to buy from another brand and try to match them. This doesn't work because mulching kits are manufactured for specific brand and deck size.
Do yourself a favor to check if the manufacturer has got the option of mulching equipment. If not and you so desire one, then you should move to another manufacturer that offers such.
However, you should know that most times, they do not come with the tractor. You may have to buy them separately.
Do you intend to do other jobs rather than just mowing a lawn with your tractor, then this where other attachment options come in.
For example, a snowblower can comfortably remove the snow from your garden and driveway. A trailer will help haul the yard and free it off debris, and a spreader will help you to seed.
More things can be done with a tractor that has an attachment for a variety of garden tools. The Husqvarna offers such and has a wide variety of compactable tools with all their models.
Ergonomic Seat
Since you will be spending most of the time on your garden tractor, it is very imperative to have a seat that is comfortable all through the job period.
An ergonomic seat is very necessary. A more comfortable seat is the one with mid-back or high-back design. If possible, you can also get one that has got an adjustable seat feature.
While some seats may come with two side armrest, it is not necessary since your hands will most of the time be engaged with the steering.
Read Also: Best Vegetable Garden Insect Killers
Types of Garden Tractor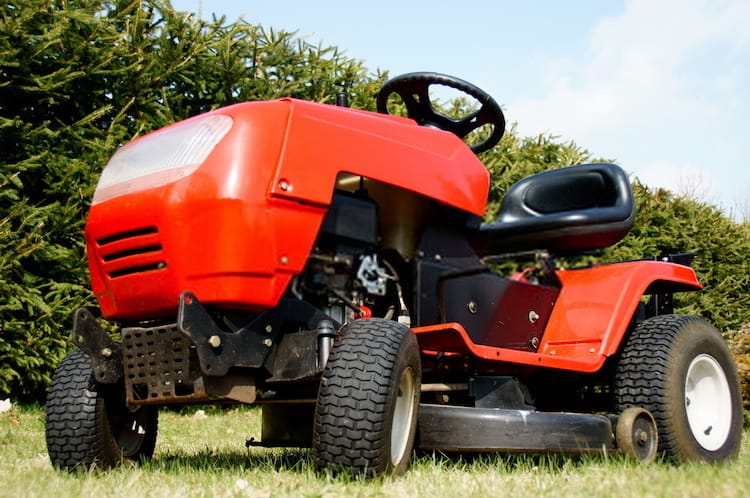 Answering the question of why you need a garden tractor is the first step to knowing what kind of tractor that will satisfy your need. There are three types of tractors, and they include:
Riding Lawn Mowers
Zero Turn Radius Lawn Tractors
Garden Tractors
Riding Lawn Mowers
If you are looking to upgrade from a lawnmower to a more efficient machine, then the riding lawn mower is the next to go for. They are ideal for mowing a small area of lawn or garden. Riding lawn mowers are only designed to trim your grasses in your yard.
Depending on the size and power of the engine, some of these lawn movers can also pull a lightweight trailer of weeds and leaves.
If you fall under this category, then the  is recommended.
Zero Turn Radius Lawn Tractors
The Zero-Turn Radius Lawn Tractors and the riding lawn mowers are similar in operation. They cannot be used for heavy-duty jobs. So if you are looking to perform some light-job mowing on your lawn, then this is recommended.
One of the major advantages over the previous is that they are specially designed to make cuts on the brink of curbs, path borders, trees, etc.
Garden Tractors
These are the real garden tractors that can compete with the normal tractors in their features. They are manufactured with an efficient engine from up to 16HP. True garden tractors are ideal for heavy-duty jobs and great for mowing a lawn in acres.
They mostly have durable attachments both at the front and back to carry other compactable garden tools. This makes them more versatile. Another feature with them is the large wheels on the back that make them suitable for working on rugged terrain and hilly topography.
Frequently Asked Questions
Can I drive my garden tractor on the road?
Of course, you can drive your garden tractor on the road. The tires are just like the standard car tires. However, they cannot take the place of a car, and they are not licensed to be on the road.
Do I need a garden tractor?
If you own a small lawn at the backyard or anywhere around your home, then you can manage such by owning a simple lawnmower.
But if you have got a large yard from up to an acre, then you do need a garden tractor. They are designed to do more work, especially the more versatile ones that have got attachment features.
Who makes the best garden tractor?
There are a lot of companies that manufacture garden tractors. They include and not limited to Honda, Husqvarna, John Deere, Snapper and Simplicity, Toro, and Troy-Bilt. There are over 80 brands out there.
We may not be able to state who makes the best, but we have found out that Husqvarna is one of the most popular brands and has got a wide range of accessories that are compactable with all their models.
What's the difference between lawn and garden tractors?
The simpler way to know the difference between a lawn and garden tractor is their weight and size. Tractors weigh more, which makes them better at handling hilly terrain.
On the other hand, lawn tractors have smaller drive wheels. This makes them better at maneuverability. The major difference between them is that garden tractors offer more ground-engaging equipment such as moldboard plow, tiller, box scraper, and disk.
Where should I store my lawnmower without a shed?
The best place to store your tractor when not in use should be a garage. If you have got no space in your garage for a garden tractor and have also got no alternative shed, then you have no option than to park it outside.
It is not totally a bad idea to do this. But if you must leave it parked outside for a long period, then you should consider covering it with a waterproof tractor cover.
Now, check out this short video of the Husquvarna TS354XD garden tractor, which is one of our top picks.
Conclusion
If you have gone through all sections on this page, you should by now be able to buy the garden tractor that suits your need. We are very confident that this is one of the best garden tractor reviews you will find online.
The list of products here and reviews are unbiased, and we only picked the ones we are sure will benefit you. Now that you have equipped yourself with the needed information, let's go and buy that tractor that will give your lawn that stunning appearance.