We independently research and recommend the best products here. This article contains affiliate links. If you make a purchase after clicking on a link, we may earn a little commission at no extra cost to you.
What is the best zero turn mower for hilly terrains? Well, there are a lot of them, which we're going to show you in this post.
First of all, if you have a lawn or garden located in hilly terrain, some chances are that leveling the grasses may pose a difficulty.
While some gardeners may opt-in for mowers, pushing and pulling mowers up and down the hills may be frustrating.
There is no better way to cut those grasses than using zero-turn mowers. We've selected some of the best zero turn mowers for hills with powerful efficiency to climb and descend steep hills without hassles.
Read Also: Top-Rated Pruning Loppers For Garden
Best Zero Turn Mower For Hills
What Is A Zero Turn Mower?
A zero-turn riding lawn mower is a ride-on lawnmower that has an effectively zero turning radius. Unlike other riding mowers that are built based on front-wheel-steering, for zero-turn mowers, the turning pivot is built around the rear wheels.
To further explain what this means, zero turn mower will rotate around a spot. So you can reverse around and change direction while on the same spot.
Most times, there are no steering wheels. They have levers on both sides of the driver that provides control of the direction and speed.
Why You Need a Zero Turn Mower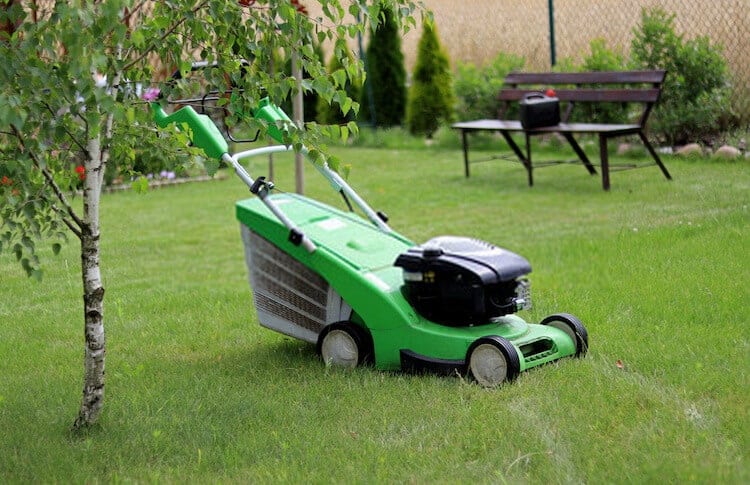 One of the importance of mowing with zero turn movers is maneuverability. This helps to increase your efficiency and pace in completing the project.
Also, it allows you to work in tight areas. No wiggling forward and backward to maneuver yourself out of a tight situation.
For most zero turn movers, their cutting decks are mounted close to the front. This helps to improve the ease of mowing close to obstacles like grass, walls, and fences.
Read Also: Why Was Chainsaws Invented?
Also, when it comes to working on hills and rough terrain, we will prefer using zero turn mowers because lever control and the entire structure, support such a rugged job.
Best Budget Zero Turn Mowers for Slopes
1. Husqvarna Z254 54 in. 26 HP Zero Turn Mower
Sale
Husqvarna Z254 54 in. 26 HP Kohler Hydrostatic Zero Turn Riding Mower
26 HP Kohler engine provides reliable startups and a max speed of 6.5 MPH
A patent-pending park brake system automatically activates or deactivates as the steering levers are moved outward or inward
Air induction mowing technology draws air from the top and bottom of the deck, improving grass and delivering a superior cut
Reinforced steel stamped cutting deck is made of heavy flat-stock steel for maximum durability
Clippings can be discharged, mulched or bagged (mulching kit and bagger attachment sold separately)
Last update on 2023-09-29 / Affiliate links / Images from Amazon Product Advertising API
A 26HP engine is fair enough to push you and the mower up and down along rough hills effortlessly. It supports reliable start-up as it gives you a maximum speed of 6.5 MPH.
The movement of the steering levers inward and outward automatically activates or deactivates the park brake system.
One of the features we like the most is the 3-blade cutting system. This means that no grass will remain untouched as it comes in contact with the cutting blades. The speed of getting the job done also increases with this system, not forgetting the fact that it is made from steel.
The choice of using hydrostatic gear control is applauding, especially when using this mower for hilly terrain. You can easily turn or control it easily and smoothly.
The grass clippings can be discharged, mulched, or bagged. However, you should note that you will have to purchase the mulching kit and bagger attachment separately.
With a wide cutting deck of 56 inches, it offers excellent coverage. So if you have got a large lawn, then this will be a great choice.
Read Also: Who Makes Husqvarna Mowers?

Pros
Great maneuverability
Ergonomic high back seat with arm sets
Enabled for mulching and bagging clippings
Great for mowing the large lawns
Reliable engine
Cons
Not so great for mowing tall grass
2. Snapper 2691402 360z Zero Turn Riding Mower
The Snapper 2691402 360z is robust, rugged, and durable as a majority of the parts are made from fully-welded steel frames. The thick-walled front axle and the durable mower deck empower it to take up difficult tasks such as mowing hills.
The zero-turn mower is compared to none, thanks to its high-performance engine. This model is available in 4 different series of varying engine power and deck size.
You get to choose between 42 and 48-inch cutting deck size. The engine power is available between 21.5 to 23HP. Your choice should be dependent on how sloppy the terrain is and how large your lawn is.
This mower is great to cut tall grasses above 4.5 inches. With the adjustment of the deck height, you can cut grasses to whatever height you so desire. The 13 adjustment level has got you covered. This operation is done using a foot-operated lever.
Snapper is driven by Briggs & Stratton Professional Series engine. You cannot expect less from such power.

Pros
Powerful engine
13 adjustment level on the cutting deck
It makes sharp turns rather well
Solid build quality
Large rear tires
Cons
Well-padded chair with no armrest. Can cause hand fatigue
Best Mid-Range Mowers For Hills
3. Husqvarna New RedMax RZT54 54" Deck Riding Zero-Turn Mower
If your lawn is not too hilly, then mid-range mowers will be a good choice. For lawns not more than 20 degrees, this zero turn mower will be the right choice.
It is built on a 24HP Kawasaki engine that gives it sufficient power to mount up moderate hills. The cutting deck is made from 10-gauge fabricated Steel. The design is such that it can collect, mulch, and discharge the grass clippings.
The Husqvarna RedMax RZT54 has got a wide 54 inches cutting deck, making it great for large lawns. You will complete the trimming faster than you'd expected.
The Hydro-Gear makes control easy and effortlessly. If you have ever driven a mower designed with a Hydro-Gear, you will understand the benefit of having one.
It gives you precise maneuvering by allowing the mower to rotate around its axis. We also love the ease of use, thanks to the design that places the control panel at your fingertips.

Pros
Cutting width of 54 inches with three blades
Long-term durability
Multiple cutting methods
Fan-cooled pumps in the transmission
Cons
612 lbs weight seems too heavy for a riding mower
4. Husqvarna Z242F 42 in. 18 HP Kawasaki Hydrostatic Zero-Turn Riding Mower
Husqvarna Z242F 42 in. 18 HP Kawasaki Hydrostatic Zero Turn Riding Mower
18 HP Kawasaki engine provides reliable startups and a max speed of 6.5 MPH
Hydrostatic, no-maintenance transmission is worry free, allowing the mower to take on a variety of cutting conditions
A patent-pending park brake system automatically activates or deactivates as the steering levers are moved outward or inward
ClearCut deck offers a best-in-class 42 in. cut and better bagging thanks to its deep deck design, superior air flow and high-performance blades
Clippings can be discharged, mulched or bagged (mulching kit and bagger attachment sold separately)
Last update on 2023-09-29 / Affiliate links / Images from Amazon Product Advertising API
The Husqvarna Z242F is another awesome mid-range riding mower that will give your lawn a fantastic cut. Combining zero-turn features plus its ability to push itself against hills, it will be worth your time.
It is powered by an 18 HP Kawasaki engine that provides reliable startups and a max speed of 6.5 MPH.
The Hydrostatic transmission provides great maneuverability which allows the mower to take up a variety of cutting conditions.
The cutting deck gives you a clear cut on your lawn, thanks to the superior airflow and high-performance blades.
Its deep deck design supports mulching, bagging, and discharging. But just like every other Husqvarna riding mowers, you have to buy them separately.
Read Also: Garden Scissors vs Garden Shears
We love the ease of use and comfort with this mower. First, the anti-slip foot area makes mowing intuitive and safe. Also, the control panel is designed and placed within your reach.
We recommend this product for moderate steep terrain and moderate-sized lawn since the cutting deck is only 42 inches; the pace of the job may be slow compared to others.

Pros
Excellent turning radius
It has a no-maintenance transmission system
Clippings can be mulched, discharged, or bagged
Ergonomic control panel
Cons
Not recommended for large lawns because of the engine power and cutting deck size
Best Premium Zero Turn Mowers
5. Ferris 2018 F400Z Zero Turn Mower
This zero turn mower is known for its superior transmission. Powered by a 21.5 HP Kawasaki engine, your engine will run for years without having startup challenges.
The controls, seat, and entire built supports hilly terrain. The seat features arm support to avoid fatigue. It is also comfortable with the high backrest.
The cutting deck is durable and made from 10-gauge steel. You can choose to cut your grasses between 1.5" to 4.5" with 0.25" increments. The 3 sharp blades on the cutting deck will leave no grass untouched.
The 48 inches cutting deck size is great enough to serve for moderate size lawn. Combining the engine power, cutting deck size, and 8MPH maximum speed, you can imagine how much job can be done in the shortest possible time.
This mower is powerful enough to climb and descend hills. With its sharp zero-turn, you can maneuver your way around difficult areas.

Pros
Wide deck size of 48 inches
Comfortable seat with armrest
Powerful engine protects against startup issues
Proper deck spacing
Cons
The price might seem relatively expensive
Best Wide Cut Mowers for Hills
6. Husqvarna MZ61 61 in. 27 HP Briggs & Stratton Riding Mower
Husqvarna MZ61 61 in. 27 HP Briggs & Stratton Hydrostatic Zero Turn Riding Mower
Husqvarna 61 in. zero-turn lawn mower from the MZ series delivers commercial-grade power and amazing ergonomics
27 HP Briggs Endurance engine provides reliable startups and high ground speeds
Fabricated 11-gauge steel cutting deck offers an excellent 54 in. cut with an ergonomically designed deck lifting system for quick and easy adjustments from the operator's seat
Clippings can be discharged, mulched or bagged with a 9-bushel triple bag collection system (mulching kit and bagger attachment sold separately)
High-back seat with armrests, foam-padded hand grips and vibration dampeners make mowing comfortable for hours on end
Last update on 2023-09-28 / Affiliate links / Images from Amazon Product Advertising API
A wide cutting deck is an important criterion when choosing riding mowers for large lawns. But it's not all about the size of the cutting deck, but also the power of the engine. A low power engine cannot carry a wide deck.
The Husqvarna MZ61 combines a powerful 27HP Briggs & Stratton engine with a 61-inch cutting deck to give you one of the best zero turn mowers for hills.
Read Also: John Deere Z335E-42 Zero Turn Mower
The cutting deck features a fabricated 11-gauge steel cutting deck. The deck lifting system offers quick and easy adjustments from the operator's seat. Also, with a 9-bushel triple bag collection system, you can either choose to discharge mulch or bag the clippings.
If you have worked on a mower before, cutting rough and sloppy terrain, you will understand how tedious it can be. This is why they have included a High-back seat with armrests.

Pros
Hydrostatic Gear Transmission
Cutting deck lift that is pedal assisted
Powerful 27 HP Briggs and Stratton Endurance V-Twin engine
3 blade cutting system
Wide cutting deck for increased pace
7. Swisher Z3166CPKA Kawasaki Commercial Pro
Another wide cut mower we choose is the Swisher Z3166CPKA. It has a cutting deck of 66 inches. This is wide enough to take on large lawns such as football pitch, golf field, etc. if you need a commercial-grade mower to deliver heavy jobs, you wouldn't have a better choice than this.
It is powered by a 31 HP (999cc) Kawasaki engine. The Hydro gear 3400 transmissions, coupled with the electric PTO warner clutch, improve the efficiency of this mower. It required less effort from you to deliver a great workpiece.
The deck height adjustment is electrical powered. It features a high back suspension seat, which gives you comfort for long hours work.
We love the presence of dual LED headlights. So you can work into the late hours. The overall frame is made from American made fabricated steel.
You can imagine what a mower powered with a 31HP engine, a wide cutting deck, and a maximum speed of 10 MPH can do.

Pros
Electric deck height adjustment reduces maintenance
66 inches wide cutting deck
Mowing speeds up to 10 MPH
High rated 31HP Kawasaki engine
LED lights for night vision
Cons
It is so expensive and will not be applicable for domestic usage
What to Look For When Buying a Zero Turn Mower | Buyer's Guide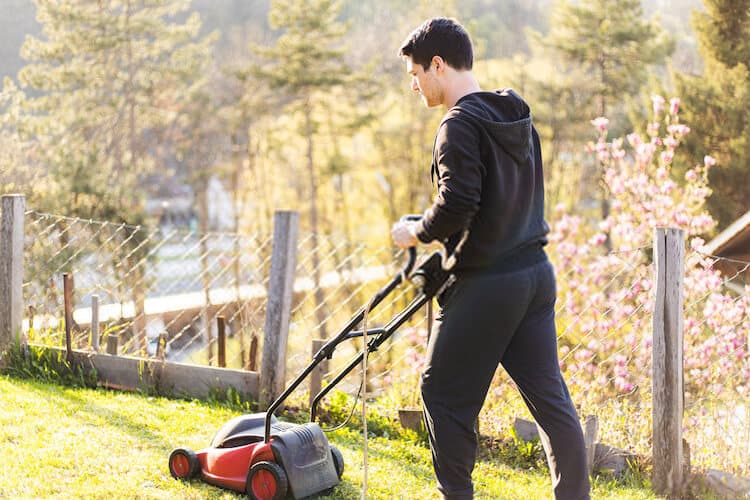 We know that there are so many things to consider when picking a zero turn mower, especially when it comes to steep terrain. The following are the most important factors to consider.
The power of the engine
The engine power is the first factor you will want to consider. A low power rated engine will not supply enough power to lift your weight and the weight of the mower up hills. The more the slope of the hill, the more powerful the engine should be.
The width of the cutting deck
The pace of your job will depend on the size of the cutting deck. With a small cutting deck, you will have to run around the lawn more frequent than the one with a larger sized deck.
However, it will not make sense to buy a large cutting deck mower for a small yard.
Attachment
This is undoubtedly what you also need to look out for. You do not want to spend a fortune on acquiring a lawnmower just to only mow the yard. It should be able to perform other tasks.
This is only made possible with the availability of a means of attachment. Luckily, Husqvarna is a brand that has means for a range of attachment on all their mowers.
Read Also: Best Garden Soil Moisture Meter
Hill compatibility
This is also a critical factor to consider. Using zero turn mowers on hills can be dangerous if it is not compatible.
The easiest way to know if a zero turn mower is suitable for hills is the balance. Also, you can make inquiries from the manufacturer. However, all mowers listed here are perfect for the job.
Types of ZTR Mowers For Hills
Based on the physical design of a mower, it can be classified into two types. The mid-mount and the out-front mount zero turn mower.
Mid-mount zero turn mower
For a mid-mount turn mower, the entire structure is suspended on a 4 wheeled chassis. A mower built on this design is stable.
They are terrain-following type in nature and offers a great balance in control.
Out Front Mount Zero Turn Mowers
Out front mount zero turn mowers are those that have a centralized main drive wheel system. The rear caster wheels assist the front wheels.
The advantage of these types of mowers is that loss of traction or loss of steering is hardly experienced.
Zero Turn Vs Riding Mower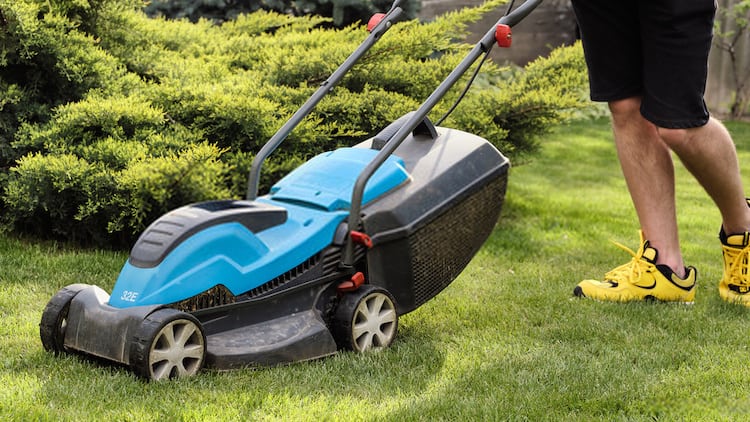 When researching mowers, you will undoubtedly come across the phrase "zero turn mower."
Zero-turn mowers are different from the standard conventional riding mowers.
Zero-turn mowers are mowers with a turning range being zero inches. These mowers can turn around their own axis at 360 degrees.
Before now, this technology was only accessible with larger tractors. But with the advancement in the industry, we can have the benefit of a zero-turn on riding mowers.
So what is the difference between a zero turn mower and a typical riding mower?
The table below explains it better.
| | |
| --- | --- |
| | |
| | |
| Twin chamber motor extending from 15-20 HP | Single barrel motor running from 15-25 HP |
| | |
| Zero degrees turning range | 15 to 30-degree turning span |
| | |
Another major distinguishing factor between a zero turn mower and a riding mower is the steering control.
Zero-turn mowers use two handles, often called levers, at both sides of the driver. Each lever controls the back wheels individually, which initiates the zero-turn. They are between and highly recommended for areas where maneuverability is necessary.
On the other hand, riding mowers make use of steering wheels for control.
Read Also: Trees And Shrubs Mulch Reviews
How A Zero Turn Mower Works?
We have seen how effective a zero turn mower can get the job done. If operated well, it will cut every grass in your field without missing out on one. So how do this work?
First is the cutting deck. This is the most crucial part of a mower. It consists of rotating blades. Most of the high-performance cutting deck features 3 blades.
From the user control, you can easily select the height of the grass you prefer. The deck can be adjusted to that height.
Most zero turn mowers come with an attachment for grass management. This kit can enable you to mulch and bag the grass clipping. Alternatively, with the absence of this kit, the cutting deck will discharge the grass clipping on the lawn.
Another essential feature of a zero-turn mower is how it makes the zero-turn.
A zero-turn mower features two levers at both sides of the driver. This controls each rear wheels. It controls the speed as well. To move forward, you have to push both levers forward simultaneously. Likewise, a backward pull will indicate a reversal.
For a sharp zero-turn, you need to initiate rotation of only one wheel while the other remains static. Once this is done, the mower turns in the direction of the static wheel.
How To Maintain Your Zero Turn Mower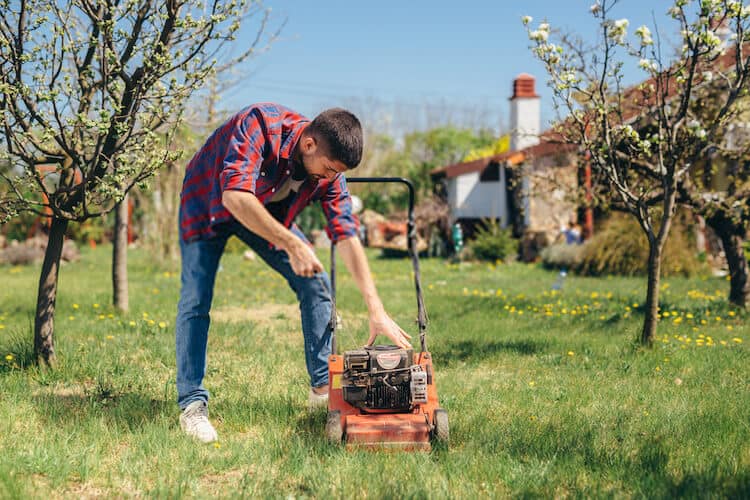 Fuel your mower correctly
For mowers, it is recommended to use gasoline that has an ethanol content of at most 10 percent (E10). Also, when storing your mower for a long time, always use a fuel stabilizer.
This helps prevent water and gasoline from separating. This is important to do so that you can use your mower next season with a fuel that is in good condition.
Store your mower the right way
If you want to improve the longevity of your mower, proper storing is necessary. It is advisable to always store your mower in a garage. However, not everyone has a garage. For such cases, if you have to store it outside, then it must be covered with a mower cover.
Read Also: Husqvarna 350 Chainsaw Specifications
Be careful with the tire pressure
For any device that moves on tires, the tire pressure should be taken very importantly. Always check the pressure to ensure that it is always within the recommended pressure gauge.
Keep the mower deck clean
The deck is the part of the mower that frequently comes in contact with dirt. It is necessary to clean it as often as possible. Leaving dirt stocked underneath the deck can lead to its rust.
Safety Concerns for Riding A ZTR Mower
To secure you and your mower, the following safety precautions should be adhered to.
Wear protective gear. Safety shoes should be put on to protect your feet from slipping off when climbing or descending the mower.
Also, most ZTR mowers are noisy during operation. You should wear earplugs and earmuffs.
Before riding the mower in the yard, endeavor to manually check around for hard objects like stones and branches that can be swiped by the cutting blades. This can cause accidents or shatter the windows of buildings or vehicles around.
Always be careful when making zero turns on hills. Also, do not reverse down a slope because we understand that most of the weight acts on the back of the mower where the engine is mounted.
How to Mow Extreme Hills
How do you mow a steep hill with a zero turn mower? Watch the short video below to learn how to mow extreme hill terrains:
Frequently Asked Questions
Do zero turn mowers work on hills?
ZTR mowers are known for their agility and speed. But when it comes to working on hills, they tend to do poorly. Any ZTR mowers can conveniently work on a sloop lower than 20 degrees. But when it comes to a steeper slope, then you may want to be picky and only use the best zero turn mower for hills.
What size mower do I need for 2 acres?
If you have a lawn or yard that is 2 acres, a mower with a deck size between 42 to 48 inches will be great. For lawns larger than 2 acres, then a deck size from 50 inches above will be appropriate.
How long does it take to mow an acre with a zero turn?
This depends on a lot of factors. First, you need to consider the operator's efficiency and experience. You also need to take the deck size and the maximum speed of the mower into consideration.
Typically, a zero-turn riding mower at 6 mph with a 54-inch cutting deck will take between 24-40 minutes to mow an acre completely.
Read Also:
Conclusion
So that is all we've got for the best zero turn mower for hills. You have seen all that it takes to have a ZTR mower for hills. You will have to go through those criteria before picking on the right one.
Anyways, our pick will save you those stress by picking one that you are confident will do the job. We will like to know which you finally decide to get. Good luck with your purchase.