We independently research and recommend the best products here. This article contains affiliate links. If you make a purchase after clicking on a link, we may earn a little commission at no extra cost to you.
Watering is a crucial gardening practice that contributes to your plant's growth. However, untimely performing this task may either lead to under watering or overwatering, which will have an adverse effect on your plants.
If you are having challenges deciding the right timing to water your plant garden, a soil moisture meter will save you all the guesswork. This gardening tool will serve as a reminder and a determinant for your plant hydration.
This guide will help you choose the best soil moisture meter for your garden needs. You'll also learn the different types of a soil moisture meter, how it works, as well as how to use one.
Before we start, take a look at the comparison table below:
Best Soil Moisture Meter
What is a Soil Moisture Meter?
A soil moisture meter is a gardening tool or a sensing device that measures the moisture in the soil. It also serves as a determinant which provides information on the soil water content of plants for irrigation purposes.
When the plant's soil water content is low or overly surplus, it leads to wilting or waterlogging and will ultimately lead to plant deterioration.
Most plants don't thrive well in a "waterlogged" area. Soil that's too saturated in water might support root rot from different fungi species.
The best soil moisture meter is also useful for gardeners that are fertilizing.
How Does a Soil Moisture Meter Work?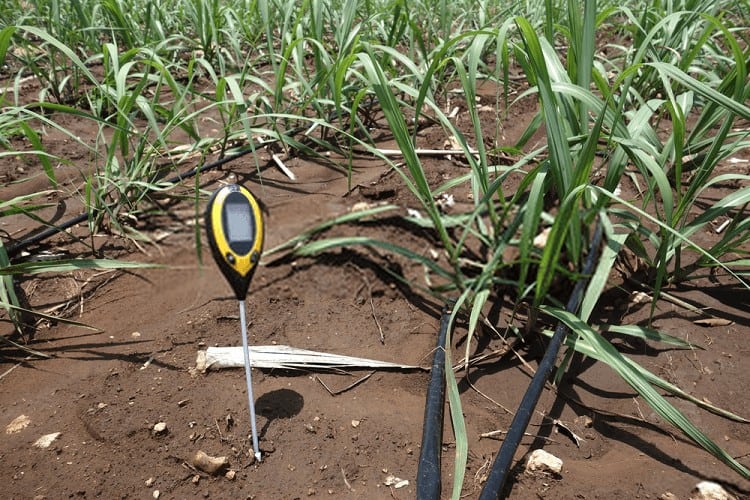 You may be thrilled about purchasing this excellent gardening tool, but knowing how they operate will also help you use them properly.
Soil meter comes with two metal tips, and they just require a conductor, which in this case, is moisture to pass electrical currents between them. The higher the moisture content in the soil, the higher the electrical current will be.
Soil moisture meters work simply by putting the tip of the metal detector into the soil to reach the roots of a plant. The tip of the metal detector then sends a reading to the easy-to-read screen situated at the top of the meter.
Why Do You Need a Soil Moisture Meter?
The reason you need soil moisture is because of the benefits it gives your plants.
One of the main benefits of using a soil moisture meter is to help you understand your plant's moisture needs better and be able to care for it more appropriately.
Watering a plant using guesswork can be detrimental to the plant's health in the long run.  A wrong watering schedule may lead to under watering or overwatering, which has adverse effects on the plant's health.
Helps to Save Water
Water wastage is common, particularly with watering outdoor plants. There is a high possibility that you could be wasting some amount of water by overwatering your plants. Using a soil moisture meter will help keep your soil moisture in check. In return, this will help save water.
It Helps to Reduce Water Bills
Using a soil moisture meter can help you save money hence reducing water bills. It helps you to be intentional about watering your plants to prevent overwatering. It also saves you the trouble of replacing dying plants as a result of watering them incorrectly.
Read Also: When To Grow Onions In Alabama
Soil Moisture Meter Reviews
1. Sonkir pH Soil Moisture Meter
Sale
SONKIR Soil pH Meter, MS02 3-in-1 Soil Moisture/Light/pH Tester Gardening Tool Kits for Plant Care, Great for Garden, Lawn, Farm, Indoor & Outdoor Use (Green)
Kindly NOTE: This soil tester can not be applied to test pH value of any other liquid. If the soil is too dry the indicator will not move, and water it before testing.
3 METERS IN ONE: Soil moisture level, Soil pH value and Sunlight level could be tested easily according to your need by switching the function button of this soil meter.
NO BATTERY NEEDED: Simply insert the meter into soil, wait few minutes, accurate test results will be displayed on the readout panel. No battery is needed.
STURDY AND SCIENTIFIC DESIGN: Reliable materials and upgraded technology used for this soil meter make it advanced and high-quality for long-term use.
MULTIPURPOSE SOIL TEST KIT: Portable and compact design enables you to use this soil meter for house garden, farm, lawn and any other soil & plant analysis. Ideal for indoor and outdoor use.
Last update on 2023-06-09 / Affiliate links / Images from Amazon Product Advertising API
The Sonkir Ph soil moisture meter is a 3-in-1 unit that requires no battery to operate. It has a dual probe design that increases the accuracy of readings and for detecting soil moisture, ambient light, and ph. Level.
Its probe detector is long hence accelerating analysis and is appropriate for outdoor plans and potted plants. One of the probe detector tests for soil moisture and the other is a soil pH tester.
Additionally, It has a sunlight detector sensor. This feature serves as a determinant where to place sun-loving and partial sun-loving plants. After placing it inside the soil system, it will inform you of the approximate level of sunlight present.
To use this type of meter, carefully insert the double probe into the soil system. To avoid causing damage to the soil root system, especially from soil mixed with pebbles and coarse sand.
Also, to prevent the probes from breaking as the probes are likely to bend while inserting into the soil. In the long run, they may become worn out, and there are no spare parts to replace in case they go entirely damaged.

Pros
Three in one (Tests soil moisture, ph level, and sunlight)
Accurate and reliable
Pretty much affordable
2. Luster Leaf 1835 Rapitest Dig 3W Analysis, 3-Way Digital Soil Meter
This Luster Leaf Digital Moisture Meter is designed in the US. This meter is specially designed for checking soil moisture and pH level. It also estimates the average soil fertility, and it helps to indicate if there is a need to compost.
It features a 3-inch long probe and batteries to power the meter. This meter is ideal for helping determine the soil moisture of plant roots, container gardens, and pot plants.
To use, insert the probe into the soil system and check the digital reading on the easy-to-read gauge. It comes with a guide listing over 100 types of plants to guide you through understanding your soil readings. This meter also comes with a specific cleaning pad to help maintain the meter and keep it in condition.

Pros
Includes batteries and cleaner
Measures soil moisture, soil and temperature.
Digital reading
Easy to use
It's cost effective
A water guide on moisture needs of over 100 plants
3. A.M. Leonard Soil Moisture Meter Probe
Soil Moisture Meter Probe - 24 Inch
Brass soil moisture probe
Displays accurate readings
All types of soils may read differently
Meter is mounted on top
Works on AA or dry cell batteries
Last update on 2023-06-09 / Affiliate links / Images from Amazon Product Advertising API
A.M. Leonard Soil Moisture Meter Probe features a 24-inches brass probe detector that is ¼ inch thick and a metal meter case. Its long probe detector can be used to measure deep into the root system of sturdy plants.
The mechanism of the working is dependent on the use of both AA and dry cell batteries. The meter registers the moisture content of the soil by emitting electric pulses. This is undoubtedly one of the best meters  for soil moisture on the market, and we suggest you check it out.

Pros
Strong brass probe
Easy to use
Features a long stem
Cons
Batteries are difficult to change
4. Dr.meter S10 Soil Moisture Sensor Meter Hygrometer
Sale
Dr.meter Soil Moisture Meter, Plant Water Meter for Garden Lawn Farm Indoor & Outdoor Use, Soil Tester Hygrometer Sensor for House Plants, Gardening Gifts, No Battery Needed
▶ 【Compact & Portable】 Have you been sticking your finger in the soil hoping to feel when it's time to water? Why not eliminate the guesswork and keep your hands clean when you use the Dr.meter Soil Moisture Sensor Meter! Know the right time to water your garden, farm, lawn and plants, anytime.
▶ 【Easy to Read】No experience required--while this machine is sophisticated, it's not complicated! With an interface using ten scales and a color-coded reading system from red, green to blue, it's never been more straightforward reading your soil moisture.
▶ 【No Batteries Required】Who needs batteries or electricity? Just plug stick it into the ground and get a reading in no time!
▶ 【Gentle to Plant Roots】Keep roots intact when you do readings thanks to the single probe design. You won't have to dig up too much soil or disturb sensitive roots when you take readings so your plants can stay perfectly healthy.
▶ 【Helpful Tips】The Dr.meter Soil Moisture Sensor Meter is designed only for soil testing and should not be used in liquids. Keep it away from rocks and extremely hard soil to avoid damaging it. Make sure to clean the probe after each use.
Last update on 2023-06-09 / Affiliate links / Images from Amazon Product Advertising API
One of the best tools to measure soil moisture, this moisture meter features an 8-inch stem metal that sets deep into the root level to produce accurate readings. It does not require batteries nor electricity to make it work, it instead moisture levels are displayed on features an easy-to-read dial
The color-coded scale is a determinant of dry, wet, or moist soil. It can also help determine when you have added enough water according to the plant's requirement. Also, available is a plant guide to inform you of the ideal water requirements of individual plants.

Pros
The lightweight of 3.2 ounces
Measures moisture and ph
Sensitive reading
No batteries or electricity required
Affordable
Portable for outdoor and indoor
5. XLUX T10 Soil Moisture Sensor Meter
Sale
XLUX Soil Moisture Meter, Plant Water Monitor, Soil Hygrometer Sensor for Gardening, Farming, Indoor and Outdoor Plants, No Batteries Required
Reliable and accurate: Sensing probe ensures accurate and instant testing results, matching for both indoor or outdoor use.
Easy to read: Large and clear dial, including ten scales, plug and read.
How to use: Simply insert the moisture meter into soil and you'll get the test result instantly. Help your plants grow healthy and strong.
Less hurts: Single probe, less hurts to the roots, doesn't dig up too much soil after test.
Important tips: 1. Do not use it to test very hard soil 2. Never use it to test water or other liquid. Designed for testing soil only. 3. After use, please wipe clean the probe.
Last update on 2023-06-09 / Affiliate links / Images from Amazon Product Advertising API
This soil moisture meter is basic and very easy to use ideal for use in both house and outdoor garden plants. It features a relatively slim 7-inch probe (moisture detector). It's working mechanism makes it very convenient for use in house plants by any gardener.
It works with a measurement scale of 1-10. The measurement scale reads out the soil moisture rates. A lower number rate usually signifies a dry soil, I.e., Levels 1-3 are regarded as dry. Levels 4-7 are moist, and Levels 8-10 are wet.
This soil moisture meter is also ideal for use directly into outdoor lawns, flower beds, and the soil of shrubs and trees.
To use, merely deep the slim 7-inch probe directly into the soil, within a few seconds of deeping the probes into the soil, you can tell if the soil is wet or dry.
To read the soil moisture level, read up the numbers displayed on the dial, and then follow the measurement scale guide for wet and dry soils.
This moisture meter is quite fragile and should be treated as such. It is only suitable for use in soil, and the soil should not be too coarse as this may cause resistance to the probe and further damages like a break or bending to the meter.
The XLUX T10 Soil Moisture Sensor Meter will serve your plant moisture needs and save you all the guesswork, but it lacks a soil ph tester.

Pros
Basic and easy to operate
It's pocket friendly
Suitable for both indoor and outdoor gardens
No battery needed
Color-coded reading system
Very effective
Cons
Fairly fragile
Lacks a light and soil ph tester
What to Consider When Buying a Soil Moisture Meter (Buyer's Guide)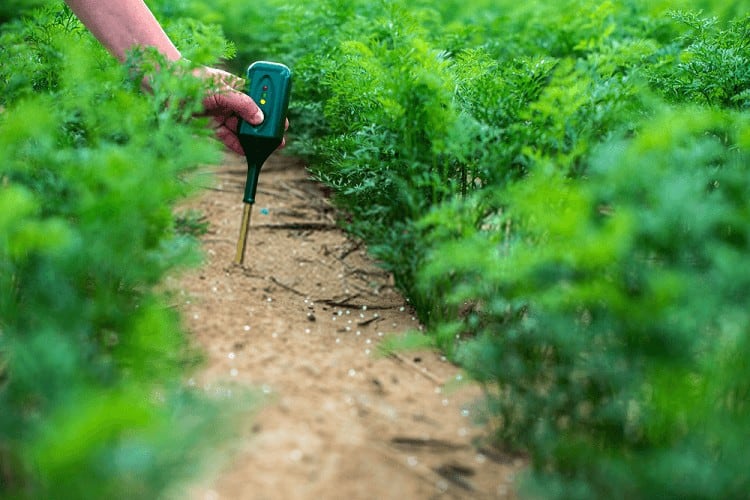 Type of gardening plants: a proper Research on the soil and the types of plants in your garden is a determinant of which type of soil moisture meter to purchase as the moisture requirements of different soil types and plants vary.
Reading accuracy: The reading accuracy and reliability of a soil moisture meter is what will improve the health of your plants instead of damaging it.
Power Source: The power source of a soil moisture meter should be considered based on your soil needs and preference. They come in battery-powered, battery-free, or digital models.
Additional features: Do you wish to enjoy the benefits of a ph soil tester while checking moisture levels. If yes, then you should consider a soil moisture meter that doubles as a ph tester for soils, as checking the ph is also an essential part of gardening.
Types of Soil Moisture Meter
Available in the market are different types of soil moisture meter you may come across. Here is a brief detail on them.
Analog Soil Moisture Meter
These meters are made of a basic design, they don't work with batteries, and they are effective.
This meter works with the principle of a natural electrical conductor. When the metal tip is deepened into the soil, the moisture present in the soil transmits to the tip of the metal detector, hence conducting an electrical current.
Water itself is a natural conductor of electricity. The more water the meter registers, the higher the electrical charge it emits.
Digital Soil Moisture Meter
A Digital soil moisture meter has advanced features that the analog does not have. One main advancement is that the metal detectors are no longer located inside the meter rather on cables, which makes them no longer prone to corrosion.
They work with batteries, which amplifies the easy-to-read screen. They also provide a tiny electromagnetic pulse that senses moisture
Some digital meters can be charged via USB cables. These with USB features also allow you the benefit of tracking moisture changes in your soil by inputting the moisture data on your computer.
The is a perfect example of a digital soil moisture meter.
Wicking Moisture Meter
A wicking soil moisture meter uses an archaic style of reading moisture content. However, these meters are quite popular in indoor houseplants. Its mechanism of operation is simply by drawing already absorbed moisture to a string of fabric that has the ability to change color when moisture is detected.
The lesser change of fabric color seen, the lower the soil moisture content is and vice versa. These indoor moisture readers are good indicators of the need to water plants, but they don't work well directly or under sunlight and in outdoor gardening.
Hybrids Soil Moisture Meter
Hybrid meters provide the user with information on the critical components of gardening, such as moisture content, a soil ph tester, and even a sensor for detecting sunlight.
Both digital and analog models of this type of meter are available. Additionally, in some cases, they are an excellent choice for composting because they provide you with factual information on the soil requirements like the amount of hydration, atmospheric temperature, and testing time.
How to Use a Soil Moisture Meter
The methods on how to read a moisture meter are dependent on the model, whether an analog or digital soil moisture meter.
A digital model of soil moisture meter usually comes with an easy-to-read screen view. Whereas, the analog version has a gauge that acts as a barometer with colored prints indicating wet, moist or dry soil content. Wicking models are all based on the fabric band that changes color when the soil's damp.
Further tips to make sure of when using your soil moisture meter
When taking soil readings to ensure to take them at alternate time frames during the day as this will give the most authentic results.
Make sure to take soil readings in different spots in your garden or backyard. The reason for this is because some soil types are different from others, while some soils retain water for more extended periods, others may not.
Another reason for this is that it is not okay to assume the moisture need for plants without proper research. Some plants, such as lavender thrive well in dry soil while a plant such as water hyssop thrives well in wet soil.
Lastly, it is very common, the excitement and the need to test newly purchased tools. If you must test your soil moisture meter, please do so in a pot of moist and dry soil and then compare readings. A soil moisture meter is not designed to be tested into a glass of water rather measure moisture in the soil.
Another feature that most soil moisture meter has is that some models double as soil ph testers and soil moisture testers.
The goal of purchasing a soil moisture meter is to keep your irrigation procedures in check, to make sure you are not overwatering or starving your plants.
Common Plants and Their Ideal Moisture
For you to reach the optimum growth range of most plants, a balance has to be achieved in between adequate water requirement for a plant to grow to prevent dryness and excess water that may cause stress to the plant's roots.
For indoor plants like Zanzibar gem, Monstera deliciosa or Swiss-cheese plant, Spathiphyllum or Peace lily, Epipremnum aureum or Devil's lily and others soil moisture below 20% is considered low, 40% - 50% is medium, and above 50% is considered high.
For common flowering plants such as tulips and daisies, soil moisture should be within 21% to 40%. Plants such as water hyssop, swamp sunflower, scarlet hibiscus, iris, lily of the valley, blue vervain, cinnamon fern, and a host of others are moisture-loving and can thrive in wet soil of up to 60% moisture.
Frequently asked Questions
Can I put this item into the water to test the accuracy?
No, it is only used to check the soil moisture.
Can this be left permanently in the soil?
No. For accurate readings, ensure to take out the meter and wipe clean with a dry rag.
What should my soil moisture be?
Soil moisture will ideally range from 10% to 45%. However, it can go higher than that during and after watering.
How do I test soil moisture meter?
To test a soil moisture meter, insert a spade into the soil and tilt the trowel to determine the garden plants' moisture.
Another way is to insert a wooden dowel into the soil to check the soil moistures' depth. You'll know that the soil is dry if the dowel comes out clean as damp soil will usually stick to the dowel.
What does moist soil feel like?
The spaces in wet soil will be filled with water completely. You may notice that water lies on the surface – and if you dig up a spoonful of the soil, it may appear muddy or drip some water.
On the other hand, the spaces in moist soil are not entirely filled with water, and the soil will feel damp, cool, and soft.
Are moisture meters accurate?
Yes, a moisture meter can be extremely accurate; it all depends on the brand and quality of wood moisture meter you're using.
A good soil moisture meter can be faultless within 0.1 percent of the wood's moisture content, while lower-grade moisture meters are often not very correct as numbers are deceptive and changing.
Conclusion
Knowing the right time to water your garden plants may be tricky, especially for a newbie gardener. It is vital to strike a balance when trying to achieve healthy garden plants - not over or under-watering.
The best soil moisture meter will save you the hassles and struggles that come with guess timing by providing accurate readings of your plant moisture levels.
Hopefully, our guide has equipped you with all the pieces of information you need to purchase a moisture meter that is right for your needs confidently.