We independently research and recommend the best products here. This article contains affiliate links. If you make a purchase after clicking on a link, we may earn a little commission at no extra cost to you.
If you are a garden enthusiast or a newbie and your idea of using garden shears vs scissors is a bit sketchy, then this article is for you. Garden shears and Scissors are meant for different purposes.
Unfortunately, most people use them as a one-size-fits-all tool by interchanging their roles in performing various tasks.
Proper information helps you maximize productivity by using the right tools for the right task.
In this article, we will feature the distinguishing factors between them so you can better decide which one to use for which task.
Read Also: Best Ratchet Hand Pruners
Garden Shears vs Scissors | Overview
Quite often, people still confuse garden shears and scissors for each other.
Garden shears and scissors may look similar in their design and makeup, but there are distinctive features in their make and how the manufacturer intended for you to use them.
To put succinctly, gardening shears are intended for more specific uses, whereas garden scissors are meant for multiple-purpose cutting; each of these tools is available ranging from different sizes, shapes, colors, and prices.
Garden shears are more appropriate for some activities, while scissors may be more befitting in other situations. For some jobs, it may not make a huge difference, which you decide to use.
All the same, knowing the difference between garden shears vs scissors is not for knowing sakes alone but for being knowledgeable about their features, when and how to use scissors and garden shears should you decide to buy one.
Having both garden scissors and shears in your gardening toolkit will ensure that you are prepared to tackle any project.
What Are Garden Scissors Used for?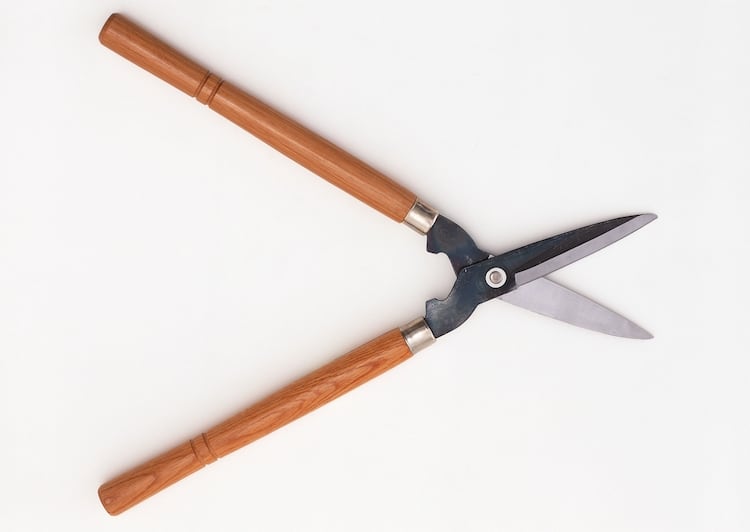 Happy Hydro - Trimming Scissors - 60mm Straight Tip Blades - Titanium Coated
DELICATE SNIPS are quick and easy with our 60mm Trimming Scissors. Their sharp blades cut cleanly through growths for the ultimate in precision in tight or hard-to-reach spots.
STAINLESS STEEL trimming scissors are ultra-light, compact, and titanium coated making them ideal for a variety of gardening and horticulture applications. Titanium coating allows them to cut cleanly through sticky plants.
SHORTER BLADES are excellent for floral arrangements or gaining access to narrow openings. Our precision-ground blade edges ensure accuracy and are great for bonsai plants.
ELIMINATE HAND FATIGUE with our springless trimming shears. Without resistance on your hand, you can trim for long periods of time without cramping or joint stiffness. Ideal for those with limited dexterity.
NON-SLIP TPU GRIPS are ergonomically molded to enhance comfort and control. Our rubberized handles deter hand fatigue and hot spots on pressure points, allowing you to make precise cuts.
Last update on 2023-09-24 / Affiliate links / Images from Amazon Product Advertising API
Scissors are general-purpose cutting tools you can find in almost all households and offices.
Their makeup features two blades fewer than six inches in length that attached with rivet and handles.
The structure of the handles is in a way that only allows you to squeeze them using your thumb and one or two of your fingers to exert cutting pressure. This action brings the blades together or separates them while they cut through the intended material.
Although scissors are usually multi-purpose cutting tools, some are uniquely designed for specific particular applications. They are into different categories based on their quality, size, price, and design modifications- for light-duty or heavy-duty projects.
Some of these categories are; the hairdressers, the kids' scissors, the gardener's scissors, or the office scissors.
For example, the kids' scissors are designed with a plastic protective coating, which makes them less sharp to ensure the safety of the kid using it, compared to the hairdressers' scissors, which has sharper blades that provide a clean and precise cut.
Scissors are perfect for delicate applications, such as household uses like cutting paper crafts, embroidery threads, etc. For salon uses, such as for thinning and trimming, manicure, and pedicure for medical applications, such as for surgeries. It's also used for gardening purposes, such as cutting fragile succulents.
Especially for gardening purposes, they are easy to use for people who have weak hands, such as those who have arthritis.
Gardening scissors are available in different sizes, so when the need arises to choose the ideal scissors for gardening purposes, ensure that you are picking the appropriate shape and size befitting the more significant part of your particular gardening activities.
If you usually take cuttings from small succulents, go for scissors with thinner or smaller blades for more précised cutting. If the plants you intend cutting are of alternate sizes, go for scissors with blades that can apply to fat stems and not so significant that they damage delicate plants.
One of the disadvantages of using scissors is that they are prone to damage in heavy-duty applications. The rivets are liable to break, and the blades may turn dull because they were not designed to be used with too much pressure and may also cause discomfort to the user.
Read Also: Best Pruning Loppers
What Are Garden Shears Used For?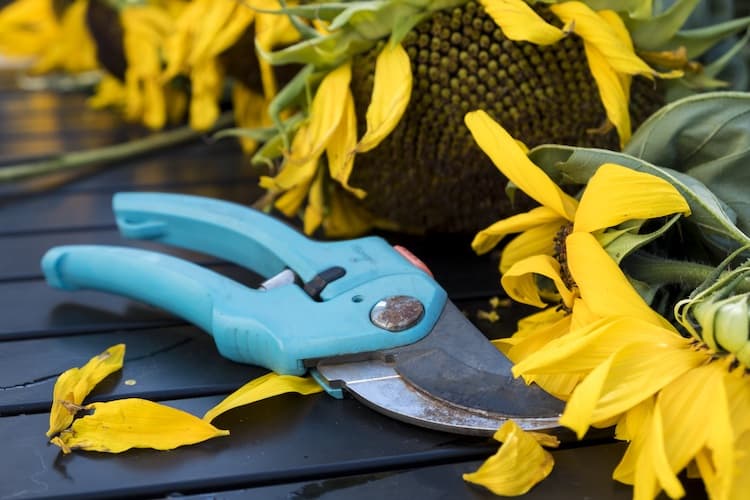 VIVOSUN 6.5" Gardening Hand Pruner Pruning Shear with Straight Stainless Steel Blades Orange
Reduce Hand Strain: These micro tip snips are made to reduces hand fatigue which makes them great for those with arthritis, carpal tunnel, hand or wrist issues; Comfortable "grip" handles will make it easy to work for long-time use without making you feel hand pain
Ultra Sharp Blades: These quality snips come with stainless steel precision-sharpened blades and are ready to tackle all of your deadheading, trimming, and shaping jobs for your roses, annuals, vegetable, bonsai and small-flower gardens
Secure, Easy to Lock: These micro tip snips feature a safe and secure sideways locking mechanism that keeps your blades protected and closed when not in use; The design of these pruning snips are perfect to use whether you are right or left handed with ease
Make Precise Cuts: With these micro tip snips, you can easily get between plants to "clip and snip" only the area or part that you want to cut with one-hand, while not damaging the other vital stems and branches of your other plants; Note: Clean blades after each use
Applications: Trimming trees and flowers, cutting papers, opening boxes and so on
Last update on 2023-09-24 / Affiliate links / Images from Amazon Product Advertising API
Garden Shears can be used to describe a large pair of scissors with an extended height of 6 inches, specially designed for more extensive cutting operations.
Shears are not ordinarily available in every household, and they aren't in high demand as scissors, so you may need to visit a garden tool shop to find one. The good news is that they are available in different sizes and shapes.
Like its cousin scissors, shears are available in series of sizes, but unlike scissors, their blades are not only short lengths.
One common distinctive feature between a gardening shear and a scissor is that a gardening shear has a larger handle on either one side. This feature is to enable it to accommodate your entire hand so you can apply more cutting pressure than just one or two fingers.
Some shears are also designed with supportive material on their grips to ensure maximum control over the tools used.
Gardening shears are shears that are for heavy-duty applications. They are more reliable in design than scissors; thus, their rivet won't come off quickly. Their grip is in a way that allows you to apply force or pressure as required without causing hurt or discomfort to your hands.
Gardening shears have different shapes of blades, each to its intended use. Some shears have curved blades. These are great for unusually large plants. Straight-bladed shears are ideal for getting into hard to reach places.
Garden Shears are usually much sharper and less prone to bluntness than scissors; this is to facilitate cutting through strong branches and stems.
Conclusion
Garden shears and scissors are similar in looks, are two different types of tools designed for various applications. Therefore, you should choose the right tool that is best suited for a specific use.
Either you are a newbie that intends to start a farming project, or a gardener just maintaining your garden.
This article has highlighted useful information about garden shears vs scissors that will help you tackle any challenges that may come your way.
You could experiment with both garden shears and garden scissors and then decide which one you prefer and then decide which of the tools to buy.