Do you want to know some of the key factors to consider when deciding between blue star creeper vs creeping thyme? That's precisely what you'll learn here today.
If you are a green thumb who loves to design garden sites, using grasses as a lawn alternative to filling in cracks in-between crevices of rocks or stepping stones and even under trees or along slopes, then spreading ground cover plants are your best bet.
Ground cover plants are low-growing, low-maintenance plants that can tolerate a little foot traffic.
There are different varieties to choose from, but some popular options are blue star creeper and creeping thyme.
Blue Star Creeper vs Creeping Thyme
Before you hurry to buy these excellent lawn replacement cover creeping perennials to fill those gaps, you need to make proper research and evaluation on them and your area.
To get the best results, you need to make sure they are compatible with your geographical region and atmospheric condition by matching up questions like how is your soil drainage.
What are the Design and Foliage?
How much sunlight does the plant need?
How much foot traffic?
And so on.
Luckily for you, we have answers to your questions concerning blue star creepers vs. creeping thyme.
Read Also: Best Pruning Loppers
Blue Star Creepers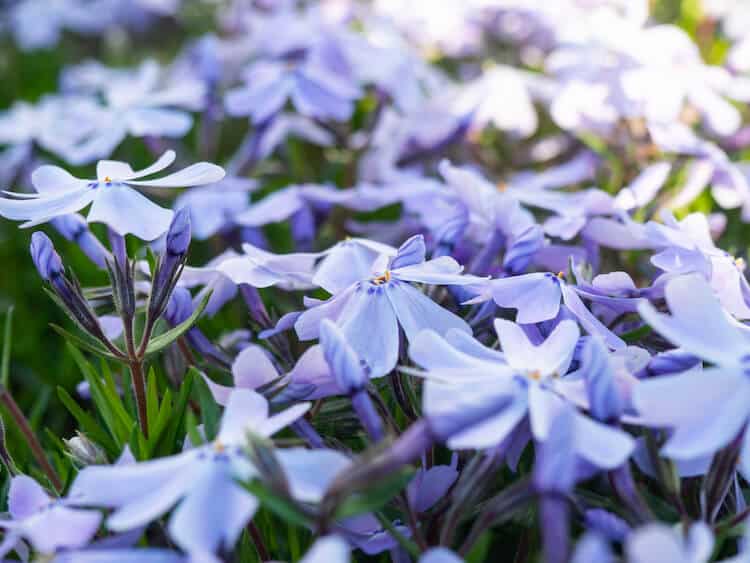 Botanical name: Laurentia fluviatilis
Range: USDA Hardiness Zones: 5a-9b
Culture: Grow in evenly, well-drained moist soil in
Sun Exposure: Either partial or full sun.
Color varieties: Pale blue
Bloom time: Early spring to early fall
Blue star creeper with the scientific name ( Isotoma or Laurentia fluviatilis), is tough, rugged, extremely versatile, and easy to grow.
It can be used in the garden to fill the gaps between stepping stones and pavers, around poles, in pots, and even as a ground cover to grow around for shrubs, laceleaf, small trees, and roses.
The blue star creeper remains in bloom almost all season all year round until the first frost features an elegant pale blue, tiny flowers shaped like a star that appears amidst a bright-green leaf bed. They are usually so full that they nearly cover the entire evergreen foliage.
It blooms most heavily through early spring with the evergreen foliage forming a flourishing green carpet that serves as a lawn substitute on the ground.
While It remains evergreen all year but during an extremely hot climate, give it some afternoon shade while you keep the soil moist.
This type of pf cover plant is best suited in sites that are well known for sunny mornings with shady afternoon or partly sunlight.
Read More About Blue Star Creeper Care.
Creeping Thyme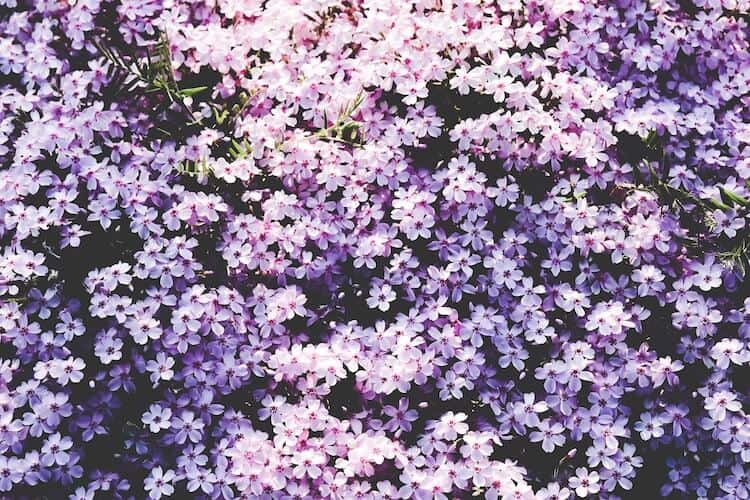 Botanical name: Thymus X citriodorus 'Aureus.'
Range: Red thyme and white thyme are suitable for zones 4 to 9, Spicy orange thyme, creeping lemon thyme and Caraway thyme are best grown in USDA hardiness zones 5 to 9, and Wooly thyme thrives in zones 6 to 8
Culture: well-drained soil with an alkaline pH
Sun exposure: Full sun-loving plants
Colour varieties: Red, orange, and white
Creeping thyme with scientific name Thymus X citriodorus 'Aureus' belongs to the Thymus spp. They are commonly used as a ground cover to fill in between flagstones, stepping stones or pavers.
This plant herb comes in many varieties ranging from tiny to round leaves in shades of lime green, dark green, and yellow with white edging.
They are closely related to the edible herbs; creeping thymes expels an aromatic fragrance. Their beautiful flowery leave textures, and the ability to spread out evenly in a carpet like a form is why they are considered one of the best ground cover plants.
Wooly thyme or elfin is grown for its soft, flat, silvery foliage feature and its ability to do well in difficult soil and tight areas. This thyme grows gently without engulfing your stones in its foliage.
Caraway thyme, on the other hand, may be too aggressive to be planted as a cover plant. Wooly thyme, which has silvery foliage, will be perhaps a better choice in tight areas.
Read Also: How To Care For Callistemon Tree
White and red thymes, planted in full range, will give your lawn a gorgeous floral display.
The creeping thyme is a Native to the Mediterranean, it thrives best in full sun and has the ability to withstand high exposure to sunlight only in well-drained soil.
During summer, they also produce flowers of various colors, depending on the type, these pretty, tiny flowers usually appear late spring and early summer, they
blossom out and nearly covers the entire ground with carpet mats of foliage that grow to about 1 or 3 inches in height.
Creeping lemon thyme, Spicy orange thyme, and caraway thyme all bear pink flowers and remain short with a height of 4 inches or less.
Red creeping thyme and white creeping thyme attain a height similar to them, but the wholly thyme may achieve a 6-inch height but have no worries because it is a slow spreader.
To care for this herb and ensure proper drainage, Amend average soil with sharp sand or coarse gravel to ensure adequate drainage.
After the blooming season is over, you may want to clip out the flowers. You can clip them off using an excellent shear to pass round the thyme gently, and this will promote air circulation and reduce fungal problems.
This ground cover is so easy to maintain that even when small fractions die out, it is quickly bounced back to life with watering. However, Constant soggy or wet damp soil kills the plants, eliminates over-watering problems, and uses a good soil meter.
Conclusion
Trying to run a comparison on blue star creeper vs creeping thyme without proper research can yield more problems as one gardener well thriving plant can be another gardener nightmare, so proper research is of great importance.
Lucky you, this article on blue star creepers and creeping thymes comparison provides you with in-depth knowledge of both ground cover plants.
If you follow this guide with the right factors put in place and under the proper climatic condition, you should be turning your outdoor space into an ornamental garden.