We independently research and recommend the best products here. This article contains affiliate links. If you make a purchase after clicking on a link, we may earn a little commission at no extra cost to you.
Ratchet pruners, also known as pruning shears or clippers, are essential tools that every gardener or newbie should consider adding to their gardening racket.
Every DIY project comes with its own task set, and gardening is no different. Pruning is a well-known task carried out in gardens; it involves trimming and shaping crops, clipping out damaged and dead foliage.
Finding the best ratchet hand pruner that best fits your gardening needs can be a challenge considering the full range of brands available.
In this article, we will be looking at some great ratchet pruners that you can start using in your garden today.
If you're in a haste, check out the comparison table below to make a quick choice:
Best Ratchet Hand Pruners
What Is A Ratchet Pruner?
A ratchet pruner is a type of tool used on garden plants. They are specially designed for light or heavy trimming of unwanted dead branches and the overall maintenance of plants. Their design usually features a sharp edge for cutting and a leveled blunt side.
The working mechanisms of ratchet pruners are similar to other pruning tools. They work by squeezing their sharp blades or cutting edge against a little branch or leafage while the dim leveled side properly sets in place the base of the plant to cut.
The main advantage that ratchet pruners have over other pruners is how they make work seem less overwhelming.
Their fitting compatibility feature, which takes a "click" position as soon as the ratchet user presses the handles together, allows the proper fit with each handle being pressed, then helps the users to apply added compression into their cuts.
Benefits of Using a Ratchet Pruner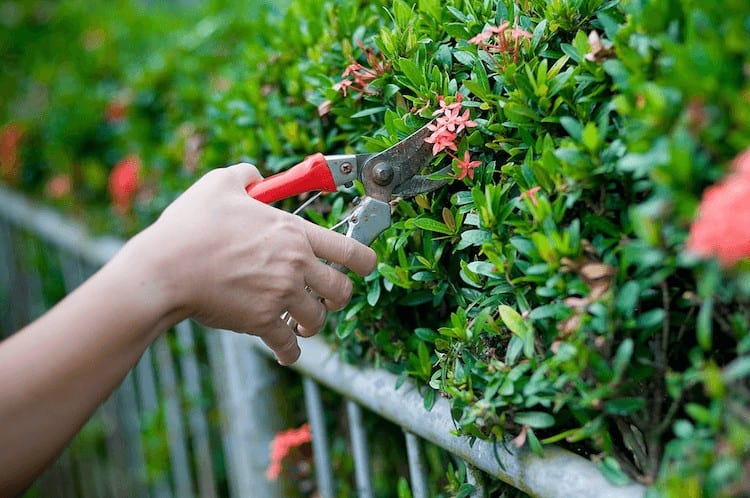 Ratchet hand pruners are one of the most useful tools in gardening, and usage of the right tools generally saves time and requires less effort while promoting work efficiency.
Ratchet hand pruners are suitable for people with special muscle needs, like low hand muscle strength and for people with arthritis and tendonitis.
They are specially designed to relieve weight on the hands and wrist joints; hence the use of ratchet pruners enables easy cutting and input of less effort and pressure.
Because ratcheting pruners are designed to alleviate stress on your wrists and hands, they are an excellent choice for people with less strength in these particular muscles.
Furthermore, ratchet pruners exert a reasonable level of force in addition to the hand to trim off thick branches that would have been difficult to trim off, relying on the hand strength alone.
You do not mind the size of the plant garden. Whether big or small, you will have to tend to the upkeep of your garden which involves, shaping out overgrown plants, pruning dead or damaged branches of plants, and unwanted and deformed weeds.
So every gardener is deserving of a good set of ratchet hand pruners to best fit into the task set of your garden.
Ratchet Hand Pruner Reviews
1. The Gardener's Friend Ratchet Prunning Shears
Ratchet Pruning Shears Gardening Tool – Anvil Pruner Garden Shears with Assisted Action – Ratchet Pruners for Gardening with Heavy-Duty, Nonstick Steel Blade – Garden Tools by The Gardener's Friend
Strength-Boosting Shears – Boost your cutting power with ratchet garden shears for pruning, trimming, and harvesting plants. Your TGF anvil pruners help you achieve cleaner cuts with less strain.
Assistive Clippers - Where other gardening hand tools depend on your raw strength, your ratchet pruners chew through branches in steps. Keep gardening in spite of strength or mobility challenges.
For Stems, Stalks, and Small Branches – Whip out your garden snips and clean up flower beds and garden rows. Cut tree branches up to 1 in. thick, depending on the wood and your individual strength.
Designed for the Dirt – Choose corrosion-resistant garden shears for pruning with a heavy-duty manganese steel blade and aluminum body. Your high-impact tool is incredibly resilient under pressure.
Let's Be Friends – We're here to provide excellent garden tools for gardening enthusiasts of all sorts. Let us know how we can help you keep your lawn and garden bountiful and beautifully maintained.
Last update on 2023-06-09 / Affiliate links / Images from Amazon Product Advertising API
These hand pruners are the best choice for outdoor gardening.  Its 3-step ratcheting mechanism makes clipping off hard stems or branches an easy task. It is also suitable for people with weak hands and is scared of the pruner slipping off their hands.
It features a side by side locking mechanism with a loop on the side of its aluminum construction. This ratchet hand pruner also features a comfortable rubber that ensures a closed grip while preventing slippage and absorbing pressure.
This makes this pruner suitable for both left and right-handed avid or newbie gardeners. It has a coated carbon steel stick-free blade that smoothly drives through woods and an anvil coated in the channel to prevent blade dulling.
Additionally, it has a replaceable blade in case your inbuilt blade breaks.
They are a perfect choice for keeping your hands pressure and fatigue-free.

Pros
Suitable for left and right-handed gardeners.
Suitable for cutting thicker branches and twigs.
Stand-in blades available
Recommended for weakened hands
Cons
The rubberized grip may degrade over extended usage
Its closed grip makes it difficult for hand gloves to fit in
2. Corona Hand RP 3230 Ratchet Pruner
Sale
Corona Hand RP 3230 Ratchet Pruner, ¾-Inch Cut
Rachet Pruner: designed for reduced effort and fatigue when cutting larger branches. Allows you to stop mid-cut, open back up for more leverage, and continue cut.
Coated Non-Stick Blade: allows for smooth cutting and easy cleaning
Suitable for right and left hand use
An ideal tool choice for general-purpose pruning
¾ Inch Cut Capacity: best suited for medium and small sized hands
Last update on 2023-06-09 / Affiliate links / Images from Amazon Product Advertising API
The Corona RP 3230 ratchet hand pruners have a 4-step ratcheting system and are a general-purpose pruning tool for your gardening needs.
The clippers have a cutting performance of ¾″, and its handles constitute of a soft rubber-like material designed for extra comfort while pruning. It also has a good grip that is beneficial to both left and right-handed gardeners. It fits all hand sizes perfectly, both large and small.
The inbuilt blade is made of stainless rivets steel and covered with a non-stick coating that builds friction to sticky substances and prevents rust.
The Corona RP 3230 pruning tool is constructed with stainless steel rivets and has a 4-step ratcheting system.
These ratchet pruners have a self- lock locking mechanism which keeps them locked when not in use.

Pros
Stick resistant coated blades
Comfortable non-stick grip
Suitable for all hand sizes; large and small.
Suitable for both right and left-handed gardeners.
4-step ratcheting system
Cons
No replacement blades
May not cut any branch with a diameter higher than ¾″
3. Felco F-2 068780 Classic Manual Hand Pruner
Sale
FELCO F-2 068780 Classic Manual Hand Pruner, F 2
Comfortable, lightweight, sturdy aluminium alloy handles
High quality hardened steel blades, forged aluminium alloy handles, wire cutting notch
Anvil blade with sap groove, rubber cushion shock aborbers
For a medium to large hand, right Handed; the handles have a non slip coating
Lifetime guarantee, all parts replaceable
Last update on 2023-06-09 / Affiliate links / Images from Amazon Product Advertising API
One of the best ratchet hand pruners out there, the Felco F-2 068780 Classic Manual Hand Pruner features a forged high strength aluminum-alloy inbuilt handle ideal for light and robust strength applications.
It has an inbuilt high-quality carbon steel blade and a stand-in replaceable cutting blade with adjustable positioning in case of breakage.
It comes with a spring mechanism located between the handles. The spring is a fastened coil made of stainless steel. It is designed to allow blades and handles to close more firmly and also to keep dirt and debris from stuffing it to prevent corrosion.
Lastly, they have a rubber-like material fused into the handles that doubles as a shock absorber when the blades come together and cushion and for comfortable operation.

Pros
Very comfortable in hands
Suitable for both left-handed and right-handed gardeners
Replaceable blades are available
Adjustable alignments
Blades ensure clean cuts
Cons
The featured plastic grip may degrade over prolonged usage
4. Power Drive Ratchet Anvil Hand Pruning Shears
Power Drive Ratchet Anvil Hand Pruning Shears - 5X More Cutting Power Than Conventional Garden Tree Clippers.
★★★★★ EFFORTLESS CUTTING - The ratchet in the pruner is a clever extra mechanism to make light work of tough cuts. As you squeeze ratcheting pruning shears, they latch so you can release and squeeze again, performing the cut in easy steps rather than one go. As you cut through a branch, the ratcheting mechanism clicks and moves to the next setting, providing ever-increasing pressure as you cut.
★★★★★ 5 TIMES THE POWER - The ratcheting mechanism's settings multiply your hand's power by up to 5 times, so that you don't have to do the work - the pruning shears do it for you. With
★★★★★ HIGH QUALITY HARDENED STEEL BLADES - Heat treated and hardened carbon steel blades are ultra strong, will last longer and are less likely to nick or need frequent sharpening. Coated with non-stick Teflon that resists sap and other sticky materials.
★★★★★ ERGONOMIC COMFORTABLE DESIGN - If you intend to prune frequently, you'll appreciate the way that a ratchet pruner will reduce wrist strain, require less pressure to cut, and generally make the pruning experience much more enjoyable. If you do a lot of pruning, this can make a huge difference in hand fatigue. Ideal if you are already starting out at a disadvantage with carpal tunnel or arthritis, or have smaller hands.
★★★★★ 100% CUSTOMER SATISFACTION GUARANTEE - Order with confidence! The Gardenite 100% customer satisfaction guarantee means exactly that. We will fix any problems quickly and to your 100% satisfaction every time! We are always available to help our customers. Our customer service record is unmatched!
Last update on 2023-06-09 / Affiliate links / Images from Amazon Product Advertising API
The Power Drive Ratchet Pruning Shears features heat-treated, hardened, and high-quality carbon steel blades that do not need frequent sharpening, hence, saving your energy and time.
The blades are also coated with a stick-resistant Teflon material to reduce the chances of corrosion by preventing debris and saps from clogging in.
They are an excellent choice for gardeners carrying out heavy-duty gardening tasks or for people with limited hand muscle strength.
These hand pruners are equipped with extra cutting power to cut through sturdier branches effortlessly while also been less likely to break. It multiplies your hand's power by up to five times additional pressure and is strong enough to last through rigorous sessions of pruning.

Pros
Suitable for heavy-duty jobs like cutting thicker branches
Easy and lightweight on hands
Hardly gets blunt
Ideal for women and smaller hands
Five times more cutting power
Cons
No replaceable blades
Some users complained that the handles do not prevent hand slippage
Difficulty in using the lock mechanism
5. The Fiskars Professional Pruning Shears
Sale
Fiskars Professional Bypass Pruning Shears
Ideal for cutting stems and light branches
Blade tension can be adjusted to your hand strength and the materials you're cutting
Angled cutting head reduces wrist fatigue and makes it easy to prune at awkward angles
Maximum cutting capacity: 1 inch diameter
Last update on 2023-06-09 / Affiliate links / Images from Amazon Product Advertising API
The Fiskars professional bypass pruning shears are an ideal choice for all kinds of pruning tasks. This multi-purpose hand pruner uses a ratcheting mechanism that allows the user to cuts deep into thick branches than a regular pruner.
It has a double-dealing inbuilt handle which is made of a rubber material and a non-slip surface, suitable for left and right-handed gardeners.
This ratchet pruner features a fully hardened, precision-ground steel blade with an adjustable blade tension. The blade tension is meant to increase your hand strength and the cutting force. It will also give you an elevated control over the desired cutting tension and accuracy.
The blade is coated in a low-friction coating to help resist bluntness and rustiness and promotes easy cutting. The stand-in stainless steel blade can cut branches of up to 1 inch in diameter.
Lastly, it has an integrated inbuilt sap groove which provides smooth and stick-free operation, including an angled cutting head that reduces hand fatigue.

Pros
Suitable for light and heavyweight cutting
Useful for both left and right-handed users
Blades don't require frequent sharpening
Replaceable steel blades
Lifetime warranty
Cons
Some users complained of a stiff locking mechanism
What to Look for When Choosing a Ratchet Pruner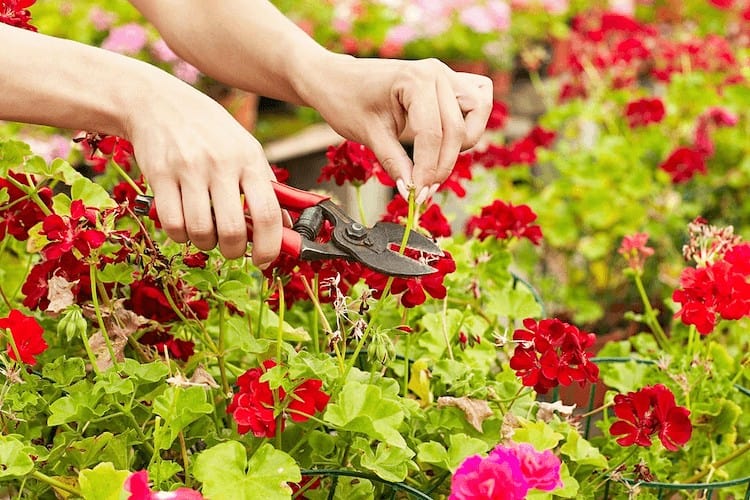 Having gone through some of the top-rated ratchet pruning shears, let's now look at some of the things you should always consider while buying a ratchet pruner.
Read Also: How To Grow Citronella Plant
Cutting Capacity
A ratchet pruner's cutting capacity simply means the diameter or thickness of a branch your pruner's blades can cut through and how large they can open up.
An average pruner usually cuts anywhere around ½ an inch to 1 ½ inch thick branches. So, based on the size of the garden you intend to use them for. Bottom line, simply make your choice of hand pruners that best fit your backyard needs solely based on the branch sizes and length.
Blade Quality
The choice of a ratchet pruner with high-quality blades will effectively cut through branches. They also last longer and requires little care.
You can opt-in for low friction, high-carbon steel, and anti-rust blades. They ensure smooth operation when cutting, durability, and prolong usage.
Warranty
You can never go wrong, choosing a tool with a warranty as one cannot be too careful. So, it is always a good idea to get a ratchet pruner with a lifetime warranty.
How to Use a Ratchet Pruner
The ratchet pruner is quite a simple cutting down garden tool that should not pose any challenges learning to use. But here are a few tips that may come in handy before using your ratchet pruner.
Ensure that the blades of your ratchet pruner are well sharpened before you start cutting through branches. A sharpened blade enhances the cutting performance while prolonging the life span of your ratchet pruner.
Always adhere to product description and capacity. For instance, if it says the ratchet pruners were specially designed to cut through branches with a diameter ranging from ½ inch to 1 ½ inch thick.
So resist the urge to cut through any material that is more than that thickness required by the manufacturer, else you will successfully damage the blades and reduce its efficiency.
Insert the thick branch to be cut inside the jaws of the ratchet pruner while cutting. Squeeze the handles till you hear a click sound, which indicates that the ratchet lock mechanism has been activated.
Release the blades till you hear another click sound. Then you can continue to press the handles till you hear the second click sound and rerelease the blades. Continue this process until the branch is cut completely.
How to Maintain Your Ratchet Pruner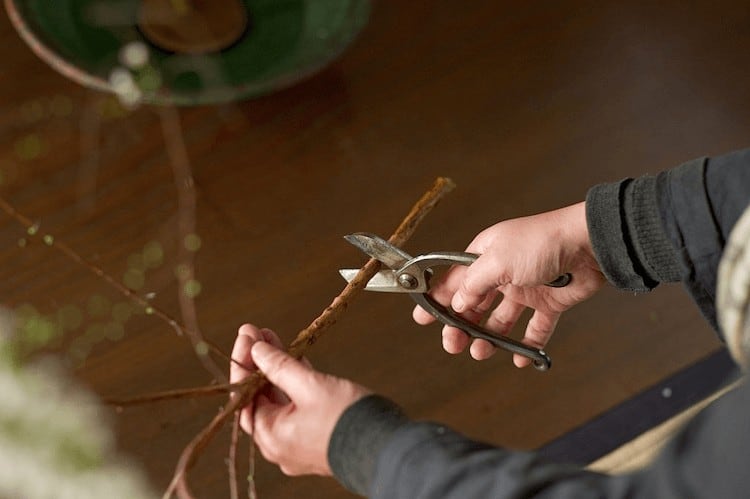 It's essential to keep your ratchet pruner in the best condition to prolong its life span and ensure excellent cutting efficiency.
Ensure to keep the blade of the ratchet pruner sharpen before it dulls out and also before a cutting job. Always use a hand file or a sharpening stone to sharpen away from the blades.
Perform a routine DIY cleanup on the blade using household materials like vinegar and orange oil or with chemicals such as WD-40. This cleanup makes them free of rust, grease, sap, or sawdust.
You may need to unscrew the handles so that you can get into hard to reach places for the cleaning.
After making use of your hand pruner to cut through branches, clean them properly, and rub on some oil to serve as a lubricant to prevent rusting. Preserve them properly in dry storage until next use.
Read Also: Best Soil Moisture Meter
How to Sharpen Garden Shears with a Stone
Frequently Asked Questions
Does the blade need to be sharpened & how often?
Some ratcheting hand pruners come with high-quality blades. However, the frequency of your sharpening is solely dependent on how often you make use of this tool.
Which is better between bypass and anvil pruners?
Taking a quick look at these tools, there seems not to be much of a difference between them, however, the difference is significant.
Anvil pruners are similar to a knife in terms of function, where you push a blade through the plant material onto a cutting board. While bypass pruners function like scissors where two blades pass by themselves.
What are the best hand pruners?
There are lots of reliable hand pruners in the market, you just have to choose the one that best suits your need. You can always tell by their features and customer reviews. The is one of the best out there and we suggest you check it out.
How do you clean hand pruners?
You can use water and warm dish soap to clean a ratchet hand pruner. You can also spray the blades with to get rid of dried sap. And if your pruners have developed some rust, soak them in white vinegar overnight to melt the rust. Then use a wire brush to scrub the pruner to remove dirt and rust.
How do you sharpen Fiskars hand pruners?
You can easily use flat files to sharpen the blades on these tools. Sharpen at the same angle as the blade. If you notice any notches or cuts on the blade, file those out carefully.
How do you sterilize pruning shears?
To disinfect or sterilize pruning shears blades, soak them in a 10% diluted for at least three minutes, then rinse with water and dry the blade.
Conclusion
A befitting pair of hand pruners is a cutting tool that all gardeners should have handy.
This article features the best ratchet hand pruners, their description, maintenance tips, how to choose the right one, and where to buy them.
These hand pruners are a powerhouse of pressure, supplying enough additional pressure for users with low hand strength or arthritis.
With proper care and maintenance, this tool will last for years and always be at your beck and call.