Wondering what are the fast growing ground covers for slopes? Well, in this guide, we've given you 15 options to choose from.
To maintain a colorful home garden and luscious lawn, one has to be intentional and consistent about the resources required, such as effort, time, and money. The best solution to cut down on landscape maintenance and steep slope eluding control is the ground covers.
Groundcovers are low-growing plants that spread fast and wide to form a dense blanket on the soil. They add a beautiful carpet-like feature to the garden and resolve a range of planting issues in challenging areas.
Read on to learn about some of the fastest-growing ground cover plants for slopes, their description, and required growing conditions.
What Are The Uses of Ground Cover Plants?
It is frequently a matter of concern when we find ourselves with a gap, slope, or shady corners in our yard where nothing seems to ever grow.
It is the wish of every gardener to find the perfect plants to fill in these imperfections to prevent soil erosions and the growth of stubborn weeds.
The best go-to options are the flourishing, ever adorable ground cover plants that control erosion and possess a root system that is effective for keeping out weeds and holding back soil from eluding.
Other uses of ground cover plants are
They are used to control erosion on steep slopes.  Although it is often said that grass might seem to be the best ground cover plant for slopes, however mowing grass on a steep slope is often tricky and quite dangerous.
For shady areas, under shrubs and trees. When the ground cover is planted under large trees, they reduce the mower's damage to the root of the tree.
Some groundcovers species are less sun tolerant and require less sunlight and less moisture and nutrients than grass.
Therefore, they are in less competition with already existing plants like shrubs and trees.
Additionally, when planted in overwintering areas, they serve as an ideal habitat for beneficial pollinators and insects.
Having these insects and pollinators is advantageous to the plants in your garden because they promote pest control, which could have an adverse effect on your plants.
They are of great use in extremely dry or wet locations. These ground cover plants act as insulators that offer a layer of protective coverings for the soil in extremely dry or wet environments.
They help to regulate and maintain the soil's cool temperature during summer by protecting it from excessive sunlight and the warm heat during winter.
This ground cover plant is of great advantage to other plants in the garden, because its protective covering will help protect roots from being destroyed by low temperatures in colder seasons.
Their ability to trap moisture in the soil protects roots from drought or washing away during extremely wet seasons.
This feature also helps in reducing the need to frequently water plants and, in return, save energy and cut water bills.
Lastly, they are excellent in areas where tree roots grow too close to the surface and prevent grass from growing.
Read Also: How to Care for Mulberry Tree
15 Fast Growing Ground Covers for Slopes
Your choice of an appropriate plant for groundcover purposes depends on the location where it will be grown. Based on preference, some species of groundcover plants are shade-loving while others thrive under full sun.
Some are moist soil loving, while others prefer well-drained or dry soil. For plants to be considered as the best ground cover plants, they have to be sturdy, long-lasting, and relatively fast-growing but not protruding.
Here is a list of 15 groundcover plants that fit into each of these categories listed above, along with growing conditions and other relevant information.
1. Moss phlox (Phlox subulata)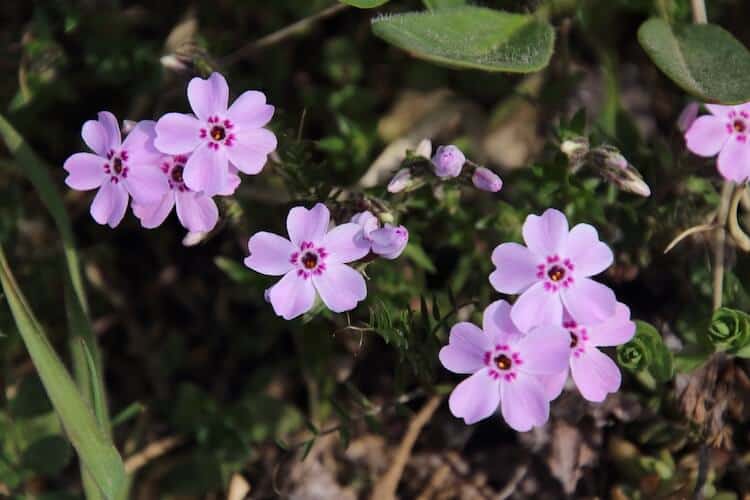 Zones: 3 to 9
Height: 3 to 6 inches
Growing conditions: Full sun
Spread: 1 to 2 feet
Moss phlox ground cover plant enters full bloom during early spring; its dense carpet spreads across the ground with flowers in colors of pink, white or purple.
2. Creeping phlox (Phlox subulata)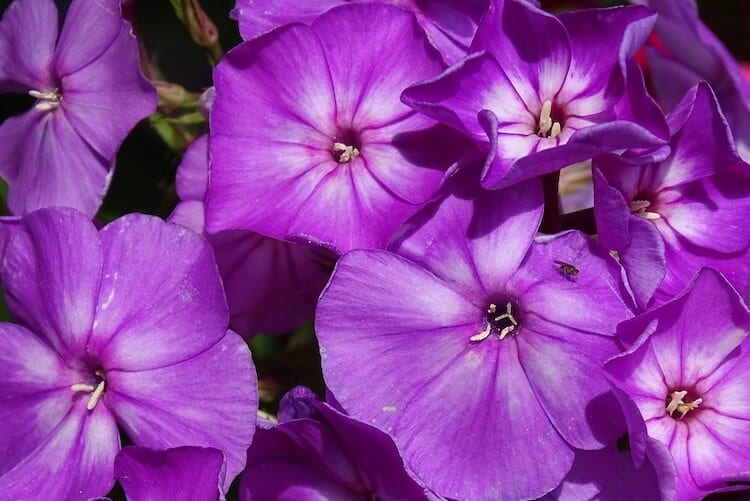 Zones: 5 to 8
Height: 9 to 12 inches
Growing conditions: In full sun, well-drained averagely rich soil.
Spread: 9 inches to 1.5 feet
In early spring, the creeping phlox features tiny needle-like, evergreen foliage that is covered by rose, pink, white, or lavender flowers.
This ground cover plant can be grown in various conditions, from ground covers to hanging baskets and container planters. It blossoms fully during springtime with evergreen needle-like foliage, and the covering flowers come in colors like white, lavender, pink, and rose.
The stems form a net-like root system, and its ability to spread under a short period makes it the best option for a beautiful flowering ground cover.
Since it matures to a maximum height of only about nine inches tall, many greens growers choose to grow creeping phlox on a slope.  That way, you don't have to stand directly over the plant to admire its artistry.
3. Sweet Woodruff (Galium odoratum)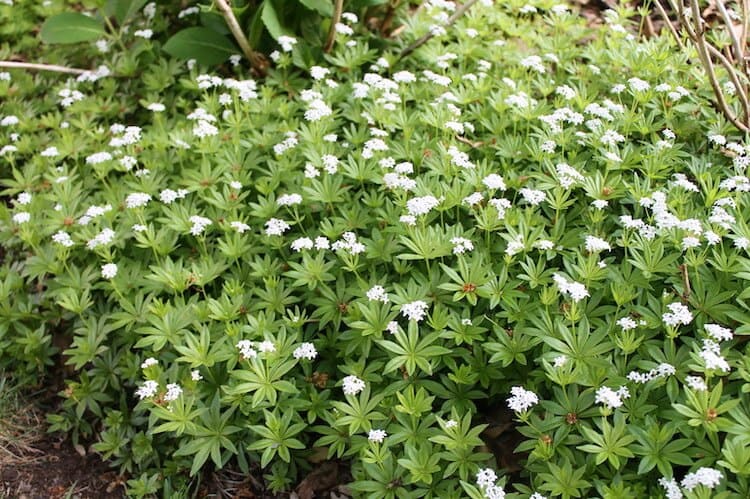 Zones:  USDA Hardiness  5 to 8
Height: 15 inches high
Growing conditions: Moist soil with a pH of 5.5 to 7
The sweet woodruff (Galium odoratum) is a vigorous, shade-loving ground cover plant with a dainty look. This species of plant is a fast-growing spreader with a growing height of 15-inch-high.
In early summer, it features abundant clusters of aromatic, white, star-shaped flowers, which transform into neat short-framed, star-shaped forest green leaves into autumn.
The extremely hot temperature is harmful to the sweet woodruff, but if constant moisture and shade are provided, they will thrive. With enough moisture and humus, acidic soil, it can grow on a rampage in cultivated grounds.
Read Also: How to Care for Umbrella Plant
4. European wild ginger (Asarum europaeum)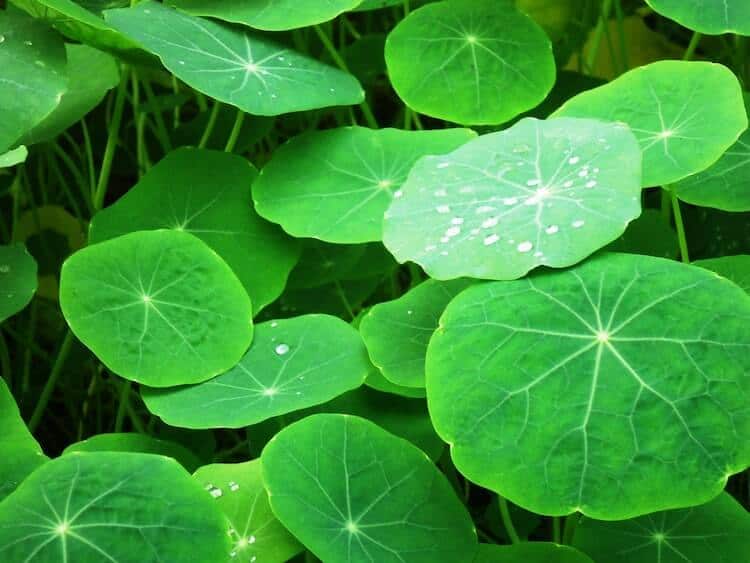 Zones: 4 to 7
Height: 3 to 6 inches
Growing conditions: Part shade to full shade
Spread: 1 to 1.5 feet
The European ginger is a no-maintenance ground cover plant. It features dense, shiny, round-hearted-shaped leaves and grows little yellowish-green flowers in April and May which stand side by side, forming a close-knit cover and are deer resistant; this makes it an adorable groundcover.
This ground cover plant thrives in shady sites and requires well-drained acidic soil to grow. Its deep-rooted stem system makes it survive drought.
Although it is drought resistant, it can't survive for long under constant dry conditions, so avoid planting them in hot southern climates because it suffers even under the shade.
5. Cheddar pink (Dianthus gratianopolitanus)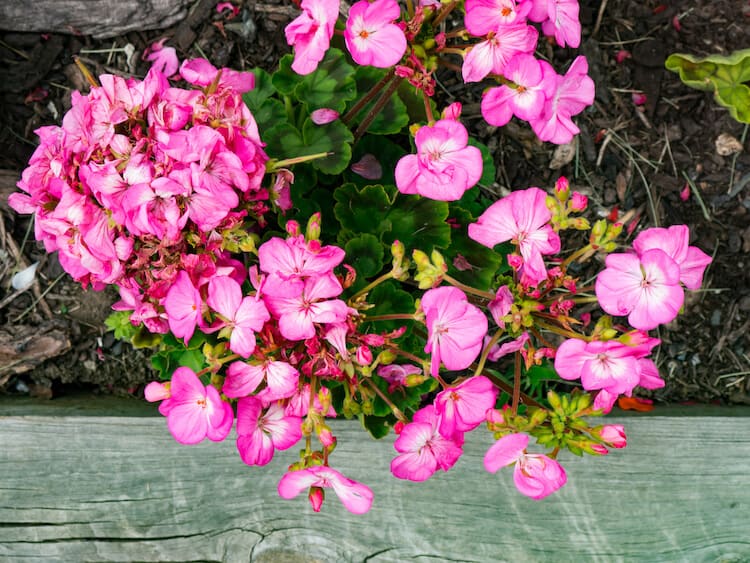 Zones: 3 to 9
Height: 9 to 12 inches in full bloom
Growing conditions: Full sun, and well-drained soil
Spread: 6 to 12 inches
This easy-to-grow ground cover plant features a bluish-green to gray-green needle-like evergreen foliage well saturated by an aromatic matte pink or white flower during spring, whereas, during winter, it retains its foliage.
It thrives in well-drained soil, but it isn't drought-resistant so, do not overwater. To get the most out of this beautiful ground covers gently trim after flowering.
This species is known as the most tolerant of humidity and heat.
6. Barrenwort (Epimedium species)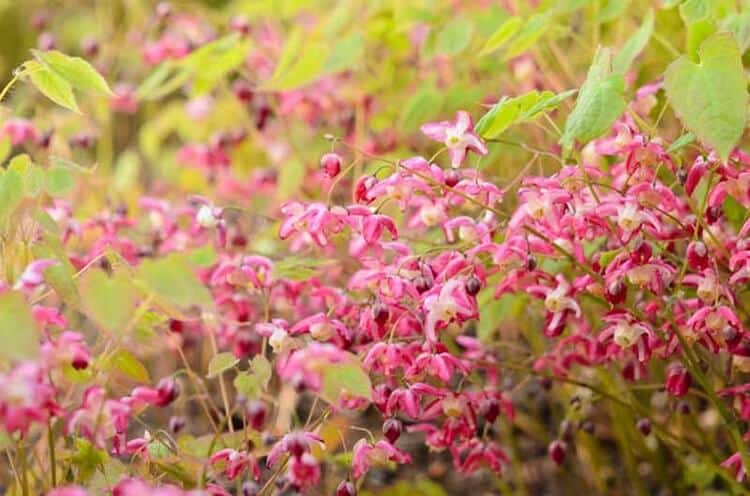 Zones: 5 to 9
Height: 6 to 12 inches
Growing conditions: Part shade to full shade
Spread: 1 to 1.5 feet
Barrenwort is a vigorous ground cover plant that blooms all year round. The leaves feature clumps of semi-heart-shaped leaves with tones of crimson, vibrant yellow, or bronze flowers during early spring.
7. Mini Mondo grass (Ophipogon japonicus 'Nana')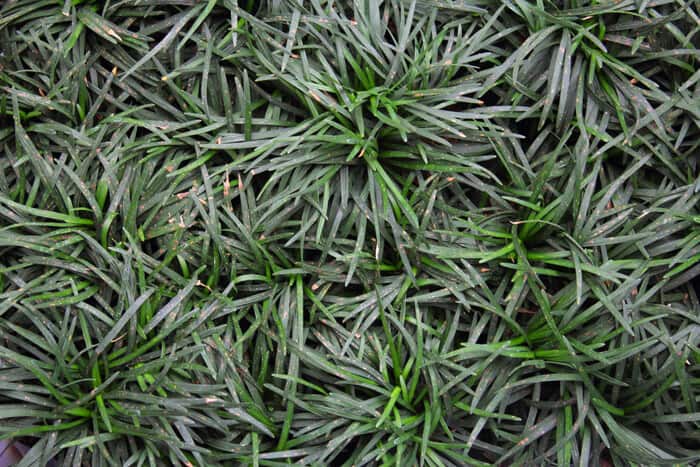 Zones: 6 to 9
Height: 6 to 12 inches
Growing conditions: Part shade to full shade
Spread: 1 to 1.5 feet
This ground cover plant is tolerant of partial shade or sun, Ophiopogon planiscapus Nigrescens is grown for the black color of the carpet glass. Even the berries that evolve after the flowers are black. The latter leaves feature a gold color.
This petite groundcover plant is the smallest of ground covers, and they form vase covers over full-sun locations. This attractive evergreen groundcover is also suitable to fit in areas in between stepping stones and around the base of trees, In place of gravels or shredded barks.
8. Lilyturf (Liriope muscari)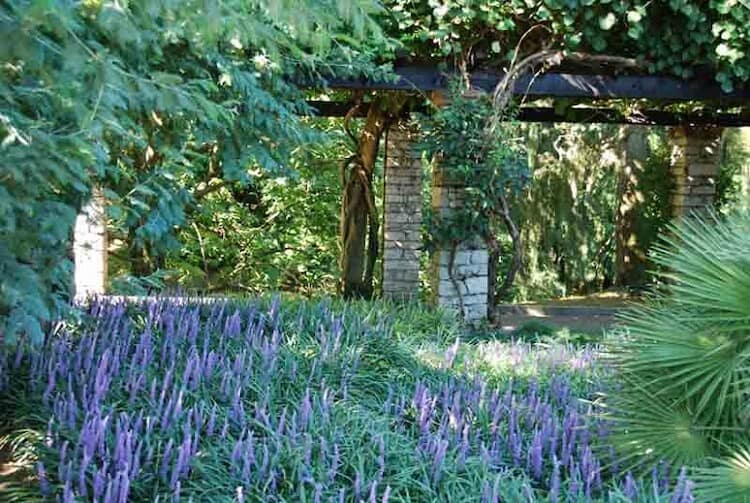 Zones: 6 to 10
Height: 8 to 10 inches
Growing conditions: Part shade to part sun, humus soil
Spread: 1 to 1.5 feet
The lilyturf is an excellent dense evergreen cover plant that is ideal for slope sites or bases of large trees with extensive root systems.
This ground cover is a vigorous spreader and is hardy down to  -30 degrees F and features beautiful solid dark green leaves that extend 8- to 10-inch in height.
In early spring, it creates a cone of purple flowers, and in the midsummer, the purple flowers transform into small groups of bluish-violet flowers arranged in a bunch rising slightly above the foliage.
This type of ground cover is sturdy and, to an extent, fast-spreading, which makes it an excellent all-season round groundcover.
To maintain, when back in spring, simply trim off dead growth to produce new fresh growth every season. It does not give so much care to how dry or hot the weather gets, the type of soil it is cultivated in, or the amount of shade or sun it gets. Its only downside is dirty motionless water.
Gardeners find the different variants with multicolored leaves of curly or white flowers and twisted leaves more attractive.
9. Creeping juniper (Juniper horizontalis)
Zones: 3 to 9
Height: Although they are about 18 inches their height varies by cultivar
Growing conditions:  In full sun, Well-drained, partly dry soil. The shore variants of juniper tolerate waterfront conditions.
Spread: Several feet
These needle-like ground covers are available in several cultivars and species of differing leave color, height, composition, and form.
Examples are;
J. horizontalis 'Prince of Wales': one of the smallest of the small, because of its short height, which is just 6 inches tall.
'Blue Rug' (J. horizontalis Wiltonii): Well sorted out by gardeners for its blue foliage color
J horizontalis' Lime Glow': for gardeners whose preferences are yellowish-green foliage
They are low-growing cold-hardy ground covers that offer you landscape colors all year round because they are evergreen. These low-maintenance ground cover plants extend to about 18 inches in height and are receptive to both rabbits and deer.
They extend several feet wide, and once they are established, they begin to produce blue "berries" (seed cones). Periodically prune them to get the best from them each season.
10. Sedum rupestre 'Angelina' (Sedum spp.)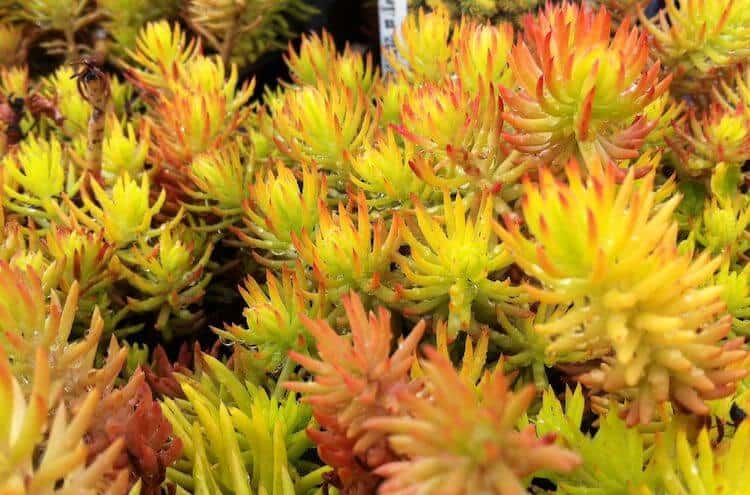 Zones: 5 to 8
Height: 3 to 6 inches
Growing conditions: full sun
Spread: 1 to 2 feet
These ground covers are sturdy, attractive, and drought-resistant. They are in full bloom with colorful spiky leaves during late summer, yellowish in spring, and reddish-orange through fall.
11. Mazus (mazus reptans)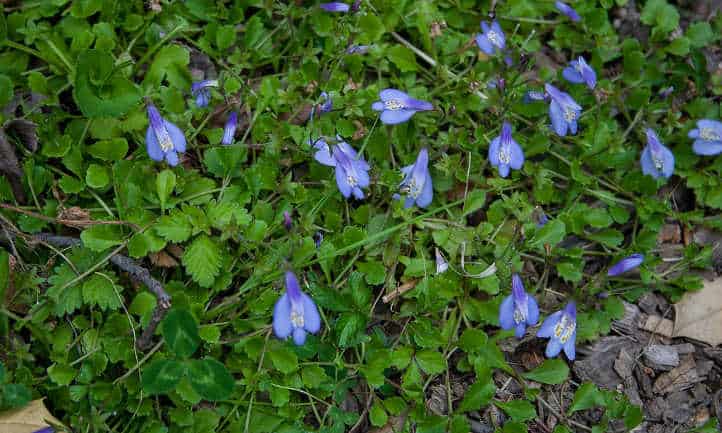 Zones: 5 to 8
Height: 3 inches
Growing conditions: Full sun to part shade
Spread: 6 to 12 inches
Mazus reptans plant is an excellent low-maintenance groundcover. During early to mid-summer, it reaches full bloom of small purple flowers in clusters.
Read Also: Growing Citronella Plant From Cutting
12. Thread leaf coreopsis (Coreopsis verticillata 'Zagreb')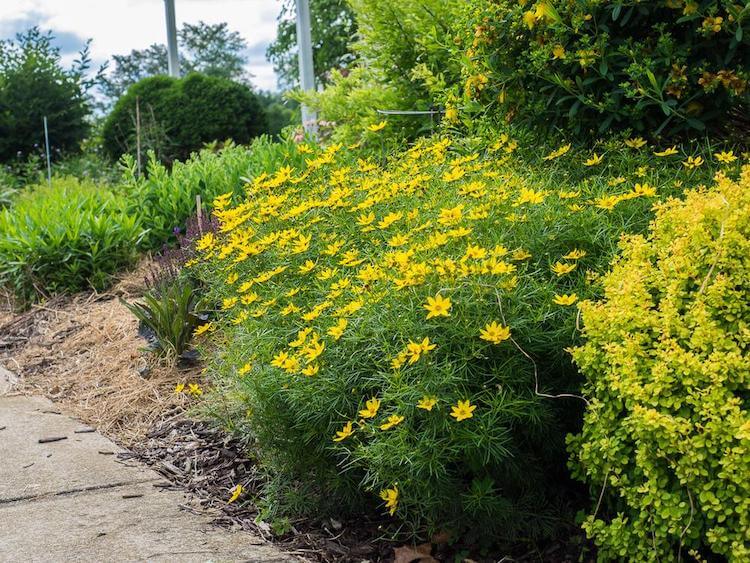 Zones: 3 to 9
Height: 1 to 1.5 feet
Growing conditions: Full sun
Spread: 1 to 1.5 feet
The Thread leaf coreopsis is a high-spirited ground cover plant that blossoms in any soil, both sandy and rocky.
It features greenish needle-like leaves that blossom into sunny yellow flowers with mild blemish through late spring to summer.
13. Nepeta' Blue Wonder' (Nepeta racemosa)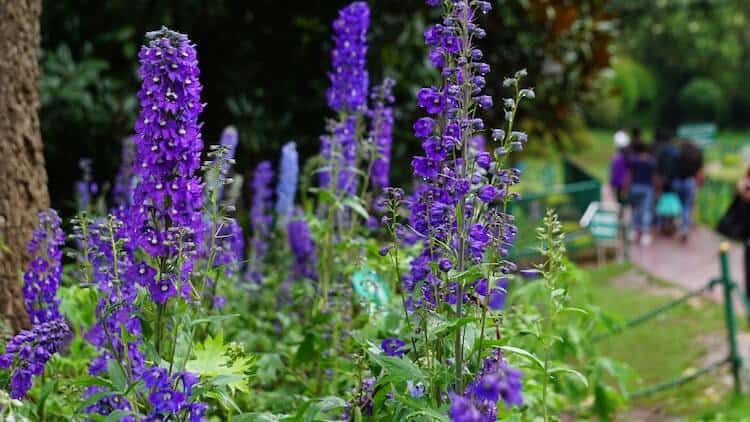 Zones: 3 to 8
Height: 9 inches to 1.5 feet
Growing conditions: Full sun to part shade
Spread: 1 to 1.5 feet
Nepeta racemosa ground covers feature a cone of full bloom purple flowers early in the spring that flourishes nearly all year round. Its foliage boasts of a mixture of aromatic, silver, and green features.
14. Creeping Myrtle (Vinca minor)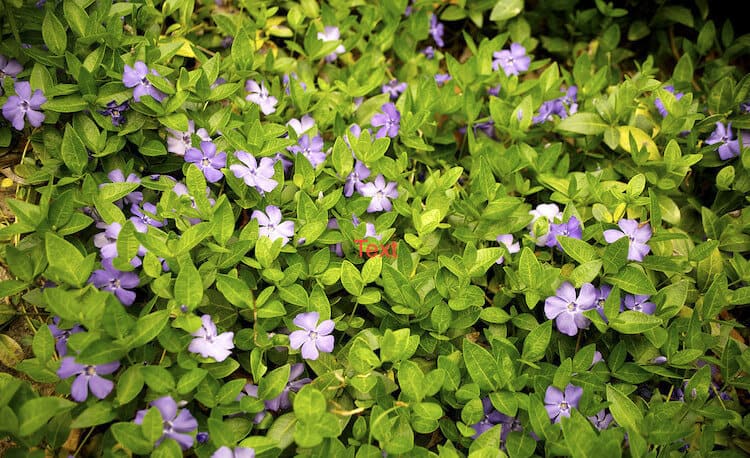 Zones: 4 to 8
Height: 3 to 6 inches
Growing conditions: Full shade
The creeping myrtle (Vinca minor) falls in the category of shade-loving ground covers. This drought-tolerant ground cover plant shares some similarities with creeping junipers, especially in height.
These plants are best suited for problematic areas like steep slopes.
15. Interrupted Fern (Osmunda claytoniana)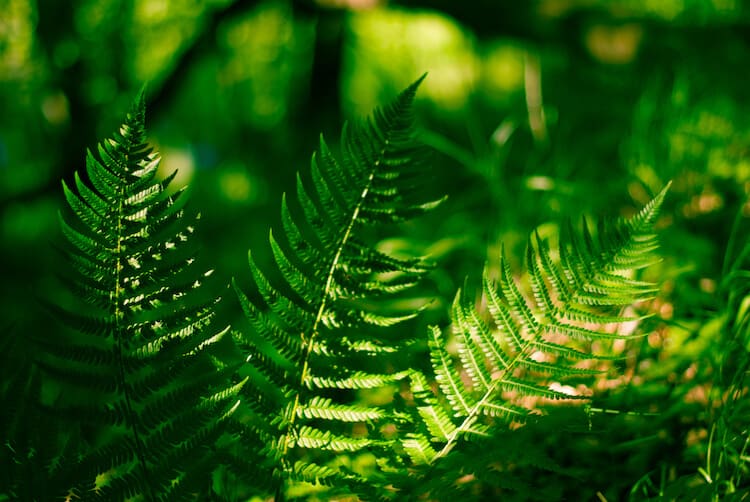 Zones: 3 to 8
Height: 2 to 3 feet tall
Growing conditions: Full shade in moist soil
This ground cover plant is a vigorous wild spreader best suited to shady slopes. Its root system is excellent for retaining soil and thus controlling erosion. Also, its moist-loving feature makes it an excellent choice for damp hillsides.
16. Wild Thyme (Thymus serpyllum)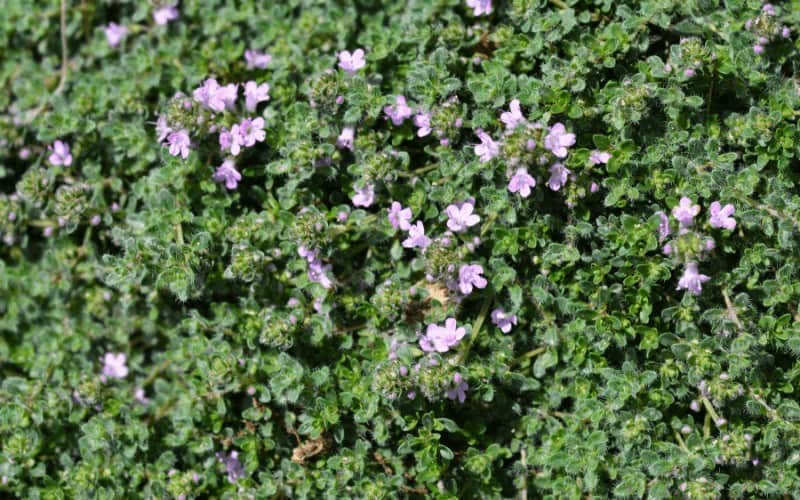 Also known as mother-of-thyme and creeping thyme, wild thyme is a popular ground cover plant that can be used around edging and to fill in areas between garden paths, sidewalks, pavers, and bluestone.
The wild thyme groundcover originated Europe and can be grown in North America as a perennial in USDA hardiness zones 4-8. With its small, beautiful, pink flowers, Wild thyme will give little pops of color to your landscape or garden.
When you touch or walk on the plant, it releases a warm, peppery scent, just like the culinary thyme that can be grown in buckets on your patio.
Interestingly, wild thyme is drought tolerant, which is one of the things gardeners love about it. It grows to 3-inches tall only and can withstand heavy foot traffic.
17. Variegated Snow on the Mountain (Aegopodium podagraria)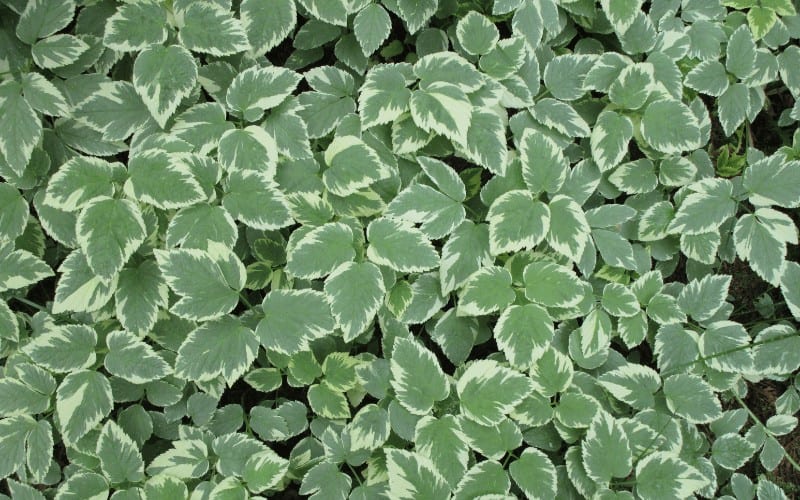 If you want a ground cover that grows well in the shade, then this is it. Often referred to as bishop's weed or goutweed, variegated snow on the mountain is a creamy white and soft green plant that has umbrella-like clusters of white flowers, which is why it's called snow on the mountain.
This fast growing ground cover plant is slightly taller than average and can grow up to 10-inches in height and spreads up to 18-24 inches in width.
This ground cover thrives well in barren areas under trees due to the fact that it loves the shade so much. The variegated snow on the mountain plant grows best in woodland settings in USDA hardiness zones 3-8.
18. Trailing Periwinkle (Vinca minor)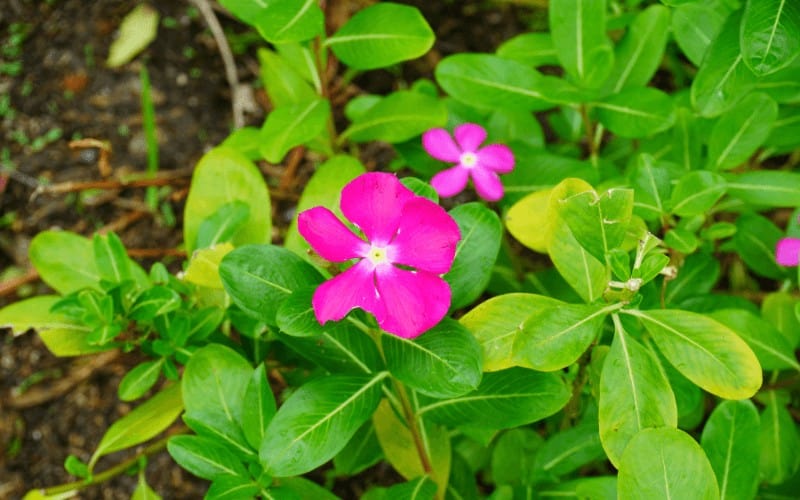 Periwinkle is another stunning ground cover plant that will instantly fill your garden and landscape with spectacular periwinkle-colored flowers. It has a sweet and pleasant fragrance that is perfect for any spot near your porch or patio.
This ground cover grows so fast that you do need to monitor its growth as leaving it unattended will make it grow rapidly across your garden – and I'm sure you wouldn't want it to overtake your garden.
Trailing periwinkle can grow in shade or sunlight, so you can basically plant it on a rock wall or around the base of your trees. Just put this ground cover anywhere you need some fillers.
19. Aubrieta (Aubrieta deltoidea)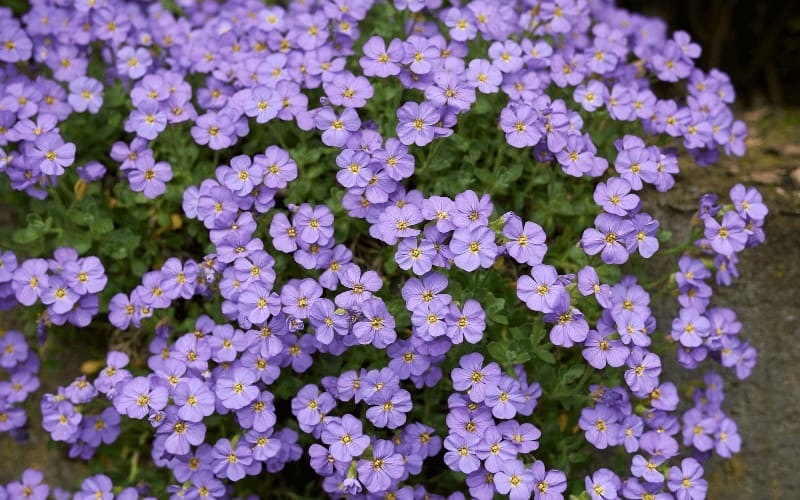 It can be somewhat difficult to find a ground cover for sunny areas, which is where Aubrieta comes in. It's an easy-to-grow and care-for evergreen perennial that is native to the Mediterranean regions, so it thrives best in hot areas with little rain.
Aubrieta belongs to the family of Brassicaceae; therefore, it is related to annual garden vegetables such as broccoli and cabbage. But even though it's in the same family, Aubrieta is only used as an ornamental ground cover, so you cannot use it for food.
To make the Aubrieta a fast-growing ground cover plant for slope, it needs to get about 4-6 hours of sunlight per day. The plant grows up to 6-inches in height and can spread up to a width of 24-inches.
Finally, the Aubrieta groundcover grows in USDA hardiness zones 4-8.
20. Bearberry (Arctostaphylos uva-ursi)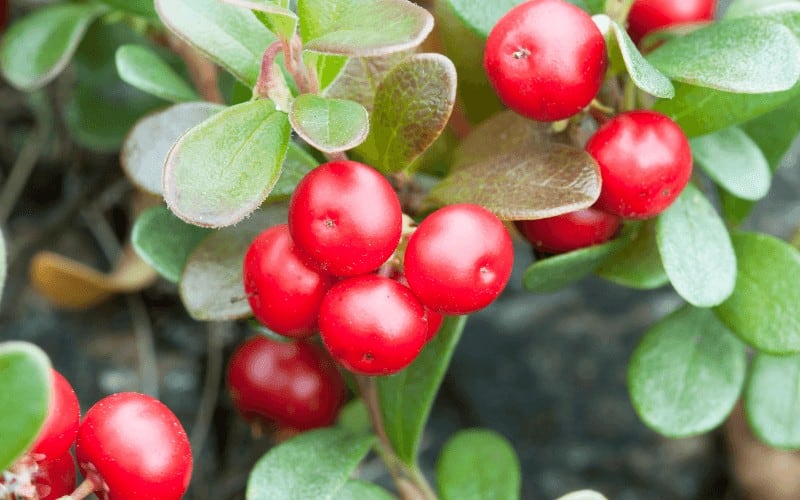 Another ground cover that grows fast, Bearberry is a low-growing shrub that can easily thrive in dry, rocky, sandy soils. It grows wild near the beach where it'll be tough for other plants to survive.
It doesn't tolerate clay coil though, and it grows up to about a foot high and grows in zones 2-7. The Bearberry plant attracts butterflies and hummingbirds while putting off deer.
21. Fern Moss (Thuidium delicatulum)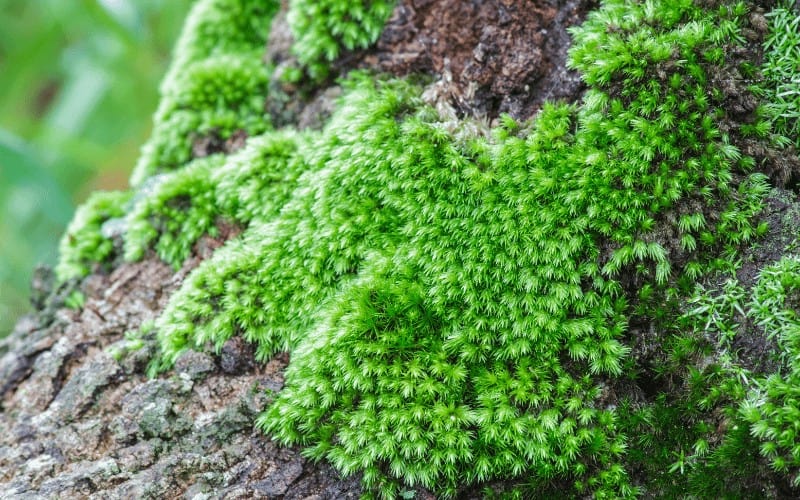 Fern moss grows a delicate bed of yellow-green leaves that can quickly and easily spread in partially shady or sunny areas.
The leaves resemble tiny little ferns, which is how its name came about. Fern moss requires a lot of moisture and protection from the wind to thrive and It grows in zones 3-11.
Related Posts:
Conclusion | Fastest Growing Ground Cover Plants
Ground cover plants are the most accessible means to add an ornamental look and variety of colors to your garden or lawn without much work.
These plants will survive under the required growing conditions with minimal maintenance and supervision on your part.
This article has provided you with excellent choices ranging from 1 to 15, fast-growing ground covers for slopes. Also, for maximum results, it is best to choose plants that are known to thrive well in the conditions found in your location and zones.