We independently research and recommend the best products here. This article contains affiliate links. If you make a purchase after clicking on a link, we may earn a little commission at no extra cost to you.
The John Deere Z335E-42 Zero turn is an affordable mower compared to its peer from the same company. It's got a 20HP engine with enough torque to keep it running clean and efficient for mulching around the home and living area.
Now tell me if you've seen any mower offer so much? Even if you have, there's no guarantee that they last. But the John Deere offers a better guarantee and durability.
In this article, we will take a deeper look into this John Deere machine to help you understand what is and what is not.
I've got hands-on experience on this green mid-town lawnmower. And after using it for a while, I've discovered some tip, trick, and pitfall that's not included in the user manual.
Let's quickly find out!
John Deere Z335E-42 Overview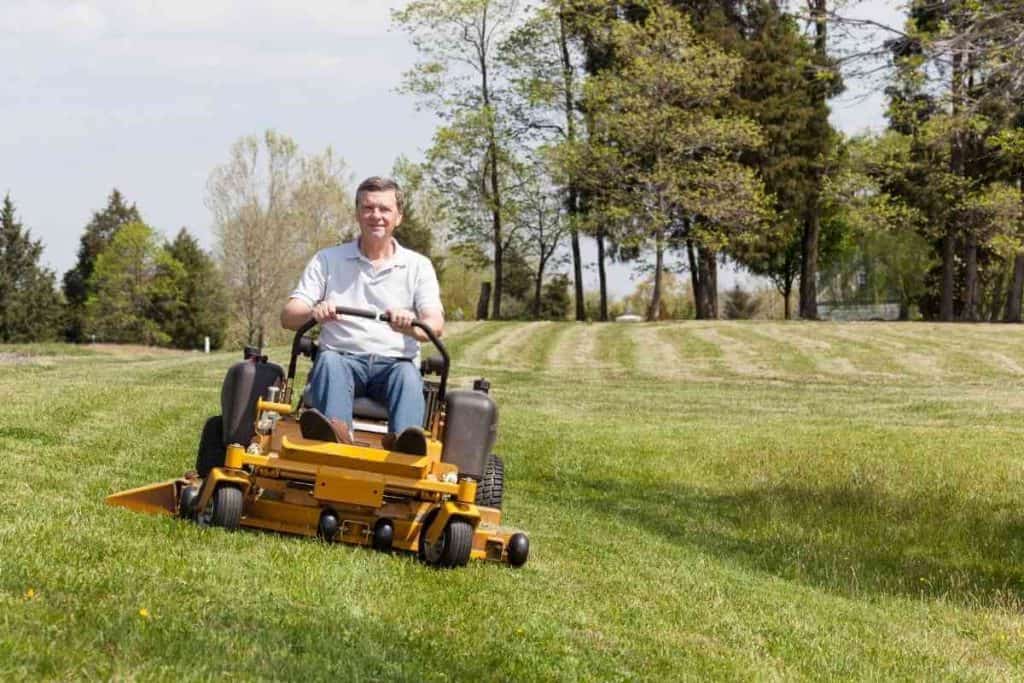 The John Deere Z335-42 turn mower is an affordable option and should be a considerable choice when you've got to pick a lawnmower for multi-purpose use, portability, sturdiness, and longevity.
Compared to its peers, the John Deere Z335E-42 is very pocket-friendly. Most Zero-turn lawnmowers start at a price tag of $3,000, and the numbers could go crazy from there up to a whopping $5,000.
Excitingly, Z335E-42 only costs about $2,599, which is considerably cheap for a lawnmower in the zero-turn category.
See Also: John Deere Z355E Reviews
Also, you can rest assured that it will last, especially if you buy it new and straight out of the factory. It has a 2-years warranty to back that claim.
Have you ever heard of Hydro-Gear transmission? That's one essential bonus of the Z335E-42, which helps the engine hit high revs easily and even runs up to 7mph.
Is it even advisable to own lawnmowing gear like the Z335E-42? Hell yes! I've introduced you to everything you need to know before purchasing this pair.
However, it's worth mentioning that the John Deere Z335E-42 was part of the consumer report test program. The test program is an attempt to test for the reliability and quality of the machine.
John Deere Z335E-42 Zero Turn Lawn Mower Features
The John Deere Z335E runs on a powerful 20 HP engine, making it strong enough to take on most day-to-day tasks with ease.
From the appearance, the Z335E-42 model is green and subtle, but that would still tell us much about the limitation of this machine. So, I've optimized this section to introduce the key feature of the John Deere machine and what you can expect from it.
See Also: Toro Vs John Deere Zero-Turn Mower
Has the M40 engine
Built with cast-iron sleeves, which generally prolongs the engine life.
Has a V-twin cylinder design for increased torque. It also helps better the engine sound quality and lowers the overall vibration of the engine.
Use electrical ignition for fast response time.
The oil drain valve can be easily assessed without any need for special wrenches or drivers.
It has overhead valves which help properly economize fuel usage while providing tremendous power for handling work.
As a guard at the rear engine, which also doubles as a hitch for towing whenever the need arises. In addition, the guard also provides more integrity and strength to the machine.
It has a built-in oil filter and full pressure lubrication, which helps maintain clean oil for an extended period. This reduces the frequent need for an oil change and also helps maintain the engine life. The full pressure lubrication system usually kicks in when you increase the workload on the machine.
Has complimentary color coding for controls. This color-coding identification of controls is much easier.
The John Deere Z335E-42 has a shock absorber built to dampen the motion control lever; this would make operating the machine a lot smoother.
It also features a low fuel warning light that is bright enough to remain visible in daylight.
A comfortable seat with a detachable armrest that could be kept on or off, depending on whatever works for you.
This machine has got a two-coil suspension spring positioned under the seat for absorbing shocks when you hit rougher roads.
The John Deere Z335e-42 also crowns everything with a fantastic cup holder for your coffee cups and bottles.
Frequently Asked Questions
What engine does the John Deer Z335E have?
John Deere Z335E runs on a V-twin engine which is a 20-hp engine that can generate a workforce of up to 14.9kW. That's just enough power and torque that would easily get you through tough mulching with ease. Above all, the V-twin operates with low vibration and improved sound that makes it noiseless and efficient.
Who Makes the Z335E?
John Deere makes the Z335E-42 just like every other Z300 under the company's name. The Z335E has a unique green build with an engine ranking 20 HP Briggs and Stratton 655cc and 2-cyl gasoline enabled.
Can you put a hitch on a John Deere Z335E?
Yes, unlike most lawnmowers, the John Deere Z335E has a hitch handle/bar handle which means the machine can be used for towing other vehicles when the need arises. Generally, the towing capacity of this machine can be used for aerators, spreaders, and carts. But that's not the bars, and the hitch guider also serves as extra protection for the hub of the mower.
How do you start a John Deere Z335E?
The John Deere might appear complicated, leading you to think that the John Deere Z335E will have a complex start procedure. But that's untrue. The kickstart engine operator of the John Deere works like every other kickstart engine.
See Also: Cub Cadet Vs John Deere Vs Husqvarna
Can You tow with a zero turn?
Many zero-turn producers advise against using your zero-turn for towing anything. Some won't even move an inch if you try. But that's not the case with John Deere Z335E-42 turn. The extra power in this machine was built for challenging work like that. It also has a hitch that would make towing much easier.