We independently research and recommend the best products here. This article contains affiliate links. If you make a purchase after clicking on a link, we may earn a little commission at no extra cost to you.
The John Deere Z355E mower is a unique model with unique features that sets them apart. It's got a superb design, structure, and firepower that keeps the machine efficient during long-term use.
Despite being smaller in size than the regular mowers, the John Deere Z355E mower has the backing of a strong and reliable V-twin engine. As such, it does more than speed; it's also efficient. It's easy-to-use and user-friendly.
In this john deere z355e reviews, I will show you the features, parts, specifications, accessories, and pricing ranges of the john deere model. Just about everything you need to make a good buying decision.
So, you are welcome on board if you have been eyeing the John Deere Z355E and you are quite uncertain if it's a good buying decision or not.
John Deere Z355E Reviews: Key Features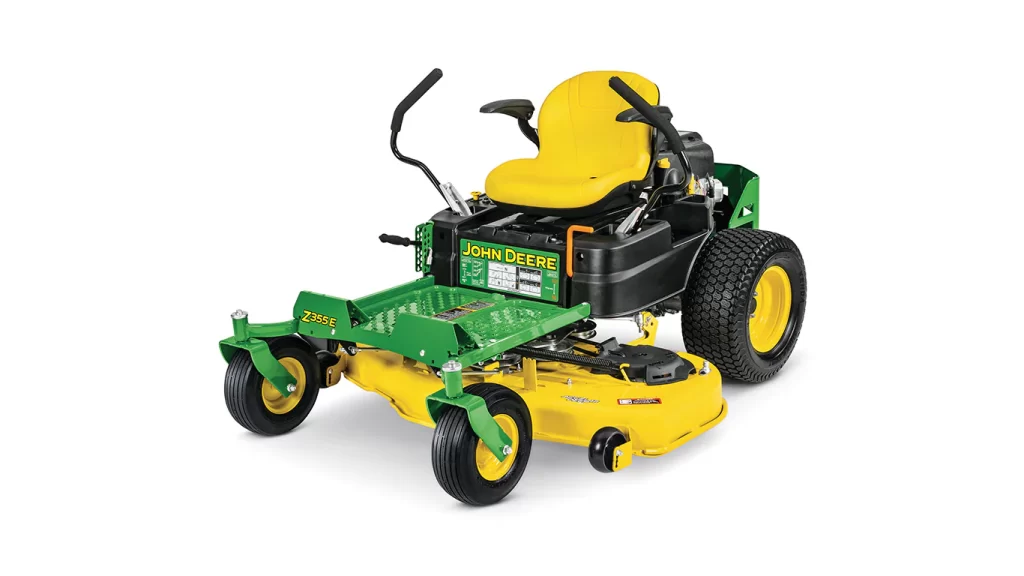 If you own or intend to buy one of the John DeereZ355E currently in market circulation, then you should expect the following as some of the notable features you'd find on the John Deere Z355E Mower model:
Airflow fills indicator
It has an easily attachable power flow blower
Enclosed hoop top
Loosely knit bags
Detachable chute
Convenient spring latch air exhaust duct
Intuitive motion control levers
flip seat function
Read Also: Who Makes John Deere Lawn Mowers?
John Deere Z355E Parts
The functional parts of the John Deere Z355E mower model come with specifications on what they do and how they do it!
The machine has a unique operational model that decides how the machine runs and
The following properties are common to the John Deere Z355E Mower Model Engine:
It has an electric ignition to give it a fast start
It has cast iron sleeves for longevity
It has overhead valves for excellent power and to economize fuel
It has a V-twin design to provide lower vibration for better sound quality and also greater torque
It has easy access to the oil drain valve for a speedy oil change
It has an oil filter with pressure lubrication to keep the oil clean
John Deere Z355E Accessories
The following accessories are notable in the John Deere Z355E mower model:
A mulch control attachment feature to help make mulching more practical
A Power flow bag material collection system for efficiently collecting grasses
A dual transmission efficiently powers the mower forward and backward by providing steering capability
A dash-mounted control controls the clutch
A washing port to aid in cleaning the underside after use
John Deere Z355E Specifications
The John Deere isn't a floor flat example of standard mowers; it has some extra tweaks that help the machine stand out. These include an engine Power of 22HP or 16.4kW.
The John Deere Z355E accelerates with a forward speed of 0-11.3km/hr. And with a mowing speed of 7.0mph.
Read Also: Best Zero Turn Mowers For Hilly Terrains
It's got a front tire dimension of 13x5-6 and a drive wheel dimension of 20x 9-10, which helps the machine adapt better and also to keep up with its acceleration speed. In full detail, here's the complete machine specification as they align:
Engine Model Number: M44 Intek
Manufacturer: John Deere
Forward Speed: 0-7km/hr / 0-11.3km/h
Mowing speed: 7.0mph mowing speed
Front Tire: 13x5-6
Mulching System: Optional mulch control
Cutting Width: 122cm
Drive Wheel: 20x9-10
Lubrication: Full pressure
Back Height: Central back with armrests present, 38.1cm
USA Warranty: 2 years/120 hours
The Z355E Mowers has a very unique styling that's quite functional and attractive. And it appeals to almost every farmer or residential owner who tends to value products by their appearance, ease of use, comprehensible modus operandi.
And it's not just the designs that are breathtaking; this mower has the right engine to power the engine whenever the need arises.
The machine also uses color-coded controls, which are not merely attractive but are also easy to use and find.
There are a couple of large foot platforms that are surrounded by frame rails to keep riders from falling off.
This mower has contoured shape fenders which provide better visibility to the drive tires. Essentially, this helps minimize the storage space required while contributing to the stylish appearance the vehicle has.
Read Also: Pros and Cons Of Self-Propelled Lawn Mowers
John Deere Z355E Walkthrough
Pros of John Deere Z355E
There are many benefits the John Deere Z355E mower provides, and here's a handful:
It has an easily accessible kick-to-start engine
There is also relative ease to the access of components when in need of service
It is relatively convenient due to the riding comfort the seat provides
It gives a quality cut quality due to deep cuts in the cutting deck
It has a relatively high performance and efficiency
It is very durable, with a sturdy shaft pocket to keep the blades aligned after use
It is quite versatile
Cons of John Deere Z355E
Some of the few notable cons of the John Deere Z355E mower model are highlighted below:
The instruction manual is quite difficult to understand
It is difficult to navigate on sloppy fields
For a multi-functional and dynamic mowing experience, the John Deere Z355E mower model is a must-have. The hub and decks of this mower were designed with a unique professional touch at every turn.
The John Deere Z355E mower model provides the operator a safe drive experience with everything in your control. Nothing feels out of place as most of the push of the control and pull buttons are very accessible.
The maintenance of this mower is top of the line as the essential parts that might need replacement from time to time are locally available. What more can anyone expect from a top-quality lawn mower?
Frequently Asked Questions
How much does a z355e weigh?
The z355e weighs about 555Ibs which is roughly 252kg weight. Quite sizeable and usable for a mower of its capacity and use.
What oil does a John Deere z355e take?
While servicing the John Deere z355e or considering which oil change would fit the John Deere z355e, the 10 – 1 qt Engine Oil Turf-Gard 10W30 TY22029 is a great fit.
How many hours will a John Deere diesel tractor last?
It depends on how heavy or light-duty work you've got on hand. If you are about the small horsepower mower and workload, everyday use, and proper maintenance, you will get 500 – 1000 hours of use from this machine.
When do I change my John Deere oil?
It's recommended for John Deere users to check their mower's oil level before every use, and it's best to change your oil once a year at least.
Is John Deere oil better than regular oil?
John Deere oil is an additive package with robust capability and offering than regular oils. And usually, a better alternative if you are looking for one.
Read Also: Toro Vs John Deere Zero-Turn Mower