We independently research and recommend the best products here. This article contains affiliate links. If you make a purchase after clicking on a link, we may earn a little commission at no extra cost to you.
What are the pros and cons of self-propelled lawn mowers? Self-propelled lawn mowers are portable, easy to use, and are ideal for large lawns. Unfortunately, they're not suitable for large-scaled terrains.
You've probably noticed that your friends are using a self-propelled lawn mower to mow their landscapes and lawns, and you're considering getting one.
But before spending your money on this tool, you need to ensure that this type of mower is the right one for you – and that is precisely what this article is all about!
Below, you will find, in detail, the various advantages and disadvantages of self-propelled lawn mowers, so you'll know if you should get one or not.
But first, what are self-propelled lawn mowers?
What are Self-Propelled Lawn Mowers?
Last update on 2023-11-14 / Affiliate links / Images from Amazon Product Advertising API
Self-propelled mowers are a modification to the good old push lawnmowers. And although both of these mowers will have you walking behind them, the self-propelled mower requires less push effort.
They've got motors and gear-boxes that are connected to the wheels. These are internal factors that help push the mower forward mechanically.
As a result, all you might have to do is give the mower a little nudge by guiding it where you want to mow.
Read Also: Best Zero Turn Mower For Hills
Unlike the regular push lawn mowers, when you have to push, the self-propelled mowers are just like their name states, "Self-propelled."
They do not require tedious work like any other kind of mower, and they are self-propelled with engines that are pretty much DIY and can keep cutting for as long as it requires.
There's a ton of choices too! If you've got large landscapes or gardens that need pruning, the self-propelled mower is just for you!
There's a chance that most of your neighbors already have a self-propelled mower, and you want in on the fun too. But is the self-propelled mower right for you?
Well, below are a few pros and cons of self-propelled lawn mowers to help you decide. But before that, let's see how self propelled lawnmowers work:
How Does a Self-Propelled Lawn Mower Work?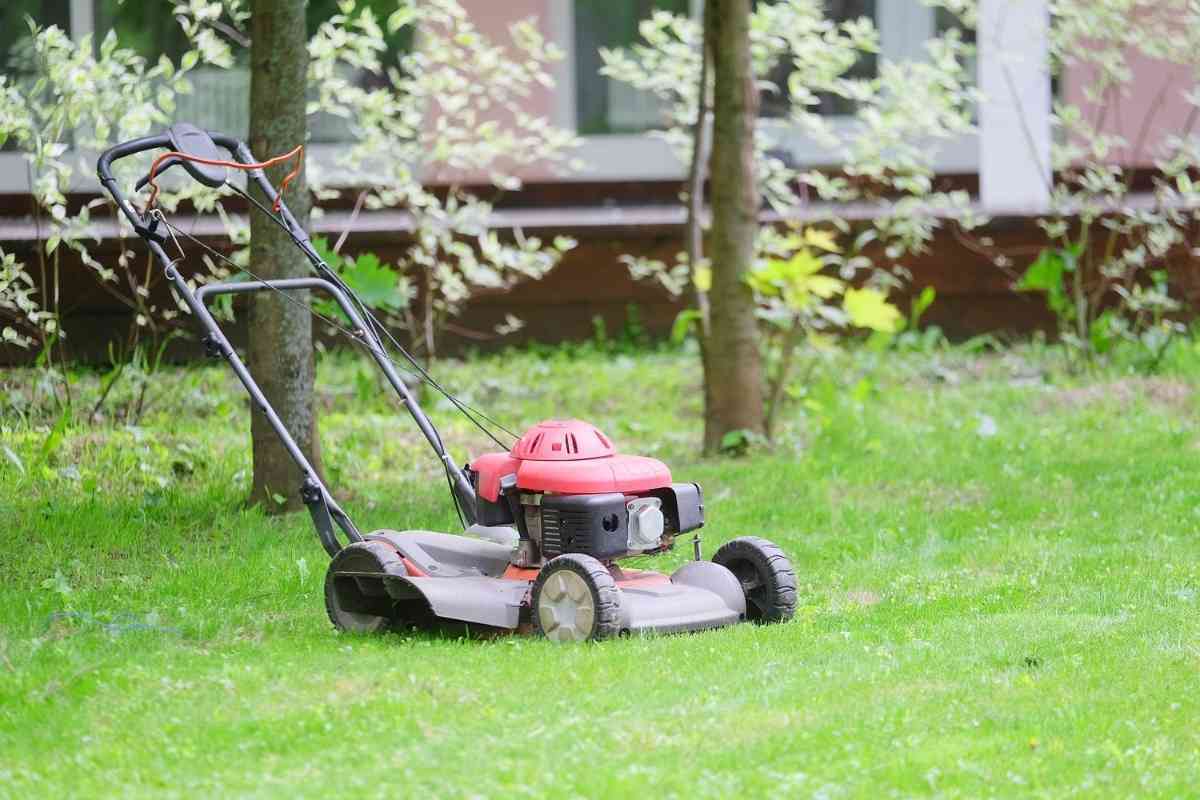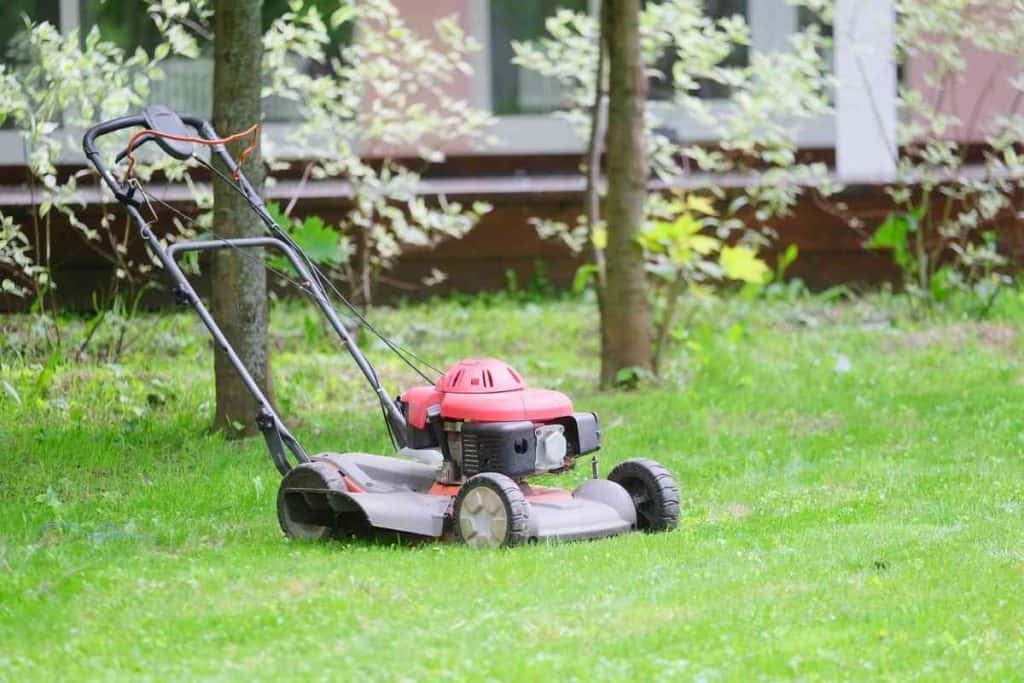 A self-propelled lawn mower is designed with a drive system, which is usually operated by a bail or a squeeze bar, often located on the handle.
Squeezing the bar makes the rotating blades on a self-propelled lawnmower to start spinning, and the mower itself will begin to move forward on its own power. As the operator, all you have to do is guide and direct it, and you do this with zero effort.
Watch the short video below to see a self-propelled lawn mower in action!
Pros and Cons Of Self-Propelled Lawn Mowers
Below are the different pros and cons of a self-propelled lawn mower; this will help you decide if you really need it or not.
Pros of Self-Propelled Mowers
Last update on 2023-12-08 / Affiliate links / Images from Amazon Product Advertising API
1. Self-propelled mowers are portable and easy to use
Okay, when it comes to self-propelled lawn mowers, one of the first things to admire is the ease of use. It tops the list of benefits a mower like this provides. In addition, they are mostly lightweight, which is a powerful combination that is a self-propelling feature.
Related Post: Toro Zero Turn Mower Review
Here's what all that means: combined with the self-propelling feature, a lightweight mower can be easily operated and directed on the field. Less effort and improved mowing efficiency. What sounds better than that kind of mowing?
You do not have to push the mower extensively. It's lightweight!
A self-propelled mower makes working on large-scale farmland or lawn so much easier. It's self-operated, so you don't have to care much about how to work it.
And if you wish, you could take your hands off for a moment to reply to your lover's text before continuing. It's not even compulsory to push, and you don't have to if you don't feel like it.
2. Suitable for large lawns
All self-propelled lawn mowers are well suited for large lawns. So, what about the medium and small lawns?
There are many variations of these products in the market. Each offers unique specifications that would positively contribute to your lawn mowing experience. What's even more interesting is that you get the freedom to choose between these countless options.
You get to select which works best for your lawn!
While most of these self-propelled lawn mowers are optimized for large and square lawns, there are many side options for the "not-so-big lawns." And you get to choose whichever suits you.
Self-drive mowers come with two types of drive, rear-wheel drives and front-wheel drives. Both are excellent options and would work wherever you use them.
However, the rear wheel drives are more suitable for sloped yards and large lawns. The front-wheel-drive suits moderate to small yards.
Related Post: Greenworks Pro 21-inch 80v Cordless Lawn Mower Review
3. Environmental Impact
A large number of self-propelled lawns are eco-friendly and are less of an environmental pollutant except for the ones that are powered by gas.
Electric lawnmowers have an entirely positive impact on the environment, and it should be your choice if you are concerned about how gas pollutants negatively affect your atmosphere.
These non-gas self-propelled mowers come in handy choices. While some might use direct power, others are operated by batteries.
4. Safety Issue
Safety is always a concern in electrical appliances. For the most part, many people do not want to get electrocuted or injured. Push lawn mowers to use an open blade system which leaves you or your pets that come too close vulnerable.
However, a self-propelled lawnmower offers something different and safer. A self-propelled lawn mower's blade is placed under the machine, where it's protected from easy reach.
It has a protective deck, too, which keeps it safe for use around kids or pets. It would be almost impossible to get anything caught by the blade except grasses.
5. Time-Saving
A self-propelled lawnmower does the job for you. They cut grass more efficiently and swiftly, saving your energy and time. What more could anybody expect from a lawnmower?
Related Post: Cub Cadet Vs John Deere Vs Husqvarna
6. Maintenance
It wouldn't cost you much to maintain these lawnmowers. In most cases, you might have to only spend on annual maintenance. Which costs only a few dollars.
Some parts frequently need repair due to their continuous use. The blades are one such example.
When it is time to, always consider repair of the blades, and replace them when needed.
Cons of Self-Propelled Lawn Mowers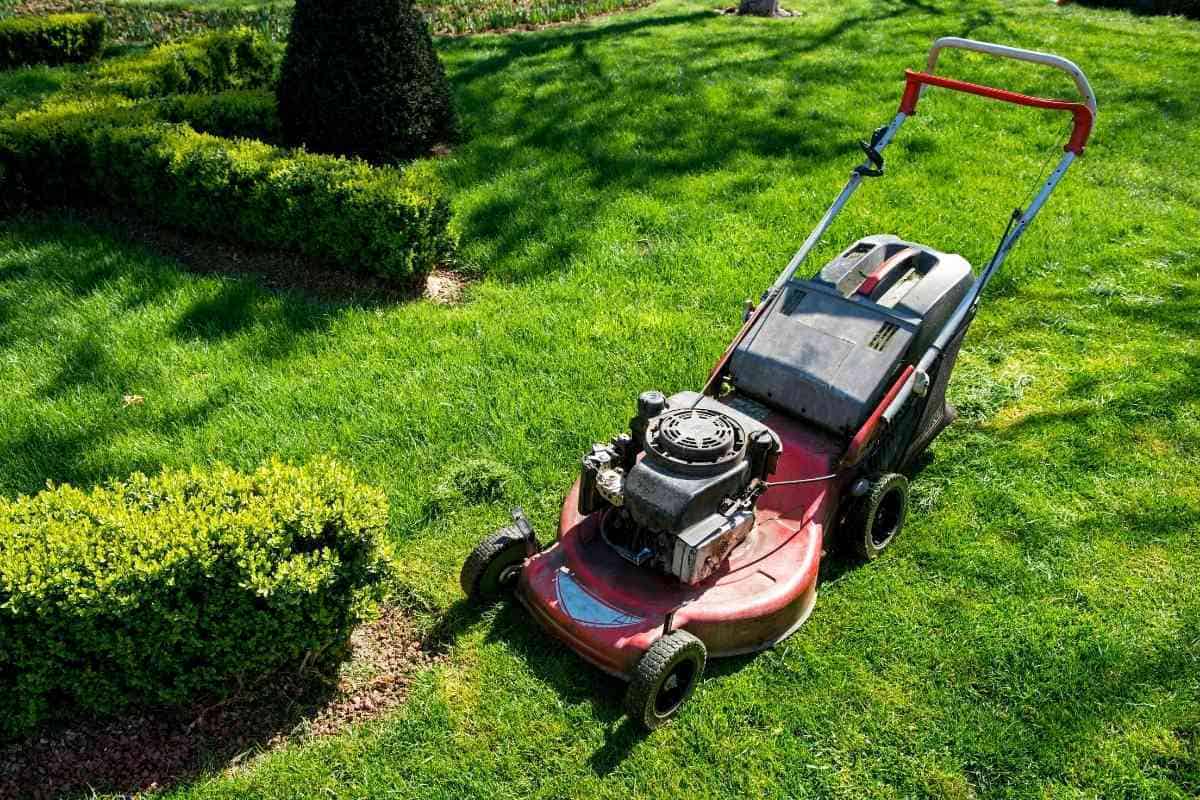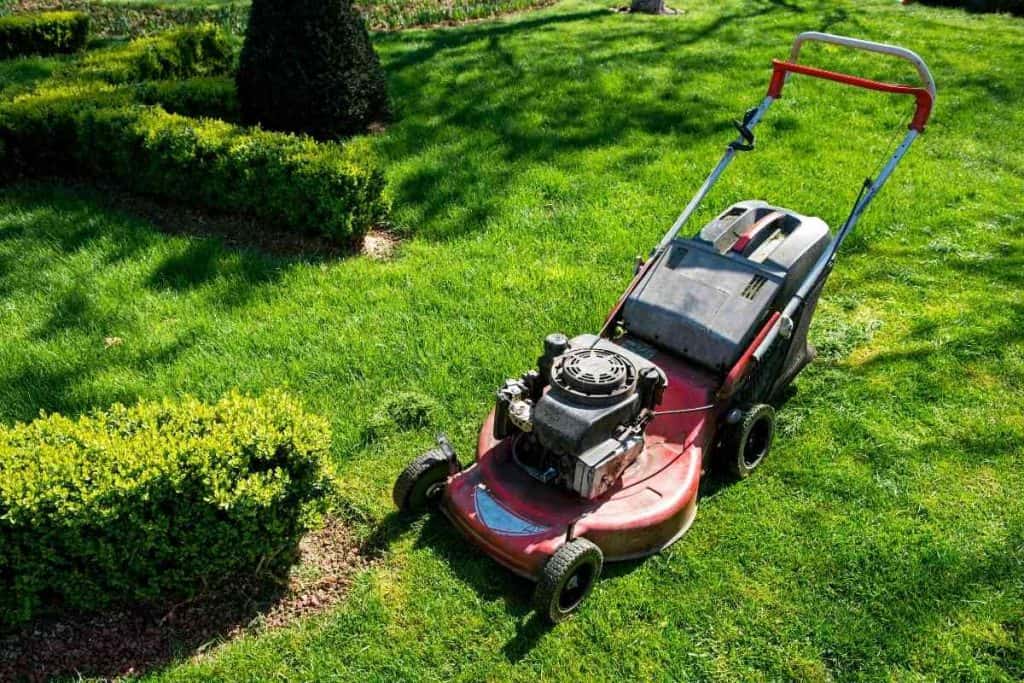 The self-propelled lawn mowers are efficient and with many advantages or pros, as we've discussed. But it's not all rosy. There are some downsides to using autonomous lawnmowers.
And here they are:
1. Low Power Capacity
Since there are tons of mower options to choose from, especially gas-operated and electrical mowers, we don't talk much about how many of these electrical options have low power capacity.
These electric batteries are not all perfect as their powers are time-limited and cannot run until forever. So, if you ever forget to keep the mower well charged for the job at hand, you'd have to end it halfway done.
As time passes, charge time will increase, and the power output decreases.
2. No available design for large scale terrains
If you've got to mow a lawn under 13 hectares, then you don't have a problem. Confidently go ahead and choose any of the market available options, and you are good to go.
But if you've got very large-scaled terrain which is more than 13 hectares, then there wouldn't be an ideal mower to fit your needs.
Related Post: Greenworks Vs Ego Lawnmower
Frequently Asked Questions
Is a self-propelled mower worth it?
Yes, self-propelled mowers are absolutely worth it. This type of mower will save you a bunch of time and energy when it comes to mowing your lawn. You can use a self-propelled mower to cut through thick grasses without having to expend extra effort because this mower mechanically moves forward through the most demanding areas in your yard.
Will pushing self-propelled mower damage it?
No, pushing a self-propelled lawnmower won't damage the transmission at all. However, you may find it challenging to do so as self-propelled lawn mowers are slightly heavier than your regular push mower. Pushing a self-propelled lawn mower can be a difficult task, especially on a hot, sunny day.
How long do self propelled lawn mowers last?
Most self propelled lawn mowers will last up to 10 years, but that will totally depend on how often you use it, how you take of it, the size of your lawn, and the climate you live in.
Which is better, rear or front propelled lawn mowers?
Rear-propelled lawn mowers generally give you more traction and make it a lot easier to mow a straight line. Front-propelled mowers, on the other hand, tend to be cheaper and can be easier to maneuver because you can easily tip the machine onto its back wheels to stop working or change directions.
Can you go backward with a self-propelled lawn mower?
Yes, you can, but it depends on the model you have. Most self-propelled lawn mowers out there are not designed to move backward under power. In other words, most self-propelled, walk-behind mowers have just one forward speed under propulsion.
Do self-propelled mowers have a transmission?
Yes, self-propelled lawnmowers have a transmission, which powers the wheels and gets the lawnmower moving. Self-propelled lawn mowers have either front, rear, or all-wheel drive. The front-wheel-drive lawnmowers are the easiest to operate and turn.
Related Post: Toro Vs John Deere Zero-Turn Mower