We independently research and recommend the best products here. This article contains affiliate links. If you make a purchase after clicking on a link, we may earn a little commission at no extra cost to you.
Pruning and trimming bushes, shrubs, and flowers can never be easier than using the right tools. Hedge trimmers are the right choice for maintaining your garden and bringing out the beauty of nature. However, not all hedge trimmers can perform all jobs especially when it comes to thick branches.
There are different designs, versions, and models of hedge trimmers out there that you may get confused while searching for the right one for your tree pruning needs. But rather than guessing what you think may work, why don't you allow us to make the perfect choice for you.
We have researched the best hedge trimmers for thick branches so you can use the rest of your time on improving your shrubs.
What is The Best Hedge Trimmer For Thick Branches?
Take a look at the table below to see our recommended hedge trimmers for thick branches. These products have been tested and proven to be highly efficient at cutting thick branches.
Can A Hedge Trimmer Cut Through Branches?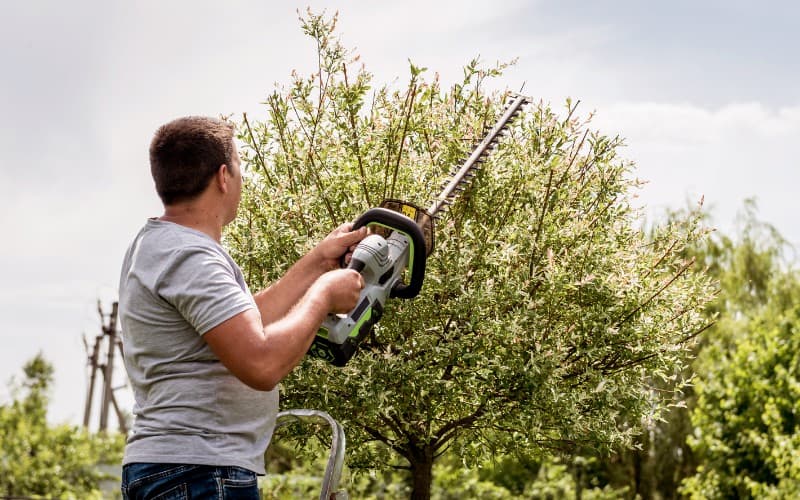 We can only be certain about this if we knew how thick the branches are. Simple hedge trimmers will be able to cut plants with foliage branches. If the branches can get in-between the grooves conveniently, it should be able to cut them.
Heavy-duty hedge trimmers with wider grooves may not be able to cut through branches if the horsepower is not sufficient.
In a nutshell, the size of the grooves apart and the horsepower of the engine can determine the size, thickness, and toughness of branches it can cut.
However, when it comes to cutting branches, you may want to consider using pruners, shears, or reciprocating saws.
Without further ado, let us take a look at some of the best ones out there.
Best Hedge Trimmers For Thick Branches
1. BLACK+DECKER 40V MAX Cordless Hedge Trimmer
BLACK+DECKER 40V MAX* Cordless Hedge Trimmer with POWERCOMMAND Powercut, 24-Inch (LHT341FF)
VERSATILE CORDLESS DESIGN – Rechargeable 40V MAX* lithium ion battery delivers power and a long runtime so you can use it mmmwithout the hassle of extension cords.
24 IN. DUAL-ACTION BLADE – Delivers less vibration than single-action blades for cutting branches up to ¾ in. thick. Easily trim mmmhedges, shrubs, and bushes.
POWER-CUT – Cut through a jam with the push of a button.
EXTENDED RUNTIME – Trim up to 6,000 sq. ft. of hedge per charge.
ERGONOMIC GRIP HANDLE – Maintain comfort and control from start to finish.
Last update on 2023-12-08 / Affiliate links / Images from Amazon Product Advertising API
This hedge trimmer is ideal for people who want to stay light while trimming their gardens. The fact that it is lightweight will allow you to complete more work with less fatigue. In addition to the lightweight, it is comfortable to work with because of the ergonomic grips and low vibration.
The hedge trimmer is powered by a 40V MAX Lithium-Ion battery that delivers long run time for the motor. For each full charge of the battery, it can deliver a job of 6,000 sq. ft. of hedge.
With the Black Decker hedge trimmer, you can cut shrubs with branch diameters up to ¾ inch. Thanks to the 24-in. dual-action blade.
If you love working with cordless tools without the restriction and frustration that the cords give, then you will surely love to go for this.
The complete package comes with LBX1540 40V MAX  Lithium-Ion Battery, the hedge trimmer, and a charger.

Pros
A long blade length of 24 inches gives you better reach
Cordless tools provide more comfort to work with
Long run battery hours
Produced by one of the best brands
Cut through a jam with the push of a button
Cons
Battery life may provide some limitation for more work hours
2. DEWALT 20V MAX Cordless Hedge Trimmer
Last update on 2023-12-08 / Affiliate links / Images from Amazon Product Advertising API
With a tool coming from such a reputable brand, you cannot be doubtful about its durability. The compact and lightweight design increase user experience and performance.
Again, taking off the cord from this tool will make the job enjoyable. A 20v battery powers the high output motor to give a clean cut. With such great power, it can conveniently cut thick branches without experiencing jams.
The overall design has been made easy so that anyone with little experience with hedge trimmers can start using it. The tool starts and stops instantly with the pull of a trigger.
The good thing about this product is that you get to choose what battery capacity you want. There are 4 different capacities available, ranging from 1.5AH up to 8AH. So the battery and charger are sold separately.
This may add an extra cost to your purchase, but it gives you the option to work for longer hours and take on bulky jobs. You may want to consider buying more than one battery for commercial jobs.
Dewalt 20V Max cordless hedge trimmer cuts up to ¾" thick branches, with 22" laser cut.

Pros
Easy start with the push of a button
The engine runs smooth, and the padded grip dampens any vibrations
Easily cuts through thick branches that are up to 1-inch thick
Option to choose and buy your preferred battery capacity
Cons
You will have to buy the batteries and charger separately which is an additional cost
3. Greenworks 22-Inch 4 Amp Dual-Action Corded Hedge Trimmer
Greenworks 4 Amp 22" Corded Electric Dual-Action Hedge Trimmer
4 Amp Electric Motor gets the job done efficiently
22 Inch dual action steel blade for optimal performance and maneuvering
⅝ Inch cutting capacity for controlled, easy trimming of most bushes and hedges
Innovative rotating rear handle makes it easy to trim at multiple angles
Convenient cord lock to prevent accidental unplugging
Last update on 2023-12-08 / Affiliate links / Images from Amazon Product Advertising API
If you are on a low budget and still want to have the privilege of having a high rated hedge trimmer, the Greenworks trimmer provides such an opportunity for you. GreenWorks is a recognized brand and maker of the most durable power tools.
It is powered by a 4 Amp electric motor that requires a constant supply of 120v from an outlet. While this may be a distraction when working, it is also an advantage because they are more powerful than their counterparts powered by batteries. You also get to work for longer hours without having to pause a while to charge or change the batteries.
The 22-inch dual-action steel blade delivers excellent work, giving you more reach per time.
With teeth groove distance of ⅝ inch, it could take on thick branches, however, this is smaller than others and most of them rated at ¾ inch.
One special feature of this hedge trimmer is the Innovative rotating rear handle. It makes it easy to trim at multiple angles.

Pros
Corded trimmer means a constant supply of power for uninterrupted work
22 Inch dual action steel blade delivers excellent work
It is affordable
Cons
The length of the cord is just 1 foot; hence it will require an extension cable
The cord may interrupt work and maneuverability
4. URCERI Cordless 22 Inch Hedge Trimmer
Last update on 2023-12-08 / Affiliate links / Images from Amazon Product Advertising API
The first unique feature with the URCERI is the dual-action blade for large cutting capacity. The blades can cut branch diameters up to ⅗" thick. The design is such that it works smoothly without the user experiencing any vibration.
The hedge trimmer is a cordless design that is powered by a 20v battery. The battery is rated 2.0Ah battery which is sufficient for powering the motor for 40min.
One important factor to look out for when buying any hand-held tool is lightweight. This is why we love the URCERI cordless trimmer, plus the fact that it is cordless, you are guaranteed the best user experience.
It will only turn on when the two switches are triggers. This is a safety precaution design that ensures it only works with the right intention.
It comes with the hedge trimmer, one 2AH battery, and the charger.

Pros
Double switch turns on the hedge trimmer to ensure safety
Suitable for large branches
Low noise and lightweight
It is affordable
Big Heat Dissipation Port
Cons
Sparking may be visible through the housing vents
Poor run hour time
5. EGO Power+ HT2400 24-Inch 56-Volt Lithium-ion Cordless Hedge Trimmer
Last update on 2023-12-08 / Affiliate links / Images from Amazon Product Advertising API
If you are looking to cut larger branches of your shrubs beyond ⅝ inches, we cannot have any other better than the EGO power hedge trimmer. This is credited to its ¾ inch teeth groove.
For such groove spacing, you will need a powerful motor and power supply, and that is a good thing because it is powered by a 56V battery.
It has got a 24-inch blade length to enhance reach.
Typically, for such teeth grove spacing, it will require a gas engine power, but with their special design, the EGO power trimmer delivers or exceeds the power of gas — without the noise, fuss, or fumes.
There is a feature of an electric brake that immediately stops the blade action.

Pros
A powerful battery keeps the engine running up to an hour
Hardened-steel for longevity
Electric brake action
Weather-resistant construction
Can cut thicker branches
Cons
It can't compete with gas engine as against the manufacturer's claim
What To Consider When Buying A Hedge Trimmer For Thick Branches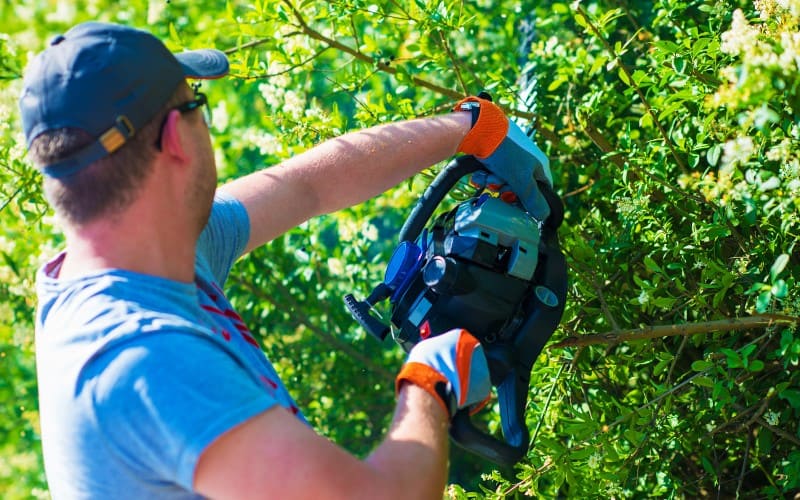 While it might be okay to just pick any hedge trimmer for tiny foliage branches, when pruning thick and woody branches, you will want to be more careful. The aim is to select a suitable trimmer that can do the job with less jamming.
Here are some of the most important factors.
Read Also: How to Make a Tree Grow New Branches
1. The thickness it can cut
One of the important factors to look into is the thickness the blade is designed to cut. You will always find this on the product description when purchasing, otherwise, you should contact the sales team to find out.
Shrubs with branch thickness above ¾ inches are considered as thick and hard. You want to be sure you get a hedge trimmer that can cut such branches.
To be sure that you are going for the right one, you can use a caliper to ascertain the thickest branch of the shrub.
2. Cut length
The majority of the electric trimmers available are between 22 – 24-inch lengths. So because of this short-range length span, you may not have too many options.
The longer the length of the blade, the fewer the swipes required to get the job done. But this doesn't come without a disadvantage, as a longer blade will add to the weight.
On the other hand, shorter blades are lightweight and easy for the user to maneuver to get a cleaner cut.
3. Battery capacity
For cordless electric hedge trimmers, they are powered by batteries, and the capacity of the batteries will determine how long the hedge trimmer can stay running.
Unfortunately, it can be difficult to get one that can last more than an hour. So if you are going to be pruning a large garden, you may want to consider buying extra backup batteries.
4. The power type
Hedge trimmers are either powered by electric motors or gas engines. Both have their advantages and disadvantages.
Electric motors are smoother in operation and less noisy. They work without fumes from combustion, not forgetting to mention that they are lightweight.
On the other hand, gas engines are noisier, heavier and vibrations are more.
5. Cordless or cord hedge trimmers
If you choose to go for electric-powered trimmers, you will be presented with two options to choose from. Corded trimmers that require a constant connection to a power outlet and a cordless trimmer powered by batteries.
The former may be difficult to work with as the cord may be a distraction. The latter is easier to work with us you can easily maneuver while working.
How To Trim Large Bushes
Watch the video below to learn how to trim large bushes and flowers like a pro:
Frequently Asked Questions
How thick a branch can a hedge trimmer cut?
Electric trimmers can cut anything under 0.75-inch diameter thickness. Other high-end hedge trimmers can take on thicker branches beyond this. Larger capacity trimmers are powered by gas engines.
Should you oil hedge trimmer blades?
Oiling the blades of your hedge trimmers is one of the maintenance practices that enhance the longevity of the machine.
Lubricating the blades will keep them safe from moisture, residue and help you keep the trimmer cleaner.
Can a hedge trimmer cut long grass?
Hedge trimmers are specifically designed to prune shrubs and flowers. However, some skilled gardeners can use the same trimmers to cut grasses. You may not be able to get the same result compared to using the best garden lawns.
How do I keep my hedge trimmers sharp?
Adequate care for the trimmer is the key to maintaining the blades. To keep your hedge trimmer sharp, ensure to clean the cutting blades after cutting, tighten any loose screws or fittings, lubricate often, and sharpen the hedge trimmer blades.
Conclusion
While the best hedge trimmers for thick branches can prune thick shrubs, they can also be used to cut tiny branches, thus making it multipurpose.
Hedge trimmers are not expensive, so even if you are on a low budget, you can certainly get a very affordable trimmer like the – affordability doesn't mean low quality. However, if you are on a good budget, you should buy one in your range and don't compromise.