We independently research and recommend the best products here. This article contains affiliate links. If you make a purchase after clicking on a link, we may earn a little commission at no extra cost to you.
As a garden enthusiast or home keeper, you probably have a few tried and tested tools in your shed that may come in handy when it's time to do outdoor activities like tidying up the garden.
Shovel, garden hoe, hand trowel, pruning shears, loppers, and others are examples of such tools. There are days you may be caught in between not having the right tool to carry out these activities or not just sure if you have the right tool for the task at hand.
For example, you need to trim hedges, but you are contemplating between using Pole Saw vs Hedge trimmer, which is more suitable for the task, now you're left asking if a pole saw can double as a hedge trimmer Or, are hedge trimmers OK to use on trees?
Read on to answer all the questions you have about Pole Saw and Hedge Trimmer to get the most out of your trimming tasks.
Pole Saw Vs Hedge Trimmer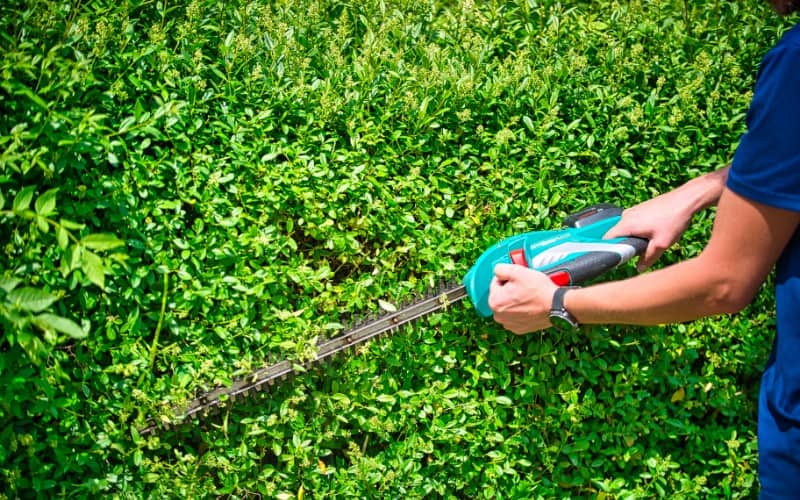 As outdoor shrubs or trees develops to a significantly large size, trimming them can turn out to be a difficult task. Luckily, you can ease this task's difficulty using the pruning tool available for your trimming job. These can vary from scissors, pruning shears, pole saw, hedge trimmer, etc.
From the bulky parts of an oak tree to the thin appendages, tree limbs come in a wide range of sizes. That implies an assortment of devices to look to when it's an ideal opportunity to prune. This shows that a single regular garden tool is not a one-size-fits-all tool for all your outdoor gardening activities.
Even though a pole saw and a hedge trimmer are two unique gardening tools, some gardeners regularly ask if they can be used interchangeably.
In contrast, others, because of their resemblance without knowing what task the manufacturer intended for it to be used, literally use a pole saw to trim their hedges. In some cases, this may work; however, the outcome of such a job is usually poor with an untidy finishing.
Indeed,  Pole Saw and Hedge Trimmer may appear to be comparable. However, these tools have distinct tasks they can carry out.
You must comprehend the distinctions to assist you with picking the right tool for your pruning job, regardless of whether you're trimming those hedges in your front yard or chopping down a tree in your back yard.
Now, using the right gardening tool for the task will make tidying your garden a fun activity to carry out.
Learn all about the distinctive features and advantages of pole Saw vs. Hedge Trimmer to save yourself the hard work, get more excellent finished jobs while not compromising your safety at home. Let's take a look at ​a hedge trimmer first.
What Is Hedge Trimmers?
DEWALT DCHT820B Hedge Trimmer
Powerful high output motor of the cordless hedge trimmer is designed for cuts up to ¾-inch thick
The battery powered hedge trimmer has 22-inch laser cut, hooked-tooth blade design
Trimmers for plants have a compact and lightweight design
Part of the 20V max system of tools
Last update on 2023-06-09 / Affiliate links / Images from Amazon Product Advertising API
Hedge trimmers are gardening tools that look like giant scissors used for trimming hedges or shrubs. They are used to tidy up unkempt shrubs.
It can be the manual version, otherwise known as the hand-operated hedge shears because it looks like shears with long handles or powdered versions fueled with either fuel, gas, batteries, or power.
The primary role of a hedge trimmer is to maintain the upkeep of hedges in ones front or back yard, and although there are several alternatives of this gardening tool accessible in the market, the size you may need is dependent upon the size of the working environment, and your general gardening requirements
The manual hedge trimmers require extended periods of work and inevitably negatively take a ton on the user. The fueled or powered ones have effectively made their place available alongside other gardening tools.
The basic unit of a powered clipper contains a motor, which controls the blades' movement to hold stems in place as they cut through the plantation.
Some standard extra features are vibration and sound dampeners, comfortable handles, debris shields or handguards, and so forth.
Advantages Of Hedge Trimmer
They have precise blades for efficient trimming
They are lightweight and handheld.
They can shape bushes precisely.
Some models can work on tall and thin grass
Disadvantages of Hedge Trimmer
They are not suitable to work on thick branches or twigs.
They have a limited reach.
They cost more relatively.
What is Pole Saws?
Sale
Sun Joe SWJ803E 10 inch 8.0 Amp Electric Multi-Angle Pole Chain Saw, Green
[VERSATILE]: Ideal for cutting overhanging limbs and thin logs
[TELESCOPING]: Pole extends from 5.8 ft. to 8.8 ft. for up to 15 ft. overhead reach
[MULTI-ANGLE]: Head adjusts from 0degree to 30degree
[POWERFUL]: 8-amp motor cuts branches up to 9.5-Inches thick
[WE'VE GOT YOU COVERED!]: Your new pole chainsaw is backed by the Snow Joe and Sun Joe customer promise. We will warrant new products for two years from the date of purchase. NO QUESTIONS ASKED. Contact Snow Joe and Sun Joe Customer Support at 1-866-766-9563 for further assistance
Last update on 2023-06-09 / Affiliate links / Images from Amazon Product Advertising API
The main aim of utilizing a pole saw is to dispose of plant parts thicker than stems and are located past the gardener's usual reach. It isn't meant to be used on the ground level as the long pole can be hard to move evenly; it is planned basically for overhead gardening tasks.
Pole saws are fundamentally cutting tools joined to a long pole to chop down long, overhanging tree limbs and branches. They come in different sizes and shapes, with features that highlight where the cutting unit can be calculated, or the pole can be adjusted to a length as indicated by the user.
Pole saws also have different versions with gasoline, electricity, or battery as their power source. The basic unit comprises a motor, a small sharp blade that serves as the cutting apparatus whose power can be adjusted according to preference and the pole.
A few models permit the pole to be removed to give you a handheld cutting tool if need be. A few models are even adaptable with different attachments, making the unit a versatile multipurpose gardening tool.
Some models allow the pole to be to give you a handheld chainsaw if need be. Some models are even compatible with other attachments, making the unit a versatile gardening tool.
Advantages of Pole Saw
Some models can be converted to yield a handheld chainsaw
They have extended reach above ground because they can be easily adjustable
They are versatile multipurpose gardening tools because their attachment is compatible
Some models can be used for trimming large bushes and tree pruning.
They can cut branches and trim trees
They are affordable
Disadvantages of Pole Saw
Now that you have read an overview of a hedge trimmer vs. pole saw, it can be said that a pole saw can be a cover-up for some tasks meant for a hedge trimmer, but a hedge trimmer cannot be used interchangeably with a pole saw.
Hedges are made up of stems and leaves that are slender in size, not thick. The most cutting capacity of a household hedge trimmer would be an inch thick branch or stem.
Limbs weigh more than this diameter would not be suitable for a residential hedge trimmer and would exert pressure on the machine if used forcibly.
To trim any branch more than an inch thick in diameter, you should consider purchasing a commercial hedge Trimmers because they have a higher cutting capacity.
For thicker limbs well above your height and the ground, pole saws will come in handy. While pole saws are primarily aimed to tackle individual branches, regardless of the size, and trim trees exclusively, it can be used to trim hedges, vines, and brambles occasionally.
But do keep in mind that the saws do not deliver precision; they only eliminate the intended section in a relatively simple way. So, if you are looking to work on topiary projects or shape your hedges, pole saws will not do the job.
However, if you merely want to clean off tall hedges or thick, overgrown plantations, pole saws can replace a hedge trimmer in these instances.
https://gardeningbank.com/bow-saw-vs-pruning-saw/
Conclusion
Having seen the differences between pole saw vs hedge trimmer, alongside their advantages and disadvantages, it very well may be said that a hedge trimmer can't be used in  a place with a pole saw
Taking everything into account, for precise trimming of hedges with slender twigs and stems (up to 1 inch), a hedge trimmer will do the trick inside your range at ground level.
For any pruning task past this, a trimmer won't suffice. To deal with overhanging tree limbs just as tall hedges with thick stems that don't require precise trimming and shaping pole saws will correctly carry out the responsibility.
Using the right gardening tools can spare you stacks of time; they can likewise prevent you from home accidents like hurting arms and guarantee that you get a perfect, precise, and clean shape on your shrubs.
And well-trimmed hedges encourage healthy-looking greenery and give an overall clean outskirt to your garden.