We independently research and recommend the best products here. This article contains affiliate links. If you make a purchase after clicking on a link, we may earn a little commission at no extra cost to you.
Since the exterior part of our home sets the stage for what's inside, most homeowners are growing a healthy lawn to make a first good impression.
However, maintaining the beauty of the unruly grass requires you to break out a top-notch lawnmower.
Lucky for you, we've done all the research work on the market, and it appears Greenworks and EGO stand out among the many other brands out there to give you that incredible performance needed for the job.
But between Greenworks Vs EGO, which brand do you think produces the best lawnmower?
Read on to find out!
Greenworks Lawnmower Sample
1.
Greenworks G-MAX 40V 16'' Cordless Lawn Mower
Sale
Greenworks 40V 16" Cordless (Push) Lawn Mower (75+ Compatible Tools), 4.0Ah Battery and Charger Included
CORDLESS LAWN MOWER – Get more done, faster, with Greenworks electric lawn mowers. This 40v push lawn mower provides the power you need with up to 45 minutes of runtime on a fully charged 4.0Ah battery. The battery completely charges in 120 minutes.Brushless motor : No
LIGHTWEIGHT, EASY TO USE – A lightweight 16" cutting deck allows for easy maneuvering through small to medium yards (up to ½ acre) more efficiently. Easy push button start and lighter weight make it a great choice for your lawn.
VERSATILE – Battery powered lawn mower has a single lever 5-position height adjustment with a cutting height range from 1-¼" to 3-⅜" for the best cut in all environments. The 2-in-1 feature offers versatile use with mulching and rear bagging options.
MAINTENANCE FREE – This walk behind lawn mower is virtually maintenance free, with no gas, no oil and no emissions. It starts instantly and is quiet but delivers gas-like power for your toughest projects.
INCLUDES – Battery operated lawn mower comes with mower, grass collection bag, 40V 4.0Ah battery, charger and operators manual. It offers a 3 year tool and 3 year battery warranty.
Last update on 2023-11-30 / Affiliate links / Images from Amazon Product Advertising API
Ego Lawnmowers
2. EGO Power+ Cordless Electric Walk Behind Self Propelled Lawn Mower
Last update on 2023-11-30 / Affiliate links / Images from Amazon Product Advertising API
Greenworks VS Ego Lawnmowers | Company Overview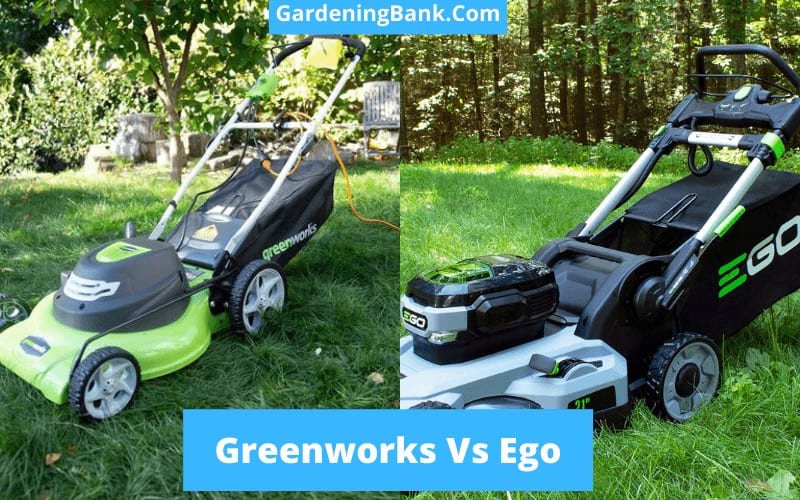 GreenWorks was born in 2007 as a small part of Global Tools Group. Her initial goal was to produce lithium batteries for most outdoor equipment
But overnight, GreenWorks turns out to be among the leading brands for battery-powered tools for DIY-consumers, as well as landscaping professionals.
GreenWorks promise to make the world a better place by manufacturing eco-friendly machines at attainable prices without compromising on quality.
Nice one Green!
On the other hand, lies a gigantic tool manufacturing company that has pushed past the boundaries of cordless technology for more than 20 years: EGO Power.
EGO was created back in 1993 as a small manufacturing firm of Chevron. Now, they have the most successful stories spamming all over the globe for producing about 10 million units with best-in-class technology each year, and selling in 65 countries worldwide.
Wow! EGO seems promising to me. Do you feel the same way?
But enough of the big talks, let's see what these brands can do.
At least from what we've seen, both brands promise tools with the best-in-class performance.
But below, we are going to delve into specifics, where their products differ a lot so you know the exact one suitable for your purpose.
Ego Vs GreenWorks | Who Has the Best Battery Life?
Battery life is the most essential aspect of any cordless machine because it keeps the unit working, and without it, the machine will be lying dead.
Between the two, Greenworks captures the upper hand – swamping EGO with about  24V of powered battery.
Greenworks offers the highest-powered batteries of about 80V. Whereas, EGO provides a maximum of 56V of total power.
Even so, you may find some Greenworks Lawnmowers with two batteries. You can start mowing with the first battery, while the second charges.
After the first one might have run out of juice, you can conveniently insert the second battery without leaving your lawn half butchered.
Additionally, it takes approximately 60 minutes for Greenworks mowers' batteries to charge but takes about 30 minutes of total mowing per 4.0Ah battery.
However, EGO batteries are entirely different. Even if they had less power at 56V, You get over 45 minutes of mowing with only 30 minutes of charging.
Apart from that, you can mount any EGO battery on any EGO mower or tool. This is something you can't find with Greenworks machines.
Other Differences Between Greanworks And Ego Lawnmowers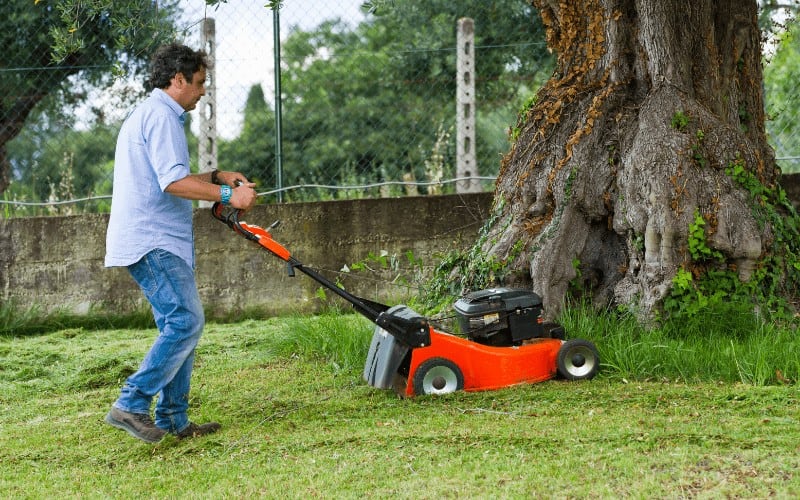 Having gone through the company overviews of Greenworks and Ego power lawnmowers as well as their battery life comparison, let's now look at other areas they differ.
1. Cutting And Adjustability Options
As we explore the dynamics of the battle, It noteworthy to mention that both brands provide the three cutting options: bagging, discharging, and mulching needed for an effective and convenient mowing.
But from experience, it is no-brainer EGO mowers offer a bit more bagging capacity, yet Greenworks features are more user-friendly.
So it's a tie!
But in terms of adjustability, EGO is high and static. This means you can only trim a bit of grass.
Meanwhile, Greenworks offers an adjustable cutting system that enables you to freely increase or decrease the blade.
2. Maneuverability
Although Greenworks mowers are more lightweight than Ego mowers and might make a case for better maneuverability, the truth is that most of their models are not self-propelling and hence, require greater exertion than you might need while working with an Ego mower.
The maneuverability or handling of the lawnmowers of these two brands is also a tie.
And why is that?
While Greenworks mowers are more lightweight than Ego's models – offering better flexibility and control – they lag at self-propelling features.
And this is where EGO conquers, despite they are bulkier and hard to store.
With a self-propelling motor, you don't necessarily have to push the mower that much on flat terrain, which saves you a lot of elbow grease while mowing.
3. Maintenance and cost
This is every homeowner's concern because no one (not even you) would want to spend a fortune on a lawnmower, only to visit the mechanic shop regularly with a pile of cash.
In this case, you'll appreciate the EGO models as they offer the best-in-class quality and designs to reduce upkeep.
From the cleaning to the replacement of parts, EGO requires less effort and time to get them done. Although, their products are a bit pricey.
Since Greenworks parts appear to be rather durable with a less professionally designed concept, they easily develop problems over time. Aside from that, their affordability is unbeatable anywhere!
4. Company Warranty
The warranty for these two brands is pretty decent. Yet, it is safe to say that one offers a few extra advantages over the other.
GreenWorks presents a 4-year warranty for parts and batteries.
For some, especially occasional consumers this sounds like the perfect warranty.
Then you have the EGO, which offers up to 5 years on parts and 3 years on the battery life.
Recommended Readings:
Conclusion
So think again about GreenWorks vs Ego, which should you go for?
After conducting a mountain of research on both brands, this is what we discovered:
You will enjoy using either brand's products.
But based on statistics, EGO wins.
If you think you're going for Greenworks because they are pocket-friendly, think again.
EGO still wins when it comes to cost over time. Not only does EGO mowers proposed less maintenance and have more long-lasting parts, but it also demands easy working with less charging time, and a massive length of warranty.