We independently research and recommend the best products here. This article contains affiliate links. If you make a purchase after clicking on a link, we may earn a little commission at no extra cost to you.
As a homeowner, I understand how important your lawns are to you. Lawns serve many purposes. You use them to host an outdoor party, kids and pets play on the lawn, they can serve as a place for you to relax on a cool evening, and they also improve the aesthetics of a property.
But the grasses on the lawn, especially during spring and then summer, grow speedily and as such would require you to mow frequently.
And one of the things you need while mowing your lawn is a mask. In this article, we would review the best mask for mowing grass so you can always protect your eyes and face while carrying out your mowing tasks.
What Is The Best Mask for Mowing Grass?
What Does A Mask Do?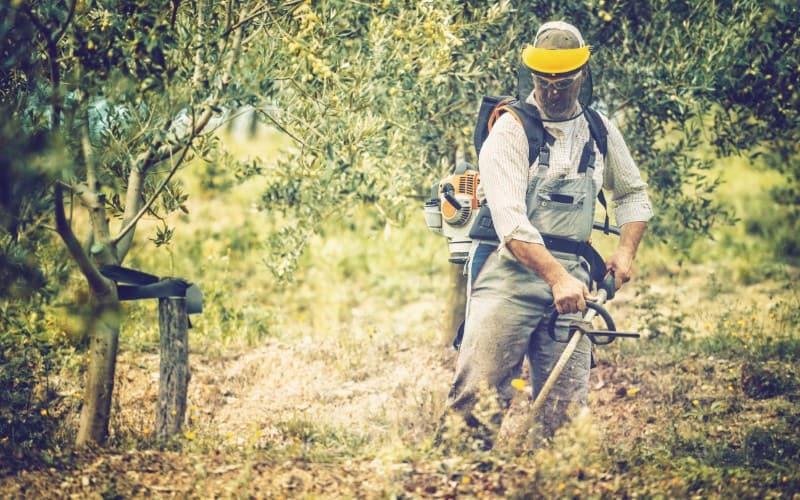 Masks cover the nose and mouth. They also act as filters of the air we breathe in. The mask will protect you from allergens, pollutants, dust, and other harmful materials that may fly around-like small insects. Masks have different protection capabilities.
Should You Wear A Mask When Mowing Grasses?
But why should you wear a mask when mowing grasses? As a matter of fact, YES! It's not advisable to mow grasses without putting on a mask. Let us tell you why. Mowing during summer or spring can be problematic if you have allergies.
Those two seasons of the year are when the earth is bright and beautiful with colors of bloom. Coincidentally, those are also the times when respiratory issues abound.
These respiratory issues are caused by dust, dander, dust, mold, and pollen. So, when you are mowing, these can fly around and upset your respiratory system.
And we figure that you would not want that. And not just that. This dust and debris can also fly into your nose and cause physical irritation. Hence, the need to wear a mask when mowing.
Types of Masks For Mowing Grasses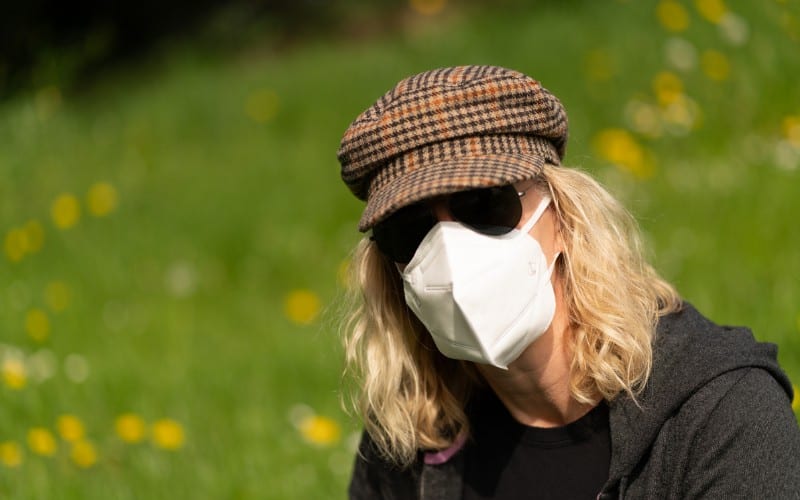 We have three major kinds of masks:
1. Surgical Masks
It is best for people who have a nasal infection or cold. The mask prevents the spread of the cold virus from you to others. They offer minimal protection from pollutants as the filters are not strong enough to keep harmful stuff out.
2. Respirators
These are the best type of mask to use. They are approved by the National Institute for Occupational Safety and Health (NIOSH).
Respirators protect the wearer from toxic and harmful substances like chemical fumes, viruses, pollen, dust, and molds. Depending on the type of respirator, they cover either half or full face.
There are two kinds of respirators: disposable and reusable respirators. The reusable respirator is the best mask for mowing grass.
3. Dust Mask
These masks offer protection only against dust. They cannot protect from pollen, molds, and viruses. Dust masks have activated carbon in their linings that help trap dust and purify the air you breathe in.
Like the respirators, there are disposable and reusable dust masks. Reusable dust masks are the second-best mask for mowing grass.
It is best if the mask you are putting on is comfortable because mowing grass takes time, and you will wear the mask for a long time. The mask should be made with stretchable materials and shouldn't sleep off your face. Here are some best masks for mowing grass.
Best Mask for Mowing Grass
1. 3M Garden and Lawn Respirator
Sale
3M Rugged Comfort Quick Latch Half Facepiece Reusable Respirator 6503QL, Gases, Vapors, Dust, Large, Gray/Teal
NIOSH-APPROVED: NIOSH, a USA federal government regulatory agency, has tested and approved the 3M Rugged Comfort 6500 Series Quick Latch Half Facepiece Reusable Respirator with 3M cartridges, filters or supplied air systems to help reduce inhaling certain airborne contaminants
EASY ON AND OFF: Quick latch design offers an easy, one hand touch drop down mechanism for putting the face piece on and off while moving in and out of contaminated areas
COMFORTABLE: Adjustable head harness assembly promotes a comfortable fit with 3 size adjustable head cradle; long lasting polyester/spandex straps
COOL COMFORT: Proprietary 3M Cool Flow Valve is designed for easy exhalation to help keep the wearer more comfortable
DURABLE: Resilient silicone faceseal provides comfort, durability, and stability with a soft but firm seal. Keeps its shape in high heat environments
Last update on 2023-12-08 / Affiliate links / Images from Amazon Product Advertising API
3M garden and lawn respirators are one of the best masks for mowing grass. The 3M company is a leading firm in the production of face masks. They also make masks that are suitable to be worn as protection against different substances and ailments.
These garden and lawn respirators are perfect for mowing grasses because they can stop the infiltration of molds, pollen, and dust. 3M garden masks have N95 certification, meaning that they can keep ninety-five percent of harmful particles out.

Pros
The 3M garden and lawn respirator are affordable. They come in a pair of two
The 3M mask is sizeable and feels comfortable
It is easy to put on and to remove
It does not make breathing strenuous
It has a moveable nose clip that makes the mask sit on the nose bridge easily
Cons
The 3M mask doesn't seal properly. This may expose users to the same particles they are trying to avoid
The perfume on the 3M mask is not desirable for everyone
2. BeatBasic 2-Piece Dust Respirator Mask
PAXCOO Mouth Mask, 6 Packs Face Mask for Dust, Black Face Mouth Masks Anti-Dust Cotton Mask for Teens Women Men
GREAT VALUE – Paxcoo mouth mask set come with 6pcs black anti dust face mask, work great to keep dust, air polluted place and sandy air out of your nose and mouth and keep your face warm in cold weather
BREATHABLE AND COMFORTABLE – Our washable reusable face mask is made of soft and comfortable pure cotton, which is breathable but could efficiently prevent dust, which keeps you healthy
STYLISH NOSE BRIDGE DESIGN – These black cotton mouth cover mask has a small strip of wire inside the cloth at nose bridge which allows you to adjust the mask to fit more comfortably around your face
IDEAL FOR WEARING INDOOR AND OUTDOOR – These masks are suitable for dust, pollution, ash, crafts
SIZE – The mouth mask measures 7 ½ x 5 ½ inches / 19 x 14 cm, suitable for children and people with small faces
Last update on 2023-12-08 / Affiliate links / Images from Amazon Product Advertising API
This is one of the masks with the best filtration system. It also meets the N95 specifications. They are great for filtering gases and even odors, something that respirators cannot do.
Beatbasic mask is wonderful in protecting against smog and smoke and will serve you well if you wear it while trimming your lawn.
Though the material used to make the 3M mask is durable and reusable, the filter-which offers protection. To deal with this, every pack comes with extra four filters so that you can change twice a week.
The material used in making the mask feels comfortable on the skin. Each package comes with two masks.

Pros
They make breathing easy
They are comfortable and fit properly on the face
Cons
After a few wears, the mask no longer fits properly. It becomes loose
The mask is expensive
The masks get stuck on the nose when you breathe because the material used in making the mask is too thin
3. Breathe Healthy Honeycomb Mask
Last update on 2023-12-08 / Affiliate links / Images from Amazon Product Advertising API
The breathe healthy mask does not have filters; hence you can reuse it. But this means that it has limited protection. Breathe healthy makes attractive masks, and beauty is one of its selling points. The material used in making the mask are honeycomb material, spandex, polyester, and nylon.
This combination makes the mask flexible, comfy, and breathable. The mask protects against allergens. The mask has ear loops that are soft and do not chafe your skin due to friction. Unlike some other masks, this one sucks away moisture when you sweat and exhale.
This is particularly good news for those who wear glasses as the moisture won't fog your glasses and blur sight. The nose piece takes your face's shape, too, and this also prevents glasses from fogging. The mask possesses an antimicrobial coating that will protect against micro-organism growth.

Pros
The breathe healthy mask filters the air to 1.0 micron
The mask is treated with an aegis shield
You can use the mask for many things like mowing grass and others
Easy to use
Cons
It gets entangled with the glasses or any hat that has strings
The size of the mask is a small one. It cannot adequately cover the nose and the mouth at the same time
The fasteners do not hold tightly. You have to adjust periodically
4. Fightech Dust Mask
FIGHTECH Dust Mask - Reusable Face Mask with Filter - Air Filtration Mask with Vent - Dust Mask Woodworking (Medium, Black)
COMFORT: Made of elastic material, Fightech air pollution mask can be adjusted to meet most head types; The filters and exhaust valves are fully interchangeable and reusable making last significantly longer than your average dust masks and face covers
IMPROVED DESIGN: Unlike previously designed dusk masks, Fightech half face mask implements the EARLOOP design preventing the pollution mask from slipping off; Also, we equipped our dust mask with valves to reduce heat build-up inside the air mask
HELPS HEALTHY BREATHING: Fightech face mask is designed for comfortable protection against non-toxic dust, pollen, mold, fumes, common airborne irritants and other non oil based particles
Improved Design: Unlike previously designed filter masks, our new half mask implements the Earloop design preventing the pollution mask from slipping off and equipped the face mask with filter and two one-way discharge valves to reduce heat build-up inside the pollution mask
Last update on 2023-12-08 / Affiliate links / Images from Amazon Product Advertising API
The Fightech dust mask makes it easy for the wearer to breathe. It also protects against dust, pollen, molds, fumes, etc. Fightech has an ear loop that prevents the mask from slipping. Due to the elastic material used in making the mask, it can fit all head shapes.
Valves and filters are present and can be changed as need be. The manufacturer added one extra valve and two additional carbon filters.

Pros
They have versatile uses. You can use them for runs, cycling, mowing, and woodwork
Valves inside the mask are instrumental in reducing the build-up of heat inside the mask
Cons
The seal of the mask sometimes gets loose after some time
Even though the mask is reusable, you have to constantly change the filter at least once a week to offer sustained protection
5. Achiou Neck Gaiter Face Mask
Achiou Neck Gaiter Face Mask Scarf Dust Sun Protection Cool Lightweight Windproof, Breathable Fishing Hiking Running Cycling
Comfortable Fabric – You are the special one when wearing Achiou neck gaiter. 4-way stretch fabric is very soft and close to your skin. Protects from dust, sand, wind, UV-Light etc
Unique Design – It's very soft and close to your skin. UV face mask can quickly take away the sweat on your face and evaporate in a short period of time, which can keep your face dry and cool. Lightweight, quick-drying fabric shields from chills or sun. Variety of different colors are available
High Quality Material – Achiou neck gaiter is made from elastic soft and breathable fabric material, makes you feel comfortable and easy to breathe fresh air in hot summer, also can keep warm in spring and autumn
One Size Fits Most People – 9.4" Wide x 15.3" Long. Suitable for men and women, Good for fishing, cycling, hiking, camping, motorcycling, hunting, yoga, travel, and all kinds of outdoor activities and sports. Easy to take, hanging on the wrist or put in your pocket when not use it
Versatility – Not only a neck gaiter, but also a neck warmer, face scarf, scarf face mask, scarf gaiter, hand band, headband, ear warmer, beanie. Save money and live better
Last update on 2023-12-08 / Affiliate links / Images from Amazon Product Advertising API
The neck gaiter by Achiou is lightweight because it is crafted from a polyester microfiber fabric. It fits most persons.
When you wear the mask, you have no fear of your face heating up because it absorbs heat. Achiou gaiters have a fabric tech that causes them to fit over the face and prevent slipping off.

Pros
Achiou gaiters can protect the wearer from harmful UV rays for up to 20 UPF
The mask can offer protection from flu in cold seasons
It is reusable. You can wash it with detergent and water
It provides all-around protection from pollutants, dirt, dust, and sun
Cons
You cannot dry the mask with the washing machine as the mask is too thin
The tag fastener attached to the mask can damage the mask if you pull it off
6. Zume Face Mask
Last update on 2023-12-08 / Affiliate links / Images from Amazon Product Advertising API
The Zume face mask has a carbon filter whose function is to trap dirt, dust, allergens, and pollutants. It also has the N99 filter.
Zume face mask has a soft feel because the material for making it is nylon. A nosepiece is in the mask and could be adjusted to fit the user's face.

Pros
You can wash and reuse the face mask
You can use the face mask for a long time as it is comfortable
The mask permits proper ventilation, so you don't have difficulty breathing while using it
Cons
The mask does not filter smoke
There is a tendency for the mask to become loose when you use it for long
Your glasses may fog up, and your face overheats if you use it to work for extended hours
7. Anti Dust Unisex Mouth Face Mask
Filters Reusable Anti Dust Unisex Mouth Face Filter Replacement Breathable Earloop Smoke Pollen for Outdoor Cycling,Sports
Professional-grade Face filter: Perfectly cover your nose, mouth and chin, and block particulate dust from daily life to provide comprehensive protection.
Reliable and Breathable material: The dust filter is comfortable and breathable, and can breathe smoothly even if worn for a long time.
Comfortable Elastic Earloop: The mouth filter fits the skin of the face, leaving no place for dust. Super soft earloop eliminates pressure on the ear.
Exquisite Tailoring: The edges of the product are laminated with multiple pressures to make the item strong and durable, without foreign body sensation, comfortable and burden-free.
Reusable: The replacement can be used multiple times, even if cleaned multiple times, it will not reduce the dust blocking rate, which is far more economical and durable than disposable one.
Last update on 2023-12-08 / Affiliate links / Images from Amazon Product Advertising API
The safety dust mask has an adjustable nose strip, which is from aluminum. It helps the mask fit perfectly on your nose. Neoprene is the material used in making the mask. Safety dust mask also has carbon which traps dust.
Velcro strapping and loops are in place to hold the mask from slipping off the wearer's face. You can as well use the safety dust mask to do other outdoor and sporting activities.

Pros
Breathing is relatively easy when you wear the mask
The mask has a two, one-way valve, which prevents overheating, especially if you wear the mask for extended hours
It has foam padding on its nose strip. It prevents the wearer's glasses from fogging
Cons
If the valve breaks, you will have to get another mask as getting a new valve won't be easy
Though this is reusable, you have to change filters after some time
8. 5 Pack Fashion Protective Dust Mask
Last update on 2023-12-08 / Affiliate links / Images from Amazon Product Advertising API
Biaoyun makes the 5-pack fashion protective mask. The material for the 5-pack mask is soft cotton. Like many masks for mowing, they come with activated carbon, which traps dust, pollen, and other pollutants. The rubber ring on the mask is elastic; it can adjust on your head.
5-pack fashion protective comes with a nose clip that fits tightly on your face. You can use the mask to mow, travel, and even run. It is dust and windproof. Biaoyun attached extra filters and rings in case the wearer wants to change them.

Pros
Breathing is easy with the face mask. It fits perfectly and won't obstruct airflow
You can wash and reuse the mask at intervals
The rubber band makes it adjustable around the head
Cons
The mask has a chemical odor that may be discomforting to the user
The mask is a bit pricey
You have to wash the mask by hand, gently. You cannot wash it with a washing machine
What To Consider When Buying A Mask For Mowing?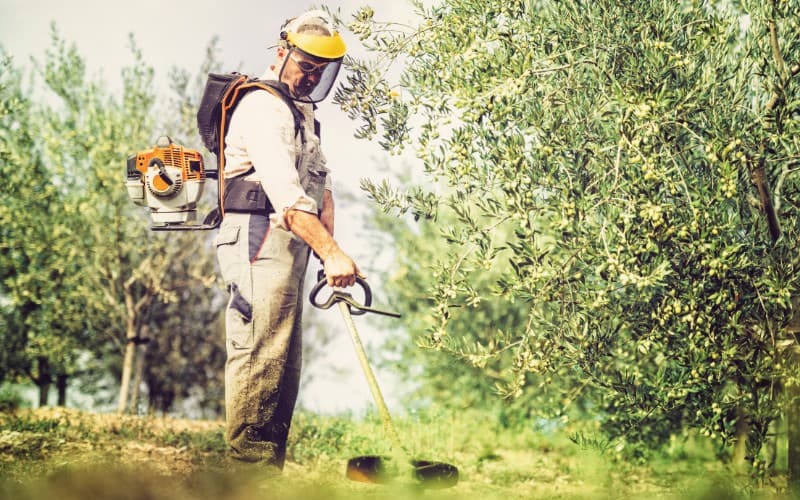 Since there are lots of different mowing dust masks available on the market today, making it tough for you to choose the ideal one for your needs. While some dust masks for mowing grasses are simple, others are more elaborate and look like balaclavas or gaiters.
That said, below are a few things you should always consider when deciding on a mask for your mowing activities:
1. Consider the particulate filter
Most disposable masks have an N95 rating on them, which filters about 95% of airborne particles, such as wood dust, allergens, lawn mowing dust, and other airborne diseases.
Go for the masks with an R95 rating if you want one that will protect you from oil-based particles.
And if you want the highest protection, choose P100 rated masks, which is designed to filter out 100 percent of both oil-based and non-oil based particles.
2. Fabric layers
If you're going for a fabric face mask, go for one that has 2 layers of fabric. This is because masks with 2 layers are usually more effective than those with single layer.
3. Is the mask comfortable?
Go for a mask that is very comfortable and feels good against your face's delicate skin, especially if your lawn is large as you'll be spending a good time there. So, you will want to opt for a smooth and soft mask that is not rough and scratchy.
4. Can you wash the mask?
It's good to always sanitize your mask by putting it in the washer at 140°F. If your mask is not washable, such as the one designed with metal that can't be removed, it should be wash by hand.
5. Can you insert a filter?
For the best protection from allergies, we suggest you buy a mask that has somewhere you can insert filters. Aside from that, the mask should also have an adjustable nosepiece to give you more comfort.
Masks with foam face seals are generally more comfortable and effective, so it will be wise to always opt for those.
And for easier breathing, buy lawn mowing masks that have an exhalation valve. If you will be mowing in lawns that have very toxic particles, such as asbestos, go for a non-disposable mask with sealing gaskets.
6. Coverage
You also need to consider the specific coverage the mowing mask offers. You basically have two choices here. One is the half mask, which will cover your mouth and nose, leaving the remaining parts of your face unprotected. This type of mask is best if there's nothing that could harm your eyes and skin while mowing.
Some masks also offer full-face coverage, protecting your eyes and entire face from every harmful substance, such as muriatic acid fumes. These ones are designed to give you complete coverage while mowing grasses on your lawn or anywhere.
How to Wear a Dusk Mask For Mowing
Frequently Asked Questions
Is the N95 Mask Better Than the N99 Mask?
The N95 mask is better than the N99 mask. Even though the N99 mask offers more protection, they are harder to breathe. You cannot wear them for extended hours.
Though the N95 mask is 4% less effective protection-wise, they are better to breathe in and should be preferred to the N99 mask.
Can You Reuse A 3M Mask?
You cannot reuse a 3M mask. This is because they may have gathered harmful substances when you first wore them and may not be fit for subsequent use, even after washing.
Can Homemade Face Mask Protect One from Pollen Allergies?
Homemade face masks can protect you from pollen allergies. But only to some extent. It is better to use any of the masks mentioned above for maximum protection.
Do dust masks prevent all dust, particles, and other airborne nuisances?
No, but lots of masks out there can deter over 95 percent of non-oil particles. A dust mask typically makes a lot of significant difference when used.
Will dust masks fit all head types?
While most masks will fit into different head sizes and types, it can never be guaranteed. Although dust masks are generally designed to adjust to different head sizes.
Do masks protect against debris hitting the face?
Yes, a mask is commonly made to offer some level of protection over the area that it covers, but that totally depends on the material used. Some masks are designed with material that is not thick enough to protect your face when hard objects hit it.
Best Dust Masks For Mowing | Conclusion
Mowing grasses is a tough job on its own, so it will be considerably burdensome if you add allergic fits and respiratory issues to it. That is why you must put on a face mask while you are at it.
Good enough, we have listed the best mask for mowing grass. Check which mask offers what you need in a mask and purchase some. Stay safe.