We independently research and recommend the best products here. This article contains affiliate links. If you make a purchase after clicking on a link, we may earn a little commission at no extra cost to you.
Bermuda grass is one of the best choices for growing a stunning lawn. They require less care because they will grow almost in any type of soil and weather condition. Bermuda grass can survive all seasons in the hottest part of the world.
While this grass may be of great importance to some gardeners, it can be a nuisance to others especially when it starts to grow where it is not needed.
Unfortunately, because of the rugged nature of this grass, it is difficult to get rid of it. There are lots of options that anyone could apply to kill unwanted grasses, but Bermuda can prove difficult. The best option is to use weed killers.
Of course, not all weed killers out there will do the job. Rather than allowing you to try different products, the following best weed killers for bermudagrass has proven to work.
Best Weed Killers for Bermuda Grass
What Is Bermudagrass?
Bermudagrass is a very aggressive type of grass that has many survival qualities that are lacking on grasses, such as the ability to withstand high traffic, intense heat, and drought.
Apart from these strengths, bermudagrass also grows in dense bundles and can thrive in soils with poor nutrients. Interestingly, bermudagrass can survive with very little care and in just about any environment.
And because of its high survival qualities, bermudagrass can easily suffocate other types of grasses in a lawn and garden.
Where Can Bermudagrass Be Found?
Bermudagrass can be found growing in warm places with lots of sun, such as tropical and sub-tropical areas like the Caribbean and Southern parts of the US.
Due to its infamous resilience characteristics, the grass is often used as a lawn on sports parks, golf courses, arenas. This type of grass requires minimal upkeep, making it a favorite grass among lawn keepers of large areas.
What Does Bermudagrass Look Like?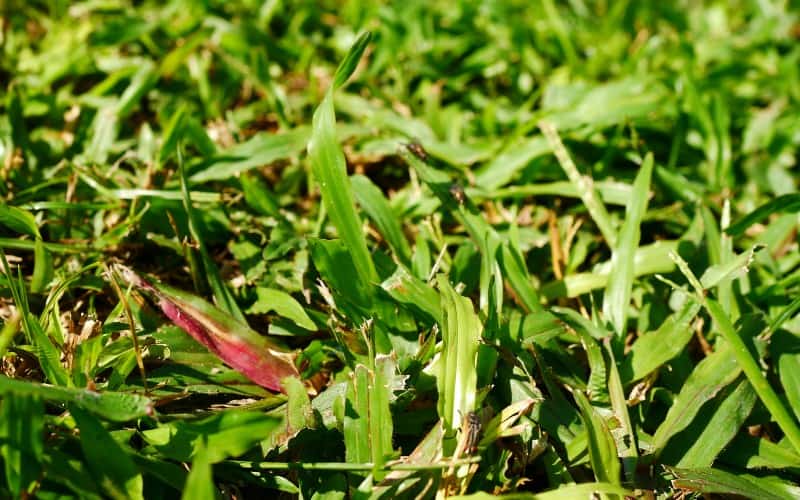 From a distance, bermudagrass looks almost identical to regular grasses you're familiar with; the kind you can find on your front lawn. But on a closer look, you can see that its color is a bit lighter than that of a regular grass.
Aside from the lighter shading, bermudagrass does not have individual blades like what you can see on a normal grass. But instead, there its blades look like stalks with prongs fixed at the top, looking more like plants without flowers.
Weed Killers For Bermudabrass Reviews
1. Roundup for Lawns 6
Roundup for Lawns 6 Ready-To-Spray (Southern), 32 oz.( Pack of 1 )
For use on Southern grasses including Floratam and Centipede
Kills weeds, not the lawn
Kills dollarweed, dandelion, clover and yellow nutsedge
Kills 93 types of weeds
Kills the root. Guaranteed!* *Consumer Guarantee: If for any reason you are not satisfied after using this product, simply send us original proof of purchase, and we will refund the purchase price.
Last update on 2023-09-30 / Affiliate links / Images from Amazon Product Advertising API
This weed killer is specially designed for southern grass types including Bermuda, Centipedegrass, Zoysia, and St. Augustine grass. It is highly selective on the attack – it avoids your lawn and kills all weed down to its root for easy removal. Killing it to the root also implies that the weed will not easily come back.
The special gallon design allows you to attach an end of a tap hose for easy application.
Roundup for Lawns 6 gives you more coverage than others with the same volume. 32 oz of the formula will conveniently cover 6,000 square feet.
If you have a larger lawn to treat, there is an option to purchase the 32 oz. concentrate. It requires mixing with water. According to the ideal proportion, it can cover up to 70,000 square feet.
The 4 hours rainproof may be a turn off; however, if you can be sure of the weather, it will not be a problem.

Pros
Kills 93 types of weeds
Offers better coverage than others
The company offers a money-back guarantee upon failure to deliver as claimed
It kills the weed down to its root
Easy application
Cons
It is recommended to be used only on Southern grasses
2. Bio-Advanced 704100B Bermudagrass Control
BioAdvanced Bermudagrass Control for Lawns, Ready-to-Spray, 32 oz
BERMUDAGRASS CONTROL: Selectively remove undesirable Bermudagrass weeds, without damaging your lawn
FAST TREATMENT: Reduces the need for costly, time-intensive treatments
USE ON: Cool-season grasses such as Fescue, Kentucky Bluegrass and Perennial Ryegrass
RAINPROOF PROTECTION: Rainproof in 1 hour
COVERAGE AREA: Treats up to 5,000 square feet
Last update on 2023-09-30 / Affiliate links / Images from Amazon Product Advertising API
Whether for controlling the growth of the grass or killing it, this product will be a great choice for you.
In cases where the Bermuda grass is found growing with your lawn choice, the Bio advanced control killer will carefully select and remove the undesirable Bermuda grass weeds, without damaging your lawn.
It comes in a ready to spray bottle to save you the time of devising a means of application. However, it may be a disadvantage if you are applying on a large acre of land. The container can cover up to 500 feet per square meter.
You are not only presented with a Bermuda grass killer, it is also effective in getting rid of fescue and Kentucky bluegrass.
The application is quite simple. Just hook the bottle to a hose and turn on. Spray using an even sweeping motion for better coverage.

Pros
It offers great coverage for the money
Easy application where there is access to a water tap
It is safe for pets
Versatile for killing other weedy grass
Rainproof in one hour
Gentle on lawn and tough on Bermuda
Cons
The hose applicator isn't the best
It can take up to ten days to see results
3. Ortho WeedClear Lawn Weed Killer Ready to Spray
Last update on 2023-09-30 / Affiliate links / Images from Amazon Product Advertising API
Ortho weed clear is one of the best weed killers for Bermuda grass and other stubborn grasses. The gallon is specially designed to aid easy application. You will only require a hose connected for a spray action.
It kills weeds in your lawn including dandelion, chickweed, clover, Bermudagrass, Buffalograss, Fescues, crabgrass, and foxtail, just to mention a few.
With the 32 ounce gallon, you are sure to cover 5000 sq. ft.
Typically, with its fast action, it kills grasses to the root without affecting your lawn, but the downside is that it kills all grasses without selecting.
It is one of the best choices for lots of gardeners when it comes to maintaining their lawns. With over 1500 ratings on Amazon alone; you can never go wrong with this choice.

Pros
It kills over 200 weeds down to the roots
Excellent coverage
This version is rainproof in one hour
Fast-acting, with results in one application
Cons
It is not available for purchase in some areas in the United States, including FL, GU, HI, LA
4. Gordon's Ornamec 170 Grass Herbicide
Gordon's Ornamec 170 Grass Herbicide, 32 Ounces
Ornamec 170 designed for maintenance of landscape beds
Reduces risk of ornamental plant injury
Selectively controls emerged annual grasses - panicums, goosegrass, crabgrass, foxtails and sandbur
Also controls stubborn perennial species like Bermuda grass, quack grass, torpedo grass and Johnson grass
Grass growth stops within 48 hours and death occurs within 1 to 3 weeks
Last update on 2023-09-30 / Affiliate links / Images from Amazon Product Advertising API
One thing about this product that is worth mentioning is that it may appear slow in action. However, it is effective in eradicating stubborn grasses on your lawn. It is safe for your lawn, but tough on stubborn grasses including Bermuda. This is because it selectively controls emerged annual grasses.
This product is available in a 32-ounce gallon and will be sufficient to cover half an acre of yard.
Gordon Ornamec 170 prides itself to deal with stubborn perennial species like Bermuda grass, quack grass, torpedo grass, and Johnson grass.
Upon application, the action stops the growth of the Bermuda grass within 48 hours, and physical changes can be observed within 1 to 3 weeks.
The application may seem to be a bit more demanding because it requires a mixture of water before application.

Pros
Kills weed to the root for easy removal
It offers large coverage
Versatile for killing other weedy grass
Weeds begin to die within 2-4 days
Cons
It takes a while to act and usually takes a couple of applications
Application is demanding as it requires mixing and a sprayer
What To Consider When Buying Bermuda Grass Weed Killers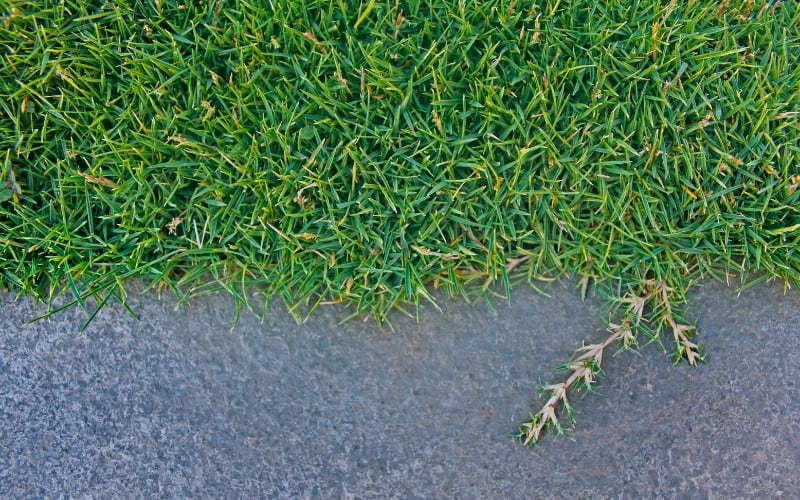 First, it is important to know that not all weed killers will have enough action on Bermuda grass because they are considered to be tough grass. This makes it difficult for gardeners to find one that will be effective enough to kill this grass.
The following are some factors you should look into when buying any of the products. However, you may not get all these factors in one.
Effectiveness on Bermuda grass
This should be the first thing you should watch out for when buying one. As we have stated previously, not all weed killers will be effective on Bermuda grass. You should read the description of the product to ensure that it is stated on the label.
Most of the products may mention it in the product description. In cases where it is not mentioned anywhere, you should make efforts to find out.
Coverage
If you have found the perfect product, you'd want to make sure that it can cover as much area as you need. The good thing is that all products will at least highlight the approximated coverage.
Most products are available in a 32 oz gallon and will cover at least 5000 square feet.
When looking at the coverage, consider the size of your lawn or the area you intend to treat and compare it with the coverage the product offers. This will help you buy the right quantity especially if you are working on a commercial lawn.
Selectivity
This is so important to consider when buying a weed killer. This applies to all types of weed killers and not just Bermuda.
The weed killer should be gentle on your lawn and tough on the weed. Choose a weed killer that will select the weed alone and leave the lawn with no effects.
The good thing is that if you will be making a choice from your pick on the article, you will not need to worry about that because our picks are all selective.
Effectiveness on the root
While some weed may just only kill the leaves and foliage part above the ground, some special ones are formulated for dual action. They can kill the grass down to the root.
The importance of this action is that it makes the weed easy to take off from the lawn, and it also prevents it from sprouting up again at least for a while.
Application
The best way to apply weed killers of this nature is to spray them on the lawn. Basically, most of the Bermuda weed killers require a spray fr application. If you do not have a sprayer, you should consider buying a weed killer whose gallon is designed for easy application.
For such a design, you only need to connect a garden hose to the attached sprayer. The other option will be to use a separate sprayer. This option is best for individuals treating large acres of lawn.
Pet safe
If you own a pet in your home, you should be careful with what you spray around your yard. While it may seem to be okay on your lawn, the chemicals and formula may be hazardous for your pet.
You should buy a weed killer safe for dogs and cats. Consider checking our guide for the best weed killer safe for dogs here.
How To Control Bermudagrass In The Lawn
Watch the short video below to learn how to easily control bermudagrass:
Safety Precautions When Applying Weed Killers
Weed killers may not be hazardous to humans, but it is important to consider some safety precautions to be safer. It requires the same precautions when applying herbicides.
Ensure that you have all the proper personal protection equipment (PPE) that is required for the application. Some include hand gloves eye goggles, boot, and coverall.
Properly dispose off used weed killer container after it is exhausted.
Any household items used for mixing the weed killer, such as measuring cups, stir sticks, etc. should not be reused in the house.
Always pay attention to the instructions on the label of the product.
Store the weed killer, spraying equipment, and mixing containers away from the reach of children or pets.
Frequently Asked Questions
Will weed killer also kill the lawn?
Weed killers for lawns are specially formulated to be selective. So if you buy the right one, it will only attack the weed and leave the lawn unharmed.
However, general weed killers will attack everything on the soil, so you'd want to be careful when buying one.
Will a weed killer for Bermuda also kill other grasses?
Certainly yes, it will be able to kill other types of grasses. Despite this, we recommended identifying the type of grass growing with your lawn so you can be more specific on what to buy.
When to apply a lawn weed killer?
The best time to control the weed on your lawn is when it is still actively growing.
Should you apply the weed killer on spots or the entire lawn?
Weed killers are most effective when applied evenly over the entire lawn. But you will only do this when you are sure that the weed killer is selective. This way, it will only kill the grasses.
Non-selective weed killers are harmful to most plants, including your lawn grasses.
Will herbicide kill Bermuda grass?
The answer is yes. Herbicides are effective in killing a variety of weeds, but you must be careful when selecting one. The idea is to pick one that is selective.
This way, it will kill only the grass and leave your lawn. Herbicide like glyphosate is popularly used to kill Bermuda grasses, but unfortunately, it is not selective, so you may end up affecting your lawn.
Conclusion
Those are the best weed killer for Bermuda grass that we have found to be effective. You do not want to make the mistake of taking out the entire lawn along with the unwanted grasses, hence the need to be careful with the options available.
Weed killers are easy to apply where there is a water supply and a hose near the garden. If these are absent, you will be left with no choice but to use a sprayer.
Let us know if you have used any other products with success aside from these mentioned here, we'd like to test them and add to our list.