We independently research and recommend the best products here. This article contains affiliate links. If you make a purchase after clicking on a link, we may earn a little commission at no extra cost to you.
Cub Cadet, John Deere, and Husqvarna are all lawn tractors used to trim grasses on a lawn. They are a bit bigger than the walk-behind lawnmower and a bit faster too.
The lawn tractors are better for large lawns. Typically, lawns that are larger than half an acre. Using anything less than the lawn tractor on such a vast expanse will be equivalent to punishment.
If you own a garden or a lawn and want to buy a lawn tractor, you might be wondering which ones to buy. In this article, 'Cub Cadet Vs John Deer Vs Husqvarna,' we will compare the three most popular lawn tractors on the market, hoping that it will help you decide.
Cub Cadet Vs John Deere Vs Husqvarna | Product Comparison
This section will review the best sellers of each of these brands under the following features: price, usage ease, power, and general efficiency. With this information at your disposal, you can make the choice of which to purchase.
Price Difference
The price tag of any product is an important thing to know. We need to be sure we are spending our hard-earned cash on something worth it.
The price is always checked against performance. Is the product worth spending such an amount for? When comparing these three lawn tractors, Cub Cadet seemed to be the most affordable.
Usage Ease Comparison
What is the point of buying something you cannot use? Or something that you will always find difficult to operate? When it comes to how easy each of these machines is to use, Cub Cadet again comes out on top.
And this is no surprise seeing that their products are always smaller and compact. They can be maneuvered easily, and they are lightweight too.
Power Rating
There is no way you'd talk about machines with engines and not talk about power. The engine has to be robust and up to the task. In this category, the cub cadet falls short.
The John Deere and Husqvarna are larger machines and, as such, have larger engines for operation. They can even be used to mow sloppy hills. They are that powerful.
General Efficiency
Efficiency measures how well a machine uses the energy or power it receives to do work. And this efficiency is what determines how useful a machine is.
If your mower receives a lot of power and yet the output is below par, the machine is not efficient. You should get the maximum result from the effort put in.
For this category, John Deere wins. The machine does not shy away at the face of enormous work. They get the job done hard and fast with minimal effort applied. The engine keeps going on and on till you are done with your mowing.
Husqvarna Vs. Cub Cadet Vs. John Deere | Product Specifications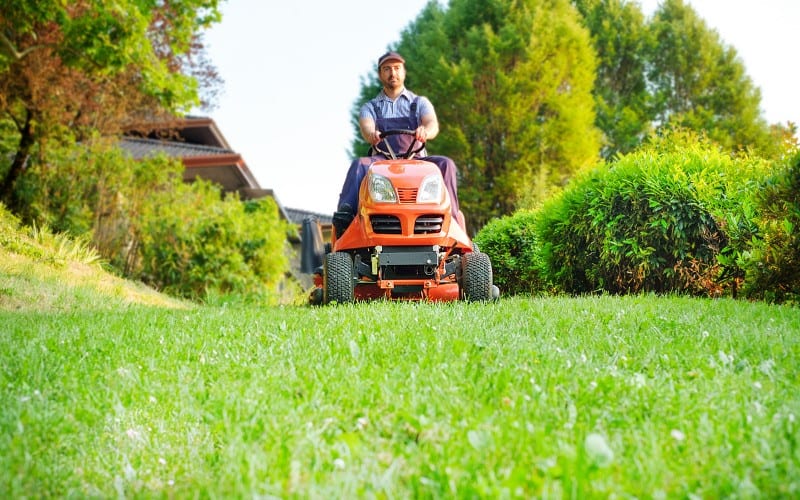 1. Cub Cadet LT46
Product Details
The Cub Cadet has an engine that generates 22 horsepower.
It has a 3-gallon fuel capacity.
The cutting width of the cub cadet is 46 inches.
No power steering.
Comfortable seat with a ten-degree incline.
Cuts grasses in reverse.
It has a 7000 series double cylinder engine.
It has a foot-coordinated hydrostatic transmission.
Double cutting blades.
Variable forward speeds.
Washout ports.
Three years warranty.
Good cruise control.
Pros
Cub cadet has a well-built frame.
The engine is powerful enough for the job.
Responsive and powerful transmission.
Smooth acceleration.
Attractive blade cuts.
Comfortable seat for the operator.
It has LED lamps for use at night.
Easy to operate.
The price is affordable.
The double blade makes the cub cadet cut faster and more evenly.
Cruise control needs only a light touch to work.
Clean twin-cylinder engine.
Swift and smooth turning.
Cons
The engine is noisy.
Mulch attaches to the tractor a lot.
The engine is underpowered.
The bearing on the front wheel is made of plastic, and it wears off quickly.
The hydrostatic drive may be difficult for first-timers.
Some other bestsellers of this brand are Cub Cadet CC30H and Cub Cadet XT1 LT42.
2. John Deere E120
Product Details
John Deere has a double-pedaled hydrostatic transmission.
The fuel capacity is 2.4 gallons.
It has a variable forward speed.
No power steering.
The cutting width is 42 inches.
Can cut in reverse.
The seat is 15 inches high and will support the back properly.
It has a washout port.
20 horsepower engine.
Good cruise control.
A V-twin power engine.
Double cutting blades.
Two years warranty.
Pros
Quite affordable.
The front axle is made of cast iron, and this makes it strong.
The machine starts fast.
A massive v-twin powered engine.
Smooth operation due to the hydrostatic transmission.
The steel frame is firmly welded.
The engine does not make much noise.
Cons
John Deere has a small fuel tank.
Some other bestsellers of this brand are John Deere E120 and John Deere Z345R.
3. Husqvarna Lawn Mowers
Husqvarna MZ61 61 in. 27 HP Briggs & Stratton Hydrostatic Zero Turn Riding Mower
Husqvarna 61 in. zero-turn lawn mower from the MZ series delivers commercial-grade power and amazing ergonomics
27 HP Briggs Endurance engine provides reliable startups and high ground speeds
Fabricated 11-gauge steel cutting deck offers an excellent 54 in. cut with an ergonomically designed deck lifting system for quick and easy adjustments from the operator's seat
Clippings can be discharged, mulched or bagged with a 9-bushel triple bag collection system (mulching kit and bagger attachment sold separately)
High-back seat with armrests, foam-padded hand grips and vibration dampeners make mowing comfortable for hours on end
Last update on 2023-06-07 / Affiliate links / Images from Amazon Product Advertising API
Product Details
V-twin cylinders.
Variable forward speeds.
Good cruise control.
Can cut grass in reverse.
Triple blades for cutting.
The cutting width is 48 inches.
The hydrostatic transmission is pedal-operated.
The seat is adjustable, 15 inches in height.
The engine has 24 horsepower.
A washout port is available.
Three years warranty.
Pros
It can move forward or backward on tough hills.
It has three cutting blades.
It has a cutting width of 48 inches.
Comfortable seat.
It has beautiful blade cuts.
Cons
It is not good for cutting thick grass.
Some other best sellers of this brand are Husqvarna YTH24V48 and Husqvarna Z242F.
Frequently Asked Questions
How Long Does the John Deere Last?
If the John Deere is adequately taken care of and maintained, you can get up to 200 hours from your bug John Deere and 1000 for the smaller ones.
Is It Good to Use A Lawn Tractor on Wet Grass?
It is not acceptable to use a lawn tractor on wet grass because the grass comes off with mud. And the mud enters into the blades and other internal parts. This will cause the blades to jam, and your motor burns out.
Can I sharpen My Lawn Tractor Blade?
You can sharpen the blades. Detach them and then use a file to sharpen them, then install it back. You can also get a professional to handle the sharpening for you.
Conclusion
Lawn mowing can be quite a daunting task if you do not do it with the appropriate tool. For small lawns and gardens, a small walk-behind lawn mower is fine, but it is better to use lawn tractors for a better and stress-free job for large fields.
In this article, we reviewed the top three lawn tractors Cub Cadet vs. John Deere vs. Husqvarna, listing their advantages and disadvantages.
The truth is, no one lawn tractor is the absolute best. All you need to do is check your specific needs and select one that ticks your boxes more.