We independently research and recommend the best products here. This article contains affiliate links. If you make a purchase after clicking on a link, we may earn a little commission at no extra cost to you.
Ask any avid gardener what their most hated gardening chore is, and they will most likely say: Weeding.
Unfortunately, it is arduous work that must be done because these invasive weeds grow quickly and can easily colonize your yard – depriving your fragile plants of valuable space, moisture, as well as vital nutrients.
So if you're in search of a smartweed removal tool that offers the best in class quality and performance, look no further than the Grandpa's weeder vs Fiskars: battle of the best weeder to buy.
Grandpa's Weeder And Fiskars Weed Puller | An Overview
No doubt Grandpa and Fiskars weeders are the top-notch weed removal tools you can possibly buy in the market today.
They both skip the hassle and cost of herbicides that come when removing those pesky weeds from your lawn or garden.
What I mean is with either of these equipment, you can efficiently extract weeds by their roots without exertion or (almost) ever bending over.
But it can be quite challenging to decide on just one because both seem promising with a wealth of features and benefits.
Well, that is why we've exhaustively researched on both weeders and provide the best debate to help you make the right pick.
But before that, let's take an overview of both brands.
What Is Grandpa's Weeder?
Last update on 2023-11-30 / Affiliate links / Images from Amazon Product Advertising API
Grampa's Weeder has a mind-boggling record for pulling out weeds and their roots for over a century now.
It sounds like an exaggeration, right? Wait until you see Fiskars'.
This innovatively designed weed removal was invented in 1913 in Seattle, Washington.
And ever since then, it has been a must-have weed puller for getting rid of weeds quickly and easily for thousands of avid gardeners, horticulturists, nurserymen, as well as landscape-gardeners.
Not only does it saves people's knees and backs, but it also lasts for a lifetime.
You won't believe how a simple lever remains one of the most effective weeds and dandelion removers on the market!
What Is Fiskars Weed Puller?
Sale
Fiskars 3 Claw Garden Weeder
Ideal for permanently removing dandelions, thistles and other invasive weeds without multiple applications harsh, costly herbicide
Long handle eliminates sore knees from kneeling and back ache from bending and stooping
Three serrated, stainless-steel claws firmly grab weeds and roots for permanent removal
Length: 39 inch
Lifetime warranty
Last update on 2023-11-30 / Affiliate links / Images from Amazon Product Advertising API
 is the
only
rival of Grampa's weeder because they are also a reputable company known for producing nothing short of ingenious weeder tools.
They are Finland's oldest company, founded in 1649, and had celebrated her 371st anniversary in 2020. Fiskars' history began in the seventeenth century when some ironworks were established in Finland.
On top of that, they are excellent for firmly and permanently removing dandelions, thistles, and other invasive weeds without HASSLE or costly herbicide.
The long handle eliminates sore knees from kneeling and backache from bending and stooping, which makes it ideal for any older gardener.
So, without any fuss or delay let compare both – highlighting their distinctive characteristics.
Grandpa's Weeder Vs Fiskars | Which One Should You Buy?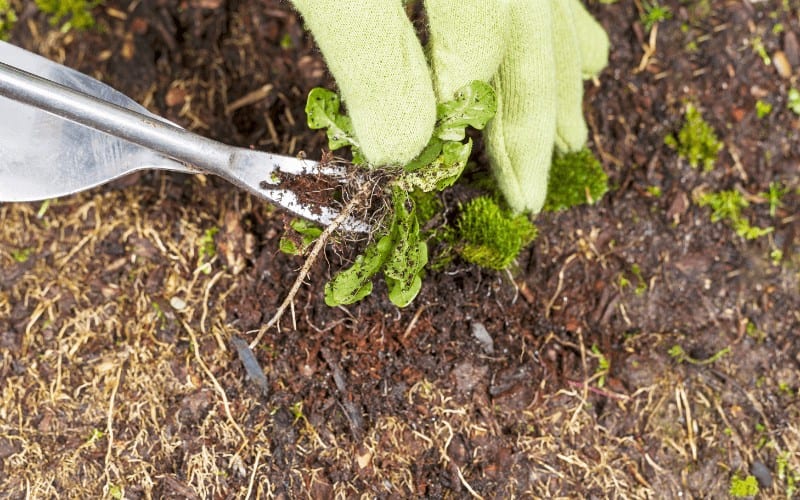 Who has the best-in-class durability?
In terms of durability, Grandpa's Stand up weed puller kicks Fiskars weeder to the curb.
Grandpa weeder has a traditional, well-balanced design. The long, varnished real bamboo handle (of about 46 x 8 x 1.5 inches) is attached to a powder-coated cast 4 iron claw that works with a single bolt.
It's simple, well-balanced, very long-lasting, and can tackle the most persistent weeds in your garden without your aching back, or having to dirty your fingernails.
On the other hand, Fiskars weeder has this contemporary look with a long, sturdy, lightweight aluminum shaft that reduces back and kneeling pains.
The cast-aluminum head won't snap off while you're weeding, no matter how tough your soil is. Although since the reinforced foot platform is 30% stronger, there are higher chances it will break if you heavily step on it.
Lastly, if both weeders were accidentally left out in rain, neither of them will warp nor rust. But I trust Grandpa's more since it was made from strong ash wood and rustproof iron.
Who has the best-in-class performance?
Many avid gardeners who have dug out dandelions, small weeds, and taproots with Fiskars testify it is the best thing since sliced bread.
And I can vouch for that, as well. Although you might find it quite frustrating digging out bigger weeds (those with many tangled roots) when compared to Grandpas, the comfort it offers is gold.
The offset hand reduces wrist strain, a viewing window in the pedal makes claw placement mistake-free, and an easy-eject mechanism clears the head between uses for quick and easy cleanup.
Hundreds of thousands of happy customers depend on Fiskars to keep their gardens weed-free without harmful-toxic chemicals and weed killers.
You are not only saving your back and knees but also your hands – something you won't get using the woody Grandpa's weeder. They are lightweight weed pullers that give you maximum power, with minimum effort.
No one enjoys pulling weeds, but this tool makes it easier and satisfyingly fun.
Like most weeders that work best after a rainfall when the soil is moist, simply center the claws over the head of the weed and step on the foot lever to push the claws into the ground – tilting the handle levers out.
Bottom line: both weeders are easy to use, but Fiskars are more user-friendly.
What about their lifetime guarantee?
Both weeders are not only sturdy but also comes with a 100% lifetime guarantee – which is always a strong vote of confidence.
The warranty is quite simple, if it breaks you do not have to send the tools to the manufacturer. Just send them a photo and they will replace it for free.
But have it at the back of your mind that either warranty covers normal wear and tear accidental damage or misuses of the tool.
Varieties of Options
Since Gardens are not created equally – some have vast sweeping lawns, while others have smaller plots to play with – either way, you will have to opt for a suitable weeder.
And this is where Grandpas fails woefully, as they have limited options. However, Fiskars has everything you need to help banish weeds from every nook and cranny no matter the size or shape of the garden.
They have the Fiskars Cultiweeder that is excellent for removing moss and weeds between cracks and walls.
Also, If you want to protect delicate plant roots from damage, the Fiskars Weeder is the ideal solution. To trim worrisome weeds from the side of your lawn, you can get to work with our Fiskars Lawn Edger. They got you covered in all angles.
Related Posts:
Conclusion
Everything I've said here concerning Grandpa's weeder vs Fiskars has been carefully researched, tried, and tested as well.
We didn't include the cost of each model because both are pocket-friendly. And you can get either of them at a discount from online stores.
Finally, we aren't condemning one for another. Both were uniquely made and can get the job done.
However, we are only giving credit to where credit is due, and casting light on their flaws to help you better understand which one is more suitable for your project. Besides, some gardeners owned both weeders.