We independently research and recommend the best products here. This article contains affiliate links. If you make a purchase after clicking on a link, we may earn a little commission at no extra cost to you.
Dandelions usually go from pretty and delightful to causing a nuisance in a garden or lawn. When they get to the nuisance stage, owners get worried about how to tackle the problem. This is why we bring you some of the best dandelion killers in the market today.
So if you've been wondering what dandelion killer to use in your yard, this article was written with you in mind. A lot of people shy away from chemical products because of the threats these chemicals might impose on their plants.
However, some chemicals do the job well with minimal risk, and we are here to guide you through making the best choice of a dandelion killer for your lawn and garden.
But before that, take a look at the dandelion killer comparison table below in case you want to make a quick pick:
Best Dandelion Killers
What is Dandelion?
Dandelion is a flowering herb that is native to Europe. It is found throughout mild climates of northern hemispheres of North and South America, as well as other continents. The most common variety of dandelion is Taraxacum officinale because it grows in many parts of the world.
Dandelions have sharp leaves that resemble the teeth of a lion. Dandelion seeds appear as little parachutes and are easily carried by winds and spread all over and reproducing to grow new dandelions.
Some species of dandelion occur as flowering herbs, while other species are weeds. However, both species are edible, and its flower, roots, stem, and leaves have been used for different medicinal purposes to treat some ailment. It is important to note that dandelion pollens cause allergies to some people.
When used as food, dandelion is used in soups, teas, and wine. It is also used as salad green while its root is roasted and used as a coffee substitute.
Why Should You Kill Dandelions?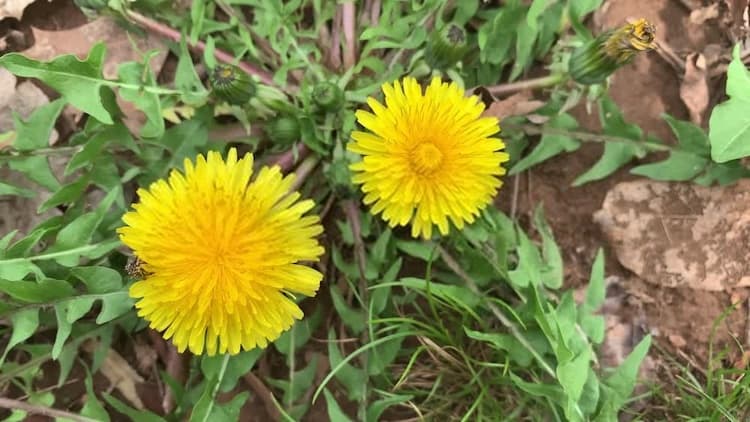 Dandelions at their young age are pretty and add great aesthetics to a home's landscape. However, they grow older and begin to create a nuisance in their host environment.
Although some people oppose killing dandelions stating that people who kill dandelions starve and kill bees. These statements are fallacious, and here a few reasons you should kill dandelions.
Dandelions are fast-growing plants
When dandelion plants get mowed, they grow back almost immediately and start producing flowers. That means that bees do not get denied of their meals, as most proponents of dandelion say.
Dandelion plants, just like other plants, like to grow more plants. To grow more plants, dandelions develop more flowers, and these flowers go-ahead to develop dandelion seeds. These seeds help in the proliferation of dandelion plants as they are easily carried by winds.
As a result of its speedy proliferation, you should really consider getting rid of dandelions when they are overgrown and creating a nuisance.
Dandelions have well-developed taproots
Dandelions have well-developed taproots, which makes them very resilient and unaffected when you attempt to naturally get rid of them by either cutting its leaves or mowing the plant. Until you get rid of the taproot with a good dandelion killer, it won't re-grow.
Their well-developed roots are another reason you should kill dandelions with any of the best dandelion killers we would be recommending below.
Any other means of getting rid of dandelions would support the regeneration of the plant parts. And if you have one dandelion, you probably have many of them in your garden or where ever you have growth space.
Do Dandelion Killers Work?
People often ask if dandelion killers really work, and the reason we think they ask this question is because of the period in which they used the dandelion killers. Dandelion killers are best used to kill dandelions when the dandelions are still yellow.
At their yellow stage, they haven't started producing seeds yet. Attempting to kill them when they have begun producing seeds may be futile as their seeds may have started spreading. Their seeds spreading imply new growth, and this would hamper the effect the dandelion killer used.
For clarity sake, dandelion killers work. Some of the dandelion killers work specifically only on dandelions, killing only dandelions.
While some other types of dandelion killers kill dandelions and every other thing surrounding the dandelions, meanwhile, there are chemical mixtures that kill dandelions and a combination of common weeds.
There are several options of dandelion killers, unlike other weeds that do not have a single mix for their control and eradication.
Some dandelion killers are quick to action while others are slow to act but eventually do the job. Listed below are some of our top choices of dandelion killers you can choose from.
Read Also: Can Vinegar Kill Powdery Mildew on Plants?
Best Dandelion Killer Reviews
1. Scotts Turf Builder Weed and Feed 3
Sale
Scotts Turf Builder Weed and Feed 3; Covers up to 5,000 Sq. Ft., Fertilizer, 14.29 lbs.
Scotts Turf Builder Weed and Feed3 weed killer plus fertilizer kills existing weeds and feeds to thicken your lawn and crowd out future weeds
Weed and feed utilizes WeedGrip Technology to grip onto and kill the weeds you see and the ones you don't
Controls over 50 listed lawn weeds, including clover, dandelion, plantain, morningglory, chicory, eveningprimrose, and purslane
This lawn care product can be applied to Bahiagrass, Bermudagrass, Bluegrass, Centipedegrass, Fescue, Ryegrass, and Zoysiagrass
One 14.29 lb. bag of Scotts Turf Builder Weed and Feed3 covers 5,000 sq. ft.
Last update on 2023-05-30 / Affiliate links / Images from Amazon Product Advertising API
This is a selective post-emergence chemical. It works on dandelions and clover and eradicates a couple of other common weeds.
To use Scotts Turf Builder Weed and Feed 3, you will need to water your lawn and then use a spreader to evenly spread the granules on your lawn.
Keep your kids and pets away from your lawn for at least 24 hours after spreading the granules. 24-hours is enough time for the product to activate and commence its work.
However, kids and pets can be left out on the lawn when the products have dried on the lawn. It is safe at such a time.
The Scott Turf Builder Weed and Feed 3 is considered the best dandelion killer for lawns. It is also potent against edible vegetables; ensure you keep the product away from your planting beds; else, your vegetables will come out limply.
Important to note is that the Scott Turf Builder Weed and Feed 3 may thicken the lawn grasses after its application. It would also improve the grass' greenness and generally improving the health of the lawn, as what does not kill weeds usually goes to offer essential nutrients to grasses.

Pros
It is powerful against dandelion and clover
It has a weed grip technology that grips on visible and non-visible weeds
It thickens lawn grasses to crowd out weed
Cons
It hurts useful vegetables when it comes in contact with planting beds
2. Roundup Weed and Grass Killer III
Roundup Ready-To-Use Weed & Grass Killer III -- with Sure Shot Wand, Use in & Around Vegetable Gardens, Tree Rings, Flower Beds, Patios & More, Kills to the Root, 1.33 gal.
Kills existing weeds and grass to the rootguaranteed (Consumer Guarantee: If for any reason you are not satisfied after using this product, simply send us original proof of purchase and we will refund the purchase price)
Protective Shield fits over weeds to contain spray and help protect desirable plants
Use in and around vegetable gardens, flower beds, tree rings and mulched beds, as well as on cracks in driveways, walkways and patios
Rainproof in 10 minutes
Visible results in 3 hours
Last update on 2023-05-30 / Affiliate links / Images from Amazon Product Advertising API
Roundup weed and grass killer III is a fast dandelion and weed killer. It kills dandelions within just three hours of application. The herbicide becomes rainproof after 10 minutes of application. That means that you need not bother about losing it to rainwater.
Roundup weed and grass killer III is one of those herbicides that do not require combination with any other substance. So if you are one of those persons that do not enjoy mixing herbicides, this dandelion killer should be your go-to brand.
This herbicide is safe for vegetable gardens and flower beds, but you should not spray it on the vegetable or other plants directly, as it will kill them off.
Read Also: Best Tomato Companion Plants
This herbicide is also used to eliminate dandelions that grow on the border of your backyard fence. This would save you the stress of trimming weeds off your backyard fence.

Pros
It is a fast action dandelion killer
It has a quick timeframe to become rainproof
It does not require combination with other substance to be used
Cons
It kills edible plants and flowers when it comes in contact with them
3. Espoma Organic Weed Preventer
Sale
Espoma Organic Weed Preventer-25 lb. CGP25, 25 lb
Made from corn gluten meal
Feeds lawns to ensure a deep, green color and prevents weeds by inhibiting root development in seedlings
Apply twice per year, early spring and fall
Granulated for easy application, Espoma Organic Weed Preventer provides long lasting nitrogen for a thicker, greener lawn
Children and pets can safely play on lawn after application.
Last update on 2023-05-30 / Affiliate links / Images from Amazon Product Advertising API
The Espoma organic weed preventer is a corn-based nitrogen pellet that kills weeds and prevents the growth of weeds. This nitrogen pellet provides nourishment to lawns while it is also getting rid of likely weeds.
Unlike other dandelion killers, Espoma organic weed preventer is applied to desired areas only twice a year for effective performance and results.
Espoma functions well in preventing weed growth. It is a weed preventer. It does not kill existing well-grown weeds.
If you have existing weeds, you will need to pull the weeds out by their roots, otherwise, they would keep growing. And the nitrogen in the Espoma organic weed controller would help in nourishing the weeds.
Espoma organic weed controller as one of the best dandelion killers helps in preventing new dandelions from sprouting. It protects against crabgrass as well.
So, once your lawn has been well taken care of, and the weeds in it have been removed by their roots, an application of Espoma organic weed controller will do a nice job of preventing new weed growth!

Pros
It prevents the growth of weeds
It is applied only twice a year, yet it remains effective
It is good for large lawns
It feeds grasses
Cons
It is not good at killing weeds
4. Preen Garden Weed Preventer
Sale
Preen Extended Control Weed Preventer - 4.93 lb. Bottle - Covers 805 sq. ft.
1 Application blocks weeds up to 6 months guaranteed
When used as directed Preen Extended Control Weed Preventer can be used around more than 600 perennials, groundcovers, shrubs and trees as listed on the product label
Flip-top applicator cap makes it easy to apply
Not intended for use on flower seeds, lawns, vegetable gardens, water gardens or other food-producing or edible plants
Not available for sale in NY
Last update on 2023-05-30 / Affiliate links / Images from Amazon Product Advertising API
Preen garden weed preventer is best used on large mulched areas. It is in a form of granulated formula. Preen garden weed preventer as its name implies functions effectively as a weed preventer. It prevents a wide range of weeds and unwelcome plants from spots where it has been sprayed.
This weed preventer can be safely used around vegetable gardens, as it has been reported to be safe around about 200 different types of plants including edible plants and ornamental plants.
Preen garden weed preventer is used by simply applying the formula on the mulch, and watering the formula to sink deep into the soil.
On the soil's surface, the formula will bond with the soil and thereby prevents weeds from sprouting for up to three months after each application.
To keep dandelions from sprouting and growing further than they have already grown around your plants, this formula will keep them in check. Also, if you are looking to keep your mulch area from being invaded by weeds, Preen garden weed preventer is your best bet!

Pros
It is used on large mulched areas
It is safe around over 200 edible and ornamental plants
Cons
It does not kill dandelions and weeds
5. Southern Ag Amine 24-D Weed Killer
Last update on 2023-05-30 / Affiliate links / Images from Amazon Product Advertising API
Southern Ag 2,4-D Amine weed killer is arguably one of the best dandelion killers one can get. It can be safely used on most types of lawn grass without the risk of killing the grasses.
This formula was prepared to be safe to be used on some vegetations but it is powerful against broadleaf plants. However, if you use the formula close to the vegetable plant, the vegetables should be covered, so that they don't accidentally get sprayed upon.
That is because some herbs or vegetables are sensitive to this formula if a sufficient amount of the formula is sprayed on them.
Also, to be on the safe side, formulas that are specifically made for edible plants should be sprayed close to those edible plants to avoid plant poisoning or death of plants, in adverse situations.
Read Also: How to Kill Powdery Mildew Using Baking Soda
Southern Ag 2,4-D Amine weed killer is used by simply mixing a little portion of this formula with water and spraying the mixture onto your yard. This gets rid of dandelions and ensures that they do not re-grow again.

Pros
It kills dandelions effectively
It grows lawn grasses
It is safe on some vegetable plants
It is lightweight
Cons
Requires mixing with water before usage
It takes up to two weeks to work
It is small in size
6. Ortho Ground Clear Vegetation Killer Concentrate
Ortho GroundClear Vegetation Killer Concentrate, 32-Ounce
Kills existing vegetation and prevents new growth for up to 1 year
Use on driveways, patios, gravel paths, fence rows and rock landscapes where no vegetation is
5% Glyphosate, 0.08 % Imazapyr
32-oz. container mixes with water to cover up to 75 sq. ft.
Last update on 2023-05-30 / Affiliate links / Images from Amazon Product Advertising API
Ortho ground clear vegetation killer concentrate is a fast-acting anti-weed formula. It works within hours of application on affected areas. However, depending on the severity of the weed, Ortho ground might take a few days to show visible results.
It acts as a weed killer and weed preventer. Ortho ground formula kills weeds from any type of area and spot. It also prevents the growth of weed for up to a year after application.
Ortho ground is used either by sprinkling it on desired areas or spraying it on the desired area. The container gives a detailed option on the method or manner of dispersal.
Also, the type of coverage you wish to achieve determines the method of dispersal you would adopt. Many users have reported that spraying Ortho ground seems to be the most effective method of dispersal with maximum coverage.
Ortho ground, as stated, kills weeds and prevents re-growth of weeds for a long time. To ensure that the weeds stay low for this long period of time, you will have to go over the same spot sprayed or sprinkled up on a couple of times again.
This ensures that every nook and cranny of the area has been duly covered and this speeds up results as well.

Pros
It is a fast acting formula
It gives quick results in a matter of hours
It is easy to apply
Cons
Requires several applications
7. Compare-N-Save Concentrate Grass and Weed Killer
Compare-N-Save 75324 Herbicide, 1-gallon, white
Rainproof in 2 hours
Visible results in as little as 2 to 4 days
Contains 41-percent glyphosate
Covers over 25,000 square feet
Makes up to 85 gal. of ready-to-use spray. Note: Packaging may vary
Last update on 2023-05-30 / Affiliate links / Images from Amazon Product Advertising API
This formula comes in an all ready to use package. As a result, you do not require mixing it with water or any other chemical. Thus, it easy to use and saves a lot of time.
This formula can be used anywhere that has weeds that should go away on it. It comes in a 2.5-gallon container and can be used to treat an area of more than 630,000 square feet.
After application, results show up after about 2 to 4 days. Ensure to douse the weeds with a heavy layer of the formula. This will maximize the results and hasten up the elimination process.
For best results, apply the formula on a warm sunny day. Spray it away from plants, as it could harm plants when it comes in contact with them.
An important detail to note about this formula is that it is not safe for kids and pets. However, customers who have used this formula reported that once the formula dries up, its toxicity diminishes.
Kids and pets should be kept away from areas that have been freshly sprayed with this formula!

Pros
It gives a good coverage
It gives quick result
Highly effective
Pocket friendly
Cons
It is toxic to some plants
Unsafe for kids and pets
Dandelion Killer Buyer's Guide| What to Consider While Buying One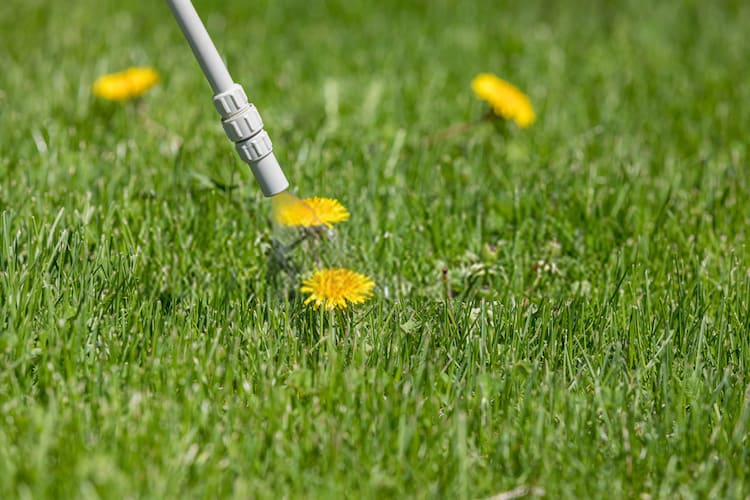 In order to buy the best dandelion killer that suits your personal needs, you must know what to look out for. There are varieties of properties that make for a good dandelion killer.
Outlined below is the information that will guide you in choosing the best dandelion killer for your lawn.
Organic Vs. Chemical
There are both organic and chemical dandelion killers, and each comes with their own benefits and flaws.
An organic killer kills weeds at a very slow pace and sometimes requires to be applied a couple of times to take it. However, it causes no harm to anyone or anything that comes in contact with it- kids and pets inclusive.
Meanwhile, a chemical killer eliminates weeds at a fast pace, but it does cause harm to kids, pests, and some vegetation.
Pre-Emergent vs. Post-Emergent
Once you have chosen to buy an organic killer or chemical killer, the next option is to choose whether the killer should be pre-emergent or post-emergent.
A pre-emergent killer aims to prevent the growth of dandelions. Thus it is applied on the lawn before the emergence of dandelions.
They are usually either in liquid or granular forms and are applied on the lawn and then watered down into the soil to activate the active ingredients against the growth of dandelions.
Meanwhile, post-emergent killers contain ingredients that halt the growth of dandelions. Some people use this killer alongside other chemicals that discourage the re-growth of dandelions. Hence, they have a mix of chemicals that halt the growth and re-emergence of dandelions.
To ensure that the dandelions do not grow back, ensure to saturate their base, leaves, and stems with the chemical.
Selectivity and Persistence
Selectivity talks about the mode of action of the killer. A selective killer kills just dandelions and does not affect any other plant within its reach, while a non-selective killer kills everything it comes in contact with.
Persistence describes how long a product would remain active. Products that have a lasting effect and discourage new growth of weeds are described as Persistent Products, while the products that do not stay active after a while and allow new growth are described as non-persistent products.
Depending on personal preferences, you may wish to buy either a selective persistent product or a non-selective non-persistent product.
The durability of the Product
Some products are used in all kinds of weather, while some are used only when the weather is either rainy or sunny. Knowing the kind of weather a product endures will enable you to use the product at your own convenience.
You can find out the durability of a product by reading reviews of the products, checking the product's manual or by contacting the seller. Make sure you know this before buying a product to save yourself time and money.
Here, you also check the type of weed the products work well against. If you are not sure of which to buy, simply go for a multi-purpose killer. It gets rid of all weed types, but you can also go for a specific type of product.
Read Also: How to Eliminate Powdery Mildew on Plants
How to Prevent Dandelions in your Garden?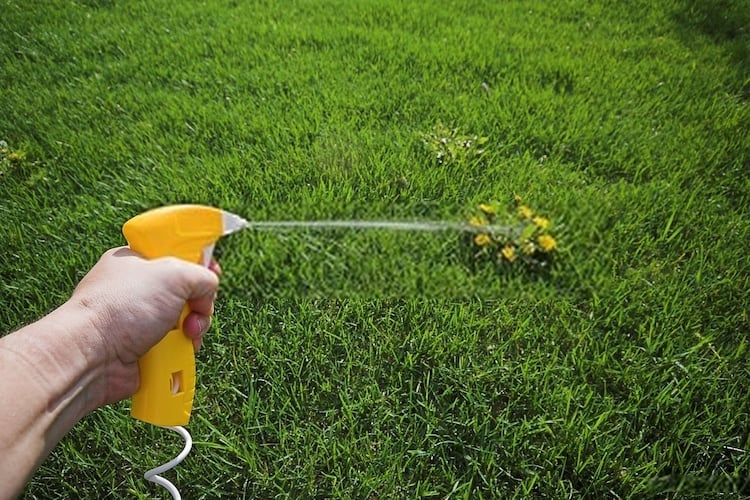 Dandelions are prevented by spraying or sprinkling pre-emergent herbicides on lawns. A pre-emergent herbicide prevents dandelion seeds from germinating and should be applied in late winter for optimal effectiveness.
Another way of preventing dandelions is by ensuring that the dandelions do not form seeds. Once the seeds appear, the dandelions will multiply exponentially and would be hard to control at that level. So, to prevent its growth and spread, take action before the emergence of its seeds!
How to Get Rid of Dandelions with Herbicides
To get rid of dandelions with herbicides, there are two herbicides that get the job done. The first herbicide is selective broadleaf, while the other herbicide is non-selective.
A broadleaf herbicide kills only broadleaf weeds like dandelions. Broadleaf herbicides are good for killing dandelions that grow in lawns as the herbicides do not attack grasses but dandelions.
Meanwhile, a non-selective herbicide removes spot dandelions, that is, dandelions that grow in walkways and in flower beds.
Herbicides work effectively against dandelions when the dandelions have not developed flowers yet. Dandelions become more resistant to herbicides when their flowers have emerged.
The Science Behind Herbicides
Herbicides are chemical products that are made solely for the purpose of killing unwanted plants and herbs. Scientifically, herbicides are either broad-spectrum in action or selective in action.
Broad-spectrum herbicides are scientifically made to kill anything green that comes in contact with it- this includes both wanted and unwanted plants.
A majority of organic herbicides are broad-spectrum in nature, with only a handful of chemical herbicides being broad-spectrum in nature.
Selective herbicides are scientifically made to kill only a targeted group of unwanted plants. Selective herbicides are usually not as potent as broad-spectrum herbicides and require multiple applications for results to appear.
Organic selective herbicides kill just weed seeds and not living weeds, but some chemical selective herbicides kill both weed seeds and living weeds.
How Herbicides Work
Herbicides, whether broad-spectrum, selective, organic, or chemical works in one of these three ways:
Pre-plant Herbicide
Herbicides used here are sprayed on soils at about 14 to 45 days before planting seeds or plant and such herbicides are used in grand agricultural settings.
The herbicides work by getting rid of any weed that may be in the soil or getting ready to appear. However, it sometimes causes wanted plants grown not to develop accordingly. But this drawback is overcome through rapid plough and spraying.
Pre-emergence Herbicide
Pre-emergent herbicides work to prevent weed seeds from germinating and spreading through a garden or lawn. They do not eliminate grown weeds and would have no effect on weeds whose seeds are developed already. They are available in either granules or sprays.
Post-emergence Herbicide
Herbicides in this category kill already grown and developed weeds. They weaken the weeds until the weeds die off. Organic post-emergent herbicides target just young weeds, while chemical post-emergent herbicides effectively kill both old and young weeds.
Read Also: Different Causes of Powdery Mildew
Frequently Asked Questions
Are dandelions weeds?
Yes, dandelions are weeds because they compete for resources with other wanted plants.
Are there dandelion killers that are all-natural products?
No, there aren't. Any product that is labeled as a selective dandelion killer will use chemicals to kill the weeds.
Which weed killer is best against dandelions: liquid or granular?
Each of them has its own drawbacks and benefits. A liquid weed killer would be applied using a sprayer and would adhere to the dandelion parts and penetrate the soil easily.
However, it takes time to mix and apply. Granular weed killer is sprinkled on the soil and some parts might get blown away as it does not adhere to any weed part, but it is faster to apply.
When is the best time to spray dandelions?
The best time is early springs when the dandelions are just appearing and still small. Also, late fall is a good time too.
How long does it take dandelion killers to work?
It typically takes dandelion killers about 1 to 3 weeks to work because the products vary in chemical compositions and the weeds vary in species as well. Some killers take about just 3 hours to work.
Is my pet safe around my yard after I use dandelion killer?
No, dandelion killers are toxic to pets and kids. Pets should be kept away from areas that have sprayed or spread with dandelion killers until the chemicals dry up.
Conclusion
Having gone through this entire article, you are probably looking for the best dandelion killer and it is our hope that your needs were met with the different types and brands of best dandelion killers we outlined.
Every dandelion killer mentioned here are either specific in action against only dandelion or against dandelions and other weeds and have been tested and proven to be effective.
Ensure to make the best decisions based on the severity of the dandelion infestation, time of the year, and grass type.