If you're looking for some of the most attractive and inexpensive retaining wall ideas that will add some beauty to your retaining wall, we've got you covered here.
In the past, retaining walls were made from concrete because of its strength and durability. The drawback of concrete retaining walls is that they are not aesthetically pleasing.
A retaining wall should, in addition to serving a practical purpose around a home, be pleasant to look at all the time.
A retaining wall is used to level uneven grounds around a home. Retaining walls keep soil on the side of a building while that the other side of the wall has a lower even floor level.
While we mentioned that a retaining wall should be strong, durable, and aesthetically pleasing, too, here are some beautiful retaining wall designs. These ideas would give you a glimpse of practical and pleasing retaining walls.
Inexpensive Retaining Wall Ideas For Your Garden
1. Timber Retaining Walls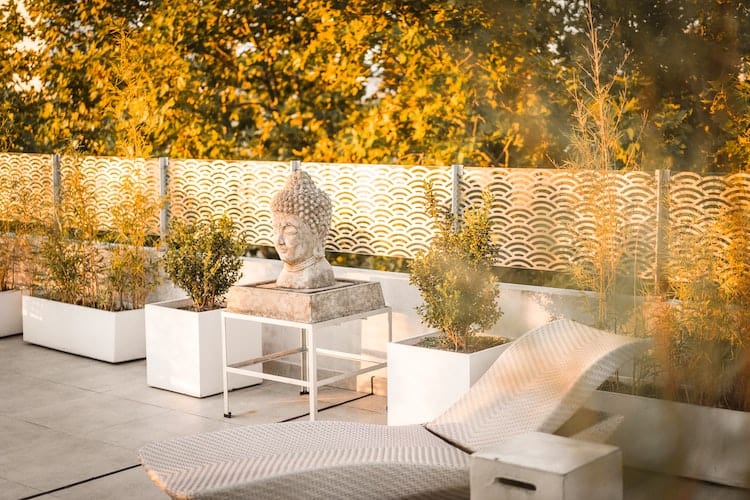 Timber retaining walls, also known as sturdy or wooden fences, are wall ideas you would consider if you are working on a budget to either build a new retaining wall or replace an existing wall.
Timber retaining walls are cost-effective when compared to stone or concrete walls. They are also better looking, giving a neater, and a more uniform look to the landscape.
Timber retaining walls are easy to install and has become one of the sought after materials used in creating DIY retaining walls. Timber retaining walls also possess the ability to be modified into any shape, or design which is difficult with concrete and stone walls.
However, you must use robust timbers in constructing the retaining walls to ensure strength against the weight of soil on the other side.
Timbers generally have a shorter life span than concrete and stone retaining walls, because they cannot withstand extreme weather conditions and moisture.
This means that you would have to frequently reinforce the retaining wall or replace it than you would with concrete or stone walls.
Read Also: Fast Growing Ground Covers For Slopes
2. Patchwork Stone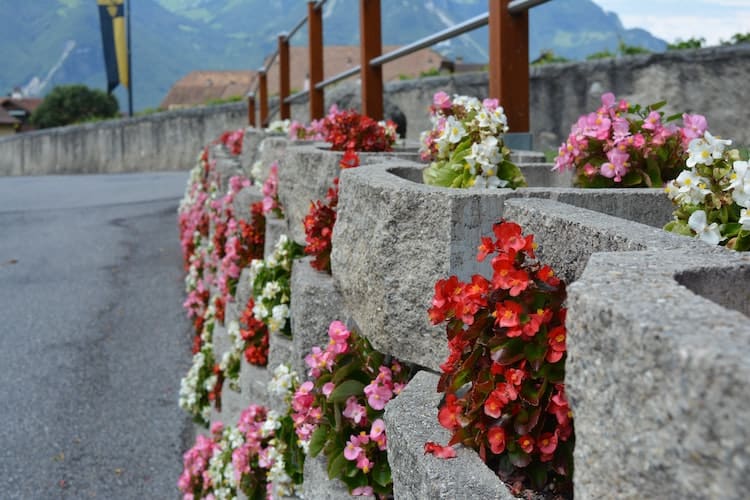 Patchwork stone retaining wall usually looks like a patchwork blanket lovingly sewn by grannies. It is achieved by intentionally laying colored blocks in a haphazard style.
Bricks or stones with slightly round edges are chosen over angular bricks to achieve this look. This is because the somewhat round-edged bricks give a relaxed and comfortable look after being laid out, unlike the angular bricks that provide a harsher feel when used.
To achieve a cozier and warm feel, you should use warm-colored bricks that match the style of your home. This would ensure continuity throughout your property.
3. Concrete Planter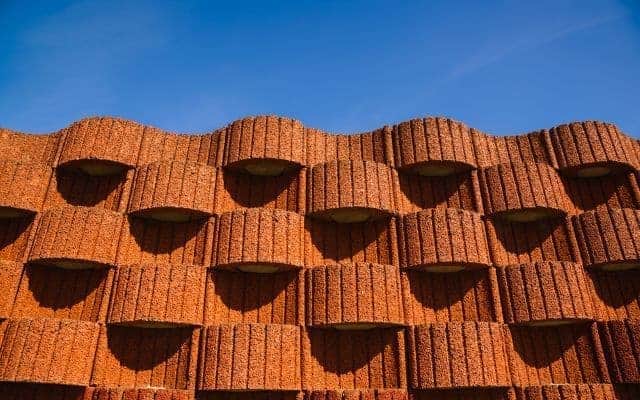 A concrete planter retaining wall is an idea used by those who want to kill two birds with a stone. They get to have space to grow more plants and have meticulously arranged planters that form an aesthetically pleasing retaining wall.
This kind of retaining wall is achieved by stacking concrete planter together in a definite shape of your choosing, taste, and preference.
Read Also: Evergreen Ground Cover Plants
4. Irregular Flagstone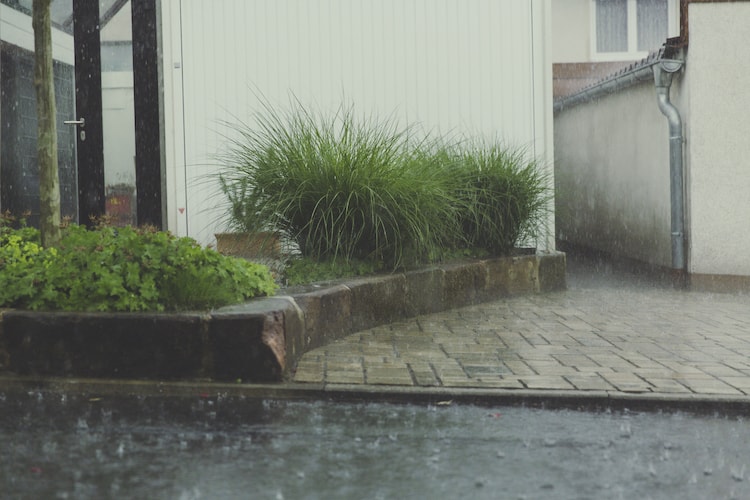 Irregular flagstone retaining wall is a functional and aesthetically pleasing wall but requires the help of a specialist to get it fixed. It usually does not fall under the category of DIY projects, due to the heavy jobs involved.
Flagstone retaining wall is achieved by piling together with different masses of irregularly sized and shaped pieces of rocks. It gives a rugged look to the entire landscape, and its lack of uniformity makes it feel more earthy and rustic.
Despite its lack of uniformity, the flagstones still give a stylish and modern look to structures they are placed around.
An important factor in achieving a stylish flagstone retaining wall is to lay stones of pleasant colors. When it comes to colors, grey always stands out. Grey is a contemporary color and offers an impressive outlook on the entire property.
The unique selling point of flagstone retaining walls lies in the sheer size of the stones and the stones' irregularity. It makes the wall stand out and classy!
5. Gabion
Gabion retaining walls are budget-friendly walls made with iron cages and filled with rocks, recycled materials, or rubbles. Gabion walls are also used for various purposes, such as benches, planters, and fence foundations.
Gabion retaining walls, in addition to the purposes mentioned above, are used to prevent soil erosion and improve garden décor.
Gabion retaining wall is easy to install and lasts long. Gabion, however, has some significant drawbacks, such as becoming a hiding place for wild plants and weeds to thrive in. Also, the iron cages rust eventually and wear away with time.
6. Decorative Block Work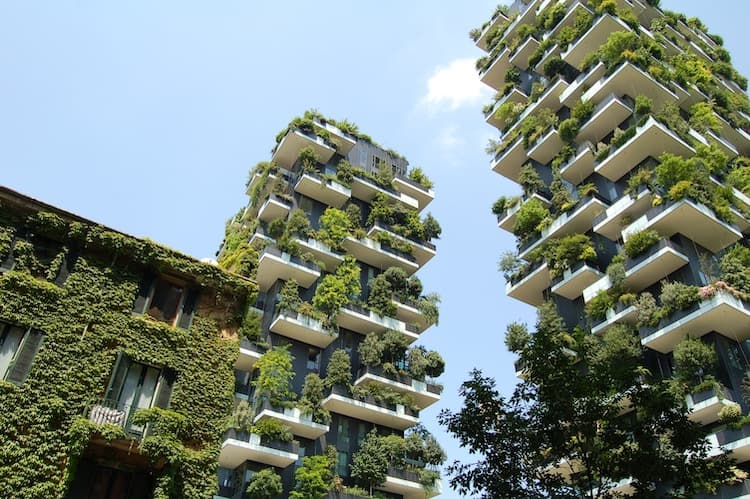 The decorative block work retaining wall is a futuristic retaining wall idea that is achieved by meticulously laying blocks of precise measurements in a repeating pattern.
Its repetitive pattern gives it a grand scale look and a classy background for landscape. This retaining wall is usually used for big spaces but can give an impressive look when sued for small spaces.
7. Natural Stone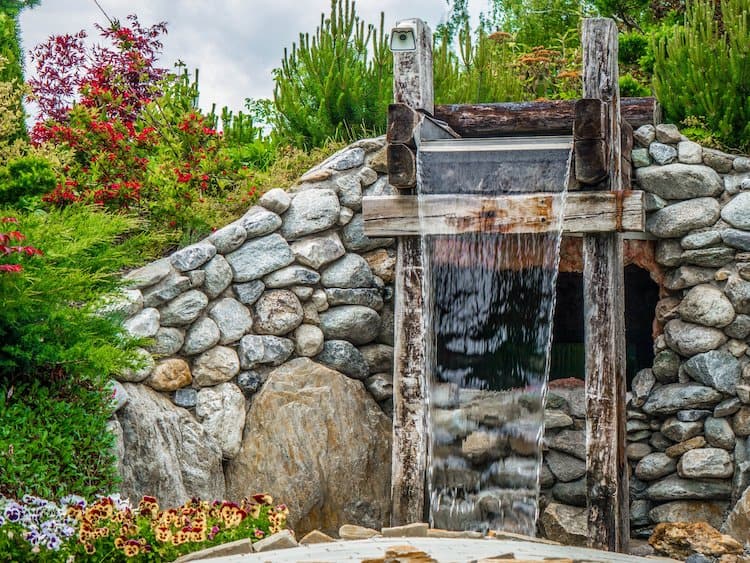 Natural stones are used as retaining walls in properties with large spaces because the stones used are quite enormous and will not do justice to the small spaced property.
Fixing a natural stone retaining wall would require the service of professionals because of heavy lifting that would be done.
Natural stones, when used retaining walls, offer a natural look, unique shape, and design to your yard. Its drawback lies in the fact that it is quite hard to find a stone with a good base as most of the stones are irregular in shape. But once a base is achieved, the entire wall stands out in uniqueness.
Read Also: Difference Between Blue Star Creeper and Creeping Thyme
8. Sandstone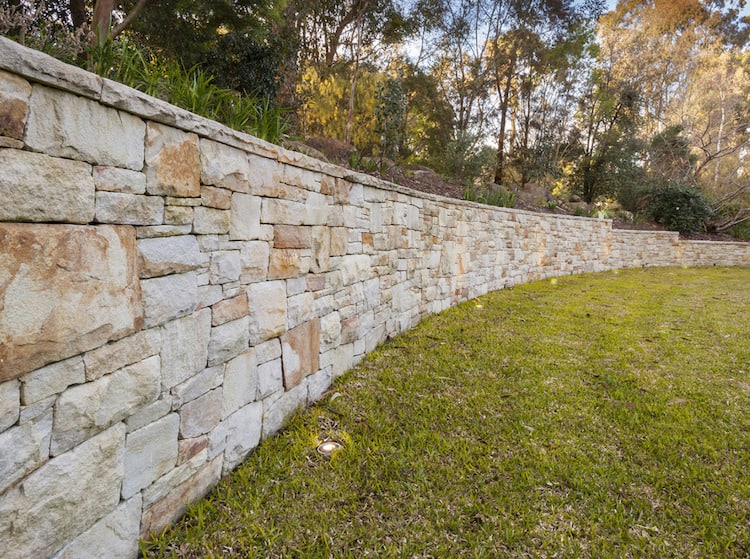 Sandstone is quite on the pricey side of retaining walls. It lasts for a lifetime and is of high quality. So if you are buoyant enough to invest in a lifelong retaining wall that would give you a perfect blend of modern design with a hint of heritage and history, then sandstone retaining wall should be your ideal choice.
The sandstone retaining wall is achieved by laying pale sandstones in a consistent block pattern, and it evokes a feeling of old-world luxury without appearing to be fussy.
9. Old Tire Block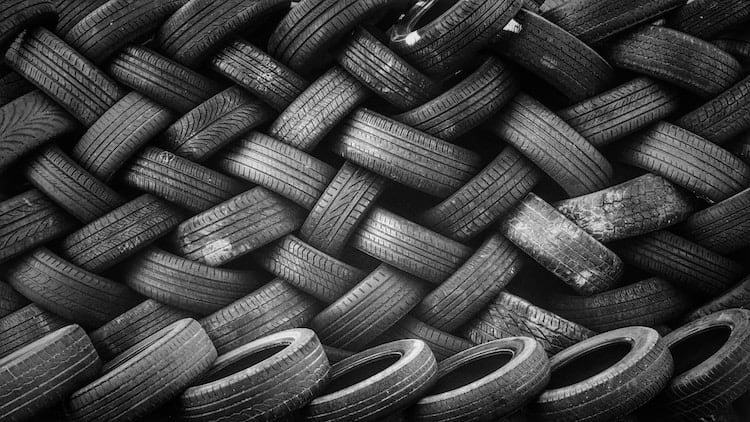 If you are like us that are keen on helping tackle climate issues and recycling, then the old tire block retaining wall should be your go-to retaining wall idea.
Old tires are continually being recycled and reused for a lot of useful ideas such as making furniture, planters, and even a retaining wall.
An old tire block retaining wall is achieved by laying old tires in a definite pattern or shape of your choosing and preference. You can also set them up to form planters while they serve as retaining walls.
This retaining wall lasts long because rubber is known for its longevity and durability. With this choice of retaining wall, you would be doing the world a huge environmental favor while enhancing the outlook of your space.
10. Multicolor Mosaic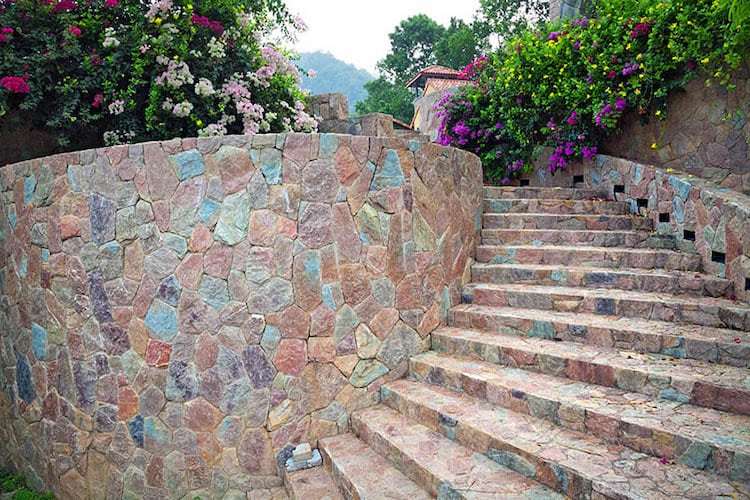 This retaining wall is basically made up of natural stone pebbles in different varieties of colors. One of the most favorite colors used is pastel. Pastel offers a fun, quirky look that is neither too bold nor all over the place.
Multicolor mosaics are used as retaining colors when you do want to brighten your yard, but you are not so keen on gardening or growing bright-colored flowering plants.
Usually, when using this type of retaining wall, the staircase is integrated into the same pattern in order to form a continuous blend that seamlessly features into the landscape.
11. Integrated Steps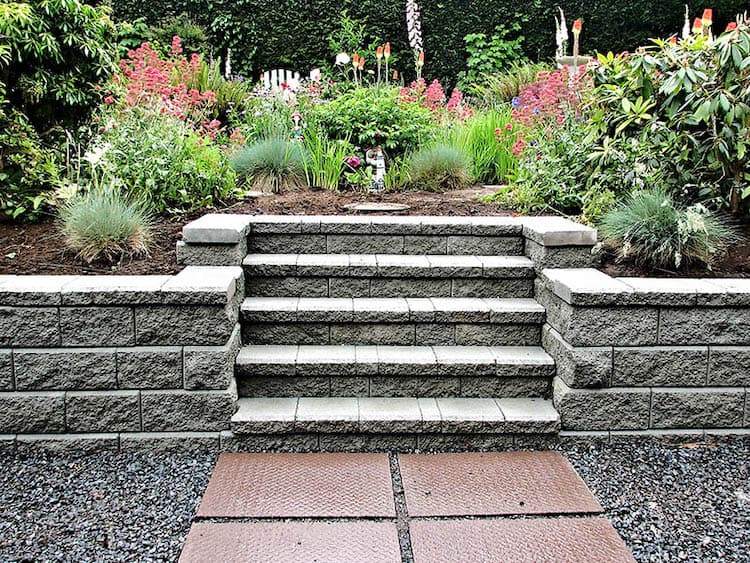 An integrated step retaining wall is born out the need to create a fascinating retaining wall. Such a wall offers passers-by something to look at when they pass by.
Additionally, it aids create access to the garden. Instead of climbing a wall to get through to your garden, you can easily walk through each row and tend to your plants.
12. Tiered Terrace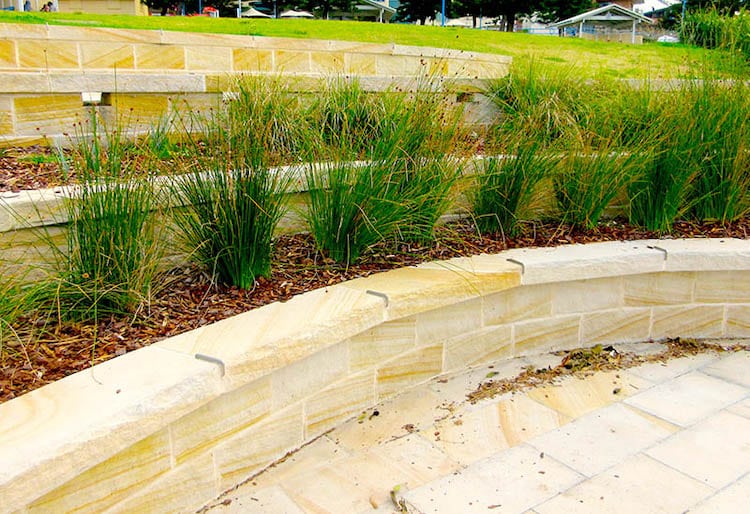 Tiered terrace retaining walls provide opportunities for you to create rows of flower beds on each level. It also provides an area where you can fill with solar lights and decorative pebbles.
The drawbacks of tiered terrace retaining wall include the fact they are not cheap to install, and they require more materials to construct. Making the tiered terrace is time intensive as well, and its installation requires the help of professionals. Its installation is not a DIY project.
13. Concrete Cylinders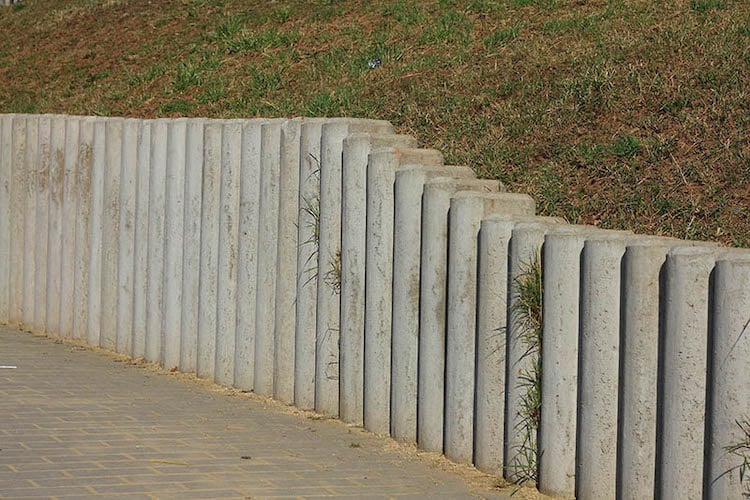 Concrete cylinder retaining walls are usually installed in minimalist homes that are contemporary and architecturally individual. Concrete cylinders, when used as retaining walls, projects an industrial and ultra-modern look to the landscape.
Such a retaining wall could be used in mainstream properties because of its simplistic background nature that fits in comfortably as a background and not the critical feature in the landscape.
14. Tiered Hedge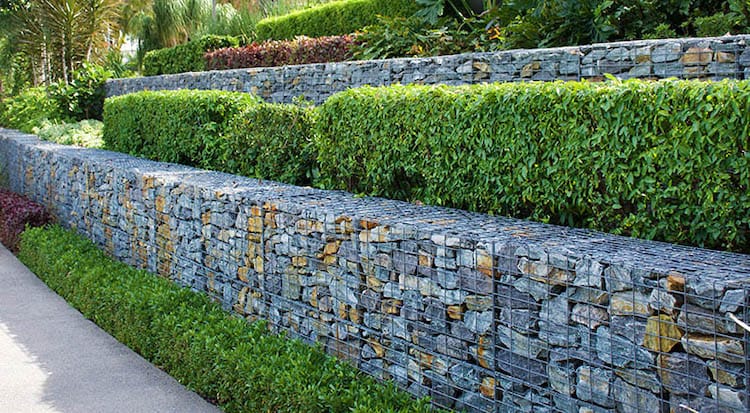 Tiered hedge retaining wall is a combination of a tiered terrace and a gabion retaining wall. It is constructed by using gabions interspersed with rows of hedges to achieve a modern look yet with greenery lush.
A tiered hedge retaining wall is achieved by leaving enough space between each tier to grow a thick hedge. This hedge shouldn't be left to grow out of control and become messy. It should be pruned as at when due, to retain its classy style and appearance.
To create a sharp contrast against the bright greenery of the hedge foliage, use dark or very pale pebble in the gabion. Pebbles of medium color would not create a striking difference in the tier.
Read Also: Pachysandra Seeds Care Tips
15. Living Wall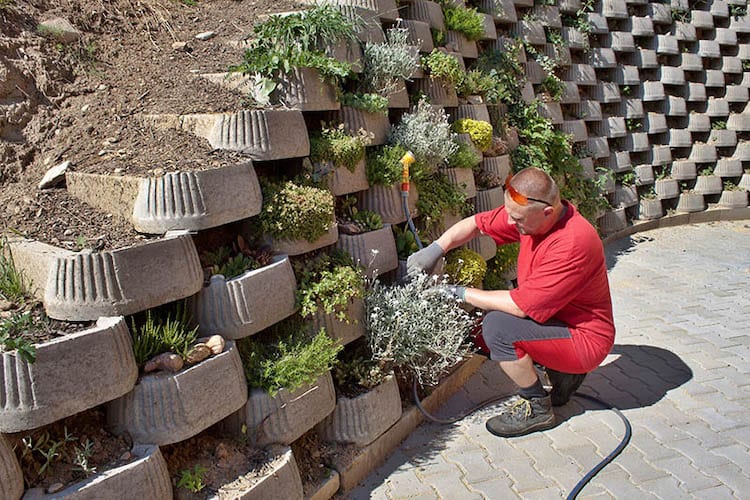 This retaining wall has an exciting feature to it. It is achieved simply by laying concrete slabs in a brickwork pattern, but the difference here is that gaps are left in between each concrete. This space is then filled with plants, thus creating a living retaining wall.
This retaining wall is usually opted for by people who like plants and its greenery effect. Although the wall is built by a professional, an avid gardener can fill the gaps with plants of his/her choosing and preference.
Another interesting fact to this wall is that as the plants grow, they will get to a point where they will cover up the entire wall, and the concrete would no longer be seen.
At such time, the wall would have an impression of a solid green wall made up of just plants. It's such a delight to behold.
16. Boulder Stack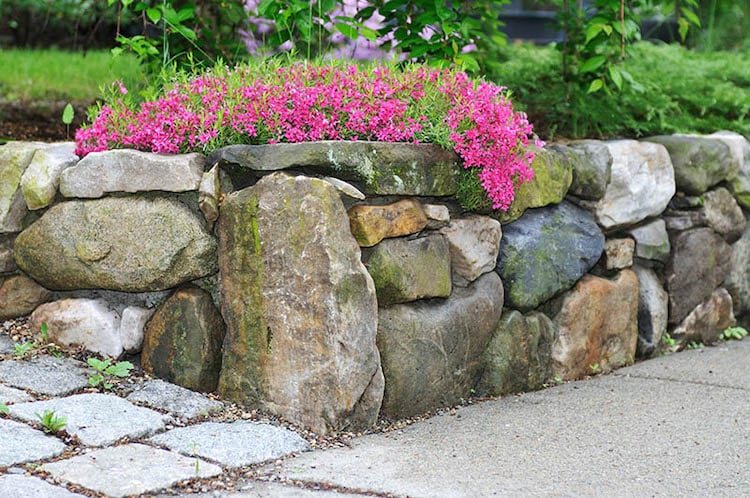 The boulder stack retaining wall is a suitable retaining wall for walls that are only a few feet high. This design can be easily installed without the help of professionals. All that is required is getting some boulders in a variety of sizes from a DIY store or a garden center.
To construct it, stack the boulders on top of each other while trying to cover up spaces with the appropriately sized boulder.
To ensure longevity, add a layer of builders' sand or concrete between the boulders. The concrete or sand would reinforce the wall.
17. Low Block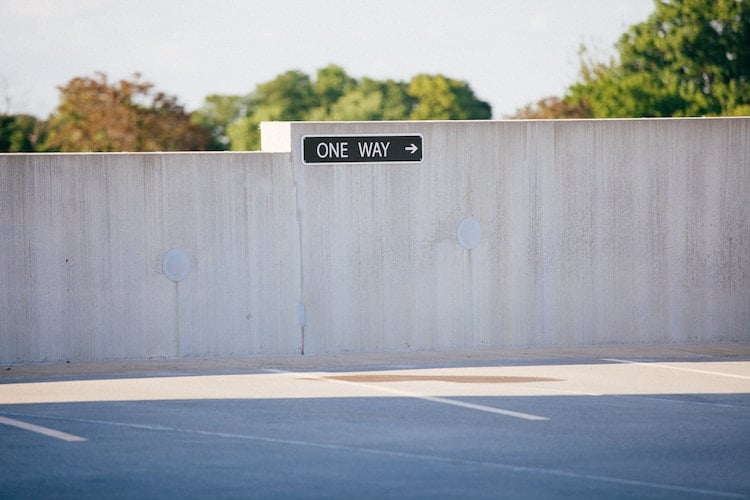 This is another suitable retaining wall design for walls that are of low height. A low height retaining wall is constructed with breeze blocks, also known as concrete masonry units.
Breezeblocks are not expensive and are simple to lay. So if you are working with a budget, a low bloc retaining wall should be your go-to design.
18. Camouflage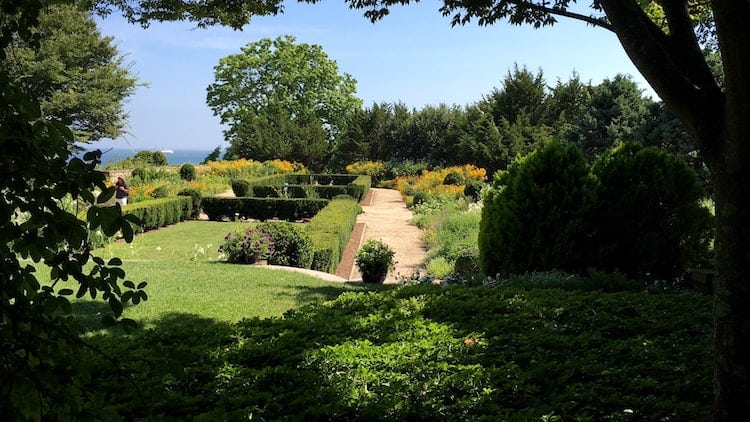 The camouflage retaining wall is more of an upgrade than an original retaining wall design. It is put up when there is an existing retaining wall that the owner isn't happy with.
What the owner does is to improve on the wall's appearance by growing large decorative plants on it, to give an impression of a living retaining wall.
Decorative plants like blue plumbago and other tropical shrubs and climbing trees are usually used for camouflage retaining walls. They grow quickly and cover the needed spaces as quickly as possible. But you must care for the plants for them to bloom accordingly.
19. Wall Cladding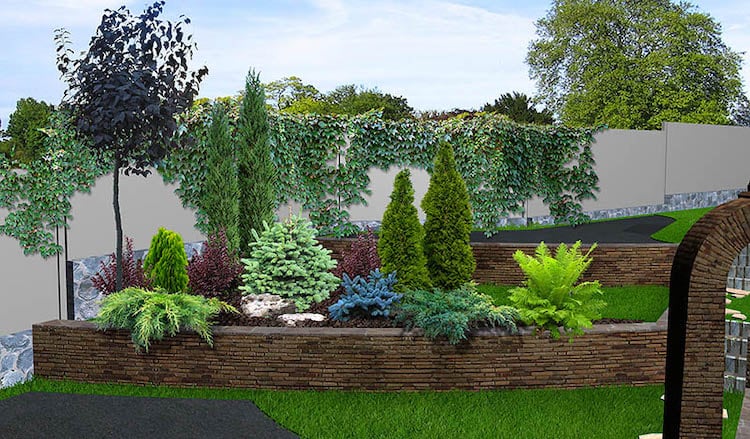 This retaining wall style is achieved by cladding tiered walls to give an impression of stacked natural stone. This style is usually cheaper than the real style it imitates.
Wall cladding retaining walls offers a classic and elegant style to the walls. You can also achieve this look by applying cladding on your already existing concrete wall, that is if you have a concrete retaining wall already.
Cladding upgrades a retaining wall without having to remove or rebuild the existing retaining wall.
20. Render and Paint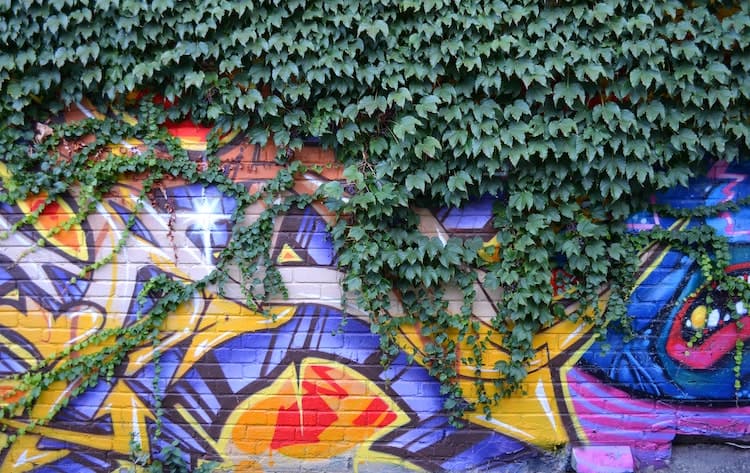 This retaining wall style is popular in warmer climates in the United States and Mediterranean countries such as Spain.
Render and paint retaining walls give a tropical style to homes. It also provides a sleek and crisp look at the landscape, especially when painted in white. Aside from white, you can choose other bold colors to paint the wall, or go with more natural color.
The paints would require routine maintenance and upgrade. You should paint the walls at least every two years to keep it looking neat.
21. Traditional Brick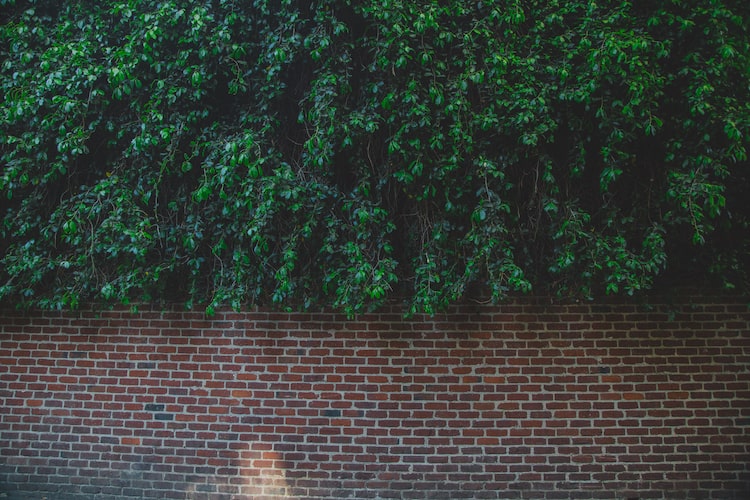 A classic brick retaining wall is an option for persons who have a traditional taste or are working on a tight budget for erecting a retaining wall. A conventional brick retaining wall has a traditional but neat look and easy to construct.
If you are good with handiwork, then constructing a traditional brick retaining wall wouldn't be a problem. Doing it yourself would also help cut the cost even further.
22. Flowerbeds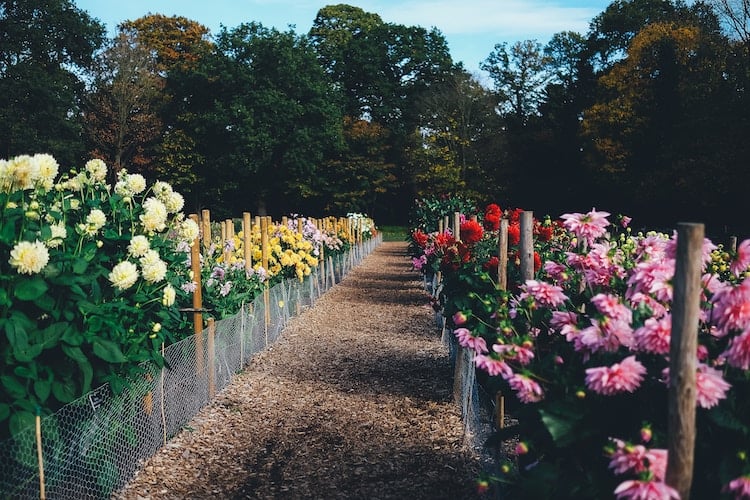 Flowerbed retaining walls are used to intentionally create a romantic look or bright colored atmosphere in your landscape.
It is achieved by planting cascading flowers on the highest level of soil on your retaining wall. These flowering plants will overshadow the wall and take up all the attention.
So even if your wall is not so good, these plants will cover it up while giving an entirely different and improves outlook on the landscape.
Trailing plants are usually used for this purpose. Trailing plants would cascade down over the wall. Imagine how beautiful that would look!
23. Irregular Layout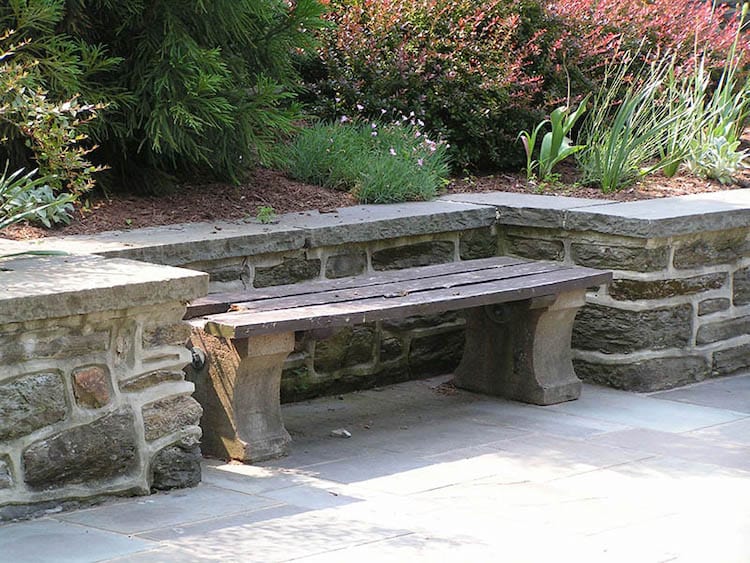 Most retaining walls are built in definite shapes of either straight or curved lines. However, you can break the norms by creating an irregular layout retaining wall.
Irregular retaining walls are built by laying blocks from unusual angles. Such walls due to the angle they are laid in, creating spaces for resting, wall benches, water features, or even for placing planters.
24. Light Up
Light up retaining wall basically consists of a cement block retaining wall that has been highlighted by the solar lamps strategically placed at intervals along the top of the wall.
Solar lamps are inexpensive when compared to other materials that could be added to highlight a retaining wall, such as plants. Since the lamps are solar-powered, there are no extra costs of running them nor maintaining them.
Such a wall is usually a sight to behold at night.
25. Mixed Stone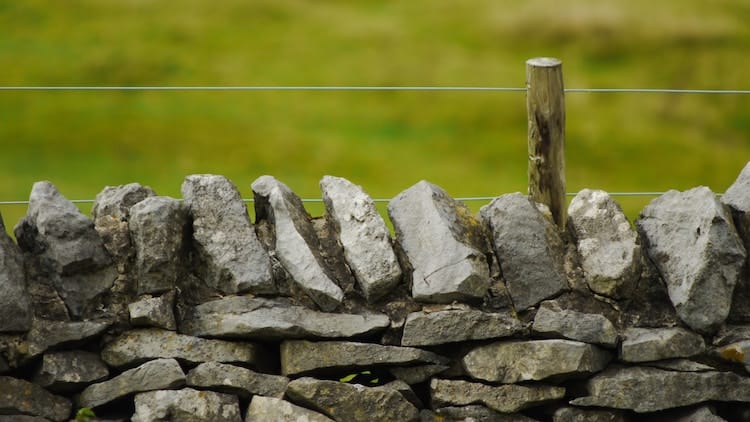 The mixed stone retaining wall consists of large and small stones put together to create a fantastic retaining wall.
It is achieved by laying large stones and then filling up spaces with smaller stones. To spice up the entire look, one could use stones of varying colors or even lay the stones in unusual angles.
Read Also: Ratchet Hand Pruner Reviews
Conclusion
Retaining walls contribute a lot to the way one feels about his/her home, and that is why you should not hold back your ideas when designing one.
As we shared above, you can improve on an already existing retaining wall if you feel that the current one does not appeal to you.
When you have a nicely designed and pleasing retaining wall, it will also encourage you to spend more time outside with your loved ones. It also raises the value of your home should you ever want to sell your property.
Hopefully, these retaining wall ideas have inspired you to transform your retaining walls into something appealing and classy as well.