We independently research and recommend the best products here. This article contains affiliate links. If you make a purchase after clicking on a link, we may earn a little commission at no extra cost to you.
If you have had some experience growing plants, you would have noticed that during winter, your plants look dull and wilted. That is because of the dry air that continually interacts with the plant.
This is not only restricted to the winter season. Generally, plants need a level of moisture to thrive in all seasons.
Well, the good thing is that introducing the best humidifier for plants will help supply enough moisture or humidity into the air, thus lowering the rate of evapotranspiration in the plants.
Best Humidifier for Plants
What Is Humidity?
Understanding what humidity is will help to determine how to condition the environment to favor certain plants.
Simply put, humidity is the amount of water vapor or moisture present in the air. Vapor is water in its gaseous state.
There are two types of humidity, and we discussed them briefly.
Relative humidity
Relative humidity (RH) is how much humidity present in the air compared to how much there could be at a certain temperature.
Absolute humidity
Absolute humidity (AH) is how much water is in a cubic meter of air.
Typically, the higher the temperature of an environment, the more water vapor it can hold. This statement can only be valid if there is the availability of water in the environment.
So it is almost impossible to increase the humidity of an environment without increasing the temperature. This is why plants that require high humidity also need higher temperatures too.
Read Also: Best Zero Turn Mower for Hills
What is Plant Humidifier?
Plant humidifiers, just like the standard convection humidifiers, are devices that add sufficient and controlled moisture to the surrounding.
They have a compartment where the water goes in. When connected to an electric outlet, it dissipates water vapor or steam to increase moisture levels in the air.
Benefits of Plant Humidifiers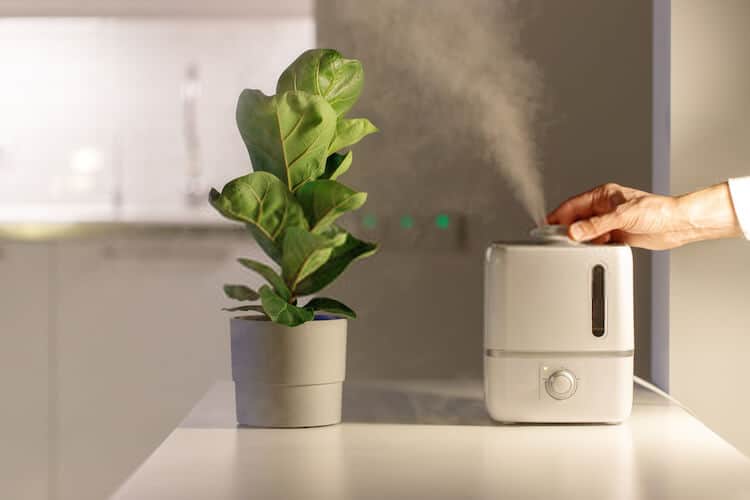 Now, let's look at some of the benefits of plant humidifiers:
Aids the health of leaves
Humidifiers help significantly in healing plant leaves and making them vibrant and smooth. When the leaves are healthy, the tipping of leaves is avoided. And if you may know, the leaves are responsible for manufacturing food for the entire plant.
Provides warmth for healthy growth
Humid air is always warmer than dry air like the one experienced during winter. A humidifier doesn't just only emit vapor but also increases the temperature of the surrounding.
So you will not need to turn on the heater. This, in turn, helps save cost in utility bills since humidifiers consume lesser power.
It helps enhance reproduction
The effects of low humidity in the plant's bud are discoloration and eventually leading to falling off. The buds of plants are responsible for reproduction. When they fall off, it means that the reproduction of plants will not occur.
With humidifiers, the plants are supplied with sufficient humidity needed for the buds to thrive and reproduce.
Why Do Some Plants Need Higher Humidity?
Most plants need a higher level of humidity to grow healthy. This is because when the surrounding air is dry, the pores through which the plants breathe loose most of their moisture.
Unfortunately, the plants cannot replace the loss of this water themselves through their root. After all, even the soil which they are rooted in has also got rapid evapotranspiration.
The thinner the leaves, the less water it is capable of holding. So the thinner the leaves, the greater the need for higher humidity.
All plants are different; they will require different levels of humidity. The following are some of the recommended humidity for common house plants.
Orchids – 40-70%
Most other houseplants: 40-60%
Ferns – 40-50%
Plant Humidifier Reviews
1. Homasy 4.5L Cool Mist Humidifiers
One of the qualities you will notice with this humidifier is the quiet operation. You will run it for hours without even noticing any unpleasant sound.
The elegant design will add beauty to your space. Thanks to the stainless steel construction. The 4.5L capacity of this plant humidifier ensures that it runs for over 30 hours by delivering up to 280ml/h.
Whether you just wish to humidify an area where your plant is located, or have got a large room of the cultivated plant, this humidifier is sure to deliver sufficient moisture for a 538 sqft enclosure.
Top-refill design is such that refilling the compartment with water is easy without having to splatter it around the space. With the shut auto-off feature, the humidifier will switch off when it runs out of the water, or the water level falls.
This humidifier is essential oil compatible. So, if you want to improve the environment of your space for your plants and also add fragrance to your home, this is a great choice.

Pros
Large 4.5L, and easy to fill tank
Features an ultra-quiet and 'night sleep mode.'
Mist level can be adjusted easily
Runs maximum for 30 hours continuously
Feature to add essential oil enhances its efficiency
Cons
Some customers complain about emitting a lot of mist
2. Pure Guardian H965AR Ultrasonic Cool Mist Humidifier
Pure Guardian H965AR Ultrasonic Cool Mist Humidifier, 70 Hrs. Run Time, 1 Gal. Tank Capacity, 320 Sq. Ft. Coverage, Small Rooms, Filter Free, Silver Clean Treated Tank, Includes Essential Oil Tray
COOL MIST HUMIDIFIER: The PureGuardian H965 ultrasonic cool mist humidifier guards against dry air in the home, perfect for those with colds, allergies and dry skin. The easy to fill 1 gallon tank is ideal for 320 sq. ft. rooms and runs up to 70 hours
SILVER CLEAN PROTECTED TANK: Silver Clean fights the growth of slimy mold and on the surface of the water tank-a common problem with traditional humidifiers.
AROMATHERAPY TRAY: The aromatherapy tray option helps create a relaxing environment with your favorite essential oil. Oils are not included. Create a better home environment and optimize your comfort with an ultra-quiet, soothing cool mist
ADDITIONAL FEATURES: This table top humidifier has a low water indicator light which lets you know when to refill the tank. The night light feature makes it a great addition to kid's rooms. Multi-directional mist, automatic shut-off when tank is empty
PureGuardian: by Guardian Technologies offers a full range of small appliance-based solutions for happier and healthier lives at home, focused on creating powerful, safe and innovative technologies to help facilitate healthier, happier home environments
Last update on 2023-11-30 / Affiliate links / Images from Amazon Product Advertising API
If you want a humidifier that will work for more hours and even days without requiring you to refill often than normal, then this is the right choice. One of the first amazing features is that it has a maximum of 70 working hours. This is because it has a 1-gallon water tank.
Despite these aforementioned features, it is only compatible with a small 320 sq. ft. room.
One of the common issues with traditional humidifiers is the growth of slimy mold and mildew on the storage tank. But PureGrden has dealt with this with the inclusion of the Silver Clean Protection feature
The PureGuardian H965 ultrasonic cool mist humidifier has an aromatherapy tray to add essential oil. So it is not just only ideal for plants, but the overall comfort of your space.
Some other features include a low water indicator light, night light feature, Multi-directional mist, and an automatic shut-off for an empty tank.
This sleek humidifier comes with a 3-year warranty, so you can buy risk-free.

Pros
3-year warranty
Quiet operation
Best for small and medium-sized plant rooms
Large 1-gallon tank for 70 hours run time
Silver clean protection feature to fight against bacteria
Cons
No carry handle included in the tank for such a large tank
3. TaoTronics Cool Mist Humidifier, 4L Ultrasonic Humidifiers
TaoTronics Cool Mist Humidifier is designed to humidify the air in a room, giving you and your plant the required moisture. The quiet operation makes it great and versatile. At most, the noise level will not exceed 38 dB.
The 4L capacity water tank is sufficient enough to last for 12-30 hours, depending on the settings. It is ideal for space between 107-322 sqft.
The LED display gives you enough information to help you adjust the settings to suit your plant. Some of the information includes the current Relative Humidity and input to choose between three mist levels.
The presence of microporous cartridge filters in the water helps to eliminate micro-organisms that may affect you and your plant.
For safety purposes, this humidifier has an auto shut-off that stops operation when the water runs dry.
TaoTronics Cool Mist Humidifier is one of the best humidifiers for plants to provide the right atmosphere for growth.

Pros
Easily turn night light on/off
360° Nozzle offers excellent coverage
LED display shows the working status of humidifier
Quiet operation
Large 4L of water tank capacity with 12-30 hours run-time
Easy to clean and refill
Three mist level setting
4. Pure Enrichment MistAire XL Ultrasonic Cool Mist Humidifier
Sale
Pure Enrichment® MistAire™ XL Ultrasonic Cool Mist Humidifier - All Day Operation for Large Rooms, 1 Gallon Tank, Variable Mist Control, Automatic Shut-Off, Whisper Quiet, and Optional Night Light
LONG-LASTING RELIEF: Ultrasonic cool mist technology safely moisturizes the air for 10 to 24 hours of continuous operation (depending on mist control setting) so you can breathe easily and get more restful sleep
1 GALLON WATER TANK: Large tank and powerful steam output provides ideal coverage for large bedrooms, offices, and other rooms up to 500 square feet
OPTIONAL NIGHT LIGHT: Offers soothing lighting for maximum relaxation and operation in the dark (choose between blue, green, and red)
AUTOMATIC SHUT-OFF: Safely turns humidifier off when water level is low or the water tank is removed
WHAT YOU GET: Humidifier, AC power adapter, disk cleaning brush, user manual, industry-leading 5 Year Warranty, caring customer support 7 days a week, and the peace of mind that comes from a trusted brand with millions of customers worldwide
Last update on 2023-11-30 / Affiliate links / Images from Amazon Product Advertising API
This is recommended for large rooms and space as it has got both a large water tank and excellent coverage. When filled with water, it can run for up to 24 hours before requiring refilling. The 1-gallon water storage tank also helps to achieve this.
Whether for a large room with decorative plants and flowers or a medium-sized plant nursery, this humidifier is the right choice as it features up to 500 square feet of coverage.
It adds more elegance to your room. Apart from having a sleek design, the 3 color lightings add more beauty to your space at night. You can choose between blue, green, and red.
Just like other humidifiers, this one also has an automatic shut down feature that turns off operation when the water levels drop to a dead point.
The complete kit includes the humidifier, disk cleaning brush, AC power adapter, and user manual. Coupled with their incredible 5-year warranty, you are secured.

Pros
Offers superior coverage
It is easy to operate
5-year warranty
Up to 24 hours of continuous operation
3 suiting colors for night beautification
Cons
It produces white dust when used with direct tap water. This is harmful to plants. We recommend using distilled water with this product
5. LEVOIT Humidifiers for Large Room
Sale
LEVOIT Humidifiers for Bedroom Large Room Home, 6L Warm and Cool Mist Ultrasonic Air Vaporizer for Plants and Whole House, Built-in Humidity Sensor, Essential Oil Diffuser, Whisper Quiet, Timer, White
𝙃𝙄𝙂𝙃-𝙀𝙁𝙁𝙄𝘾𝙄𝙀𝙉𝘾𝙔, 𝙁𝙊𝙍 𝙒𝙃𝙊𝙇𝙀 𝙃𝙊𝙈𝙀: It provides humidification speeds 4× faster than others, which can quickly cover 753ft² of the area and last up to 50 hours. You can customize the target humidity you need, and feel hands-free with auto mode.
𝙋𝘼𝙏𝙀𝙉𝙏 𝙒𝘼𝙍𝙈 𝙈𝙄𝙎𝙏 𝙏𝙀𝘾𝙃 𝙁𝙊𝙍 𝘽𝙀𝘿𝙍𝙊𝙊𝙈: It raises RH 10% in 20mins, providing greater relief from symptoms caused by dir air. Near-silent noise levels and all lights off help you sleep undisturbed
𝙋𝙀𝙍𝙁𝙀𝘾𝙏 𝙁𝙊𝙍 𝙇𝘼𝙍𝙂𝙀 𝙍𝙊𝙊𝙈𝙎: With a mist output of up to 500 mL/hr, it can easily handle spaces as large as 753 ft² / 70 m². The large 6-liter tank allows you to humidify continuously for up to 50 hours, saving you the trouble of frequent refills
𝘼𝙐𝙏𝙊𝙈𝘼𝙏𝙄𝘾 𝙏𝙐𝙍𝙉 𝙊𝙉 & 𝙊𝙁𝙁: With a built-in sensor, Auto Mode adjusts mist levels according to your settings to maintain a healthy humidity level
𝙃𝙐𝙈𝙄𝘿𝙄𝙏𝙔 𝙐𝙋 𝙏𝙊 𝙔𝙊𝙐: You can customize the ideal humidity percentage for your house plant, baby, or beloved guitar
Last update on 2023-11-30 / Affiliate links / Images from Amazon Product Advertising API
The LEVOIT Humidifier offers more operational time as it features a large 6L water tank. It helps kill bacteria in the water while it supplies sufficient humidity for the environment.
The LED display screen helps you see some vital information, especially the humidity level in percentage, which is essential to know when dealing with plants.
When the water runs out of the tank, it automatically shut off the operation. With a mist output of 500 ml/hr, coupled with a large coverage of 753 square feet, it makes it ideal for large rooms and plant house. The LEVOIT Humidifiers will work up to 36 hours non-stop with the lowest mist level.
It comes with a remote control that allows you to easily monitor and control the output of the humidifier from a distance.
The tank's wide opening ensures that you don't have trouble caning the tank or filling it up.

Pros
Large coverage up to 753 square feet
36 hours continuous run time
Remote control for distant control
Large 6L water tank
Ultra-Quiet Operation
Easy to clean and refill
Cons
The humidifier LED display meter seems inaccurate
6. Ideal-Air 700860 Commercial-Grade Humidifier
Sale
Last update on 2023-11-30 / Affiliate links / Images from Amazon Product Advertising API
If you run a botanical garden or plant nursery, you need a humidifier that is industrial based. This is a real business, so you need a more heavy-duty model.
It operates on a powerful and industrial-grade motor. It removes the stress of having to refill a water tank almost every day or in a few hours. With this humidifier, you can connect it directly to a water supply tap for continuous operation.
It has got a multi-directional fogging head, which ensures even distribution of moisture throughout the entire space.
It is quite noisy as it operates with a noise level of 62bs. This is expected for an industrial-based machine that runs on a motor. After all, we do not recommend this for living areas.
Depending upon the ceiling height of the grow room and the number of plants present, it can cover around 160-320 sq ft. This is not encouraging considering the built.
If you want a humidifier that can run for days while you are away for a period, then this is the one to go for.

Pros
Industry-grade motor
Multi-directional fogging head included
Connects to the water supply
Easy to use
Max 75 pints output per day
Cons
Loud operation
Poor coverage
It is expensive
Speed cannot be adjusted
7. Horticat U80 Ultrasonic Mist Humidifier
Last update on 2023-11-30 / Affiliate links / Images from Amazon Product Advertising API
Also designed for large rooms and for humidifying a plant house is the Horticat's U80 ultrasonic commercial humidifier. It comes with amazing features that are required for supplying your plants with the required humid environment to thrive.
One of the unique features is the humidistat, which keeps the required humidity in control. The hassles and stress of refilling the tank is eliminated as it can be constantly connected to a water supply.
Choose the right place within the room and mount it on the wall for better coverage. For an industrial-based humidifier, we'd expect a noisy operation, but this has got a fair quiet operation.
This unit emits clean and pure mist through the entire room with 80 pits output per day.
So for your large grow rooms or gardens that need a controlled humidity during all weather and season, the Horticat's U80 ultrasonic commercial humidifier has got you covered.

Pros
Connects to the water supply
Quiet operation
Boasts 80 pits mist output per day
Easy to use and clean
Wall mounting enabled
No mess ultra-fine mist
Cons
It is an expensive humidifier
It is hard to get it above 80% humidity, so it's not ideal for growing gourmet mushrooms where the ideal humidity level should be higher
8. Honeywell HCM350W Germ Free Cool Mist Humidifier
Honeywell Cool Moisture Humidifier, Medium Room, 1 Gallon Tank, White – Invisible Moisture Humidifier for Baby, Kids, Adult Bedrooms – Quiet and Easy to Clean with UV Technology for Everyday Comfort
CLEANER INVISIBLE MOISTURE – Honeywell Cool Moisture Humidifier effectively brings invisible moisture to your home. It utilizes UV technology and a wicking filter to help treat the water and capture minerals to keep them out of the air for a cleaner mist.
EVERYDAY COMFORT – This humidifier for home features evaporative technology that increases and holds the targeted humidity level to optimize moisture in the room. It's ideal for everyday comfort and year-round relief from dry throat and dry, itchy skin.
EASY TO USE – Featuring a large 1.1 gallon, easy-fill, self-standing tank, this cool moisture humidifier provides up to 24 hours of run time. Plus, it's easy to clean – all parts that touch water can be cleaned in the dishwasher.
HUMIDIFIER FOR BEDROOM – As the ideal humidifier for baby, this device has a soft, fan-like sound to add restful noise to any room. Great for an adult or child's bedroom, the large tank can run overnight, providing consistent soothing moisture.
COMPATIBLE DOES NOT MEAN COMPARABLE – For best performance, use only a genuine Honeywell Replacement Wicking Filter A. Compatible humidifier filter replacements are not guaranteed to offer the same performance or efficiency.
Last update on 2023-11-30 / Affiliate links / Images from Amazon Product Advertising API
The Honeywell Humidifiers helps regulate the humidity of your room between 40 – 60%. It also helps to Improve Air Circulation in the confined area, which it covers.
With the feature of the evaporative technology, It's not possible to over-humidify. With the 1 gallon tank, it is sure to run for up to 24 hours. It also has UV technology that kills bacteria. This is important for you and your plant.
Because of its quiet operation, you can have it indoors running overnight without interfering with your sleep. Choose between 3 settings to adjust the moisture level.
Tests have been carried out with this humidifier and have been proven to work effectively, especially with plants. Observation shows smoother and greener plant leaves.
To get the best experience with the Honeywell Humidifier, it is ideal to always use it with the , which is available for a few bucks.

Pros
The Honeywell humidifier is very quiet
It is affordable
Presence of monitor that displays relative humidity and temperature
Ultra-Violet light technology helps to kill up to 99.9% of bacteria
Cons
There is no automatic shut-off control in case of insufficient water. You will have to always monitor it to ensure there's always water in the tank
What to Consider While Buying a Plant Humidifier | Buyer's Guide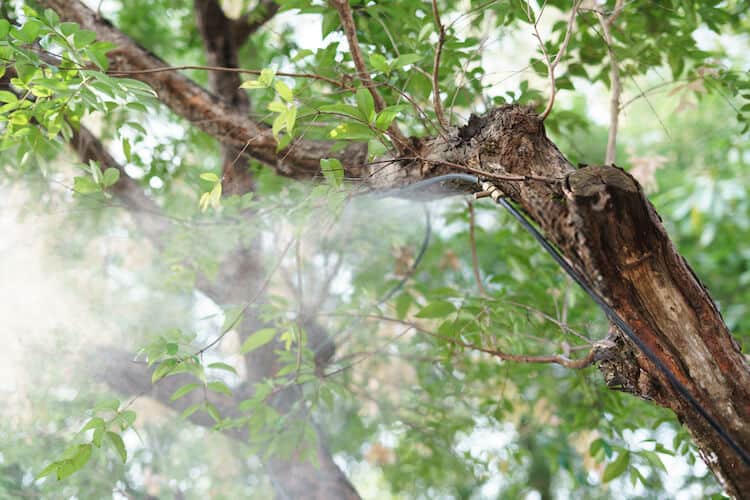 Humidifiers have a range of uses. While so many persons buy them to humidify their homes to have a conducive atmosphere during winter, buying humidifiers for plants is a different case.
To buy the best humidifier for plants, the following factors should be taken into consideration.
Size of the room
This is one of the most important factors when buying humidifiers in general. You should have knowledge of the size of your room or the size of the plant house in which you intend to install a humidifier.
If a humidifier cannot cover your room, then the plants will die from insufficient humidity. In the same way, if the humidity offers too much coverage than the size of your room, the humidity becomes too much for the plant.
The ideal humidity for a plant is between 50%-60% humidity. For a room around 300 square feet, a small humidifier is required. If the room is between 350 – 400 square feet, a medium-size humidifier is required. From a 500 square feet size room, a larger humidity is recommended.
Always endeavor to check the coverage of the humidifier and match it with your room size.
Read Also: Garden Shears Vs Scissors
Type of humidifier
There are about 4 types of humidifiers, and we discussed them extensively in the next section below.
Both of them use different techniques to release moisture into the air. Understanding the difference between them will help you choose the right one for your plant so that they won't get affected by bacteria, mold build-up, or dry out.
Tank capacity
If you are buying humidifiers for your home, then it is going to be a small or medium-size one that uses a water tank. The larger the tank, the less frequent you will have to refill the tank.
Typically, anything from 1 gallon (4L) is an excellent choice because it will last for at least 12 hours and up to 24 hours.
Larger and heavy-duty humidifiers can be connected to the water supply. So you do not need to refill often.
Noise level
If you have a humidifier in the same room where you live and sleep, then you will want to buy a quiet one.
They can be noisy, especially the larger ones. However, if the grow room is separate from the living area, then this will not be a problem.
Filters
Not all humidifiers come with a filter or design for attaching a filter. But they are crucial, especially for homes or gardens where the water being supplied is hard or contains minerals.
The problem with filter humidifier is that you get to change them at least every 3 months. This can be avoided if you decide to use distilled water.
However, if you hate the idea of filters and don't want to experience the stress associated with them, then you can go for filter-less humidifiers.
Speed settings
The speed settings of a humidifier determine the moisture level. Most of the humidifiers today come with only 2 speed settings (high and low). When it comes to managing plants, two settings are insufficient.
At a low setting, the humidity may be too low for the plant. In the same way, at high settings, it may be too high for the plant.
Humidifiers with at least 3 settings are ideal for plants. We have some humidifiers reviewed here that have got 3-speed mist output settings.
Read Also: How To Grow Blue Plumbago Plant
Types of Plant Humidifiers
Just like we have previously stated, there are 4 types of humidifiers. So in this section, you will learn about them and know which is best to buy for plants.
Warm Mist Humidifier
This type of humidifier warms the water in the tank and then releases it into the atmosphere as warm vapor. This is the common type of humidifier you will often see.
Cool Mist Humidifier
This type of humidifier often comes with filters that remove impurities and dirt from the water. It releases a cool mist into the air.
Compared to the warm mist humidifiers, they use less electricity.
Evaporative Humidifier
This humidifier uses airflow to create vapor. It works by using a fan to pull air from an inlet and then blows it over a wet wick. The water from the wet wick is blown by the pressure from the fan, and it is released into the surrounding as mist.
Ultrasonic Humidifier
Ultrasonic Humidifiers are the most common types you will find out there. It uses ultrasonic vibrations to steam water in the tank, thus creating extra-fine droplets. This is further expelled into the air.
One of the major advantages is that they are quieter than the rest. A majority of them do not use filters. However, they are costly than other humidifiers.
All of the above-mentioned types of humidifiers will give your plant the best environment to grow healthy at all seasons. But the Warm Mist Humidifier and ultrasonic humidifiers will be the best choice.
Disadvantages of Plant Humidifiers
Just as humidifiers are important for plants, there are also some disadvantages you should take note of when using them.
It encourages the growth of bacteria
Bacteria and fungi breed well in a moist environment. Humidifiers, if not cleaned often, can provide a medium for the growth of bacteria and fungi. When they are released into the atmosphere and comes in contact with the plants, it causes diseases.
Unpleasant noise
Some humidifiers are noisy during operation. If you get a noisy one, it can interfere with your sleep. It is also not ideal for homes where there are babies or toddlers. However, people do get used to it and adapt pretty quickly.
It adds more chores to the house
Humidifiers create a conducive environment for you and your plants. But this doesn't come without a cost. It adds more chores to the house because to continue enjoying the values it offers; you must devote time to cleaning it as often as it requires.
The production of excess moisture
The ideal humidity for indoors should not exceed 60%, except for some special cases where special plants may require a high level of humidity.
For humidifiers with poor speed control, excess moisture is experienced, which is disadvantageous. Excess humidity creates room for spore germination and successful infection.
A humidifier with a humidistat can, however, help counter this.
Collection and accumulation of white dust
When you use hard water or water that contains minerals, the humidifier will deposit them as white residues. This is deposited on the plants and blocks the pores used for photosynthesis and breathing. This can endanger the health of the plant.
Cleaning the plant leaves regularly, and using distilled water will avoid this effect.
How to Use a Humidifier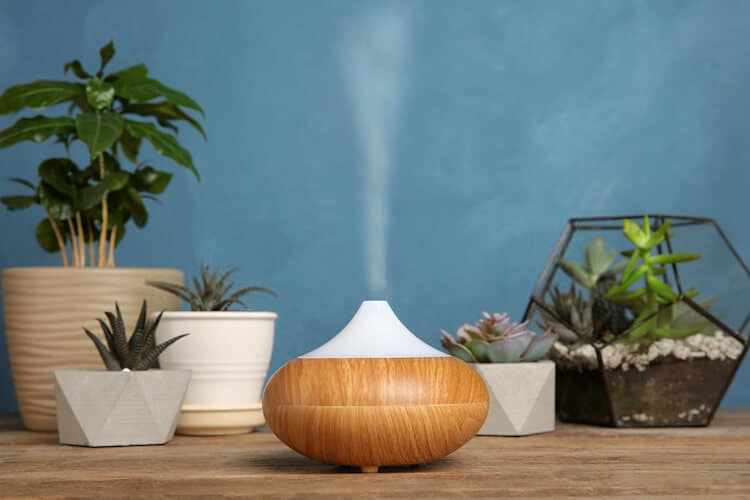 Humidifiers are built differently. Even if they have a similar method of operation, it is important to always first read the user manual.
Carefully open the humidifier to get access to the tank and fill it up with water to the recommended level. As we have stated before, we recommended using distilled water.
If you are using one that has filters, then ensure that the filters are in place.
Lock back the tank to position and place it in the appropriate position where it can be evenly distributed across the room.
Connect the power cord to a power outlet and switch it on. Use the appropriate settings, depending on how much humidity you intend to achieve.
It is ideal to place the humidifier close to the plant because the mist will be more concentrated in the area around the humidifier.
You should also place the humidifier 6 – 12 inches from the wall, cotton, artworks, or anything that may absorb moisture.
How to Maintain Your Plant Humidifier
If you want your humidifier to last long, then maintenance is non-negotiable. The following are ways to maintain it.
Ensure to always wash and clean the storage tank as often as possible to avoid the build-up of bacteria and fungi
If the humidifier uses filters, always make sure to change them at most every 3 months or as soon as you notice clogging of the filters
If your humidifier doesn't have an auto shut-off feature, always make sure the tank doesn't run out of water
Since you will be working with water always, take precautions not to allow water to get in contact with the electrical compartment.
Plant Humidifier Frequently Asked Question
When should I use a humidifier for my plants?
Humidifiers should be used on your plants at the beginning of the winter season when the humidity and temperature drops. However, not all plants should be misted. Plants with hairy or velvety leaves are not ideal to be used with humidifiers
Do humidifiers cause mold?
Using humidifies at a very high-level setting can cause mold and improve the breeding condition of bacteria and fungi. This can further lead to allergies. We advise you to always have control over the level of humidity you allow with these units.
Should I use a cool or warm humidifier?
During winter, the atmospheric temperature is low. So the purpose of a humidifier is to increase the temperature and vapor level. Hence, it makes sense to use a warm humidifier.
Are humidifiers bad for the lungs?
Generally, humidifiers aren't a bad idea. But some persons report having allergies when using them. If your plant house is separated from where you live, this will not be a problem since you don't live with it.
However, most of these lung allergies are a result of uncontrolled humidity and the growth of bacteria within a dirty humidifier.
Conclusion
Plants grow healthy in a good environment where the humidity is favorable. Humidifiers are necessary for improving this during harsh weather conditions.
Having gone through our best humidifier for plant guide, you should be able to decide for yourself if you need one.
Every product reviewed here will be worth your time and money. However, it is necessary to go through our buyer's guide again to enable you to decide which one is better for you.