We independently research and recommend the best products here. This article contains affiliate links. If you make a purchase after clicking on a link, we may earn a little commission at no extra cost to you.
If you do not have enough money to install an irrigation system on your garden, lawn or yard, using a garden hose will be the best alternative. They are at least inexpensive compared to the former.
But what if you have a large yard, it's going to require a lengthy hose and not everyone will like the idea of having long pipes running around their yard.
The best expandable garden hose will allow you to cover a large garden without littering the whole place with lengthy hoses.
Best Expandable Garden Hose
What Is An Expandable Garden Hose?
The normal conventional garden hose you are used to is usually bulky and heavy. Using them can be stressful as you try to maneuver your way around the garden.
If you have used one before, you will notice that one of the major challenges with them is shrinking at some points.
When this happens, it interrupts the flow of water. But there is a way out, "expandable hose".
So what is an expandable garden hose?
An expandable garden hose just as the name implies is a hose that expands up to three times its initial length only when water pressure is exerted within the hose.
When the water is out of the pipe, it returns to the original size. Expandable garden hose is flexible, non- kinking, self-draining, non-tangling, and non-twisting.
Read Also: Best Dandelion Killers
Benefits of Expandable Garden Hose
What exactly do you stand to gain when you buy an expandable garden hose? The following are the benefits of having and using one.
It is not bulky
Everyone wants a moderately sized tool to work with. Not only are they easy to use, but they are also easy to store. If you have limited space in your garage, then you need an expandable hose that will only take up a small space for storage.
Lightweight
Moving a conventional garden hose around the garden can be heavy, especially when the water has gotten into it. Typically, an expandable garden hose is seen to be 5 times lighter than regular hoses.
Longevity
The majority of standard hoses are made from rubberized fabric. These materials tend to easily tangle and twist over a short period. But expandable hose is made from materials that are resistant to these defects. Hence, they last longer.
It is self-draining
This is another important aspect of expandable garden hose. After use, you do not need to stress yourself by trying to drain off the water inside before storing it. It is self-draining.
Expandable Garden Hose Reviews
1. Flexi Lightweight Expandable Garden Hose
GREEN MONSTAH 50ft Garden Hose Expandable Water Hose, Expanding Garden Pipe with 8 Function Nozzle, Solid Brass Fittings, Extra Strength Fabric, Lightweight Flexible Yard Hose for Watering
Lightweight and Flexible Design. This expandable hose starts out from 17Feet. When the water is turned on the hose quickly expands up to 3 times in length with the water pressure ( 3-12 Bar) and returns in minutes to its original length when draining off water. Just make sure there is enough water pressure to expand the hose.
8 Functional Spray Nozzle. Compared to most other hose nozzles, our water nozzle has 8 patterns for more choices. The hose sprayer allows you to use the garden hose sprayer to irrigate with high or low pressure water flow outdoors. Ergonomic handle for easy operation.
¾in Anti Leak Solid Brass Connector. The 50ft expanding hose comes with solid ¾ inches brass connectors, they will not rust, leak or crack. And it fits the typical outdoor garden taps in US, with the correct adapter you can connect to the product you want to connect.
Durable and High Quality. The flexible expanding water hose uses a high density double layer latex core and a powerful 3750D polyester fabric cover, to prevent breakage and leakage. It can withstand water pressure from 3 to 12 Bar and temperature from 41 to 113 Fahrenheit. No more worries about leaks, tear or cracks. The compact hose is for long term use.
Easy Storage and Wide Application. Retractable, lightweight, flexible hose, easily save storage space. Great for house, car, floor, yard washing, garden watering, pet cleaning and business use.
Last update on 2023-12-08 / Affiliate links / Images from Amazon Product Advertising API
This is the most common expandable garden hose used by a lot of garden owners. It is lightweight because it is made from lightweight materials. The material is durable. It measures 50 ft which is long enough to use in a small home garden.
It is made with a double latex pipe which helps to avoid the issues of leakage experienced by those cheap ones. With this doubled walled pipe, it is sure to withstand up to 12 BARS of water pressure and 113℉ heated water. This makes it versatile for other purposes other than garden watering.
The original length is only 17 ft which expands up to 3 times when filled with water.
Included with this expandable garden hose is an 8 spray pattern nozzle. By rotating the nozzle head, you can change the pattern to make it suitable for spraying the garden, washing cars, or cleaning your pet.
The nozzle is made from durable zinc alloy and has an impressive design that features an ergonomic rubber handle. The manufacturer is so confident of their product, and they have a lifetime replacement guarantee on it.

Pros
Designed with shut-off valve
Comes with a free 8-pattern spray nozzle
Extremely lightweight
Lifetime replacement guarantee
Cons
Durability will never match a "normal" hose
2. Zalotte Expandable Garden Hose
If you have a small garden, you may not require an expendable hose that will be too long to handle. So we have included a medium size hose that can expend up to 25 ft.
The original length is only 9 ft and can expand 3 times this length when pressurized with water. We love the durability. You can use it for years, and it will never tangle twist or kink.
Of course, for a small hose as this, you'd expect it to be extremely lightweight. Put it in the trunk of your car and carry it anywhere. It has quality brass connectors and shut-off valves that will not rust or corrode.
Read Also: Best Insect Killer For Vegetable Garden
With the ability to withstand up to12 BARS of water pressure and up to 113 Fahrenheit temperature, you can never be wrong with this product.
We also love the fact that the nozzle features a 9 spraying pattern which makes it the best fit for a variety of jobs. With a 3-layers latex core, you don't need to worry about leaks, tear, or cracks.

Pros
3-layers latex core for durability
It is lightweight
9 spraying pattern from the nozzle
It is made with high-strength polyester fabric cover
Cons
Despite the great 9 pattern nozzle, it appears cheaply made
Only 30 days warranty
3. GrowGreen Expandable Garden Hose
Just like the usual expandable garden hose, this one is small but flexible to expand up to 3 times its initial size when water is passed through it. It expands up to 25 ft.
Using this hose gives you rest of mind because with its special design, the hose will never tangle, twist, or kink. It can conveniently operate underwater pressure up to 10 bars.
The nozzle is another special feature to look out for when buying a water hose. This one happens to do a great job as it offers 8 spray patterns. The nozzle is made with brass connectors which are highly resistant to rust and corrosion.
The GrowGreen expandable garden hose provides for easy storage. It shrinks back to its original length afterwards. This hose has got all you will need from an expandable garden hose. The company also put a lifetime warranty on the product. So you are buying risk-free.

Pros
It is high-pressure resistant
The connectors are resistant to rust and corrosion
Easy roll-up and storage
8 spray pattern on the nozzle
Lifetime warranty
Cons
Appears too lightweight to handle
4. Aterod 75 feet Expandable Hose For Garden
This hose measures 25ft and expands up to 75 feet when pressurized with water. So if you have a spacious garden, then this will be a good choice for you.
The double latex pipe ensures durability. You can use this hose on rough terrain where scratches maybe experience. The hose is covered with polyester fabric that gives it more flexibility.
This hose can withstand water pressure between 3-12 Bar and a temperature of 113 Fahrenheit.
The nozzle is another excellent part to check out. It features a non-slip and comfortable grip with 9 spray patterns. This hose is versatile. You can use it for different projects such as yard washing, garden watering, pet cleaning, etc.
The hose is easily retractable when the water is out, and it is portable and lightweight. These features make it easy to use and store.
When using this hose, it is recommended to allow moderate pressure from the faucet otherwise; small pressure may not provide full expansion for the 75 ft length.

Pros
9-patterns spray nozzle
Made from high-quality leak-proof materials
It offers large coverage
It is versatile
Lightweight expandable hose
5. EasyJoy 50FT Expandable Garden Hose
This is one of the best expandable garden hoses in the market, and it is inexpensive. It expands from its original size of 17 ft to 50 ft when there is water pressure.
This hose is made using durable materials. It is made with 3750D fabrics and 4-layer latex. This makes it more durable than others made with 2 – 3 layers.
With a majority of the expandable garden hose having leakage problem, the EasyJoy hose comes with advanced connector protectors; this advance design perfectly solves the leak problems of plastic connectors.
The materials contribute to its flexibility. It is easy to use and will serve you for all purposes and all-weather. It is strong enough to withstand water pressure and temperature of 12 Bar and 113℉, respectively.
With this hose, you can water your garden/lawn, wash your car, shower your pets, and clean your yard.

Pros
Anti-leak and rust-resistant brass connector
Great expansion and contraction
Multipurpose garden hose
4-layer latex hose increases durability
Can be stored easily
Cons
May not expand up to the 50 ft as claimed
Best Expandable Hose 100ft
6. lifecolor 100FT Expandable Garden Hose
100FT Expandable Garden Hose, Lightweight Expanding Water Hose with Double Latex Core, ¾ Solid Brass Connector and Extra Strength Fabric with 8 Zinc Function Nozzle
Anti-Leak Garden Hose: Latest double latex core and 3300 denier high-density woven casing; Solid ¾ Inches brass connector. The Expanding Hose That You Will Actually Easy to Use Under USA Standard Water Pressure.
Lightweight & Flexible: This expandable water hose starts our from 33 Feet, when the water is turned on the hose quickly expands up to 3 times in length (100 Feet) with the water pressure (3-12 Bar). Just make sure there is enough water pressure. Temperature 41℉-113℉can keep this garden hose for long-term use.
Free 9 Pattern Spray Nozzle: You will receive a very convenient 9-pattern metal nozzle that will have the opportunity to be used for many different home purposes. Give your garden watering, car washing, give your pet a cool shower, or clean your outdoor windows in the easiest way!
Easily Storage: Comes with a free storage bag, just drain water from the hose when not in use, STORE OUT OF DIRET SUN(Kindly tips!). Save lots of your space. Besides that, the water hose in the bag can serve as a perfect gifts for all gardeners.
Satisfaction Customer Service:12 month replacement service satisfaction. Please feel free to CONTACT US if you have any problems, and we will always be there to help you.
Last update on 2023-12-08 / Affiliate links / Images from Amazon Product Advertising API
A longer hose will offer you larger coverage for your garden, especially if you have a large garden. The original length of the hose is 33 ft.
When the water is turned on, the hose can expand up to 100 ft. However, you may need to have sufficient pressure from the water to expand to this length. This can be done by ensuring that the tap is opened to its maximum.
With a double latex core, it is resistant to leakage, wear, and tear. This hose will not kink, burst, or become tangled.
It comes with a 9-pattern metal nozzle that can be adjusted to fit different purposes. It also comes with a free storage bag that also keeps it protected when not in use.
This hose is lightweight and contracts to a small piece that will not take up much space in the garage. With a 12 months warranty on this, you are covered with a risk-free purchase.

Pros
9-pattern metal nozzle for versatility
12 months product warranty
Save lots of your space on storage
Comes with a storage bag
Cons
Won't expand to full length without enough pressure
7. Nifty Grower 100ft Garden Hose
This 100ft is an excellent choice for a gardener with a large garden who wants to cover all the areas without having to join pipes or hose together.
Typically, the lengthier the hose, the heavier it becomes. But the Nifty Grower hose despite its length when pressurized is still lightweight.
The core is made from a double latex layer which contributes to the durability and toughness. Also, the shell is made with strong polyester fabric that holds and protects the core during expansion and contraction.
The durable brass fittings are not also left out. This makes it resistant to rust and corrosion. You can use this hose for many seasons without needing to replace it soon.
It will give you water pressure resistant of up to 12 bar. With an original length of 34 ft, this hose can expand up to 3 times reaching 100 ft.
The Nifty Grower comes with a bag that makes transport and storage easy. It contracts to its original length in minutes after use and ready for storage.

Pros
100ft maximum extension
Durable and resistant solid brass fittings
Tough double latex core helps prevent leaks and tears
Polyester fabric shell for added strength
High-quality storage bag included
Cons
It lowers the original faucet water pressure
What to Consider When Buying Garden Expandable Hose | Buyer's Guide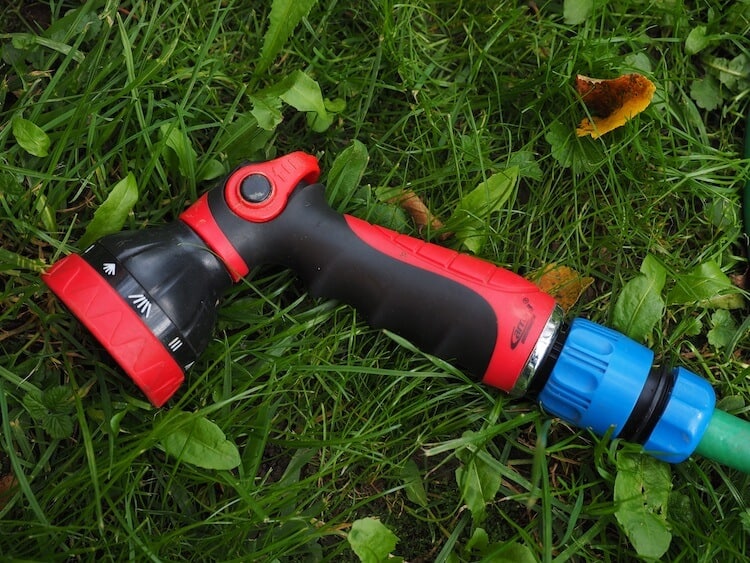 Hose Fittings
Usually, hose fittings are either made with aluminum, brass, or plastic. But brass fittings are mostly used for expandable hoses. The good thing about brass is that it is highly resistant to rust and corrosion. When though it still gets rust after a while, it doesn't easily damage the fitting.
If you intend to buy an expandable hose, always make sure to either go for one that has a brass or aluminum fittings. They are more durable.
On the other hand, plastic fittings are usually super lightweight, but they are not durable. However plastic fittings are now being phased out on expandable hoses.
Hose Sizes
There are 3 different sizes of hose you will find available for expandable hoses. They are either 25 ft, 50 ft or 100 ft. depending on the size of your garden, you want to buy one that fits the size.
If you buy a 100 ft hose for a small yard that only requires a 25 ft hose, you are going to have issues with managing the length when it fully expands.
If you have a large garden, then you may want to go for a 50 ft or 100 ft expandable garden hose. While some persons have 2 short hoses joined together to achieve the desired length, it is better to buy a single one that can cover the yard.
Have it in mind that some expandable hoses do not expand to the claimed length. So when considering the length of an expandable hose, it is essential to also consider the responsiveness of expansion to the water pressure.
Read Also: Best Shears for a Garden
Number of Cores
The durability and longevity of an expandable hose is dependent on the number of core. Latex expandable hoses have layered cores. They can either be double or three layers most times.
We will not be able to tell which will be better for you. It depends on what you need.
Double layered cores are more flexible and lightweight compared to three-layer cores. Three-layer cores give more durability and strength to the hose. It also makes it resistant to wear and tear. Unfortunately, it is heavier than double-layer cores.
So you will have to choose between lightweight with less durability and heavier hose with resistance to wear and tear.
The spray nozzle
If you do not want to spend separate money to buy a spray nozzle of your choice, then it is economical to buy a hose that comes with a nozzle for your need.
Expandable hose nozzle comes with the ability to spray different patterns. This is important when watering your garden. You can choose to spray with a wide pattern or change to jet-spray to reach far areas.
The good thing is that a majority of the expandable hoses today come with a nozzle that can spray up to 8 different patterns. This is also useful for other purposes other than garden irrigation.
Types Of Expandable Hose Materials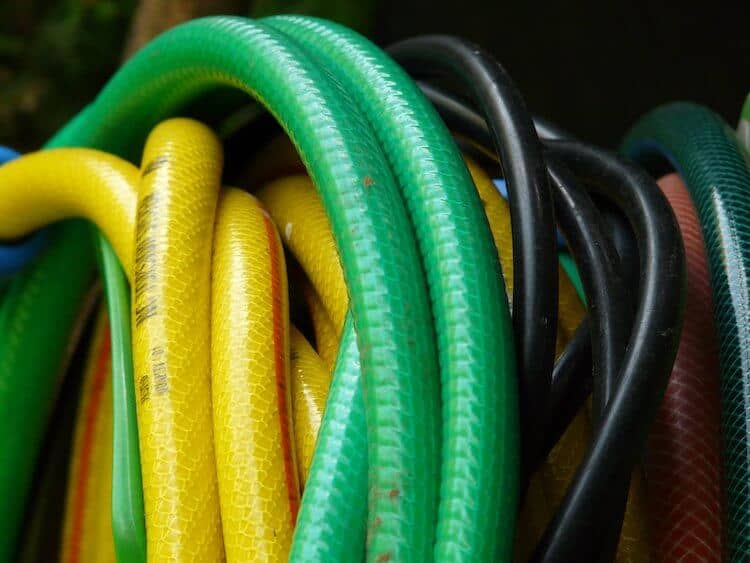 There were a lot of complaints about the first sets of expandable hoses that were manufactured by different brands. The most reason being the durability.
They do not last. After using for a short period, it gets leakages or loses its elasticity which is responsible for contraction and expansion.
When it comes to durability, the core material matters a lot. But with the advancement in the industries, more durable expandable hoses are now being manufactured.
Thanks to the improvement of the materials used. The following are the various materials used in the design for expandable hoses.
TPC Core
TPC stands for Thermoplastic copolyester. It is one material that is commonly used in the manufacturer of expandable hose, TPC is resistant to temperature. They are the material also used for making industrial tubing.
TPCs are durable such that even a single layer will be considered quite durable. They will be able to last the same amount of time as those with latex. However, TPCs are not often used compared to latex material.
Latex Core
This is the standard material you will find on most of the expandable hoses. Latex, a natural rubber material, and it is used for a variety of tools and products such as gloves.
One of the major characteristics that make it useful in the manufacturing of expandable hose is the elasticity. It stretches and contracts.
Double or multiple layers of latex are used for the interior of most expandable garden hoses. This allows it to easily expand and contract without leaks. They are known to be as durable as TPCs.
Nylon Shell
The above two materials are used for the interior lining of the hose. You cannot leave a latex material, or TPC exposed. It needs to be covered; otherwise, when exposed to the sun, it can damage it.
Also, even though they may be resistant to wear and tear, exposure to the ground and other elements presents a risk of puncture.
Nylon shell is the recommended industry standard for the outer shell fabric. Apart from the protection of the inner core, nylon shell also helps prevent mildew or other mold issues that may result from improper shedding off of the water.
How Does an Expandable Hose Work?
We have already established the fact that an expandable hose is made from 2 layers. The inner latex layer core and the outer nylon protective layer.
Latex can expand in length up to 3 times its initial size when pressurized with water.
One end of the hose is fitted to the faucet while the other end is fitted to the sprayer head. When the faucet is open, water starts to flow into the hose, and it gets filled up with water.
When the spray head is locked, the water fills up the hose, and it starts to expand to the claimed length.
For some hose, there will be a little contraction once the spray head is opened. This is because the pressure tends to drop as water is forced out through the head.
After usage, the hose contracts to its initial size in a few minutes after the water is drained from the hose.
How to Fix an Expandable Hose With Leaks
So your flexible garden hose unexpectedly gets punctured. What do you do? It has been often said that flexible hoses are not easily reparable, unlike the standard rubber hoses. For a rubber hose, you can easily patch it up.
Well, the truth is that expandable hose can also be repaired when punctured or damaged using simple tools.
There are two types of leaks experienced with expandable hoses. The first one occurs close to the fittings. The second one occurs in the middle of your hose.
Repairing leaks close the fittings is a simple task. With a pair of wire cutters and a pair of pliers, you can fix this. With the cutter, carefully cut off about 2 inches of the tube. Then connect the new end back to the fitting, and your hose should be back.
The second one that occurs in the middle of your hose will require more effort to fix it. For this, you will need an extra connector.
There are several flexible hose repair kits you can find online for a few bucks. The kit will have everything you will require to repair your hose.
Clamp the hose tightly in such a way that it will not contract. Then with a pair of cutter, cut the tube into two at the spot it got punctured.
Connect the two ends of the hose using one of the fittings from the repair kit, and you have gotten back your expandable hose.
Frequently Asked Questions
Do expandable garden hoses last?
They have always been an argument about the longevity and durability of expandable garden hose. Indeed, a majority of them do not last. But the best expandable garden hose will be able to last a long period before needing to replace it.
Can you repair an expandable garden hose?
If you bought a cheaply made one, the chances are that you may not be able to repair them when punctured. But for the quality expandable garden hoses like the ones reviewed here, you should be able to fix them with connectors using the guide we have in the previous section.
Can you connect 2 expandable hoses?
So if you have two expandable hoses and you intend to connect them for a larger coverage, it is possible. If your hoses have push-in connectors, you will need a push-in adapter that has a threaded female to connect both.
How much pressure can a garden hose take?
The truth is said that regular garden hose made from rubber are designed to withstand high pressure up to 500 Psi (34 bar). For an expandable garden hose, the water pressure should not exceed 200 psi (13 bar).
Are expandable garden hoses worth it?
Of course, they are worth it. First, they are cheaper than the average garden hoses. Secondly, most manufacturers have stepped up their games by producing expandable garden hoses with durable materials.
You are sure not to experience kinking, tangling, and twisting when using normal garden hoses.
Read Also: Best Lawn and Garden Tractors
Conclusion
Expandable garden hoses are becoming more popular and soon becoming the best preferred for garden and other domestic uses. We know that they will certainly not roll off the normal rubber hose completely.
So that is all we have got on the best expandable garden hose. Have you had any experience using one of these recommended products on this page?
Or maybe you have used any other one that has proven to be worthy. Let us know, and we may be delighted to test them and add them to our list.