We independently research and recommend the best products here. This article contains affiliate links. If you make a purchase after clicking on a link, we may earn a little commission at no extra cost to you.
Every season comes with a new style of life and adaptability. Winter is one season that should be prepared for. Heaps of snow covering the entire space can be beautiful, but then, it can pose some restrictions, especially on your lawn and garden. Hence, the need to get it off the way.
The best electric snow blowers will help you remove the highest heap of snow from your garden faster and throw it farther. With this said, let us dive into some of the best ones in the market that will meet your needs.
But first, take a look at the garden electric snow blower comparison table below:
Best Electric Snow Blowers For Garden
What is Electric Snow Blower?
An electric snow blower is a machine that makes use of electricity to power the rotating parts of the engine known as the auger for a single-stage thrower and blower for a double-stage blower.
It finds its uses in homes to clear pathways, driveways, and to clear your lawn. They are a great alternative to gas-powered snow blowers.
The limitation is the fact that since it uses a power cord, there is a limited area which the power cable can get to. However, using an extension cord can oppose this.
Read Also: Best Garden Tractors
Do You Really Need Electric Snow Blower?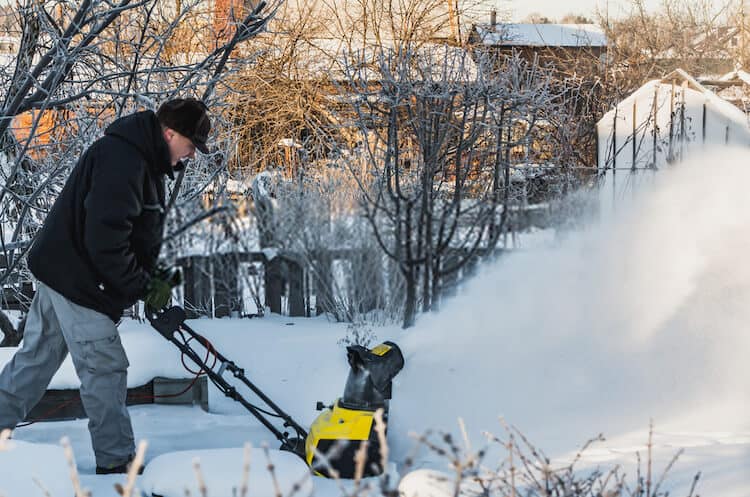 Machines are always designed to make the job faster and easier. So why should you spend hours in the cold using shovels and other alternatives to get snow out of your lawn and garden when a little budget on an electric snow blower will do the job in a few minutes?
You need electric snow blowers where you need to clear snow no more than a foot deep. Excitingly, recent models are lightweight and small so that you can store them in the garage. They are also simple to use, just plug and press a button.
Garden Electric Snow Blower Reviews
1. Snow Joe SJ625E Electric Single Stage Snow Blower
Sale
Last update on 2023-05-30 / Affiliate links / Images from Amazon Product Advertising API
It is small and lightweight but will do great work in blowing off snow from your yard and driveway. This is achieved by the 15 amps motor. Blowing off up to 800 lbs. per minute, you can clear a whole yard in few minutes depending on the height of snow.
Working at night to clear the path for the next morning is made possible with the feature of a 3watts LED light. The 8-inch tires offer smooth pull and push. So you can move the blower effortlessly.
The auger is made from steel and has two blades that cut a path 21 inches wide by 12 inches deep with each pass.
Another part we love with this electric-powered snow blower is the chute. It can turn around 180 degrees. The power of the chute is such that it can throw the snow off up to 20 ft far away even with the worst wind intensity.
With efficient scrapes, this blower clears to the ground without damaging your deck or pavement. Backed with their 2 years warranty, you can buy with no risk.

Pros
Durable steel auger with 2 rubber blades
Led light for late hours job
Powerful 15-amp motor
180 degrees chute rotation turning radius
2-year warranty
Cons
Thick snow leads to clogs within the chute. You may need to manually clear it off
2. Snow Joe SJ615E Electric Single Stage Snow Blower
Snow Joe SJ615E Electric Walk-Behind Single-Stage Snow Blower, 15-inch, 11-Amp
[IDEAL]: For quick snow pickups on mid-sized driveways and walkways
[VERSATILE]: Ideal for quick snow pickups on mid-sized driveways and walkways
[MAINTENANCE-FREE]: No gas, oil or tune-ups make it effortless to start and maintain
[POWERFUL]: 11-amp motor moves up to 440 lbs. of snow per minute
[DURABLE]: 2-blade cold-and-abrasion-resistant plastic auger cuts 15 in. wide by 8 in. deep with each pass
Last update on 2023-05-30 / Affiliate links / Images from Amazon Product Advertising API
If you have got a small yard, then this will be an excellent option for you. It is lightweight and affordable. With around 100 bucks, you could be the owner of a fantastic electric snow blower from Snow Joe.
This snow blower is great for quick snow pickups on mid-sized walkways and driveways. It operates on an 11-amp motor which has sufficient efficiency to blow off 440lbs. of snow in a minute. It does less job than the SJ625E reviewed above.
The auger cuts a 15-inch path against the 21-inch of the previous model. It has got 2-blades made from cold-and-abrasion-resistant plastic.
The chute is not also left out. It can rotate around 180 degrees to suit your preferred direction for disposal of the snow. Despite a low owe rotor, it is capable of blowing snow up to 20 feet away.
The Compact wheels provide for easy maneuverability. Backed with their 2-year warranty, you have got no issue.

Pros
Lightweight and compact tires for maneuverability
Low power consumption
180 degrees chute rotation turning radius
2-year warranty
Starts at the push of a button
Cons
No headlamps present like the previous model reviewed above
Does poorly when blowing off wet snow
3. Greenworks 20-Inch 13 Amp Corded Snow Blower
Sale
Greenworks 13 Amp 20-Inch Corded Snow Blower, 2600502
13 amp motor delivers powerful results for gas alternative
Adjustable 180 degree directional chute makes snow throwing manageable ; Easy electric start for hassle free operation
Discharge snow up to 20-feet. 7-inch wheels for greater mobility
Only works on 120 volts ; 20-inch clearing path and 10-inch clearing depth
Last update on 2023-05-30 / Affiliate links / Images from Amazon Product Advertising API
The Greenworks snow blower consumes less power but does more work. Thanks to its 13 amp motor with a wide 20-inch path cut. From a company that offers a wide range of home improvement tools, you can't expect less.
It features dual LED lights that provide for greater visibility when working at late hours in preparation for the next morning.
Turn the chute around within 180 degrees direction to throw off the snow. It will discharge snow up to 20-feet away; however, this feature is wrongly advertised.
Read Also: Best Humidifier For Plants
The GreewnWork electric snow blower is easy to operate. Just plug and switch on with the press of a start button. The 7-inch wheels provide the user with remarkable mobility.

Pros
It is one of the most affordable snowblowers
LED light for night vision
Low power consumption electric motor
Folding handle provides for easy storage
Wide path clearing width
180 degrees directional throwing
Cons
It does not throw snow up to 20 ft. as advertised by the manufacturer
4. Toro 38381 18-Inch 15 Amp Electric 1800 Power Curve Snow Blower
TORO is another impressive brand you should consider buying a snow blower from. Their 38381 model happens to be among our best electric snowblowers for a lawn. From Amazon alone, it has got over 2000 verified reviews. Thousands of customers cannot be wrong.
It uses a 15 Amp electric motor to power the auger. With the efficiency of the motor, it can deliver up to 700-Pounds of snow per minute. It is perfect for decks, small driveways, walkways, patios, and other residential areas.
The auger blade gives you an 18-inch clearing path and 12-Inch intake height. While customers complain about clogging on some of the electric snow blowers, TORO has managed to deal with this by featuring a power curve technology that cleans down to the pavement and to prevent clogging.
The adjustable chute offers optimal snow-blowing control; unfortunately, it can only rotate around 160-degree.

Pros
Easy Assembly
700-Pounds of snow per minute
18-Inch clearance width and 12-Inch intake height
Made in the United States
Ergonomically designed handle for comfort
Power curve technology
Low power consumption
Cons
Limited 160-degree limited chute turn angle
5. Snow Joe 323E 13-Inch 10-Amp Electric Snow Shovel
Sale
Snow Joe 323E 13-Inch 10-Amp Electric Snow Shovel
[ERGONOMIC DESIGN]: Adjustable handle to minimize user strain
[NIMBLE]: Ideal for quick snow pickups on decks, steps, patios and sidewalks
[POWERFUL]: 10-Amp motor moves up to 400 lbs. of snow per minute
[PADDLE AUGER]: 2-blade paddle auger cuts 13 in. Wide and 6 in. Deep with each pass
Last update on 2023-05-30 / Affiliate links / Images from Amazon Product Advertising API
If you need a small and easy to use snowblower that you can reach out to anytime and clear the yard, then you should consider going for the Snow Joe 323E model. It is easy to use as it features a single handle.
Because of its small size, it is not ideal for large jobs. Only use this model for quick snow pickups on sidewalks, steps, patios, and decks.
It is operated by a 10-Amp motor that blows off 400lbs of snow in a minute. The auger features 2-blades that cuts only 13-inch width and 6-inch depth per pass.
With the ergonomic single handle that is adjustable, you can maneuver your way around varying terrain and hard to reach areas.
This is one of the best electric snow blowers under $100. Just like every other product from Snow Joe, you are backed with their 2-year warranty.

Pros
One of the most affordable snow blowers
It is lightweight
Powerful 10-amp motor
It is easy to use
Easy to store as it takes only a little space
Cons
Small clearing width reduces the pace of the job
Not comfortable for left handlers
6. EGO Cordless Electric Snow Blower
Last update on 2023-05-30 / Affiliate links / Images from Amazon Product Advertising API
We understand that not everyone wants the hassle of running electric extension cables for powering a snowblower. Also, there are some limitations associated with corded snow blowers. Because of this, we decided to include an electric cordless snowblower to the list.
The EGO Power+ SNT2100 is highly recommended for such a situation. It operates on 56-Volt Arc Lithium batteries. It supplies sufficient power to run the blower for up to an hour when fully charged.
It offers 21-inch clearing width and up to 8 inches of snow depth. Performing this task with a battery-powered motor; the efficiency is excellent and can compete with other electric snow blowers.
The chute allows for 180-degree rotation and can throw off snow up to the 35-foot distance. With the absence of a power cord, manoeuvering is easy, and it makes the job quick.

Pros
Full battery charge in 40 minutes or less
Very compact for storage
Starts easily
Surprisingly powerful
Can run for over an hour on each charge
Cons
Heavy or wet snow burns through the battery
Blades wear down quickly
7. WORX WG650 13 Amp 18" Electric Snow Blower
WORX WG650 13 Amp 18" Electric Snow Thrower
30-foot throw distance
180-degree adjustable chute with oversized handles
Quick clamps for handlebar adjustment and assembly
Handlebar mounted chute control
Collapsible tool-less handlebar
Last update on 2023-05-30 / Affiliate links / Images from Amazon Product Advertising API
This snow blower is lightweight and features a powerful 13 amps motor that does a great job in throwing off 490-pounds of snow each minute. With 18 inches clearing width and up to 7.8 inches snow depth, you can blow off the driest snow without experiencing clogging.
The adjustable chute can rotate around 180-degree to suit your preferred discharge angle. This blower will shoot out snow up to 30 feet away. This makes the job clean and neat.
The handle is not left out of this awesomeness as it can be adjusted to 3-height levels to suit your preferred height, thus improving comfort and reducing fatigue.
The WORX WG650 electric snow blower will do the job perfectly with low noise. Storage is also easy and convenient. Because of its lightweight, it can be hung on the garage wall.

Pros
Powerful 13 amp motor with low power consumption
Quiet and environmentally friendly
Convenient, ergonomic design
30-foot throwing distance
Extra-wide 18-inch clearance
Cons
The bolts on the snowblower are not very durable
May have trouble throwing off wet and heavy snow at the claimed 30 feet distance
Electric Snow Blower Buyer's Guide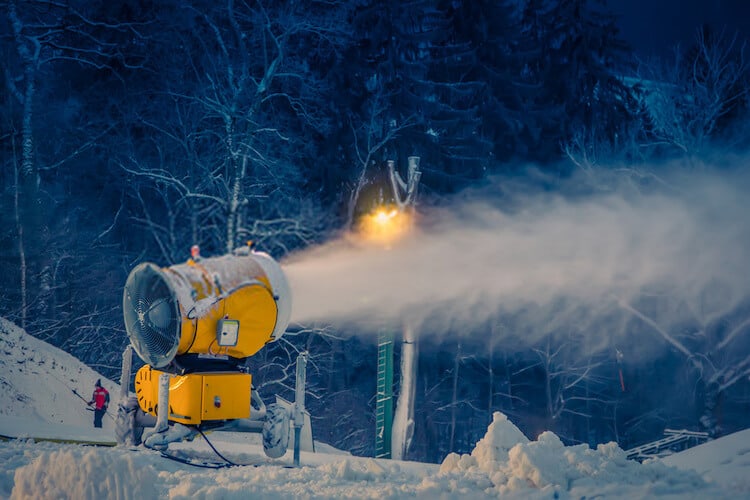 Electric snow blowers have slight differences in the design and mechanism from gas blowers; hence when buying one, there are some criteria you should consider even if you have had some experience buying gas blowers.
To pick the best electric snow blower, the following criteria are necessary.
Read Also: Zero Turn Mower For Hills Reviews
Availability of power source
Electric blowers are powered by electricity. Even if you have got a cordless electric blower, you still need to have a near power outlet for charging.
Also, the power outlet should be easily accessible so that even if you use a power extension cord, it will still be easy running your cable around the yard.
Length of the power cord
Unfortunately, most electric snow blowers come with a short power cord. It is necessary to buy an extension cord when buying an electric powered snowblower.
Since they do not come with an extension cord, we recommended buying the  which works great for any of the corded blowers reviewed on the page.
Clearing width
This is another essential factor to consider. The wider the clearing width, the faster it will take to complete the job. Most electric snow blowers come within the clearing width of 18 – 21 inches.
But the wider the clearing width, the bigger the snowblower. It is ideal to buy a small one if you have a small yard and only looking to clear decks, small driveways, walkways, patios, and other residential areas.
On the other hand, a wider clearing width is great for larger jobs to clear your yard, driveway, and lawn.
Cordless or corded electric snow blowers
When it comes to maneuverability, the cordless blowers are the best choice. They can reach areas that corded blowers wouldn't.
It is important to know that for heavy-duty jobs, it will be required to be plugged in the blower for as long as the job takes.
Comparing both, we will still prefer a corded electric snow blower since they are more rugged. You cant always trust the durability of batteries. Batteries also diminish over time.
Adjustable chute
The ability to turn the chute towards the best suitable angle for discharge makes a blower awesome for the job. This ensures that the snow is moved to where you want it rather than just being thrown off randomly. Rotation between 160-degree is okay, but 180-degree is the best deal.
Also, when it comes to the chute, the father the discharge, the neater your job will be. Anything from 20 ft. discharge is great.
Best Electric Snow Blower Brands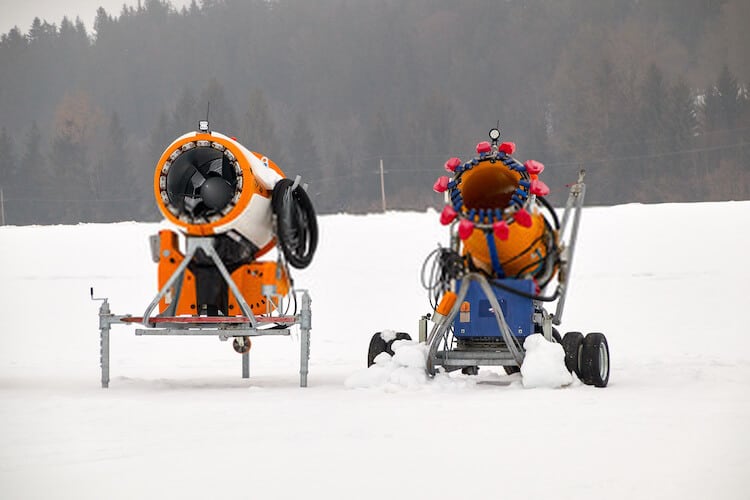 Knowing the names of the best electric snow blowers brands is a commendable step to buying the right one. The following are the best brands in the market.
Snow Joe
If you have gone through our list, you will notice that the majority of the snow blowers here are manufactured by Snow Joe. They specialize in developing outdoor tools, and the electric snow blowers are one of them.
They were founded in 2004 and started with their first tool being an electric snow shovel. Over the years, they have developed to manufacturing a variety of tools and models.
Their 2-year warranty on most of their product set them on edge in the industry.
TORO
If you own a lawn or a golf fanatic, you should be familiar with the Toro brand. Toro Company is an American company that designs a variety of tools, including snow removal equipment, turf maintenance equipment, and irrigation systems.
Their products are ordinarily affordable, yet durable. We have also included an electric snow blower from the brand, and you can be sure of the quality.
The company was founded in 1914 and has managed to maintain quality production on all their tools.
GreenWorks
GreenWorks is new to the industry, but within a few years of production, they have managed to compete and level-up with their competitors. Their electric snow blower is one product that has taken the market by surprise.
They are known to be the makers of a range of battery-powered outdoor power tools which their snowblower is one worth mentioning. Some of their other tools include gas-powered tools, corded equipment, and reel mowers.
Read Also: Choosing Between Garden Shears and Scissors
Electric vs Gas Snow Blower
Both electric snow blowers and gas snow blowers work greatly. They have their similarities and also differences. Understanding the differences between them will enable you to make a better choice on which will suit your job better.
Single or double-stage Engine
Most electric snow blowers are single-stage machines, and as such, won't blow snow father away as those with a double-stage from gas engines.
If you are buying an electric snow blower, you should know that you are buying one that will have a narrower clearing width and won't cut deep into the snow.
Weight
When it comes to weight, the electric snow blowers are known for their lightweight. This is a great advantage because they are easier to transport and they don't take up as much storage space. Gas engines are massive even when empty talk less of when it is filled with gas.
Efficiency
Efficiency is an important criterion to consider when buying any tool. No matter what the case may be, electric motors can never be as powerful as gas engines.
Gas snow blowers are more efficient than electric snow blowers. If you need to clear a large volume of heavy snow, gas engines are the right choice to go for.
Electric Snow Blower vs Electric Snow Thrower
Snowblowers and snow throwers perform the same job but in a different mechanism. When it comes to snow blowers and snow throwers, there's a lot of confusion.
Actually, single-stage electric snow blowers and electric snow shovels are all known as electric snow thrower.
Electric snow blowers are those that use a double-stage mechanism. On a double-stage blower, the auger collects the snow in the first stage, and at the second stage, a separate fan blows the snow off.
Haven corrected the definition, an electric snow thrower, or single-stage electric snow blower, is less powerful than a two-stage snowblower.
Frequently Asked Questions
How long do electric snow blowers last?
The longevity of electric snow blowers, just like any tools depends on how often it is used and how much care is taken into consideration. With adequate care, it could last anything from 7 - 10 years.
How do I know if my snowblower is 2-stage?
It should be stated in the manual that comes with it. You should also ask the seller if it is a single-stage or double stage. However, 2-stage blowers are heavy, and they drive themselves.
Are electric snow blowers dangerous?
All machines possess a form of risk to the user. But with safety precaution, you can use an electric snow blower without any hazard. Always make sure that when using one, there is no rupture on the power cable to prevent electric shock.
Do snow blowers have batteries?
Electric snow blowers use direct electricity powered from either 120 volts or 240 volts outlets. These blowers are called corded electric blowers. They do not use batteries. Blowers that use batteries are referred to as cordless electric snow blowers.
Read Also: Difference Between Blue Star Creeper and Creeping Thyme
Best Electric Snowblower for Lawn | Conclusion
Electric snow blowers are is the best option for house owners who always want to see their driveway and walkway free from ice.
They are affordable such that you can get one for under a hundred bucks. The best gift you can buy for yourself this upcoming winter season is the best electric snow blowers.
Our buyer's guide is one of the most detailed guides you will find out there. Any product from our pick will be worth your money and time.
Good luck with your purchase and enjoy the winter season.