Are you looking for one of the most beautiful and popular houseplants that will add vibrancy to your home or office? You can consider a blushing philodendron as the perfect choice. It is a widely renowned indoor plant amongst other exotic and gorgeous tropical plants.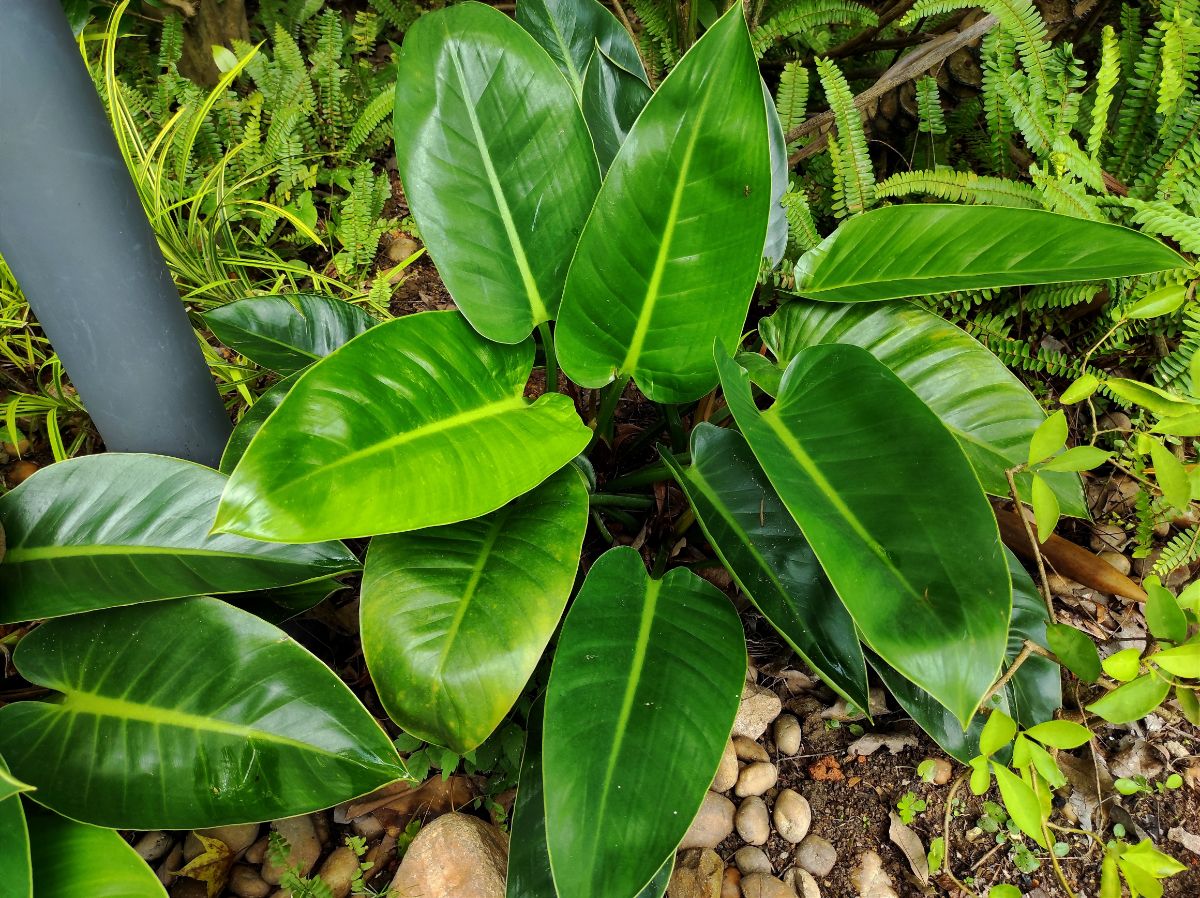 Blushing philodendron features a huge, waxy collection of foliage that will not need full, bright sunlight, making the plant adapt quickly and easy to grow.
The plant will do best indoors throughout the year, but you can also plant them externally. Read down to see the plant's growing conditions.
This article details a completed blushing philodendron growing guide that will teach you how to grow and care for the plant.
Jump to:
Facts About Blushing Philodendron
| | |
| --- | --- |
| Common Names | Blushing Philodendron, Red leaf Philodendron |
| Scientific Name | Philodendron erubescens |
| Family | Araceae |
| Plant Type | Perennial Vining Plant |
| Mature Size | 24 to 36 inches as a houseplant |
| Sun Exposure | Bright, indirect light |
| Soil Type | Rich, quick-draining, loamy |
| Soil pH | Slightly acidic to neutral pH (5.8 – 7.5) |
| Bloom Time | Late Spring, Early Summer |
| Flower Color | Red |
| Hardiness Zones | 10 to 11 |
| Native Area | Central and South America |
| Toxicity | Toxic to humans and pets |
Also known as red-leaf philodendron, the blushing philodendron is a vining houseplant and is one of the most exotic and attractive plants on the tropical planet.
The philodendron varieties have over 400 species worldwide, including the philodendron erubescens, or 'Red Emerald,' a native of Costa Rica and the rainforests of South America.
Another exciting feature of this stunning plant is its eye-catching arrow-shaped leaves sitting on bright red stalks and cascading down a growing surface. Some varieties feature burgundy or red leaves during the plant's early stage and become greener with maturity.
Meanwhile, blushing philodendron is poisonous to humans and pets; hence, it will be best to grow it safely. In its tropical environs, this unique plant can grow up to 60 feet and sometimes transforms to complete epiphytic growth if its connection with the ground is altered.
On the other hand, it may stay around 3 feet tall, while its leaves will reach about 16 inches long and 8 inches wide. This plant is relatively easy to care for and has a life span of ten years or above, especially in its proper condition, as will be highlighted below;
Blushing Philodendron Growing Guide
Lighting Needs
Blushing philodendrons thrive in medium to bright indirect light conditions. In other words, they are low-light or partial shade plants.
They are epiphytes and shade-loving plants that grow under canopies of giant trees, hugging and curling themselves to big trunks as they locate their way up.
If you want your Philodendron erubescens to produce a maximum result, you must find a perfect spot, at least 12 feet away from the window.
Ensure you protect them from direct sunlight to avoid scorching their delicate foliage. For indoor growers, you can locate an area in your home with adequate lighting but not full sunlight.
Soil Needs
If you want your blushing philodendron to be at its best, you must use suitable soil. You can use standard potting mixes or get loamy, nutrient-rich, rapid-draining soil. You can pick a mixture with a neutral to acidic pH.
If the soil mix is excessively cumbersome, you can apply a little bit of sand. Meanwhile, we recommend using peat moss-based potting mix and extra perlite for rapid drainage. In this case, the best offer is the African violet potting mix.
Watering Needs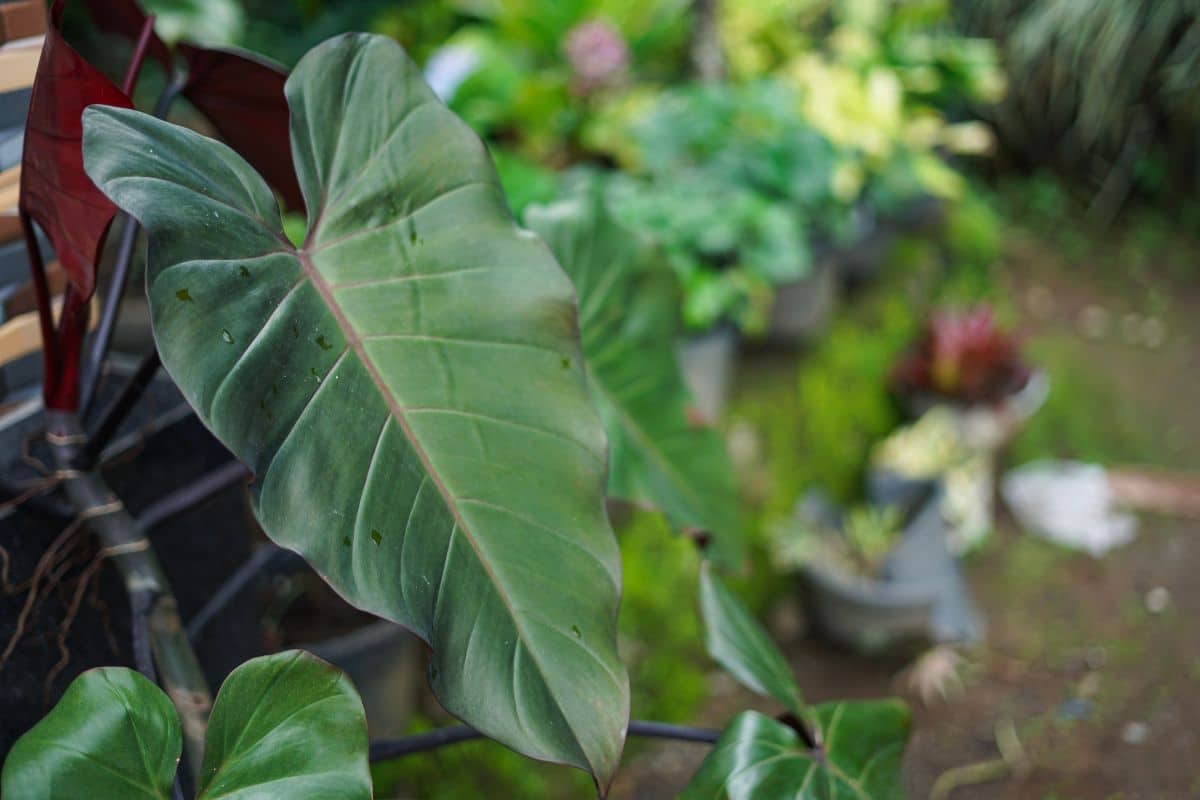 Blushing philodendrons prefer a moist condition. Ensure you keep the soil moist and water your plant regularly as required. This specie hardly hibernates; therefore, you should water sufficiently regardless of seasons.
It is best to water at least three times a week and always sprinkle water on the plant and around it to enhance humidity.
The perfect time to water your philodendron erubescens is during the early morning hours. Don't use tap water as it contains dissolved minerals; instead, opt for rainwater or distilled water.
Additionally, it would be best to dry the residual water on the leaves to avoid the leaves from sunburn or potential fungi diseases.
Temperature/Humidity Needs
Endeavor to keep it warm throughout the year. As long as blushing philodendron is concerned, it will thrive in average to warm temperatures of about 65 to 80°F (18 to 27°C). It can survive a minimum of 60°F (16°C) in winter.
But it shouldn't be exposed to cold blasts from a doorway or positioned close to a heat/AC vent.
Humidity plays a significant role in the growth of blushing philodendrons. They require moderate humidity levels to encourage the development of aerial roots. Mist your erubescens regularly with a spray bottle filled with room-temperature water set to the mist setting.
Fertilizing Needs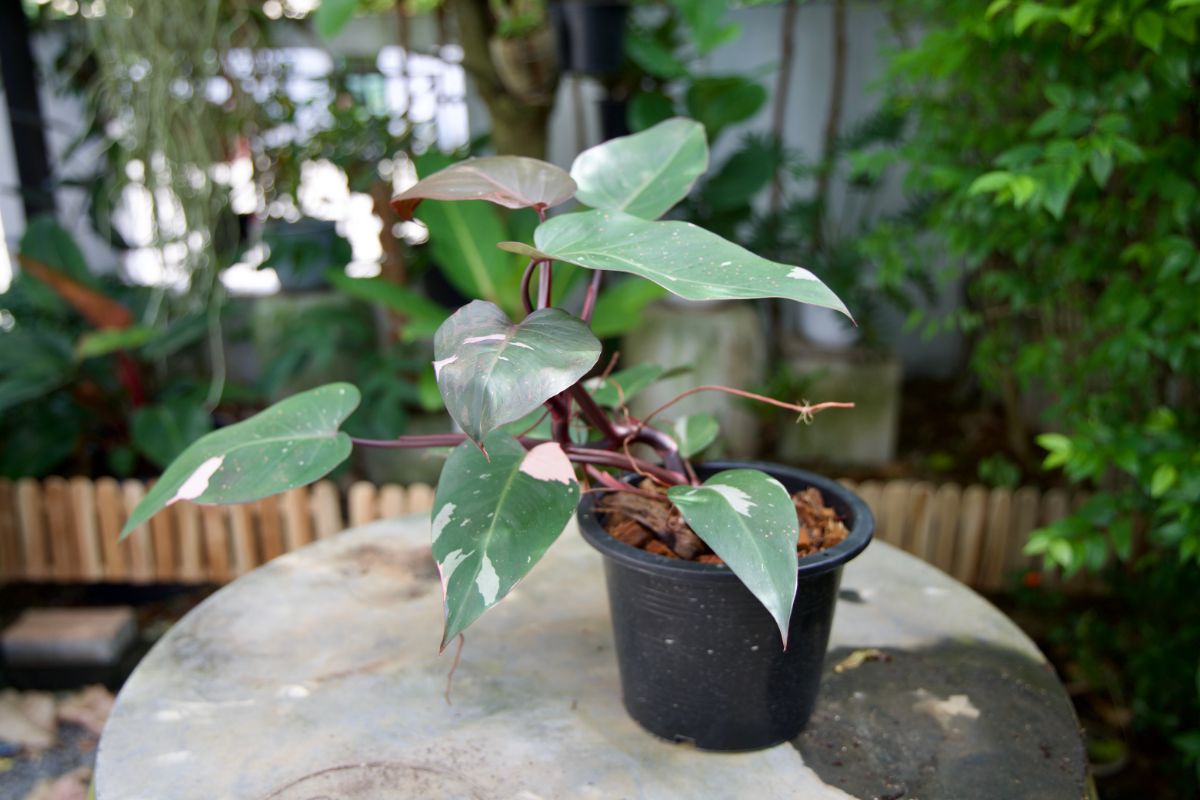 Every philodendron species needs fertilizer, and it would be best to apply some slow-release fertilizer in its growing medium during annual repotting. Again, you should apply fertilizer as often as required; for instance, you can spray thin liquid fertilizer once every two weeks.
Endeavor to suspend watering at least for a day before the day you want to fertilize. After fertilizing, allow for two hours before spraying the leaves with clean water to eliminate residual fertilizer and avoid damaging the leaves.
Potting & Repotting Tips
The tender species of the blushing philodendrons are rapid and rampant growers; hence, it would help if you report them every spring at the start of the growing season. At the end of its first year, when it is mature enough to climb, you can build some support system for them to climb on.
The philodendron erubescens are not necessarily selective on the exact support for their vining activity. Still, you can hardly grow a plant to clamber onto its climbing pole and start its ascent. To enable climbing, you must gradually tie the main vine to the support and let it vine upward.
Hopefully, it should eventually be able to grab the pole on its own. Older plants are relatively more difficult to report due to the climbing poles. In such cases, remove the top layers of the soil and fill them with fresh soil and new fertilizer.
Pruning Needs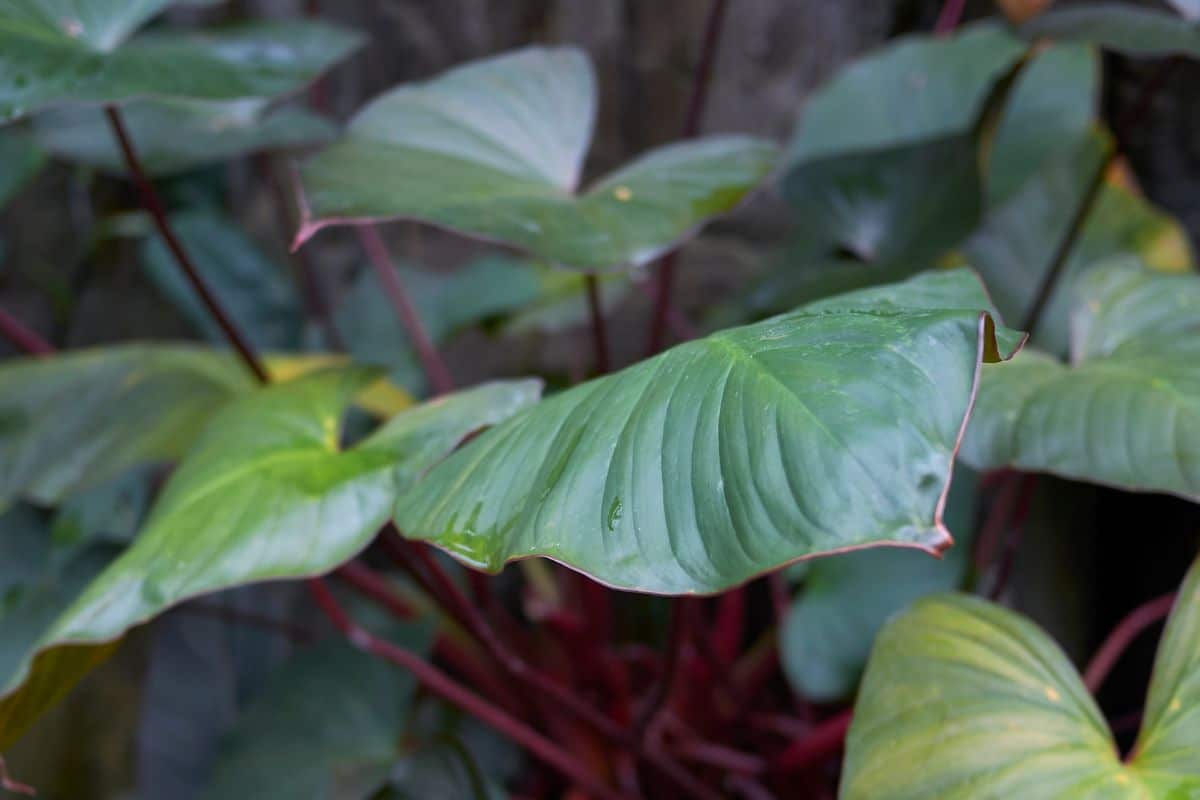 Blushing philodendrons can reach up to 10 to 20 feet tall. They also grow leaves that can reach up to 16 inches long. Therefore, it might require occasional trimming to minimize or keep its clean size and shape.
Apart from the appearance, the pruning is relatively low maintenance and prunes off any untidy or spent leaves, including those that have started yellowing. Likewise, prune any leggy stems to enhance their regrowth.
Blushing Philodendron Varieties
There are several species under the Blushing Philodendron variety, but you might want to check out the ones listed below;
Philodendron scandens: This variety is the same as philodendron erubescens, given that it features light-red coloration on its leaves. It features a vining growth habit and much smaller leaves.
Philodendron erubescens 'Green Emerald': This type of blushing philodendron comes with vibrant, bright green leaves.
Philodendron erubescens' Pink Princess': This variety is famous for its stunning colors and high pricing and features marbled pink and green coloration on its leaves.
Philodendron erubescens' Red Emerald': This variety comes with glossy, heart-shaped leaves with red color but gradually turns green when it matures. It also features bright red stems and leaf veins.
Philodendron 'Burgundy': It is a more ancient type that you still find around. It features less red in its leaves than Red Emerald, yet produces a fantastic appearance. A bonus is that it won the Royal Horticulture Society's Award of Garden Merit.
Blushing Philodendron Toxicity
Blushing philodendron plants are poisonous to cats and dogs. Consuming any part of the plant will cause irritation in the mouth, throat, and digestive tract and can also lead to vomiting.
You should also keep them out of children's reach as it contains calcium oxalate crystals that are poisonous to humans if ingested.
Propagation of Blushing Philodendron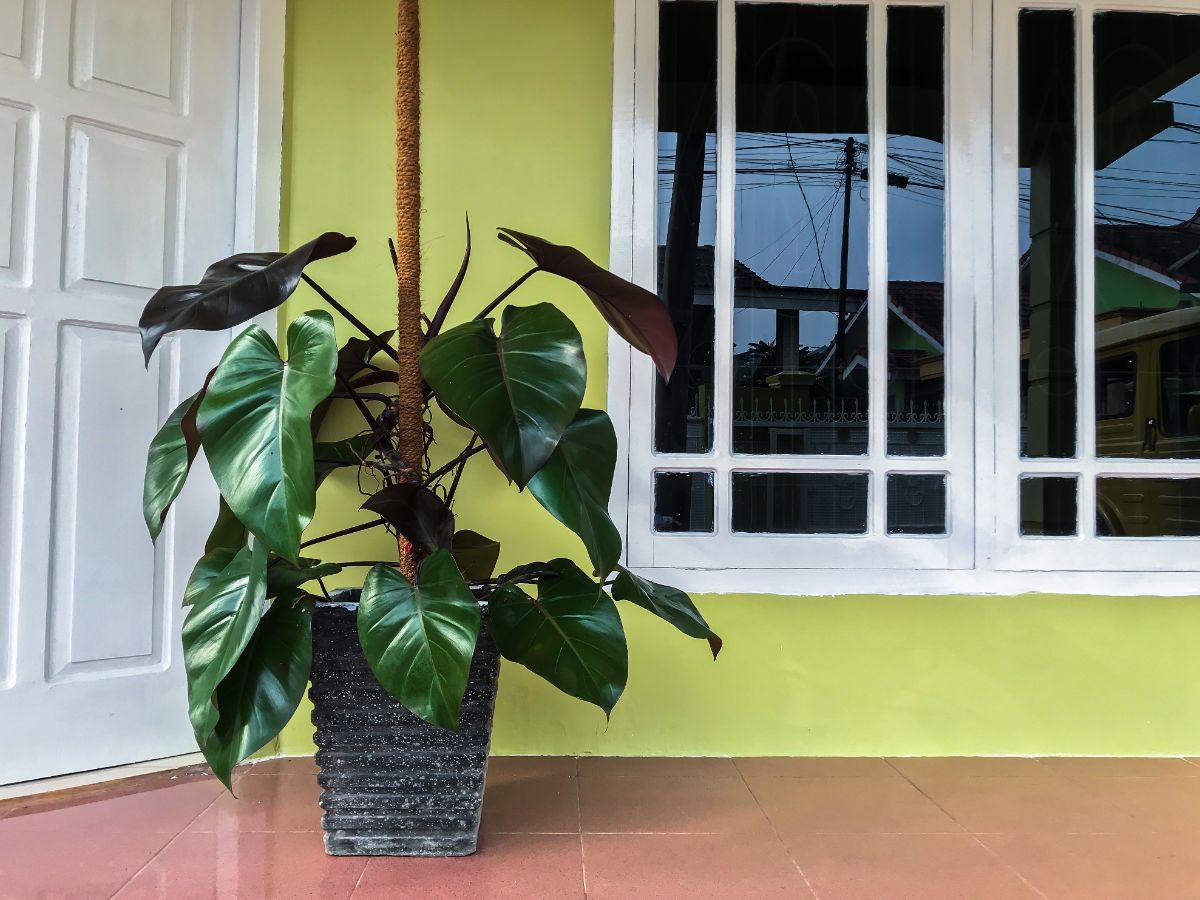 You can propagate blushing philodendron by using two methods: cuttings and division. If you are taking a piece of stem, ensure you take one with multiple aerial roots.
More established plants will produce aerial roots on their leaf nodes, simultaneously serving as roots and clambering onto surfaces.
Meanwhile, the best time to propagate philodendron erubescens is during the spring when the plant is in its active growth, but if it is outgrowing its pot, you can propagate in other seasons if possible. Follow the steps below for proper propagation of this unique vining plant;
Please get a new container for the cutting, and fill it with the right soil mixture.
Provide a stem that has multiple aerial roots and take a cutting from it. If you are propagating by the division method, find a branch that grows on one plant section.
Cut off any stem you like with a clean pair of gardening shears.
Cultivate the stem in its fresh container and put it in a spot with bright, indirect light.
Water the soil and let it drain completely before applying the appropriate care that your blushing philodendron requires.
Frequently Asked Questions
How big does a blushing philodendron grow?
The average height of a blushing philodendron is around 4 meters tall. It also produces leaves that can reach 40cm long and flowers that measure about 15cm long.
How do I know if my blushing philodendrons need repotting?
Whenever you notice the roots of your blushing philodendron poking out at the base of its pot or the leaf edges beginning to brown prematurely, it is a sign that you must repot your plant. The Spring season is the best time to repot your plant.
Should I mist my blushing philodendron?
Even though your philodendron plant will survive your home's humidity level, it will thrive best under a high humidity area. So, misting your blushing philodendron regularly will help promote lush growth and attractive foliage.
How do I make my blushing philodendron bushy?
It's pretty simple!!! Since your philodendron is a climber, you can use pruning shears or pinch the tips of vines. It helps keep the plant in shape while encouraging bushier and healthier growth.
Does blushing philodendron like to be root bound?
Even though philodendron species can survive being root bound than several other houseplants, they don't necessarily like being root bound. But it will do better and healthier with regular repotting.