Of course! There are magical plants, and you can imagine the bonsai blue flowering jacaranda, a tree often growing at 15 meters high, becoming a 10th of its size at just 1.5 meters.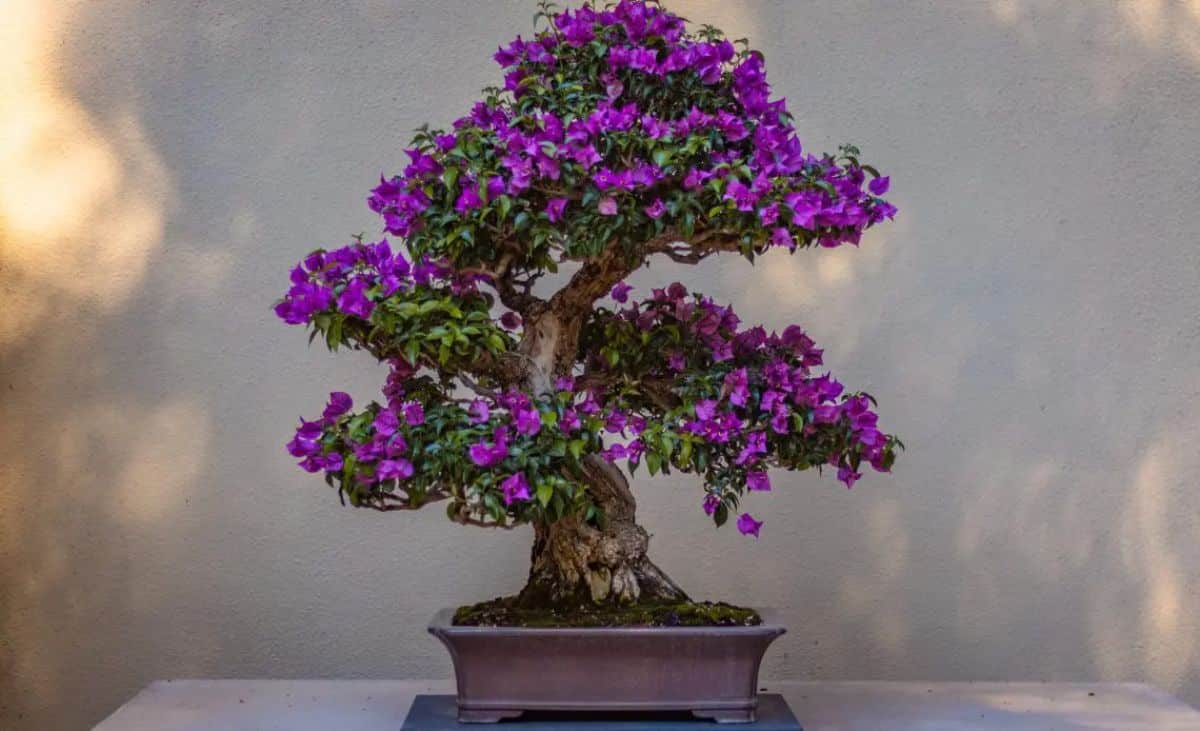 This plant always does what is written on its package and has become the hottest new plant and favorite of many, thanks to its exciting features.
Bonsai blue jacaranda 'Jacaranda Mimosifolia' is a famous ornamental tree courtesy of its charming and durable blue flowers alongside beautiful compound leaves.
But you can easily maintain this plant if you give them the best conditions, like sunshine, moist soil, proper fertilizing, protection from frost, etc. We'll be back to that later.
Jump to:
Essential Facts About Bonsai Blue Jacaranda
| | |
| --- | --- |
| Common Names | Jacaranda tree, Black poui, Blue jacaranda. Brazilian Rosewood |
| Scientific Name | Jacaranda mimosifolia |
| Family | Bignoniaceae |
| Plant Type | Flowering tree |
| Mature Size | 1.5m (5′) high x 45cm (18″) in spread |
| Sun Exposure | Full Sun |
| Soil Type | Well-drained soil with fresh organic matter |
| Soil pH | Neutral to Acidic |
| Bloom Time | May to June (Spring, Summer) |
| Flower Color | Purple, Blue-purple |
| Hardiness Zones | 10 and 11 (USDA) |
| Native Area | South-central South America |
| Toxicity | Toxic to humans and pets |
Also known as Jacaranda Tree, the Bonsai blue jacaranda 'Jacaranda Mimosifolia' is a semi-evergreen tree that originated from South America and can reach up to 50' (15m) tall and 40' (12m) spread. You can also find them growing in the southern states of the USA, in Mediterranean countries, South Africa, and Australia.
This unique plant features compound, fernlike leaves and charming blue or purple blooms reaching around 2" (5cm) long and forming a large group of large panicles. It is often seen during spring and early summer and lasts only two months. It has woody seed pods containing several winged seeds.
Last update on 2023-09-24 / Affiliate links / Images from Amazon Product Advertising API
Bonsai blue jacaranda has a thin, greyish-brown bark that turns scaly with the plant's maturity. It has tiny and a bit zigzag. The tree can retain its leaves in the winter or drop them based on the temperatures and amount of light. Most times, the leaves tend to fall before their flowers start unveiling.
The jacaranda mimosifolia has other names like Brazilian Rosewood and Blue Jacaranda. Even though this tree can survive any climate where there is no frost risk, the more established trees can tolerate temperatures of about 19 degrees Fahrenheit (7 degrees Celsius) for brief periods.
Below is the growing guide of the Bonsai blue jacaranda 'Jacaranda Mimosifolia';
What is Unique About the Bonsai Blue Jacaranda?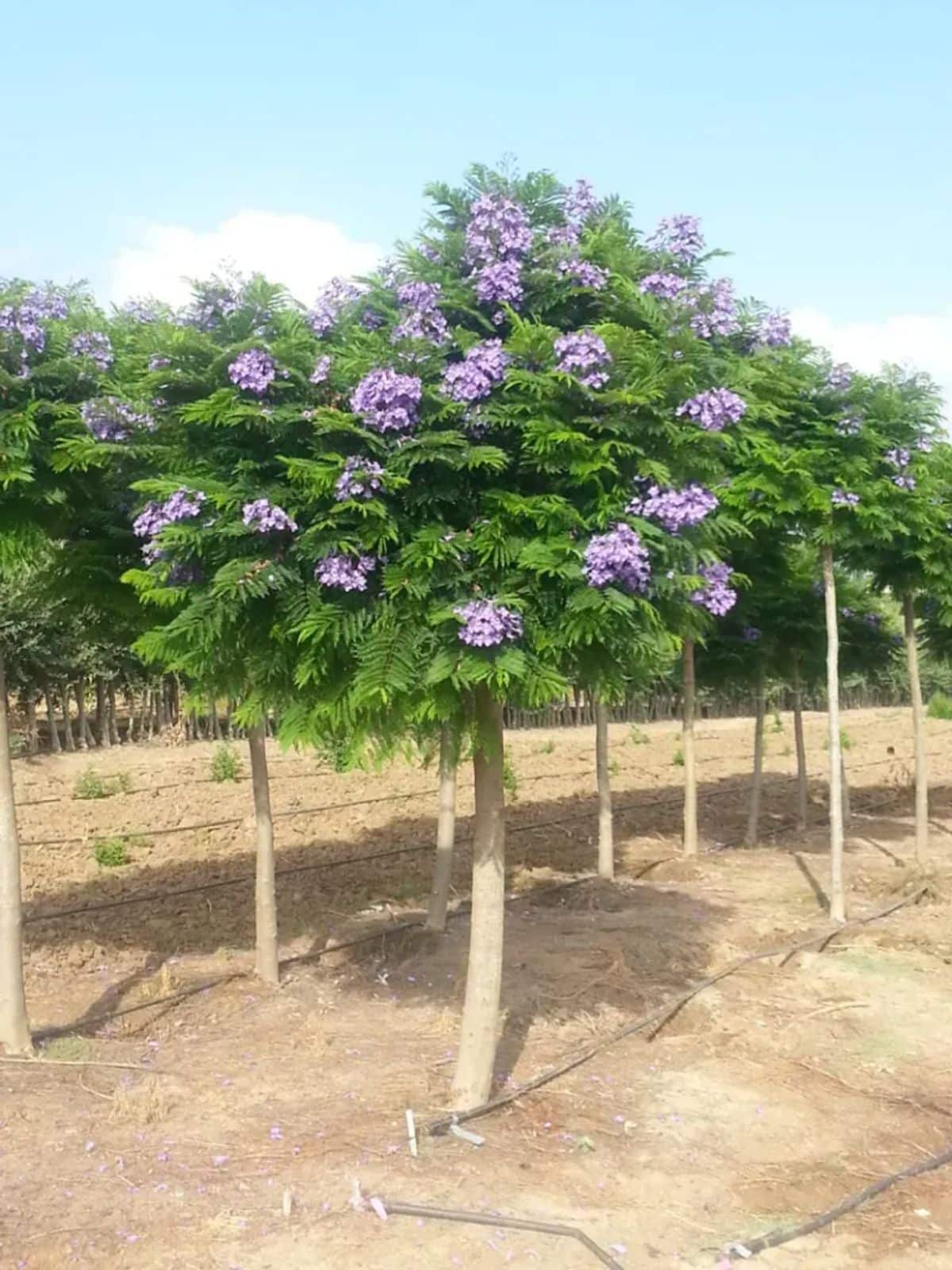 This lovely botanical development has produced a new category for the much-cherished jacaranda. It has been created as a small tree for urban space.
In the subsequent years, you'll see these beauties lining the streets of Europe and colder zones, alongside purple blooms standing at 1 meter tall.
This unique jacaranda plant is tolerant to heat and drought after it has matured. You are not the only fan of bonsai blue jacaranda because it will continue to draw many butterflies, bees, and other pollinating wildlife. It is indeed a unique plant.
Essential Bonsai Blue Jacaranda Growing Guide
Light Needs
Bonsai blue jacaranda is a sun-loving plant that thrives in sufficient light, and its temperatures should be below 59°F (15°C). When planting it in a bonsai pot, you must protect this tree from lower temperatures. If you keep the jacaranda inside throughout the year, its leaf size will hardly reduce.
By May, you can bring the bonsai blue jacaranda outside in a sunny area or partial shade. Avoid keeping it above a heating device. With sufficient light, all of the plant's leaves will drop during the winter season, but fresh ones will grow during spring.
Soil Needs
Bonsai blue jacaranda prefers moist but well-draining soil to prevent the roots from sitting in water. You can opt for commercial bonsai soil for optimal results, featuring coarse clay and sand particles and lots of organic matter.
Water Needs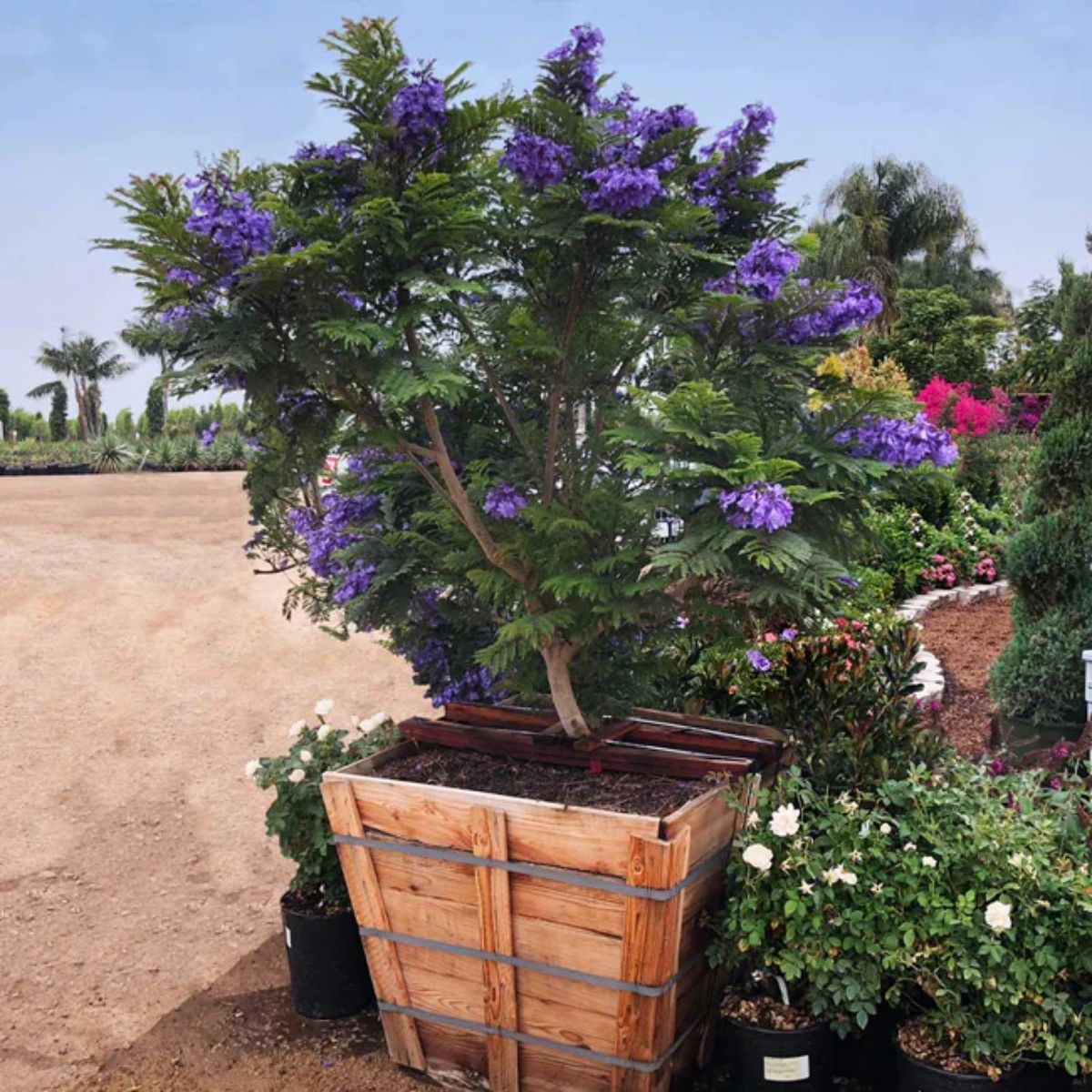 Generally, it would be best if you watered your bonsai blue jacaranda once the top three to four inches of soil dry to the touch. These species require regular moisture all year and usually need extra watering in high heat or dry spells.
It would help if you did the watering around the tree base, focusing most of the water at its drip line, where the water drips off the branches' ends rather than close to the trunk.
To know the sufficiency rate of watering, stick a finger or water gauge into the ground to at least three inches deep, ensuring the water has reached that depth.
Water again the same way at least once every week, and increase to several times a week during harsh sun or heat periods. However, it would help to reduce your watering routine to at least once a month in the plant's dormant winter periods.
Temperature/Humidity Needs
Given that bonsai blue jacaranda is a subtropical specie, which grows in warm weather, it will, therefore, will not tolerate temperatures below 59°F (15°C). For those living in a warmer region, it would be best to keep your plant outdoors throughout the year.
Humidity-wise, your blue jacaranda requires sufficient moisture and warmth to grow well. Please keep it in areas with more humid climates and prevent them from experiencing long periods of dryness.
But in conditions where temperature decreases during the fall, you can take them indoors and place them in a warm, brightly-lit location that is not directly above the heat source.
Fertilizing Needs
The best fertilizing guide for bonsai blue jacaranda is feeding once weekly in the growing season using a balanced fertilizer diluted in half. However, you can cease fertilizing immediately after the tree starts dropping leaves.
Under-fertilizing might not give your plant a healthy appearance, yet overfertilizing is wrong. Another suitable period to fertilize your jacaranda mimosifolia is during early spring before it begins to produce flowers. It will help to give it some much-needed additional boost.
Potting & Repotting Tips
If you're growing bonsai blue jacaranda in pots, you must ensure the containers are at least five gallons in size, using a sandy loam potting mix that rapidly drains excess water. Endeavor to keep the soil moist but not soaked throughout the active growing season.
During the transplanting period, you must transplant your tree in the winter once it finishes dropping leaves before they bud out in early spring. Ensure you transplant them during their dormant period, as it reduces stress and increases chances of success.
Bonsai blue jacarandas reach up to 50 feet tall in their tropical habitats, outgrowing containers. But in cooler regions, you can grow them as potted trees reaching around 8 to 10 feet, as long as you prune them annually and keep them in shape during dormancy to retain their small sizes.
Pruning & Wiring Needs
Given that jacaranda mimosifolia possesses strong growth, you can cut the new shoots to one or two leaf pairs when four or five have grown.
The best time to prune strongly is during the spring season. You can cut off the giant leaves at any time in the growing season. The best tool for pruning is the simple garden cutter.
As long as your jacaranda tree is concerned, wiring is necessary. You can wire young shoots once they start lignifying. However, you can only remove its wires after about three months. The best wire to use is soft aluminum or copper wire.
Propagation of Bonsai Blue Jacaranda
Cutting and seed techniques are the best and most common methods of propagating the bonsai blue jacaranda. Progression from the seeds method will likely take longer, yet it is interesting to undertake.
You can also propagate a new jacaranda mimosifolia by buying a tree with a beautiful trunk from a garden center and cutting it until it fits into a container. This method produces a mature-looking bonsai jacaranda plant in a relatively less amount of time.
Common Bonsai Blue Jacaranda Problems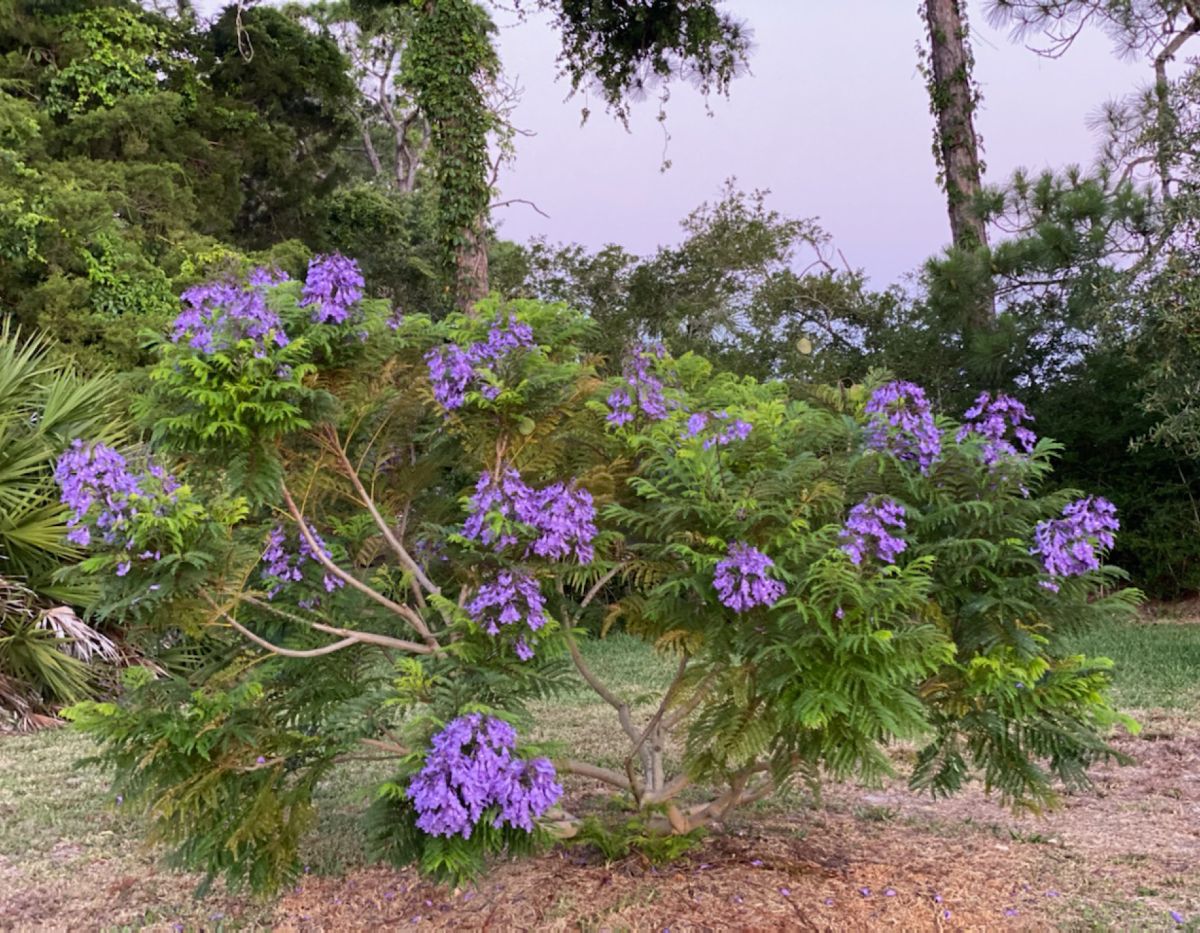 In its native area (U.S), the bonsai blue jacaranda tree loves the balmiest regions, including Hawaii, the South, Southern California, and Texas.
They grow significantly easier in those locations, as they offer suitable conditions. They'll more likely experience problems when you fail to meet their water, sunlight, and temperature requirements.
1. Yellowing Leaves
Whenever you fail to water your blue jacaranda deeply enough, it will likely not produce sufficient chlorophyll, resulting in chlorosis that causes green leaves to become yellow.
Therefore, you must give your tree enough water. Water on a schedule and provide your jacaranda a deep watering on sweltering days.
2. Browning or Dying of Leaves
If your bonsai blue jacaranda is infected with the insect-borne bacterial leaf scorch disease, it shows that you've been underwatering. It causes the leaves to wilt, brown, and drop, resulting in drying out and brittle the branches and stems. This disease has no cure.
There can be other potential causes for the browning of leaves of your jacaranda trees, including leaf scorch resulting from too much sun or overfertilizing. Ensure the plant is not getting too much sun by transplanting the tree to a more sun-free spot.
3. Dead Leaf Tips
Too much fertilizing can destroy the mineral salt ratio in the soil, resulting in dead leaf tips and yellowing edges of your jacaranda tree. If the leaf tips appear to die immediately after fertilizing, it shows that you have overfertilized.
You can control an overfertilized jacaranda by eliminating the dying or wilting leaves and watering the fertilized soil thoroughly, which will help to flush out the fertilizer. You can prevent this problem by watching your fertilizing activity and following due protocol.
Frequently Asked Questions
How long does a jacaranda tree live?
The average lifespan of a jacaranda tree is around 50 years old. However, some varieties can grow much longer than that and up to 200 years old. They can reach maturity at about 20 years and can regrow if damaged from fresh falling seeds.
How long does bonsai blue jacaranda take to grow?
A bonsai blue jacaranda is a perfect option for a shade tree thanks to its fernlike leaves that can reach up to 20 inches in length. It is a rapid-growing tree in a tropical environment, getting around 10 feet yearly in its first years of life.
How long does it take to grow a bonsai blue jacaranda?
If you're growing bonsai blue jacaranda from cuttings or those grafted to seedling rootstock, it will take two to three years to flower. Starting your tree from seed takes a much longer wait, from 7 to 14 years. Meanwhile, seedlings might possess a flower different from the parent plant when you finally see their flowers.
Can jacaranda trees grow in pots?
Yes, you can grow jacaranda trees in pots, but you will need to plant them in 5-gallon (19 liters) or larger containers filled with a sandy loam potting mix. Good draining soil is essential to the health and vigor of container bonsai blue jacarandas. Throughout the active growing season, you must keep the soil moist but not soaked.
How long does it take for a jacaranda tree to produce flowers?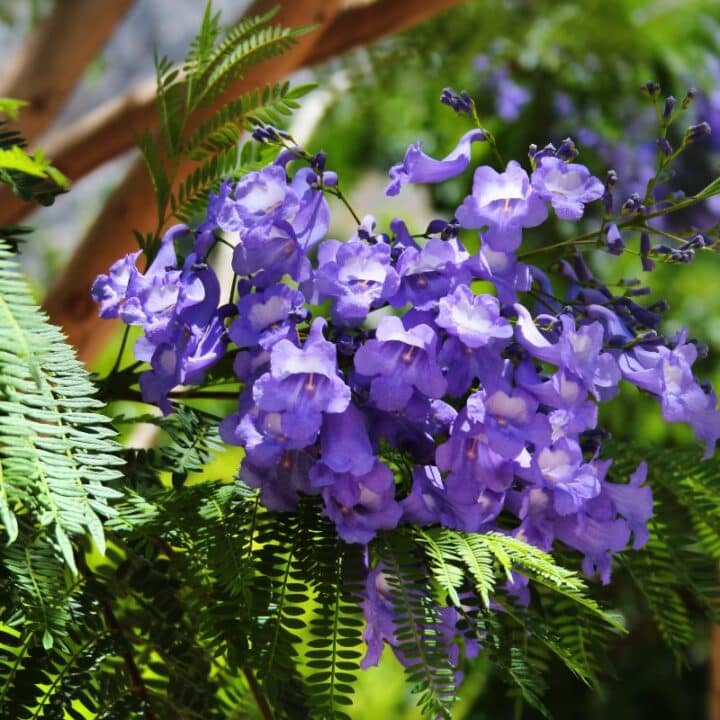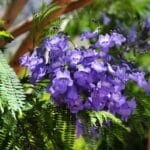 If you're growing jacaranda from seed, it will take longer to reach its flowering size. Typically, it will start to flower after 8 to 10 years. To promote blooms, you must apply azalea/gardenia fertilizer in March, June, and October.