Calathea lancifolia, native to South America, is a member of the Marantaceae family. It is also known by other names, including, Goeppertia insignis, rattlesnake plant, and prayer plant.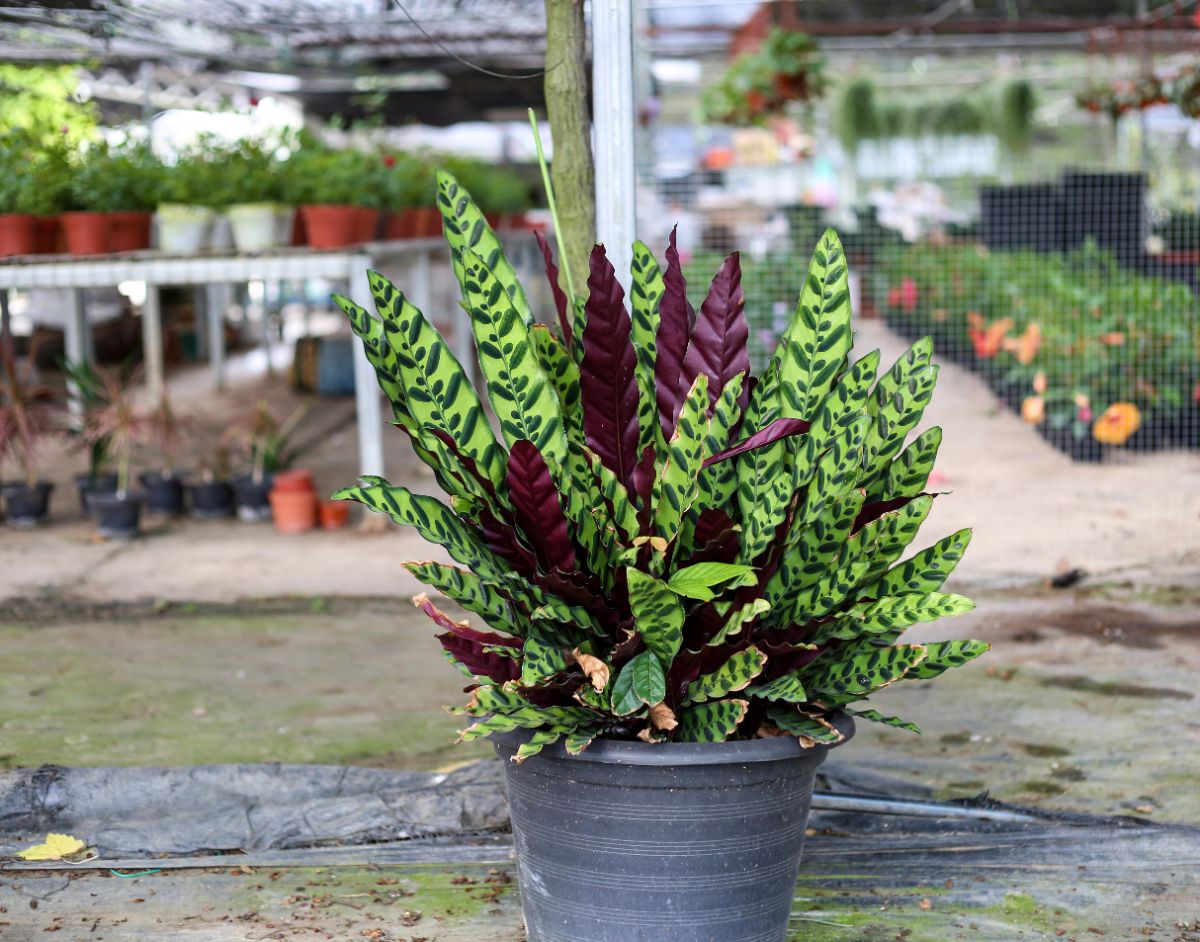 These names are tied to specific characteristics, such as the interesting dark green marks on its bright green leaves and how it folds up at night or in dark seasons. An evergreen perennial, the calathea lancifolia grows well indoors.
This Calathea Lancifolia is a growing guide will teach you how to grow and care for the calathea lancifolia plant.
Jump to:
Calathea Lancifolia Growing Guide
| | |
| --- | --- |
| Common Names | Rattlesnake plant, prayer plant, rattlesnake calathea |
| Scientific name | Calathea lancifolia |
| Family | Marantaceae |
| Plant type | Herbaceous Perennial/Houseplant |
| Mature size | Height: 0 ft. 9 in. - 1 ft. 8 in Width: 0 ft. 9 in. - 1 ft. 6 in |
| Sun exposure | Deep shade (not more than one and half hours to no direct sunlight) Partial Shade (Direct sunlight only part of the day, 2-6 hours) |
| Soil type | High Organic Matter, good drainage & moist |
| Bloom Time | Late Spring in its natural environment hardly blooms indoors. |
| Flower Colour | Bright Green with dark green markings, purple underside |
| Hardiness zones | 11a, 11b, 12a, 12b (USDA) |
| Native area | Brazil |
| Temperature | 18 - 29ºC |
| Toxicity | non-toxic |
The Calathea lancifolia is popularly grown as a houseplant but is native to the Brazilian rainforests.
There are other calatheas, including calathea concinna, calathea orbifolia, and calathea zebrina, but the calathea lancifolia differs from them because of its narrower leaves. They are known as prayer plants.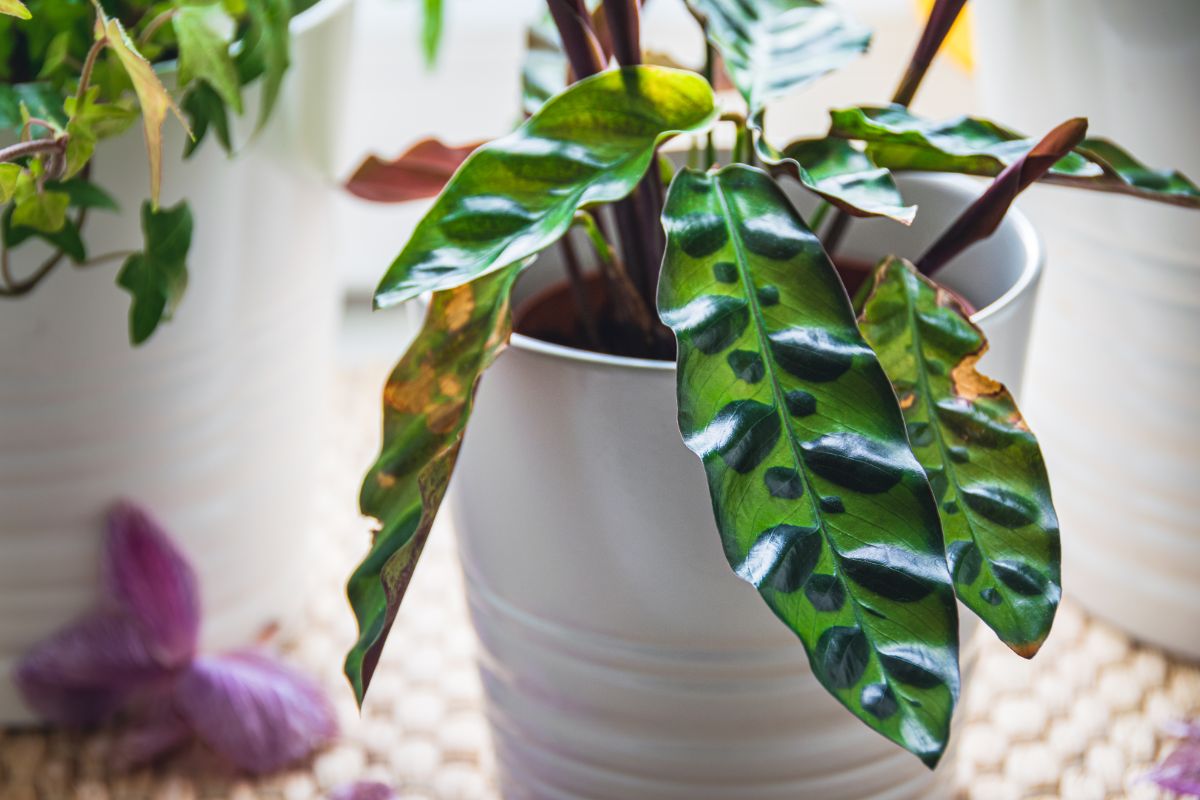 While there are a couple of theories about why prayer plants, the most promising is that the plant adapted to capture water best. During the day, these plant leaves will lower and spread out to absorb moisture or to catch the rain.
At night, the plant retains water by folding leaves inwards. This way, water droplets are stored as they trickle down to the plant instead of evaporating.
Calathea lancifolia, like other calatheas, are natural air purifiers and provide fresh oxygen in the home. They are also quite attractive and make for good house decorations. Keep reading this calathea lancifolia growing guide to learn the right conditions to grow your calathea lancifolia.
Calathea Lancifolia Watering Requirements
You should water the Calathea lancifolia plant at the right pace and amount. Aim for a few weeks interval to prevent over-watering.
The soil should be moist but not dried out. Avoid over logging in the potting mix to prevent root rot. By using pots with drainage holes, you can control water levels.
In summer and winter, water to keep moist soil, while in winter, reduce watering. However, if your leaves curl, that's a sign of under-watering.
Also, ensure that your water is free of salts, fluoride, chlorine, and heavy minerals to prevent a build-up in the plant's substrate.
These substances spread to the roots and leaves of the plant, turning them brown and leading to their death. To prevent this, distill your tap water, or use rainwater. You can also flush the soil from time to time.
Soil Requirements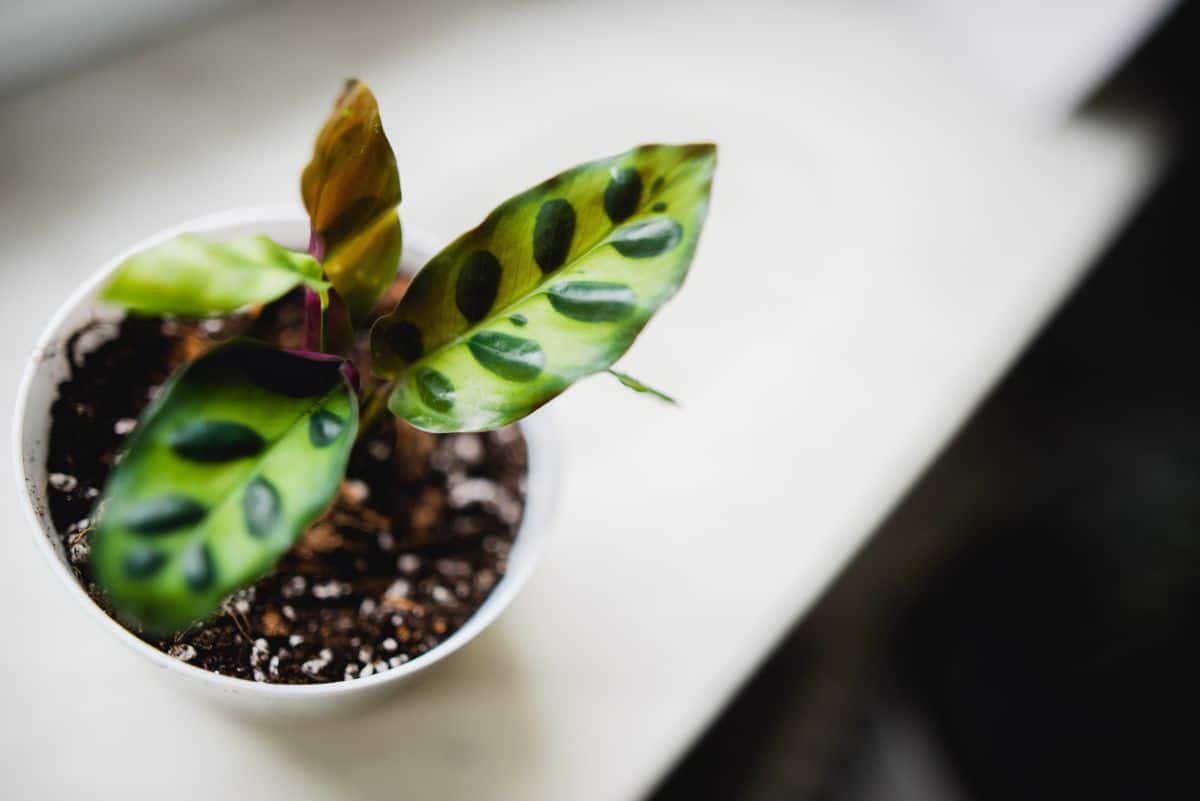 Calathea lancifolia does well in soil with a 6.5 pH. It should be loose and fast draining but able to hold water. The ideal soil mix for your calathea lancifolia is rich in sphagnum peat moss, with some perlite or vermiculite and pumice.
The moss enables the soil to retain moisture and keep the plant's roots hydrated. In addition, it should contain some pebbles, grains, rocks, and gravel.
If your calathea has not grown within six months, you use the wrong soil mix. You can also use African violet potting to grow the plant.
Calathea Lancifolia Temperature And Humidity Requirements
Due to its tropical origins, this South American native needs moderate to warm temperature and mild to high humidity levels.
If planted indoors, To thrive all year round, your calathea lancifolia needs warm room temperatures between 70-85°F/21-29°c and 50% humidity to thrive all year round.
The calathea lancifolia is also partial to early morning sun and a partial shade. It does not respond well to the full sun or unexpected temperature changes.
During winter, your calathea lancifolia enters into a natural dormancy state (slow growth), so you must ensure to heat the room in which it is planted. You can keep it close together with plants, a humidifier, or in your bathroom.
A humidifier is an automatic solution for keeping humidity at the right level. Another way to ensure proper moisture is to place the potted plant on wet pebbles or mist the plant's foliage at intervals. Misting can be done with a squeeze bottle filled with tap water.
You want to keep your plant away from dry air to prevent it from getting brown.
Calathea Lancifolia Fertilizer Requirements
Your calathea lancifolia does not need much fertilizer. You can feed it every season, apart from winter, with a water-soluble houseplant fertilizer while ensuring it is not too much.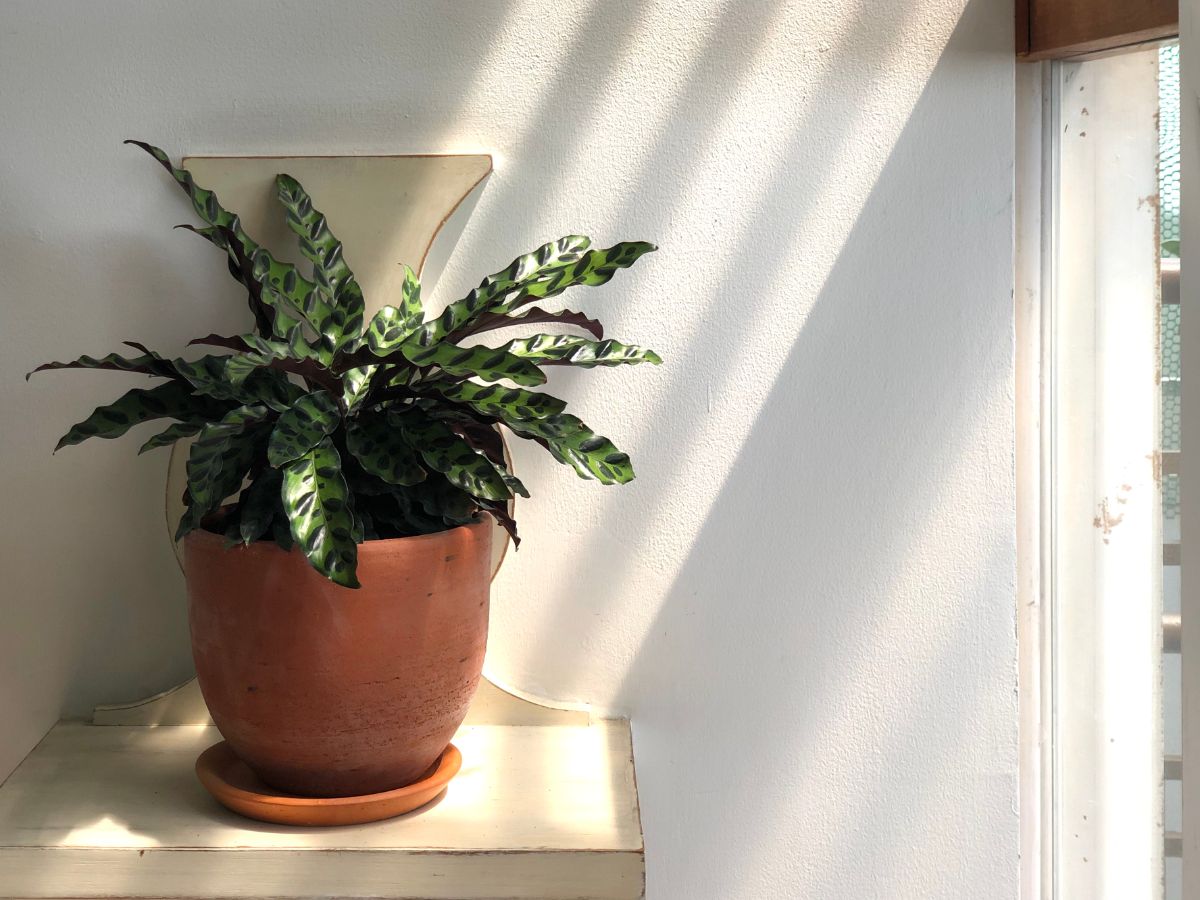 Fertilizer monthly during the growing season in summer and Spring, but reduce it during winter. The best fertilizer for this plant should have an NPK rating of 10-10-5.
Calathea Lancifolia Sunlight Needs
To give your calathea lancifolia the required sunlight, place it before a north-facing window so it can feed on bright, indirect light.
An east-facing window (in the northern hemisphere) is also good. Although not necessarily a low-light plant, the purple undertones of its leaves have become adaptable to the bright but shaded light of the tropics and rainforests. Avoid keeping them in direct sunlight.
Pruning and Repotting
Calathea lancifolia doesn't require much pruning. All you need to do is eliminate its dying or dead leaves and stems from the base. Doing so helps to concentrate the plant's energy on recent growth and improve its attractiveness.
Do you have matured calathea lancifolia? You can consider pruning them for propagation. To prune, cut off sections of the stems and replant cuttings in new soil. Although the size of calathea lancifolia is manageable, if you so desire, you can repot it.
You must get a bigger pot filled with a well-drained mix and repot the plant from the roots. Spring, during the start of its rigorous growth process, is considered the best time to divide the plant for repotting. To prevent root rot, you can also repot when your soil has stayed wet after a week of watering.
Calathea Lancifolia Diseases and Pest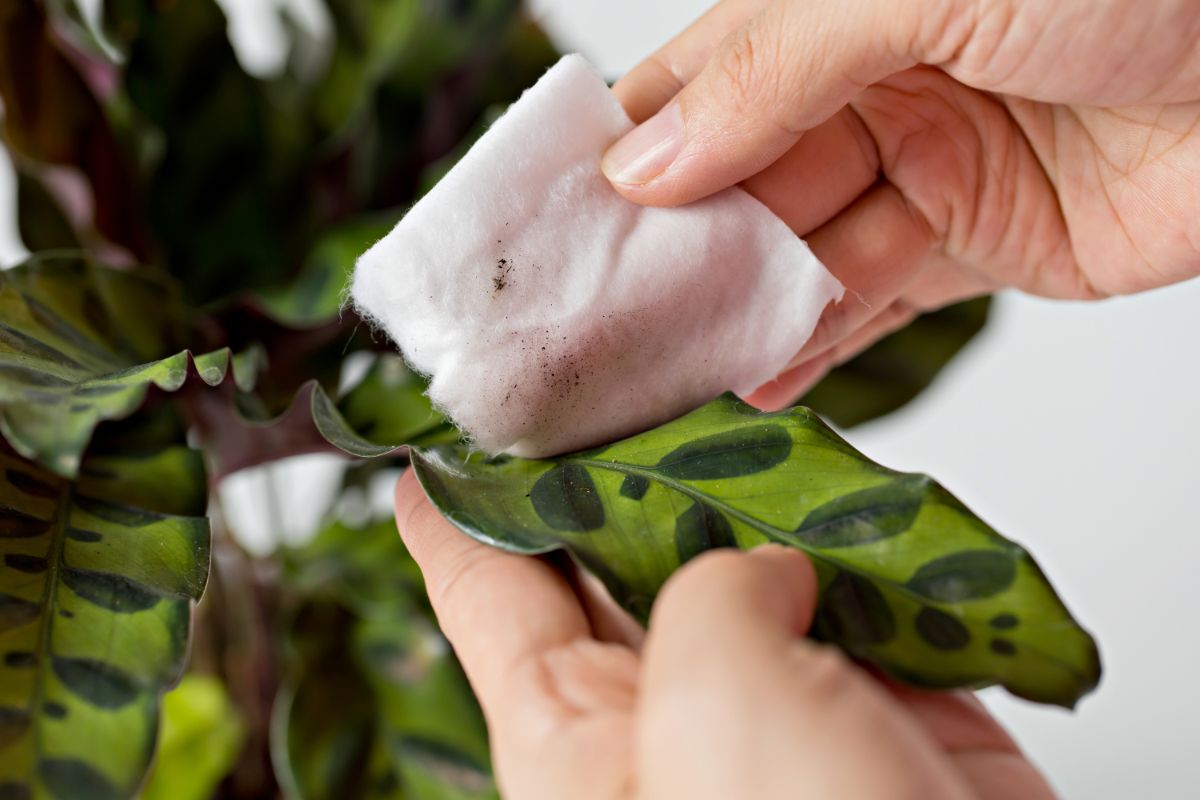 This plant is susceptible to pests like thrips, spider mites, and mealy bugs. Although a strong and healthy plant, clean your leaves with damp clothes to prevent toxicity from spreading. Cut off any sections that have yellow or brown edges before they apply all over.
Calathea Lancifolia Toxicity
Calathea lancifolia is non-toxic to animals and humans because it does not contain harmful ingredients. However, it could cause stomach issues for cats if they eat a lot. It is a good choice for a home filled with children and curious pets because of its fascinating leaves.
Conclusion
Everything you need to grow your calathea lancifolia is contained in this Calathea lancifolia growing guide. If you pay attention to it, you will have your favorite plant growing in no time.
Always remember that calathea lancifolia does not need frequent watering. Make sure the soil is moist and avoid too much fertilizer.