Calathea Roseopicta is a popular ornamental plant that will add beauty and significantly enhance your home garden's appeal. You can grow the plant indoors and outdoors, and it's often considered a tough and sturdy plant.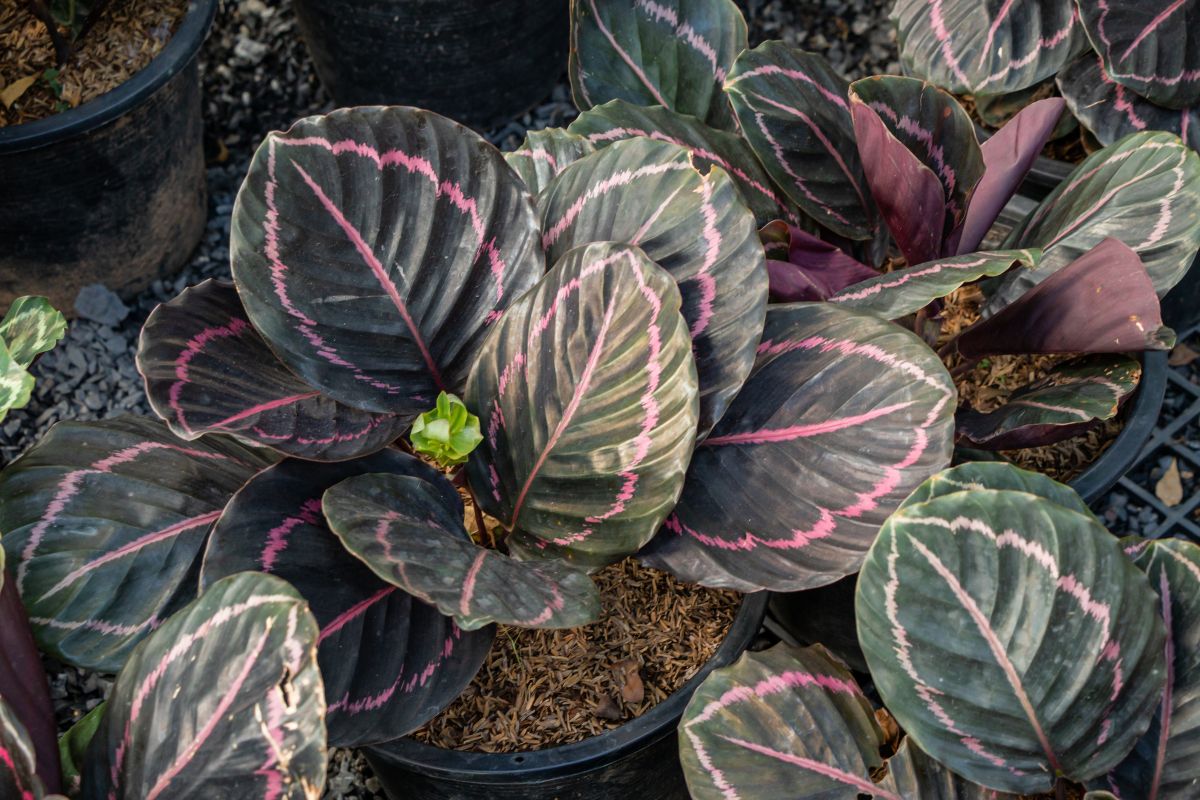 One to behold is the sight of the Calathea Roseopicta plant showing off its striking, green, elliptic leaves with pinkish-colored stripes.
This Calathea roseopicta growing guide is aimed at furnishing you with all the information you need to keep your plant healthy and beautiful.
Jump to:
Calathea Roseopicta Growing Guide
| | |
| --- | --- |
| Common names | Rose painted calathea |
| Scientific name | Calathea roseopicta |
| Family | Marantaceae |
| Plant type | Foliage, vine, large type |
| Mature size | 20 inches to 23 inches |
| Sun exposure | Bright indirect sunlight. |
| Soil type | Well-draining, peat-based potting mix |
| Soil pH | 6.5-7.0 |
| Bloom Time | Summer |
| Flower Colour | white and purple flowers |
| Hardiness zones | 11 to 12 |
| Native area | South American Countries like Brazil, Peru, Ecuador, and Colombia |
| Temperature | 18 - 29ºC |
| Toxicity | Non-toxic to animals, pets, and kids |
The Calathea Roseopicta belongs to the Marantaceae family; the expression of their foliage folding together at night resembles praying hands.
The plant's unique feature of its leaves folding up by night and opening up in the morning is something that always fascinates every first-time observer.
Because of this, it is often referred to as a prayer plant. The most common houseplant genus that exhibits this leaf movement includes Calathea, Maranta, Stromanthe, and Ctenanthe.
While there are a couple of theories why foliage folds happen, the most promising is that the plant adapted to capture water best.
That way, during the day, the plant leaves will lower and spread out to absorb moisture or to catch the rain. At night, this adaptational behavior helps the plant keep water by folding leaves inwards. Water droplets are stored as they trickle down to the plant instead of evaporating.
Calathea Roseopicta is a high-maintenance plant that might not be the best start for a beginner. However, with a better understanding of the plant's essential light, water, soil, and temperature requirements, caring for the roseopicta plant should be much easier.
Keep reading to learn about the growing needs of your Calathea roseopicta.
Calathea Roseopicta Watering Requirements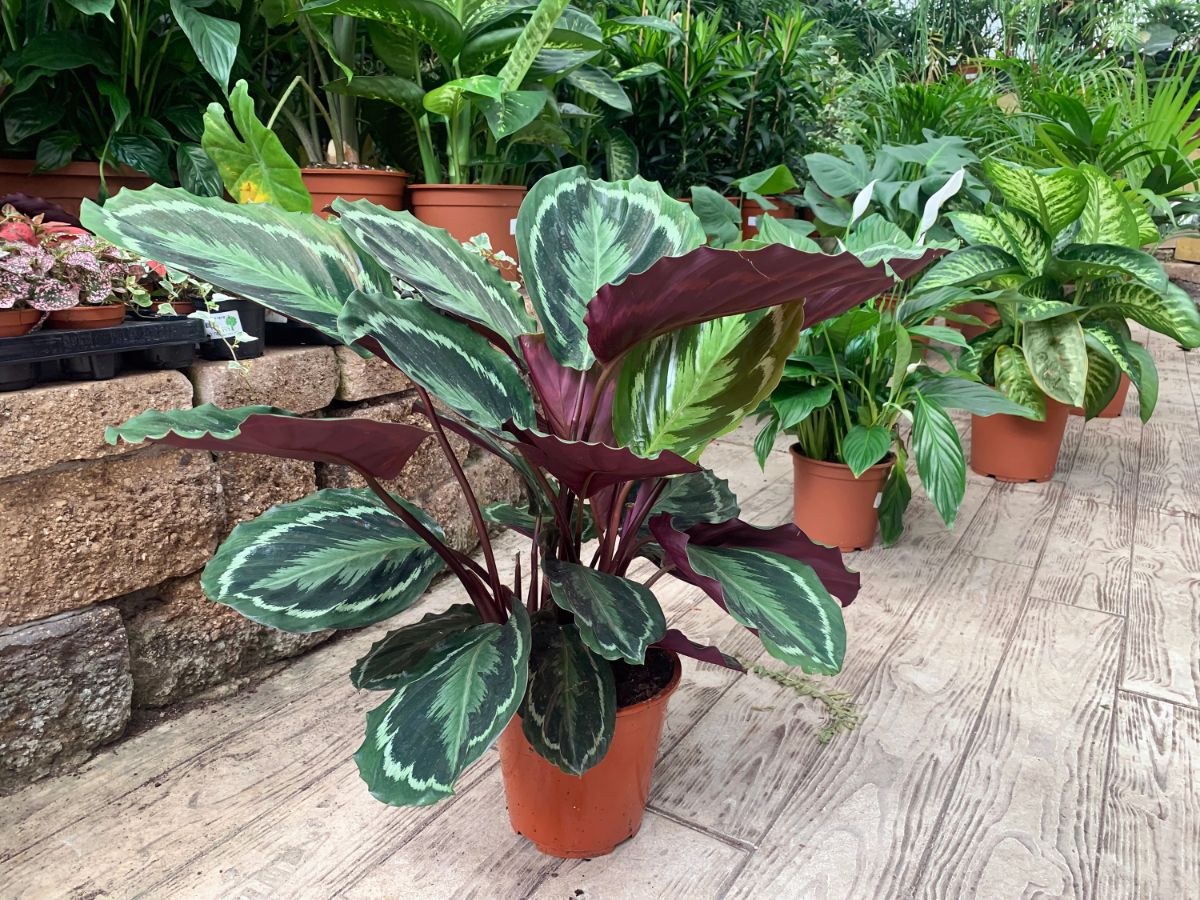 In its native area, which is the tropical rainforests of South America, Calathea roseopicta is used to consistently moist conditions. This results from the rain falling several times a week, even sometimes during its "dry" season in winter.
However, their soil doesn't stay waterlogged because they grow in spongy soil that drains well. These conditions can sometimes be difficult to replicate for new owners.
You will need to strike the perfect balance because this plant prefers damp soil but despises standing in water.
You cannot disregard your Calathea roseopicta without consequences. For this reason, you must keep a close eye on your soil. If the topsoil texture feels dry, you might need to water the plant again. To ensure the moisture levels are, stick a finger into the soil.
Avoid using hard water. Instead, use either tepid rain or distilled water. It would be best if you also lessened watering frequency throughout the winter, as the plant produces less or no new growth.
Finally, note that when you don't meet Calathea roseopicta watering needs, its leaves will curl inward.
Calathea Roseopicta Soil Requirements
This plant needs fast-draining soil with a proper aerating system so that the roots will have enough oxygen every day, even after a thorough soaking.
As a result, when you water your plant, the water should sink into the soil within seconds.
A potting mix with peat and perlite is recommended. You may need to add from a ⅕ to ⅓ perlite to have a blend with enough fluffiness. However, whichever type of soil you use, ensure it is well-draining.
Temperature Requirements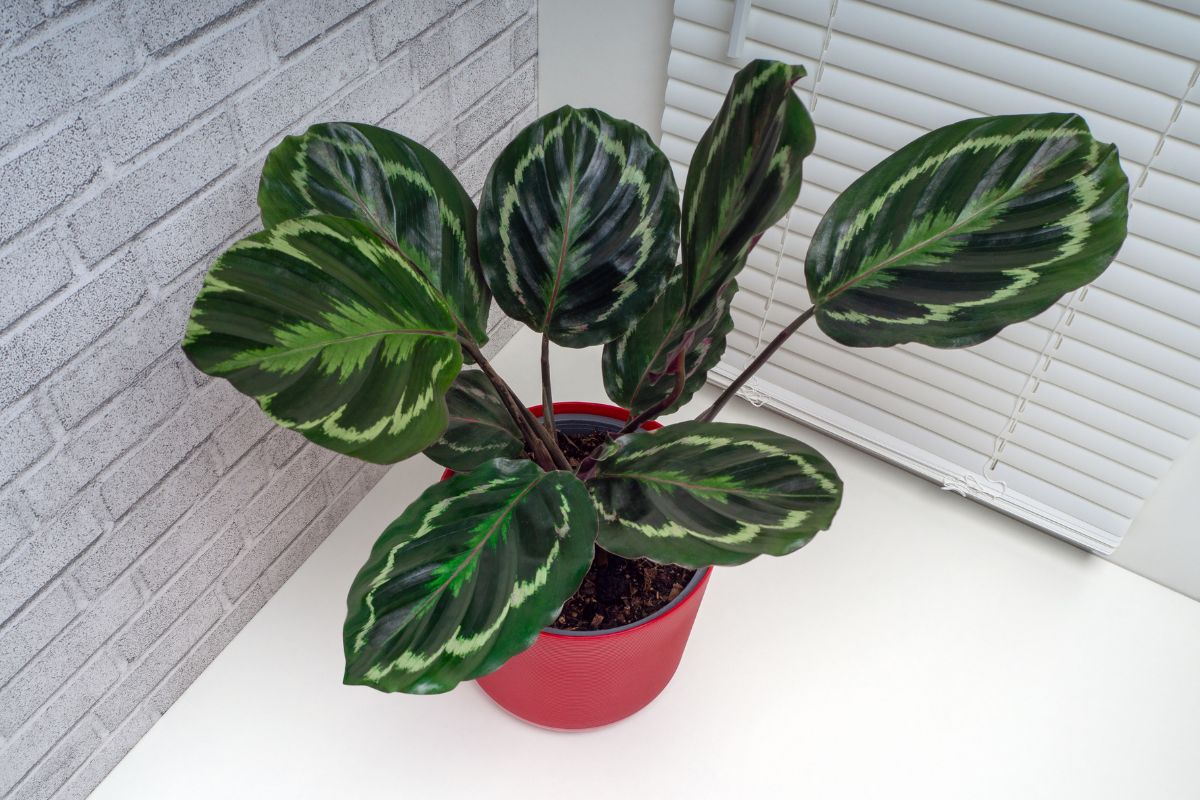 The best temperature for a Calathea Roseopicta plant is between 18 and 24 degrees Celsius.
Since they are used to growing in the warm environment of tropical rainforests, they adapt better to more generous conditions than to cold.
Hence, it would be best to avoid temperatures below 15 degrees Celsius. You must also ensure you keep your plant away from the cold drafts from windows or air conditioners, as Rose painted calatheas do not respond well to sudden changes in temperature.
Finally, while your heaters are on during winter, you must be extra attentive to ensure humidity doesn't fall too much, causing brown leaf edges.
Calathea Roseopicta Humidity Requirements
Calatheas love high humid conditions, so they endeavor to keep the humidity levels between 50-60%, similar to the stories of their natural habitat. Roseopicta cannot thrive when the humidity is under 40% and will thrive in humidity over 60%.
In a temperate region, the ideal might not be attainable consistently. Signs of low humidity include brown leaf edges, leaves becoming crisp, and the leaves having a weird look.
For this, you might need to mist it often. You may also need to place the plant pot on a humidity tray with pebbles or increase the humidity with a humidifier.
Fertilizer Requirements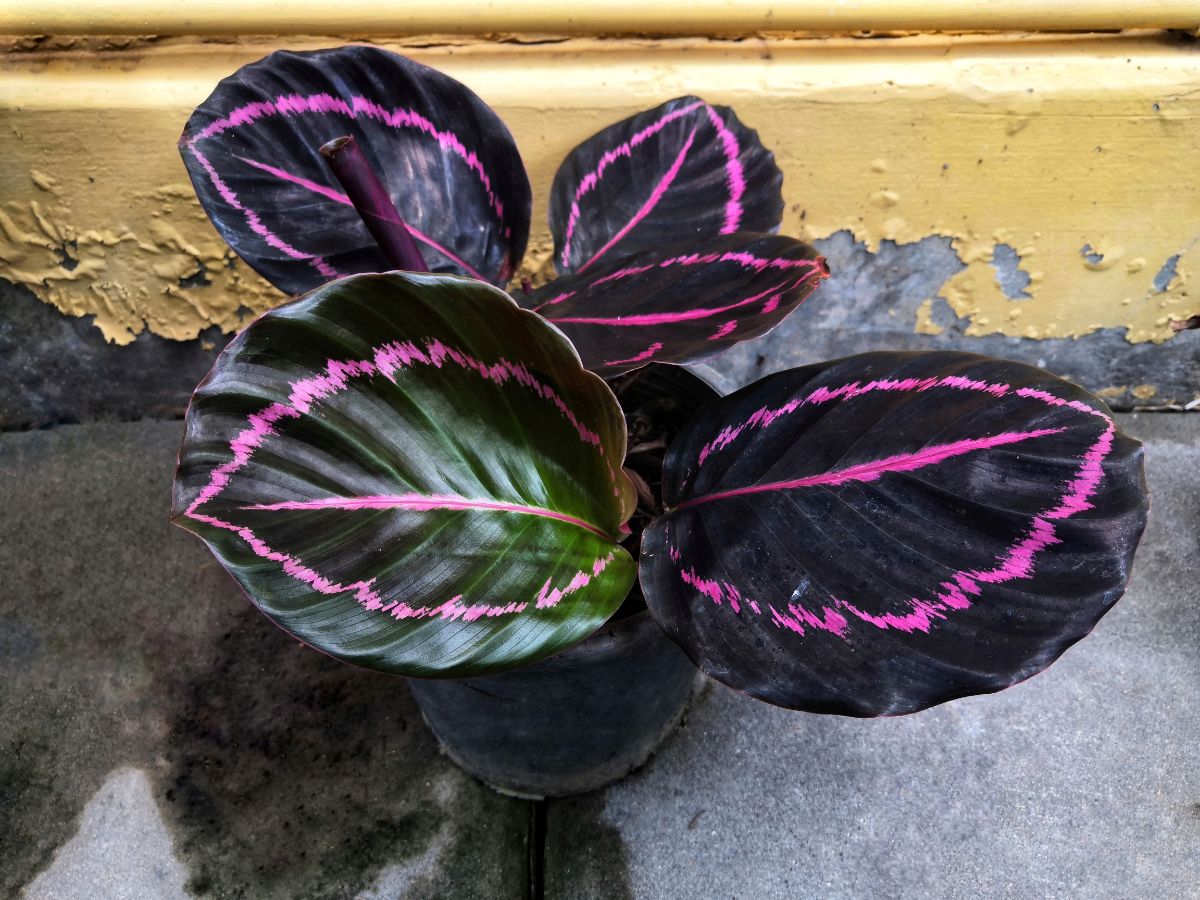 Calathea plants grown in a nutrient-rich soil mix might not require fertilizer. However, your painted rose Calathea can benefit from fertilizer, even if it does not need it all year round.
The best time to fertilize your plant is when it produces new leaves in Spring and summer. When you want to fertilize, use nitrogen-based houseplant fertilizers and dilute it to one-quarter strength by mixing water.
Remember that excessive fertilization will cause the tips of the leaves to burn and turn brown. In such scenarios, remove the extra minerals by flushing the soil.
Calathea Roseopicta Sunlight Needs
Calathea plants cannot handle direct sunlight and, as a result, need to be placed in a spot that receives bright but indirect light. While Calatheas may survive in low-light conditions, they will neither thrive nor produce recent growth.
The following light locations are ideal for Calathea roseopicta plants:
● 6 to 10 feet from a window facing east, north, or west. The plant must be beyond the reach of direct sunlight.
● Inside a bright room but protected from intense light.
● A space with sufficient artificial illumination.
How to Prune Calathea Roseopicta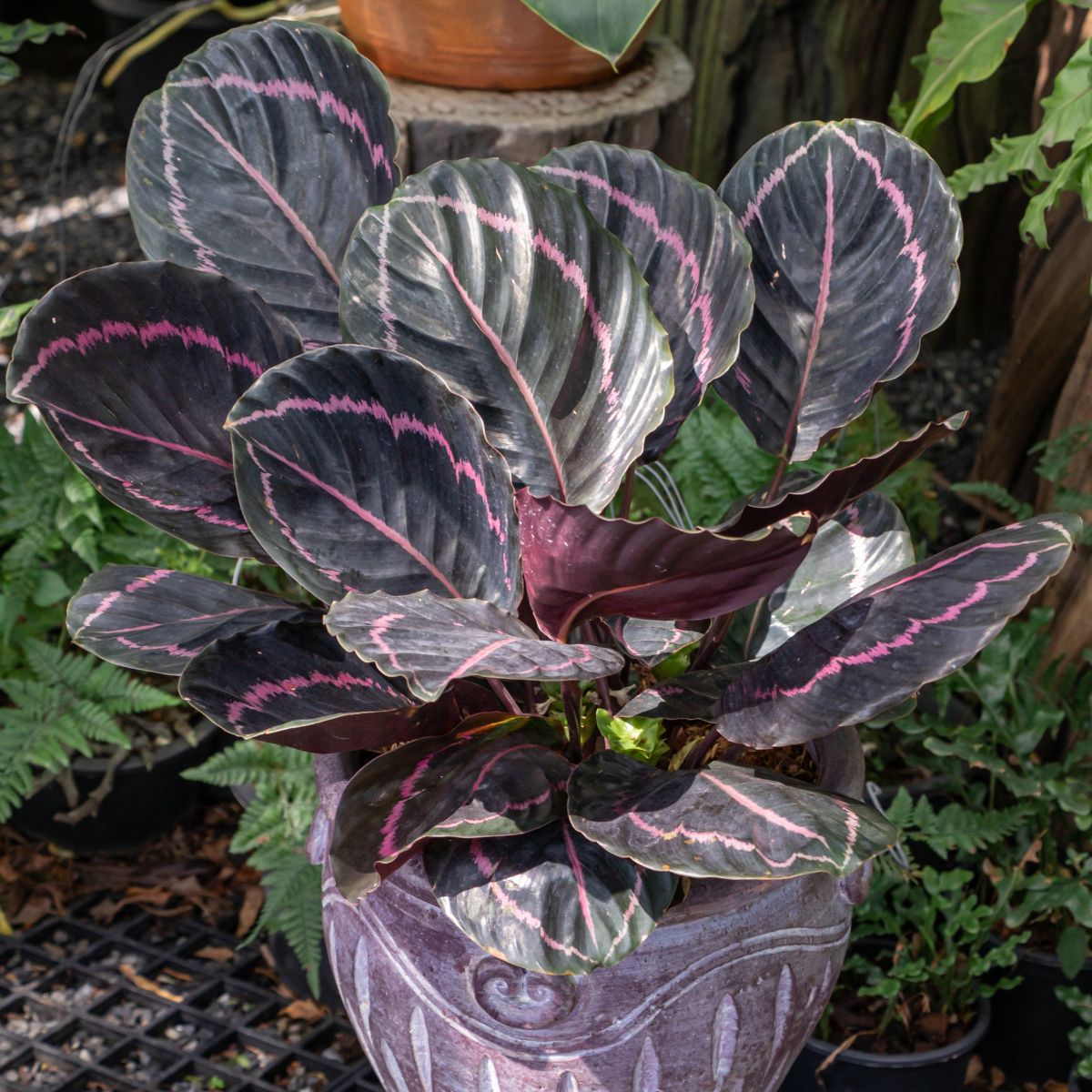 Trim away dead leaves and flowers frequently, preventing susceptibility to viruses and pests. The best time to prune is during Spring and summer, as it allows for a quicker recovery and a significant growth burst after pruning.
Clean your cutting tools before and after each use. You could do this by wiping the blades with isopropyl alcohol. Sometimes a leaf will have minor imperfections like a brown margin or tip. You don't need to lose a whole leaf because of that.
You can use sharp scissors to trim off the unsightly bits carefully, and the rest of the leaf will be fine. Avoid fertilizing your plant right after pruning since it won't need many nutrients then.
Stick to the watering schedule since drying out after pruning will be extra stressful for the plant.
It is best if you also continue to the watering schedule right after pruning, as drying out at that point might be pretty harsh on your plant.
Finally, you do not need to prune this plant more than once or twice a year, and potentially even less often.
How to Repot Calathea Roseopicta
Calathea plants are pretty sensitive, and repotting a Calathea can cause many problems for your plant unless you do it carefully. Ensure your plant is healthy before reporting.
A few brown leaf edges or yellow leaves are ignorable, but if your plant is struggling, then find out why and nurse your plant back to health before repotting.
Calathea only needs repotting when they truly outgrow a container, or the soil needs refreshing. That means most plants only need a new pot every year.
Your plant might experience transplant shock, which will cause its leaves to wilt spectacularly within 1-2 days after repotting. You can check out this article for a step-by-step guide to repotting your plant.
Plant shocks often lead to death. Be patient because, after a while, it will produce new and healthy leaves, then you can prune off the damaged leaves as you desire.
However, if your plant survives, many leaves will probably develop a few signs of damage, such as brown edges or spots, or you may see some yellowing of lower leaves.
Calathea Roseopicta Pests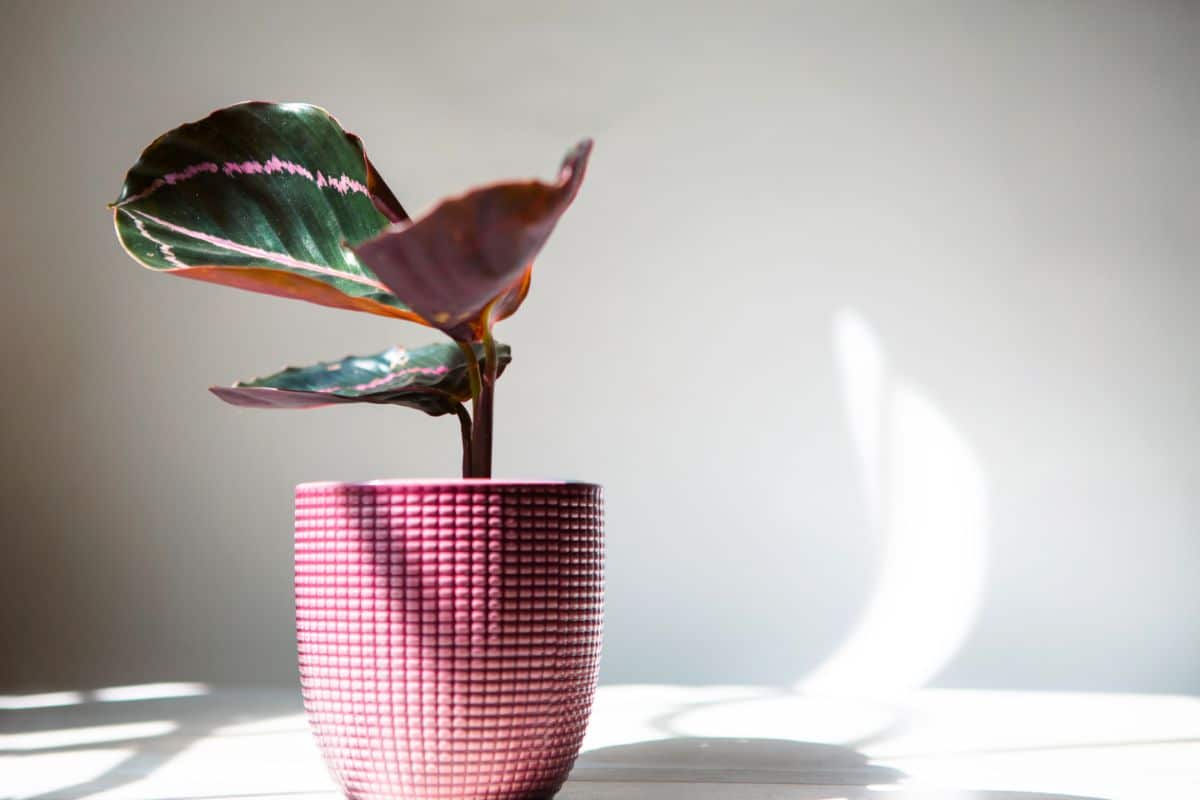 Common pests affecting Calatheas include spider mites, scales, mealy bugs, and aphids. Because infestations are better controlled at the beginning, it's vital for you to frequently check beneath the leaves and stem joints of your plant for the development of any pests.
You can relieve your plant by applying neem oils if there is a pest infestation. You can also use insecticidal soaps on the affected part of the plant. If pest attacks persist, you can use the pesticide spray and repeat the process weekly to eliminate pests.
Calathea Roseopicta Diseases
Bacterial and fungal infections are almost the prevailing diseases that always affect Calathea roseopicta. These are often because of soggy soil.
Over-watering and chronically wet leaves are open doors to condition. This usually manifests as small spots on the leaves, and you can easily control it by cutting misting and keeping the leaves dry by wiping.
Calathea Roseopicta Toxicity
Calathea roseopicta is non-toxic to your pets and kids like other prayer-plants.
Conclusion
Calathea roseopicta plants can be tricky in the beginning. However, paying attention to all that has been addressed in this Calathea roseopicta growing guide will help you navigate your plant care much more quickly.
Always refer to this guide when you encounter any kind of difficulty when you begin growing your Calathea rosepicta.