If you are looking for a perfect winter-season plant to add to your indoor collections, you shouldn't look beyond Cyclamen.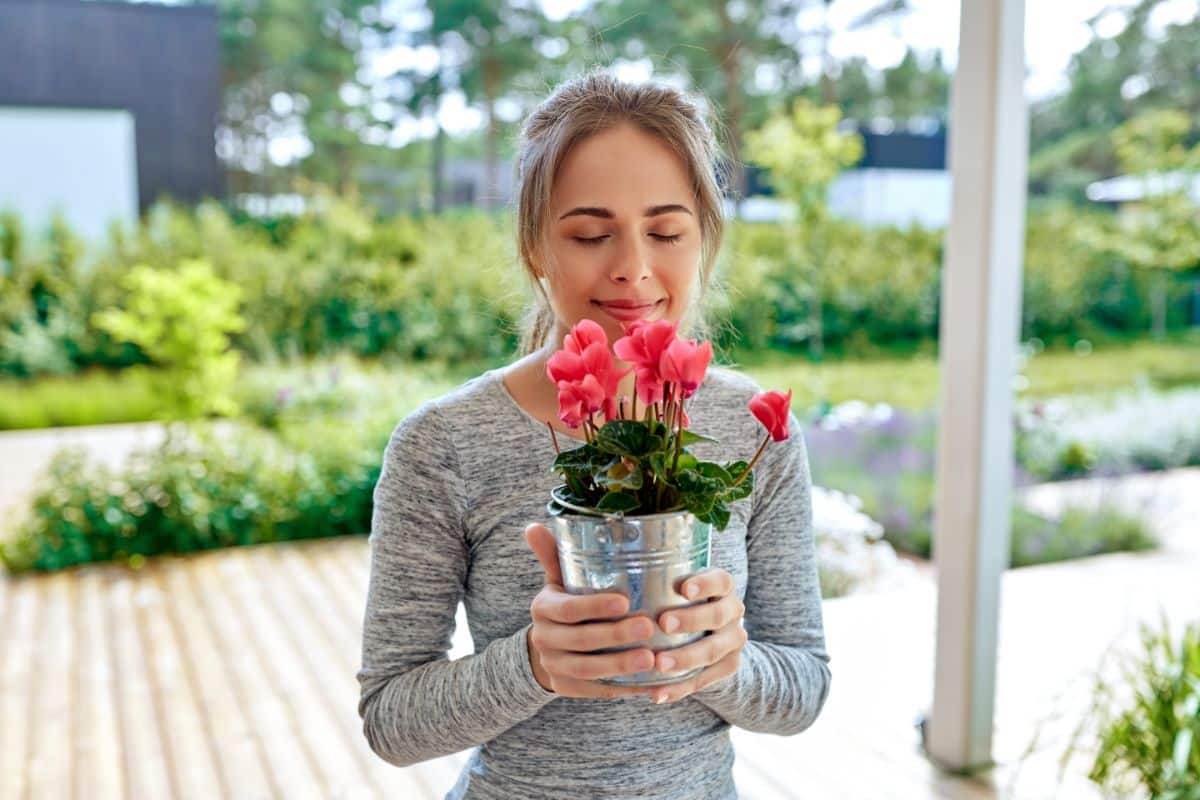 It is a classic, gorgeous winter bloomer that's a perfect prospect for indoor growing and is now available in most grocery stores and garden centers in colder seasons while it's flowering at its peak.
Cyclamen plants can add vibrancy to your living room and change the mood of your entire living environment.
However, like most plants, you must understand the basic requirements and growing conditions of cyclamen plants if they continuously produce the beautiful blooms you desire. Proper care will also help it to survive beyond the holiday season.
Jump to:
Essential Facts About Cyclamen Plant
| | |
| --- | --- |
| Common Names | Cyclamen, florist's cyclamen, Persian cyclamen, Persian violet |
| Scientific Name | Cyclamen persicum |
| Family | Primulaceae |
| Plant Type | Perennial |
| Mature Size | 6 to 9 inches. tall, 6 to 9 inches wide |
| Sun Exposure | Partial shade |
| Soil Type | Loamy, moist, well-drained |
| Soil pH | Acidic (4.5 to 5.5) |
| Leaf Color | Dark green leaves |
| Flower Color | Pink, white, red, purple |
| Hardiness Zones | 9 to 11 (USDA) |
| Native Area | Mediterranean |
| Toxicity | Toxic to humans and pets |
Also known as Persian Cyclamen or Persian Violet, amongst other common names, the cyclamen plant is an attractive florist plant commonly available and sold during winter.
It is an intra-specific cultivar of cyclamen persicum, which is among the 23 species of the cyclamen genus and comes from the Primulaceae family.
Plants by Post Quart 4in Cyclamen Latinia Live Flowering Plant, 4", Red
Cyclamen Latinia is a popular houseplant that comes to life September through April.
The plant features variegated, compact heart-shaped foliage and large, vibrant blooms on sturdy stems.
Cyclamen Latinia requires little care, preferring dry soil and moist air.
This Mediterranean plant will grow outdoors and is hardy is zones 7 and above.
Plants ship live in 4-inch pots.
Last update on 2023-03-21 / Affiliate links / Images from Amazon Product Advertising API
It is native to alpine woodlands in the southern European regions, western Asia, and North Africa, close to the Mediterranean.
Cyclamen has been used to produce several species, particularly in England, Germany, and the Netherlands, to increase the size of flowers, enlarge the color range and alter petal form.
As it stands, all of these species are mass-produced as container plants thanks to hybrid seeds. When buying cyclamen plants, choose a cultivar with many buds beginning to open and sturdy, succulent leaves.
They feature rounded or heart-shaped leaves that are either dark green or marbled alongside white or silver. Enough said already. Let's highlight the cyclamen plant growing and care guide;
Cyclamen Plant Growing and Caring Guide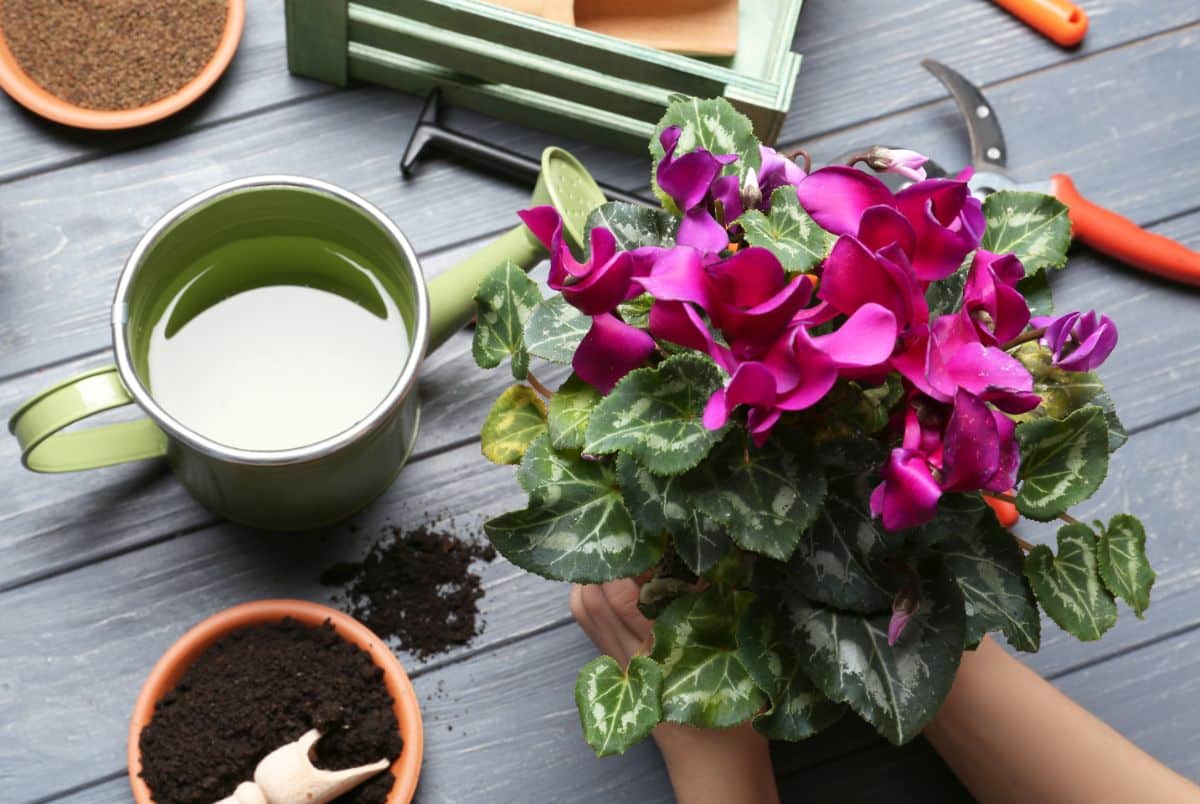 If you plan to keep your Cyclamen for just a season, then you should maintain it as a potted plant and put it into a more beautiful pot. However, to ensure it continues yearly, you must plant it in a loam-based compost with extra horticultural grit. Ensure the new pot features drainage holes and allow the top of the corm to a position just above the soil surface.
Again, cyclamen plants prefer cool, bright spots and a cool room temperature of about 10 to 15°C. In other words, it should do well in a cool conservatory, porch, or an east or north-facing windowsill, then bring it indoors whenever the frost is forecast overnight.
Take them out of direct sunlight and in a warm room to avoid yellow leaves, faded flowers, and early dormancy.
Natural Habitat
As we mentioned earlier, Cyclamen is a genus plant among over 23 plants native to Europe and North Africa, especially the Mediterranean.
However, the specific living environment of every specie can differ drastically, with one specie (Cyclamen hederifolium) seen as far north as the southern UK and the others appearing further south.
Meanwhile, several cultivars need to be safer in their natural habitat. Certain Cyclamen are forest species, while others thrive in rockier, open zones. What they all possess commonly, though, is their adaptation to climates with hot, dry summers and cooler, frosty winters.
Light Needs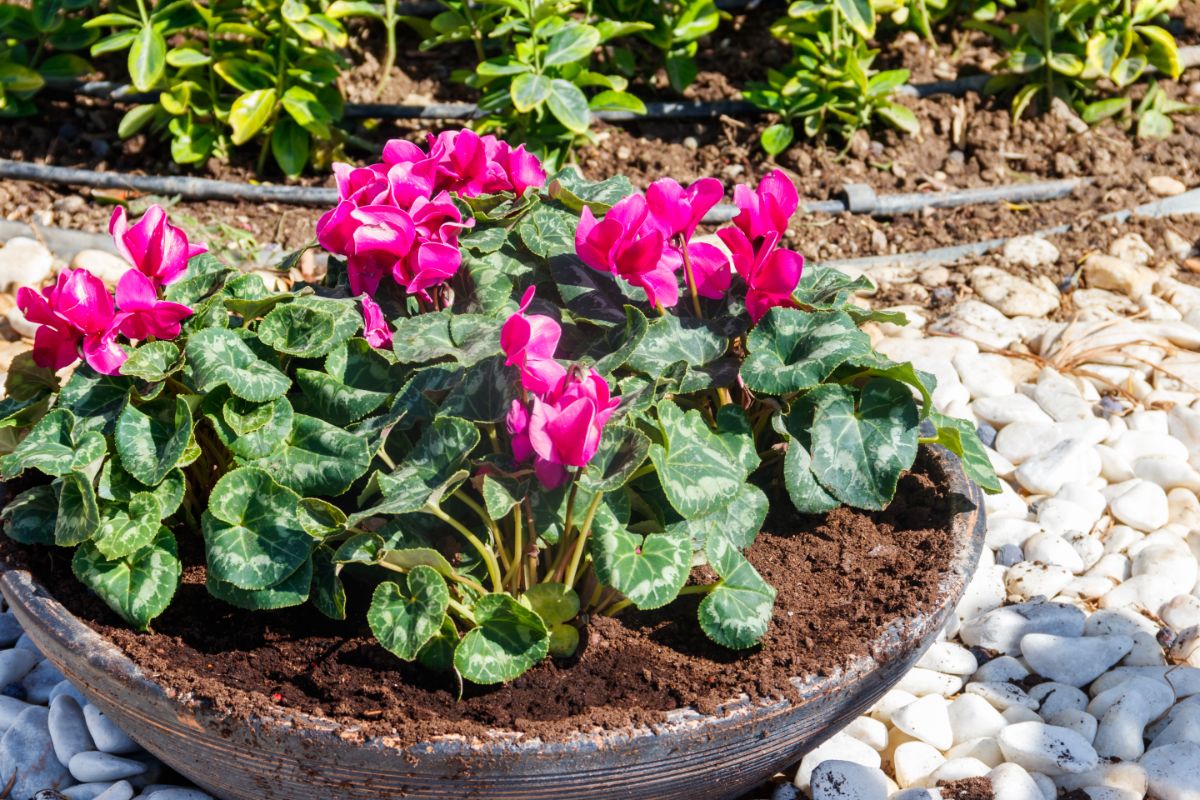 Cyclamen plants do best in indirect sunlight; therefore, you must place them in a bright spot in your house. But do not allow the sun's rays to affect them during the day, as direct sunlight can change the color of its leaves to yellow.
In other words, you must place your Cyclamen in an east or west-facing room to enable them to enjoy the warmth of the morning and afternoon.
Soil Needs
The best soil for your cyclamen plants is general-purpose potting soil. This soil will work fine for growing cyclamens, but you must ensure that it doesn't retain excess moisture. If you plant to overwater, then a fast-draining mix would be best.
To ensure better drainage, you can always amend your regular potting medium or clay garden soil using perlite or pumice and sand.
Watering Requirements
If you discover that the leaves of your Cyclamen are present, it means that the plants are actively growing. Hence, at this time, you can use only water whenever the soil feels dry at around one inch below its surface. Again, don't allow water to touch the leaves or crown of the plant, as it can result in rot.
At its dormant stage, reduce your watering routine, but don't go underwater to prevent the soil from completely drying out. The best way to water your plant is to place the pot on a tray, then water it to allow its roots to absorb moisture.
Temperature/Humidity Needs
Cyclamen plants will not do well in extreme heat, drafts, or dry air. They will thrive in any environment that imitates their native habitat, enjoying temperatures between 40° to 60° Fahrenheit during the day.
Humidity-wise, this plant prefers high humidity levels, especially in the winter.
If you want to raise the humidity levels of your cyclamen plant, place your plant on a tray containing water and pebbles; ensure the pot is not steadily touching the water to avoid root rot.
If your plant is outside for the summer, don't forget to bring it back inside before the frost season arrives. Keep your windows open without too much cold indoors.
Fertilizing Needs
Suppose your Cyclamen has to grow from a bare tuner every year; it would help if you give it some fertilizer in the growing and flowering season. However, you mustn't overfeed it as the plant will not flower.
Choose a diluted normal liquid houseplant fertilizer and feed them once or twice a month. Some gardeners prefer mixing compost or worm castings into their soil for an additional boost.
Pruning & Maintenance Needs
If you want your cyclamen plant to grow well, you must avoid regular pruning, as it doesn't work well. The only time to worry about pruning is when the flowers and leaves begin to fade and die back.
Once this happens, you must cut off dead or dying leaves and flower stems at the base as required with sterilized precision pruning shears. Once it completely dies back, trim everything off to the soil line.
Repotting & Division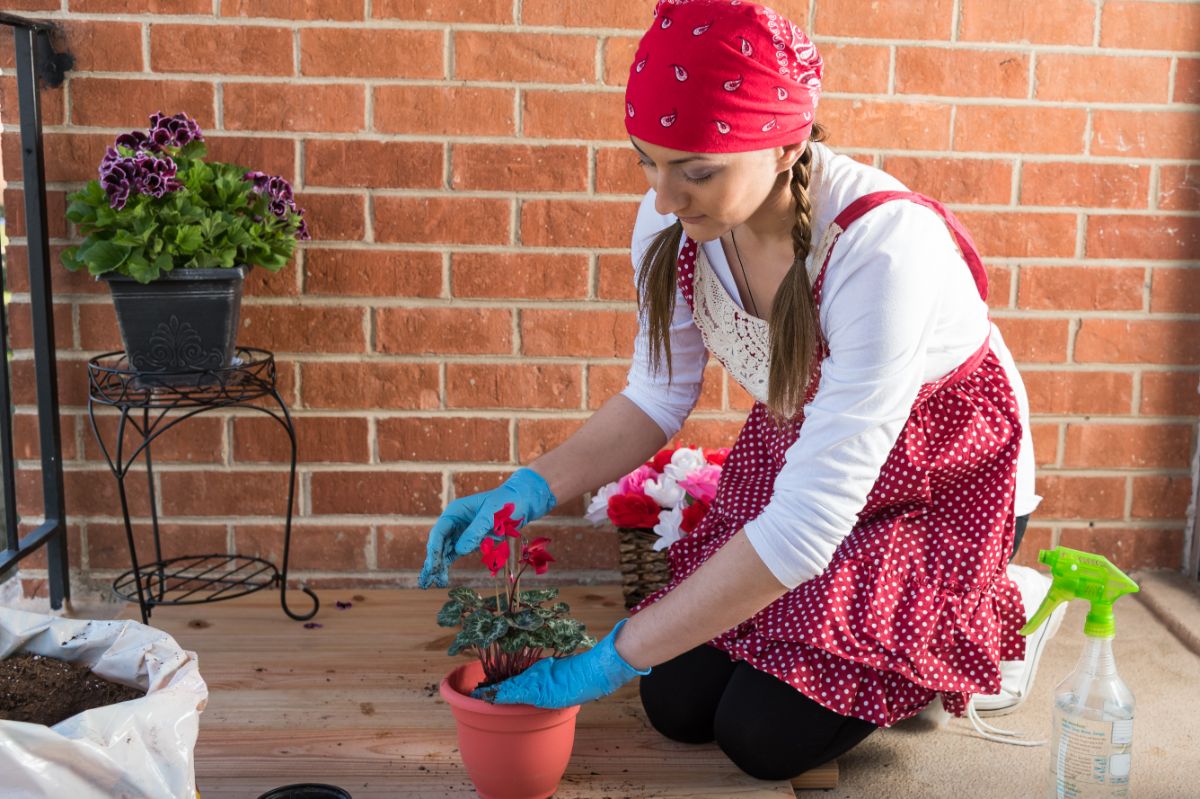 If you are planning to provide your cyclamen plant with fresh soil or are looking to replace its growing medium, the best time to do so is when it's limping along or completely dormant during the end of the summer. It is when its active growth begins to back up.
This period is also perfect for division because the tuber is beginning to get too large for your liking. Given that you'll have to uproot the tuber to divide, the best time to do it is during a repotting period or when you are about to store it.
Dormancy
As we noted earlier, dormancy is a part of the annual care routine of the cyclamen plant, but unlike most other plants, it often occurs in the summer.
According to their natural cycle, leaves start dying and dropping off once their blooms fade. Eventually, the plant will die back in the soil and suddenly starts its dormancy.
Unfortunately, immediately after it reaches its dormancy, several people mistake it for its death and will dispose of it. However, it is a normal part of their life cycle, and just like amaryllis, they'll need this period to flower again.
Therefore, please don't throw it out when it begins to die back. If you tend to it properly, it will start producing again yearly.
Common Cyclamen Plant Varieties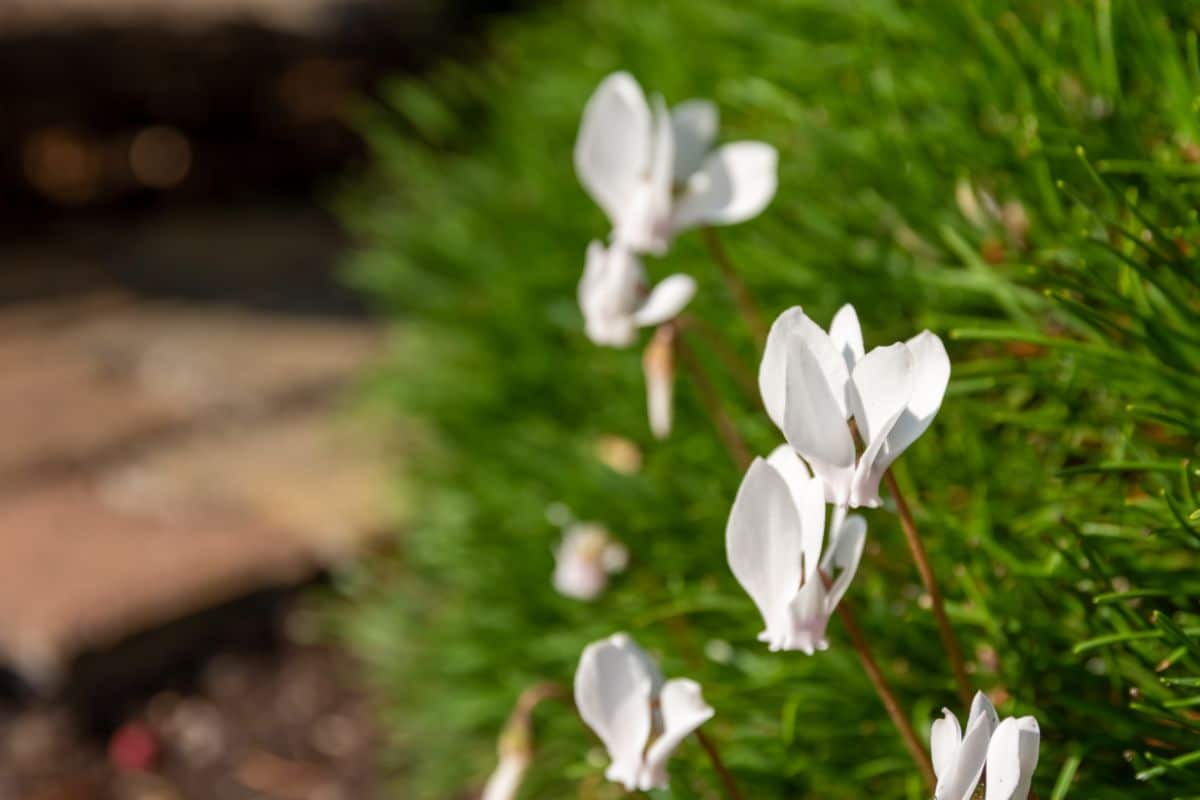 Several indoor cyclamen plants are available without labels at the garden center, and you can see them online too. In other words, there are wide cyclamen varieties to choose from, which have similar growing and care guides. They include;
Cyclamen persicum 'Verano Red' (Super Verano Series): This variety of Cyclamen produces crimson red blooms on upright stems.
Cyclamen persicum 'Winfall White' (Winfall Series): A cyclamen variety produces white blooms, contrasting beautifully with marbled foliage.
Cyclamen persicum 'Blanc Pur': This unique cyclamen variety is an incredible specie that bears stunning, snow-white blooms.
Cyclamen persicum 'Violette': don't underestimate the power of this cyclamen variety. Its bright magenta flowers will add more color to your indoor space.
Propagation of Cyclamen Plant
Cyclamen propagation is more challenging than other plants, given that stem cuttings will not readily root. The planted varieties are usually hybrids that will not bear fertile seeds.
The best method of cyclamen propagation is through the division of its corm-like tuberous roots, although you must do it carefully to ensure viability.
Meanwhile, cutting the tubers tends to make the roots susceptible to root rot; hence, you should always get ready for failure. Follow the steps below to propagate your cyclamen plant by division.
1. During the summer, at the plant's dormant stage, remove the plant from its container and get rid of the stems.
2. If the corm-like tuber has produced offsets, gradually break them away from the primary root. If you can't find any offset, locate any growth eyes and gradually divide the tuber into fragments containing at least one growth eye.
3. Then, replant the pieces in a well-draining, peat-based growing mix immediately. Each root piece should be only barely peeking out of the potting mix.
4. Moisten the potting mix before placing it in a dry, sheltered spot. During the fall, relocate the plant to a brighter spot and water it every week. This routine will enhance its new growth.
Cyclamen Plant Common Pests & Diseases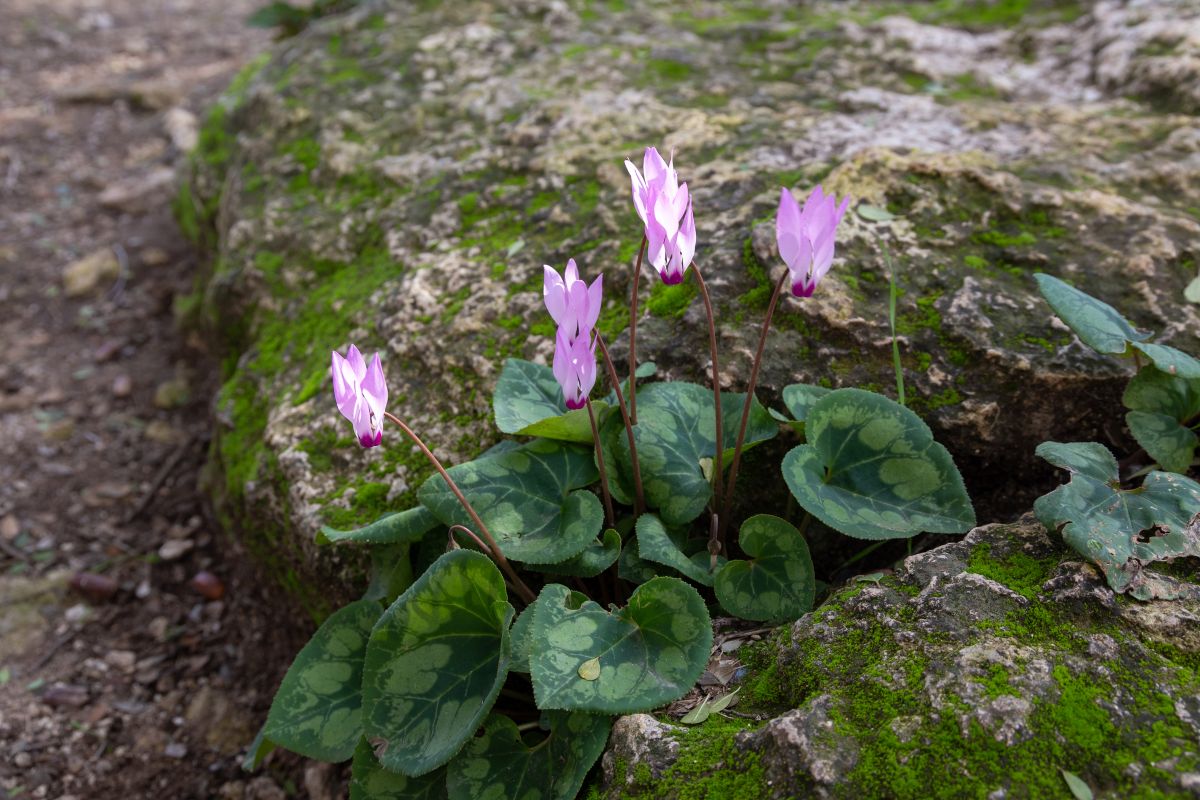 Like many other plants, the cyclamen plant can be susceptible to pests and diseases that can alter its growth or health.
Be careful not to overwater this plant, as most of its problems result from overwatering. High-temperature exposure is another common cause of pests and diseases.
Yellow Leaves
Whenever the cyclamen plant turns yellow in autumn or winter, it shows that the room is too warm or that you have either under or overwatered the plant. It could also be that the plant is getting too much sunlight.
Remedy: Move the plant to a cool room, away from bright or direct light and water, when the soil starts drying out. Yellow leaves are normal occurrences in the spring; however, the plant dies back naturally before going dormant.
Poor Flowering
Poor or lack of blooms results from a room with high temperature. It causes the plant to go into early dormancy. But during the spring, the plant will naturally stop producing blooms.
Remedy: Pretty simple!!! Avoid too with hot temperature, as it is inadequate for your cyclamen plant.
A Damaged or Collapsed Cyclamen
Whenever you notice your Cyclamen collapsing, it is a sign of overwatering. It is a symptom of crown rot if it is getting brown and mushy at the center.
It could also be that water you have been splashing water on its leaves and stems or because temperatures are too low. Vine weevil could also eat up cyclamen roots to damage the plant.
Remedy:
Do not allow water to splash on its leaves and stems during watering.
Reduce the temperature rate.
Resist any vine weevil that may eat up your plant's roots through adequate insecticide.
Grey, Fuzzy Mold
Whenever you notice grey or fuzzy mold signs, it could be a sign of cyclamen grey mold, called Botrytis cinereal. It is primarily a result of humid conditions.
Remedy: You can remedy this disease by removing dead leaves or blooms as required to prevent it from extending to other plants. Again, be careful not to splash water on your plant's leaves during watering to avoid grey and fuzzy mold disease.
Frequently Asked Questions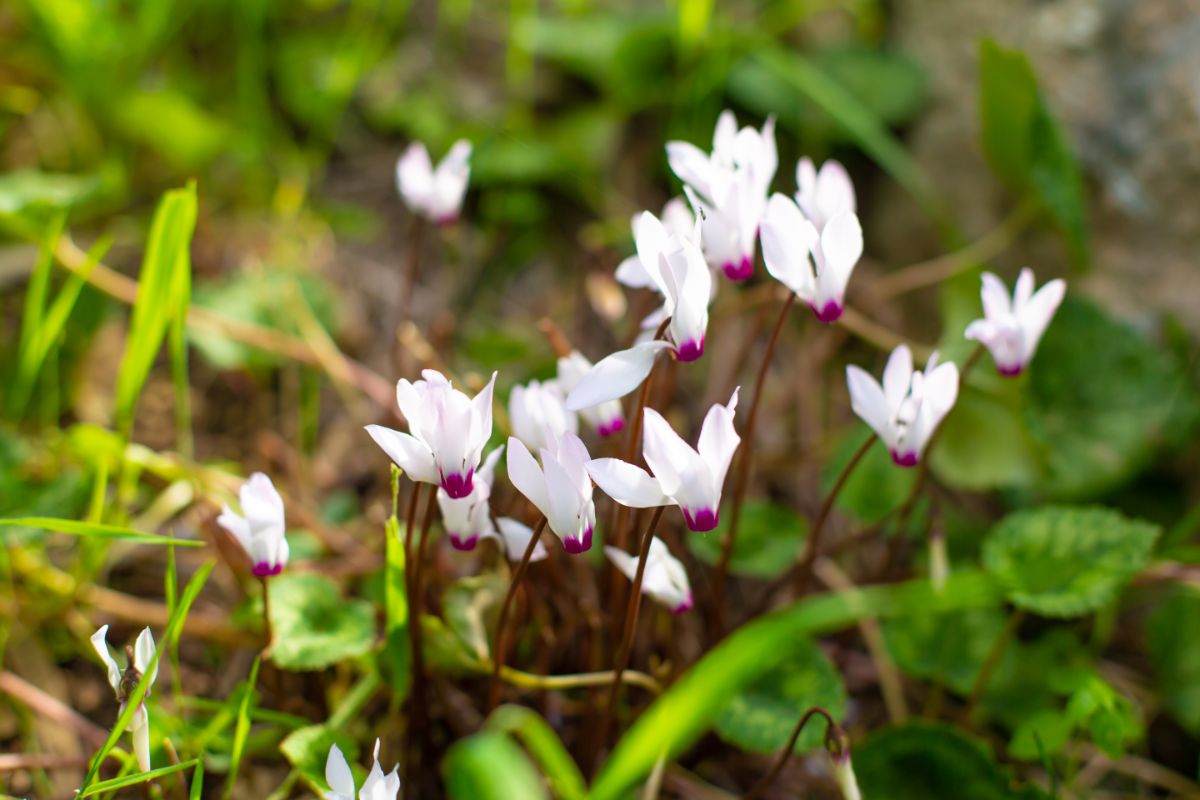 Does the Cyclamen plant come back every year?
Yes, cyclamen plants do come back every year with the right care
How long does the cyclamen plant live?
Indoor cyclamen plants bloom for at least eight weeks, are easy, and can live for decades with the right care conditions. Again, a cyclamen plant that is properly cared for can grow and produce flowers for 100 years.
Does Cyclamen plant flower once?
Yes, it blooms once. However, with the right care and growing conditions, the cyclamen plant will return yearly, as you can revive them from dormancy.
What months does cyclamen bloom?
Having adapted to a Mediterranean climate, the cyclamen plant grows in the autumn, produces blooms in the winter and spring, and goes back into dormancy for the whole summer when everywhere is hot and dry.
Does Cyclamen Plant spread?
Yes, cyclamen plants spread and flower and spread whenever they are happy. The leaves come with the flowers and so show up either as deciduous trees that are dropping their foliage or when they are fully bare.