If you're looking for a unique and non-living succulent for your indoor décor, you should look no further than Dioscorea elephantipes.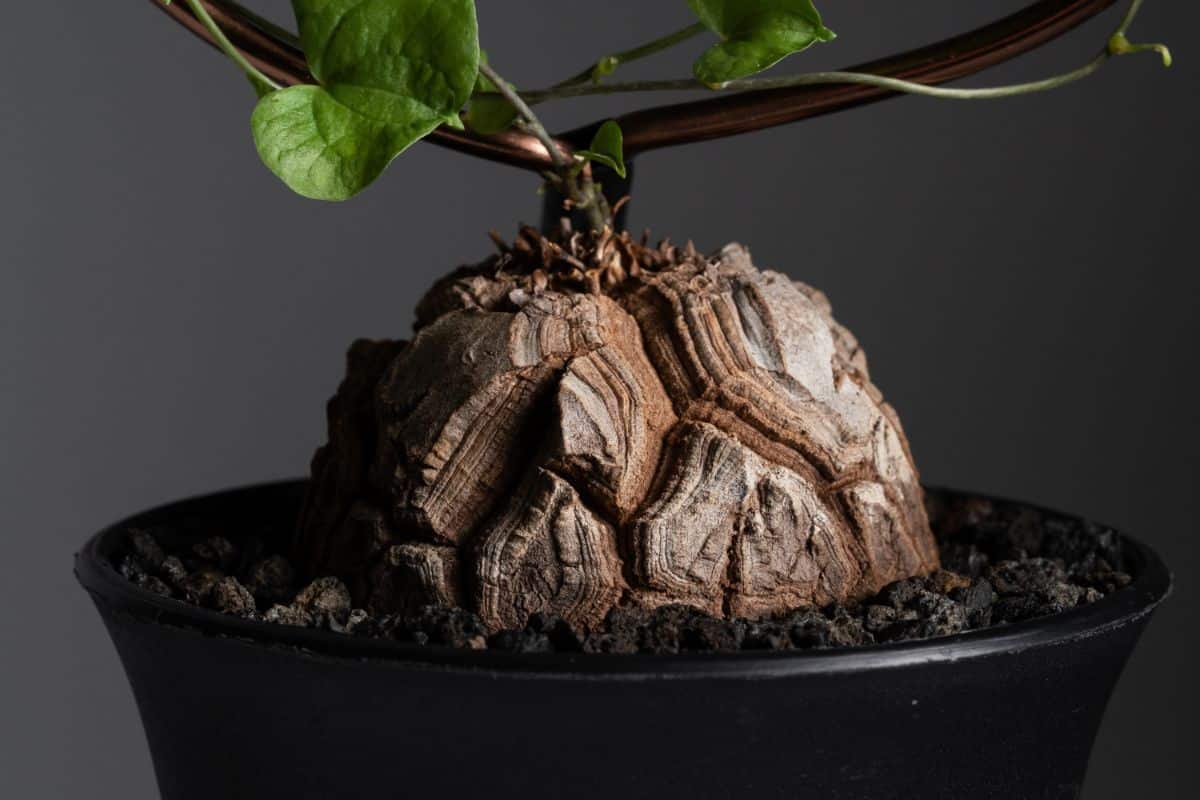 It is one of the most unique and colorful caudiciform species you'll ever see. It's not just about its look but also its actions, and just when you think you know all there is to know about houseplants, you'll be shocked by this species.
Commonly called the Elephant Foot plant, the Dioscorea elephantipes is a slow-growing succulent that is easy to care for and will add vibrancy to your home, especially if you provide it with the right growing conditions.
It can grow more than 6 feet tall with full sun and moderate watering and doesn't handle cold well. Below is a detailed Dioscorea elephantipes growing guide.
Jump to:
Essential Facts About Dioscorea Elephantipes
| | |
| --- | --- |
| Common Names | Elephant Foot, Hottentot Bread, Elephant Foot Vine, Turtle Back, Olifantsvoet (Afr.), Tortoise Plant, Turtle Shell |
| Scientific Name | Dioscorea Elephantipes |
| Family | Dioscoreaceae |
| Plant Type | Vine or Climber |
| Mature Size | 3 feet, with a diameter of around 10 feet |
| Sun Exposure | Full Sun |
| Soil Type | Well-drained Soil |
| Soil pH | Acidic, Neutral (6.1 to 7.5) |
| Bloom Time | Spring & Summer |
| Flower Color | Green to Yellow |
| Hardiness Zones | 9b to 11b |
| Native Area | South Africa |
| Toxicity | Toxic to kids and pets |
Also known as Hottentot Bread, the elephant foot plant is a summer deciduous plant. It is a perennial geophytic climber from South Africa and part of the tropical and tender perennial plants. This plant is ideal for planting in pots and is a perfect indoor greenery ornamental for home or office use.
Dioscorea elephantipes have unique growing needs, making them easy to grow. Apart from its appearance, the most enticing thing about this plant is that it takes naps at one or more points all year. This process is known as its dormancy period and a period when the plant requires some rest.
One strange thing about this plant is that for every particular specie, the dormancy time may be independent of the season, growing conditions, or anything else. Even a couple of plants growing in a similar pot can go dormant at different periods of the year.
Again, this stunning plant is dioecious, producing male and female blooms that appear on a different plants.
Dioscorea elephantipes are gradual-growing succulent plants that have a long life span with the right growing conditions and can pass down from generation to generation.
Below are the essential growing guides for this unique plant.
Essential Dioscorea Elephantipes Growing Guide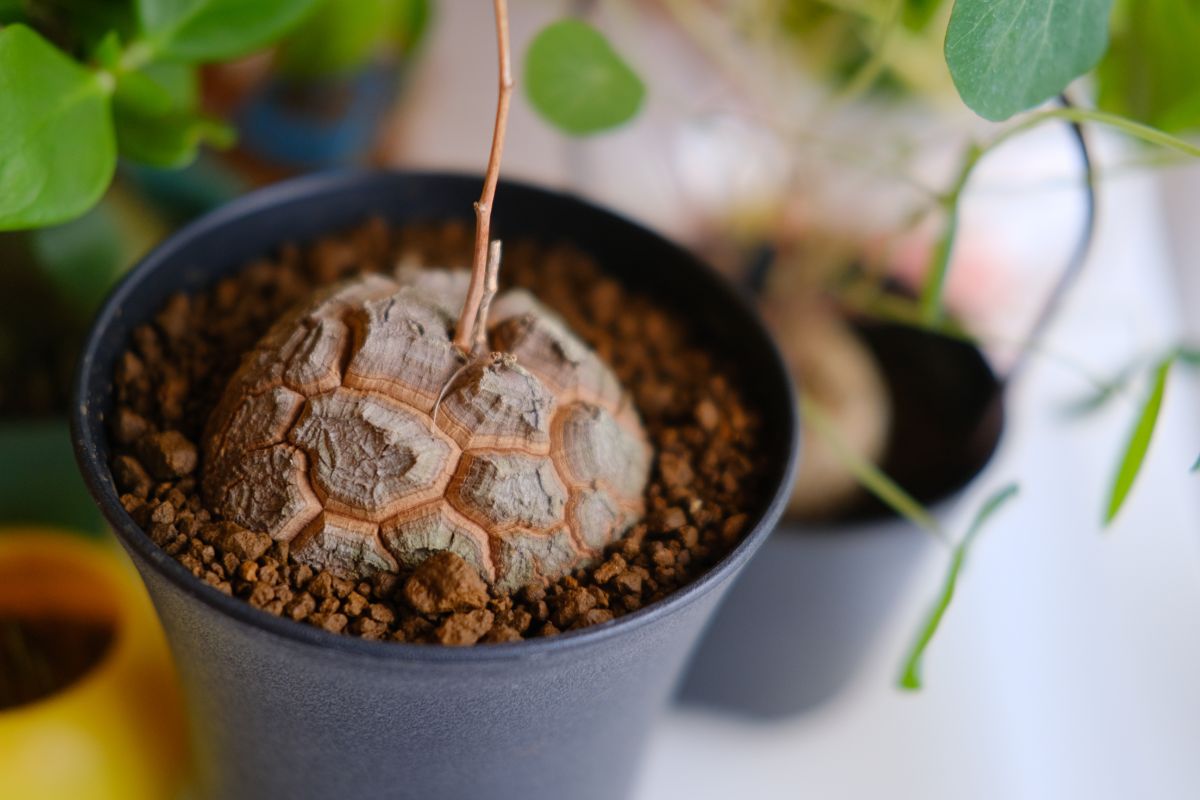 If you want to grow the Elephant foot plant outside its native climate in South Africa, then it would be best to grow them indoors.
So, if your region doesn't have the same conditions, you can plant it in containers, which enables you to keep or move indoors in colder seasons.
Light Needs
Dioscorea elephantipes is a succulent specie, which means it will do best under full sunlight. In other words, it is a sun-loving plant that loves plenty of sun but can survive partial shade.
However, like several different sun-loving succulents, elephant feet like more light and will thrive in bright, direct sunlight spots.
Soil Needs
Given that elephant foot is a succulent, you can quickly drain it during watering; therefore, you must avoid that by preventing it from soaking up in the soil.
Hence, the best soil for them is well-draining potting soil. You are free to seek advice from specialists in a garden center concerning the best brands before planting them.
Water Needs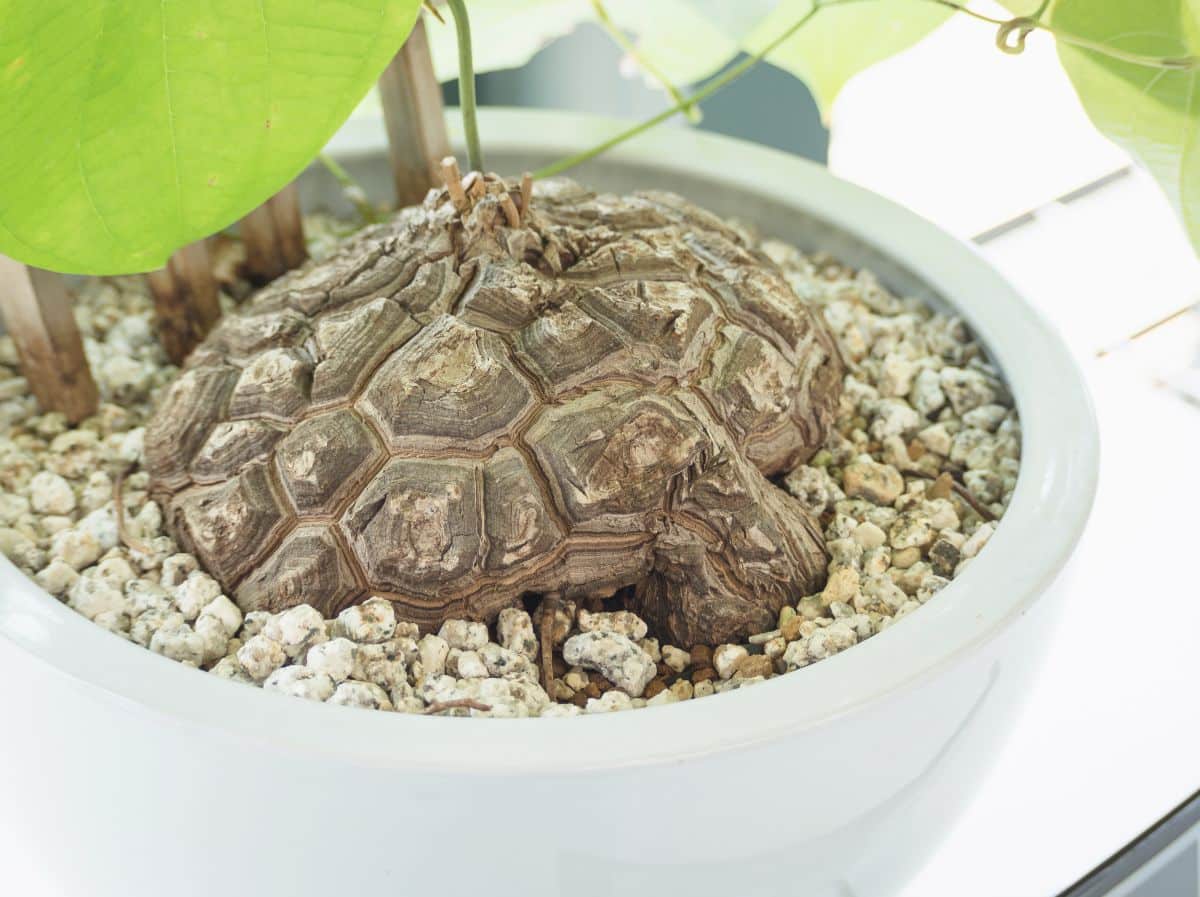 Watering is the biggest threat to Dioscorea elephantipes. With proper care, your elephant foot plant will grow strong. Like other succulents, this specie typically requires less water.
The irrigation method is essential in maintaining its healthy appearance, so it would help if you don't allow the plant's root to sit in water.
Whenever your Dioscorea elephantipes starts growing leaves, it is time it needs more watering. Immediately the new caudex growth shows up; you can water thoroughly until the growth wilts and dies. This period is when the plant will enter its summer dormancy.
However, you can stop watering regularly until the subsequent new growth shows up after its dormant period. This cycle can be very unpredictable or erratic. Generally, winters tend to be wet, spring irrigation will be more frequent, but the soil will become drier in summers.
Temperature/Humidity Needs
Native to warmer climates, the elephant foot does best in heat conditions. In other words, it will do well in more generous zones. It tends to grow during the winter but goes dormant in the summer.
The best temperature ranges from 77 to 86 degrees Fahrenheit, but it provides temperatures above 64 degrees Fahrenheit for maximum sustenance.
Potting & Repotting Tips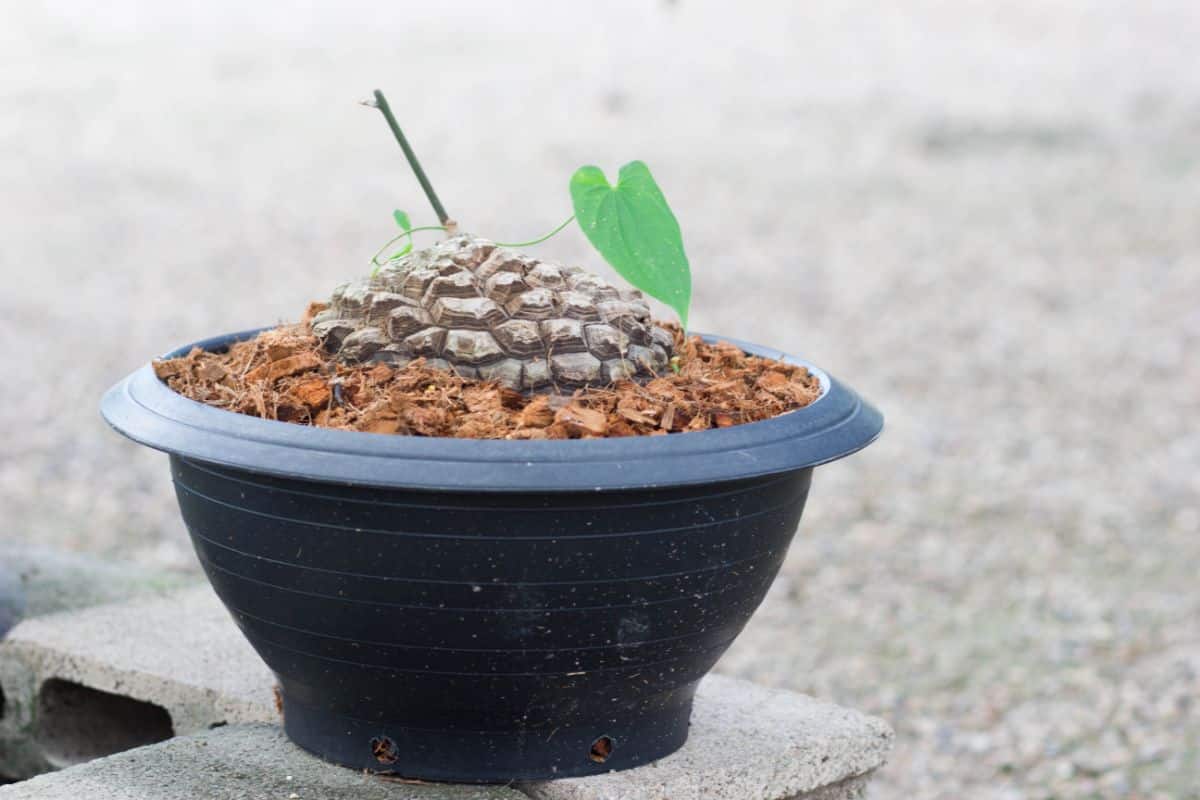 Since Dioscorea elephantipes originates from South Africa, it thrives in pots elsewhere. It has deep roots, so you must also grow it in shallow containers.
You can grow them outdoors for warmth and sunlight but take them inside in the winter season so they can stay warm. During potting, ensure the soil is well-draining to avoid soggy soil that can cause root decay.
Dormancy Tips
Elephant foot plants will often go dormant all through May and June. If you are still determining if your plant is dormant, check the leaves because they will start appearing yellow or drop off. It would be best to water the plant less than usual in its dormant period.
Propagation of Dioscorea Elephantipes
Almost every plant is great with propagation, but even more incredible when it is the elephant foot plant.
You can propagate your plant quickly using two methods, namely, seed sowing and stem cuttings. The following are the steps required to propagate your Dioscorea elephantipes both ways.
Seed Sowing
It will take about six months or more to propagate the elephant foot plant from the seed method. Below are the steps to follow;
Pick the seed capsule when it is fully dry.
Plant them in a soil mixture that is primarily sand-based.
Push the seed into a depth of a few inches
Ensure the soil is evenly moist
Provide it with temperatures of about 77 to 86 degrees Fahrenheit.
Wait for about a few months before you see seedlings show up.
Stem Cuttings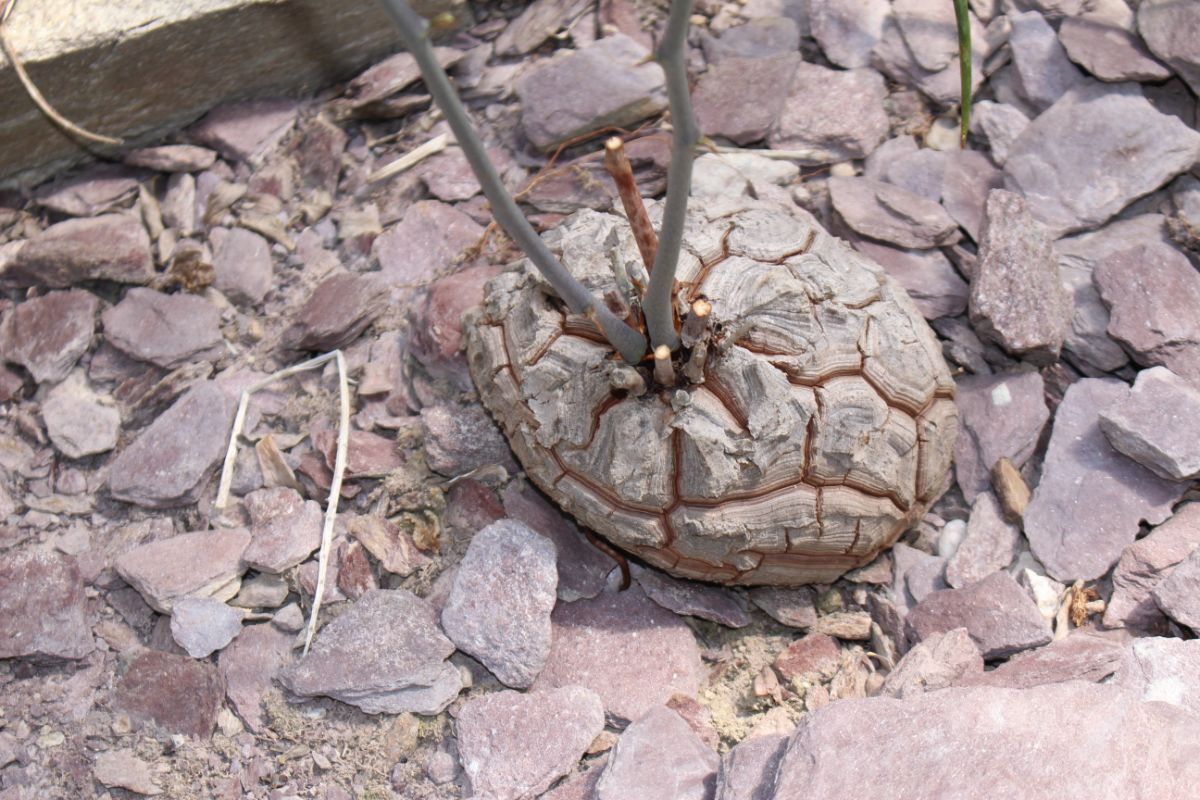 Even though some people feel that this plant cannot be propagated through stem cuttings, others produce good results from it; therefore, it is undoubtedly worth a try.
Below is the easiest step to achieving successful propagation through stem cuttings.
Cut a healthy stem carefully from the plant.
Use sterilized tools as they can invite infections.
Ensure the cuttings are hard before growing them.
Ensure you use a sand-based potting mixture to grow your cuttings after a few days.
Water thoroughly
Toxicity
Dioscorea elephantipes is a toxic plant if you allow your kids and pets to consume it because it contains saponins.
Ensure you keep your Dioscorea elephant in a safe area away from pets and kids that will come close to the plant.
Common Dioscorea Elephantipes Growing Problems
Even though Dioscorea elephantipes is easy to grow and generally problem-free, it can sometimes be affected by pests like red spider mites, which you can control by wiping off your plants.
If your plant lacks sufficient water or has dry air, it will cause the leaves to turn yellow and drop off. Overwatering will result in root rot and kill the plant without the proper care.
Frequently Asked Questions
How long does it take for an elephant's foot to grow?
Dioscorea elephantipes seed will start sprouting with the swelling of the hypocotyl. By the first year's end, the caudex had grown to around 10 mm. After five years, the caudex tends to reach 120 mm in diameter.
How long does it take to grow Dioscorea elephantipes from seed?
It will take at least eight months after germination; the plant will grow a caudex the size of a coin.
How often should I water my elephant food?
According to the rule of thumb, you must saturate your faux palm to give the roots enough water. Then allow your plant to dry out between watering. Therefore, do not be tempted to water your elephant foot every time. The best time to water it is every three to four weeks.
How do you germinate elephant foot seeds?
Grow Dioscorea elephantipes seeds in the southern hemisphere during autumn, and keep them just covered underneath the surface of well-drained cacti/succulent mix, keeping them moist until germination. You can also cycle from wet through dry and then resume watering to stimulate germination. It will also help if you disturb the soil.
How big do elephant feet grow?
The Dioscorea elephantipes can grow to around 15 feet tall in its natural tropics.
Is elephant foot a succulent?
Dioscorea elephantipes is a succulent plant and gets its name from its signature round and barky tuber. It is a gradual-growing yet stunning succulent plant with heart-shaped leaves and vining stems.
Conclusion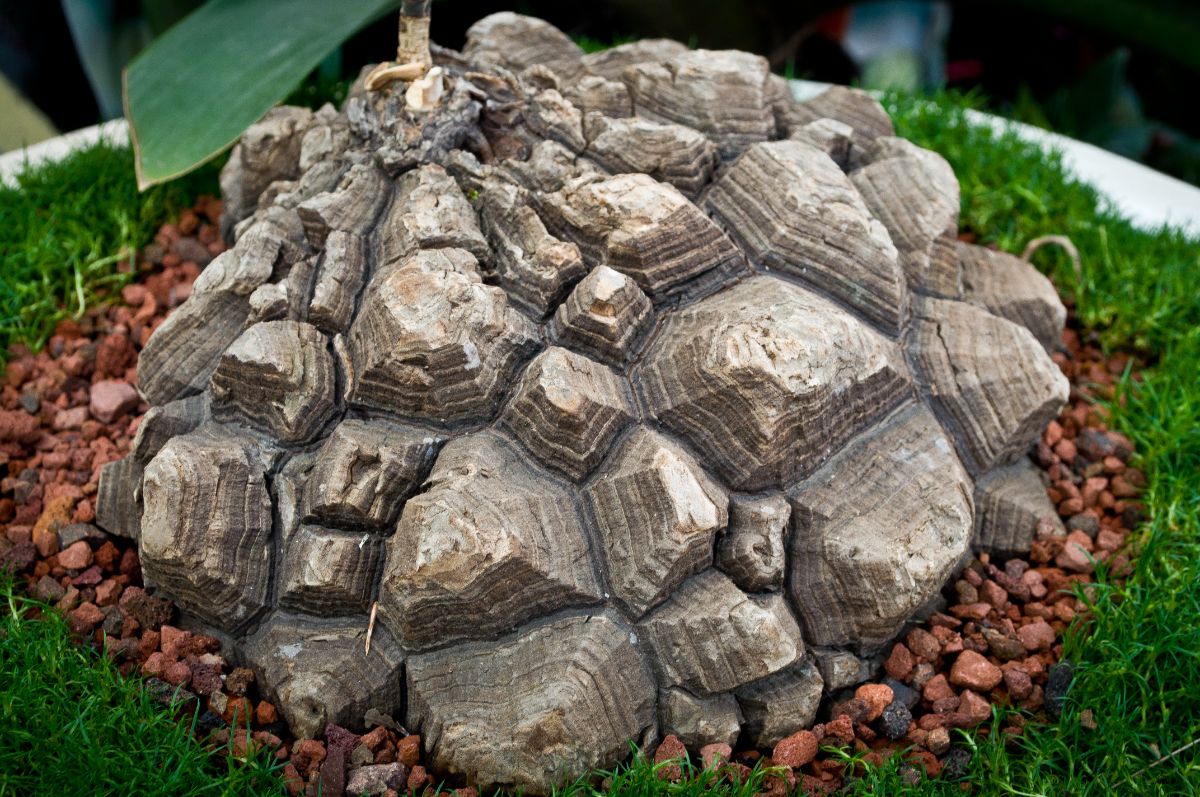 Dioscorea elephantipes are one of the most popular and beautiful plants that are easy to grow and maintain.
However, if you want to keep your elephant foot's healthy appearance, you must provide it with the right growing conditions, including proper watering, ideal soil, enough light, adequate temperature, etc.