Do you have a shady space and want to add some color and vibrancy to it? It will help if you look no further than Dragon Wing Begonia.
It is an annual plant that features gorgeous pink blooms throughout the summer. You can even display its steady flowers as a single plant in containers, baskets, or mass plantings.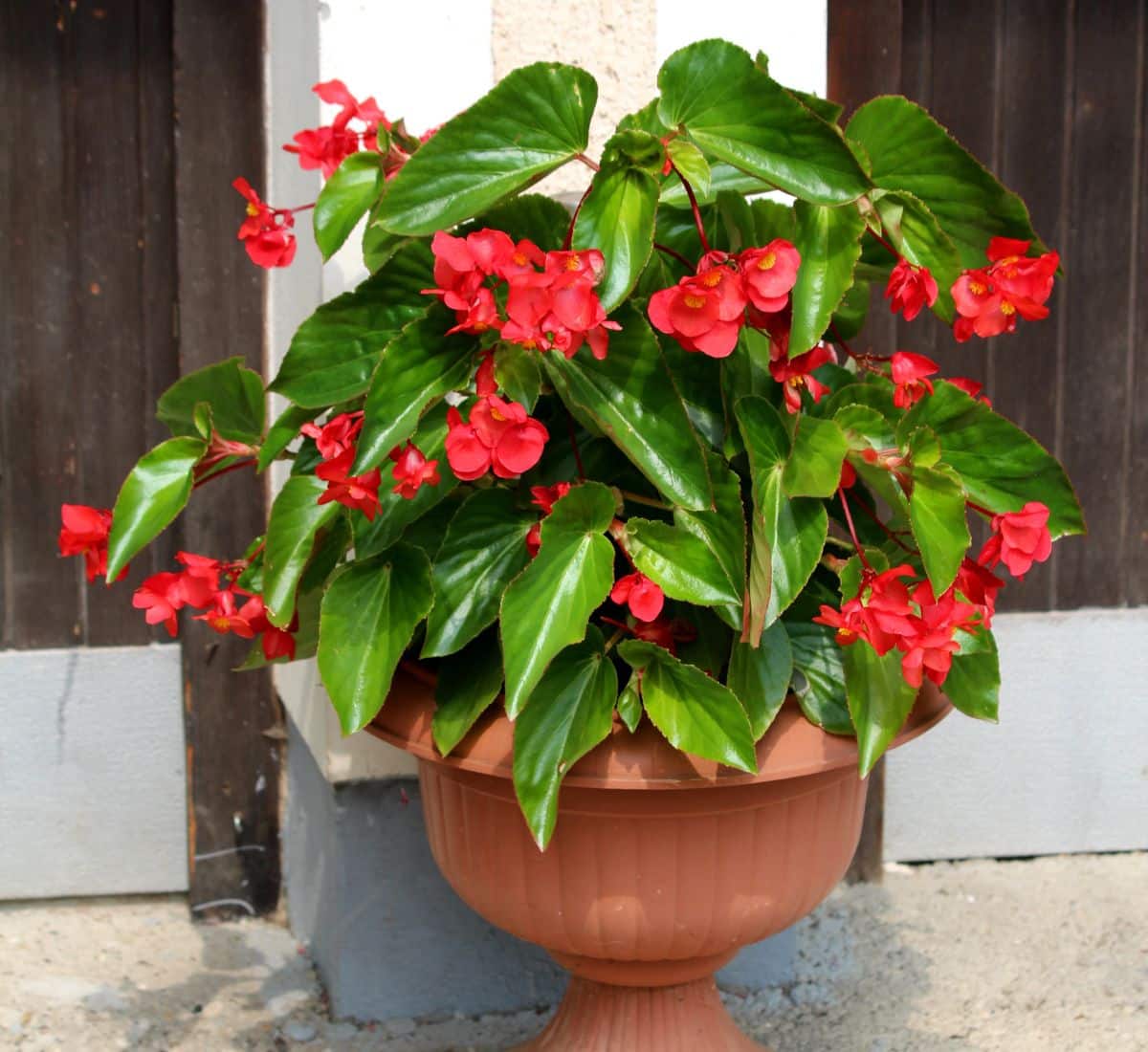 The dragon wing begonia is the favorite of many growers not just because it adds vibrancy to any space but also for its high tolerance for heat and humidity.
However, it can encounter a few issues, especially when you don't give them the right growing conditions like proper watering, bright indirect light, moderate fertilizing, well-drained soil, etc.
Below is an in-depth dragon wing begonia growing guide that will help you grow a thriving plant.
Jump to:
Essential Facts About Dragon Wing Begonia
| | |
| --- | --- |
| Common Names | Dragon Wing® Pink Begonia, Angel Wing Begonia |
| Scientific Name | Begonia hybrid 'Pink' |
| Family | Begonia cultivars |
| Plant Type | Annual or perennial shrub, depending on zone |
| Mature Size | Height: 14-18 Inches; Spread: 15 to 18 inches |
| Sun Exposure | Full Shade to Partial Shade |
| Soil Type | Rich, moist, well-drained/loamy, sandy soils |
| Soil pH | 5.5 to 6.5 (Neutral to slightly acidic) |
| Bloom Time | Summer, early Fall |
| Flower Color | Mostly Pink, but also red, white, and orange |
| Hardiness Zones | 9 to 11 |
| Native Area | South America |
| Toxicity | Toxic to dogs and cats |
Dragon Wing Begonia is known as Pink Begonia thanks to its beautiful pink-colored blooms. It is a unique cane-type species of begonia cultivars and derived its name from its long, semi-woody stems, often perceived to look like bamboo.
Meanwhile, the dragon wing begonia is sterile and cannot produce offspring via regular seeding.
You will know this unique begonia variety when you see its wing-shaped, dark-green leaves with drooping yet upturned stalks that terminate in shades of red, pink, or white flowers. This incredible plant can reach two feet tall, spread, and create a bushy look.
These blooms mostly appear in the growing season and fill any garden space with incredible vibrancy. Begonias are tropical species that are very tolerant of heat when you grow them indoors.
They are incredibly hardy plants that can survive different environs; however, for optimal conditions, you must adopt the following dragon wing begonia growing guide;
Dragon Wing Begonia Growing Guide
Light Needs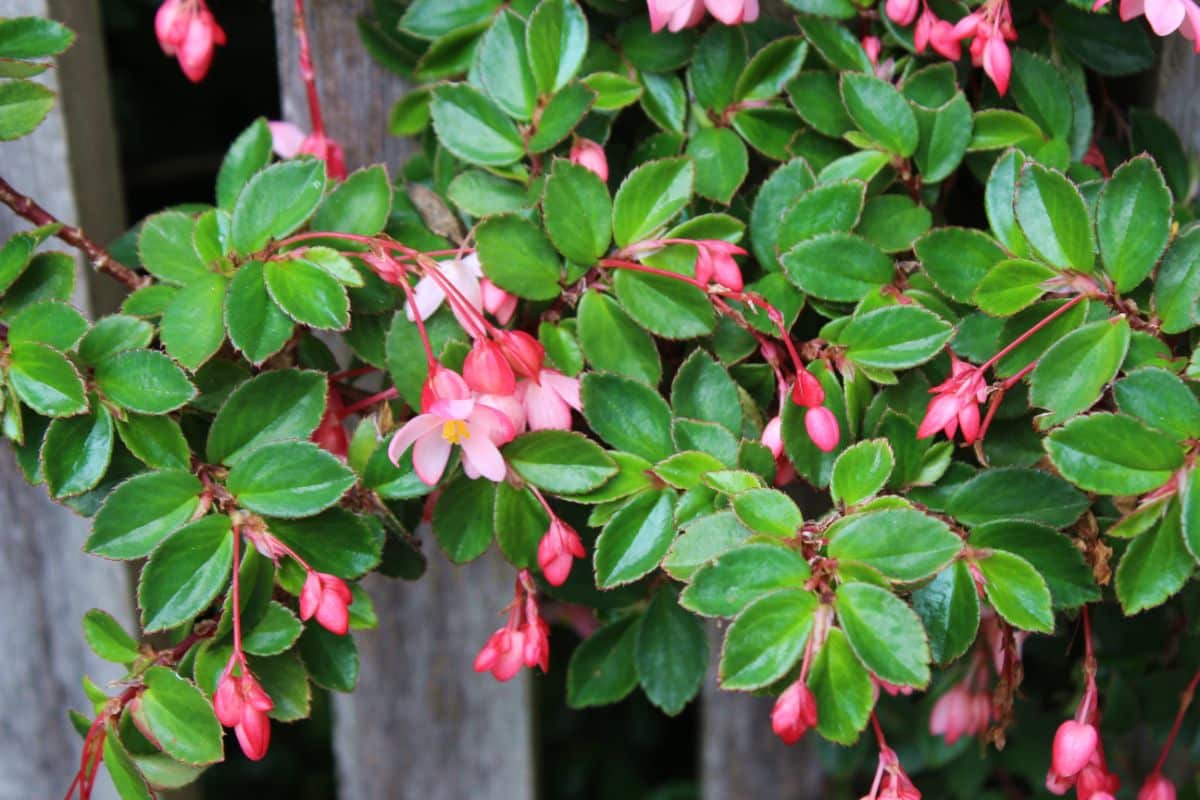 The best light conditions for dragon wing begonia are medium to bright, indirect, dappled light. In other words, you must not plant them in areas that will be affected by direct sunlight because it will burn their leaves. Again, this species can tolerate partial shade, especially if you grow it indoors.
But dragon wing begonia plants can grow leggy or look slender if you don't give them sufficient light they crave. Therefore, you must endeavor to get your plants at least slight shade, with the most suitable option of bright, indirect sunlight.
Soil Needs
Like most other begonia varieties, the dragon wing begonia does best in light, rich, moist, and well-draining soil.
The best type of soil to grow in is loamy and sandy soil. Even though we recommend moist soil for dragon growing, it doesn't mean you should allow the soil to become soggy. So, the soil must be adequately drained and use an acidic or neutral pH.
Water Needs
Generally, many plants will do well in moist soil but do not prefer to get their feet soaked, and dragon wing begonia is not excluded.
Allowing this begonia species to sit too long in water can cause it to develop root rot. So, it is best to let the soil dry between watering as less frequent watering is better.
You can know the best time to water by dipping your finger into the soil to see if the top three inches are dry. If it is, then you can water it again.
Again, it would help if you took note of the weather. In the growing season and warmer weather, the soil tends to dry out a bit faster; so, best to reduce watering in the winter as your plant will go into dormancy.
Temperature/Humidity Needs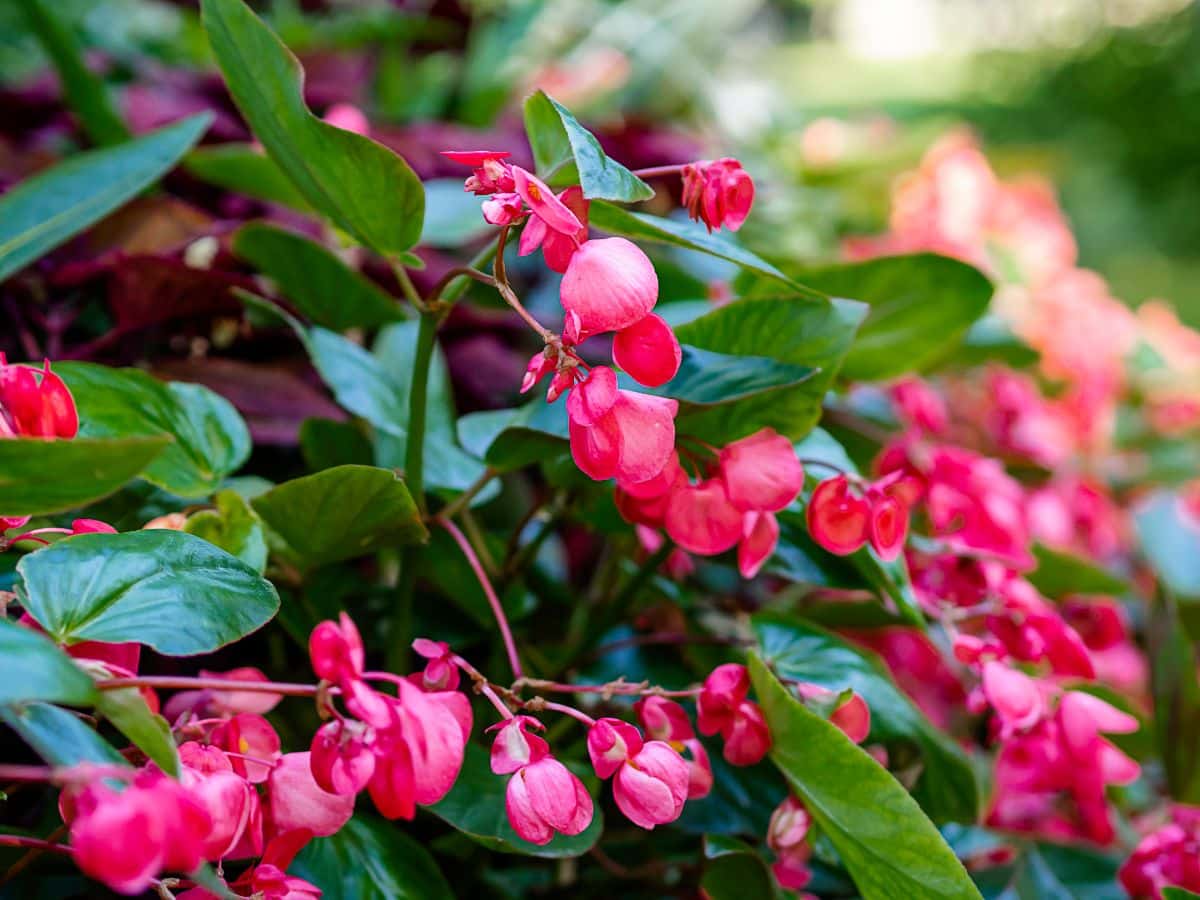 If planting dragon wing begonia indoors, increase the temperature a little. It does best in temperatures of around 65° to 75°F, and anything under 50°F will damage the leaves or even kill the plant.
It would be best to protect your begonia species from rough drafts or breezes, such as those from open windows in the winter or an air-conditioner in the summer.
Apart from the frost temperatures, your dragon wing begonia likes humidity. So, you can mist it regularly to maintain its moisture levels and place it in a typically humid area of your homes, such as the kitchen or bathroom. If you have a dry house, you can purchase a small humidifier and keep it near your begonia.
Fertilizing Needs
The best fertilizer for your dragon wing begonia is a liquid-soluble fertilizer, whether you are growing indoors or outdoors. Dilute by half whatever the average recommended amount of your fertilizer is, and feed once in two weeks in the spring and summer growing season.
In the winter, you can feed less often, precisely around once a month. The winter periods come with fertilizer burn, so if you must avoid this effect on your begonia, ensure the soil is already moist before starting fertilizing.
Potting & Repotting Tips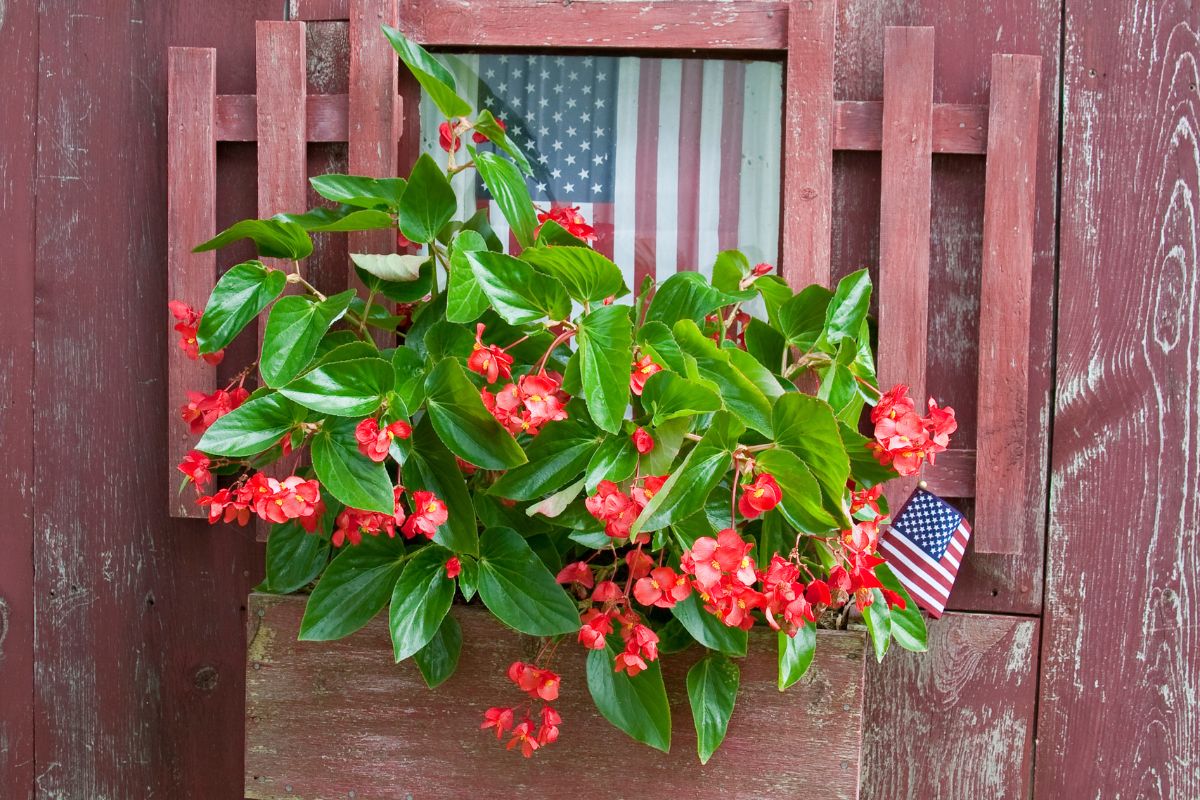 Since dragon wing begonias possess fibrous root systems, they will do best if you get them rootbound.
Therefore, whenever you report these unique plants every year or two during the spring, you must select at least one size larger pot. Avoid repotting a flowering begonia to avoid the shock that will hinder the blooming process.
Pruning Needs
Dragon wing begonia is a self-tidying plant variety. In other words, it will shed its blooms on its own and as long as it is concerned, pinching spent buds is not necessary. However, if you insist on pinching dead heads, you should be preparing yourself to see other flowers.
If you want your begonia to stay compact, cut off stems growing much faster than others, significantly if they are growing few leaves. If you are overwintering, it will help if you trim your plant until it is around 5 inches. It will enhance new solid growth during the spring season.
Dragon Wing Begonia Varieties
There are wide ranges of begonia species that you can grow alongside your dragon wing begonia. They include but are not limited to;
Angel Wing Begonias: Often confused with the dragon wing begonia species, you will hardly tell by just looking at their images. However, the difference between both varieties is that the angel wing's foliage resembles angel wings; but is nicknamed a similar name, cane begonia.
Begonia Semperflorens: It is a variegated species with a bedding type featuring yellow splotches alongside bright green leaves. It comes from the wax begonia group and possesses a fibrous root system. The begonia thrives in pots to produce a focal point. It is a hybrid species that does best in zones 9 to 11 with bright indirect sunlight.
Solenia 'Dusty Rose' Begonia: It is a tuberous begonia species featuring frilly rose-colored blooms flowering at the end of the stem. It has heart-shaped foliage, and at the end of the growing season, you can preserve its tubers to blossom in the coming year.
'Richmond' Begonia: Also known as the sun begonia, this species features bronzy-green foliage that changes color in a different light. The leaves underneath are colored red, which gives it a stunning appeal in hanging baskets.
Propagation of Dragon Wing Begonia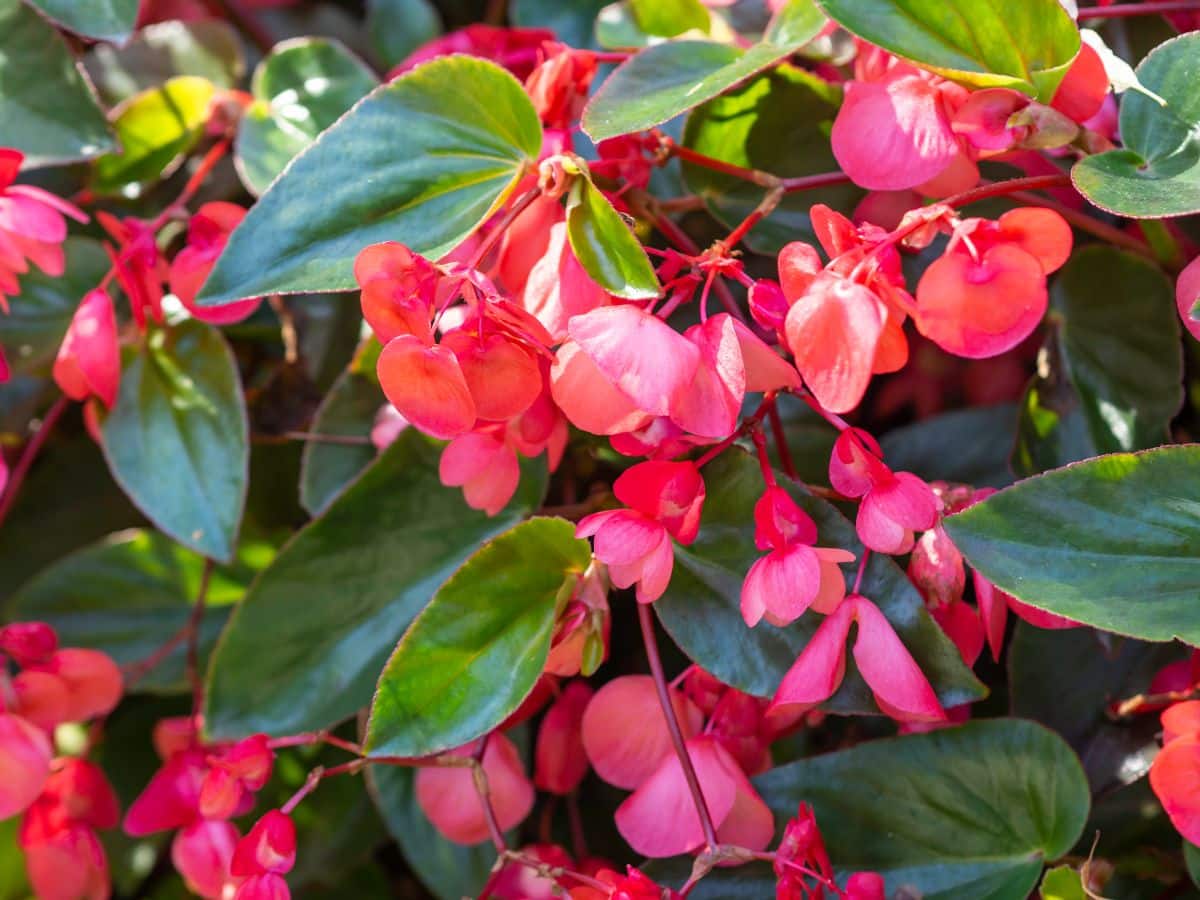 Given that the dragon wing begonia is an annual plant in cold zones, the best method of propagation to ensure it produces the best is through stem cutting and division.
Propagating from seed is almost impossible because of the size and quality of its seeds. Below are the various steps required in reproducing this begonia;
Stem Cutting Method
Pick a solid non-blooming stem around six inches long featuring some foliage.
Trim the stem below a node joining it to the branch.
Then, dip the cut end into rooting hormone powder and sow in moist soil.
Give your plant regular watering; after a few weeks, you will see new growth.
Division Method
You can use the division method if your dragon wing begonia features multiple stems.
First, separate the stems.
Then, Sow them back into the garden or in pots. It is also a better method to control your houseplant's size.
You can dig up your plant and pick the item you wish to grow. But remember to trace the branch back to the roots as it will help you to separate it from the mother plant.
Separate the root ball with your hands or a knife.
After separation, you can report your mother plant and sow your divisions into their pots.
Common Dragon Wing Begonia Pests and Diseases
Several pests and diseases attack the dragon wing begonia plants, most notably, mealybugs and whitefly pest infestations. Some diseases affect these plants due to a lack of proper care. Also, chewing insects affect the growth of begonias.
The most notable diseases include root rot, caused mainly by overwatering and poorly drained soil. There's also powdery mildew, which leaves some powdery substances on the leaves of your plants. It attracts hummingbirds but resists deer & rabbits. However, these diseases and pests are never beyond control if you apply appropriate measures.
Frequently Asked Questions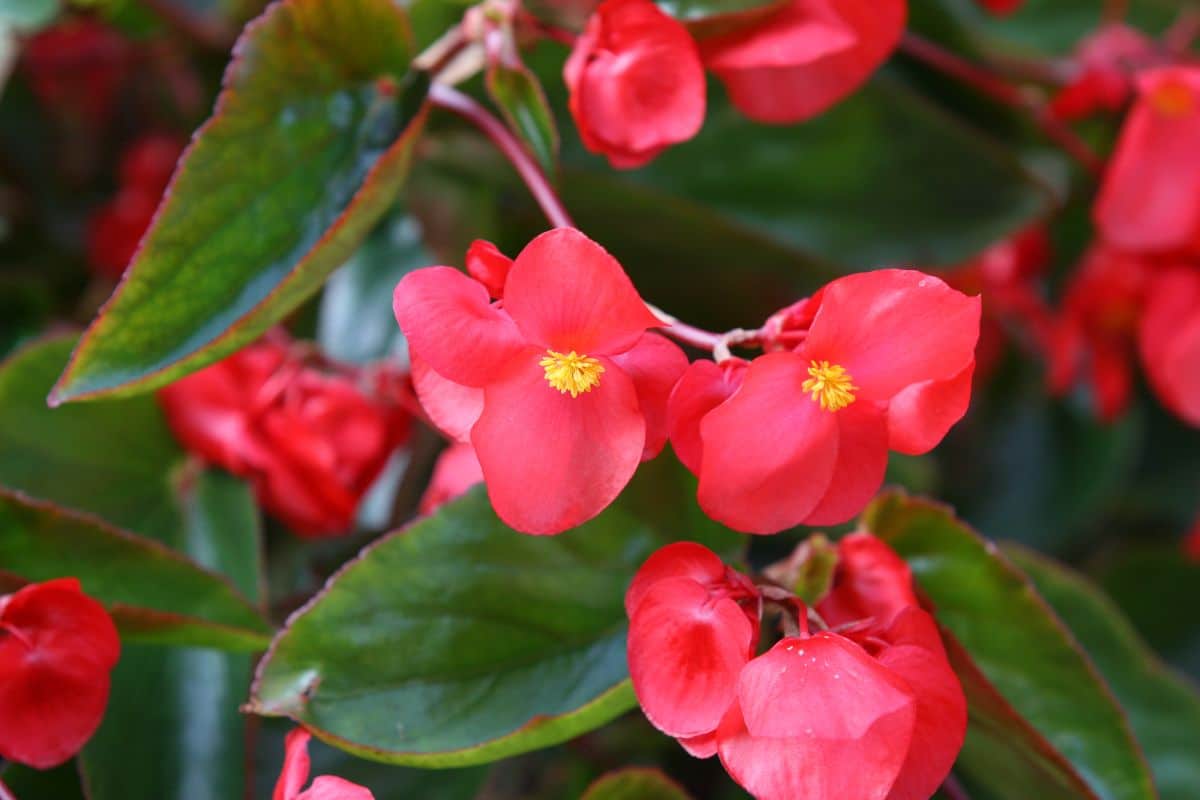 Can I grow my dragon wing begonia outdoors?
Dragon wing begonia is a perfect tropical beauty featuring pointed leaves and a fibrous root system and is suitable for indoor and outdoor conditions.
Do dragon wing begonias come back every year?
As with most other plants, you can grow the dragon wing begonia as annual or perennial, depending on your growing zone. It will come back only in zones 10 to 11 but will die after the first frost in every other area.
Should dragon wing begonias be cut back?
In the fall and winter seasons, you can cut back to once every four weeks, and in the growing season, once every two weeks. Even though it is a self-cleaning plant, you must prune your begonia and remove dead leaves or damaged stems.
Can I keep dragon wing begonias over winter?
Yes, you can easily keep dragon wing begonia over the winter.
How long will begonias last?
Begonias have a durable life span. Most varieties only live for about 2 to 3 years, even with the proper care and conditions. Cane begonias species like angel wings will reach dormancy if you allow the temperature to become too cold.