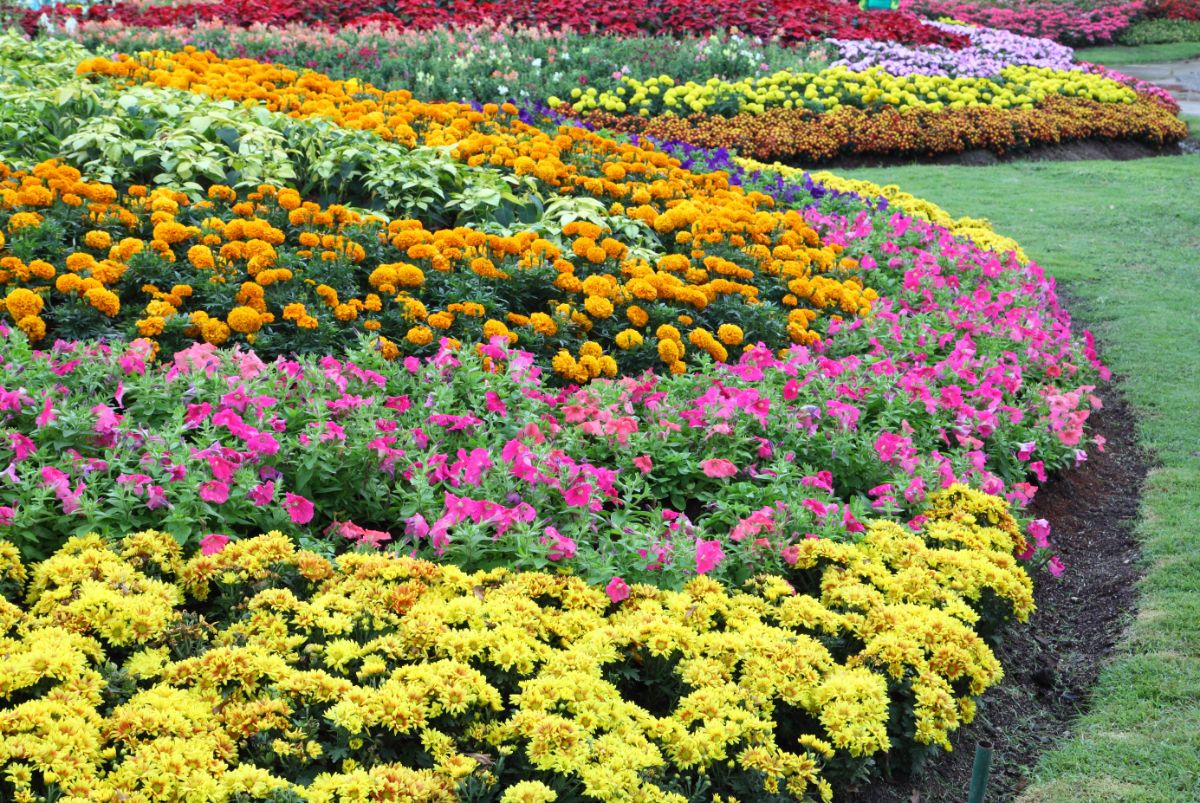 If you want to plant perennial flowers that can thrive in full sun conditions, this article is for you. Wide sun-loving perennial varieties can beautify almost any garden or landscape; think about Salvia, Allium, Black-Eyed Susan, Blanket Flower, etc. These are among the full sun perennial flowers anyone can grow.
If you want these great plants to thrive, you must ensure the space you choose to grow them frequently gets enough sun. After all, most landscape areas possess huge space without sunlight protection.
They are suitable spaces for gardens that are littered with sun-loving perennials. We'll be back to that later.
Jump to:
What Are Full Sun Perennial Flowers?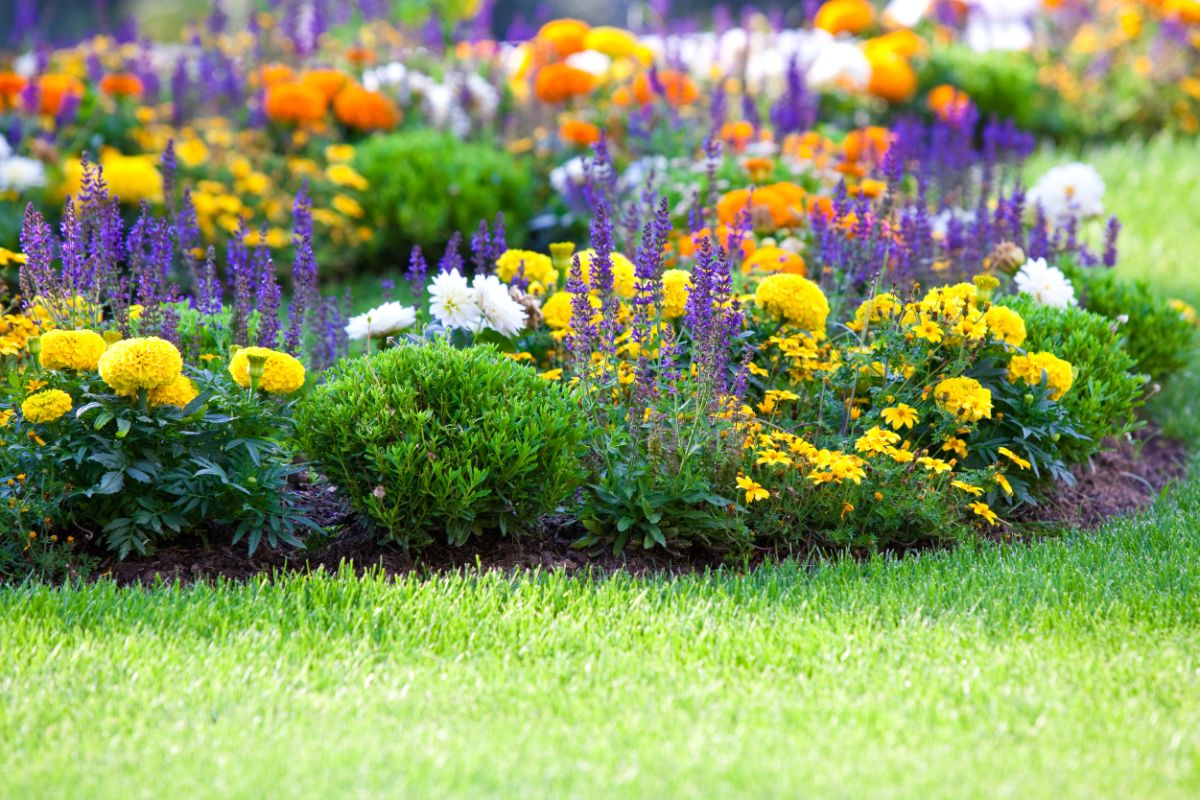 Full sun perennial flowers are plants that require around six to eight hours of direct sunlight every day. In other words, they thrive best under the effect of the full sun and will not do well in shady areas. Meanwhile, whenever you buy any plant, it comes with a tag showing you all that is required to make it thrive.
These requirements may include how much sun, what kind of soil, and the best zones required for that particular variety. Even if you don't have much land, most of these full-sun perennial flowers will thrive similarly in container gardens.
Once planted, many sun-loving perennial flowers will continue to return to give your landscape a color pop every year. Just as there are perennial flowers that do best in the shade, there are equally those that thrive in full sun.
Most sun-tolerant plants can do well in dry, wet, or moderate soil conditions, providing many options for a beautiful cutting garden, landscape bed, or even a natural pollinator garden.
Full Sun Perennial Flowers Anyone Can Grow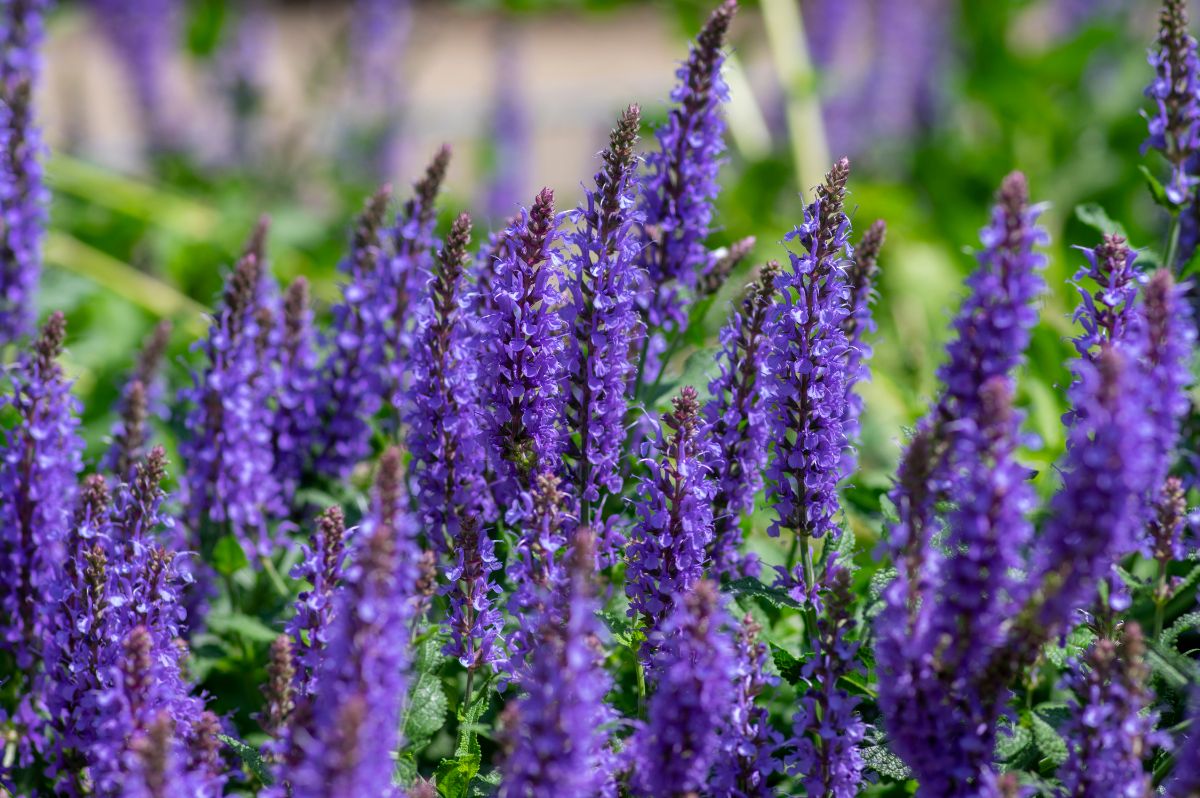 If you are looking for a perfect full sun perennial flower to give your garden a unique appearance, you can trust Salvia to give your garden the additional brightness you desire. This plant, meanwhile, can blossom all summer long and, as you need, thrives in hot, sunny, and dry garden beds.
It comes with tiny flower spikes with square-shaped stems, thus showing that the plant originates from the mint family.
It is a plant that can mix perfectly with many other species in your landscape. However, you must deadhead the salvia nemorosa if you want to see its flowers keep coming for months.
It features 18 inches of stunning purple flowers that are gorgeous but are strictly deer-resistant. Salvia is a perennial that you must add to your landscape or garden since it will adorn any area with its wide purple-blooming varieties worth growing, including Cardonna and Amethyst. This sun-loving perennial is hardy to -30 degrees Fahrenheit.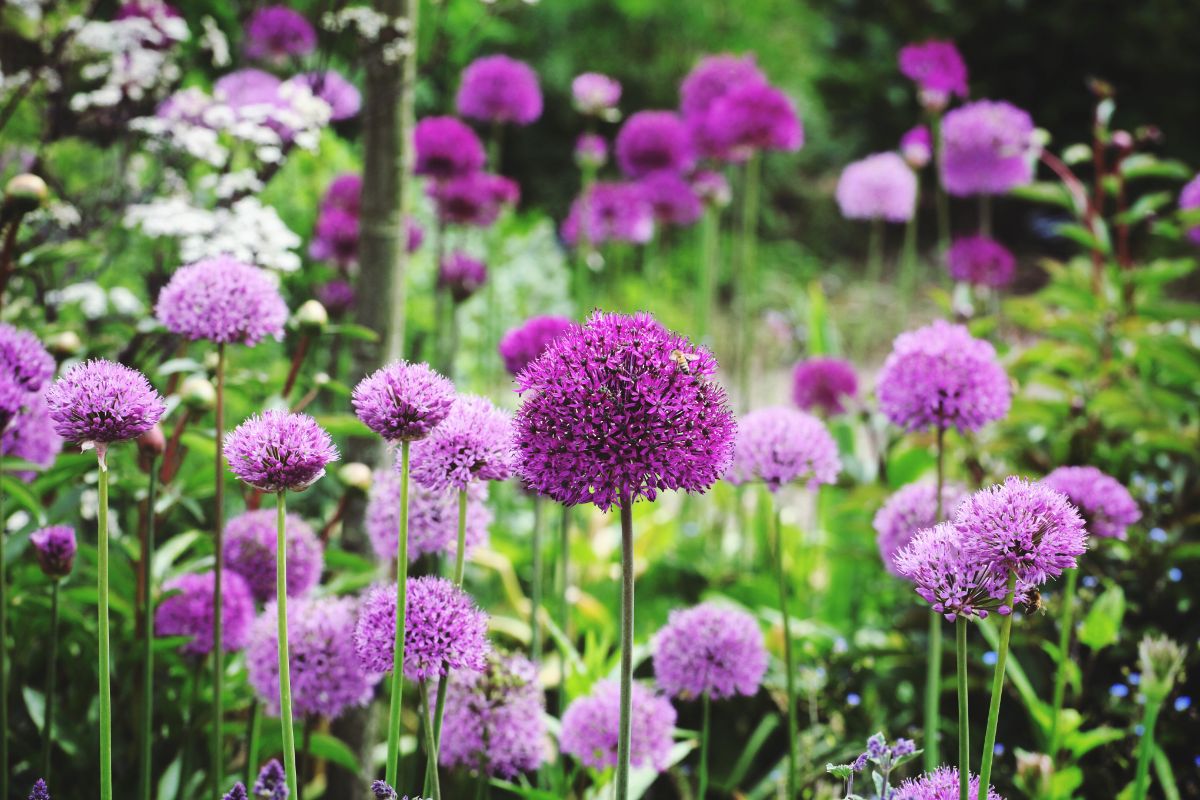 There's a reason why allium is commonly called Ornamental Onions, which is because it adds beauty to any garden. Most interestingly, allium is one of the most desirable full sun perennial flower anyone can grow, as it adds a tall, bulbous display in late spring and is an excellent addition to pollinator gardens or landscape beds.
It earned its common name (Ornamental Onions) because of its clump-forming nature and has foliage only underneath the plant. Therefore, pairing it with lower-lying perennial flowers of yellow and pink color adds texture and helps to hide fading foliage. It prefers dry to medium soil type.
Whatever kind of garden you are looking to grow, be it a manicured-looking English garden or a casual bed of blooms, allium will always provide an incredible effect, thanks to its long and thick stem topped with a ball of slender lavender florets.
This perennial is prune to spread; however, you can easily divide it during the fall season. It is hardy to USDA zones 4 to 8.
Black-eyed Susan is native to North America and stands as one of the perfect full sun perennial flowers that can give your garden the bright and vibrant look you desire.
Scientifically called rudbeckia hirta, this specie is a gorgeous perennial wildflower with a fantastic blend of black and yellow blooms to give your garden a stunning look.
Black-eyed Susan is hardy to USDA zones 3 to 11 and can grow as tall as 24 inches. However, if you want these plants to have the desired effects on your garden, you must choose well-drained, moist soil and ensure you remove its faded flower heads at least once a week.
Meanwhile, Rudbeckia hirta does best in landscaped beds, garden borders, and container gardens.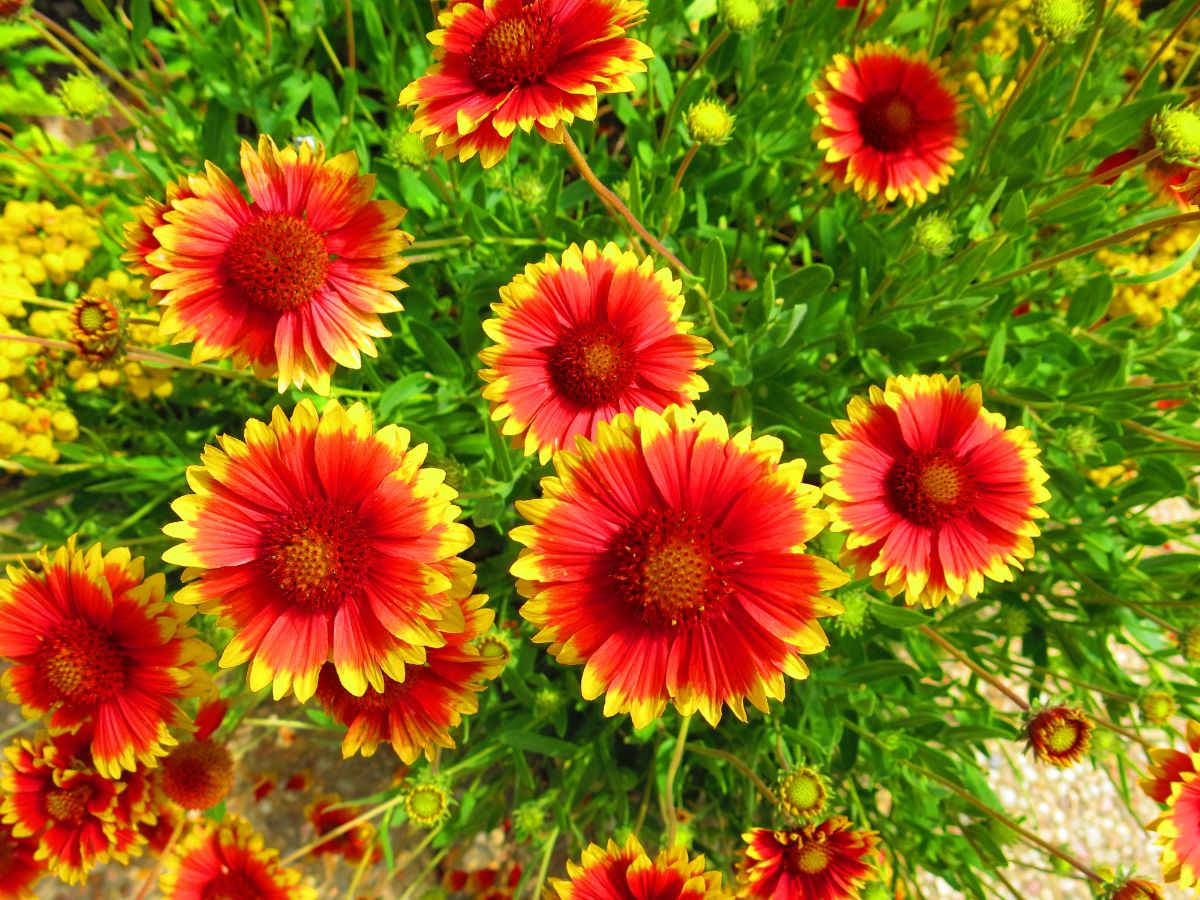 If you are looking for an ideal full sun perennial as a beautiful addition to your spacious garden or landscape, I recommend you go for Blanket Flower. It gives any garden a stunning look with red and yellow blooms that exude color and charm. It is a rapid-growing plant that quickly matures.
Besides being a sun-loving perennial flower, the blanket flower also produces waves of single or double daisy-looking blooms throughout the summer and even into the fall. Gaillardia Grandiflora, scientifically called, can grow up to 1 to 3 feet tall and prefers well-drained soil.
Another exciting feature of this full sun perennial flower is that its colors project vibrant rings of red and gold, but sadly, its blooms don't blossom for a long time. However, the plant's stunning summer color makes it an ideal prospect for your garden, plus it draws pollinators like butterflies. Blanket flower is USDA hardy to zones 5 to 9.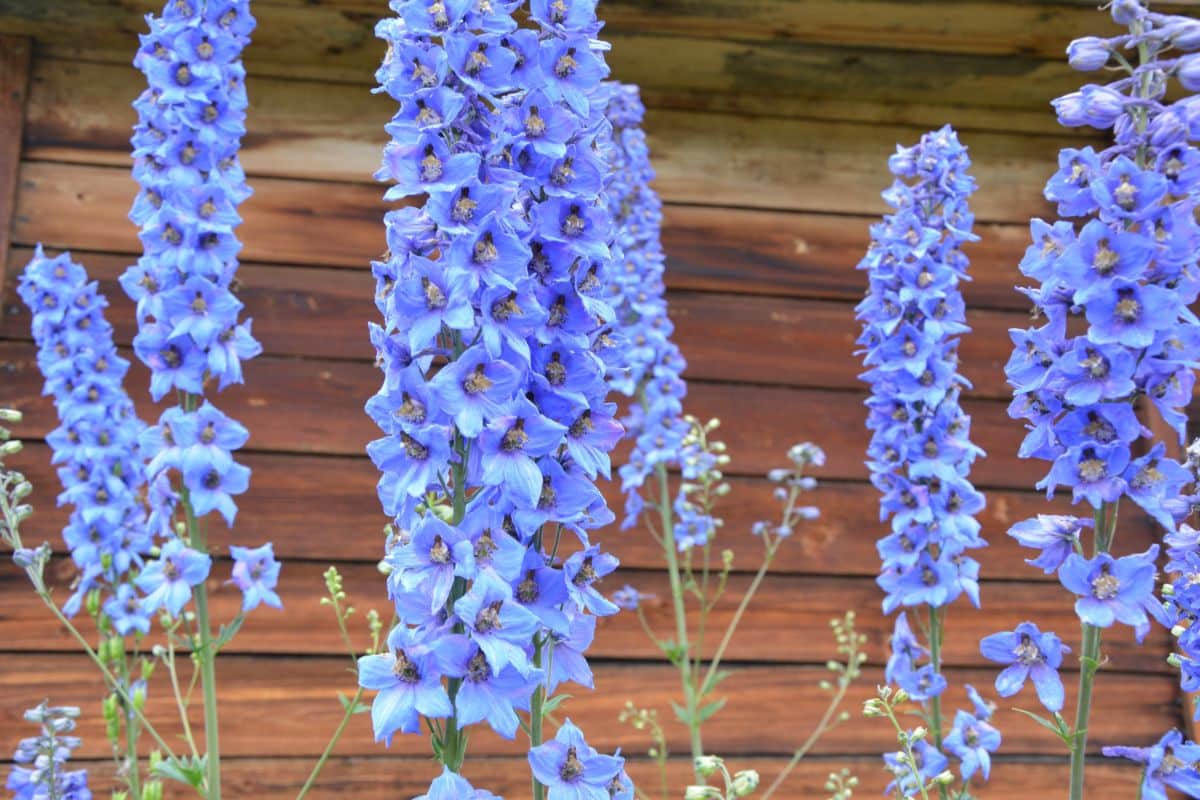 There are many delphinium species, but one thing to note is that almost all are sun-loving perennials. Delphinium varieties are among the more stunning plants on our top list of full sun perennial flowers anyone can grow because of their beautiful colors and towering nature. However, it requires well-draining soil.
Summer Skies is one of the most commonly known delphinium species, notable for its gorgeous color and enormous presence. However, you can also find other varieties like the darker variety known as Black Knight. These species are tall and ideal for display either along a fence line or in the back row of a layered flower border.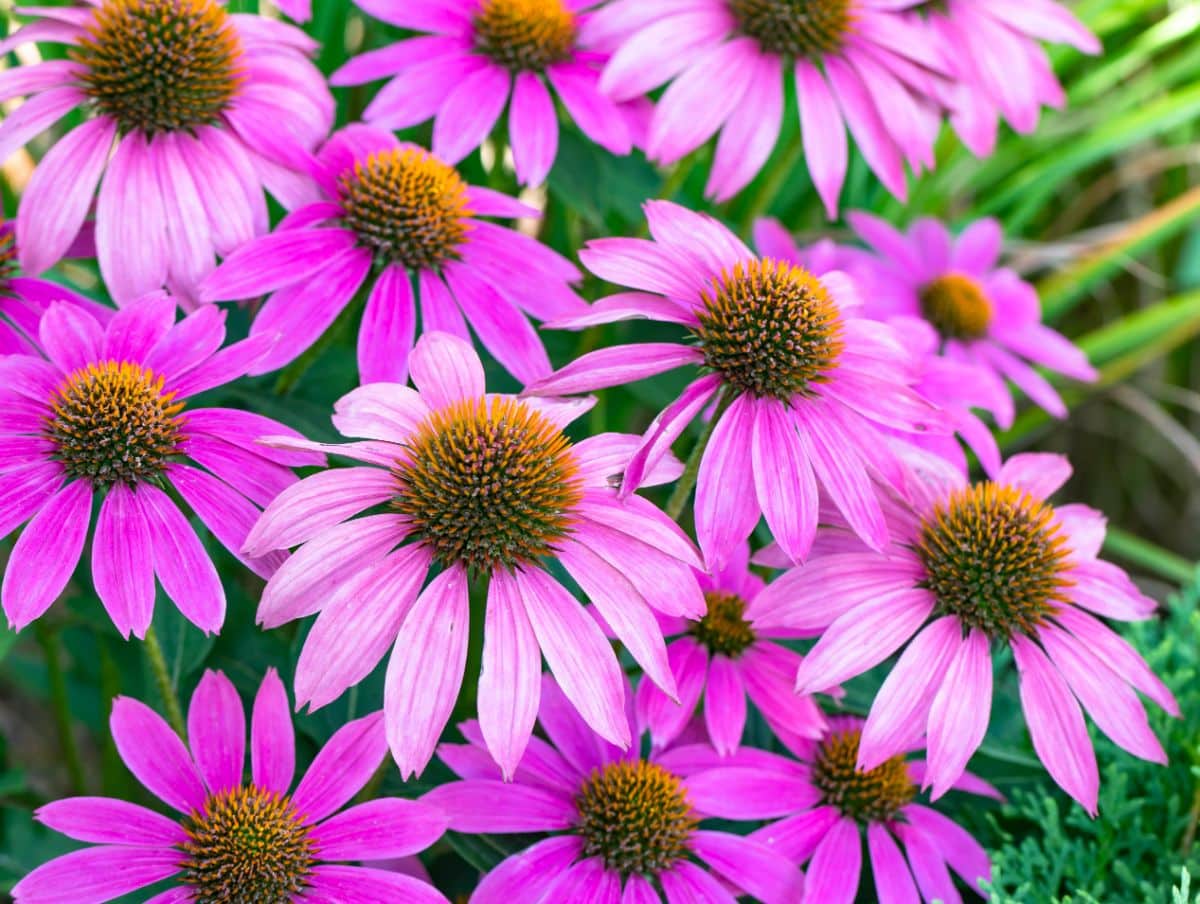 Talking about Coneflower, they are of different types that offer popular options to grow in any perennial bed, be it yellow perennial flowering varieties or purple flower-producing types. It has become most commonly known for featuring large daisy-looking flowers that are not just beautiful but also durable.
Amongst the various coneflower species, the one that suits most in our top list of full sun perennial flowers anyone can grow is Purple Coneflower.
It is a stunning gorgeous flowering perennial variety that thrives in almost every soil but prefers humus-rich, well-drained soil and does best in the full sun of around 6 to 8 hours daily.
However, if you live in southern climates, you can go for afternoon shade as the hot sun can fade and even wither the attractive blooms.
Purple Coneflower is USDA hardy to zones 3 to 9 and colors from early to mid-summer until the coming of the frost in the fall. It would be best also if you deadhead its faded flowers to maintain its healthy state all summer.
If you want to see purple punctuation displays all over your summer garden, you can trust Blazing Star to provide you with lots of them.
The Liatris spicata, scientifically called, is a native prairie wildflower that displays beautiful purple flowers, which draw pollinators like butterflies. It prefers well-drained soil and can grow up to 2 to 4 feet in height.
It is a low-maintenance plant with upright growth nature, thus making it an excellent option for any garden addition.
Meanwhile, the blazing star can do well in different conditions, and their fuzzy flowers, which sway on lengthy stems, come in white and pink. However, the best color for the gorgeous appearance of your garden or cut-flower bouquets is purple.
For a blistering garden, consider adding Centaurea Montana, a perennial variety of Bachelor Buttons, to your flowerbed. Some gardeners often mistake these varieties for the annual bachelor buttons, categorized as Centaurea cyanus. It does best under well-draining soil.
One of the most amazing things about Amethyst Dream is that its flowers have a delicate structure. Its beautiful colors will also make your garden look stunning, especially with its blue color.
This full sun perennial flower will create a perfect color contrast if you pair it with a coarser-textured bloom like Stella de Oro daylily.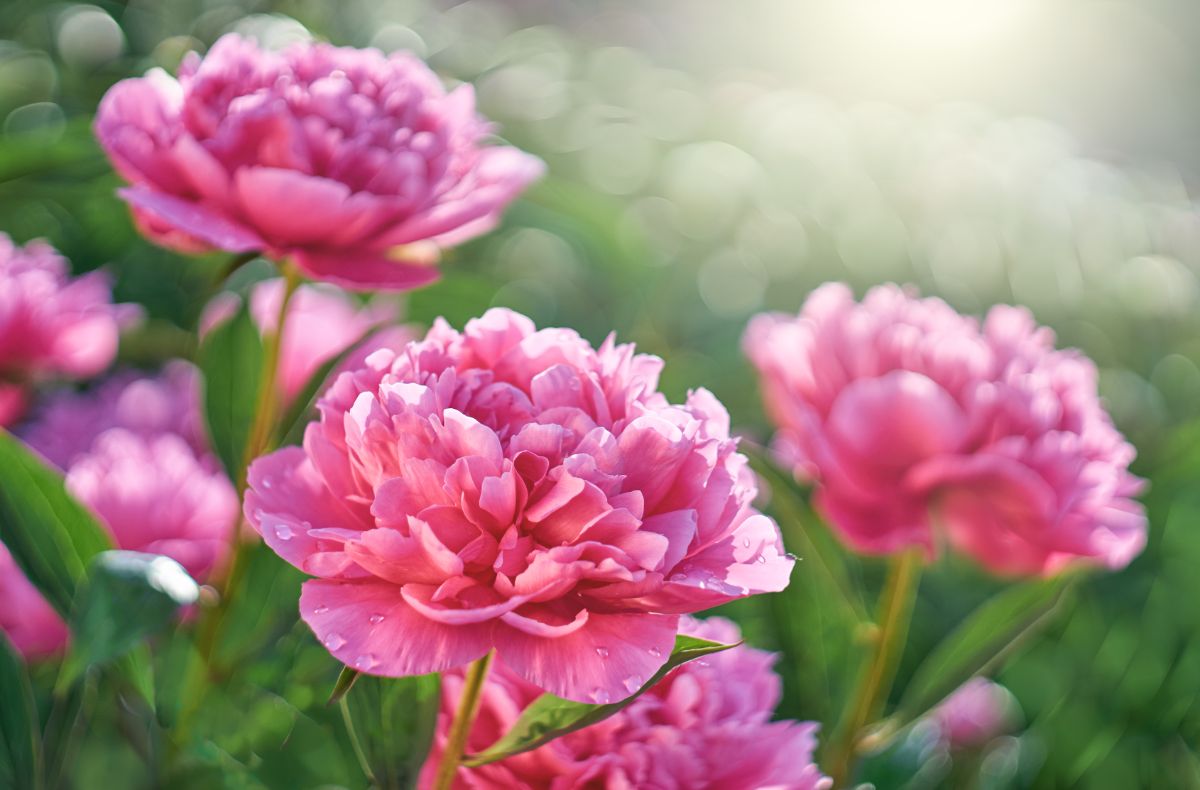 If you are looking for the perfect full sun perennial flowers to beautify your garden, you can consider Peonies, especially Festiva Maxima and Sarah Bernhardt varieties.
Peonies are shrubby perennials with glossy dark green foliage and lush, exuberant blooms. These blooms ooze a lovely scent in late spring.
Peony species can last up to four years, and its blooms come in single, double, or semi-double forms in a comprehensive collection of gorgeous pastel colors and bi-colors. Like other full sun perennial flowers, peonies prefer well-drained soil; it is hardy to USDA zones 3 to 8.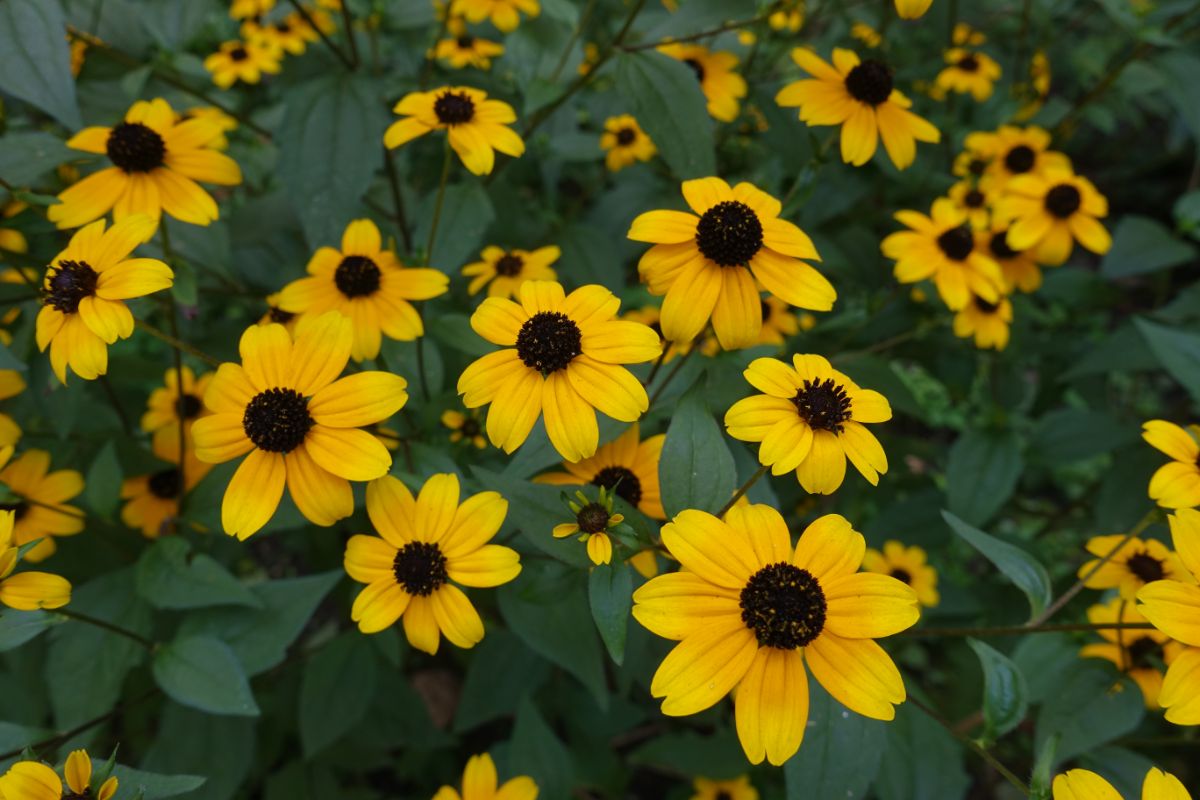 Like its relative, black-eyed Susan, Brown-eyed Susan is a full sun perennial flower with lengthier stems, bushier nature and taller growth habit than the former. Even though it produces flowers later, the rudbeckia triloba features a delicate appearance on sprays well-protected with suitable flowers.
If you want it to look tidy, you must pinch early buds and plant low-lying perennials to protect the fading foliage. This activity will help to keep it from looking ragged. Brown-eyed Susan is most suitable when grown alongside Salvia and Speedwell.
Meanwhile, even though rudbeckia triloba is a gorgeous plant, you have to be careful as it is a yellow perennial flower that can invade several parts of the planet. It prefers well-drained soil and is hardy in USDA zones 4 to 8. This perennial can grow up to 2 to 3 feet tall and 12 to 18 inches wide.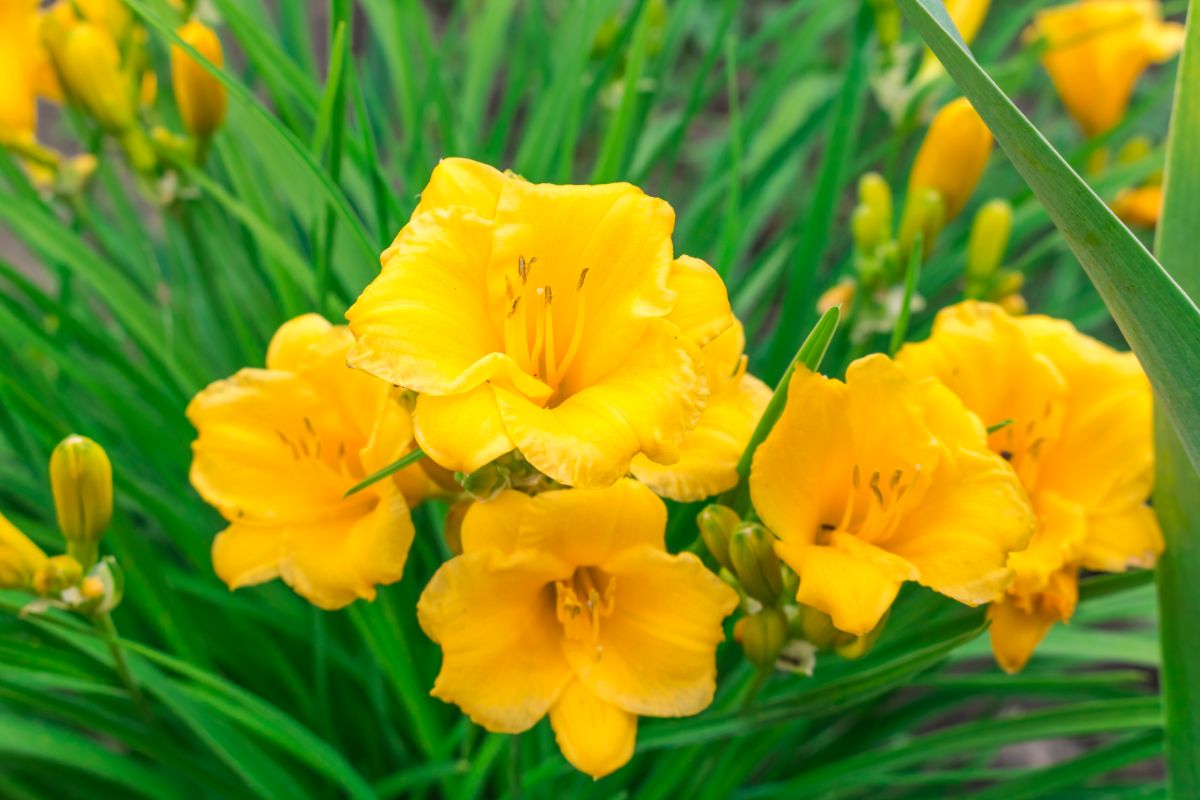 Are you looking for an ideal full sun perennial to give your garden the brightness and decorative look you desire? Have you considered this unique flowering perennial plant called Stella De Oro Daylily? This specie flowers for a long time yet needs little maintenance.
Stella de Oro daylily is a sun-loving perennial considered a workhorse, plain and simple. However, most gardeners find this plant often overused. But that doesn't matter, as long as it has the desired effects in your garden and continues plowing without much supervision. It prefers well-draining soil.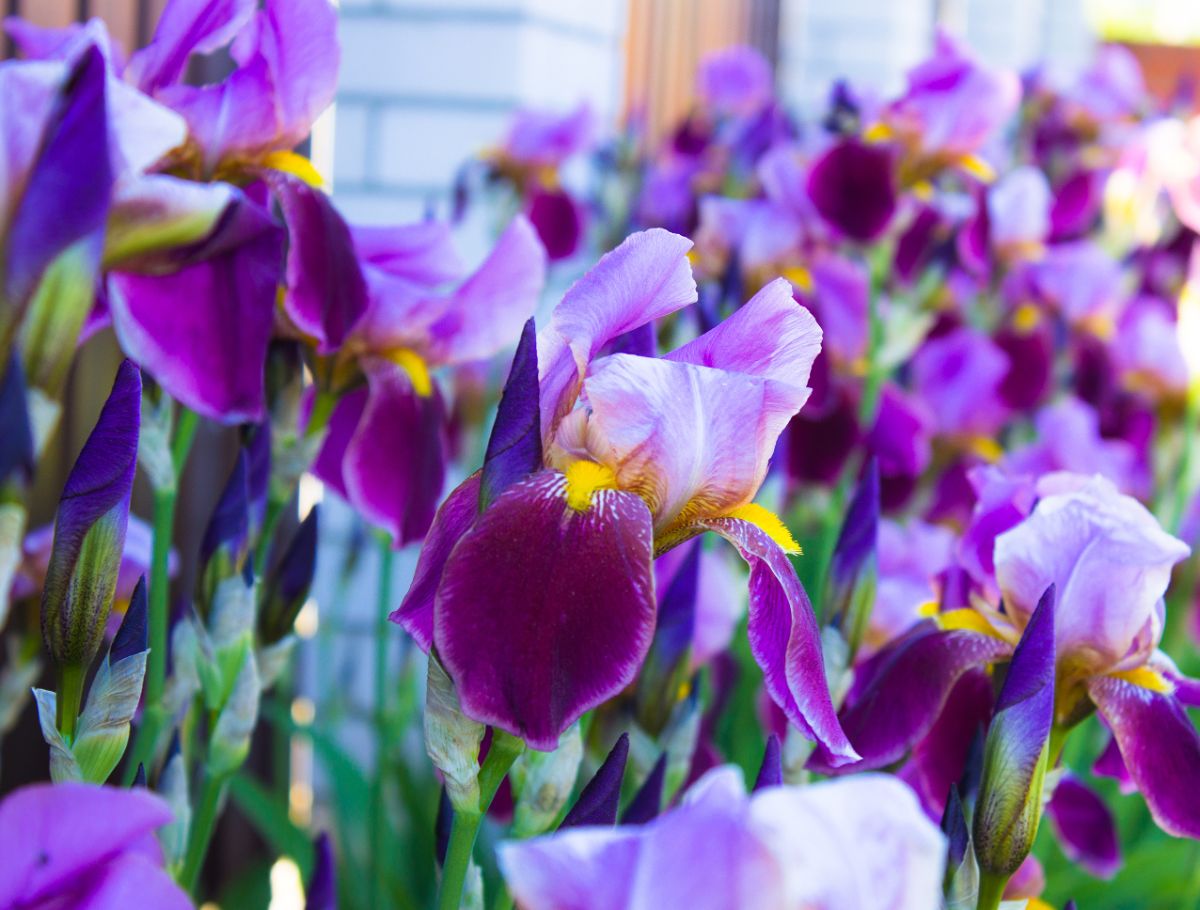 Every flowerbed gardener loves a colorful garden; therefore, they often need plants that will beautify their garden and give every passerby something to feed their eyes. You must include a gorgeous blooming plant called the German Bearded Iris for such a garden.
Scientifically called Iris germanica, this full sun perennial flower comes in color varieties, same with rainbow, but the most gorgeous of them is violet or purple color.
This perennial flowering plant features broad types that will fulfill your desire to add full sun flowering perennials to your flower bed or landscape.
Meanwhile, this plant is as tough as nails. However, if you must prevent them from rotting, then it would be best if you do not sow its rhizomes too profoundly. German bearded iris plant is deer-resistant, and out of every deer-resistant full sun flowering perennial, it is among the easiest to grow.
It is a unique ornamental plant anyone can grow to brighten up the garden and is full hardy to temperatures of about -40 degrees Fahrenheit. The iris germanica can grow up to 2 to 3 feet tall and is an early spring bloomer that can thrive even with little to no attention.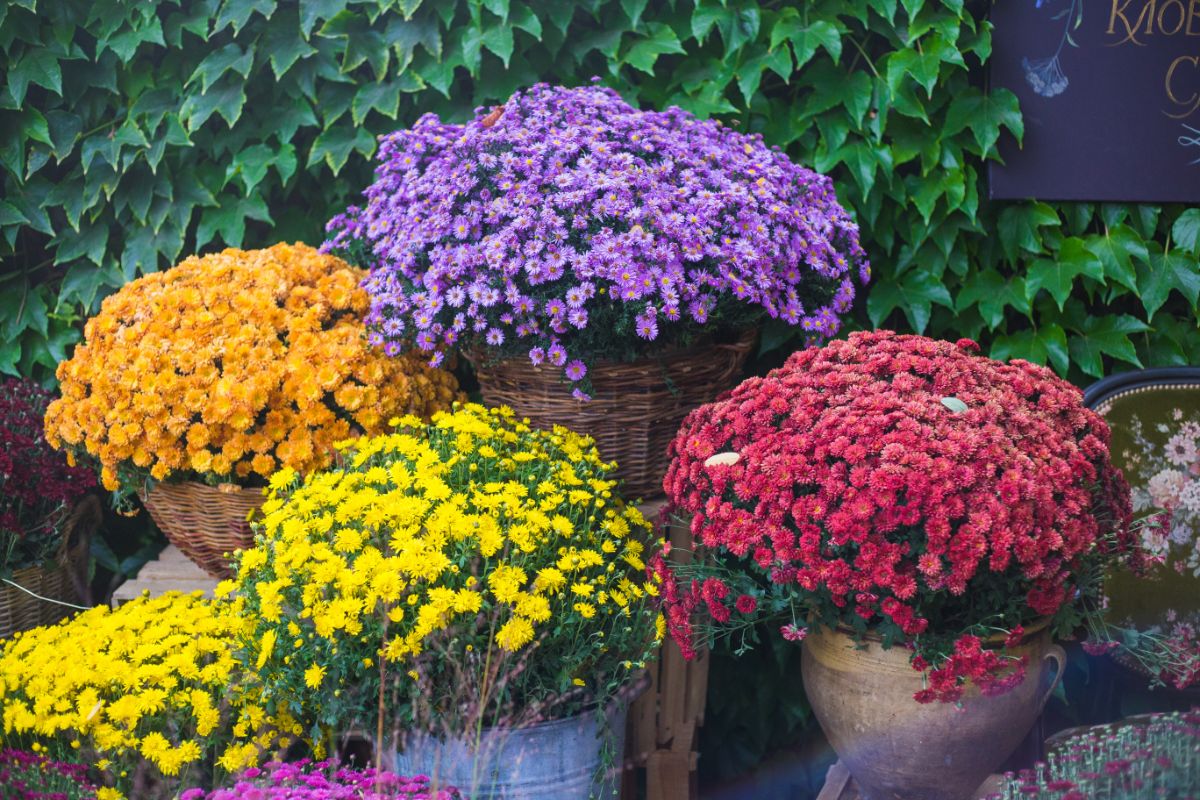 Commonly called Garden Mums, Chrysanthemums are among the best full sun perennial flowers anyone can grow, and they feature vibrant clusters of petals on every flower. Do not plan on missing this adorable specie amongst your collections during the fall or winter season; if not, you'd be missing a lot.
Meanwhile, chrysanthemums are available for purchase in many grocery stores whenever it is in full bloom. However, for your desired plant, it would be best if you grow them in the spring season. This perennial is a tall perennial variety that can grow up to 3 feet tall and serve as a great filler plant that will add color in autumn.
Because they are full sun flowering perennials, mums desire sufficient sun and less frequent watering. In other words, ensure your water moistens the soil, but do not overwater.
For a perfect home, go for those with unopened buds so that they can bear blooms all season. Native to China, the chrysanthemums are hardy to zones 5 to 9.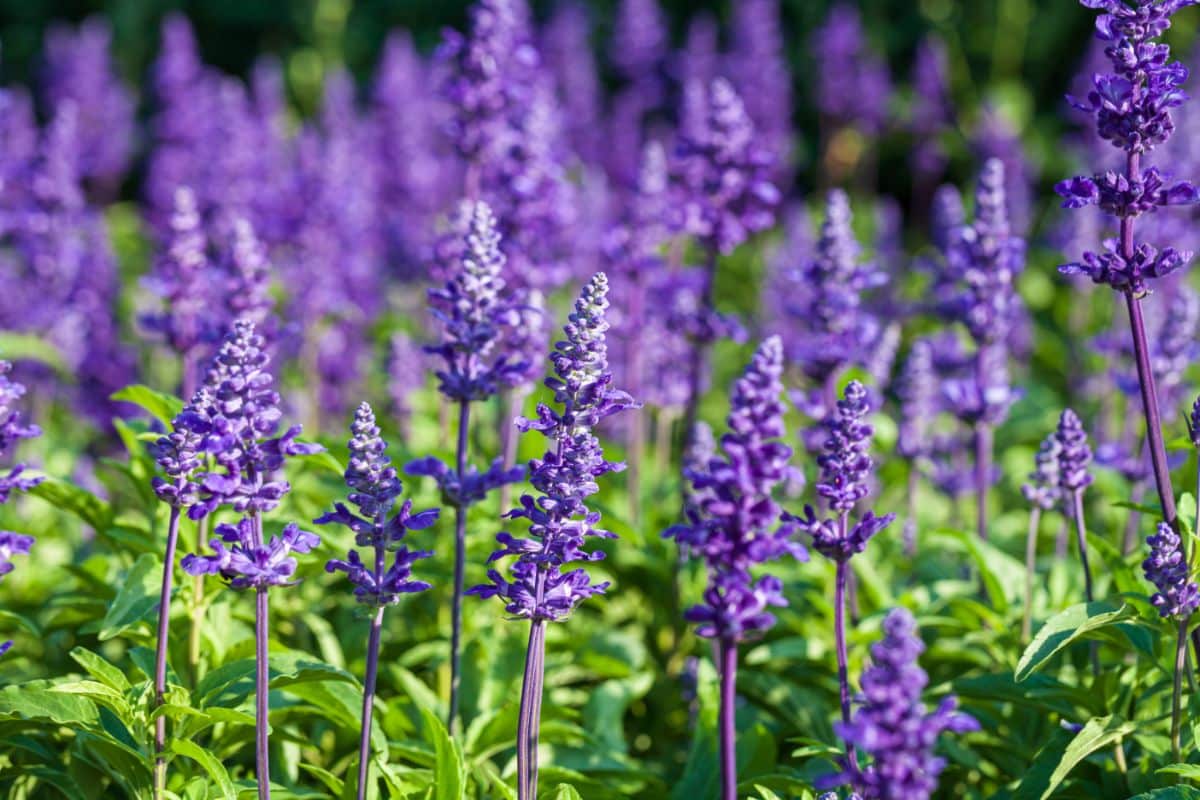 English Lavender is among the most popular perennial species on our list. It is a full sun perennial flower that offers a lovely scent and beautifies the garden with its gorgeous blooms. It is undoubtedly a delicate-looking plant, yet it can take the heat and survive under the hot summer sun and dry conditions.
Lavandula angustifolia, scientifically called, produces purple flowers on top of gray-green foliage throughout the summer period. It is a versatile plant that can brighten the garden, cut for dried use and new use in bouquets. It prefers well-drained soil and can grow up to 2 to 3 feet tall and 2 to 4 feet wide.
This unique plant, however, doesn't need much maintenance as long as pruning is concerned. It tends to appear scraggly if you allow it; therefore, it would help if you prune to keep it tidy and healthy. Trim off faded flowers to make way for fresher ones in the growing season. English lavender is hardy to USDA zones 5 to 8.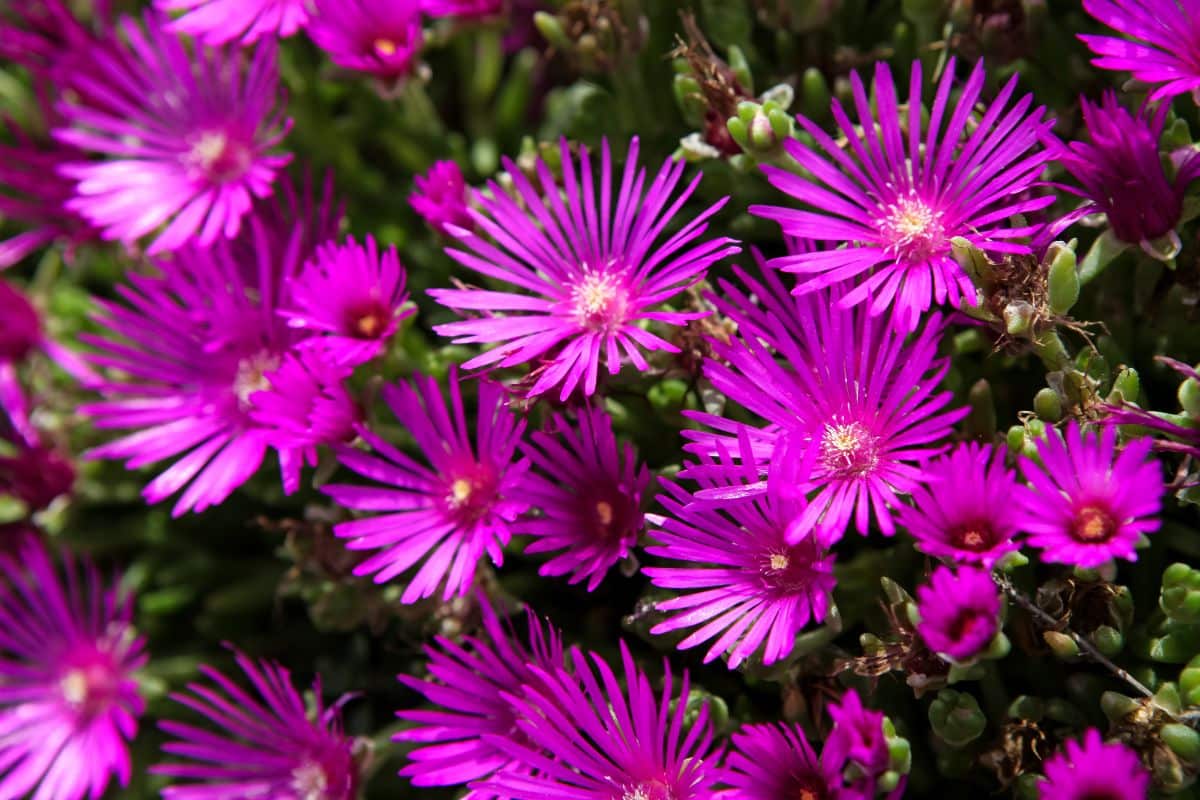 If you are looking for a low-maintenance yet full-sun flowering perennial to add to your landscape, you can trust Ice Plant to provide you with just that. It is a beautiful drought-resistant yellow flowering perennial that will give your garden a vibrant feel and appearance with its gorgeous flowers and daisy-like blooms.
Scientifically known as Delosperma cooperi, the Ice Plant blooms in incredibly bright colors of purple and yellow, hence, capable of adding a decorative feel to any garden. Since it has attractive color combinations, it is considered an ornamental plant.
In addition, the flowering period of delosperma cooperi ranges from 4 to 5 weeks and can grow up to 2 to 6 inches in height. It is one of the perennials on our list that does best in full sun and thrives in moderately well-drained soil but won't tolerate moist soil. Once these plants are matured, make sure you minimize your watering routine.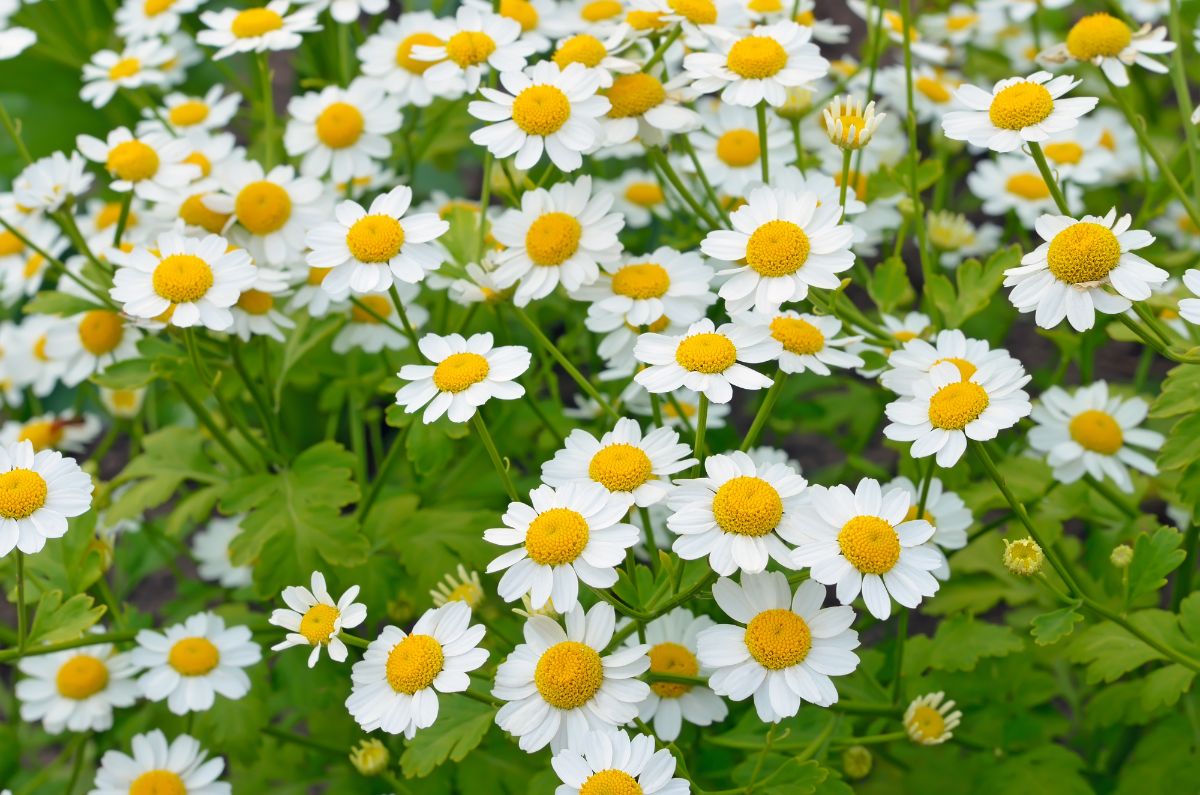 Feverfew is a full sun perennial flower anyone can grow as it features slender, daisy-looking blooms of around 1 inch in diameter. This plant produces flowers all summer on stems covered in parsley-like foliage. Planting them in groups will work perfectly in cottage gardens or as edging around landscape beds.
It is a bushy plant that is a little aromatic and can spread rapidly if you allow it to self-seed. If you prune spent blooms, you are not just tidying the plants but also helping curtail how it scatters.
Meanwhile, the Tanacetum parthenium prefers well-drained soil and can grow up to 1 to 3 feet tall and 12 to 24 inches wide.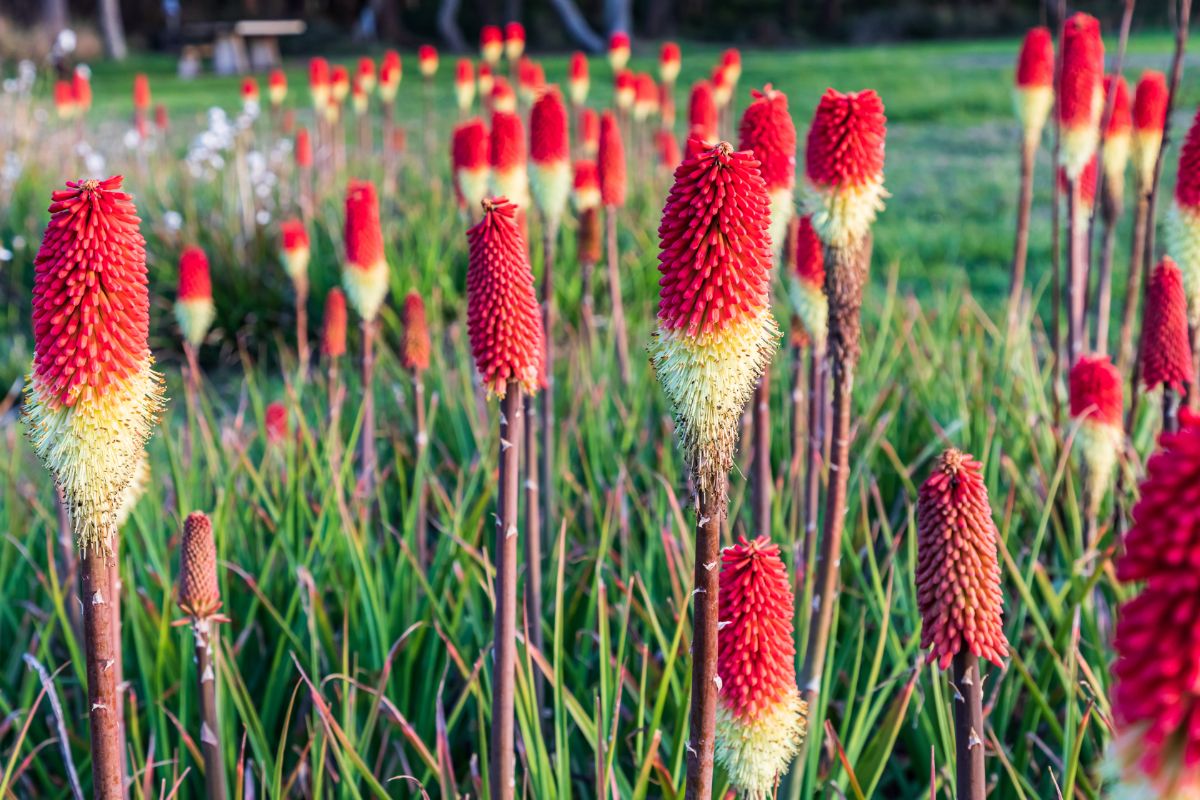 As long as Red-Hot Poker is concerned, it deserves to be on our top list of full sun perennial flowers anyone can grow. If you are looking for an ideal plant to beautify your garden, the Kniphofia specie offers a low-maintenance option. This perennial has other monikers as not every variety comes in red color.
One of its red species is the Redhot Popsicle, invariably a member of the Popsicle species. Native to South Africa, the red-hot poker is hardy to zones 5 and will give your garden a unique appearance with its oddly-shaped flower spikes. It prefers a well-drained soil type.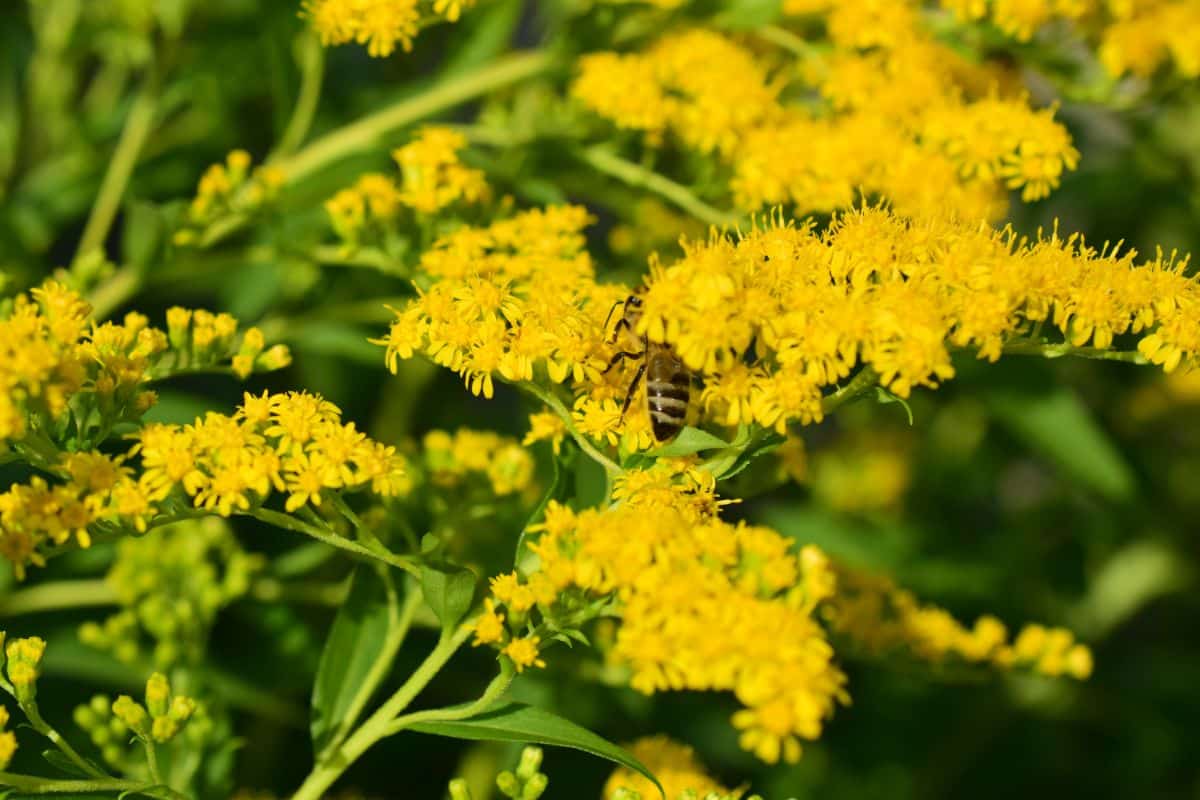 Another full sun perennial flower on our top 25 list is the Goldenrod plant. It has a yellow flower perennial plant that makes a great addition to a pollinator garden.
It features arching stems that have slender yellow blooms in the fall season. It is also very suitable for cliffs and bluffs and serves as food for pollinators like butterflies.
While rumors have it that Solidago drummondii causes hay fever, ragweed pollen is, however, the true culprit; therefore, you can grow this plant with less care for a bloom fall display, which serves as food for many pollen-gathering insects. It prefers well-drained soil and grows up to 18 to 36 inches tall and wide. It is hardy to USDA zones 5 to 8.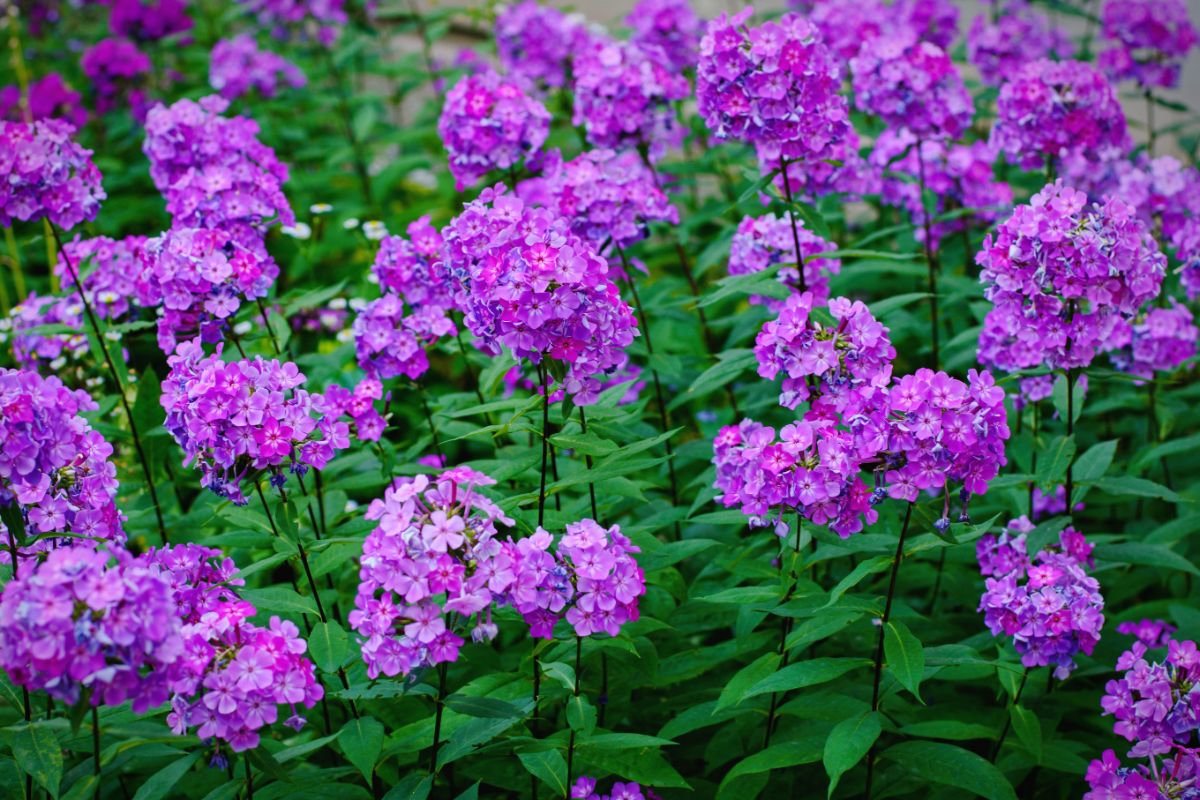 If you plan to add a little color flavor to your landscape or flowerbed, it would be best to go for the Phlox paniculata. It is a quality plant for adding raw beauty to its garden or area.
It has varieties of purple colors of phlox like Flame Blue or Blue Paradise, thereby serving as the best option for giving your garden the flair you desire.
It is among the giant species of any full sun perennial flowers, as it can grow as tall as 2 to 3 feet. It comes with round flower globes and thrives desired full sun. The creeping phlox flowering perennial is attractive to deer and blooms from mid-summer to fall.
However, if you desire more blooms, you must make sure you regularly deadhead these perennials and pinch the stems back by a third in late spring to increase the branch.
Meanwhile, the Phlox paniculate specie is hardy down to -30 degrees Fahrenheit and attract pollinators such as butterflies, hummingbirds, bumblebees, etc.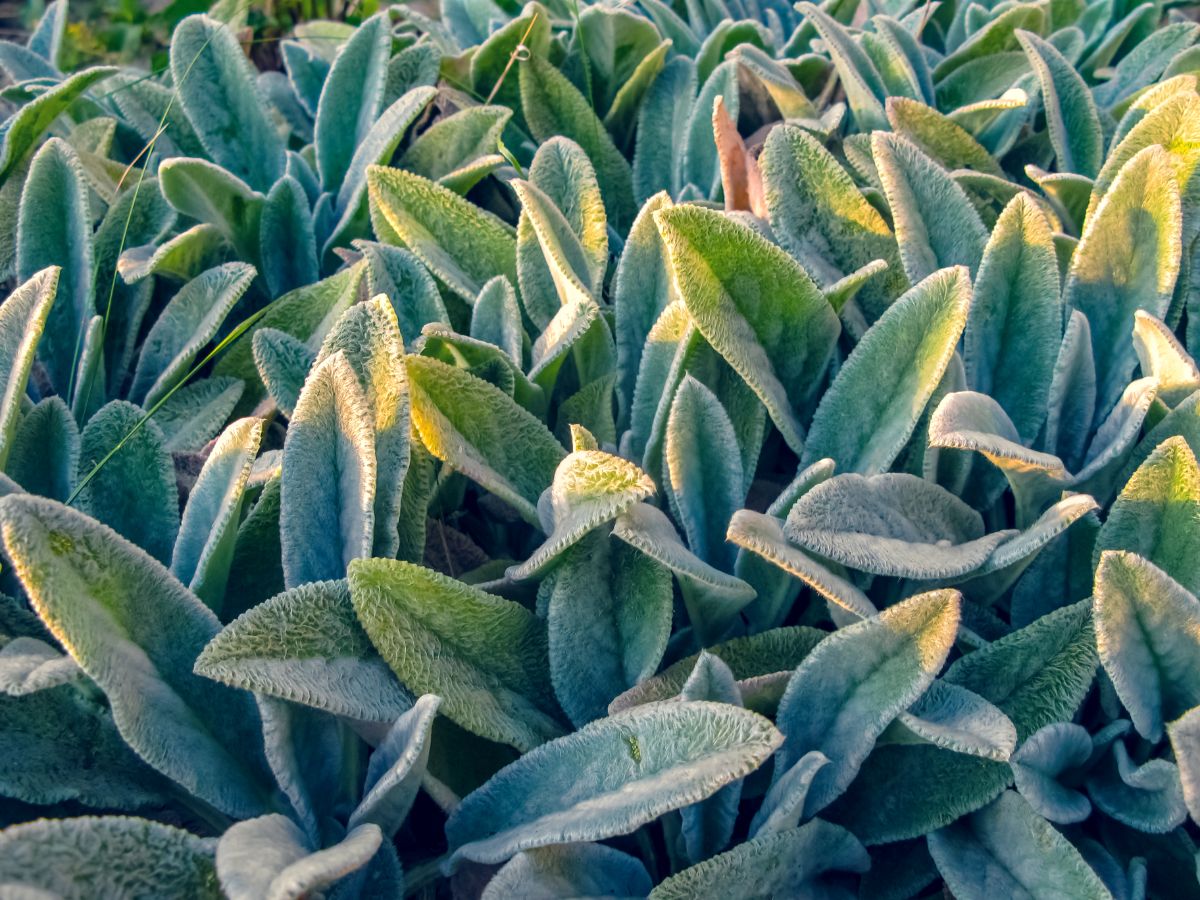 If you are looking for an ideal plant that will beautify and soften your garden, you must go for the muted green leaves and pink or purple flowers of Lamb's Ears. It is a full sun flowering perennial with fuzzy grey foliage that looks like a lamb's ear, which is how its common name originated.
Several gardeners love to grow this low-lying perennial because of the soft texture it brings to the garden. In the summer, the Stachys byzantine produces flowers featuring long flower spikes in shades of purple and pink. It is suitable for edging around flower beds or borders for walkways.
Lamb's ear prefers well-drained soil and is especially perfect if paired with vibrant, brighter plants, particularly those that bloom in hues of blue and purple. This flowering perennial can grow up to 9 to 18 inches tall and 12 to 18 inches wide and is hardy to USDA zones 4 to 8.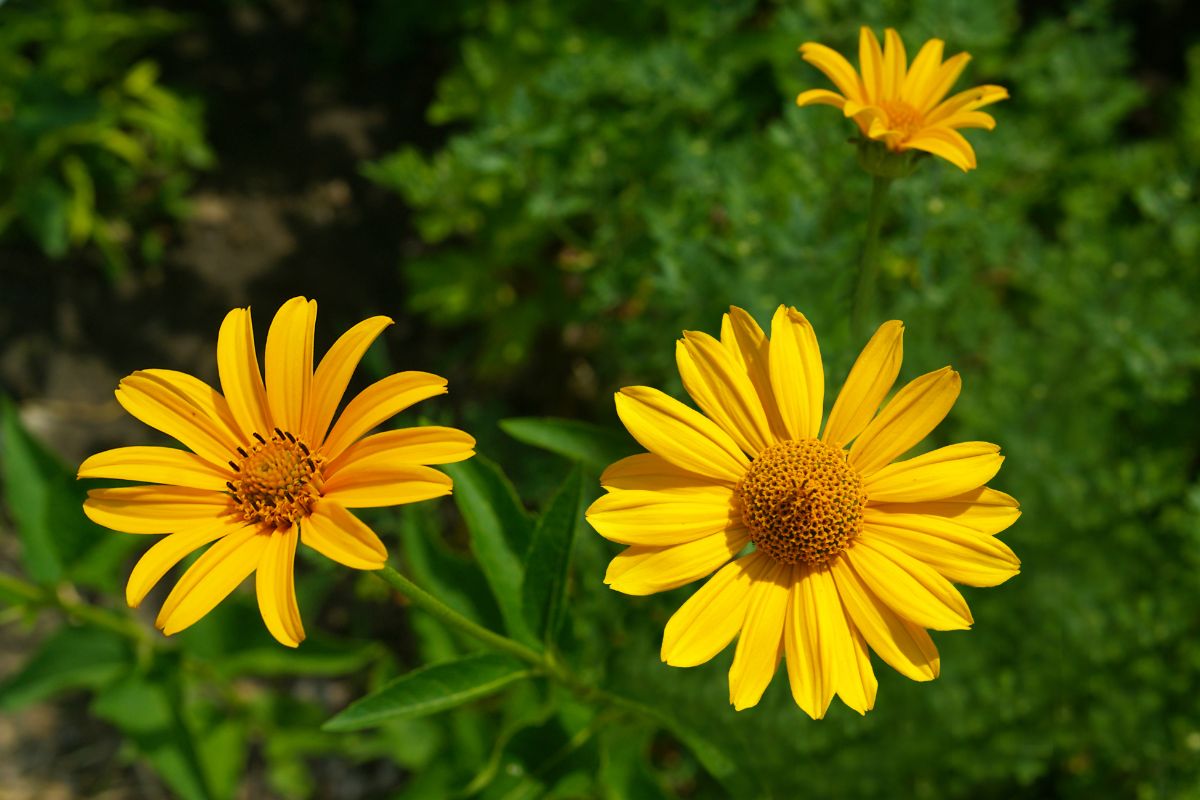 Talking about full sun perennial flowers, Maximillian Sunflower is one of the lot's best in decorating your garden and low maintenance. It is a beautiful climbing perennial yet offers every fun attached to annual sunflowers but with the additional benefit of its year-to-year returns.
Scientifically called Helianthus maximiliani, this giant plant can grow up to 10 feet tall and is an excellent option for a fall garden. Even though it has smaller blooms than a traditional sunflower growing up to 5 inches in diameter, this plant features a prolific show of flowers.
Maximillian sunflower is a low-maintenance plant that blossoms in the fall and serves as food for birds in the late fall and early winter.
Meanwhile, not every sunflower is a climbing plant, meaning that this variety will offer your garden a little bit of additional flexibility wherever it is grown. It prefers well-drained soil and is hardy in USDA zones 4 to 9.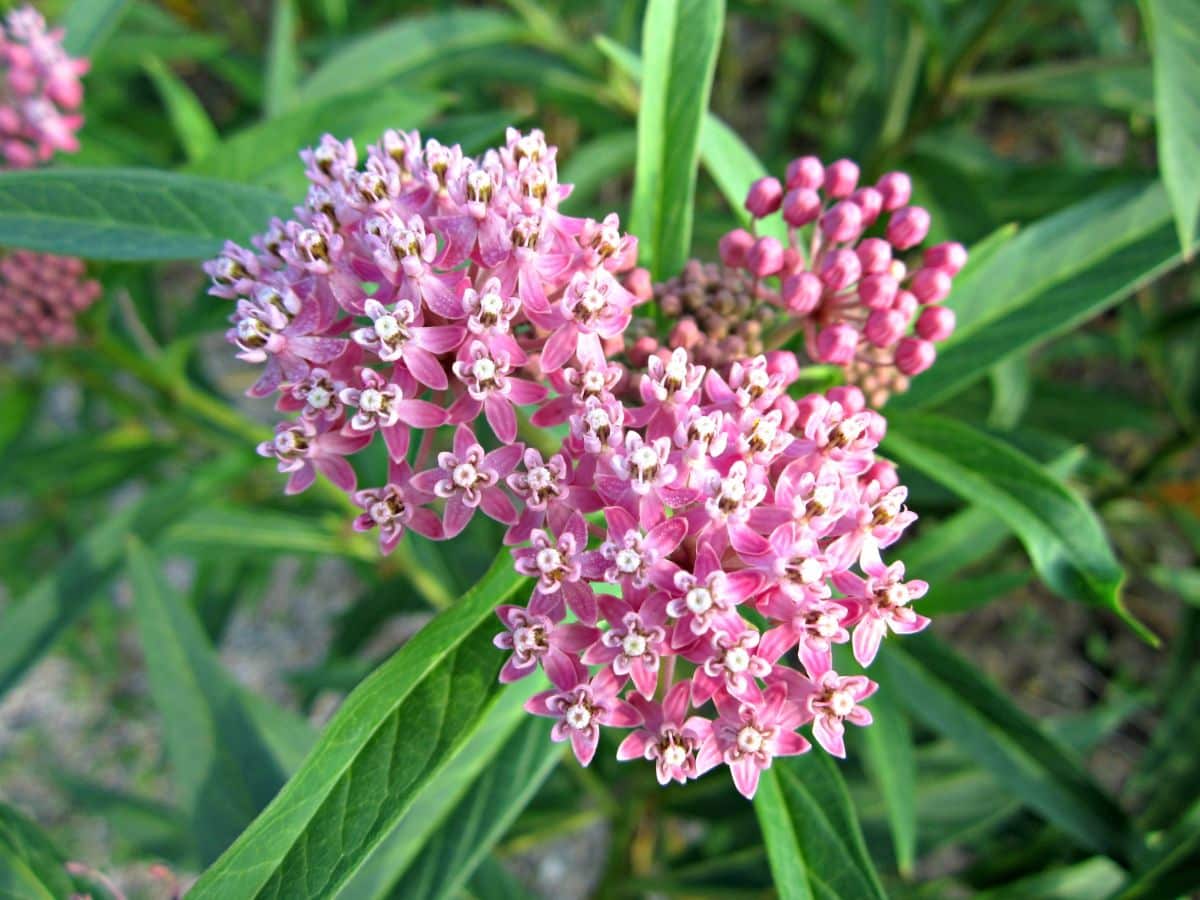 Another full sun perennial flower on our top list is Milkweed. This specie has several types yet produces gorgeous lavender flowers in a spherical shape like allium.
It draws monarch caterpillars, which live out their whole life cycles on the plant, yet won't harm them. This plant is best suited to pollinator gardens or naturalized landscapes and is hardy to zones 3 to 9.
Even though Asclepias syriaca produces flowers all summer, it would help if you don't cut it back too soon. Feel free to enjoy the fall interest milkweed offers thanks to its long, brown seed pods replacing bloom heads.
The seed pods open to display cottony strings with seeds. You can collect the seed pods and dry them for planting. Milkweed prefers well-drained soil.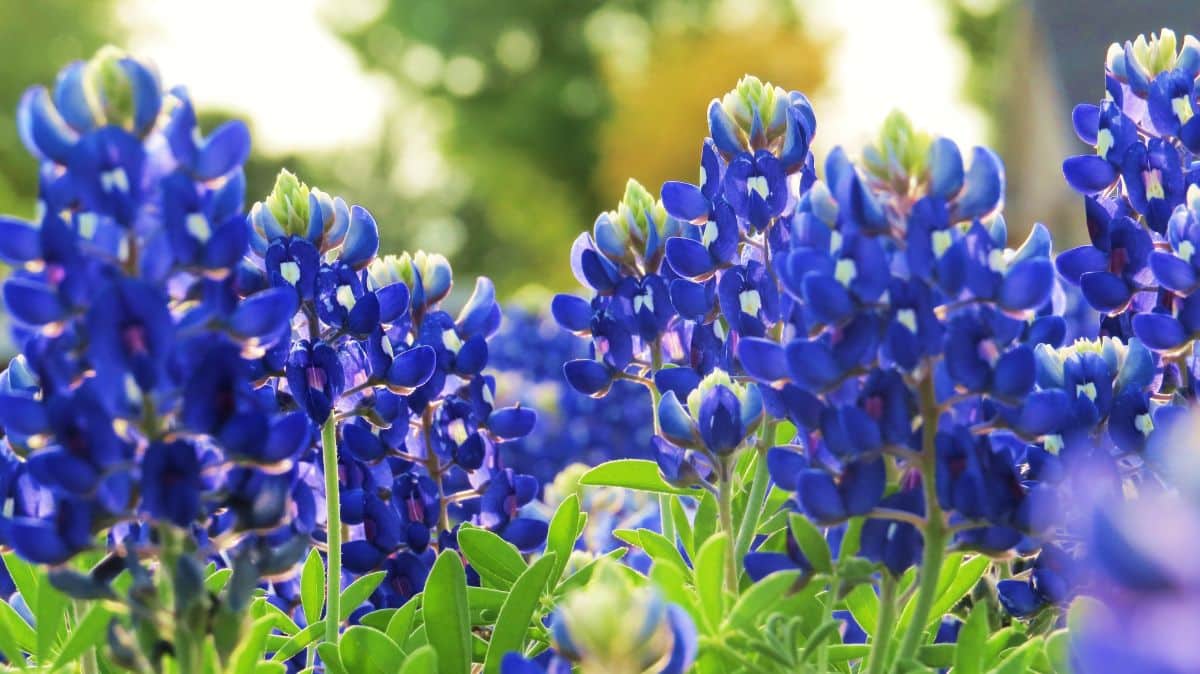 Are you looking for a perennial flower that can add beauty to your landscape and thrive in full sun? We confidently recommend Bluebonnet flowering perennial to provide you with your desired functions. This plant is trendy and a favorite among gardeners for many reasons.
It consists of clusters of vibrant bluish-purple blooms and light green foliage. However, the most exciting characteristic of the lupine specie is that it produces beautiful flowers with different bright colors and their rapid-growing tendencies.
Meanwhile, Bluebonnet is a sun-loving perennial variety that thrives in 6 to 8 hours of sunlight daily. Even though they can survive a little bit of partial shade, it will have detrimental effects, as they will not bear the kind of healthy flowers that those in full sun produce. However, these species would benefit significantly in afternoon shade in hotter climates.
Native to Southern North America, the Lupinus species can survive drought; therefore, it doesn't require too much moisture. You are only needed to water it once a week or two. This perennial plant is hardy to USDA zones 4 to 8 and is a dwarf plant of about 12 to 24 inches.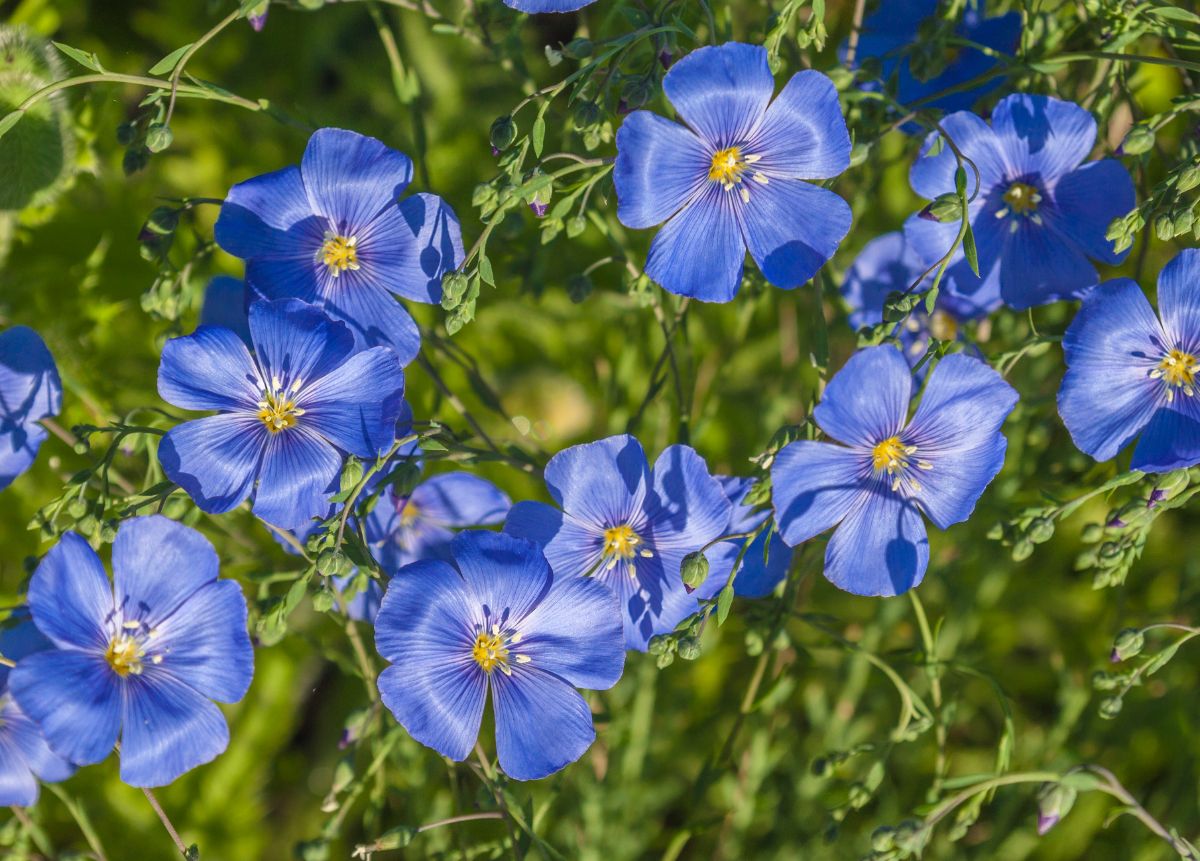 As long as full sun perennial flowers are concerned, the most common among them is Perennial Flax, which provides bountiful delicate sky-blue blooms in late spring. Even though its flowers open and fade in one day, the Linum perenne will keep flowering for about 8 weeks.
Meanwhile, perennial flax grows significantly wild in fields and on hillsides, and you can produce an incredible spring show by growing these blooms in huge masses.
The greenery will continue to look fresh until fall, thus offering spring foliage for wildlife, and the plants will help to avoid soil erosion. It requires well-drained soil and can grow up to 1 to 2 feet tall.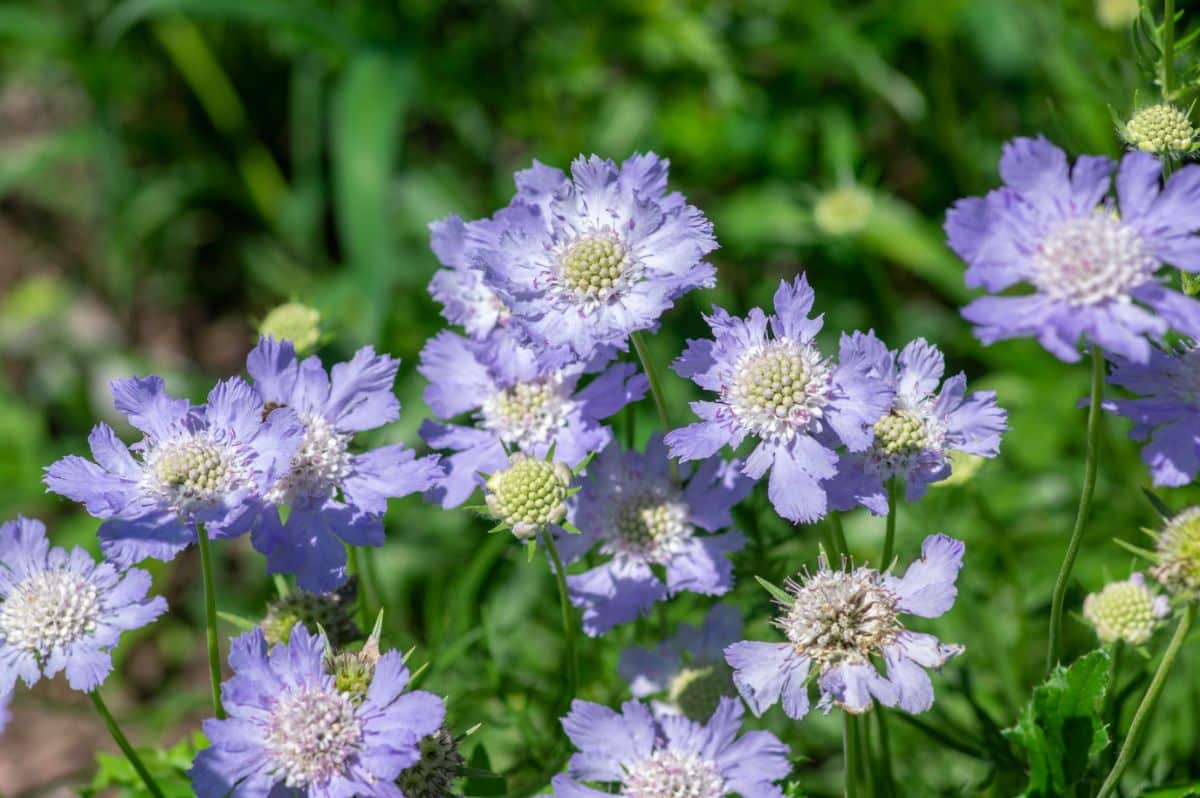 Popularly known as Butterfly Blue, probably because of its color, the Pincushion Flower is a light, pastel purple-colored perennial flower, almost similar to lavender. It is a very popular full sun flowering perennial, especially considering how easy to grow it is, plus the fact that it will keep producing blooms in abundance.
Scientifically called Scabiosa caucasica, the pincushion flower often bears several types of flowers with multiple small petals opened on the long stems and the gray-green foliage at the mound nicely setting them off.
This perennial is ideal for the jungle, or prairie display of your choice, whether you are planning to place it in borders, flowerbeds, or pathways of your small corner of purple paradise.
Meanwhile, Butterfly Blue can be grown in pots and rock gardens, particularly if you want to enjoy that partial jungle display that we all favor. It is a plant that does best in full sun, loam, chalk, and sandy soil, well-drained and resistant to frost. It is also hardy to zones 3 to 9 and can only grow around 12 to 18 inches in height.
Full Sun Perennial Flowers Key Growing Tips
If you go through our list carefully, you'll discover that all our top 25 full sun perennial flowers are hardy plants or close to being hardy at the very least; hence, they are low-maintenance plants that can do without the attention.
They are drought and heat-resistant plants, and while some are resistant to deer and other animals, others attract deer.
But most importantly, considering our key focus in the article, every one of these flowering perennials prefers full sun, which is why they are sun-loving plants. However, some can tolerate partial shade, but the condition that will yield the best result is full sun.
Without further ado, we'll briefly highlight the critical growing tips for full sun perennial flowers anyone can grow.
Natural Habitat/Lighting Tips
Some perennials have their natural habitat in the jungles of South Africa, while others originate from the dry, sunny deserts of Northern America. And what does that tell you? It means they can withstand the hot weather conditions of sunlight from their native geographical location or jungle.
Therefore, if you want them to have your desired effect in your homes or gardens, or you want to maintain their healthy states, then you have to copy their natural jungle conditions by planting them in a place that has access to full sun or partial shade (depending on your climate).
But if you choose to keep them in a partial shade area, then make sure you bring them out to receive sunlight for at least 6 to 8 hours.
Soil Care Tips
Full sun perennial flowers can tolerate almost every soil, be it loamy, sandy, clay, etc., depending on the plant, as long as it is well-drained. However, ensure the earth is a little moist, especially immediately after planting, as it will enable the plant to grow stronger.
Watering Care Tips
Full sun perennial flowers are highly resistant to drought and hence do not necessarily need water for survival, especially if you plant them in the ground. In its natural jungle, wild, or desert, they tolerate extended periods without water, except for rare periods where they experience rainfall, maybe in the winter.
So, it would help if you water them sparingly (if you must water them at all). Meanwhile, the ideal time for your watering routine is once after planting to enhance their growth.
However, after they are matured or established, there's a need to minimize the watering schedule. In an extended drought season, in April or May, water moderately and ensure the pots have well-draining holes to help dry out water quickly and prevent waterlogging.
Temperature & Humidity Tips
Full sun perennial flowers are commonly known for their hardiness in their tropical environment, so they wouldn't mind extreme temperatures when the soil permits too much rain or snowmelt to drain out.
However, the perfect humidity best suited to your full sun perennial flowers is in a dry place with much air circulation.
As far as temperature is concerned, full sun perennial flowers need temperatures of around 40 to 70 degrees Fahrenheit. In several cases, they will need cold temperate to enable their roots to germinate well.
Therefore, whenever you discover some chill in the atmosphere in the fall, that is the perfect period to start planting.
Fertilizing/Nutrient Tips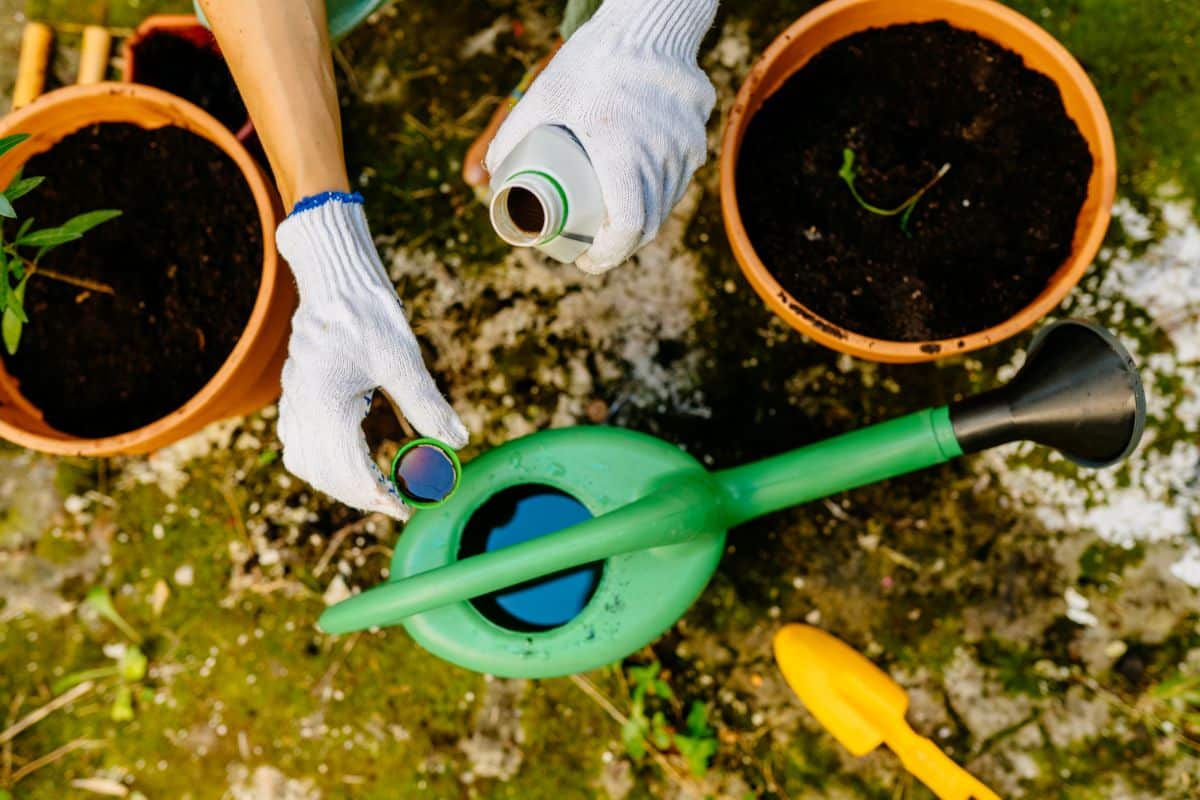 Full sun perennial flowers do not need too many nutrients to survive. After all, in their natural habitat, they don't see any source of nutrients, yet, thrive regardless. However, in the spring, you can feed them a little using a low-nitrogen fertilizer (6-10-10) around the plants to enhance their healthy growth.
But, avoid excess application of nitrogen or any other kind of fertilizer because rather than produce blooms, these full sun perennials will only enhance foliage. Another ideal fertilizer for these sun-loving perennials is bone meal.
Potting & Repotting
Generally, growing full sun perennials in vases is not a popular method; however, there's nothing wrong with trying to plant them in huge pots. But while doing that, you must adopt the use of a loose, soil-free potting mix and leave the top of the rhizomes exposed.
In containers, full sun perennials do not need excess watering. Meanwhile, in colder climates, you will have to relocate the pots to a shady spot for the winter to keep them healthy. Transplanting and dividing, in this case, need to be done more frequently (yearly) than those grown in landscapes.
Propagation of Purple Perennial Flowers
Full sun perennial flowers have different propagation methods, but the most common and recommended method is the division method.
The reason is that it enhances the birth of more plants in your garden and, at the same time, helps to keep your existing plants healthy and vigorous. The following is a brief highlight of propagation by division method;
· In late summer, harvest the rhizomes with a shovel and dust all loose soils.
· Carefully get rid of or pull the rhizome cluster apart into groups, ensuring each rhizome has a foliage fan.
· Carefully observe the root sections, and remove all soft, rotten areas with a proper pruner.
· Regrow all root sections, and cover only the rhizome, spacing them around at least 12 inches apart from their roots; they will quickly occupy the spaces.
Frequently Asked Questions
What is the easiest perennial flower to grow in full sun?
There are many easy perennial flowers to grow, but the easiest are Sunflowers, Sweet Peas, Nigella, Aquilegia, Marigold, Hardy Geranium, etc.
Are there any perennials that bloom all summer?
Few perennials can bloom throughout the summer, and the most commonly known is Daylily. It is probably the easiest of all summer perennials to grow. It features yellow, orange or reddish flowers that open at dawn and shut at dusk. Daylily can withstand a bit of shade but requires at least 6 hours of sunlight daily to stay healthy.
Can Hydrangeas grow in full sun?
Hydrangeas are flowering perennials that like the morning sun but do not thrive in the direct, hot afternoon sun. They prefer partial shade in the evening as well.
Do Peonies like the full sun?
Peonies require up to 6 to 8 hours of sunlight daily, though they must also be protected from hot afternoon sun in zones 8 to 9. Therefore, a spot with proper air circulation is necessary to help protect them from fungal diseases.
When should I grow perennials?
The best time for planting most perennials is from the last winter frost to autumn.
Conclusion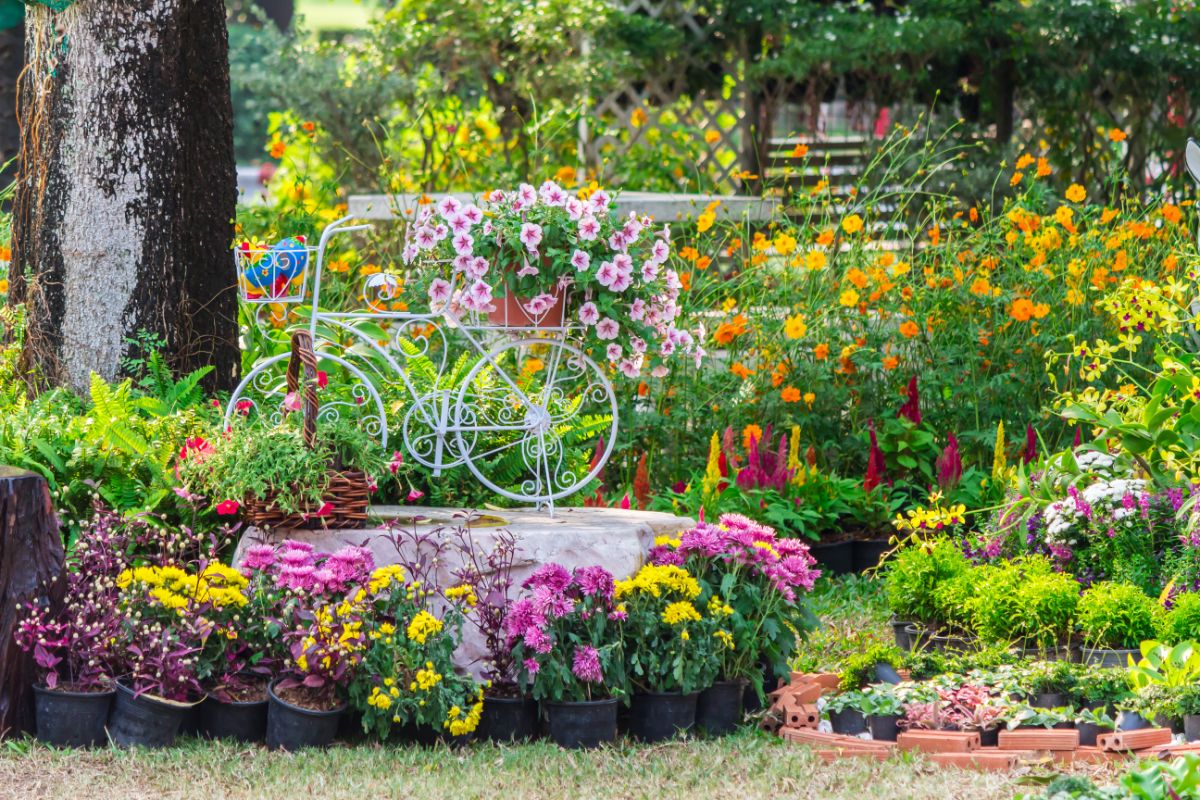 As we mentioned earlier, there are numerous full sun perennial flowers anyone can grow, but we have made your decision-making easier through our top list. However, picking the right plants for the right places is essential for growing a low-maintenance garden or landscape.
Therefore, your region matters in your decision-making, as it gives them excellent health and survival chances. But the most important thing to note is that they require total sun area as they are all sun-loving flowering perennials.