Are you looking for the perfect plant to add to your beautiful landscape or flowerbed collections? The Guzmania lingulata is an excellent option to consider. Native to Mexico and the South American continent, this unique plant is a jungle cactus known for its lovely flowers.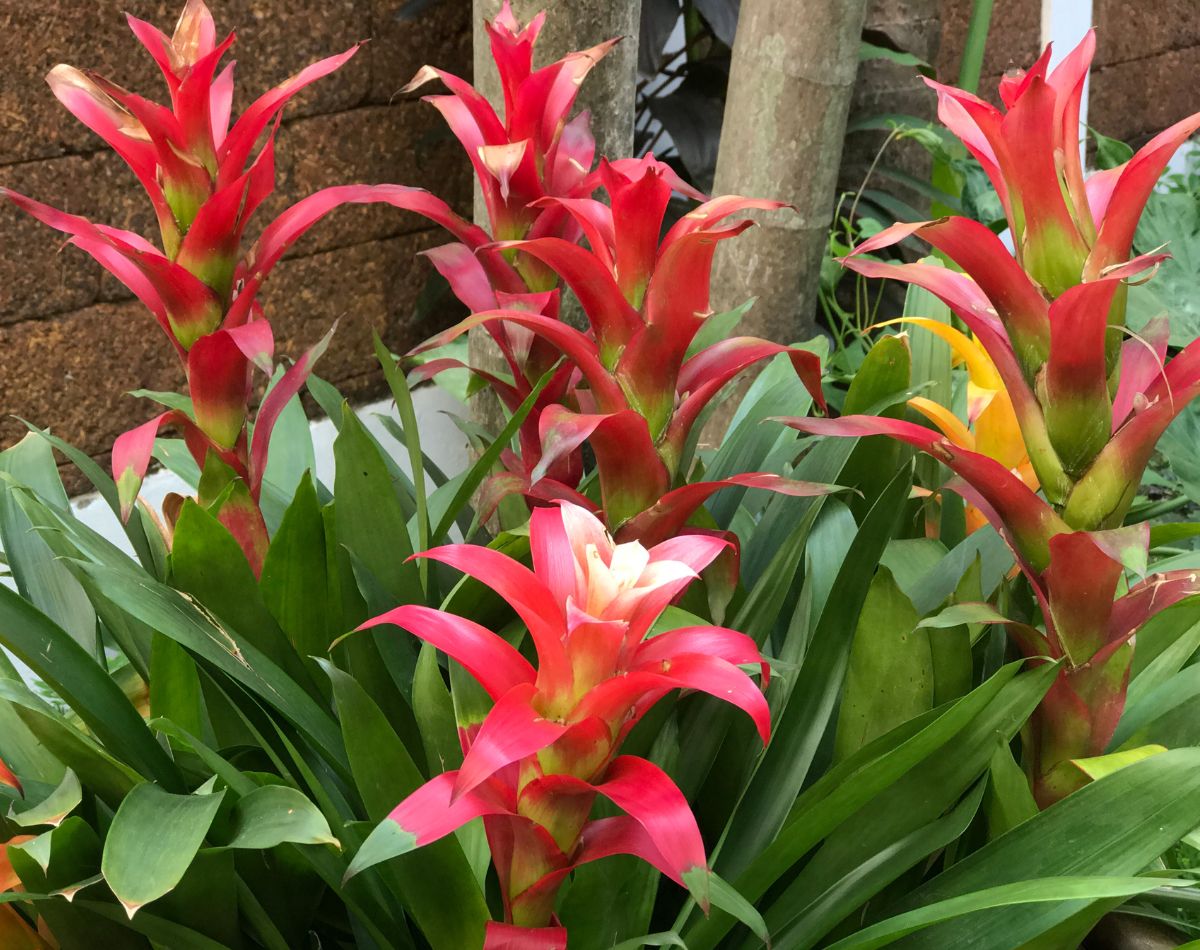 Among bromeliads, it is one of the most famous bromeliads presently. In this article, we'll briefly highlight the several guzmania lingulata growing guides, including watering, soil requirements, lighting, fertilizing, and propagation, amongst others.
Jump to:
Facts About Guzmania Lingulata
| | |
| --- | --- |
| Common Names | Droophead Tufted Airplant, Orange Star plant, Scarlet Star, Vase Plant |
| Scientific Name | Guzmania lingulata |
| Family | Bromeliaceae |
| Plant Type | Epiphyte |
| Mature Size | Height: 1-2 feet; Spread: 1-2 feet |
| Sun Exposure | Partial shade |
| Soil Type | Loamy, well-drained |
| Soil pH | 5.5 to 6.5 (slightly acidic) |
| Bloom Time | Summer |
| Flower Color | Pink, orange, red |
| Hardiness Zones | 10 to 12 |
| Native Area | Tropical Americas |
| Toxicity | Non-Toxic |
Also known as the scarlet star plant, guzmania lingulata is a lovely plant from the Bromeliaceae family.
Native to southeast Mexico and the tropical America continent, the guzmania is presently one of the most famous bromeliads. It features broad, strap-like leaves with a green and glossy finish.
This unique plant thrives as both indoor and outdoor plants in frost-free climates. It has rosette-shaped leaves around the central bloom spikes. The scarlet plant blooms come tubular with colors that depend on the variety, including pink, orange, red, and even white.
Guzmania Lingulata Growing Guide
Light Needs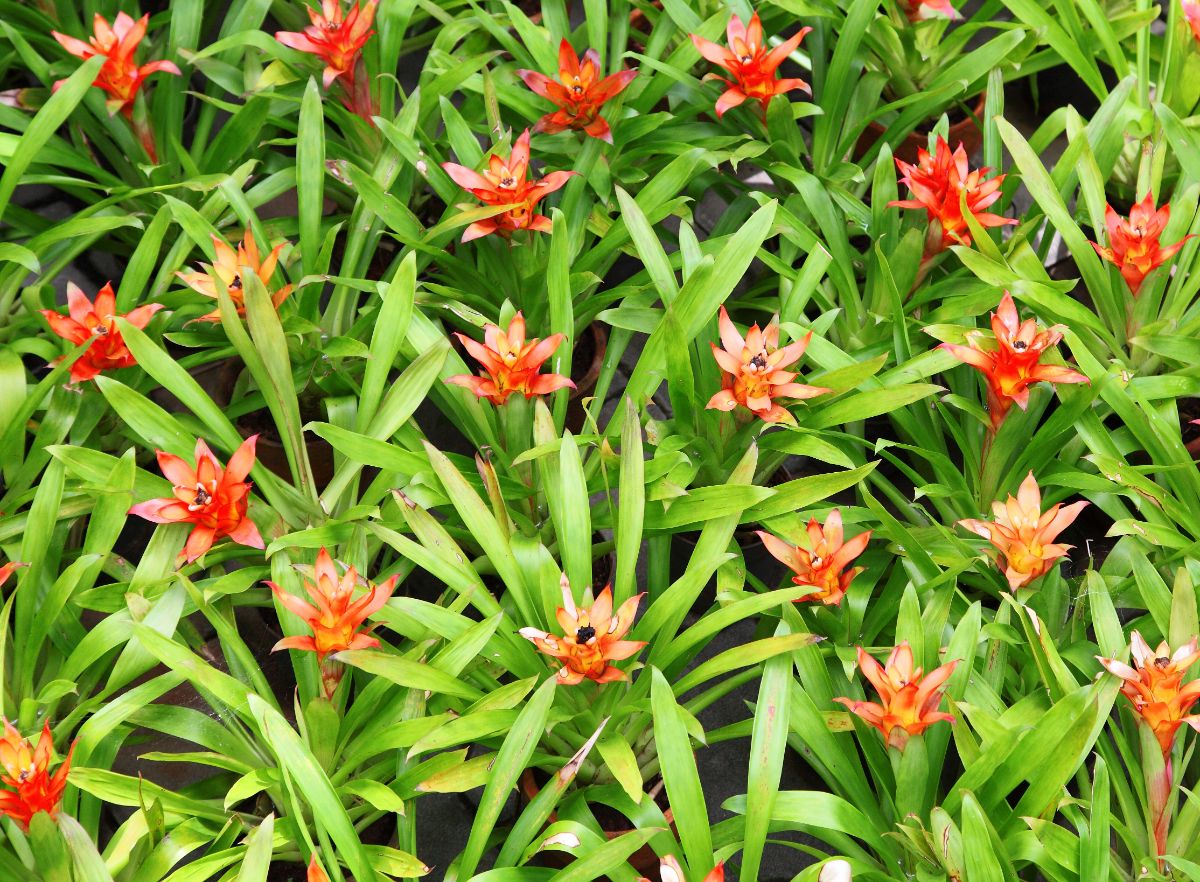 Originating from the bromeliad family, the guzmania do best in bright, natural light. It would help if you expose them towards the east or west facing area, but don't forget they do not need too much direct and hot sun to avoid burning them.
They can tolerate low light conditions for a few weeks but won't produce the result that light conditions have. Therefore, for the best care and optimum results, you must provide them with the bright light they require.
Soil Needs
Given that the guzmania lingulata is an epiphyte, so needs to drain very well. The best soil requirement for them is the orchid bark or cymbidium mix, which is the perfect bromeliad or orchid potting mix.
Another option is a ½ orchid bark & ½ coco coir, a more sustainable cover for peat moss.
You can also go for a mixture of equal parts of fine-graded fir bark and an all-purpose potting mix. An excellent growing scarlet star plant prefers well-draining soil that can absorb water without getting soaked and affecting its roots or even causing the death of plants.
Watering Needs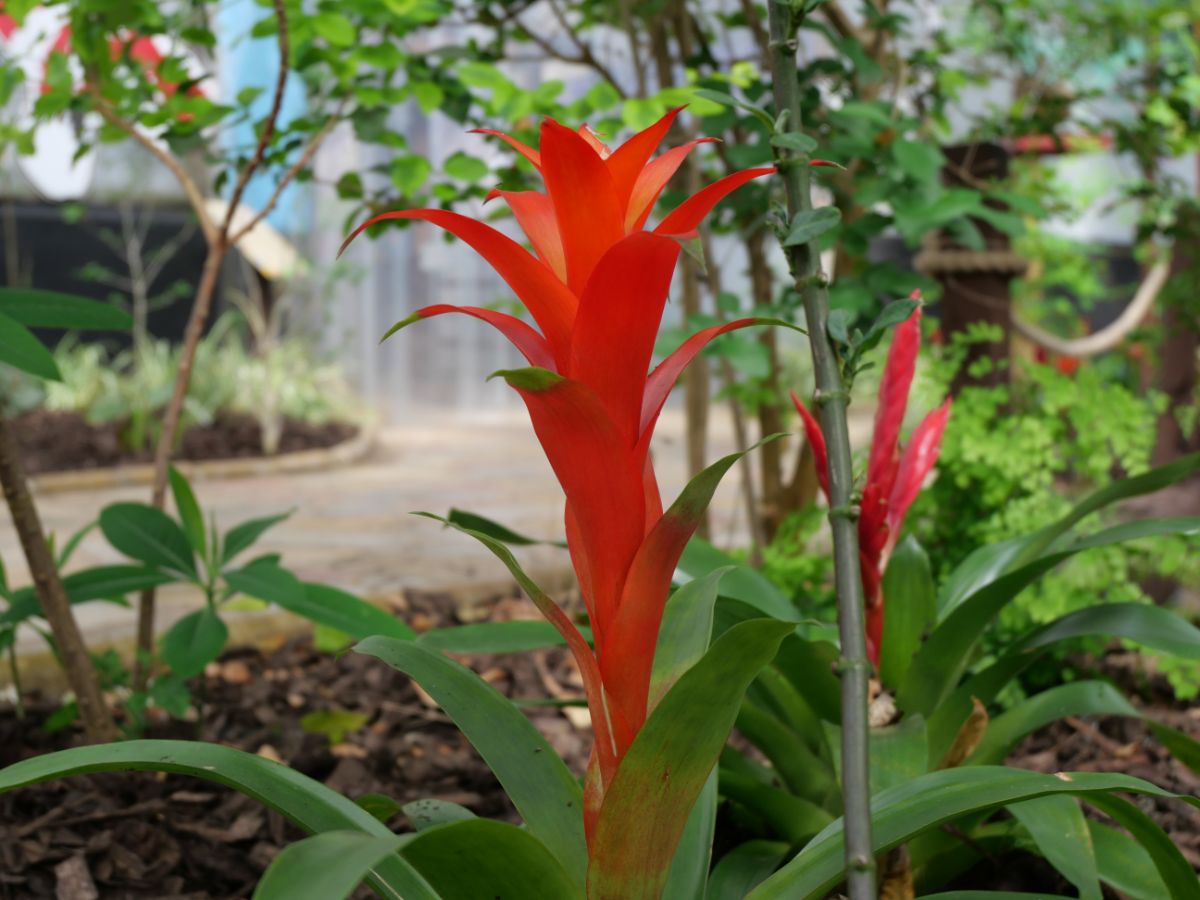 The watering routine is often the trickiest and most challenging aspect of the guzmania lingulata. Therefore, you must be very careful of its watering, given its origin in the tropical areas of southeast Mexico and the tropical American continent.
The guzmania species need enough water but do not overwater so that the soil will not get too soaked. Overwatering has negative consequences, including root rot and the death of your scarlet star plant.
So, it would be best to water the plant until the soil is wet and wait for it to dry out before re-watering.
The leaves of your guzmania specie naturally create cups in the middle of the plant; therefore, you need to fill them with water. You have to replace this water frequently, especially during the growth phase, which is also the summer period.
Humidity & Temperature
Usually, every plant likes warmer temperatures and dislikes icy conditions. The guzmania lingulata is not exempted, especially since it is a tropical plant.
In other words, the scarlet star plant thrives in temperatures of 60 to 95 degrees Fahrenheit during the day and not less than 70 degrees Fahrenheit at night.
As long as humidity is concerned, the guzmania needs a specific moisture level to thrive. It will require anything around 50 to 70%. Meanwhile, the potted guzmania will not tolerate temperatures under 41 degrees Fahrenheit.
You can provide them with such range by misting the leaves if the natural environment cannot offer the plants plenty of moisture. High humidity levels are necessary for flowering, but low humidity can kill flower spikes.
Fertilizing Needs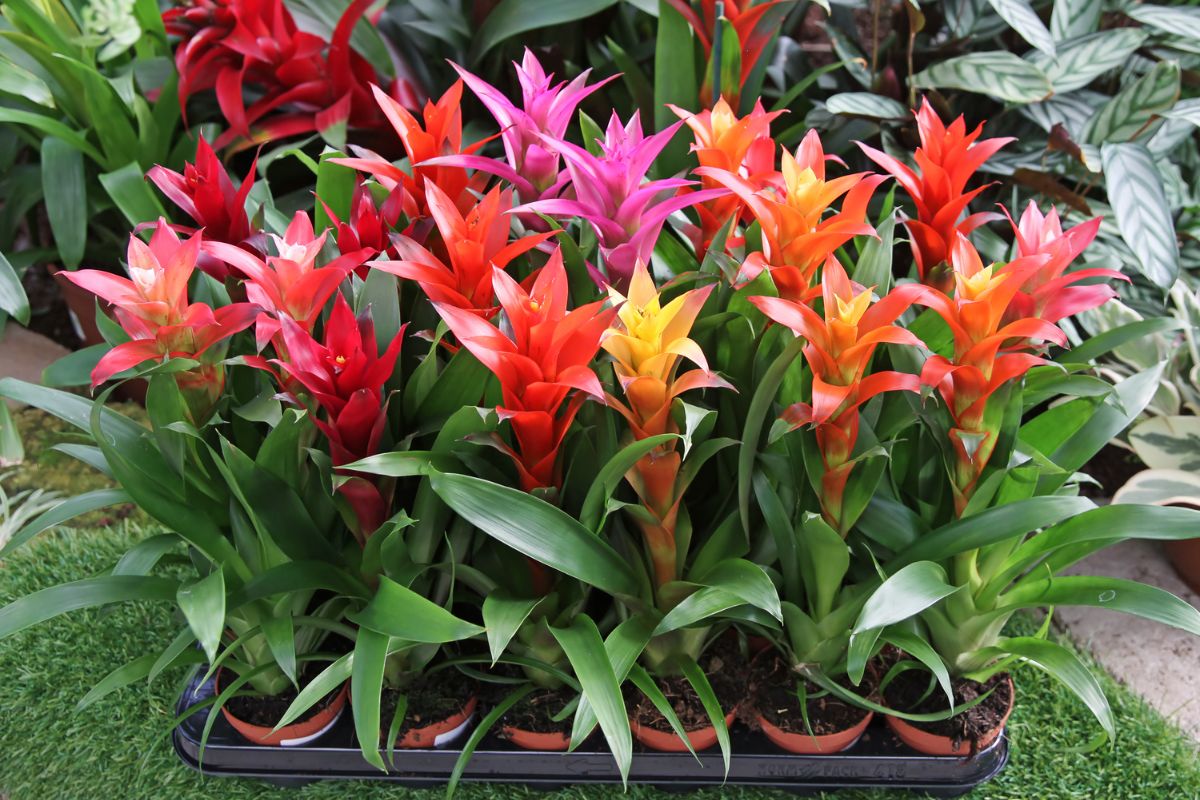 The best time to feed your scarlet star plant is monthly in spring to summer periods. Providing your Guzmania lingulata is necessary to help the plant produce large, gorgeous leaves. It requires a balanced, water-soluble fertilizer diluted by half in its urn.
After that, you can empty it in one-week time and fill it with water. Another method to ensure adequate fertilizing is by misting the leaves using a weak foliar fertilizer once every month. Generally, overfertilizing or lack of it will not spell well for your guzmania plant.
Planting (Potting & Repotting)
If you are potting your guzmania lingulata, you must cover the base of the pot using one layer of gravel or stones to encourage good drainage and prevent the soil from wiping off.
Again, the scarlet star plant is epiphytic; in other words, it grows on trees to absorb nutrients from the air and the soil.
Make sure the potting mix is sufficiently porous to the extent that it will circulate air to the roots and allow the water to drain out. If you are unsure how to mix the potting, a common orchid or bromeliad mix is a great option.
If you are repotting, pick the right pot size, and ensure it is not too big and features adequate drainage holes underneath. Its small size will enhance the inducing of the plant's blooms at the mature stage. It is best to repot guzmania lingulata every year.
Guzmania Lingulata Propagation
There are two ways of propagating guzmania lingulata: offsets and seeds. However, most bromeliads' best propagation method is via the offsets (also called pups) method, as they stand greater chances of success and a rapid growth phase.
But before you start, be sure that all your equipment is sterilized and have suitable clothing for this method. Once the plant has flowered, it often begins with wilting before it dies off; however, the offshoots offer the easiest route to grow a new plant.
Below is the easy method of propagation by offset;
Carefully cut off an offset from the parent plant
Regrow it in a potting mix.
Cover the pot using plastic so it can enhance humidity levels
Make sure it is kept in a warm environment. In a month, new growth will begin to develop.
Toxicity
The guzmania lingulata is a non-toxic plant for humans, cats, dogs, and horses. In other words, you don't worry about keeping it around children and pets as they are entirely safe.
However, the scarlet star features lovely and crunchy leaves that will attract your kitty, so you might want to keep it out of its reach.
Even though it will not poison them, it could cause the kitties to be fluffy ill. The plant has small, whitish, and relatively inconspicuous blooms; therefore, you must look deep into the beautiful bloom head to notice them.
Meanwhile, these lovely flower heads last and look excellent for around four months.
Guzmania Lingulata Diseases And Pests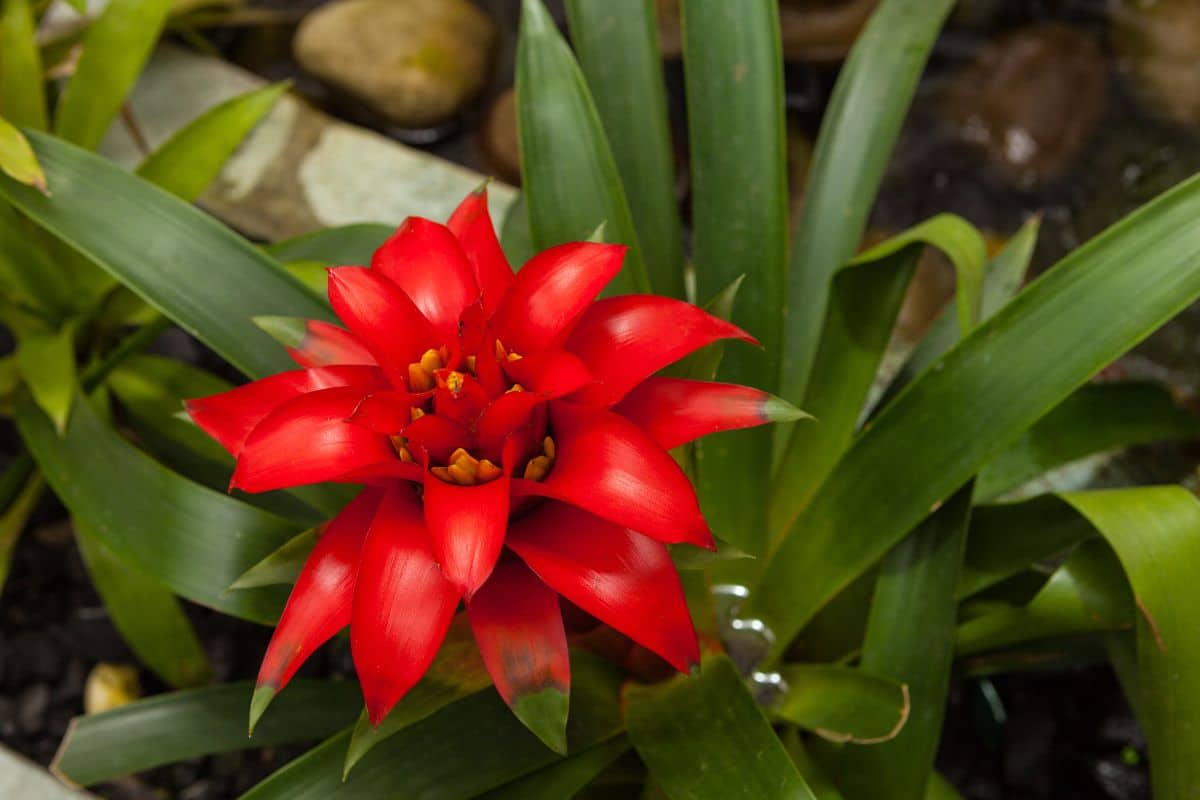 Certain pests are problematic for the guzmania lingulata varieties, which could be disastrous if you don't check them. The most common ones are scale insects, spider mites, and mealybugs.
If you must control them, then go for insecticide if using rubbing alcohol has proved unsuccessful.
Common Guzmania Lingulata Varieties
Guzmania lingulata specie has different varieties, requiring a similar growing and maintenance routine to grow fast and more potent. The most common of them all include the following;
Guzmania lingulate var. cardinalis
Because of its tongue-shaped petals, this variety was given its odd common name, droop-head tufted airplant. Native to rainforest habitats in the Americas and West Indies, cardinalis is a flowering plant in various colors, including red, yellow, pink, and orange.
Guzmania lingulata var. concolor proctor & cedeno-mald
It is a well-recognise name of an infraspecific taxon of the guzmania lingulata (L.) Mez species. It is a genus Guzmania of the Bromeliaceae family.
It is an evergreen perennial that can grow up to 2o to 30 cm and has simple basal leaves that are linear and sessile with entire margins and parallel venation. The concolor produces sharp greenish yellow tubular blooms.
Guzmania lingulata var. minor
This variety produces yellow-green leaves and red or yellow bracts alongside small white blooms. It has a spread of 20 to 30cm and 30 to 45cm, respectively. Like most guzmania varieties, it prefers partial shade, moderate watering, and hardy to USDA zone 11b.
Guzmania lingulata (L.) Mez
This variety is primarily native to South Eastern Mexico to Tropical America. It is a perennial and epiphytic and significantly grows in wet tropical biomes. The mez variety also has some environmental uses.
Frequently Asked Questions
How often should I water guzmania lingulata?
When your guzmania lingulata is experiencing active growth in spring and summer, you can fill its rosette with water as often as possible weekly. However, in the winter, during its dormant period, you should use only water once in two weeks.
Are guzmania lingulata indoor or outdoor plants?
It is significantly an indoor plant. Mostly planted inside a home or office space, the guzmania lingulata do best in low light conditions and tolerate artificial light. But do not expose to severe direct sunlight.
Should I Mist Guzmania Lingulata?
Guzman is doing well at 55 degrees Fahrenheit (13 C) and above. Since they are tropical species, they will do well under moderate to high humidity levels. However, giving them a light mist will keep them healthy.
How long do Guzmania lingulata flowers last?
Almost every flowering variety of guzmania can last up to two to three years. If you want an optimum appearance throughout their growth years, you must give them the best care they require.
Should I cut off the dead flower of my guzmania plant?
If you don't plan to grow pups, then there won't be any need to cut off its dead flower. You can let it remain, gradually wither with the rest of the plant.
How long does it take for guzmania pups to bloom?
With adequate care and maintenance, your guzmania blooms occur one to three years after separation from its parent plant.