Also known as the wax plant, Hoya Carnosa is a flowering plant native to Eastern Asia and Australia. Many species of Hoya are popular houseplants in temperate areas and are grown for their attractive foliage and scented flowers.
You can find Hoya Carnosa growing and blooming in clusters of sweetly smelling flowers, making it the right plant to propagate if you want extra color in your home or garden.
You will learn all there is to know about the Hoya Carnosa growing guidetoday, but first, below are some interesting facts about the plant.
Jump to:
Hoya Carnosa Growing Guide
| | |
| --- | --- |
| Common names | Wax plant, waxy leaf plant, porcelain flower, Honey plant |
| Scientific name | Hoya carnosa |
| Family | Apocynaceae |
| Plant type | Vine |
| Mature size | tendrils grow 12-20 feet |
| Sun exposure | medium to bright, indirect light |
| Soil type | well-drained, aerated |
| Soil pH | 6.1 to 6.5 pH |
| Bloom Time | spring or summer |
| Flower Color | light pink, near-white, dark pink |
| Hardiness zones | 10 - 12 |
| Native area | Asia, Australia, Southern India |
| Toxicity | non-toxic to both humans and plants |
| | |
Hoyas, commonly sold in nurseries as houseplants, include cultivars of H. carnosa, H. pubicalyx, and H. kerrii. They are easy to propagate and are widely marketed as cuttings (either rooted or unrooted) or as a potted plants. Many are attracted to hoyas for their mixed flowers across species and colors. Read on to learn about the Hoya carnosa growing guide so you can achieve a rewarding result when it's time to plant your favorite plant.
Hoya Carnosa Watering Requirements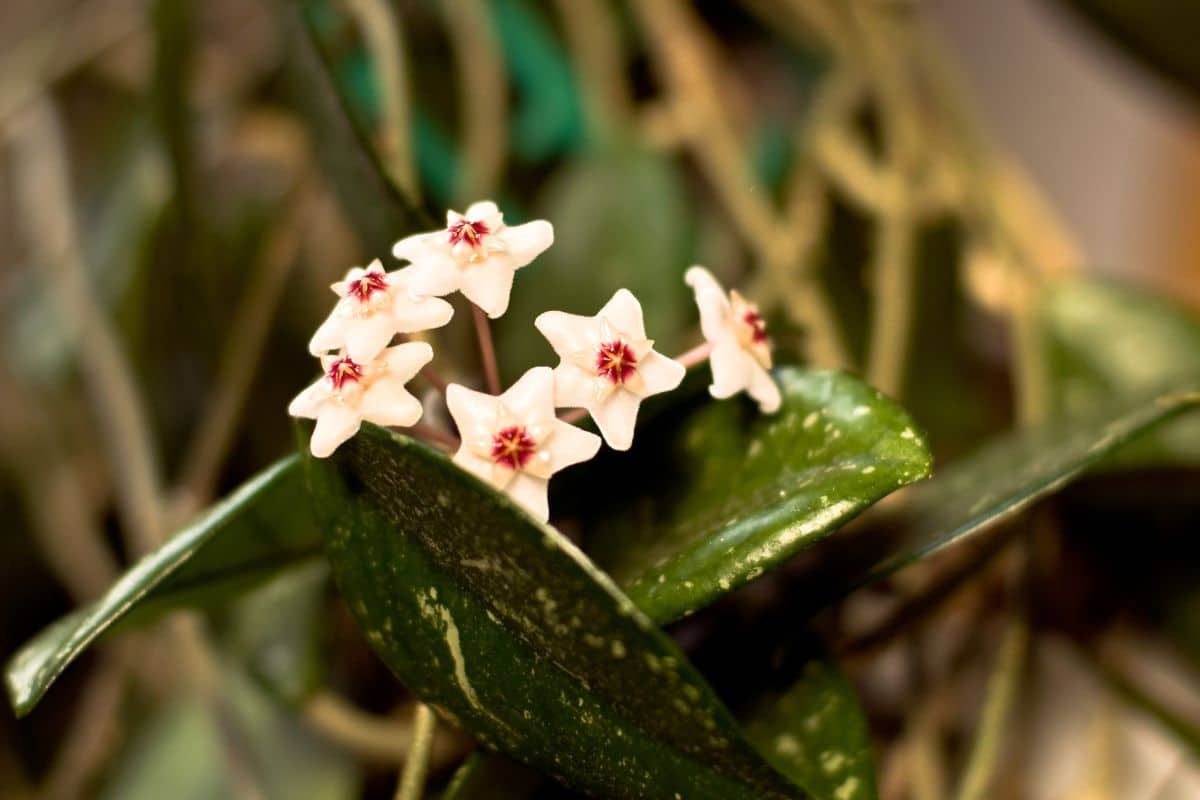 Hoya Carnosa is one of the best plants for house plant beginners. It's effortless to maintain, requires little water, and adapts well to its environment. Hoya carnosa likes its water schedule to mimic its natural habitat. Therefore, you must be conscious of the seasons when watering hoya plants.
Before watering your Hoya, ensure the top few inches of the soil dry out. You can easily ascertain whether the soil is dry by touching the ground.
You can water your plant when you feel the earth, and it does not get uneven. If the soil gets uneven and bounces back quickly, your soil is still moist, and you won't need to water your Hoya for the time being.
One of the good qualities of the hoya carnosa plant is that its succulent-like tendency to store water in its leaves and stems helps it thrive even when you forget to water. Like most succulent plants, you can let the Hoya dry out until the leaves wrinkle.
When the leaves wrinkle, there is no longer enough moisture in the leaves to make them thick and fleshy. This is another sign to water the plant.
Soil Requirements
A well-draining soil is the best option for this plant. The perfect soil for Hoya carnosa is potting soil mixed with perlites.
This prevents over-watering and root rot. If you prefer mixing your soil, you can do so as well, with the following ingredients:
· Potting soil (50%)
· Perlite/Pumice (40%)
· Sand (10%)
The Perlite and Pumice help keep the soil's structure intact and prevent the dirt from compacting over time. This helps to hold on to moisture for a few days and drains excess water away on time. This also helps oxygen reach your plant's roots better, preventing root rot.
Another thing to consider is that the Hoya Carnosa does well in pots with a drainage hole. These pots absorb moisture from the soil and are porous, allowing oxygen to flow to your Hoya Carnosa roots freely. The perfect type of pot for this is a terracotta pot.
Hoya Carnosa Temperature and Humidity Requirements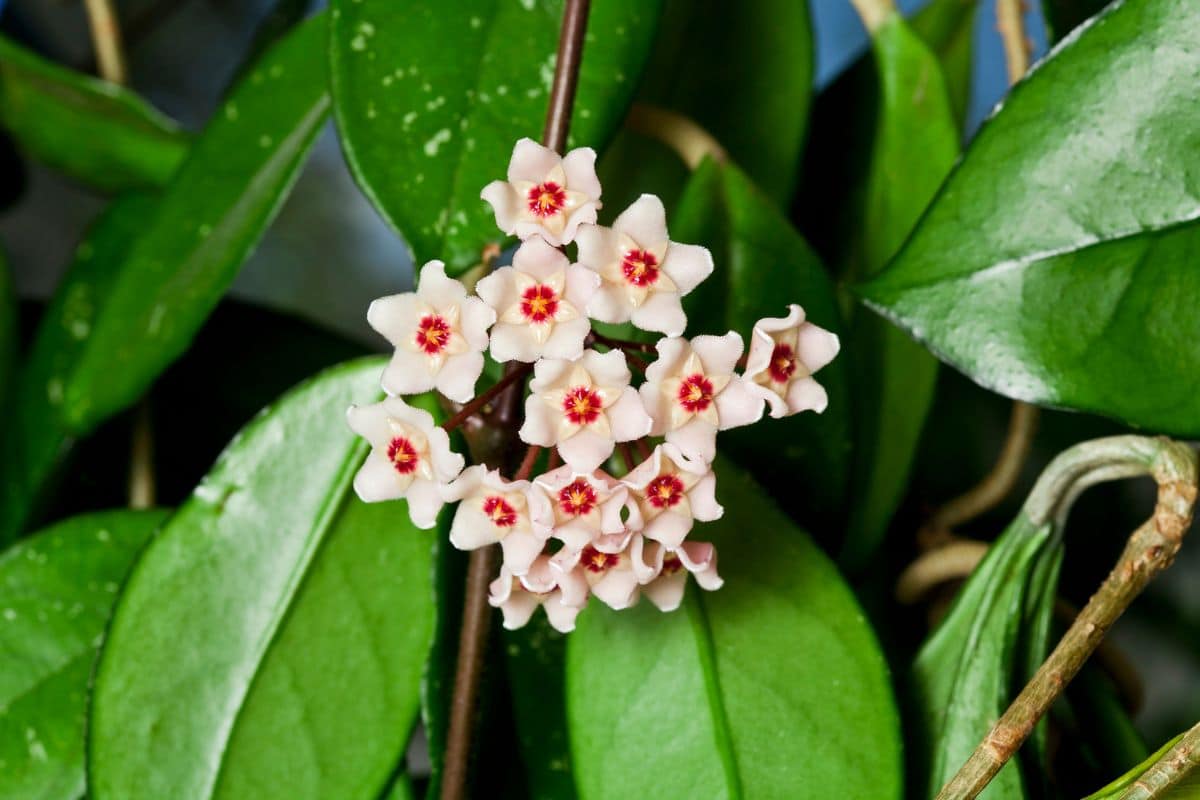 Hoya Carnosa plants tolerate various average household temperatures but prefer warmer temperatures. The ideal room temperature for Hoya carnosa plant is between 60-85 degrees. If the temperature falls below 55 degrees, it will stop growing.
Hoya carnosas facing consistent exposure to winter temperatures at about 50 degrees and below can cause chill damage. Therefore, avoid drafts and direct air from heating and cooling vents.
This plant also thrives in a humid environment. You can easily create a humid atmosphere by lightly misting your hoya plant occasionally. If you live in an arid climate, you could consider a small humidifier to do the job.
Grouping together plants that enjoy high humidity makes it easier to isolate your spraying and misting.
Hoya Carnosa Fertilizer Requirements
Easy-care plants like Hoya have few special needs but like being fed, especially during their growing season. Although unfussy little plants need average light, warm interior temperatures, and regular water, a regular feeding program will achieve the best performance.
This will fuel growth, enhance health, and increase the chances of some beautiful blooms. If you want to grow flowers on your Hoya Carnosa, endeavor to fertilize the plant once per month in the spring and the summer.
Your regular indoor plant fertilizer is enough for hoya plants as they are not heavy feeders. Just choose an option with NPK ratio of 2-2-2. When you notice your plant is about to produce flowers, you can use a bloom booster with a higher phosphorus content.
Hoya Carnosa Sunlight Needs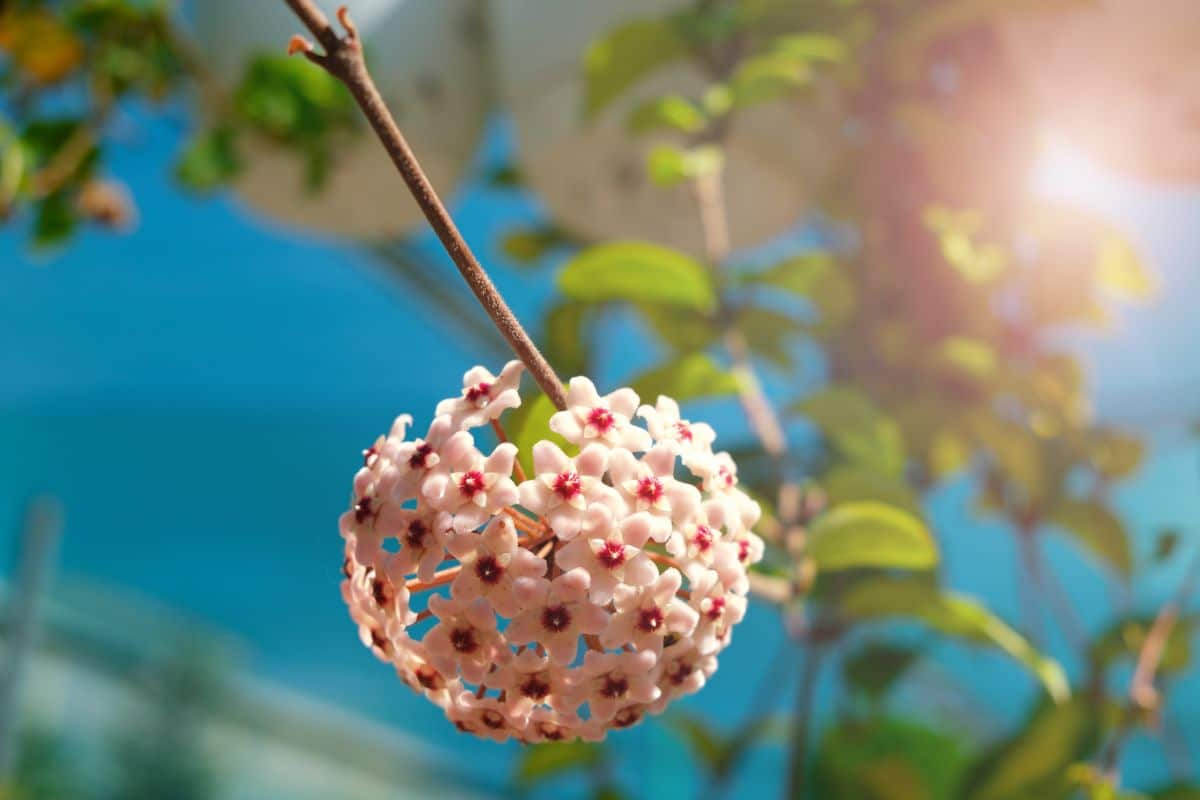 Hoya carnosas are quite different from a typical succulent when it comes to sunlight exposure. Typical succulents love the bright sun and can never get enough sunlight. However, Hoya, on the other hand, dislikes direct sunlight at all.
Most hoya carnosa plants prefer medium to bright, indirect sunlight. Hoya Carnosa will flourish with about 2 hours of direct light in the morning or evening. Too much exposure to sunlight may burn their leaves or change their color to yellow.
They can withstand low sunlight, but in such conditions, their energey may be channeled on growing more leaves rather than producing blossoms. This is not a problem, as the thick leaves themselves are welcome.
However, proper light will give them enough energy to bloom. The ideal position to keep Hoya carnosas is in the middle of your room with a south or west-facing window.
Pruning and Repotting
The Hoya Carnosa is relatively easy to maintain but can grow large and unwieldy, so you might need to prune your Hoya. You can cut back any dead, brown stems. If you have vigorous stems, you can let them grow, wind them around a trellis, or trim them back to a node.
Be careful of pruning your hoya plant when it is in bloom. You must avoid cutting any flowers because new flowers will keep growing from the same spurs at the end of the stems known as "peduncles." Once these spurs are removed, no fresh star-shaped flowers can grow.
Hoya plants can stay in the same pot for years because they like being rooted bound, but you could consider repotting if you notice one or more of the following:
Your plant is likely very root-bound if you see a hard mat of roots on the pot's surface
You water more frequently than you used to because the soil or potting mix is drying out rapidly.
A lot of roots are coming out of the drainage holes.
Your plant seems unusually large for its pot, and growth has slowed down dramatically or may have even come to a halt.
Pests and Diseases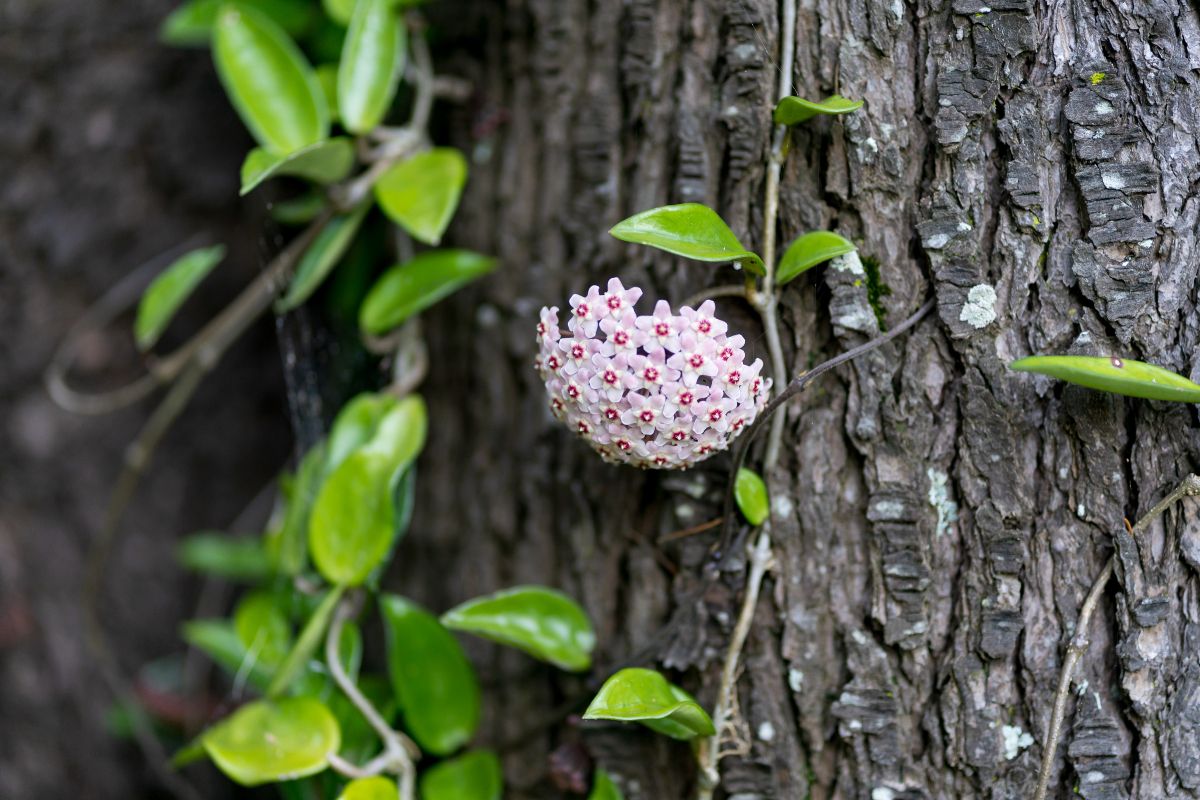 Hoyas are relatively resistant to pests, but mealy bugs can be found on leaves, and aphids can be commonly found near flowers. You can use sharp sprays of water to get the buggers down; I recommend a horticultural oil or neem spray.
The most common disease amongst hoya plants is sooty mold. This black mold forms on sticky leaves with plant nectars or saps, and the hoya flowers can grow enough sweet-smelling nectar to cause it. Aphids can equally lead to sooty mold because they make the honeydew.
The good thing is that it's very easy to deal with sooty mold. All you have to do is wipe off the mold with a damp cloth, and you can also spray a diluted seaweed fertilizer over the spot where the mold formed.
Root rot may cause if your plant wilts or forms black or brown stem or leaf lesions. There is also the dreaded root rot caused by moisture in the soil, which aids fungal development. You can prevent this by simply not over-watering.
Spray with a copper fungicide on the soil and the plant itself to reduce the effects of root rot. Your plant is beyond redemption and should be disposed of if the roots are black and mushy.
Hoya Carnosa Toxicity
If you have pets and little children in your house and you're planning to get a Hoya Carnosa, you're in luck! All Hoyas are non-toxic to your pets and children, making it a great plant to buy if you have curious children and pets.
You can rest assured that you won't accidentally harm your children or pets when they've chewed on your plant's leaves!
Conclusion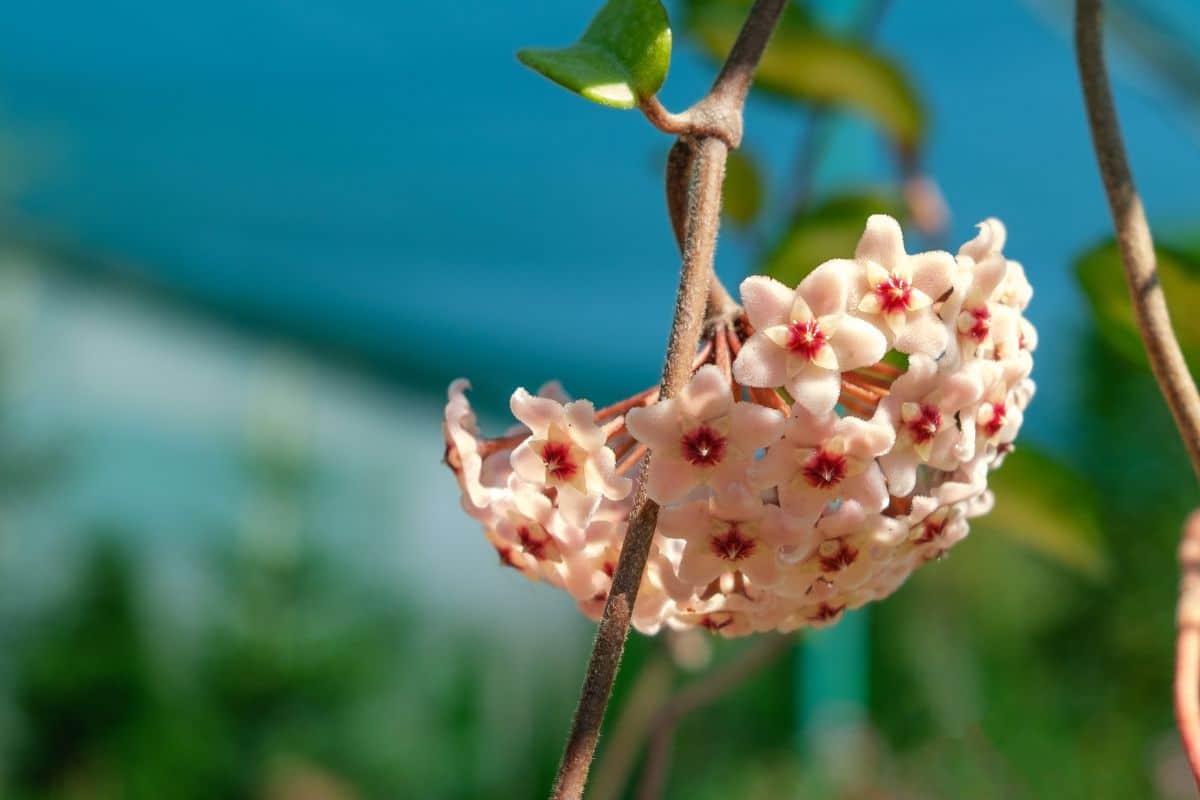 This Hoya Carnosa growing guide has addressed in detail all you need to know to care for your Hoya Carnosa plant properly.
We've examined how to water your Hoya, the soil components needed, and the temperature and humidity requirements.
We also discussed how to feed your Hoya properly, how much sunlight your Hoya needs, how to correctly prune and repot your plant, how to handle possible pests and diseases which might infest your plant, and finally, how safe your Hoya is for your pets and kids.
Thank you for reading this post! We hope it helps you to grow and keep your Hoya Carnosa healthy and beautiful!