You might like the idea of owning a garden with lots of beautiful plants sprouting here and there, but a lot of things might make you unable to have the time, energy and probably, resources and knowledge to cater for one.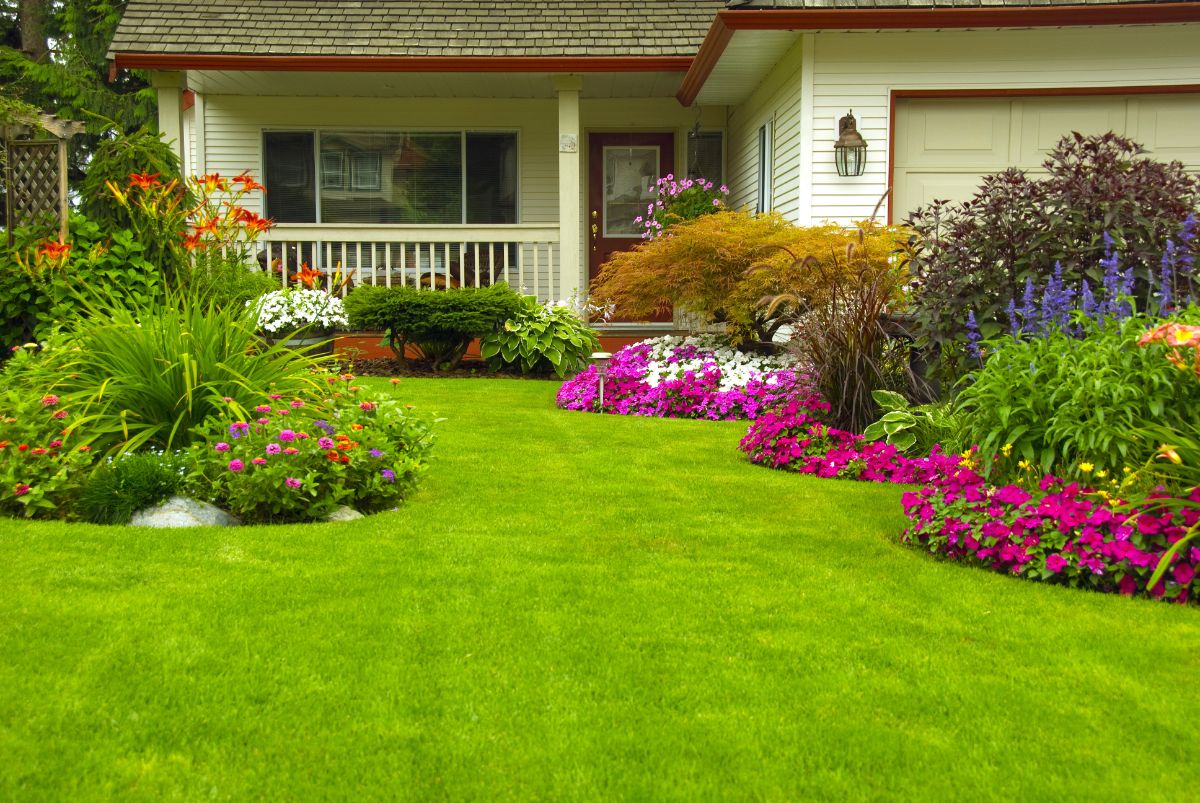 What if I told you that you can still own the beautiful garden that you so much desire without having to expend so much of your time and miss out on other equally important aspects of your life?
Do you think that is impossible?
I'll show you how to achieve that in this article, and also outline the lowest maintenance perennial flowers that fit into what you want and how to go about growing and caring for them without hassles.
Jump to:
What Are Low-Maintenance Perennial Flowers?
Low-maintenance perennial flowers are those plants that afford you the chance of owning a beautiful garden that requires less of your time and energy maintaining it.
With low-maintenance perennial flowers, you also get the rare privilege of not having to fuss about planting new flowers each year, as they are sure to always come back.
Low Maintenance Perennial Flowers You Can Easily Grow
Low-maintenance perennial flowers are a great start if you are new to growing perennial flowers or gardening.
Here is a list of reliable and beautiful low-maintenance perennial flowers you can start growing and maintaining on a friendly budget.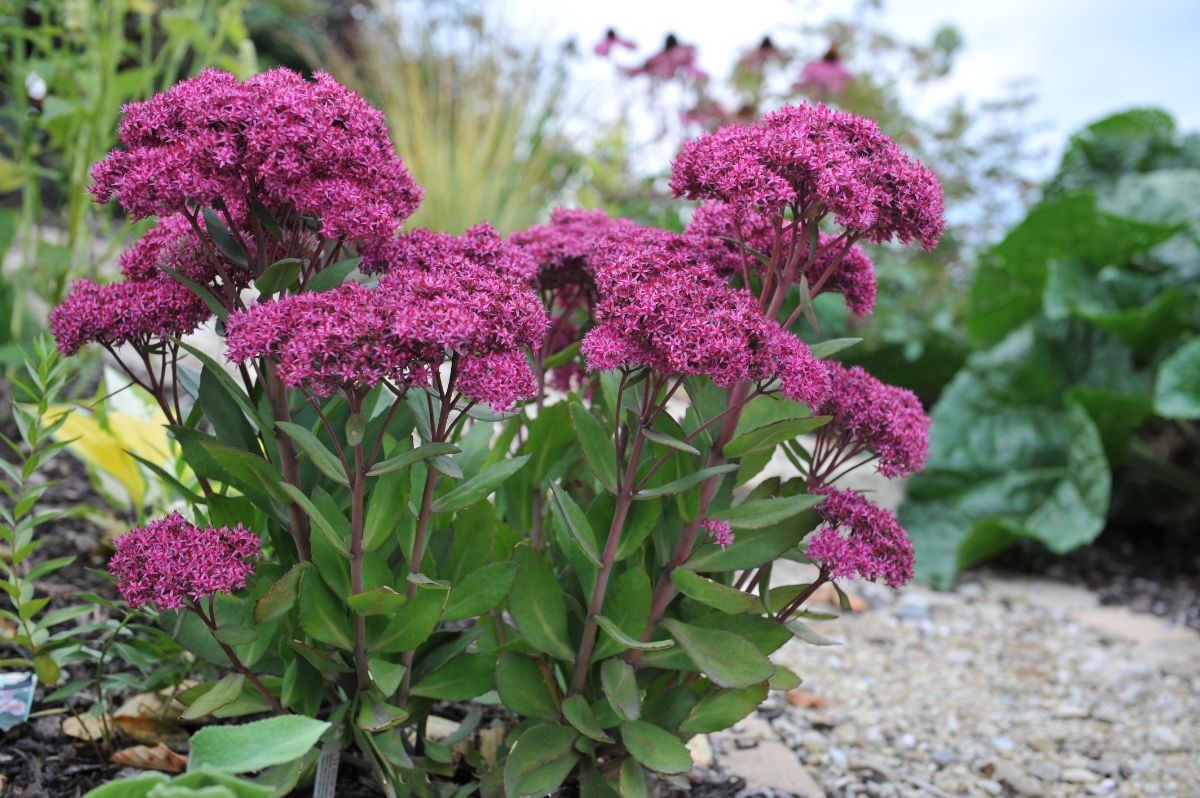 These are non-problematic plants, quite hardy across most zones. They do not require constant care and attention and would still do well in circumstances of drought.
They come with foliage so bold & sturdy, upright stalks and extremely large flower heads.
An eye-catching flower, no doubt, they would look even more appealing when planted in a group. The Sedum plants make your garden look super beautiful all summer and fall.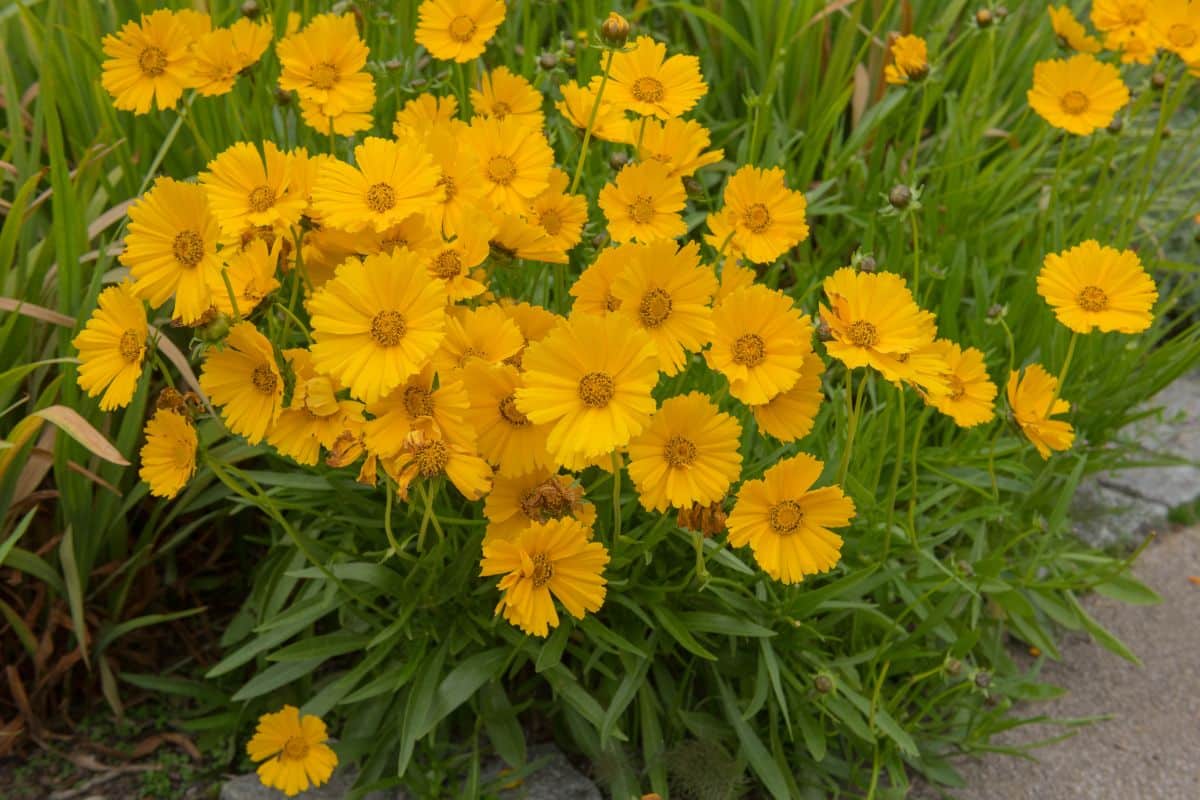 Why do you need to grow the Coreopsis in your garden? It's simple! They're one plant that easily makes your garden come alive with their burst of colors.
They share a semblance to sunny Daisy flowers in the sense that, when they bloom, they shine in diverse colors of red, yellow, pink and so on.
You get to enjoy this colorful display in their short period of bloom which usually occurs in early summer and comes to an end on Midsummer.
They make such a beautiful sight that attracts even birds and butterflies.
Do you want a free tip on how you can cause an increase in the bloom period? Deadheading! Deadhead spent blooms and effect an extended bloom time.
Coreopsis does have the capacity of growing about 3ft tall.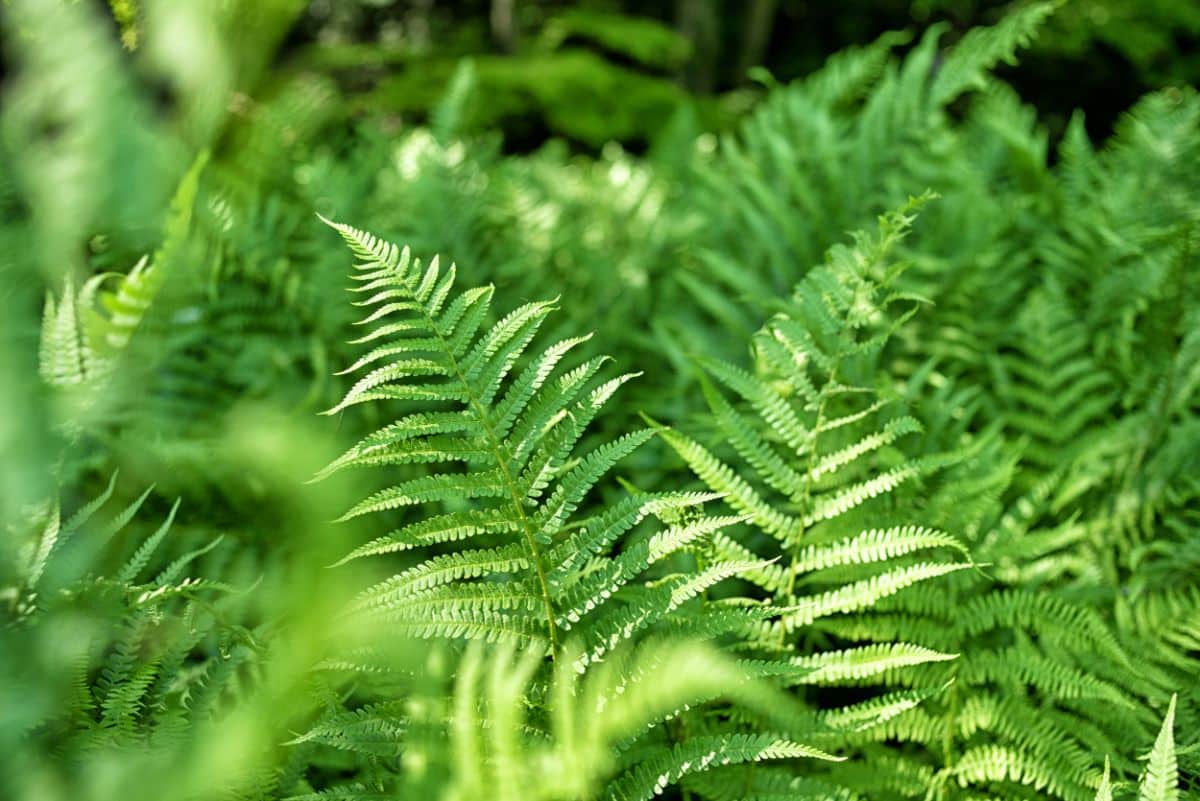 One advantage of this flower is that they are made available in lots of varieties that would most likely suit your garden needs. Short or long Ferns are available with very nice textures too.
Looking for a plant that is most suitable for a shade garden? Ferns is most definitely the answer.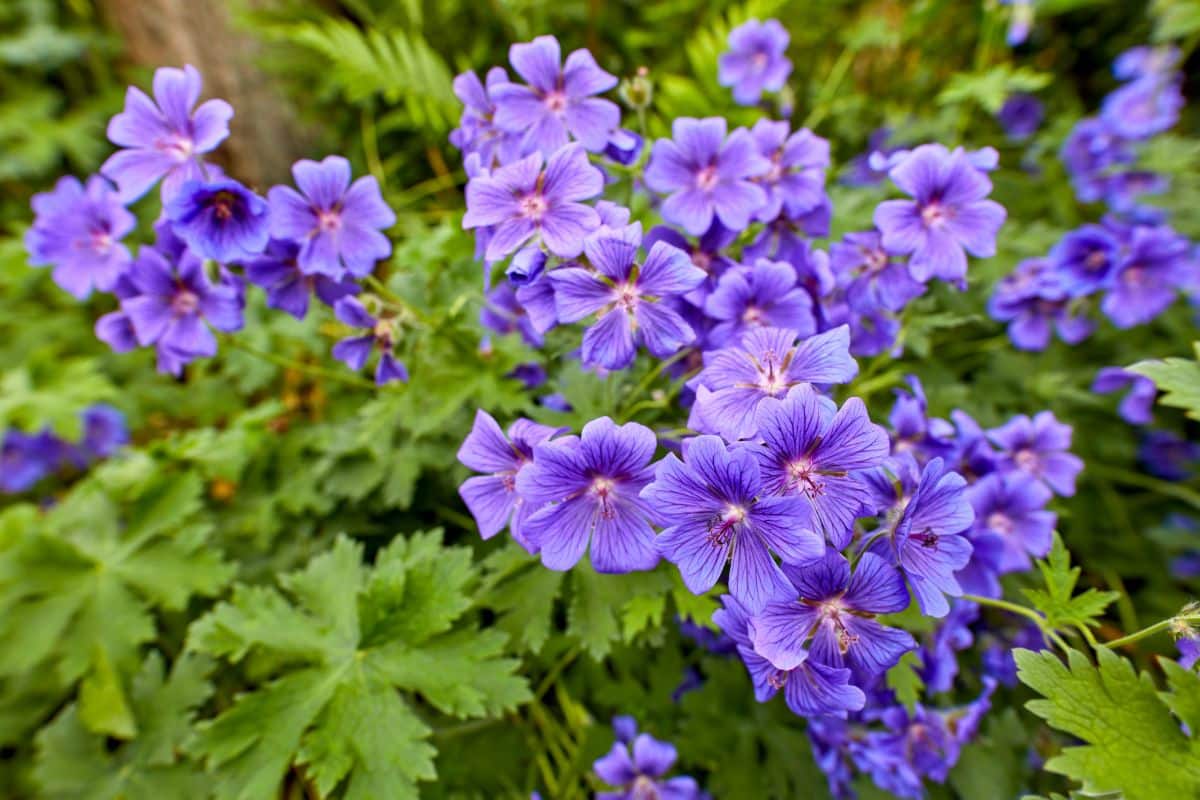 Perennial geraniums come in little beautifully colored flowers that are blessed with a long bloom season which begins in late Spring and continues for many months.
They make very great border plants, highly resistant to rabbits, but butterflies are naturally drawn to them.
To get the best out of them, have the flower planted in part shade to shade.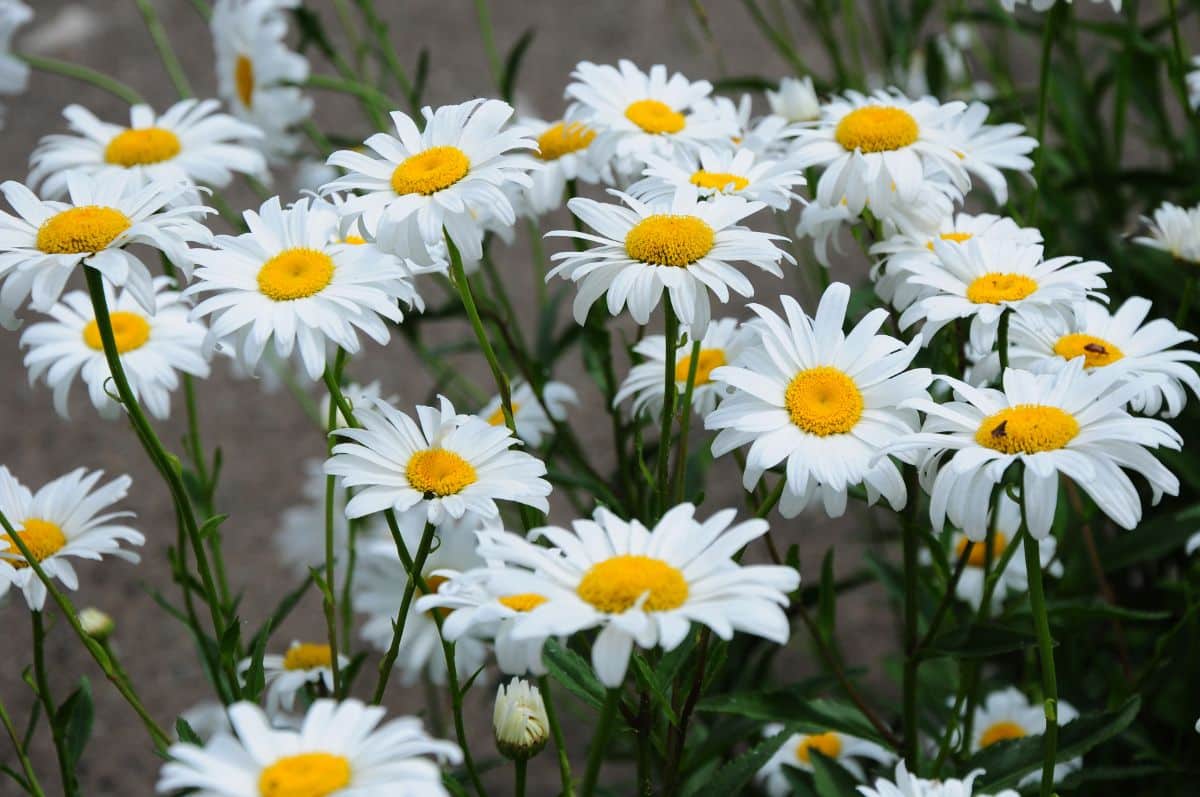 A perfect example of a low-maintenance perennial flower. They are effortless to grow, even for beginners plus, they come in a variety of sizes.
You can get the short ones if the aim is to grow border plants or the long ones for a beautiful backdrop display.
This evergreen perennial fits well as cut flowers. It possesses large white blooms that persist till early Fall.
For best results, have them grown in well-drained soil.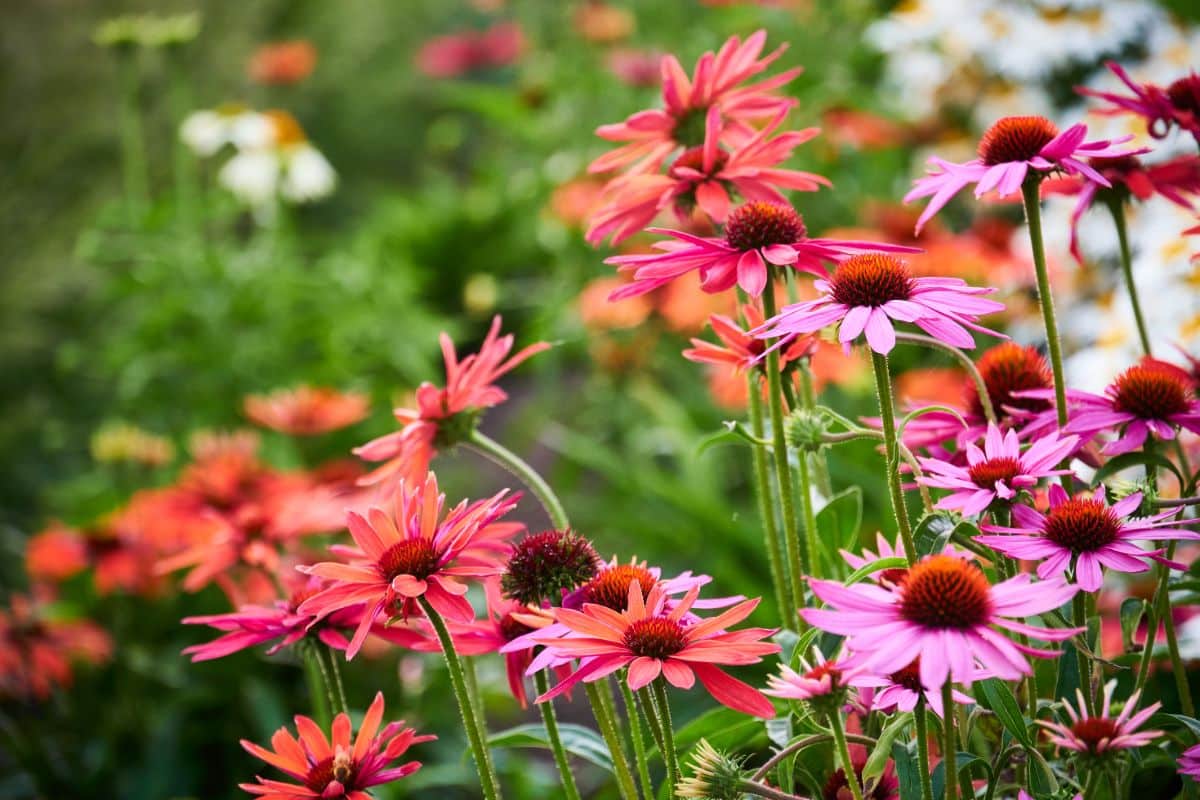 An excellent cut flower like the Shasta Daisy. You will find Coneflowers available in a range of different colors.
The plants are highly resistant to deers, but butterflies find them attractive.
Their bloom season is set at mid-summer. Coneflowers prefer being planted under full sun conditions.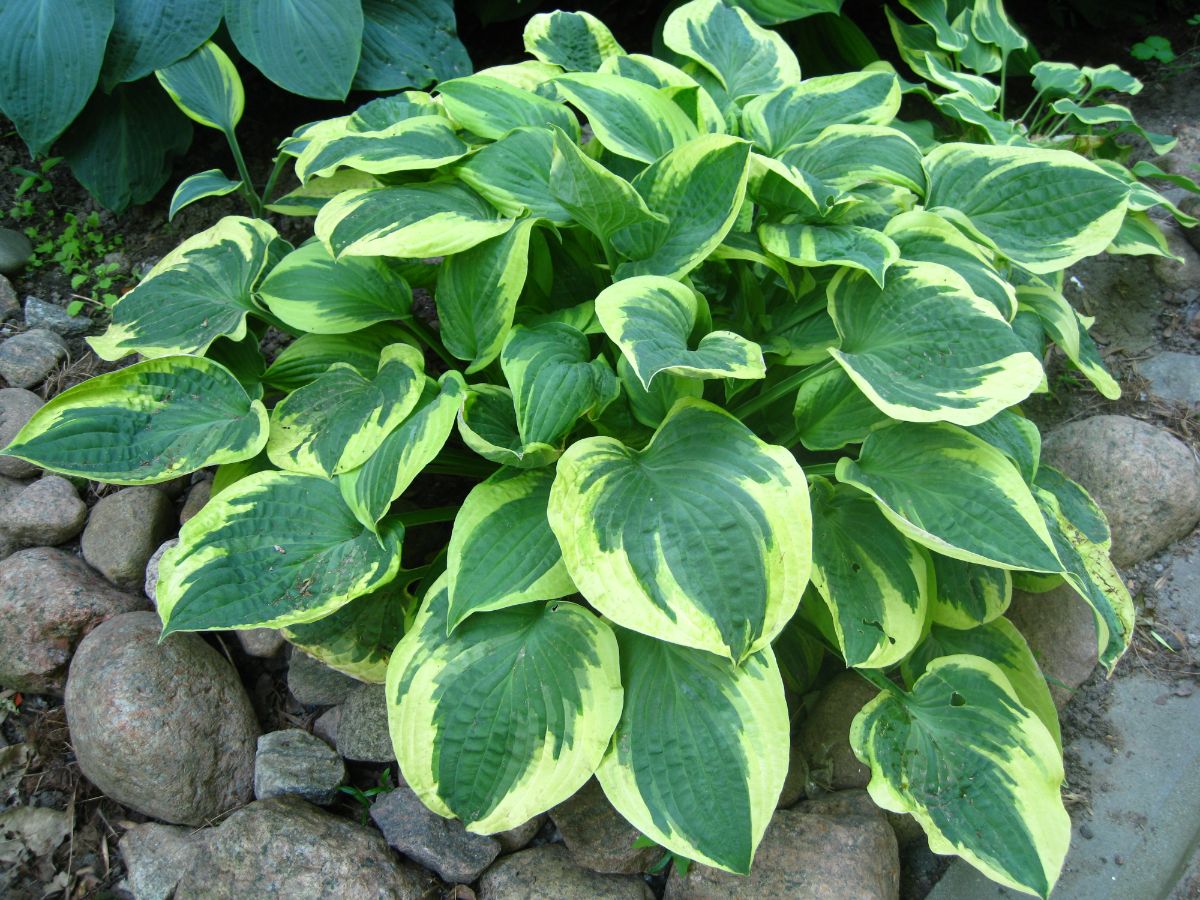 Undisputed champions of the shade garden. Hosta plants have lovely thick foliage, and you can find them in hundreds of varieties in an array of colors.
Hosta plants prefer to be grown under full sun to deep shade.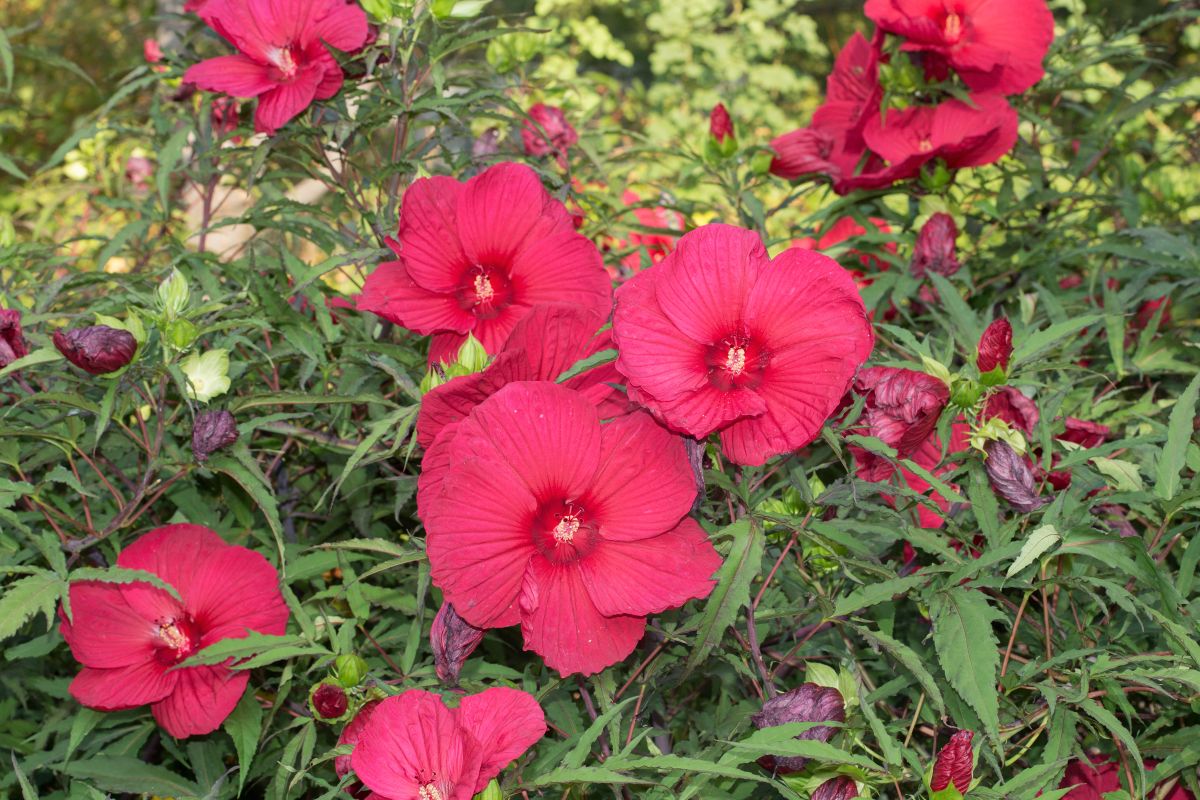 During the bloom season of the Hardy Hibiscus, which usually occurs during late summer, you will find them produce large flowers in different shades of pink, white or red.
The plant would naturally die off when Winter comes, and it takes a long time to break its dormancy streak.
When this happens, it's easy to pass it off as wholly dead, but in due time, you will be greeted with a burst of spectacular colors in your garden once again.
Hardy hibiscus fares better when grown under full sun conditions. It attracts butterflies and hummingbirds to the garden.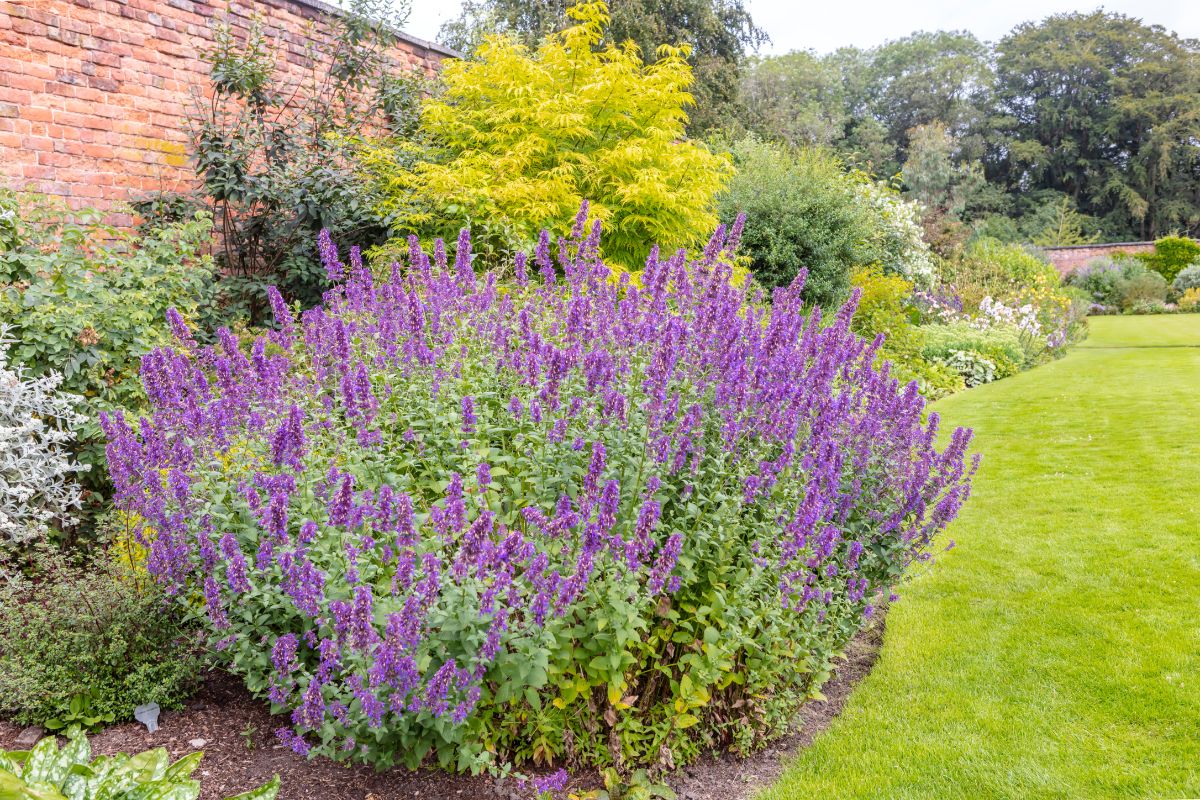 One perennial flower with accelerated growth, the Catmint plant does not just grow tall but spreads as it does too, so, as you would expect, they would need quite some space.
With the Catmint, you will have a garden filled with clusters of blue flowers from the month of April down to October.
If you can patiently follow through with the processes of getting the plants established, they will be sturdy enough to withstand drought.
They attract butterflies and hummingbirds as well and do prefer to be grown under full sun to part shade conditions.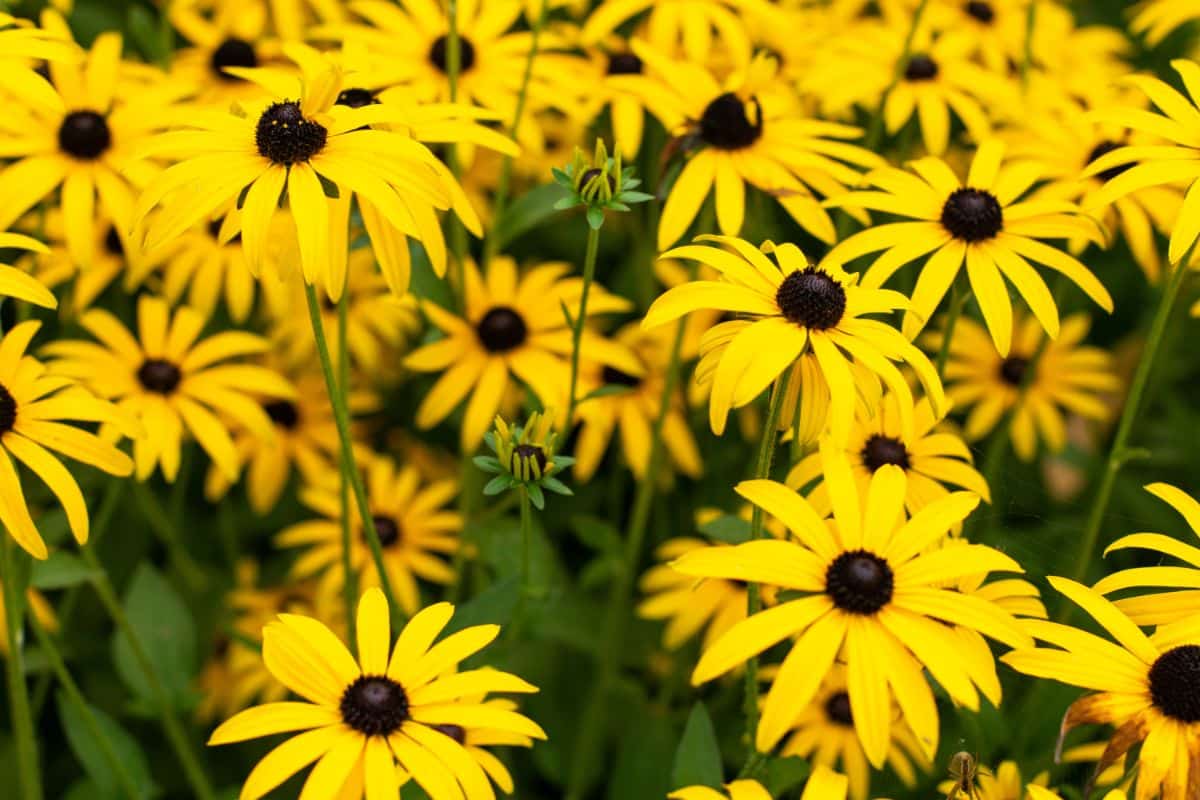 The Black-eyed Susan plant is highly resistant to deers and rabbits and attracts butterflies, of course. No matter what you do, the Black-eyed Susan should be part of your plant plans for a summer garden.
Its bloom period is set from July all through to September. For best results, have it planted in full sun conditions and be sure to prune out spent blooms for better flowering in the next season.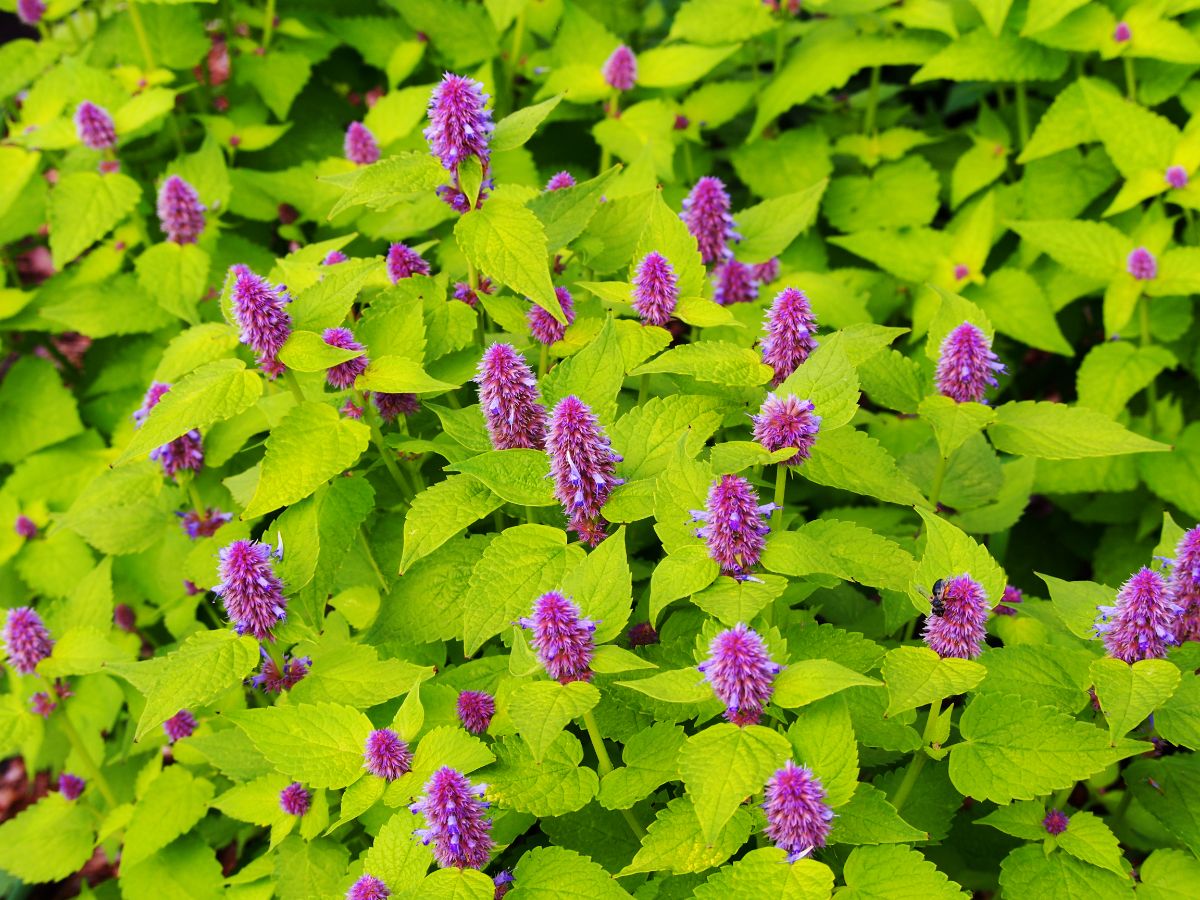 One fascinating trait about these Giant Hyssop plants is the way their spread increases each returning year. They are the best flowers to plant if you intend to fill up a large garden area in a short while.
The Giant Hyssops are hardy from zone 5 - 9. They spot bottle brush-like flower spikes in beautiful colors of blue and purple. Their leaves also have a lovely scent leaving your garden smelling like crushed anise.
The plants have the potential to grow as tall as 3ft and also form up mini colonies of their own.
Pruning the giant hyssop each year would be in order, so it does not grow out of proportion.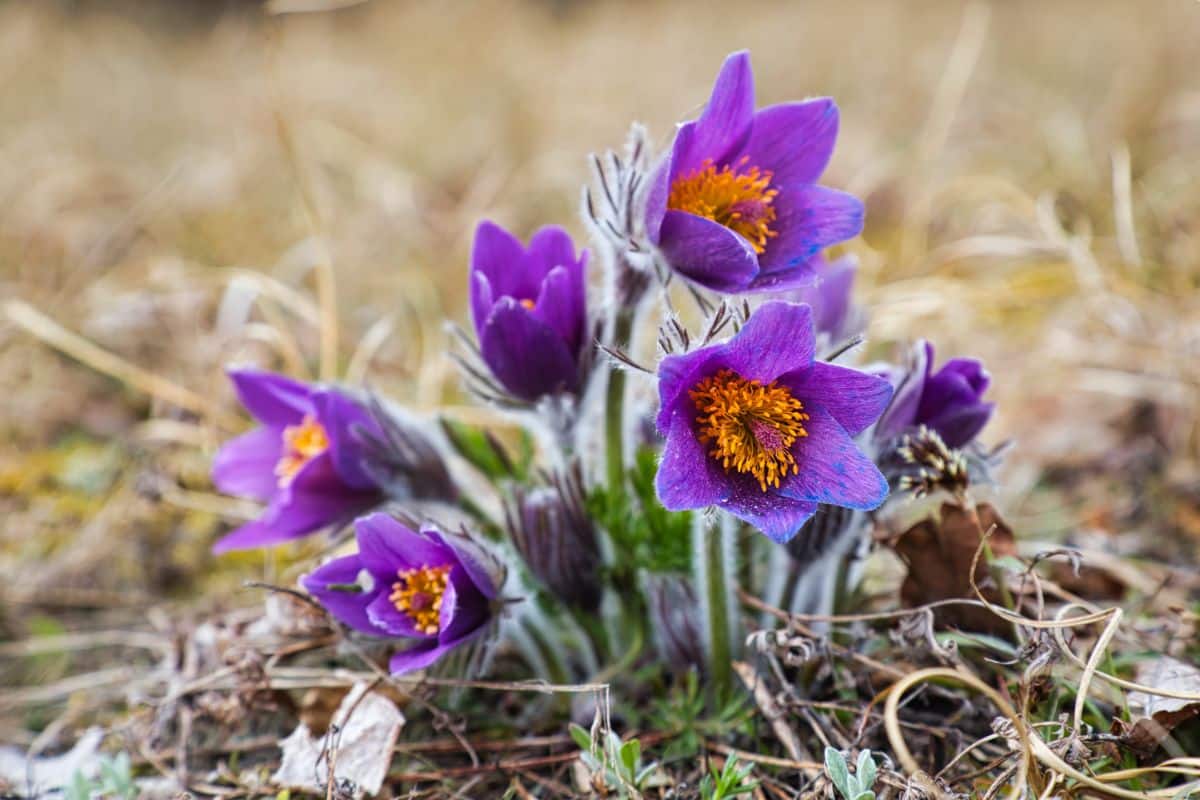 The way the early bloom of this unique flower brightens up everywhere in Spring is one very adorable sight.
Pasque flowers bloom in early spring, and when this happens, you can expect a massive production of flowers.
The keyword is massive here; how else can you explain a situation where one single plant produces only 30 blooms in a few months?
This is just one of the benefits of planting the Pasque flower. These flowers are shaped like a bell and come in a range of different shades of blue and purple with a beautiful contrast made by the yellow stamen at the center.
Pasque flowers cannot be described as tall; their average height is set at 12 inches, but they still look fabulous regardless.
Pasque flowers are like a breath of fresh air, away from the browns and withering flowers that follow winter.
They are typically low-maintenance perennial plants, hardy from zones 4 - 8, which never fail to re-seed and re-establish themselves each new season.
The pasque flower requires full sun and well-drained soil to grow well.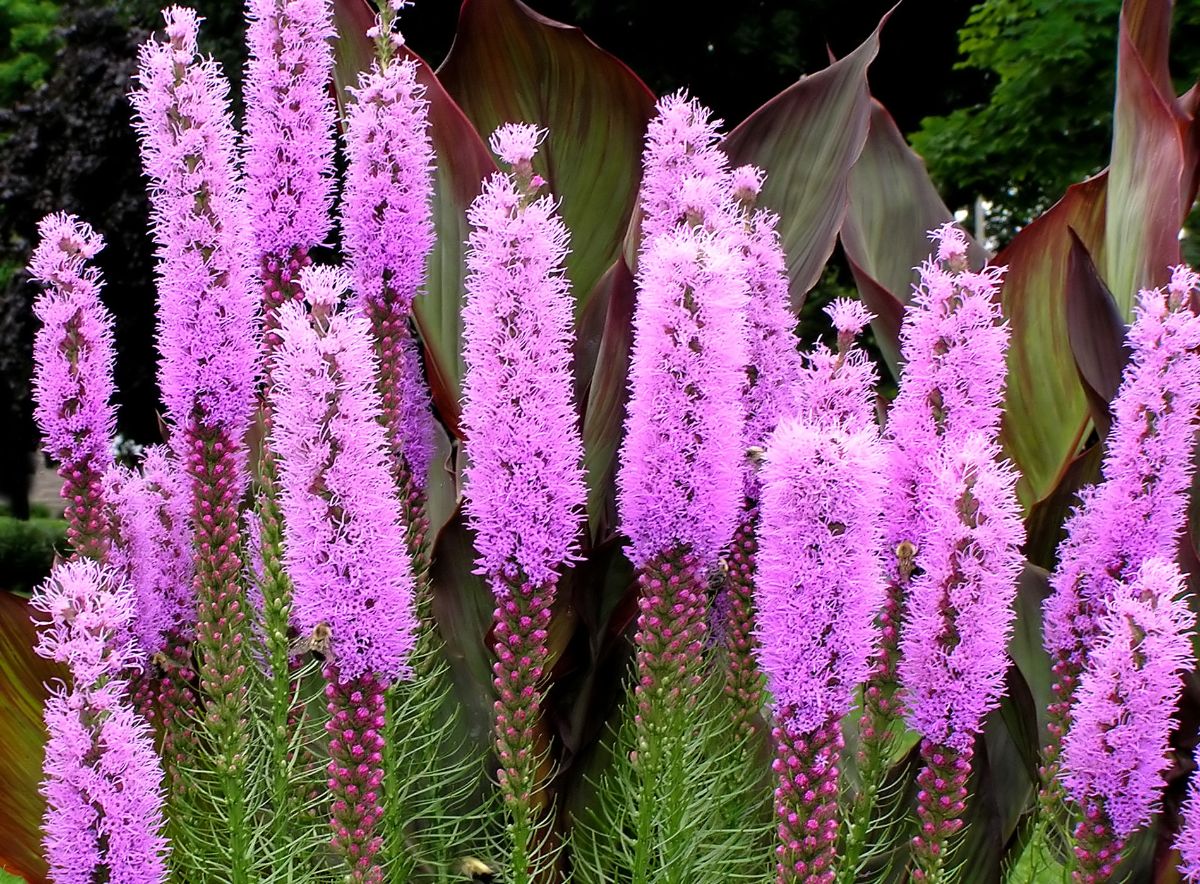 Planting this flower in your garden is synonymous with extending an open invitation to hummingbirds, butterflies and bees in their drones, thus, contributing positively to the ecosystem.
We can best describe the blazing star flower as long spikes of thick lavender-purple-colored flowers packed closely together.
Planting this flower in mass would make quite a beautiful sight, attractive even to butterflies and other beneficial wildlife.
When they bloom, you will notice a striking vertical effect on the landscape, and its bloom would go on to last for weeks.
When it's Autumn season, its once feathery foliage will change to a shiny bronze color.
The Blazing Star is on our list of low-maintenance perennial flowers because of how sturdy they are. They are hardy in zones 3 to 9.
They are also effortless to grow and maintain. They would, to an extent, tolerate poor soil, extreme heat and drought plus, they have a high resistance to pests and hardly ever get stricken by diseases.
If you want to get the best out of this perennial flower, have them planted just along the fence or at the borders.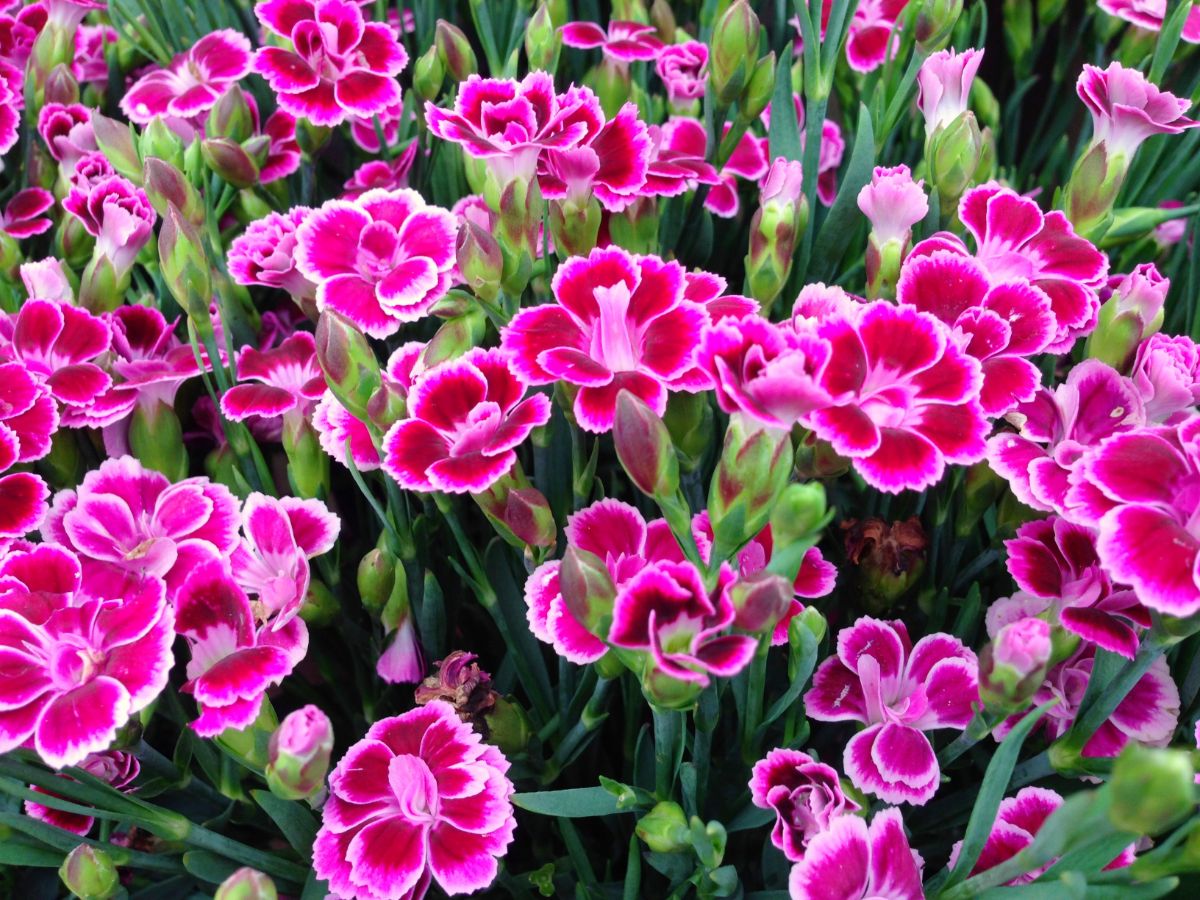 Popularly known as Pink for apparent reasons, this bright flower makes your landscape glow. It lights up your garden like no other flower can.
The Dianthus can be described as a flower with five petals with fringed edges that form blasts of color contrasting beautifully against the light green foliage.
One edge the Dianthus has is the fact that you stay open to options with them; you can choose from an array of hundreds of options with eye-catching patterns and colors.
Let's take, for example, a Dianthus cultivar known as the Black and White Minstrels; It is a double-layered Dianthus with petals that are colored Black but with striking burgundy and pink edges.
The laced Monarch is another cultivar worth mentioning. It is a double bloom of pink and burgundy; then there's Pop Star, a double bloom also that's colored baby pink with a deep burgundy center.
The point is, there are so many Dianthus cultivars, hundreds of them with striking features and colors that leave you spoilt for choice.
All in all, the Dianthus plant is one low-maintenance perennial that you should consider growing. They require little care and would gladly return the following year, saving you the stress of having to replant again.
The low-lying plants spread out so fast and unhindered, except you take measures to stop them.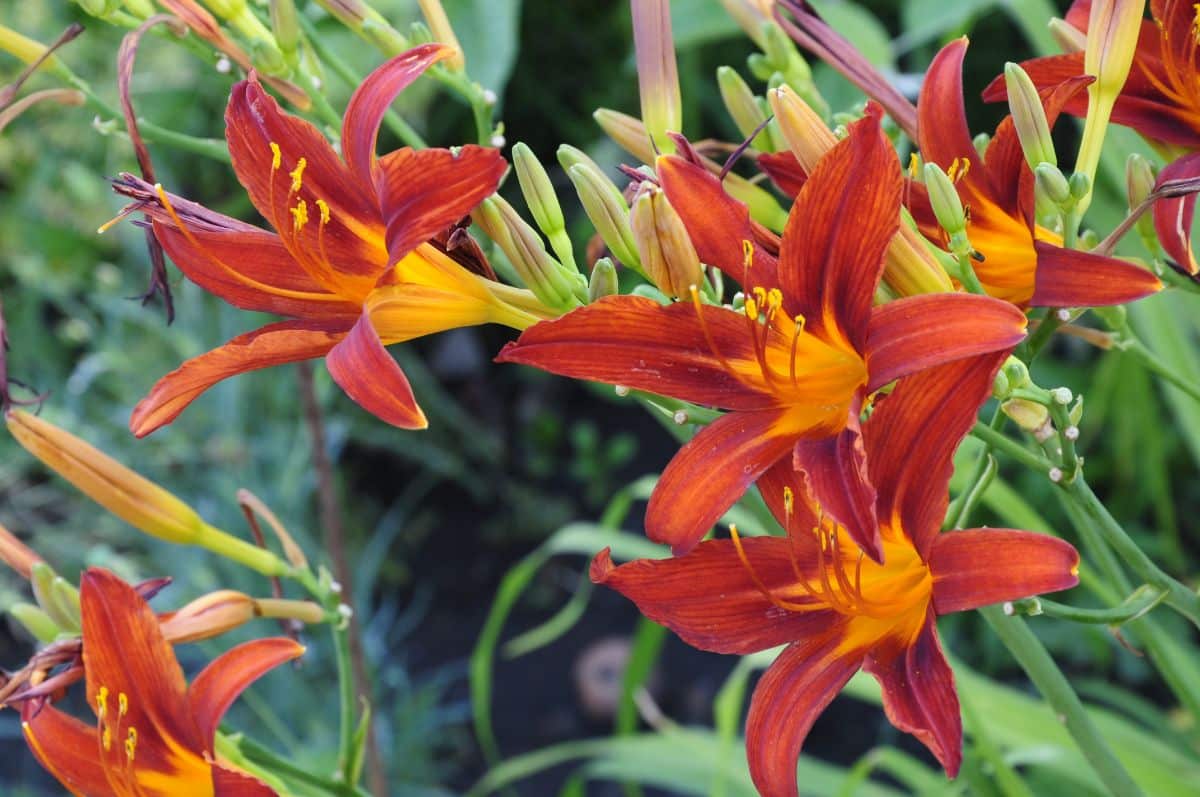 A Daylilies have, in their fold, thousands of cultivars. It's a large family in the world of Daylilies with some attractive and multi-colored flowers plus, the advantage they hold of being low-maintenance flowers makes it all the more better.
The bloom season of Daylilies happens in series. First, we have the early season round of bloom, mid-season and then late season.
What this means is that, with a careful and strategic plan in place, you can have to yourself a garden of Daylilies with recurring blooms from Late Spring all through to the Fall season.
One fascinating thing about Daylilies is that the bloom, most times, last no longer than a day, but that fact usually goes unnoticed because of the plenty of buds you get on a flower stalk plus, you are assured of a new bloom the following day.
On the whole, though, Daylilies fit right into low-budget gardening, they are quite hardy from zones 3 - 9, are very independent plants requiring minimal care, and this singular factor is why they are considered to be evergreen.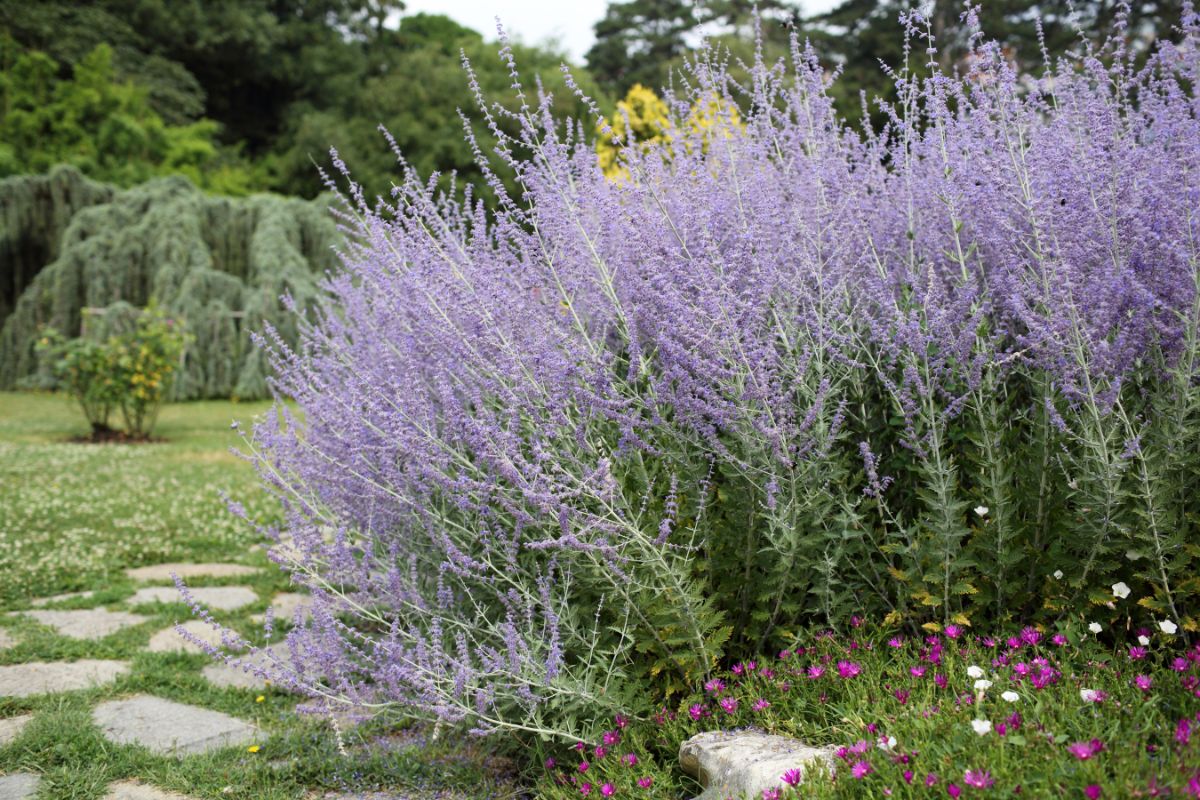 Due to how rugged this perennial is, it was given the nickname; "plant and walk away." This goes a long way to show you how independent these flowers are. They are hardy from zones 5 - 9 and can withstand almost all forms of growing conditions, both pleasant and unpleasant.
They can adjust to any kind of soil type, whether poor or excellent; they also can withstand drought, heat and rarely get affected by pest infestation.
How else can the word 'rugged' be defined if the Russian Sage is not a clear depiction?
We can't really term the flower to be showy; however, we cannot deny that the long strands of lavender-blue flowers are attractive nonetheless. Then, there's this refreshing minty scent you get from the leaves.
The Russian Sage is highly resistant to deers and rabbits, but butterflies and hummingbirds are attracted to it.
In full bloom, you'll witness it in all its glory, bearing an abundance of flowers.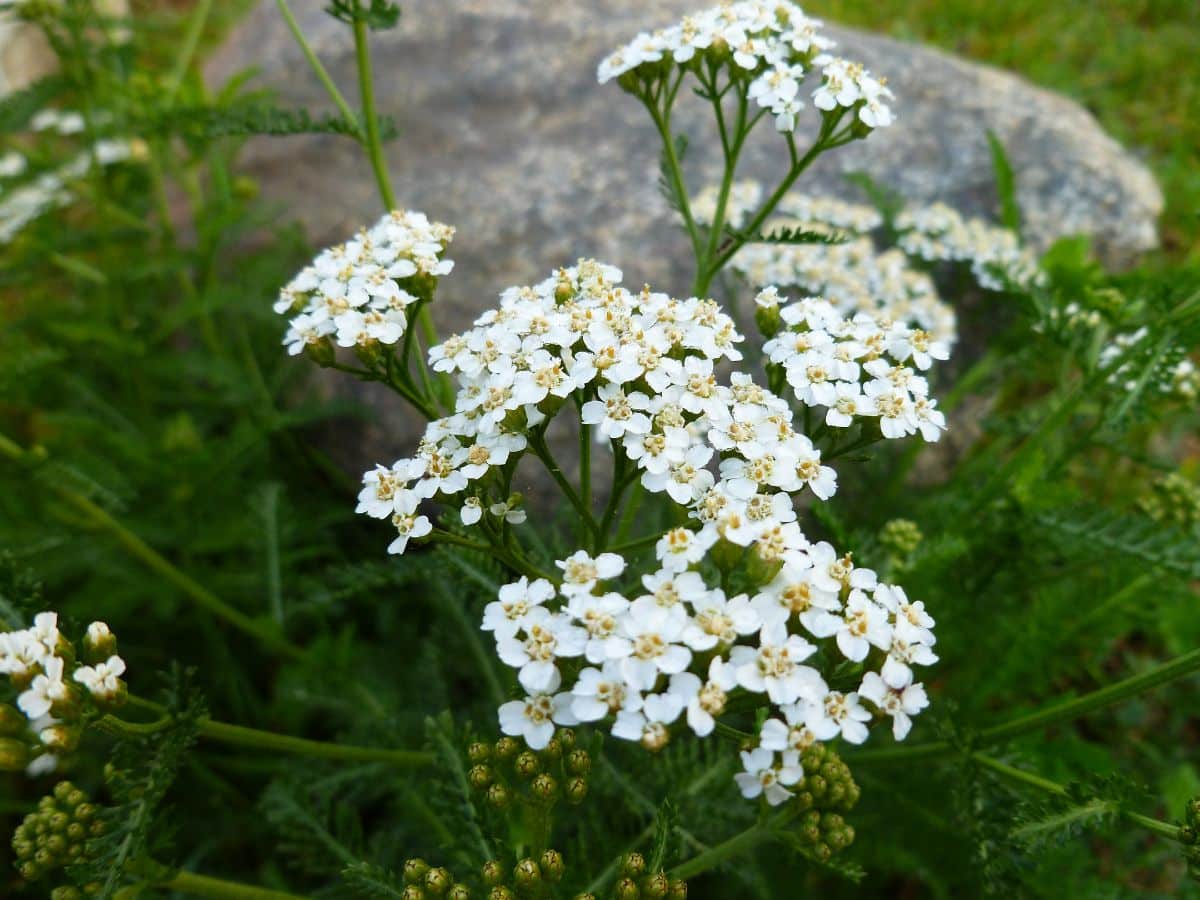 One fun fact that many people are unaware of is that the Yarrow flower actually exists in a variety of flowers.
The Yarrow plant is underrated, and many people tend to pass it off as a roadside weed, not fitting in any way or having any usefulness in a garden or landscape.
We do not intend to argue with this belief; we'll just show you a different side of the Yarrow flower that you never knew existed.
Undoubtedly, the Yarrow's space on the list of low-maintenance perennial flowers is well deserved.
They are hardy from zones 3 - 9, totally non-problematic, and would thrive still in poor or dry soil, heat, drought, full sun, some shade, in fact, all sorts of unfavorable or favorable growing conditions.
They also come in an array of beautiful colors of yellow, red, orange, white etc. Some of them even spot bi-colors.
When they bloom, it usually lasts for weeks, and your garden will naturally become a landing site for pollinators as they attract drones of butterflies.
So, do you still think of the Yarrow flower as a useless roadside weed?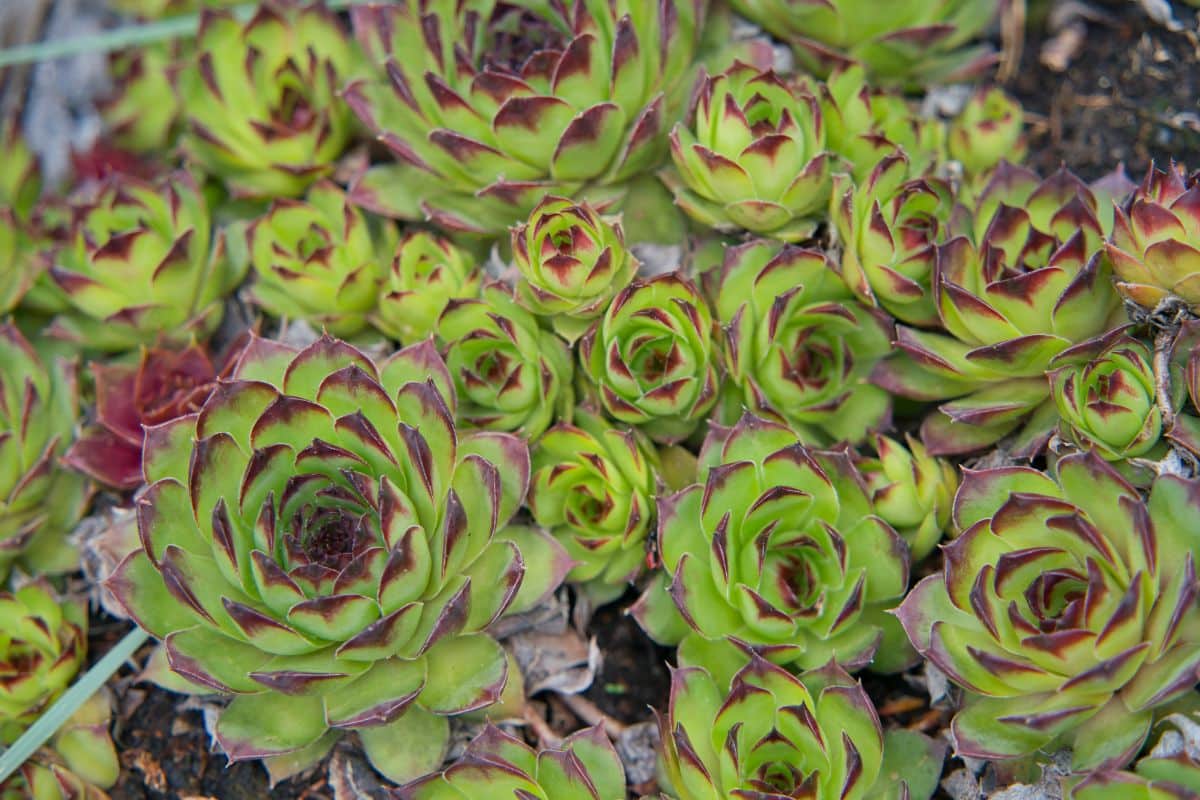 There's literally no stopping the Hens and Chicks flower. Not poor growing conditions, not lack of care, not heat nor drought, not even poor soil, absolutely nothing.
This breed of perennial will find a convenient spot for growth in the rocks if they have to!
Hens & Chicks are no strangers to landscapes and many gardeners, and it is really not difficult to say why. They are effortlessly grown, requiring little to zero care once they are well established.
They have very succulent and attractive flowers making your garden come alive. The flowers of Hens & Chicks are as fleshy as they are juicy, thick, and change in color to green, purple, pink, brown etc., according to the different seasons or exposures they face.
You would even find some to be multi-colored, spotting tips with a different color from the rest of the petals.
The Hens and chicks are hardy from zones 3-8. The trick to having a captivating and somewhat artistic-looking landscape with it is to plant several varieties in close quarters to form a creative mosaic.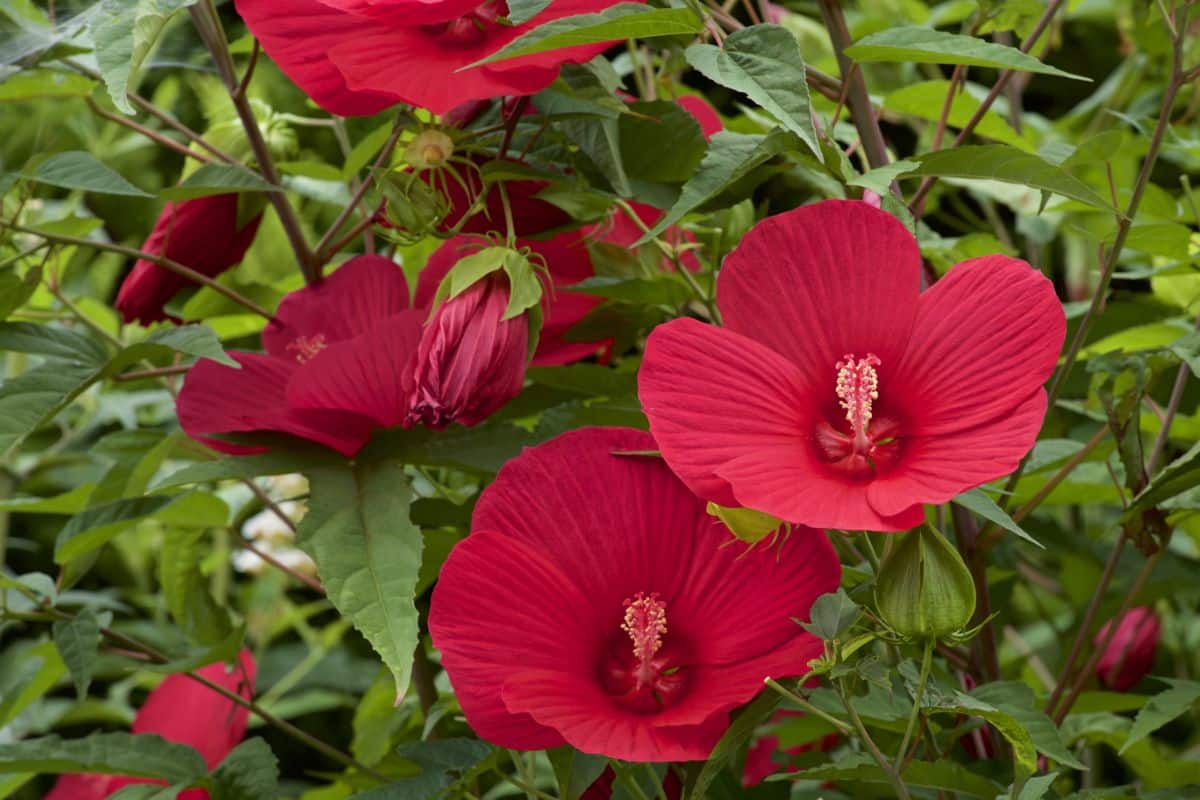 Experiencing the massive and breathtaking transformation of the Hardy Hibiscus when it's bloom season should be on the list of sights to behold in your lifetime.
It makes such a jaw-dropping sight that even butterflies cannot resist; instead, they go a step further by using it as a host plant for their larvae.
Hummingbirds and bees are not left out, too, as they find a nest in the large flowers and nectar.
This flower has the potential of growing as much as 7ft and can spread as wide as 4ft, all depending on how timely you have it pruned and the exact specie of the flower.
The flowers might spot a single or double color with a contrasting center eye color.
Generally, it is highly tolerant of heat, drought and other unpleasant growing conditions.
Hardy hibiscus is hardy from zones 5 -9, but you need to be sure you have the right hardy variant; else, you will experience a kind of delay in their growth.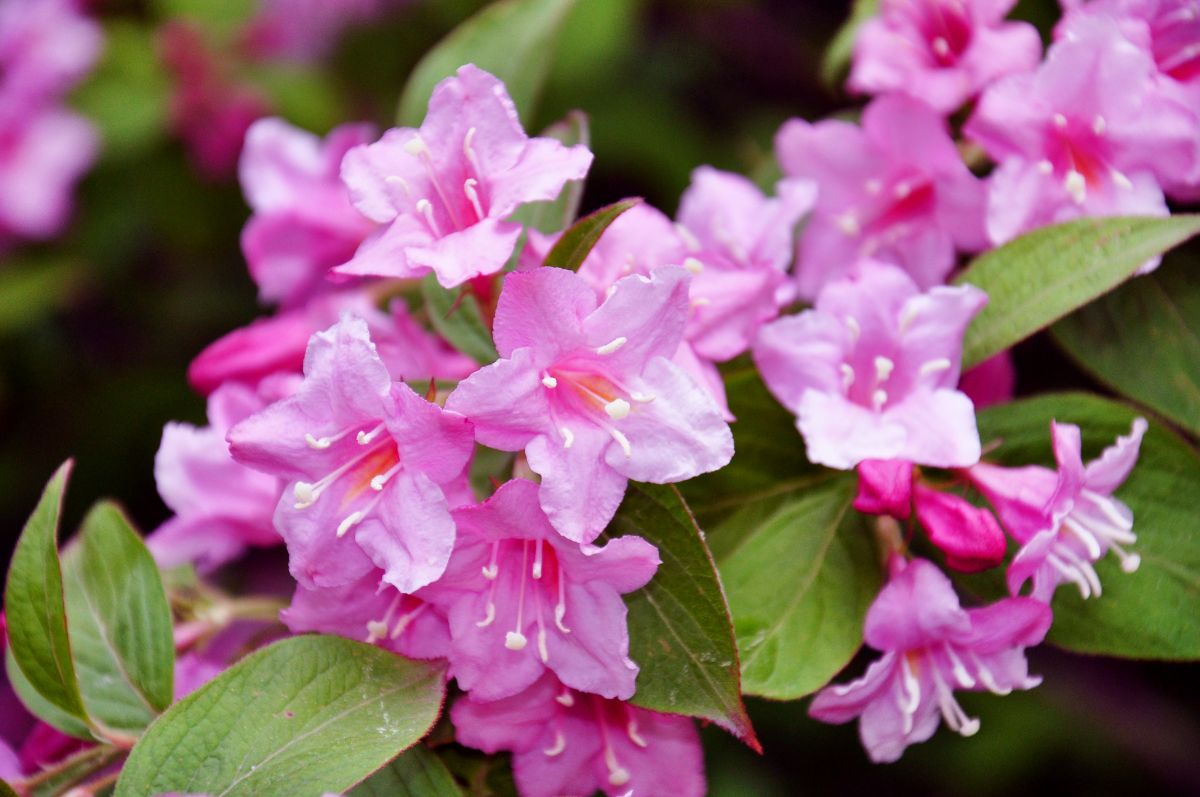 The Weigela grows uprightly, adorned with small, bright, colorful flowers that are shaped just like a bell.
They are highly resistant to deers but attract bees and hummingbirds like a magnet.
This shrub has the potential to grow at most 8ft tall. You will find many variants of the Weigela with different attractive foliages, some even multi-colored.
The reason why we have this perennial flower on our list is because of its sturdiness. It is hardy from zones 5 - 9, super easy to grow and highly resistant to pests and diseases.
The Weigela definitely makes a nice view when used as a hedge or border plant. It will need minimal pruning just to keep it growing neatly and uniformly.
Its bloom season starts in early Spring and lasts till the end of the season.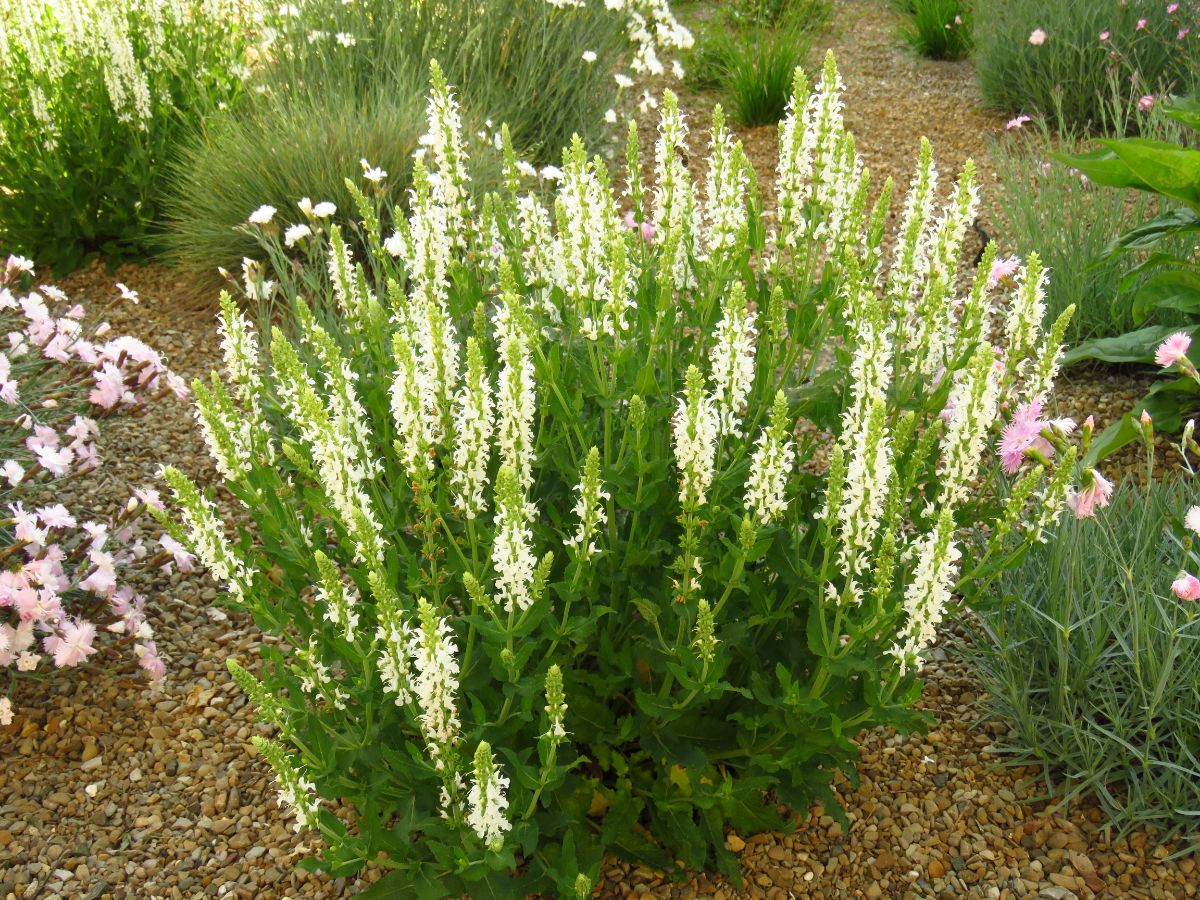 One exciting feature of this perennial is its incredible fragrance. It falls on our list because of its trouble-free nature. Summersweet is a perfect flower for planting on a low scale.
This perennial shrub serves as a rich source for bees and pollinators, especially in the face of scarce resources.
When they bloom, which usually occurs in late summer, their spikes are overburdened with flowers that look much like bottle brushes.
Their bloom season lasts for approximately 6 weeks attracting in the process different pollinators who would have had no other source of Nectar at that time but for the Summersweet.
The plant is not exactly picky. It will do well when planted in shades and the same for full sun. It also thrives well under most soil types and is resistant to pests and diseases.
For its maintenance, see that you have it pruned yearly just to keep it in good shape and stop it from spreading.
The Summersweet flower is hardy to zones 3 - 9 and has the potential of growing at most 8ft tall and spreading 6ft wide. Therefore, factor in sufficient space before planting it.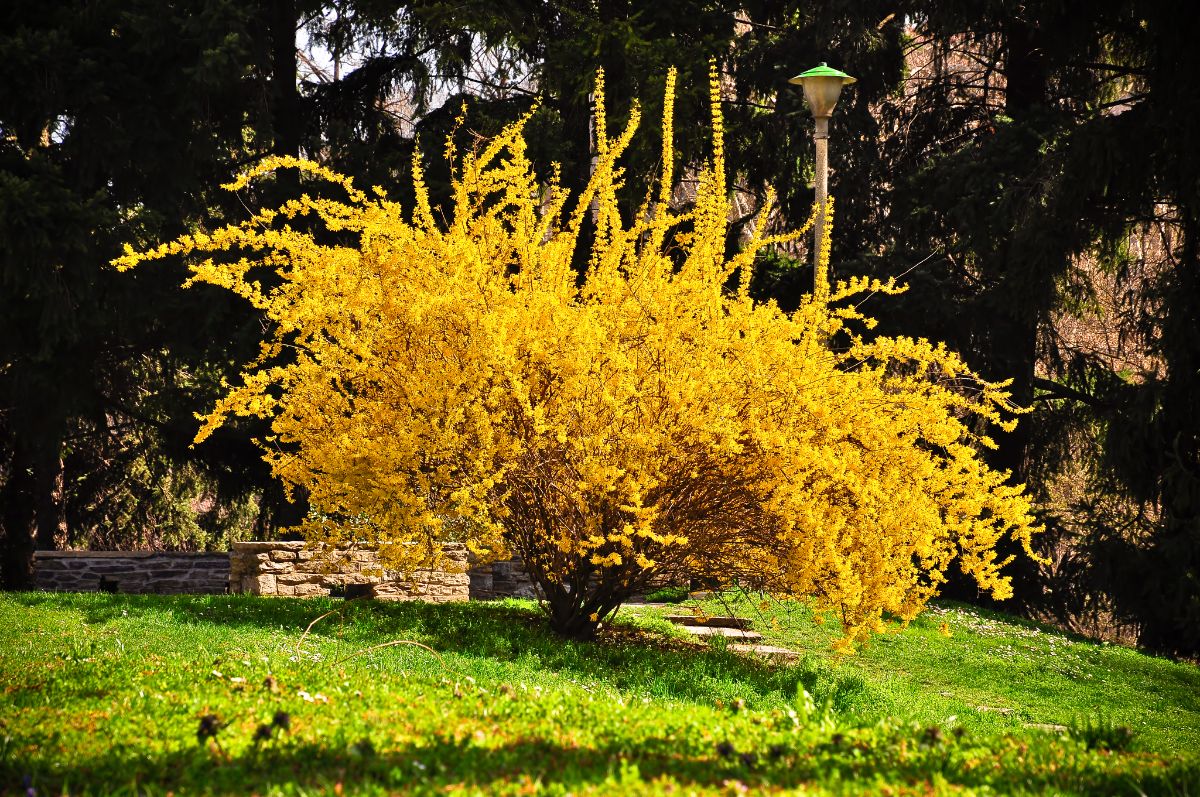 This perennial shrub is known for the unique way it grows; the plant stays upright with the branches tilting downwards. Makes you think of a fountain, right?
The Weeping Forsythia is an excellent spreader. In fact, it is very suitable for a spacious landscape as it will fill it up in no time.
The Forsythia can be likened to a bright fountain when it blooms; the golden yellow flowers shine bright on naked branches brightening up the entire landscape. This happens in early Spring, and it serves as some form of welcoming sight to the season.
Its flowers can best be described as tiny and trumpet-shaped, but they are usually full and can be seen on top and below the branches.
The Forsythia is quite a sturdy plant; hardy to zones 6 - 8. It tolerates most soil types, is highly resistant to pests and diseases and would grow well either in full sun or partial shade.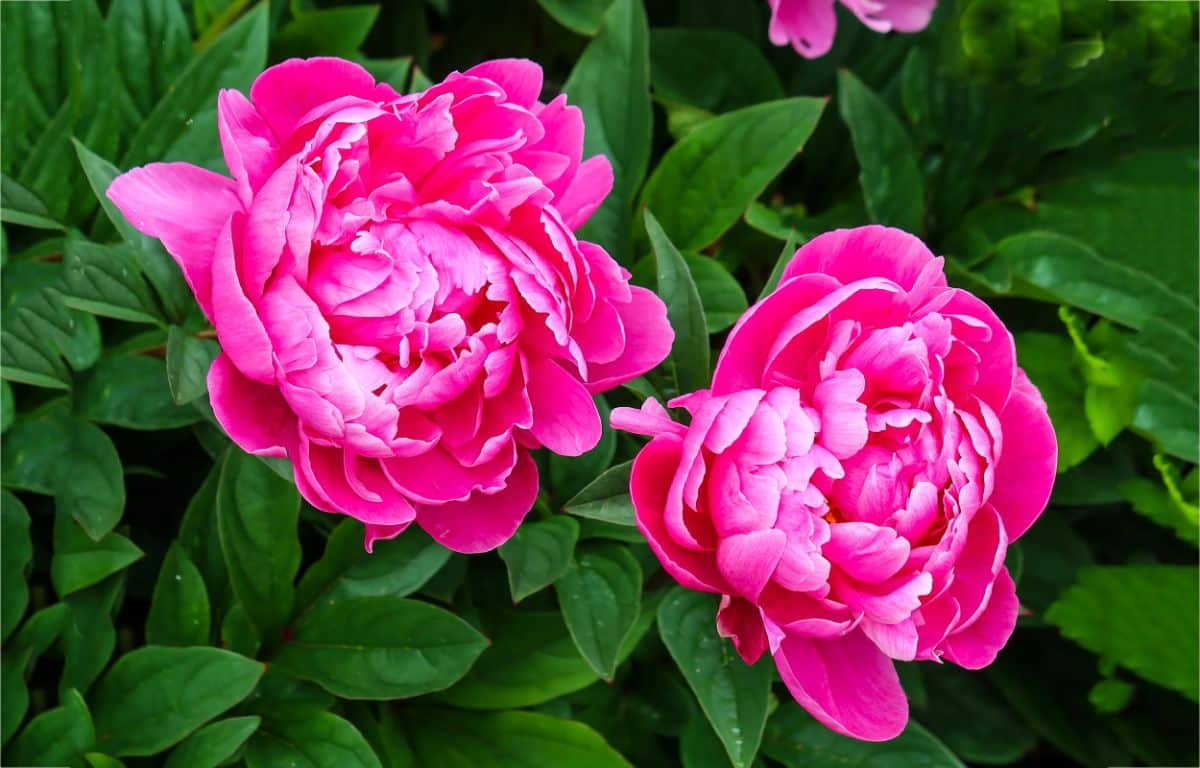 Peonies are dependable, trouble-free and very self-reliant.
This perennial flower is one you would find super easy to grow and maintain. They bloom every year unfailingly and, during this period, release massive production of large flowers in a variety of colors like white, red, coral, pink, and cream, with some even spotting double colors.
Peonies are hardy to zones 3 - 8. They have the potential of growing up to 3 ft tall and spread as wide as 3ft too.
They are best grown using well-moist and drained soil under full sun to part shade conditions.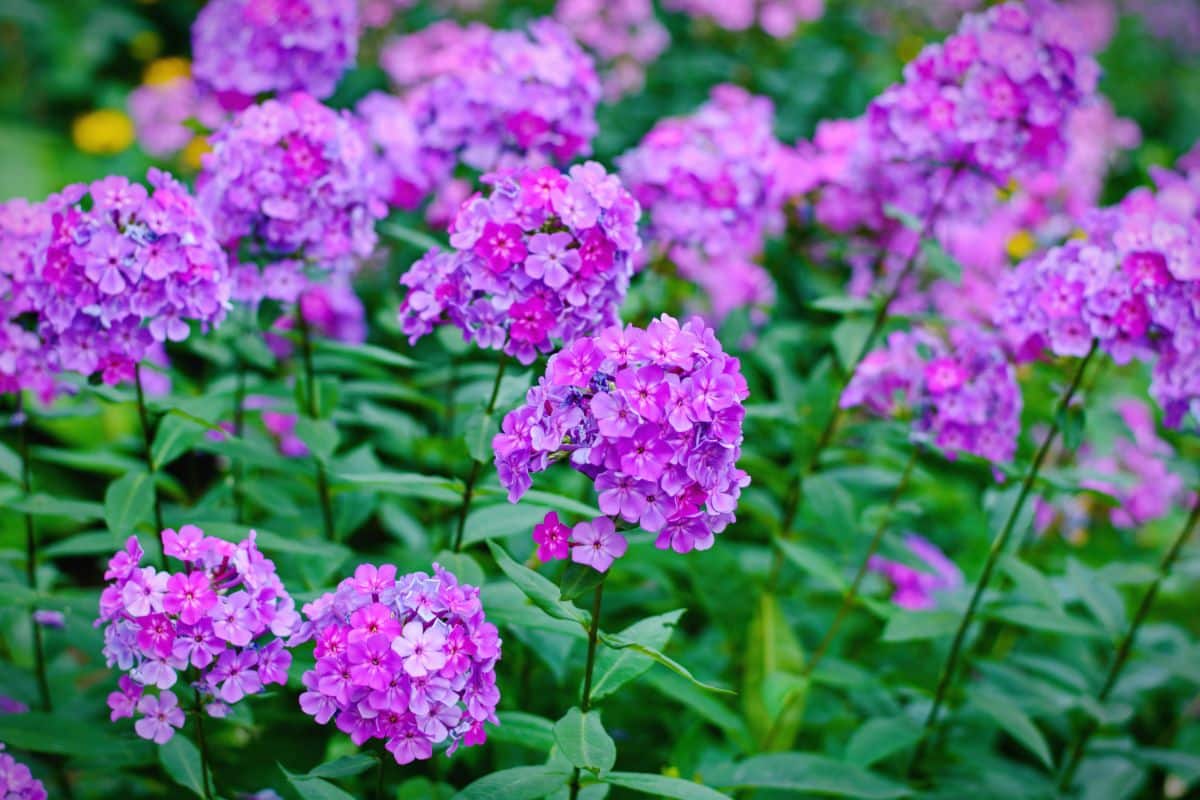 The garden Phlox boasts of having colorful as well as lovely scenting flowers. Little wonder why hummingbirds get so attracted to it.
When it blooms, which usually begins mid-summer, it spots flowers in a range of exciting colors ranging from white, pink, rose, orange, purple and some bicolored.
Phlox has the potential to grow as tall as 4 ft with a maximum spread of 3ft. They require ample sunlight as well as air to grow right.
Using well-moist and well-drained soil, full sun to part shade will see them thrive.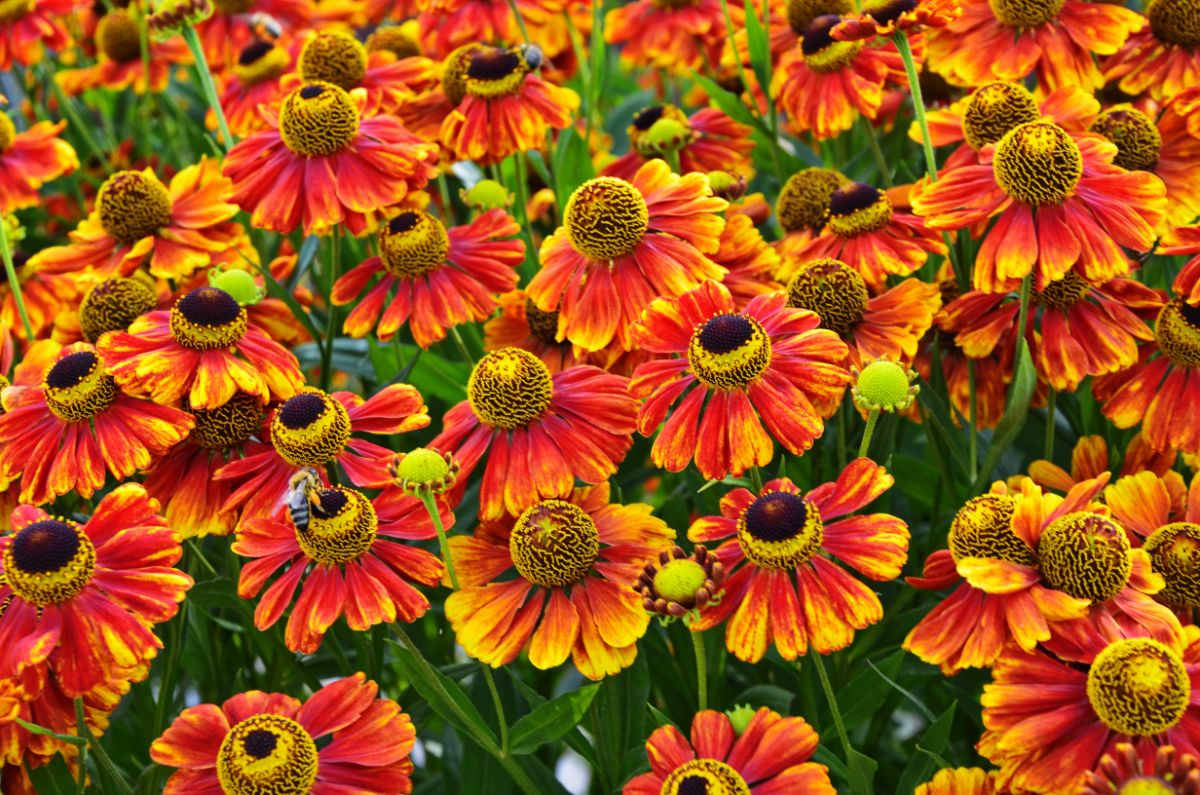 Perfect for a Summer or Fall garden. During these seasons, they get overridden with orange, red, yellow, and bicolored daisy-like blooms.
They attract butterflies in their thousands and other pollinators.
Helenium grows best under ample sunlight in well-drained soil. They are hardy to zones 3 - 8 and have the tendency to get as tall as 5ft and spread as wide as 3ft.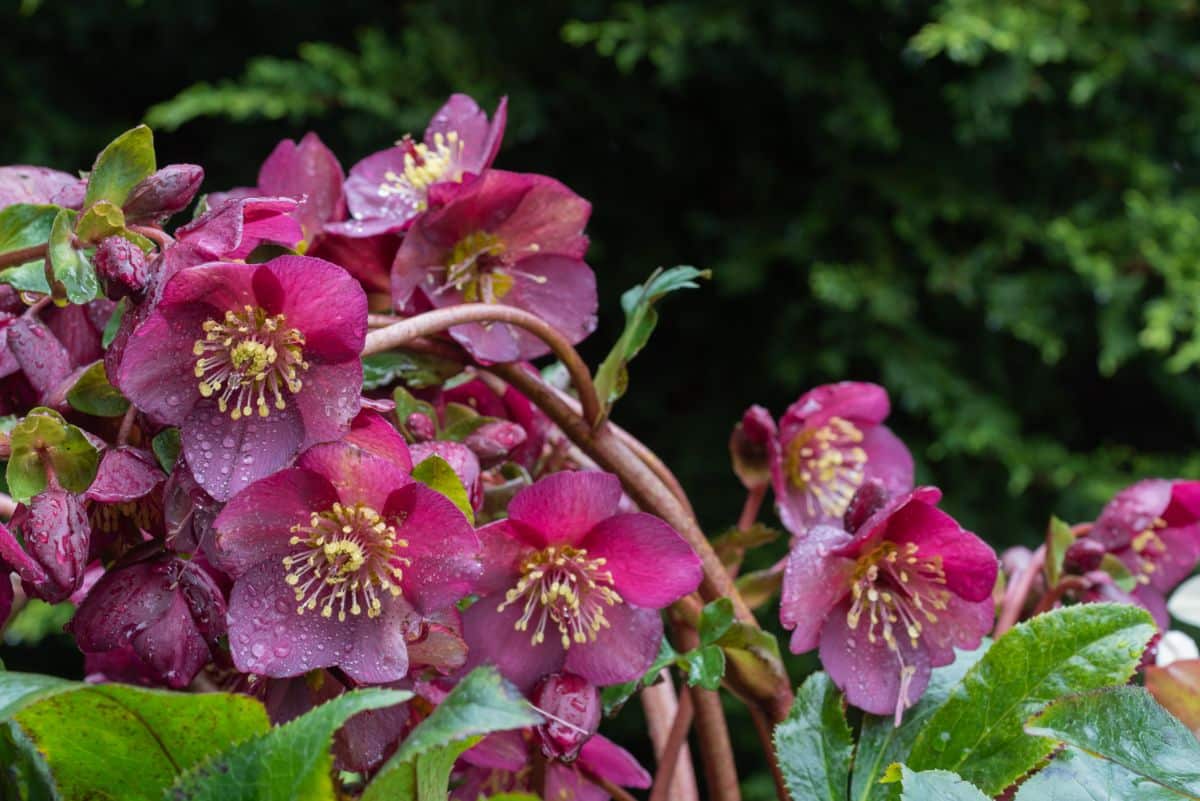 The Hellebore must be part of this list of low-maintenance perennial flowers to grow.
It is popularly called 'Lenten Rose', a name that stuck due to its bloom timing. The Hellebore would begin its bloom season in late winter, and that would be sustained well into the Spring season.
Its flowers can best be described as one shaped like a cup. They are rose-looking flowers with very conspicuous stamens in the middle.
It is a very sturdy plant, hardy from zones 4 - 9 and would survive drought well.
Hellebore is not edible; its leaves are considered poisonous, so care should be taken for it not to be ingested by kids or pets.
The hellebore can actually grow 18 inches tall and wide. It is best to grow them under full shade to part shade in well-drained soil.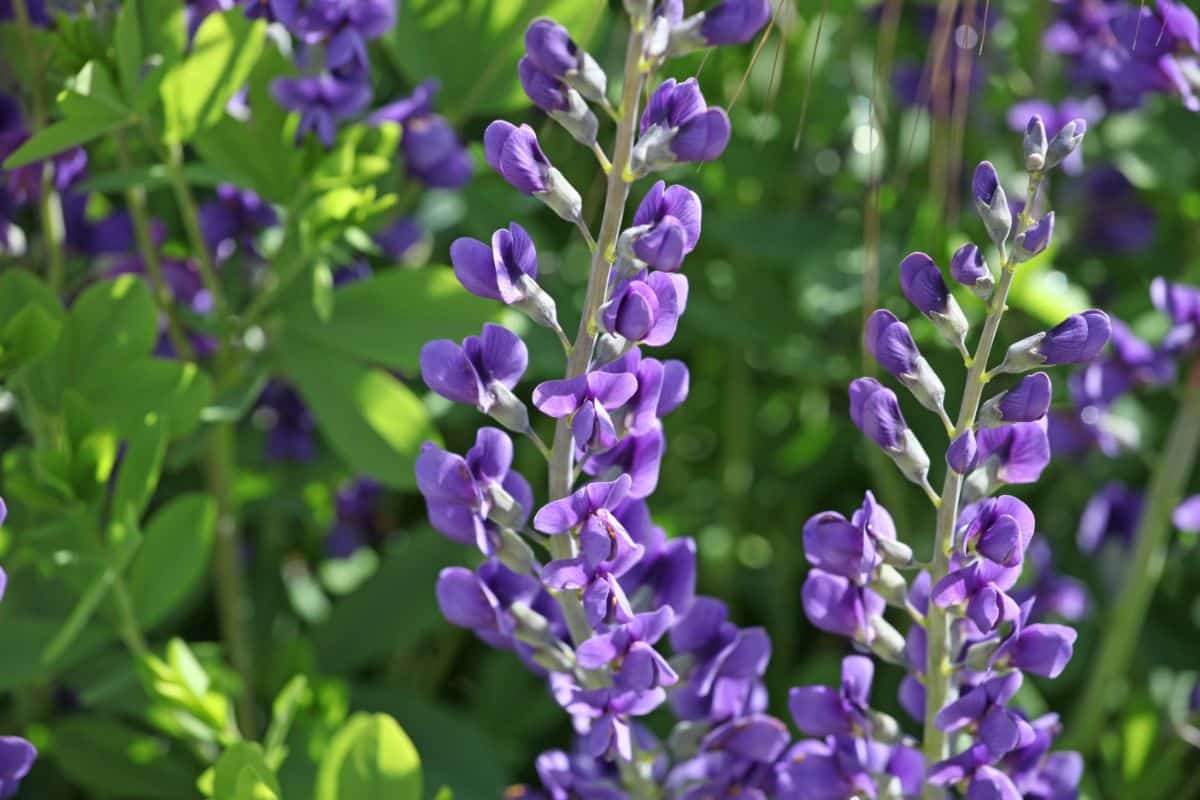 Every Spring, the Baptisia comes alive with beautiful blue, yellow and purple spikes.
In the days of old, this perennial plant was used by early American colonists to produce natural dyes.
This is where it got the name; 'False Indigo'. You will find the Baptisia bloom every year without fail, at the same spot for years and even decades!
It requires full sun and part shade, with soil requirement being one that is dry and well drained.
They are hardy to zones 3 - 9 and can get up to 4ft tall and wide.
A downside of this plant, though, is its slow growth process; therefore, getting the biggest plants you can find is advised.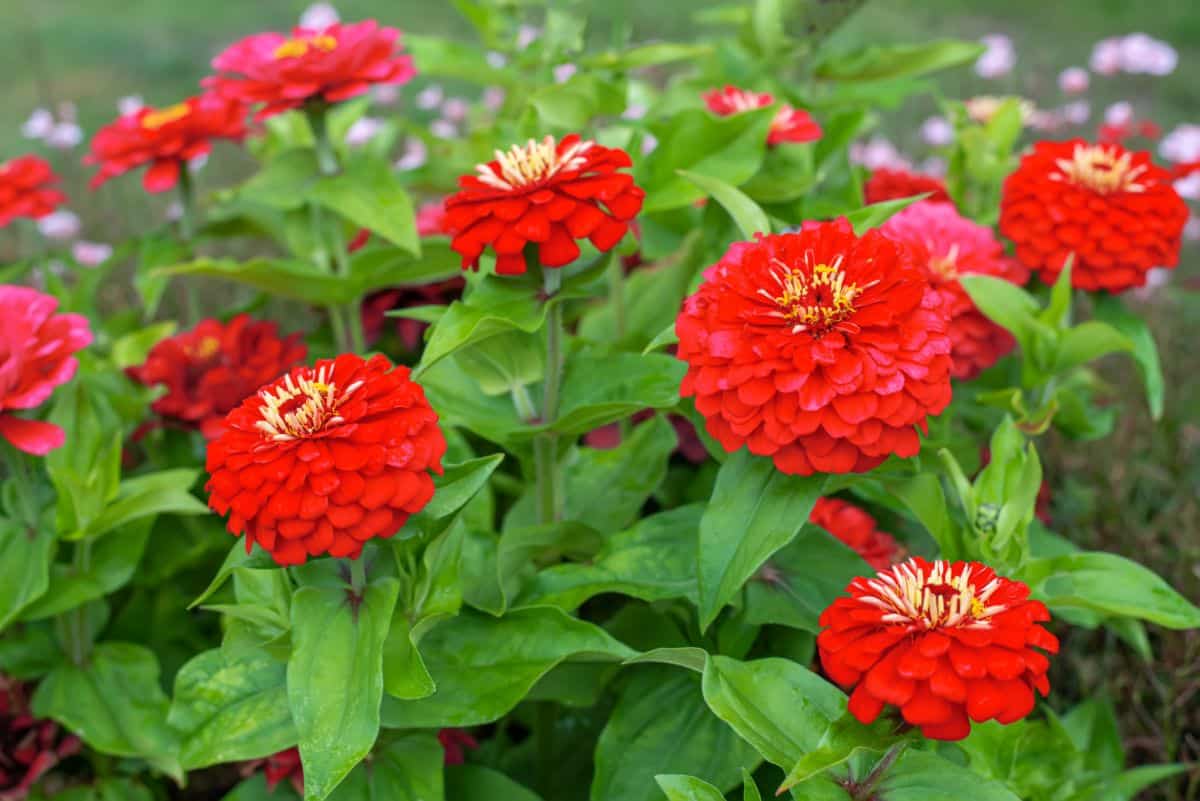 Zinnia's were first grown in Mexico. They are extremely beautiful plants that thrive best when grown under a very warm climate.
They come in two main variants; the dwarf one that has the capacity of growing only as tall as 8 inches, then there is the classic Zinna that can get up to 4 ft tall.
This means that you have the chance to choose the one which best suits your garden's needs.
Maintaining the Zinna flower entails ensuring that its leaves are kept dry and grow under full sunlight.
Zinna roots prefer well-drained soil; else, you will notice a powdery form of mildew when moist soil is used.
Their bloom season? Summer and sustains till the start of the Fall season.
How To Grow And Care For Low Maintenance Perennial Flowers
There is a thin line between growing and caring for perennial flowers and doing the same for low-maintenance perennial flowers.
The difference lies in the unique techniques you employ to ensure you do not expend too much of your time and resources on maintaining them.
What are you to do differently?
Read on to discover simple low-budget tips and tricks you can adopt to ensure you grow and care for your low-maintenance perennial flowers the right way.
Watering Needs
Your perennial flowers require timely and consistent watering, but we want to ensure you do it in a way that would reduce the waste of water and be convenient for you
The option available to you is to put in place an Automatic Watering System or Drip Irrigation. This would be perfect for your plants as they would be watered at the root level, which serves them better as opposed to the use of Sprinkler Systems.
Besides the fact that sprinkler systems lead to a massive waste of water, they still will not do the job as effectively as drip irrigation or automatic watering system.
With sprinklers, watering is done from above, which makes the leaves wet and susceptible to pests and diseases.
You would find this tip particularly useful if you pay for your own water supply.
Mulching Appropriately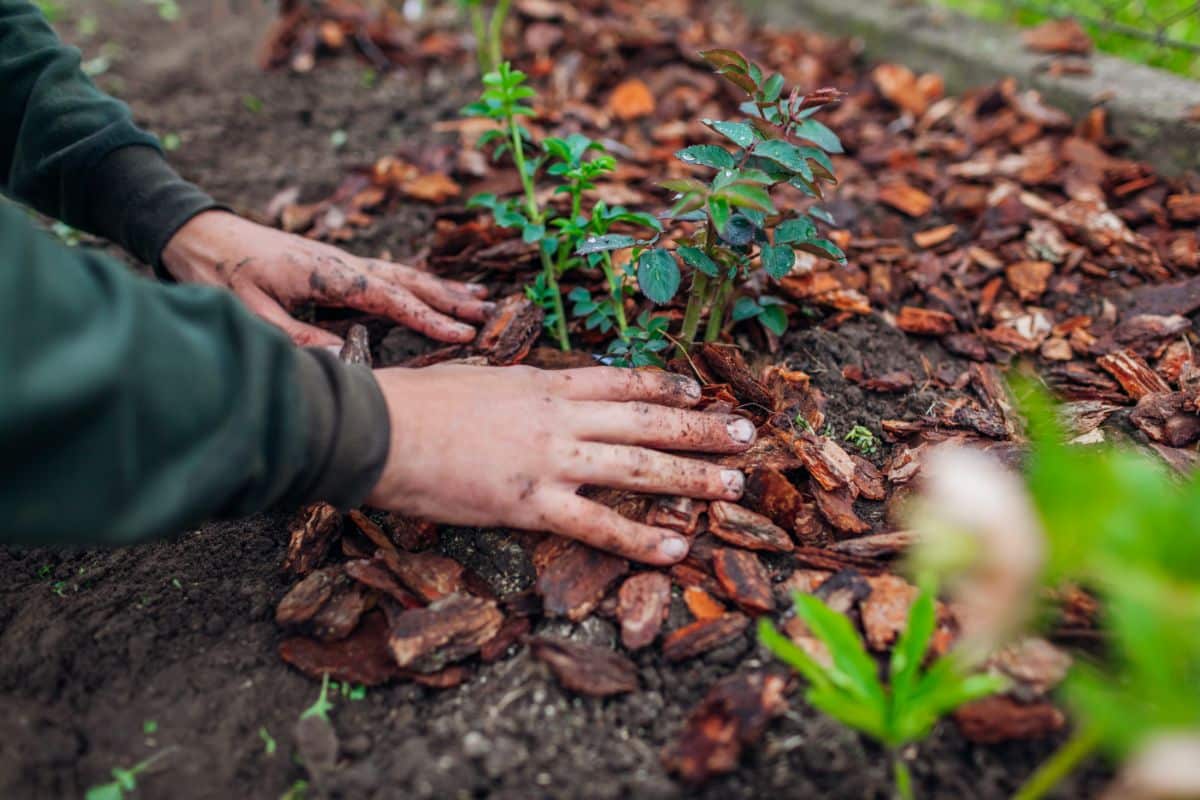 The essence of mulching is to prevent and drastically reduce weeds in the garden and encourage water retention.
Mulching should be skillfully done around the plants. The effective way of going around this is by putting in place a 3, or at the very least, 2-inch layer of mulching to decrease the speed of water evaporation.
What doing this implies is that you get to water your flowers less often and, in the long run, have more time to focus on other essential chores and save more money.
Planning Strategic Checks Of The Plants And Landscapes
Caring for your perennial flowers through periodic checks and observations is a necessity.
However, there is a way to go about it in a way that would not be too time-consuming. This can be achieved by planning weekly checks on the plants.
What will these checks entail?
It will be an all-encompassing one from walking around to observe the leaves while watching out for pests at the same time to, in fact, a general observation to notice any anomalies in their growth pattern.
These checks would not take much of your time and will also help you notice issues on time.
You should know that early detection of problems is a vital aspect of low-maintenance gardening as it would be easier to tackle issues on time than those left to linger on for a long while.
Frequently Asked Questions
What kind of perennial flowers can be classified as 'easy care?'
Easy care perennial flowers are basically the classics. Those that are reliable, problem-free and sturdy. They can thrive in diverse growing conditions yet, find themselves returning the next season.
Some perennial flowers that fall into this category are the Sedums, Black Eyed Susan, Peony, Daylilies, Salvia etc.
You might want to begin your gardening project with this set of easy-care perennials.
Are Geraniums low-maintenance plants?
Absolutely. When well established, the geraniums become very independent and reliable. They can resist drought, deer and other unpleasant growing conditions.
To get them well established, do well to plant them in full sun and part shade.
Conclusion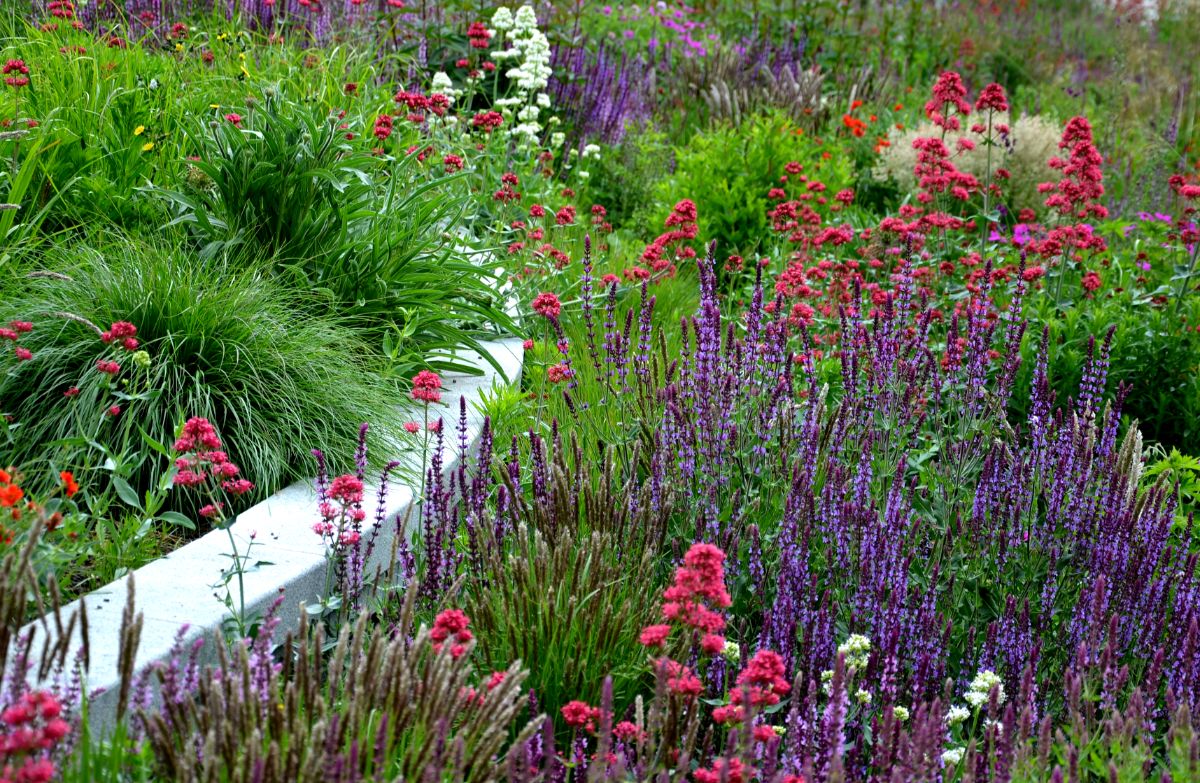 Perennial flowers comprise hundreds of species. However, the focus of this article is on low-maintenance ones.
Low maintenance, in this case, refers to those perennial plants that can somewhat thrive unsupervised without requiring too much of your time, energy or resources.
We understand that most people appreciate and crave the beauty of flowers and the positive effect it has on us, but not everyone has the blueprint on how to keep these plants growing healthy.
You will find this article particularly useful if you are new to gardening, as we have an outline of the best low-maintenance perennial flowers with the best methods of growing and caring for them.
You really do not have any excuse not to beautify your garden space, and these perennial flowers are just the ones to get you started on the right footing.