If you want more space to store your macramé cords or display your recent vacation souvenirs, you can create your own stunning boho-chic macramé shelf and show off every one of your favorite items in style.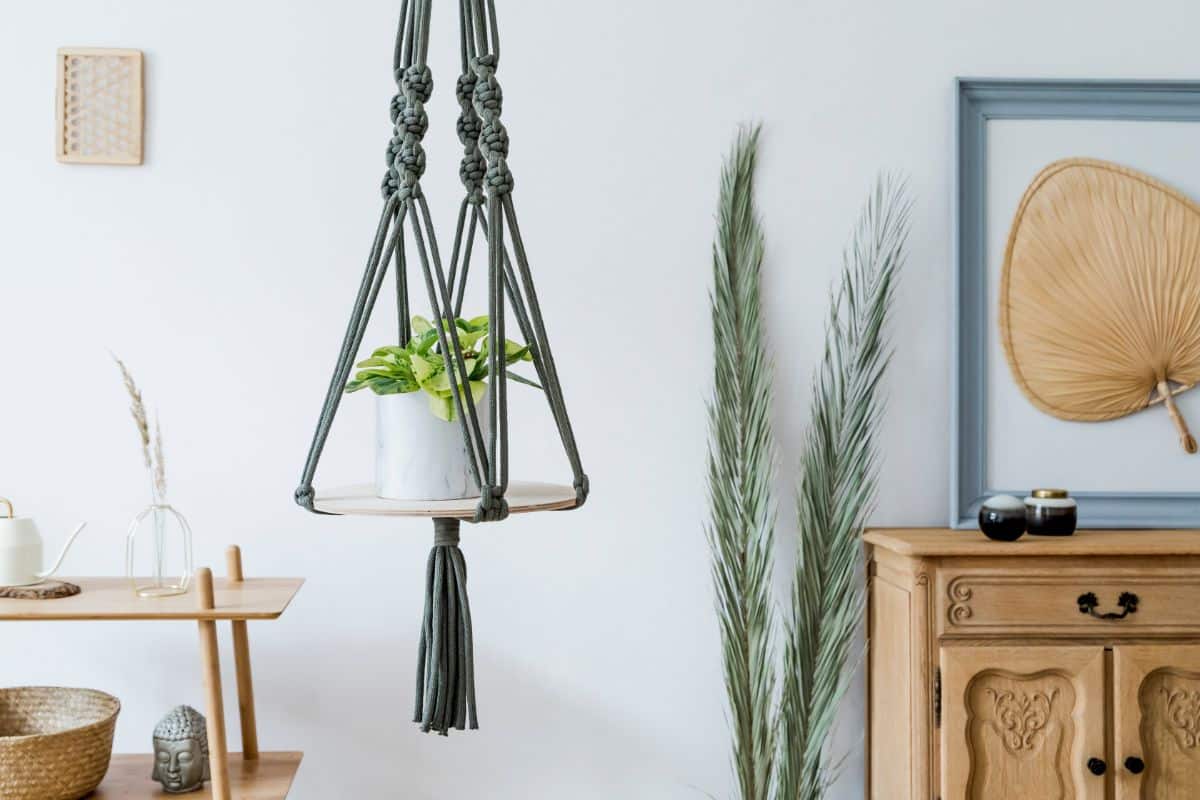 This article will teach you how to create your own handy macramé shelf through our motivational beginner-friendly macramé shelves DIY tutorials.
Several shelves are available in local hardware stores around you, which will help with your hole drilling on request with the required measurement. However, to build your Shelf, you can meet our featured macramé teachers and follow their best macramé shelves DIY tutorial videos.
Jump to:
Basic Materials for the Macrame Shelves DIY Tutorials
If you want to make a macramé shelf, every material you need to succeed must be readily available.
You will need some sturdy 5mm Macrame cords (but based on the tutorial you are following), a wooden dowel, a wooden ring, and one or two wooden shelves with holes already drilled in them.
Best Macrame Shelves DIY Tutorials
Check out some of our best-highlighted tutorials on macramé shelves DIY;
1. Simple Macrame Shelf
If you want a new project that is very affordable, you can make this lovely and inventive DIY macramé hanging Shelf with dollar store products.
Common materials include picture frames of any size, vinyl contact paper, Jenga toy wood blocks, yarn, wooden dowels, mini glass jars, more giant glass jars, brown craft twine, and paint.
Other items include scissors, hot glue, paintbrushes, and natural or artificial plants (optional). After getting these materials ready, you can proceed with crafting this stunning hanging Shelf by first crafting the picture frame, then taking out the glass and covering it with any contact paper before putting it aside.
2. Easy DIY Macrame Beginner Shelf
Just as its name suggests, the easy DIY macramé beginner shelf is very straightforward if you follow the guidelines below;
1. Fold your eight cords of 5 meters/197 inches in half and drag them evenly through the wooden ring. Create a Gathering Knot.
2. The tray hanger features four parts for which the pattern repeats. Choose four cords close to each other and create 20 Spiral Knots.
3. Skip 15 cm/6 inches and create 3 Switch Knots.
4. Skip 15 cm/6 inches and create 20 Spiral Knots.
5. Skip 15 cm/6 inches (or more if you like more space or have extra cord remaining) and create 10 Square Knots. Repeat Steps 2, 3, and 4 for each part.
6. Fit your tray and create another Gathering Knot. Remove all excess cords and make a fringe if you like!
3. Triple Macrame Shelf for Beginners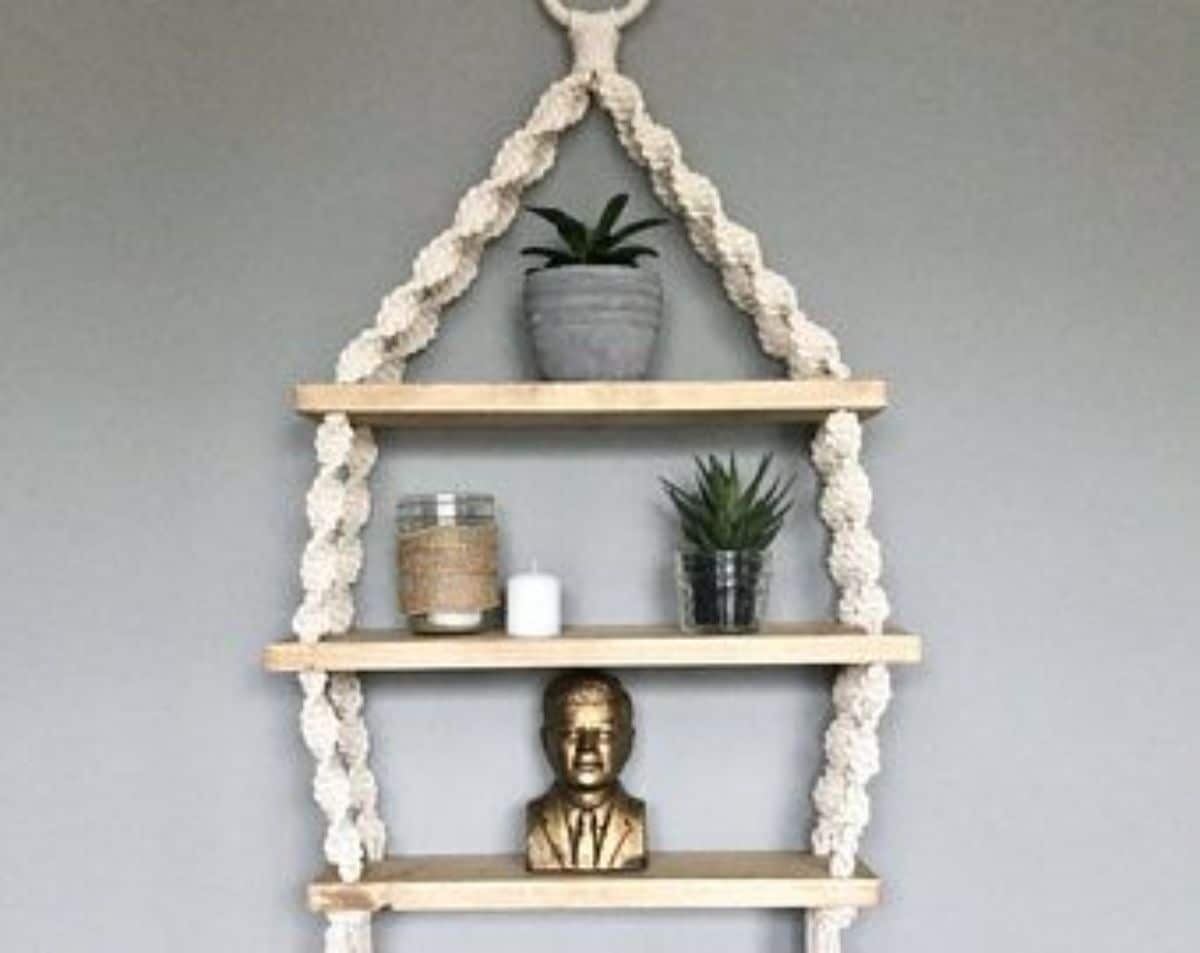 One of the best tutorials to learn how to make macramé shelves is a triple macramé shelf for beginners where you will make a 3-tier selection.
It is considered the very best in terms of uniqueness or custom. It is a 31Mod Macrame Wall hanging Shelf with enhanced solid wood shelves and handmade macramé to organize plants and décor.
Thanks to this tutorial, you can upgrade your Shelf to give your room a boho décor. You can place them in your bedroom, kitchen, living room, or any good spot that can make it look excellent with a macramé hanging shelf display, perfect for plants, books, or pictures.
4. DIY Macrame Wall Hanging Shelf
Follow the Instructables to take you through a step-by-step tutorial on making a DIY macramé wall hanging Shelf. Others who have subscribed to them have gained a lot of experience making bags, rugs, and fish wall hangings.
This exercise requires a piece of wood, a macramé cord, scissors, and a wooden dowel. You can make the end straps of the wall hanging with Lark's Head Knots, prepare the body of the wall hanging, and tie 24 pieces of rope (each measuring 200") onto the middle of the dowel with Lark's Head Knots.
The next step is to treat the body like three parts, left, middle, and right (this tutorial will guide you on how to do it). Then, move over to the center & right parts by duplicating step 3. Proceed to the finishing touches by creating a final horizontal row of 8 basic knots spaced evenly apart below the last two beads.
5. DIY Boho Macrame Shelf
If you want a macramé pattern for vintage macramé hanging shelving, you can learn how to make it yourself by following the DIY Boho Macrame Shelf guidelines to create your design as it is laid down.
This Shelf is a lovely macramé wall hanging double Shelf featuring a beautiful pattern made of 100% pure natural cotton cord and complemented by a softer side weave detail.
This Shelf is a stylish shelf for your bedroom or living room, and the pattern perfectly suits boho and rustic interior decor. Thanks to this Shelf, you can show off your plants, candles, and other home décor to add a boho-chic element to your room. You can create your perfect size to suit some excellent items in your home.
6. Easy DIY Macrame Shelf for Beginners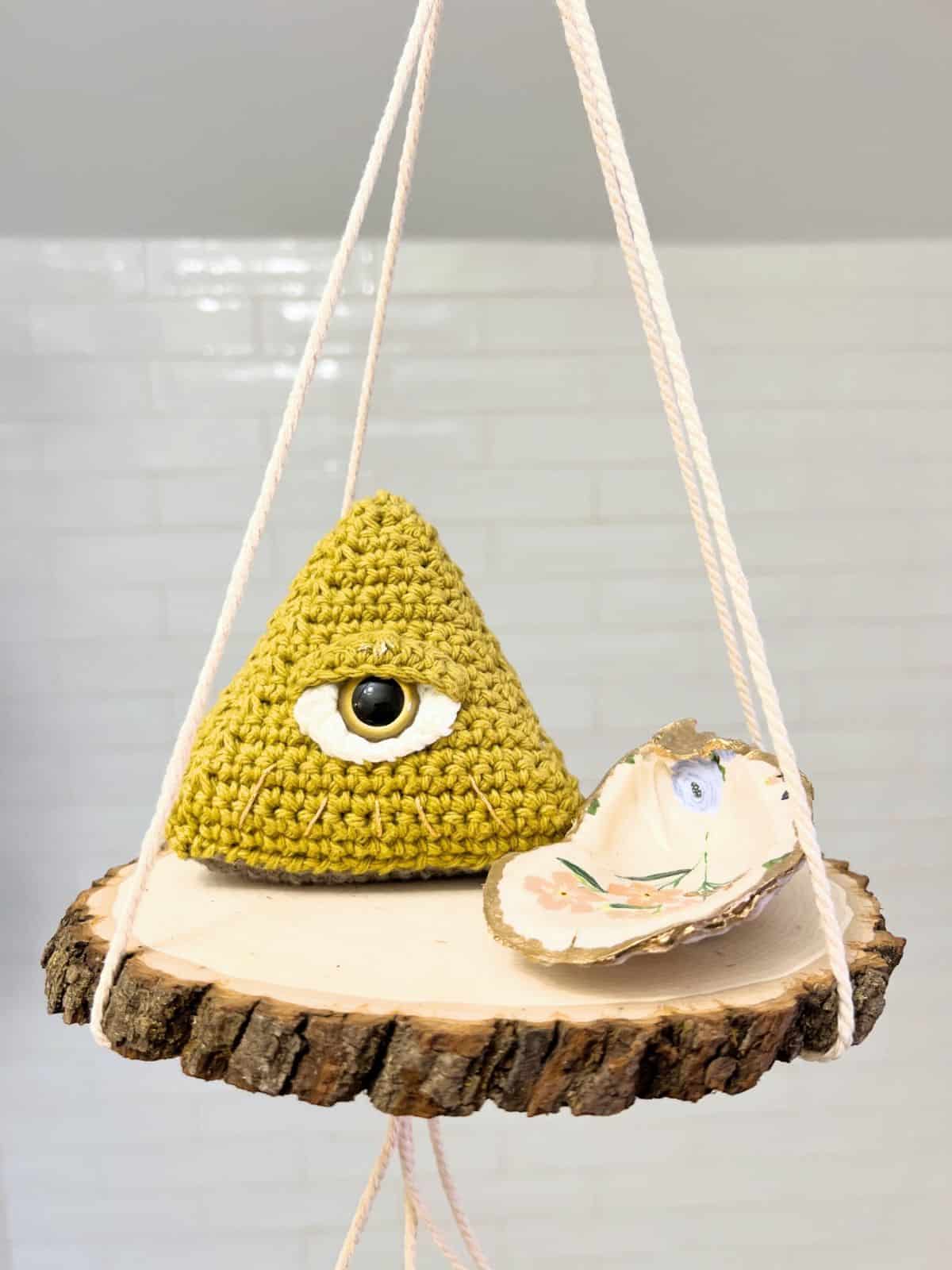 If you are a starter in DIY shelf-making, this tutorial is made especially for you. It will teach you how to craft a macramé shelf in a straightforward, no-frills method to add storage space and a touch of boho-chic to your indoor environs. Luckily, you will not need any material or sewing on this one.
7. Easy DIY Macrame Shelf Tutorial
Get the materials below ready as you take part as you tune in to this tutorial to learn how to make an easy DIY macramé shelf tutorial yourself. Materials include; 3 x 16 inches. Three-string macrame rope, at least 10 yards, 9 x 15 in. wooden board, holes punched in every corner, one wood ring.
If you can't make macramé patterns for yourself, you can follow this great tutorial from Soulful Nations (while this is a tutorial for a plant hanger, the general idea still applies). The steps below offer a brief hint of what their easy tutorial is all about.
1. Measure your cord
2. Begin with a lark's head
3. Make a whipping knot by gathering every cord together, cutting off another macramé cord, and folding the end in two. Place it under your base knots, ensuring that the shorter end remains upward. Warp the longer end around the gathered cords, and thread it to the looped end. Drag both ends until everything is smooth and tight.
4. Start to tie more macramé knots.
5. Slip on the wooden Shelf
6. Customize and hang it where you are prepared to place the Shelf and arrange the things you want to put in there.
8. Basic DIY Macrame Hanging Shelf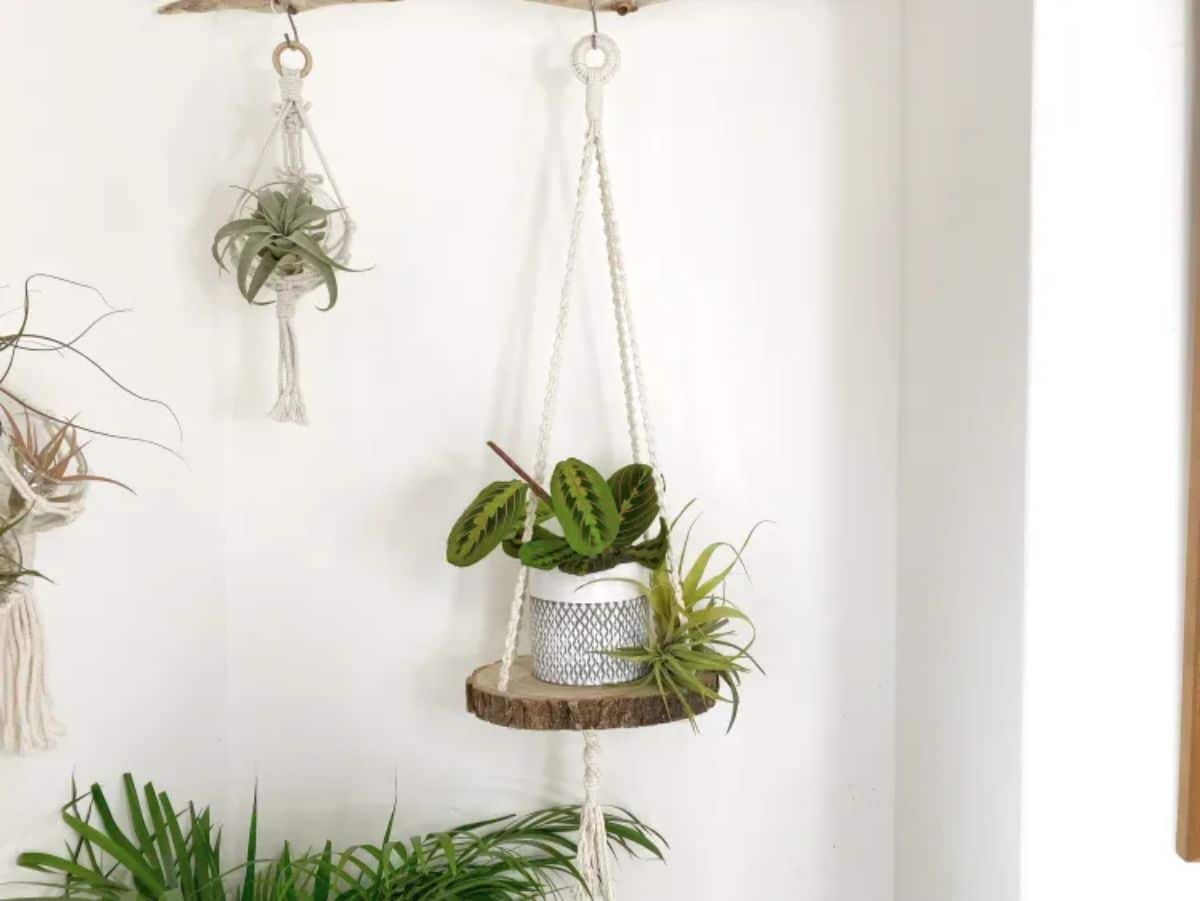 If you can't afford or are not interested in purchasing a macramé shelf, you have nothing to worry about, as the basic DIY macramé hanging shelf tutorial will teach you how to make it yourself. It is a perfect tutorial for beginners and crafters. The videos and PDFs are all available in online stores.
You can use any of these knots; wrapping knot, half hitch knot, or half square knot, and materials required include; 18m 3mm cotton rope (twisted).
The DIY kit contains approx 20m, cut 1 x 1m – wrapping knot, cut 4 x 4m – working cords, cut 1 x 2m – spiral knot, 1 x wooden ring (32cm oval shape used here), 1 x wooden log slice (4 holes to be drilled, approx. 5-8mm thick).
9. DIY Affordable Macrame Shelf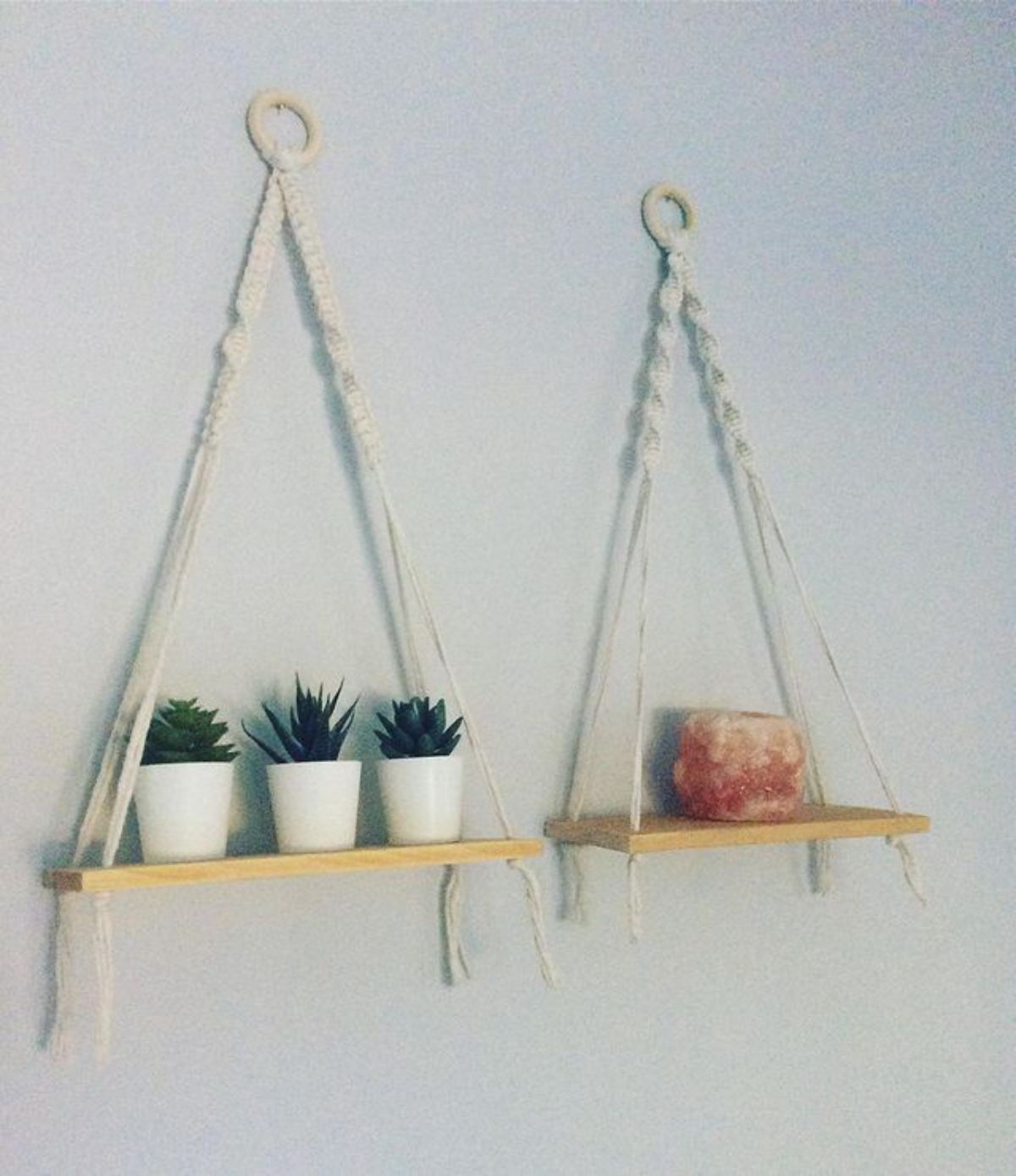 If you want to get started with DIY and you're looking for a straightforward project, or you want to add some more function and storage to your home, you can spend your weekend making a DIY shelf. Another exciting thing about this project is that you can customize it to suit your indoor space, either in size or pattern.
Again, this project is called DIY affordable macramé shelf because you can make it at less cost. You only need to purchase lumber and cut it down to the length you want your shelves to be.
Sand it down using 120, 180, and 220 grit sandpaper, and then stain and seal it to get your desired effect. After it has dried up, your Shelf is ready for hanging up using some brackets that drill into your wall and them.
10. Mini Macrame Shelf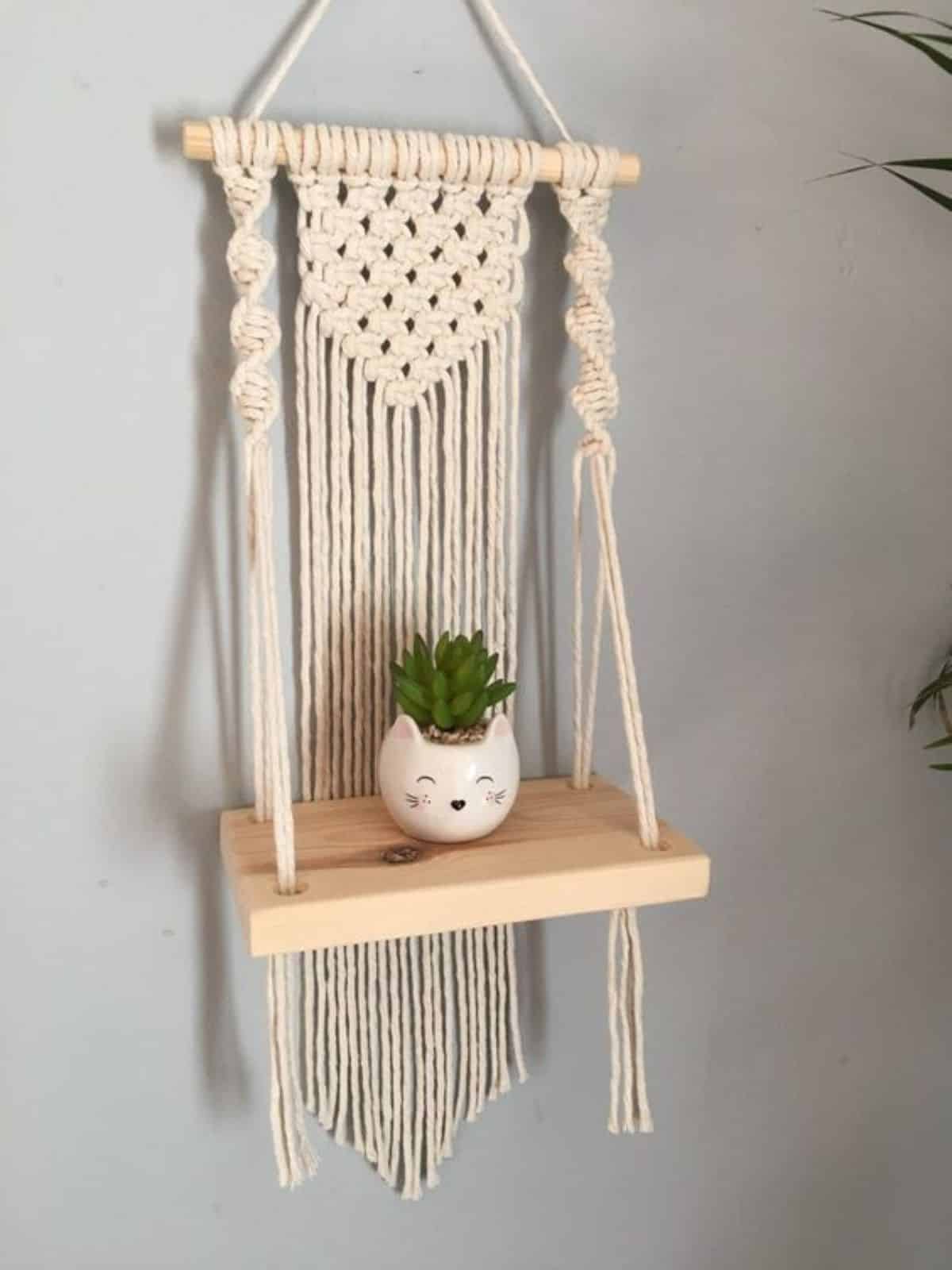 Get your tools ready to participate in one of the best and easiest macramé shelf-making projects, created in the shade CORAL. It is a small-sized macramé shelf that is perfect for one plant pot and to show small-sized show pieces. It is ideal for living rooms, entryways, and any area that requires some texture to the walls or statement pieces to admire.
Conclusion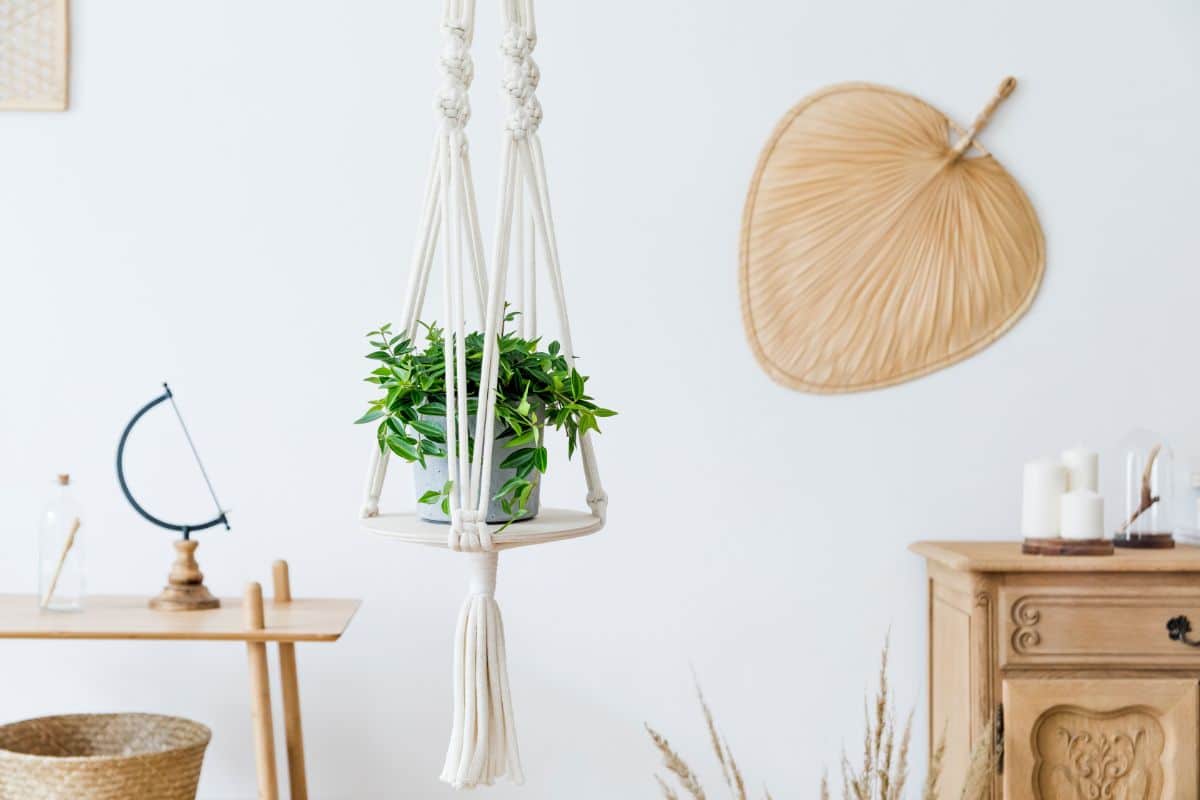 There you go!!! There's nothing wrong with saving money by buying macramé shelves and learning how to make them for yourself. In fact!
You can become a professional in making macramé shelves by following some of the best macramé shelves DIY tutorials we have highlighted. You can watch the videos for more precise practice. Happy Crafting!!!