Moses in the cradle is quite a popular plant. If you do not know it by this name, there is a possibility that you do by other aliases that it goes by, like; 'Moses in a basket,' Moses-in-the bullrushes, boat lily, or oyster plant.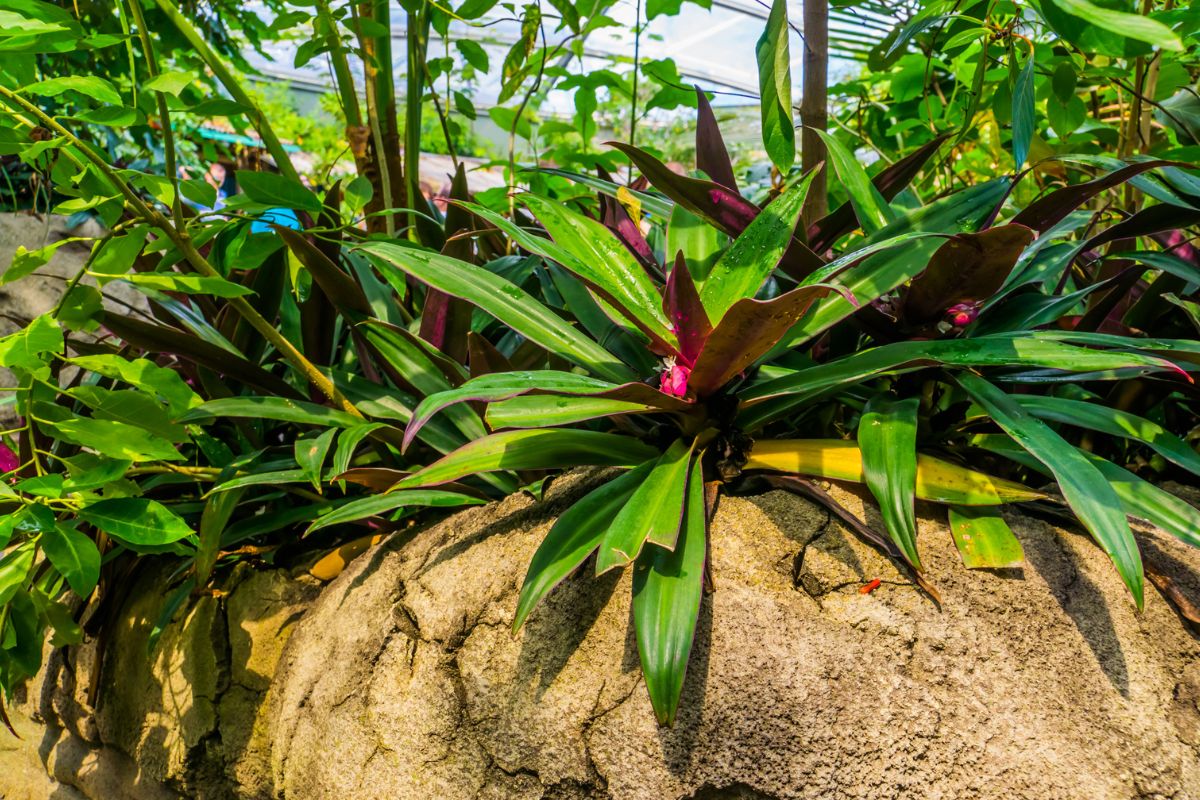 Its botanical name is 'Tradescantia Spathacea.'This native Mexican and Central American plant is known for its distinct lance-shaped leaves colored dark green with purple-red underneath.
Moses in the cradle is adored chiefly because of how sturdy they are. They only need moderate access to water to take on the world, surviving the most unpleasant conditions. Water the plants timely and accurately to prevent the root from rotting.
This article gives you a detailed Moses in the cradle growing guide that will teach you how to grow and care for the plant.
Jump to:
Moses In The Cradle Plant Growing Guide
| | |
| --- | --- |
| Common Names | The oyster plant, Moses-in-the-cradle, boat lily, Moses in a basket, and Moses-in-the-bulrushes |
| Scientific Name | Tradescantia spathacea |
| Family | Commelinaceae family |
| Plant Type | Semi-succulent |
| Mature Size | 12 Inches tall |
| Sun Exposure | Bright indirect sunlight |
| Soil Type | Moist, well-drained, and acidic soil |
| Soil pH | acidic (pH 5 to 6) soil |
| Leaf Color | Dark-green |
| Flower Color | White flowers |
| Hardiness Zones | 8b |
| Native Area | Mexico and South America |
| Toxicity | Considered toxic to humans and pets. |
The Moses in the cradle plant is straightforward to grow and maintain. Additionally, they produce very fast as long as they enjoy sufficient sunlight daily.
Knowing how to care for and nurture your plant is a step in the right direction to growing them hassle-free.
Please find below the different requirements of the plant that altogether helps it thrive.
Watering Requirements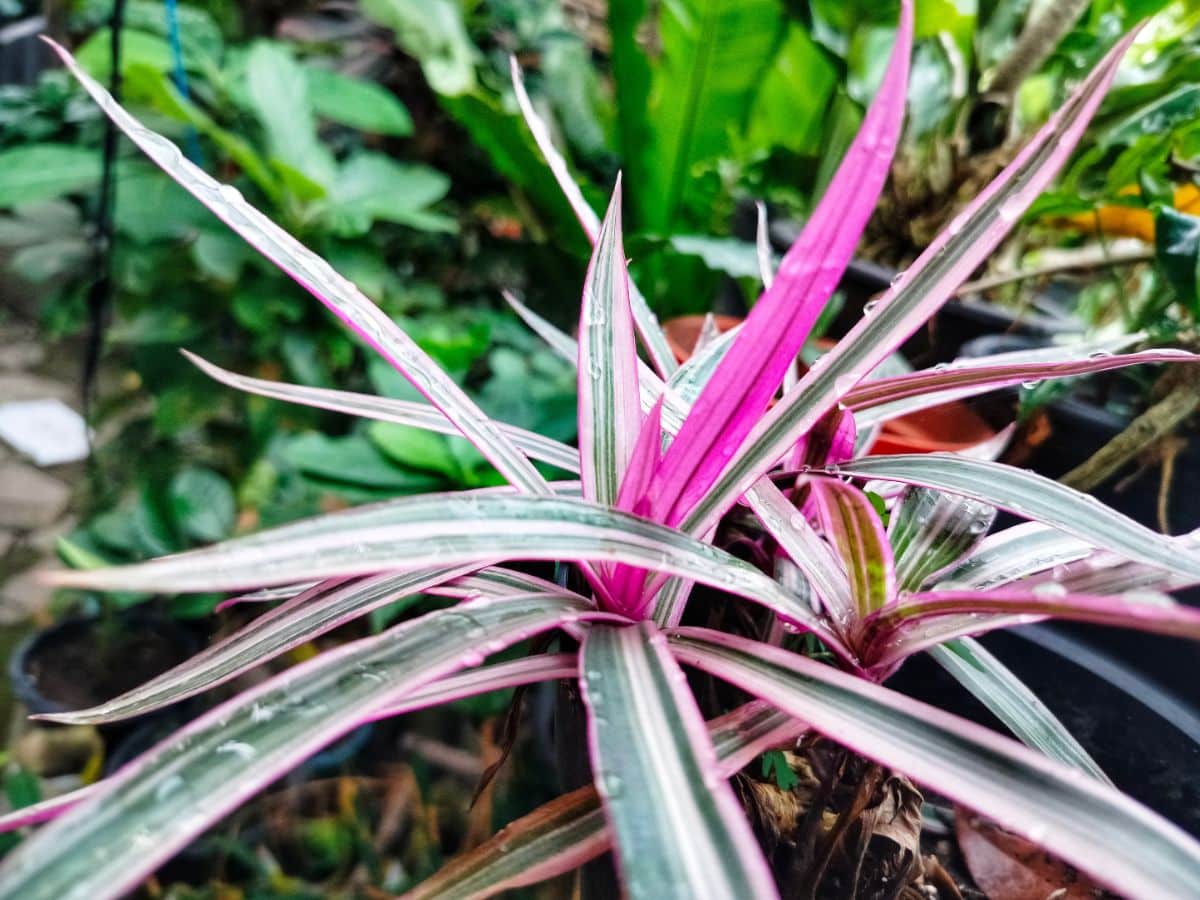 Having Moses in the cradle watered right requires some technique. It is done strategically and not spontaneously.
Most people are habitually watering their plants periodically, but this plant requires a different approach. The plants are only watered as soon as the first two inches of soil dry.
It is also not advised to go with the "water mildly but frequently" style. The reason is simple; sparse watering is not likely to get to deep-seated roots. They would instead go on to foster problems for you by promoting the growth of fungus gnats.
The best practice would be to water the plant sufficiently and leave it to drain. When you observe that growth has been reduced like during winter seasons, ensure that the soil is kept dry.
Soil Requirements
The trick to getting the soil right when growing the Moses in the cradle plant is to use light soil that is capable of keeping in moisture and, at the same time, drains out water fast.
Sounds complicated? We know, right? However, we will let you know how you can go about it.
The technique combines peat moss and perlite, mixing the same amount of both to form a potty mix solution.
Applying sand and organic matter is yet another way to achieve this seemingly complex soil requirement. Well-drained soil is just what your plant needs.
Fertilizer Application
Moses in the cradle plant is naturally a fast-growing plant, but all the conditions have to be met for its growth to happen unchecked.
As it grows, it requires consistent feeding, especially in the summer and spring seasons.
Fertilizer has to be a water-soluble one that will have to be diluted to reduce its strength by half. The application should be made monthly to make the right balance.
Care has to be taken to avoid overfeeding the plant. An overfed plant can lead to avoidable problems like the accumulation of minerals in the soil, which might, in turn, end up killing it.
Climate Requirements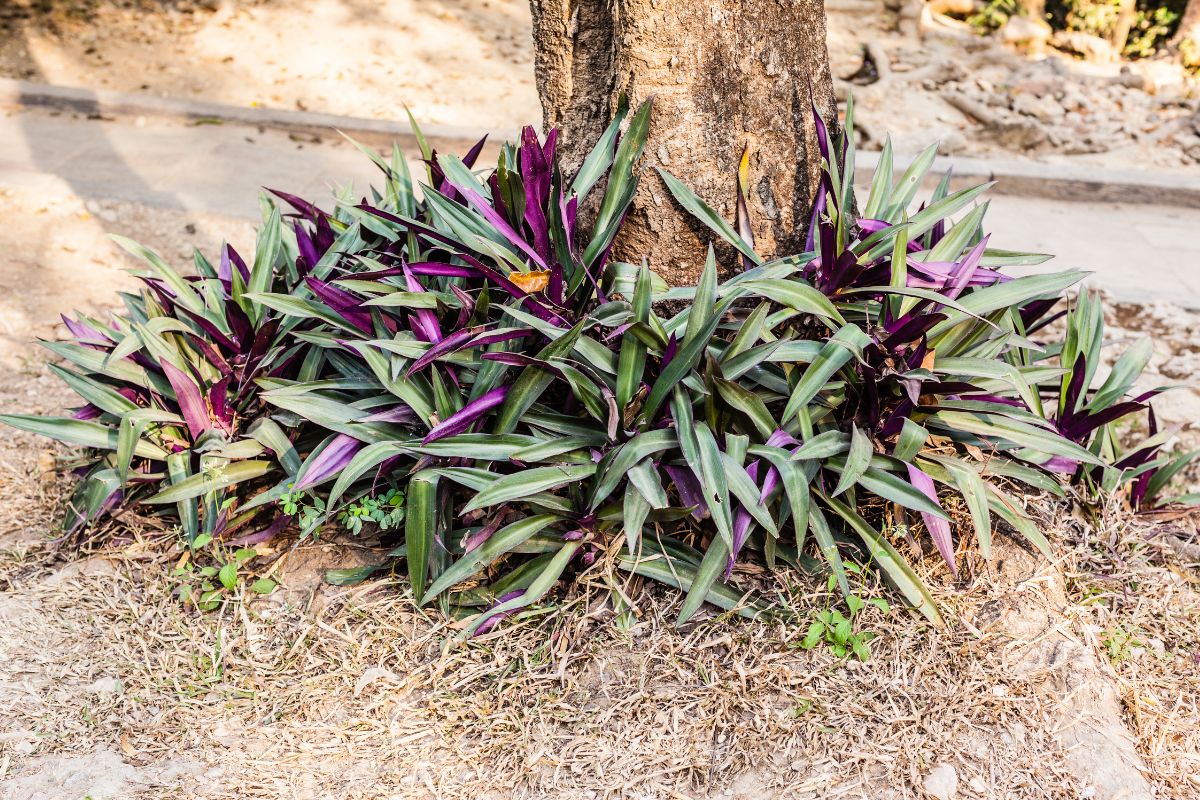 Moses in the cradle plant thrives better in temperate climates. They can be grown in USDA hardiness zones 9 - 11.
Temperature Requirement
Moses in the cradle plant does best under a temperature range of 60 - 85°F. What you will notice about this plant is that they do prefer cool temperatures at night time.
Light & Humidity Requirements
This is another crucial factor in growing the Moses in the cradle plant. This plant demands at least six hours of bright but indirect light.
Emphasis is laid on indirect sunlight as direct sunlight would scorch and ruin the plant. Partial sunlight is best for your plant.
If grown indoors, it is best placed a few feet away from the curtained windows, which bright light shines through.
The humidity level is best left at a medium of 40 - 45%. If you feel the need to increase the level of humidity, you can do that by misting the leaves or making use of a humidity tray. You will find some seasoned farmers use humidifiers.
The Moses in the cradle plant can tolerate some unfavorable light conditions but not without it having some undesirable effects on it.
For instance, it can tolerate low light conditions; its leaves will turn a green color instead of purple. It can also fare considerably well in temperatures above 55°F, but warmer temperatures of 60 - 80°F are best for it.
Quick Tip: You know your plant is getting dry air when its leaf tips go brown.
Pruning Requirement
The pruning of the plant is one factor that must not be overlooked. However, you need to know the systematic way of going about it.
Dead and decaying leaves will be trimmed to give the plant a neat outlook. Carefully pinch off growing tips to provide the plant with a bushy look.
Also, clean dust off leaves using a soft, damp cloth or run water over the plant to clean it.
When doing this, it is advised that you put on gloves to prevent any skin irritation, as the sap of this plant is toxic.
You should also keep sap away from the eyes and mouth as you prune.
Flowering Phase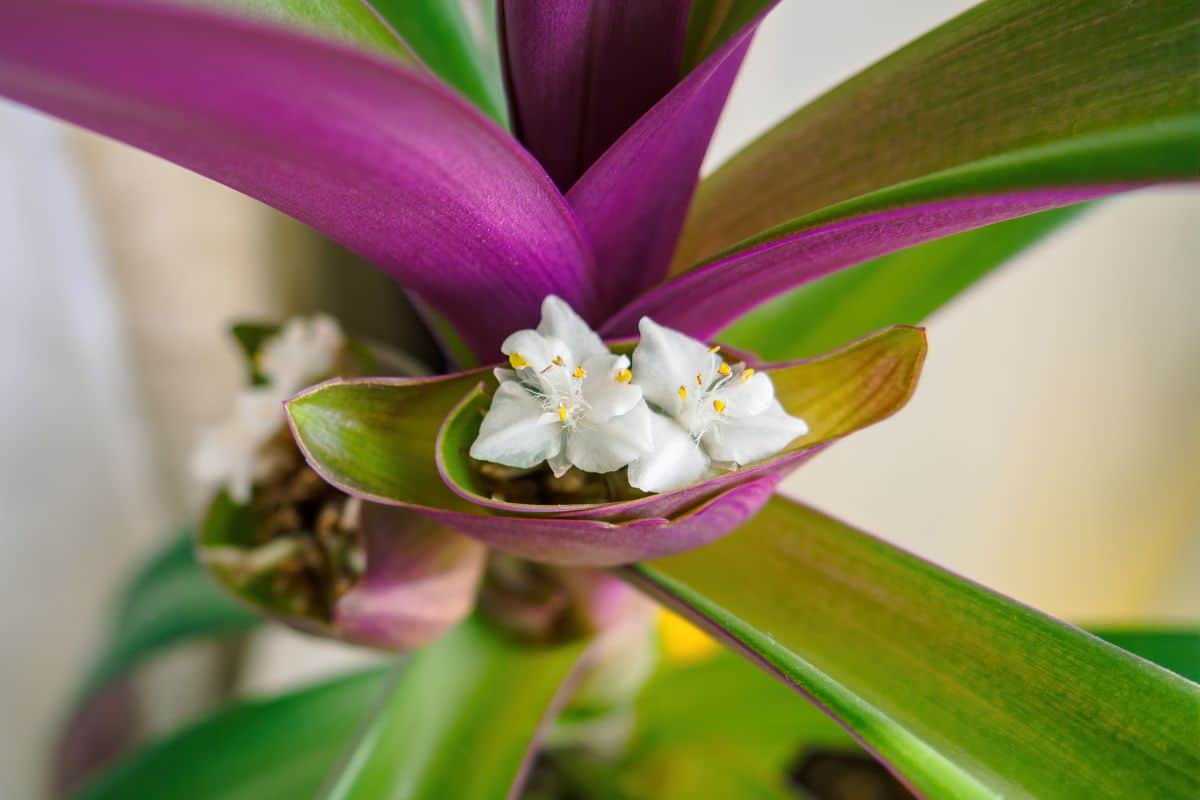 Moses in the cradle plant produces small, three-petaled whitish flowers strapped inside purple-colored boat-shaped spathes.
Propagation methods
Propagation is a thorough process. Its goal is to stay atop every unpleasant event in and around the plant.
Propagation can be done using the root division method, whereby you remove clumps of stems found at the root. During this process, you get to observe the plant for any sign of disease before transferring the cleaned-out divisions to the post.
There is also the stem cutting technique where you have a part of a healthy stem cut down by 4 inches before placing it in water. There, it is expected to grow roots which you can have transferred to medium soil.
In a nutshell, you can carry out propagation through root division, seeds, or stem cuttings.
Repotting Process
Springtime is best to have this plant transferred to a bigger pot. At this time, the roots would have started filling up the container, and they would naturally need a container that is a size bigger.
You might see the need to do this every two years or thereabout.
Your new containers should not be without drainage holes. You do not want a pot that would leave the roots soaked because that would ultimately lead to its rot. Drainage holes enable excess water to leak out.
It is also important to note that re-potting should be done using the next immediate size of the pot and nothing more significant.
Most Common Pests That Attack The Moses In The Cradle Plant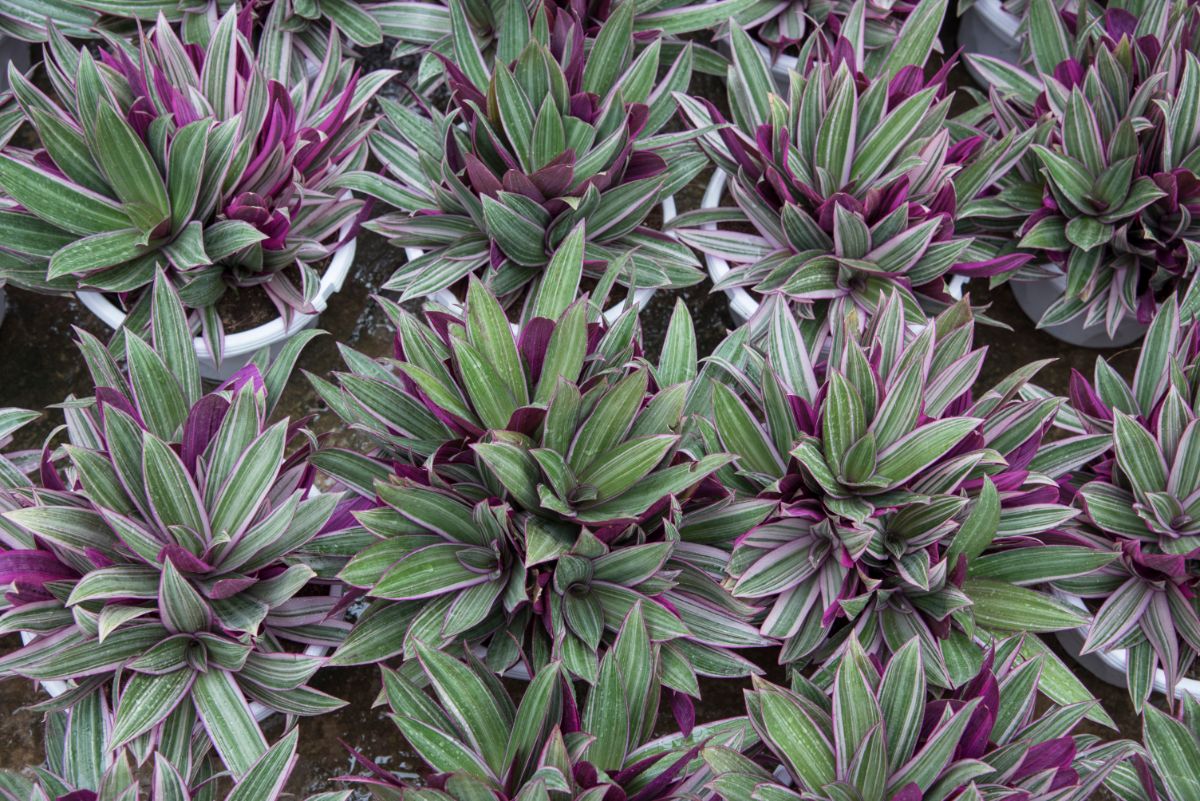 The most common pests the Moses in the cradle plant attracts are mealy bugs, aphids, spider mites, etc.
You can avoid feasting on your plant and inflicting them with diseases with the help of pesticides sprayed periodically or oily repellents to keep them away.
The most common diseases that they are plagued by are root rot disease and leaf spots which usually occur as a result of overwatering. The key to avoiding this is to keenly observe before watering. If plants are already moist, do not water.
The plants can also be hit by fungal infections now and then. What causes this might be too much humidity or overfrequent misting.
For sick plants, ensure to prune out ailing leaves to prevent them from reaching other parts.
Frequently Asked Questions
How To Get A Moses In The Cradle Plant To Flower
Humidifiers help significantly in accelerating the process of a plant's bloom. Therefore, have it kept on standby.
It would help if you also placed the plants on top of the pebbles.
Expected Height And Speed Of The Moses In The Cradle Plant
Most Moses in the cradle plant will grow up to a foot tall and record a spread of about 2 feet.
A quick tip in growing this plant is to have them placed slightly away from others to prevent the leaves from tangling.
Final Words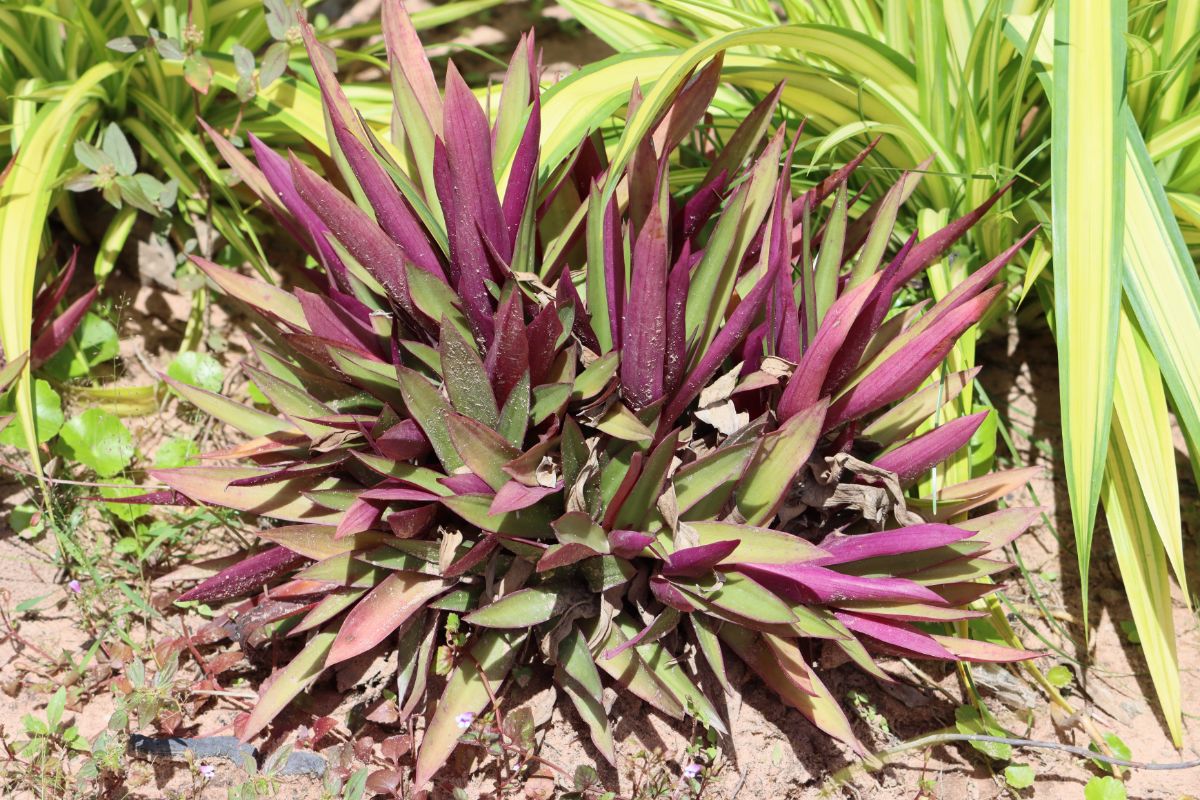 There are so many reasons why you should plant the Moses in the cradle plant, so much for you to enjoy with it.
The plant isn't a fussy one. They are straightforward to grow and maintain. Then, there's their versatile nature for you to consider.
They can be grown indoors, beautifying your space with their beautiful vibrant flowers, or outdoors.
The plant has a great speed rate, too, under the right conditions. Also, the growth speed surprisingly does not slow during the winter months like some other plants.
Moses in the cradle have very toxic sap, and so you would need to put on gloves when handling it to prevent skin irritation.
Children and pets should also be kept safe from it as ingesting it might be dangerous to the health.