Penstemons are lovely plants that are blessed with the ability to attract bees and other helpful and beneficial pollinating agents and, at the same time, stay resistant to pests like slugs.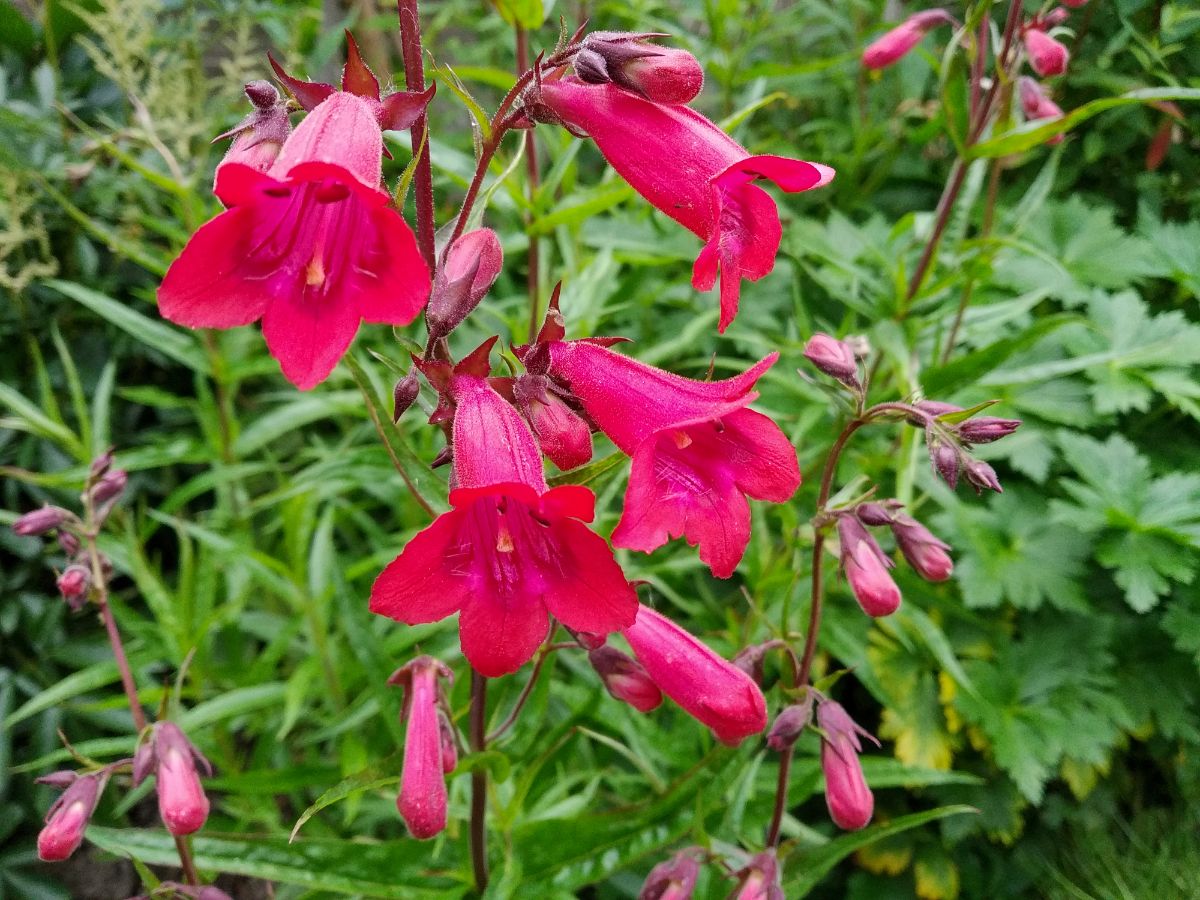 One thing we must know about these herbaceous and woody perennials is that, unlike others, they have a short life span. This is why plant propagation is carried out to get the next generation of this gorgeous border plant.
Penstemons are best grown as border plants. They make an excellent show when situated just at the border's center.
This article discusses the different penstemon varieties and a growing guide!
Jump to:
Important Details About The Penstemon
| | |
| --- | --- |
| Genus Name | Penstemon |
| Common Names | Penstemon |
| Plant Family | Scrophulariaceae |
| Native Area | North America |
| Plant Type | Shortlived perennials |
| Height Size | 5 feet tall |
| Width | 8 - 20 inches |
| Sun Exposure | Full sun to partial shade |
| Soil Type | Moist, well-drained |
| Soil PH | 5.5 - 6.5 |
| Bloom Time | Fall, Spring, Summer |
| Flower shape | tubular |
| Flower Color | lavender, purple, Crimson, red, pink, etc. |
| Hardiness Zone | Zones 3,4,5,6,7,8,9 |
| Toxicity | Non-Toxic |
Penstemon Growing Guide
Penstemon plant requires little to no care when they are grown under the right conditions. They are tough perennials that grow in the worst situations and still hold their own.
They are found grown in-between rocks, surviving the harsh cold weather. Imagine then how seamlessly they will thrive when planted under the right conditions.
Last update on 2023-09-24 / Affiliate links / Images from Amazon Product Advertising API
The right conditions include the soil used and the light the plant is exposed to amidst other essential factors.
To start with, penstemons are suitable to be planted during spring. This is to enable the plants to get well established to withstand the turbulence that winter brings.
By then, the stems would have been strong enough for the plant to stand without extra support except when planted in an overly exposed garden.
We will let you know every detail crucial to the proper growth of the plant and its continuous well-being.
Planting Requirements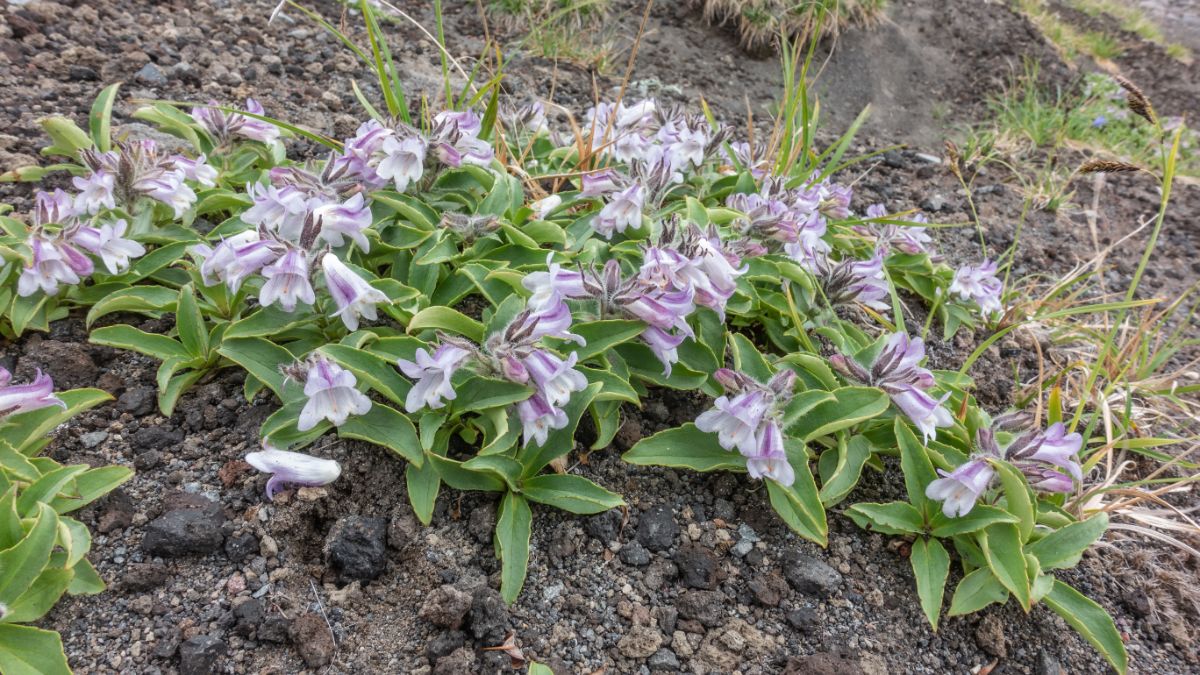 The penstemon needs to be planted in a sheltered site. Planting is best done between March to mid-May.
At that time, the soil will be all warmed up, and the roots will have no issues settling in, speeding up the growth process.
If you are planting outside of this time frame, have them buried in containers watering the soil to keep it moist if they are dry.
Soil Requirements
You can get your Penstemon plant established in no time by using rich, moist but well-drained soil.
Light Requirements
Penstemons need full sunlight to grow optimally.
Exposing your plant to full sunlight will make you enjoy a rich bloom. Total sunlight exposure for this plant will also ensure that the powdery mildew the plants are used to developing during humid summer will be avoided.
Watering Needs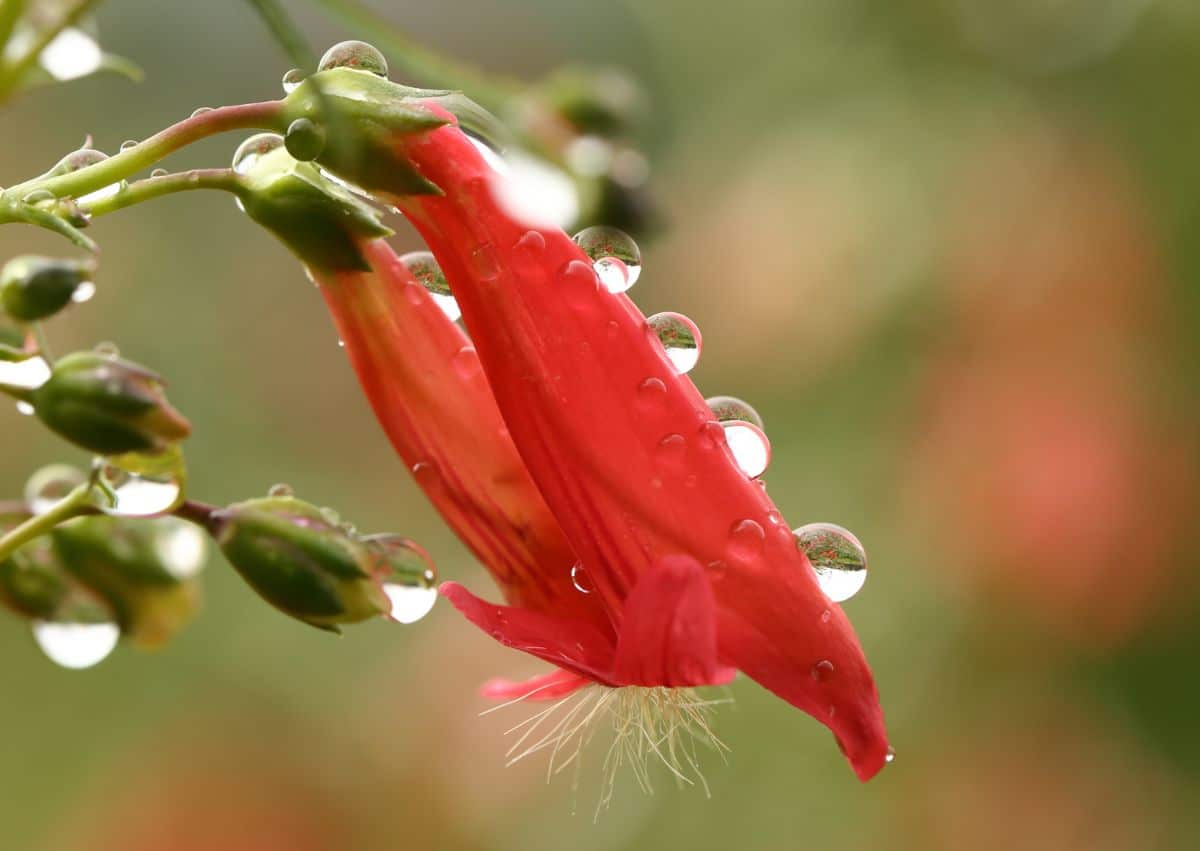 The penstemon requires consistent watering in the plant's active growth phase. At the same time, watering has to be done right too. Avoid waterlogged soil.
During dry season, frequent watering will do your plant good, but you must ensure that the soil has adequately dried out before your next watering session.
Fertilizer Application
For your plant to perform well and thrive, feed religiously with a complete fertilizer every spring.
Additionally, adding a layer of mulch around the plant each year will significantly help your plants to grow without any form of weed disturbance and maintain the proper soil moisture.
Pruning Methods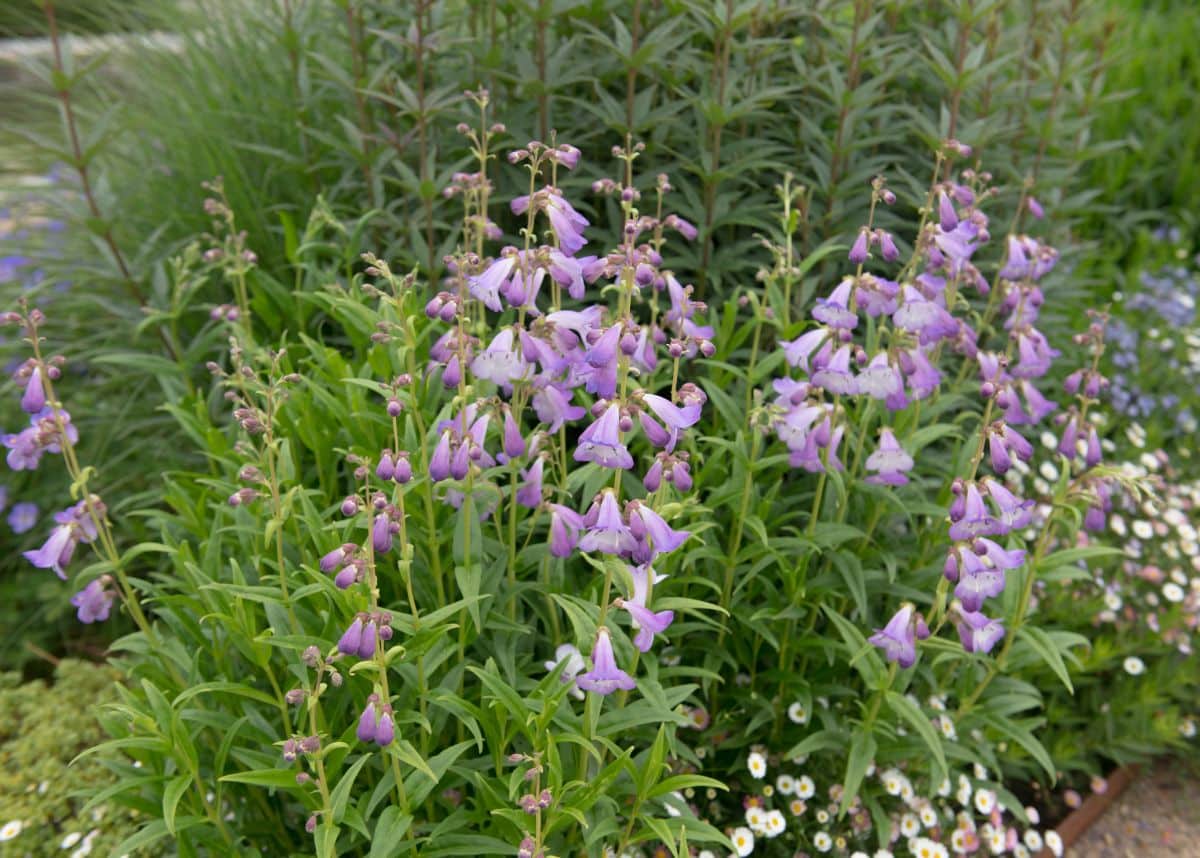 The essence of pruning is to keep the plant looking neat and also to encourage new flowers.
You can go about pruning the penstemon by cutting back the flower, cutting away about one-third of its height. This should be done preferably in winter.
Deadheading, too, should be a regular practice. This way, you will be rewarded with more beautiful blooms.
Propagation method
You can kick start the propagation process of the penstemon plant using the division, seeds, or stem cuttings. Take some cuttings around early autumn or late summer.
Skillfully have it cut just below the leaf joint, then yank out the lower leaves. Put into a pot with cutting compost and observe the standard conditions of the mother plant.
You can add multiple leaves into the pot but ensure they do not touch each other. After that, place the pot in an excellent spot.
Propagation is necessary to ensure the longevity of the penstemon plant, as they have a very short lifespan.
19 Different Penstemon Varieties
The varieties of the penstemon plant are usually identified by their color. They all stand out with their unique color.
1. Penstemon 'Andenken Friedrich Hahn'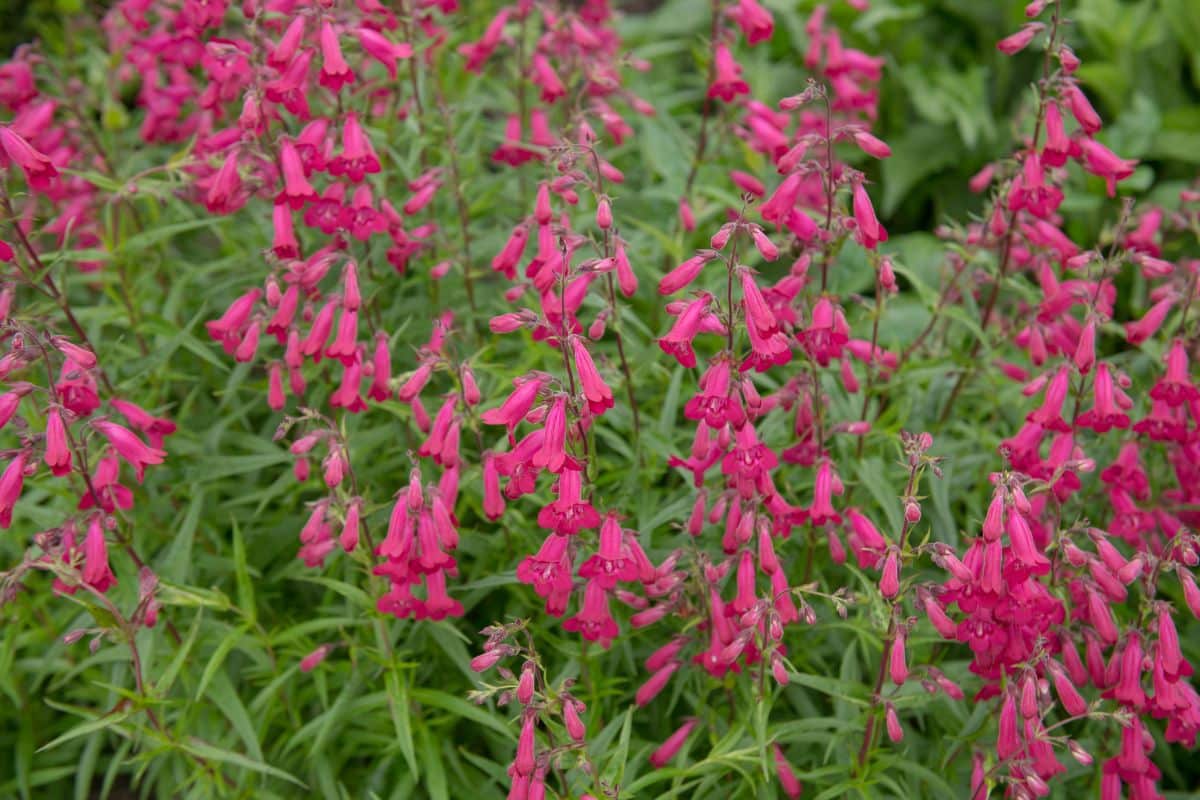 First bred in 1918 and known as 'garnet,' these beautiful tubular flowers are like treasures.
The height and spread of this plant stand at 75cm. With this variant, you get eye-catching crimson flowers with very narrow dark greenish leaves.
This variant is hardy in USDA zones 8b-9a. Their bloom season is from midsummer to fall.
2. Penstemon 'Raven'
Features that make this variant stand out are its ability to attain a mature height of 100cm! In June through to October, the Penstemon Raven spots a dark maroon color.
3. Penstemon 'sour grapes'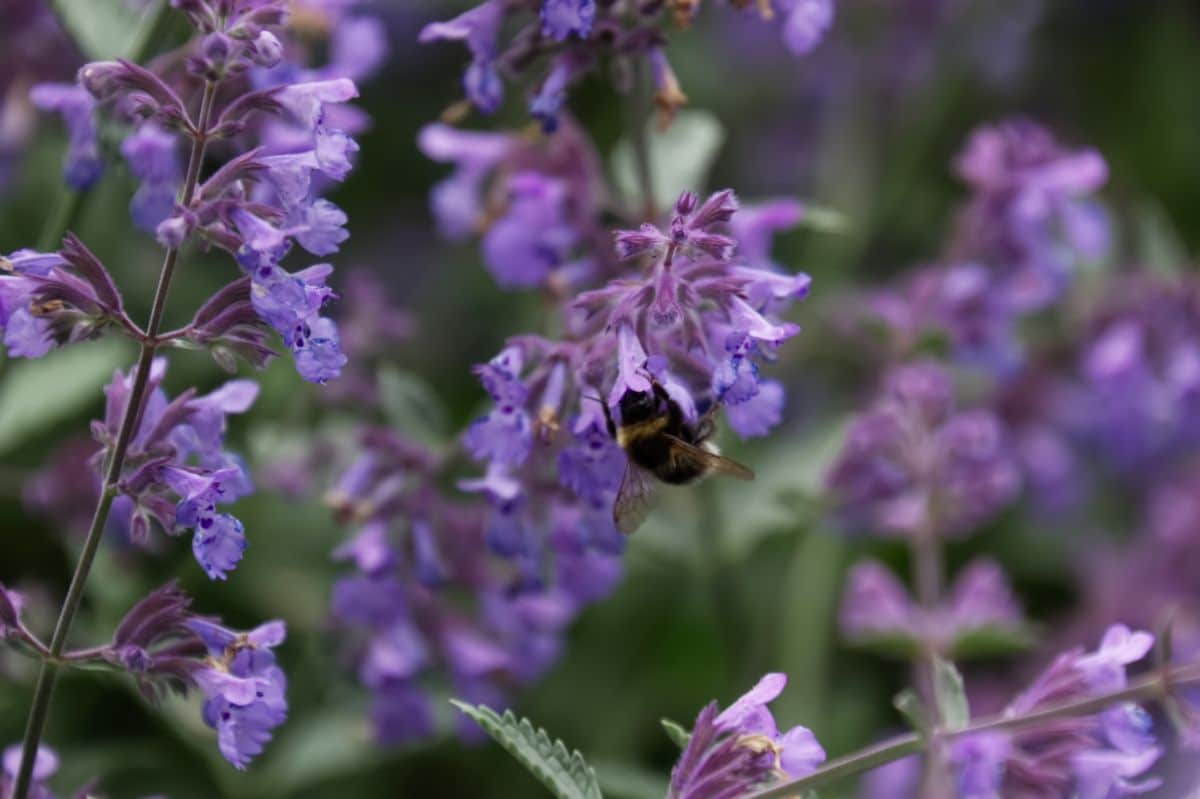 (Height 60cm) they are striking deep purple flowers from June to October.
4. Penstemon 'Osprey'
This variant can grow up to 90cm in height. They spot beautiful pink and white flowers from June to October.
5. Penstemon 'linarioides subsp. Sileri'
This variant is mainly grown in the southwestern part of the United States. The Height of this plant is 45cm.
The linarioides are low-growing plants that spot vibrant-looking yellow flowers during their small bloom. They are not readily available compared to other varieties.
Linarioides are best grown in pots or containers. That way, they can easily be moved away and shielded from the frost that comes with winter.
This variant is highly recommended and stands as one of the best penstemons to grow.
6. Penstemon 'Bredon'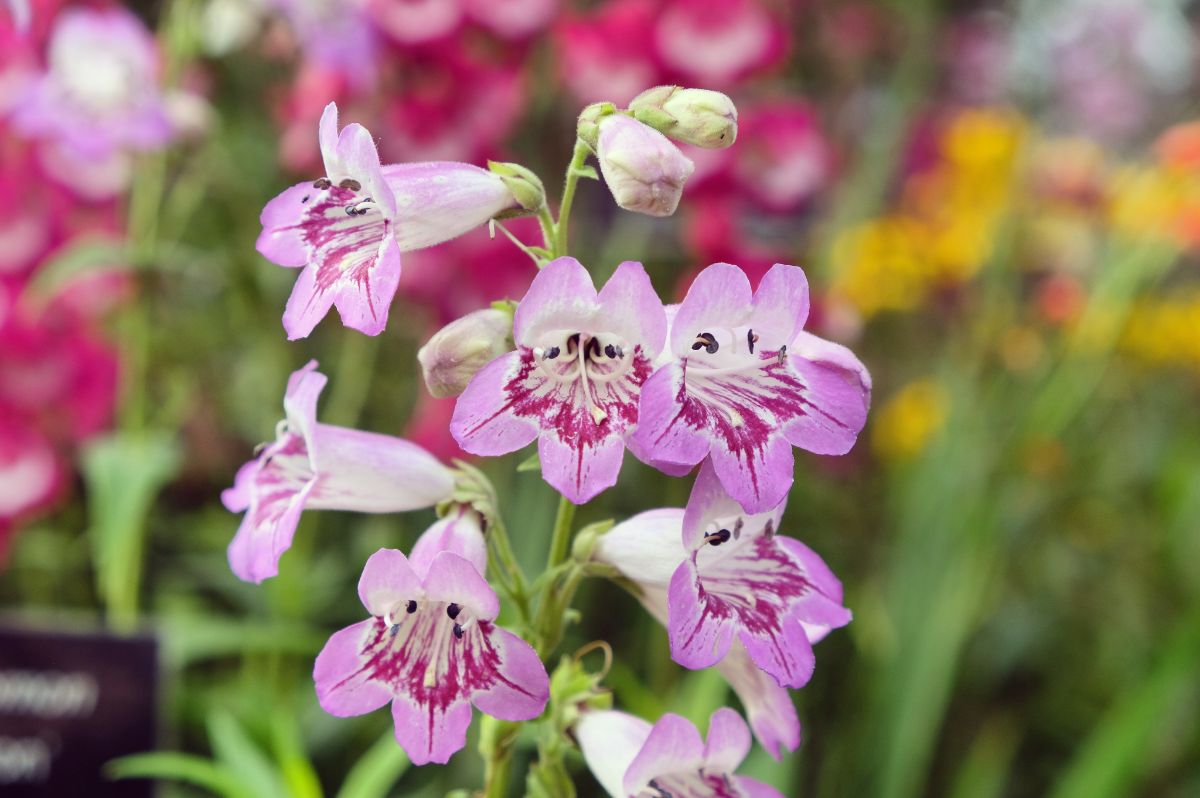 The UK Pershore college is known to be the breeding ground of this specie. Bredon's are mauve pink colored flowers with streaks of dark maroon in the throat.
One benefit they possess is their ability to grow strong and stay upright, needing no support.
They are hardy in zones 8b-9a, with a height of 75cm and a spread of 45cm. Bredon's will flower from midsummer straight into the autumn season.
7. Penstemon 'white bedder'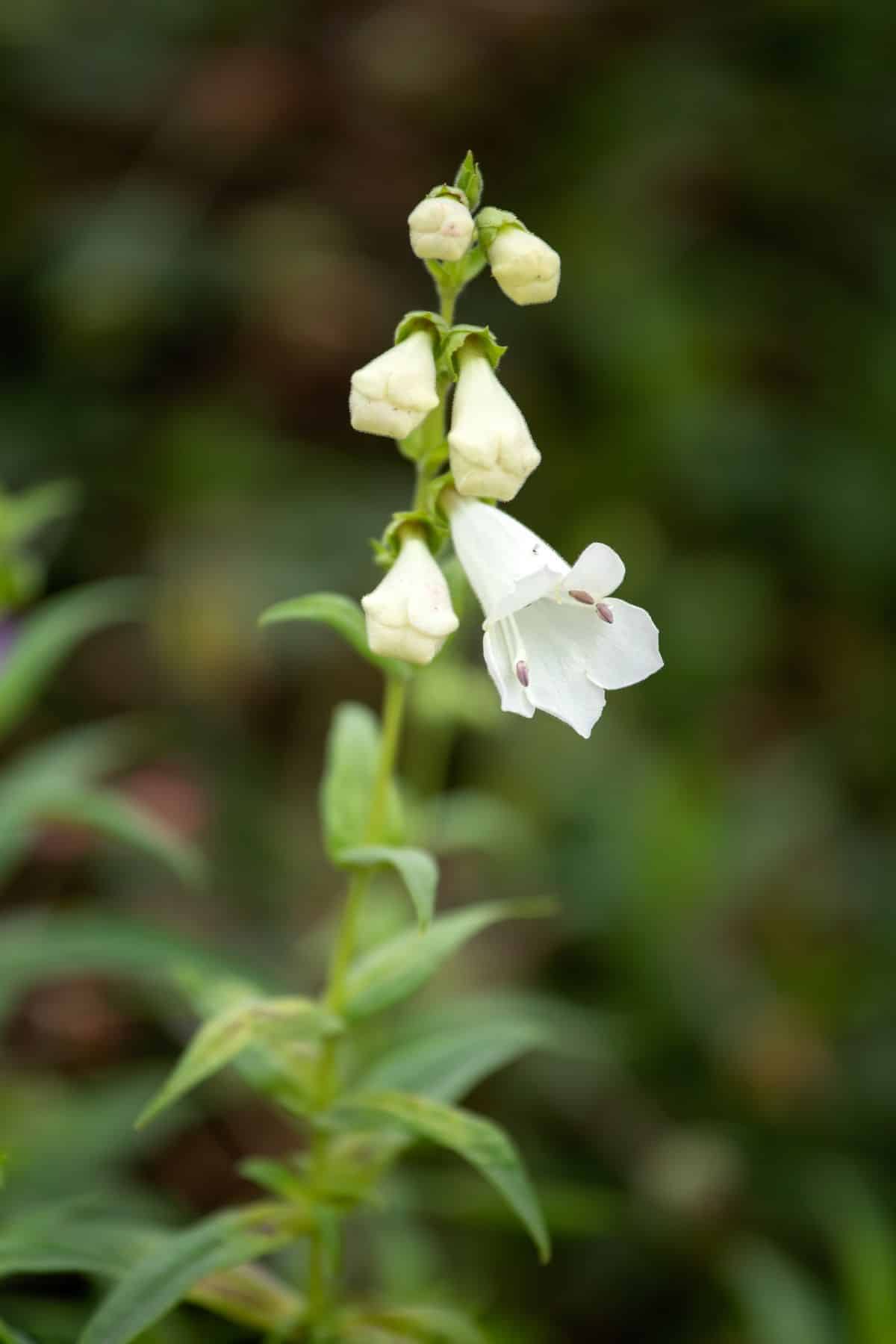 This floral cultivar stands in a world of its own. Its unique big white blooms are always a sight to behold.
Fancy the thought of a white-themed floral space? The white bedder is your best bet.
It has a mature height of 60cm and spreads as wide as 45cm. The white bedder is yet another top penstemon plant to consider growing.
8. Penstemon 'Husker Red'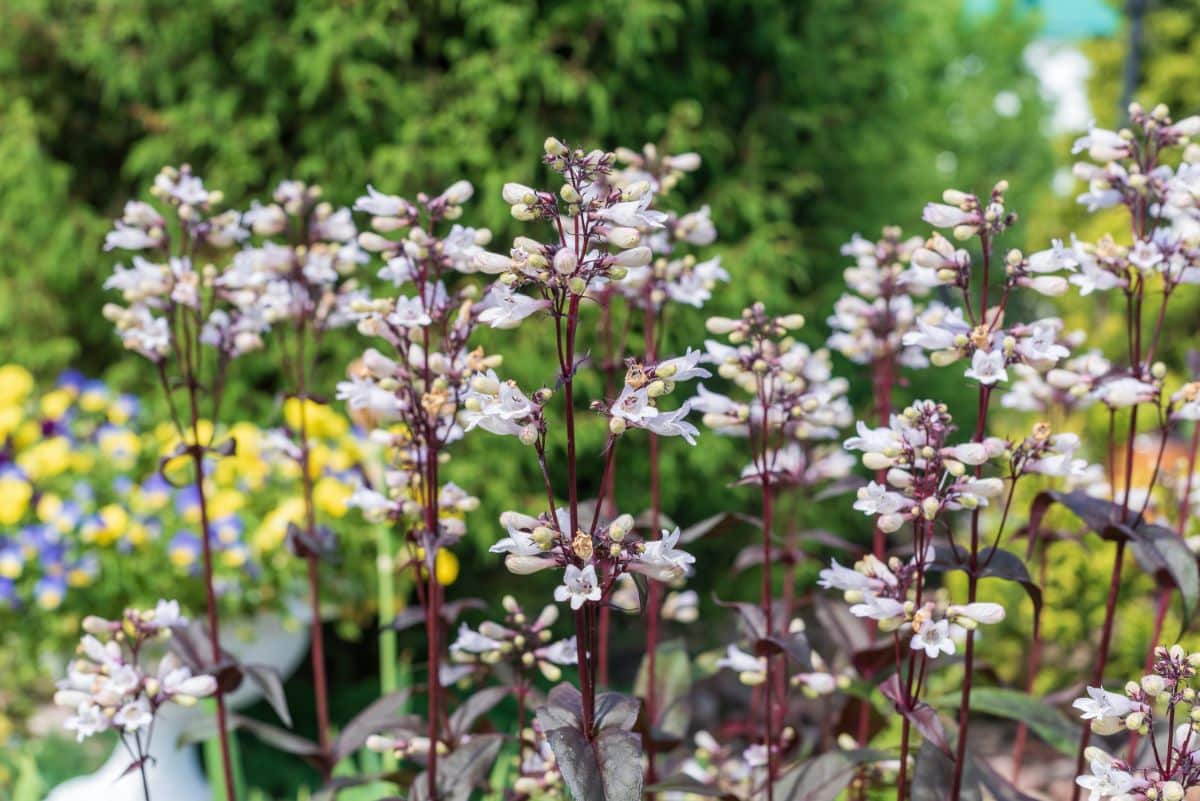 A perfect example of a hardy penstemon variant, this pale white-flowered plant with dark purple foliage is one of the best penstemon varieties to grow.
Penstemon digitalis Husker red has a 75cm height and 50cm spread. The husker red prefers full sun conditions to grow optimally and bring out an enhanced bloom color.
9. Penstemon 'Razzle Dazzle'
This deep fuchsia-colored cultivar screams nothing but elegance. It has a mature height and spread of 90cm, respectively.
For the razzle-dazzle, overfeeding this plant would only help make more lush-looking foliage but would negatively affect the flowers.
10. Penstemon 'Electric Blue'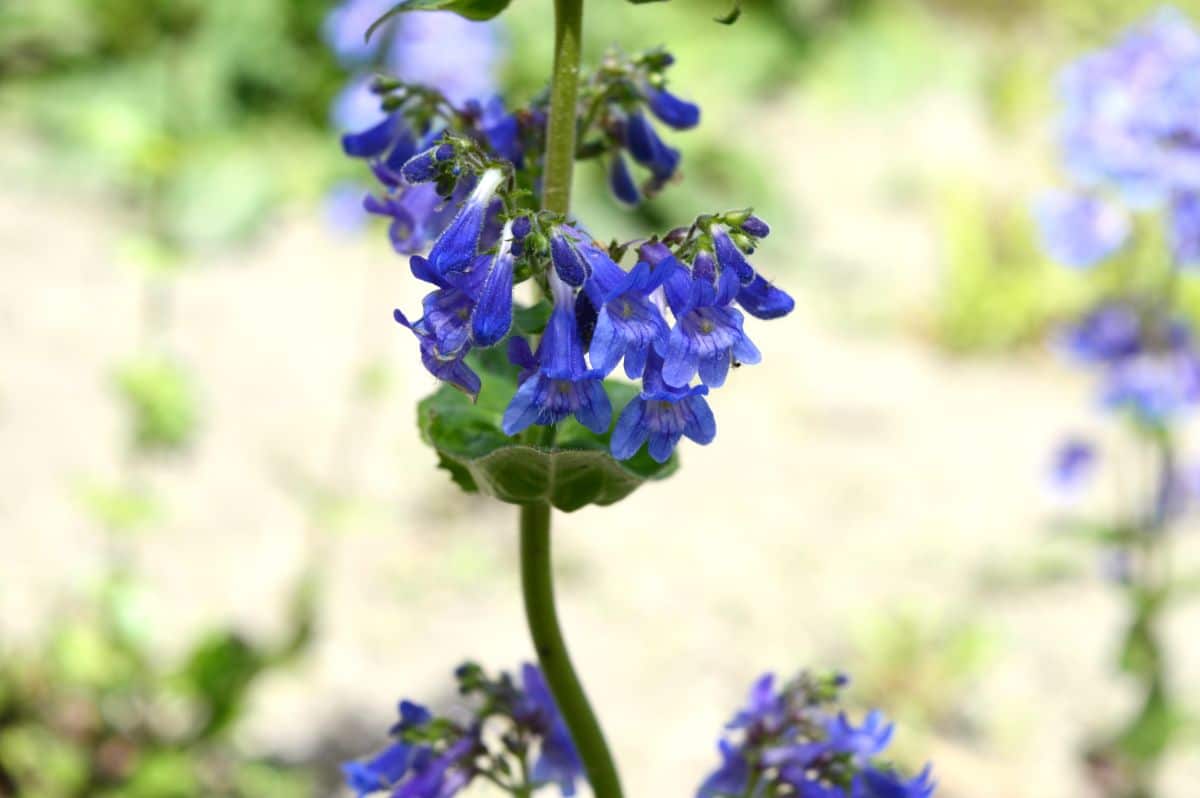 This specie got its name from the bright flowers it produces.
Penstemon heterophyllus Electric blue has other outstanding features besides its beautiful aesthetics. They can grow as tall as 18 inches, tolerate drought reasonably well, and are pretty hardy in USDA zones 6-9.
They are best used as ground covers, growing only as tall as 6 inches.
11. Penstemon 'Iron Maiden'
This sun-loving cultivar is also found in the list of best penstemon varieties to grow.
It has an attractive bright reddish-orange color that brightens up your space. Their height is a whooping 120cm and spread 50cm. To ensure their mature size, have them planted in well-drained soil.
12. Penstemon 'Dark Towers'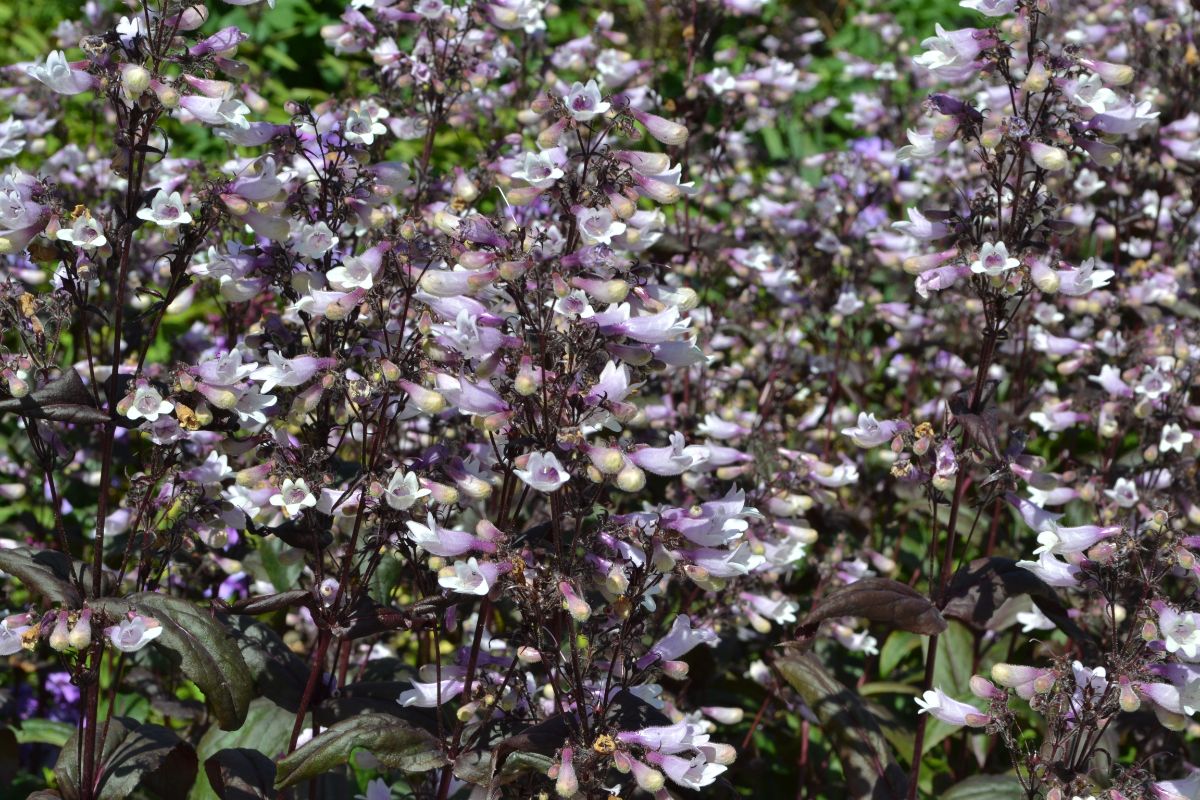 This cultivar's dark purple foliage and dull-looking flowers will keep you staring hard and long.
They attain a mature height size of 70cm and a spread of 45cm. They are attractive to bees, hummingbirds, and other pollinating agents.
The dark towers are hardy in USDA zones 3-8.
13. Penstemon 'Pink Endurance'
As the name suggests, this cultivar has rich pink flowers and white-colored throats.
Its height is about 45cm, and its spread is 40cm.
Like earlier said, penstemons, in general, are bee-loving plants. You can make your garden a bee haven by planting other bee-friendly plants like veronicastrum and echinaceas alongside the pink endurance.
14. Penstemon 'MacPenny's Pink'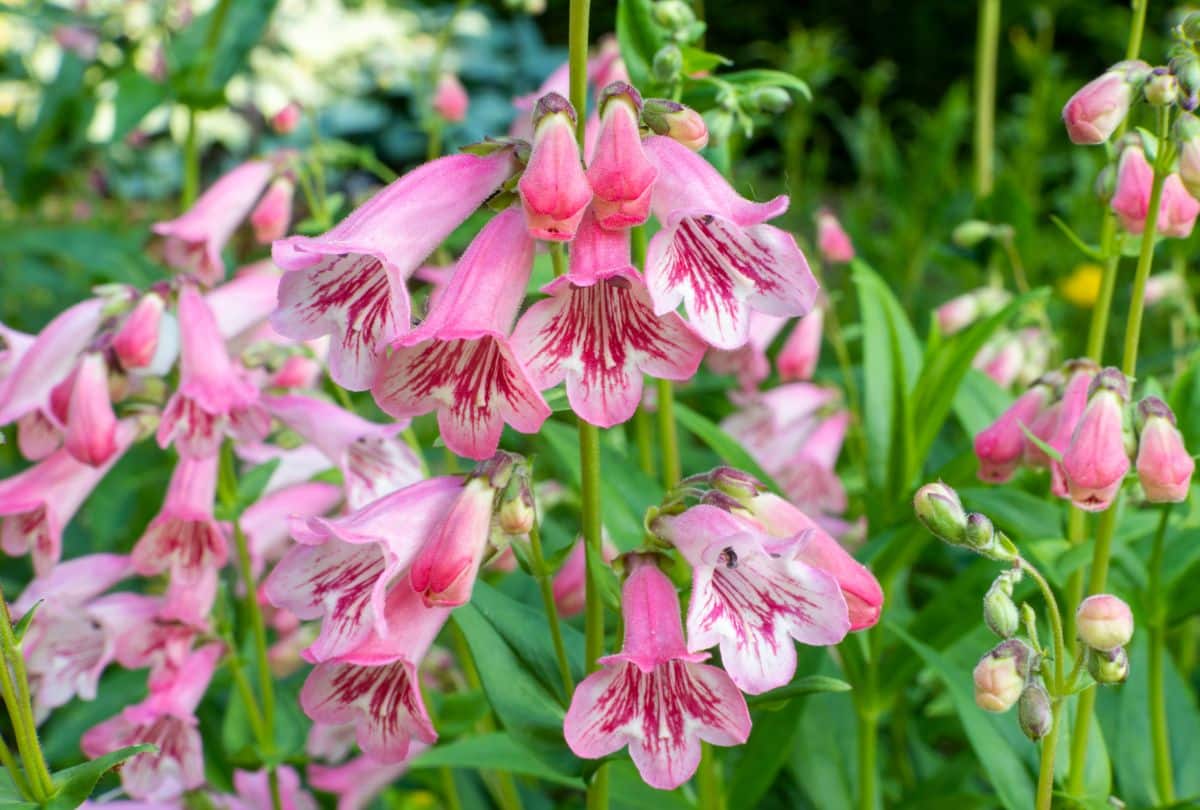 This luscious variant offers a specific type of warm feel during its bloom. This can be attributed to the friendly pink flowers it spots, contrasting beautifully with its fresh-looking green foliage.
It has a height of 90cm and a spread of 45cm.
15. Penstemon 'Hirsitis Pygmaeus'
The beautiful lavender-colored bloom with white lip nodes sweetly contrasting against the dark green foliage of this variant is one that your garden needs.
Hardy zones are USDA zones 3 - 9.
16. Penstemon 'Pine-leaf'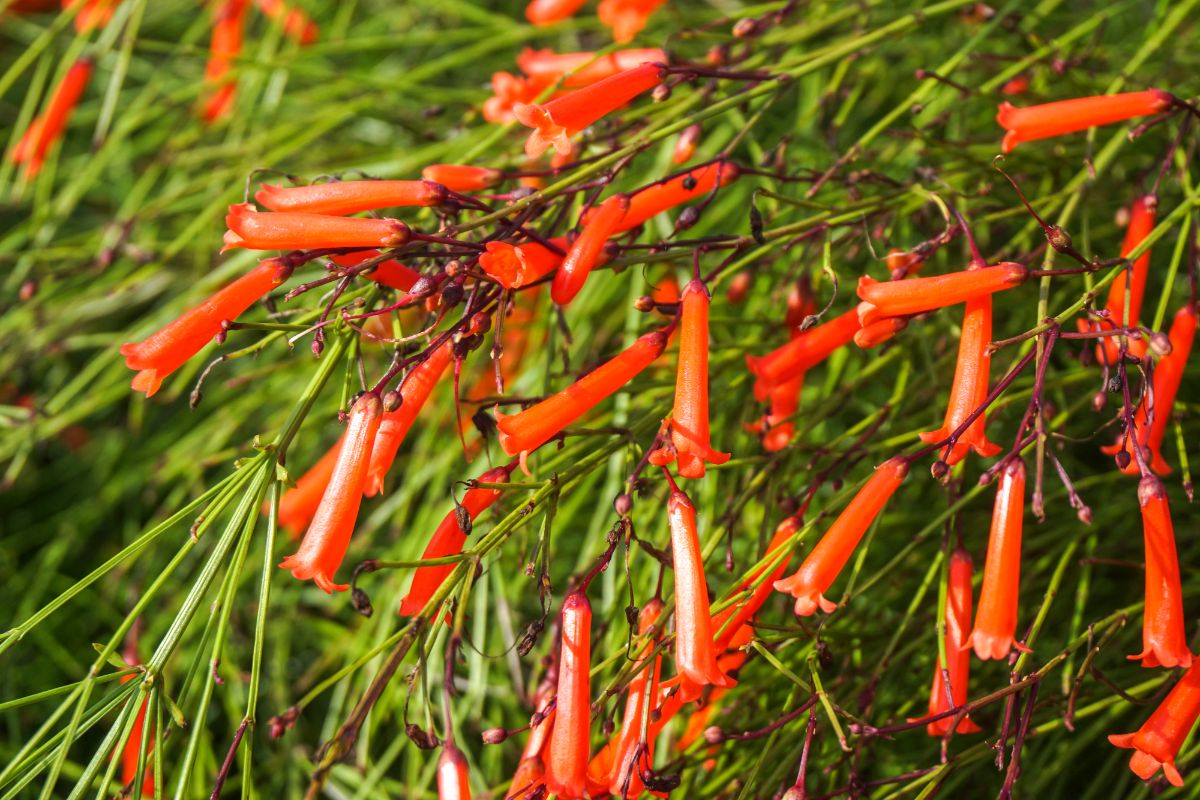 They are also known as penstemon pinifolius. The striking features of this variant are its needle-like foliage, bearing some woodiness at the bottom.
This is why the plant is preferred for dry rock gardens and walls.The pine leaf is sure to bloom in summer. Their hardy zones are USDA zones 4 - 10.
17. Penstemon 'Fruticosus Var. Scouleri AGM'
Also called the shrubby beardtongue or scouser penstemon, this western Canadian and North western-bred plant is as strong as they come.
They are perfect for dry gardens, rock, or alpine container plants.
They spot dark and pale purple colors in their flowering season and are great attractors of bees and other pollinating agents.
This species is hardy in USDA zones 8b-9a. Their height and spread are set at 40cm, respectively.
18. Penstemon 'Davidsonii Var. Menziesii AGM'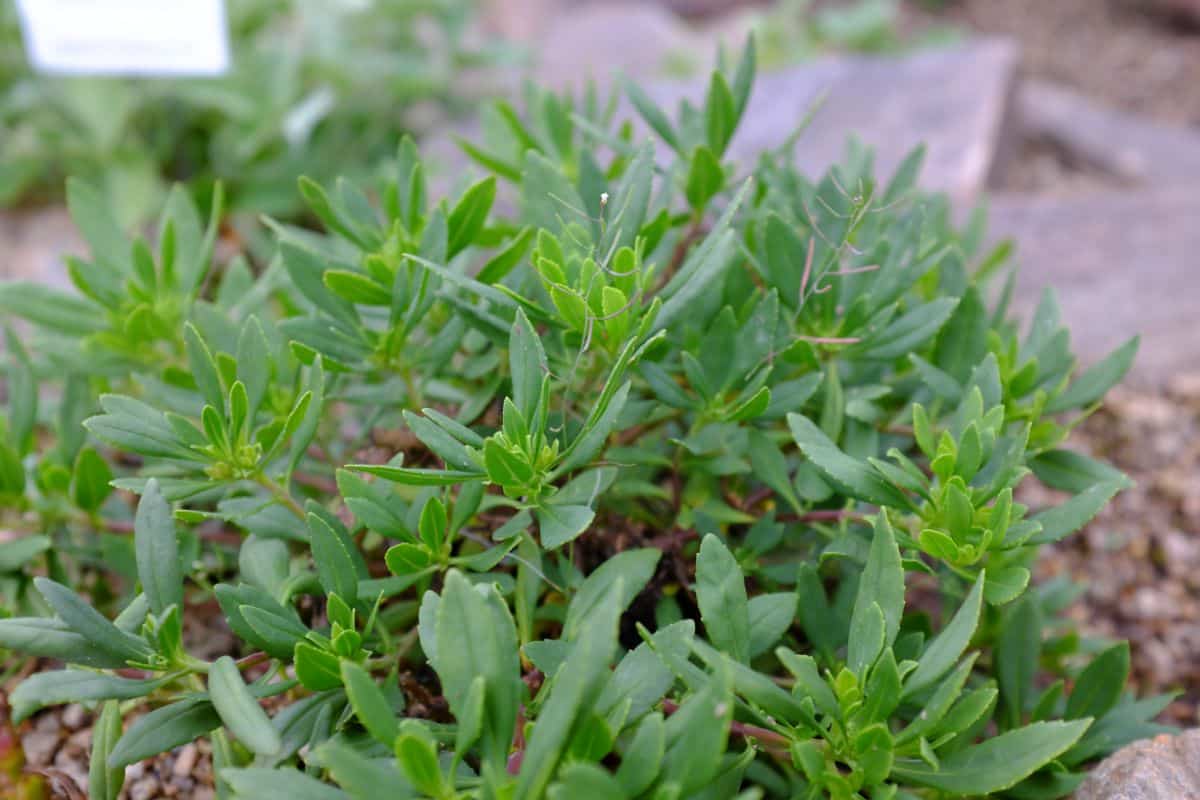 They are the perfect specie for rock gardens due to their creeping nature and mat-forming abilities.
The Menzies penstemon is a timeless plant. Their round leaves spot violet-blue flowers during late spring to summer.
For best results, have them planted in well-draining soil.
The penstemon Menzies are hardy in USDA zones 7b-8a; they grow as tall as 15cm only and spread as wide as 20cm.
19. Penstemon 'Strawberries and Cream'
This flower is a mix of pale and bright pink flowers with noticeable throat markings. Another striking feature of this variant is its far more extended flowering period.
They are hardy in USDA zones 8b-9a. They have a mature height of 60cm and a spread of 45cm.
Penstemon Companion Plants
Penstemon 'Catmint'
A hardy variant is known for surviving very harsh, hot, and dry weather, with its spectacular silvery foliage and blue flowers looking great through it all and in other seasons.
Catmint is a very tough, non-problematic plant, requiring just average non-soggy soil. However, you must see that after the first phase of bloom, the plant is being cut back. This will promote even more lush flowers.
Make use of stakes also to support tall plants.
Other plants that you can plant include a lady's mantle or a lamb's ear.
Are Penstemon Plants Toxic?
Penstemons are safe as they have been proven non-poisonous to humans and animals. This makes it okay to be planted in playgrounds and wherever you like.
Final Word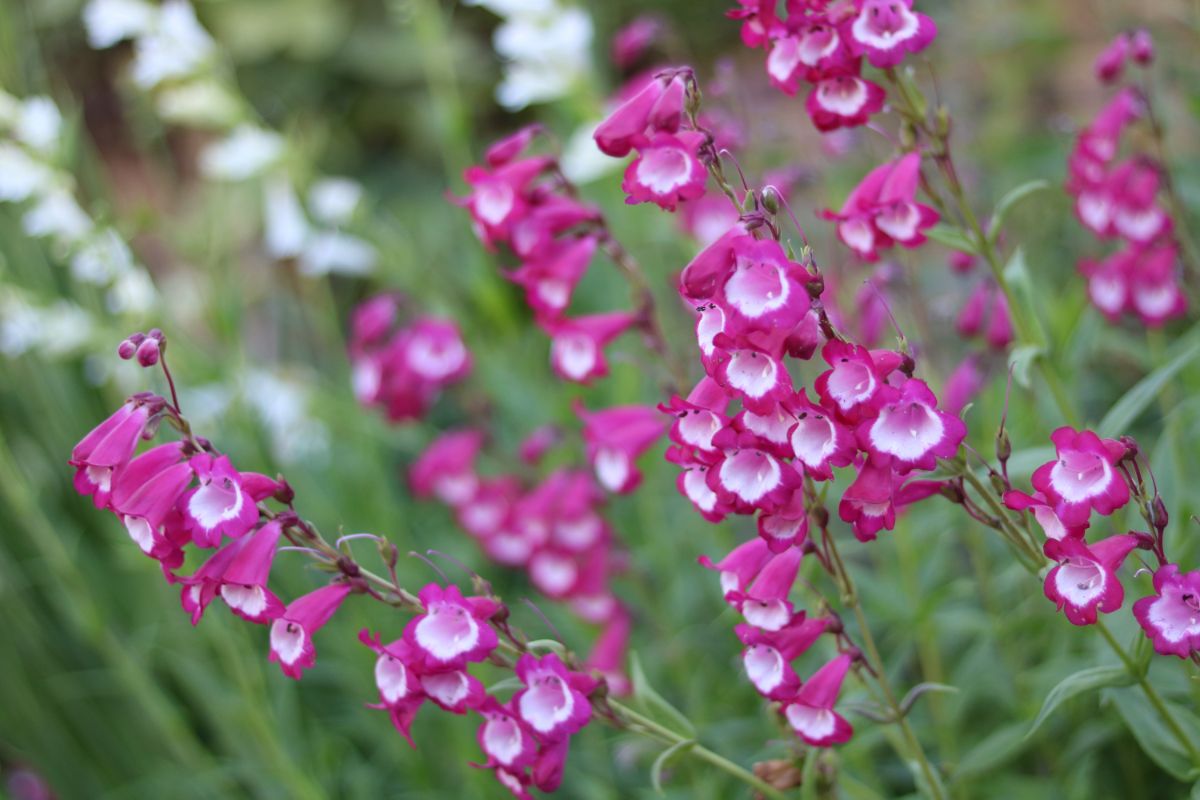 Breathe life into your garden and make it vibrant again by planting the penstemon. They immediately make it come alive by adding instant color to your space. To achieve this, have them buried in groups.
With the penstemon, you enjoy a long flowering season, especially during late summer when the garden looks dull.
Furthermore, their low maintenance and hardy nature have endeared many people to it. They are drought tolerant, great cover plants with slope and erosion control.
The icing on the cake is the array of beautiful color varieties in which they can be found.
What's not to love about the penstemon?