There's no denying that the peperomia caperata plant is rapidly becoming the most widely purchased plant in garden stores and a favorite among many growers.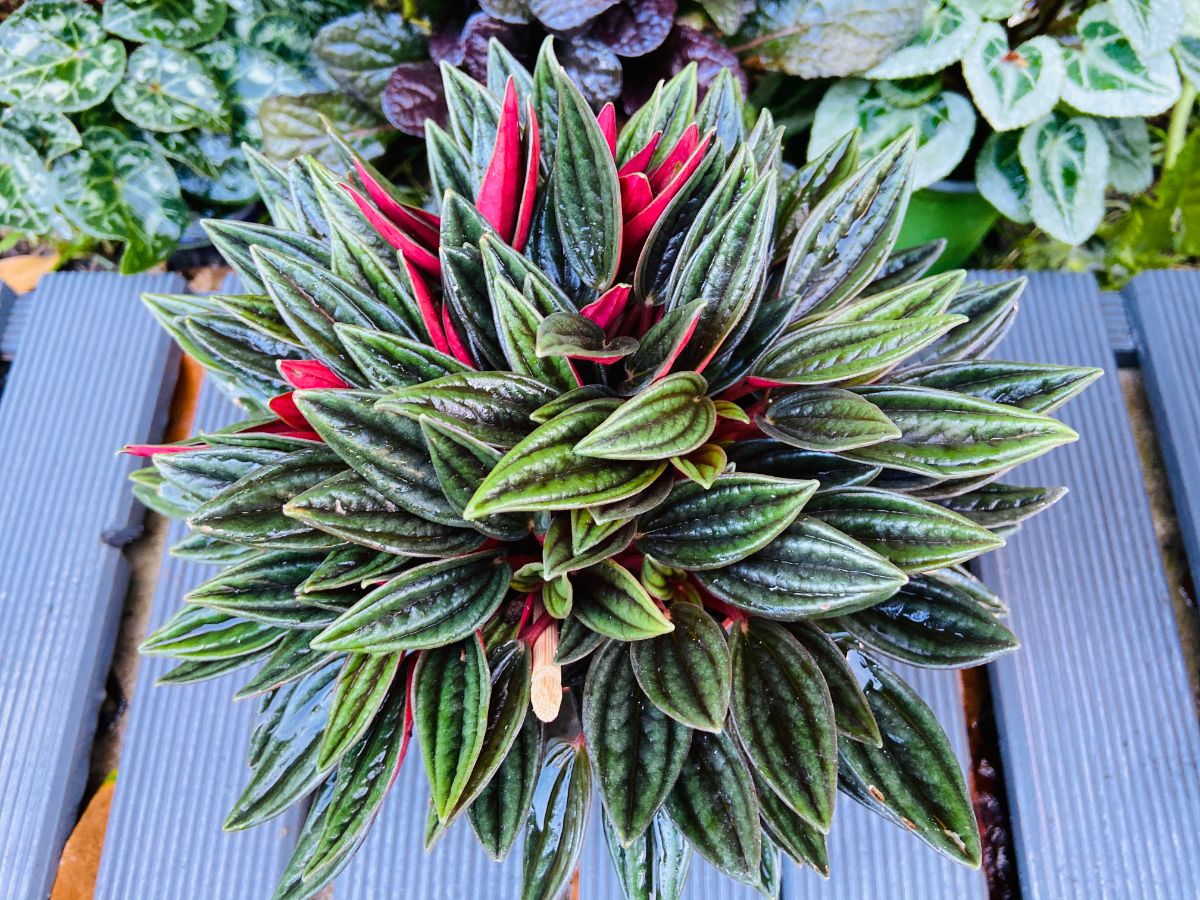 Peperomia caperata is a lovely plant that will produce the best result if you give it its critical care, including regular watering, rich aerated, loose potting soil with good drainage, and the ideal temperature range between 65°F and 80°F.
Also, it requires medium to bright light, protection from direct sunlight, etc. We'll return to that later.
Here's a complete peperomia caperata growing guide that will teach you how to grow and care for the plant.
Jump to:
Facts About Peperomia Caperata
| | |
| --- | --- |
| Common Names | Ripple Peperomia, Emerald Ripple, Radiator Plant |
| Scientific Name | Peperomia caperata |
| Family | Piperaceae |
| Plant Type | Epiphyte |
| Mature Size | 8 inches (20cm) tall and wide |
| Sun Exposure | Bright, indirect sunlight |
| Soil Type | Light soil |
| Soil pH | 5.5 to 6.5 (slightly acidic) |
| Bloom Time | Summer |
| Flower Color | White flower spike with reddish-purple stems |
| Hardiness Zones | 11-12 |
| Native Area | Brazil and some other South American regions |
| Toxicity | Non-Toxic |
Native to the tropical areas of South America, specifically Brazil, the peperomia caperata is a semi-succulent plant primarily for indoor growers. You are good to go if you can effectively imitate its outdoor conditions by tweaking its surrounding environment.
Also known as Emerald Ripple, the peperomia caperata is one of the favorites of every gardener, thanks in part to its dark-green leaves with deep veins in different shades of cream, red, and gray. The peperomia genus has over 1000 species, but the caperata variety is the most popular and adored.
The reason is its long-winded threshold to put up with different growing conditions. The most exciting part of this plant is its richly ruffled pattern on the leaves, making the whole foliage look attractive and graceful every year.
However, if you want your peperomia caperata to blossom without too many issues, you must put in some effort.
While it does best in USDA hardiness zones 11 to 12 over different states in the United States, preferably outdoors on the ground, you'll be pretty surprised how some families use it as a houseplant. Read on to see its growing guide;
Essential Peperomia Caperata Growing Guide
Light Needs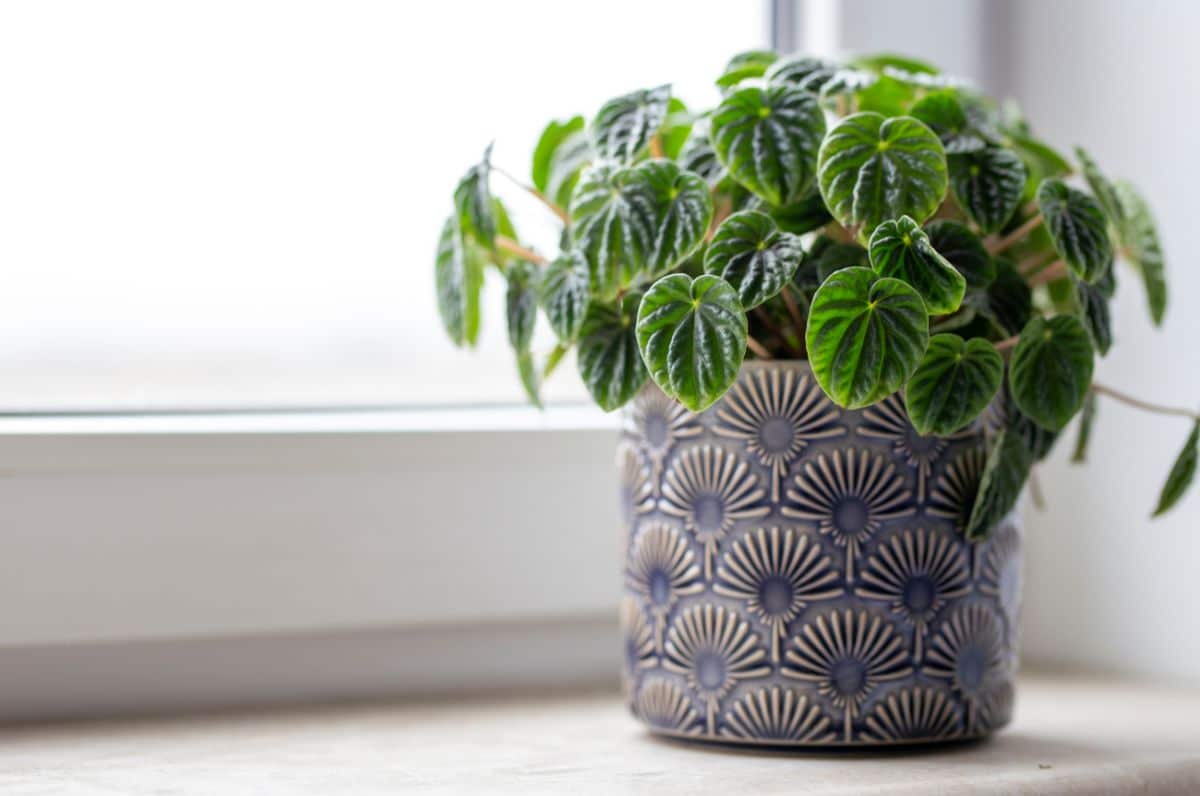 Given that peperomia caperata is native to tropical rainforests, it would be best to copy these conditions in your home. In their native environs, they are not used to the full sun, as they are denied direct sunlight by more giant trees, which filter the sun and make it favorable for them.
Indoor grow lights are affordable and will be crucial if your home doesn't have endless light windowsills.
In other words, it will need enough indirect light so that you can place it near south-facing windows. Again, given that this plant thrives in artificial lighting, it is an excellent prospect for darker rooms.
Soil Needs
Peperomia caperata likes rich aerated, loose potting soil with proper drainage. Ensure the ground you use for it must be able to absorb moisture but allow water to drain freely. The best soil mix for this plant is a combination of two parts peat moss, one-part horticultural sand, and one-part perlite.
The caperata is an epiphyte, requiring enough air and moisture to offer nutrients. Significantly, the peperomia soil must dry out reasonably rapidly between watering. You can also go for commercial potting soil and amend it using gravel, perlite, or orchid bark to enhance drainage.
Meanwhile, you must also note that this unique plant will not do well in wet, soaked soil. Therefore, you must always ensure that the potting mix doesn't sit in too much water, just like dry soil will affect its growth. So, endeavor to keep everything at a moderate level when necessary.
Watering Needs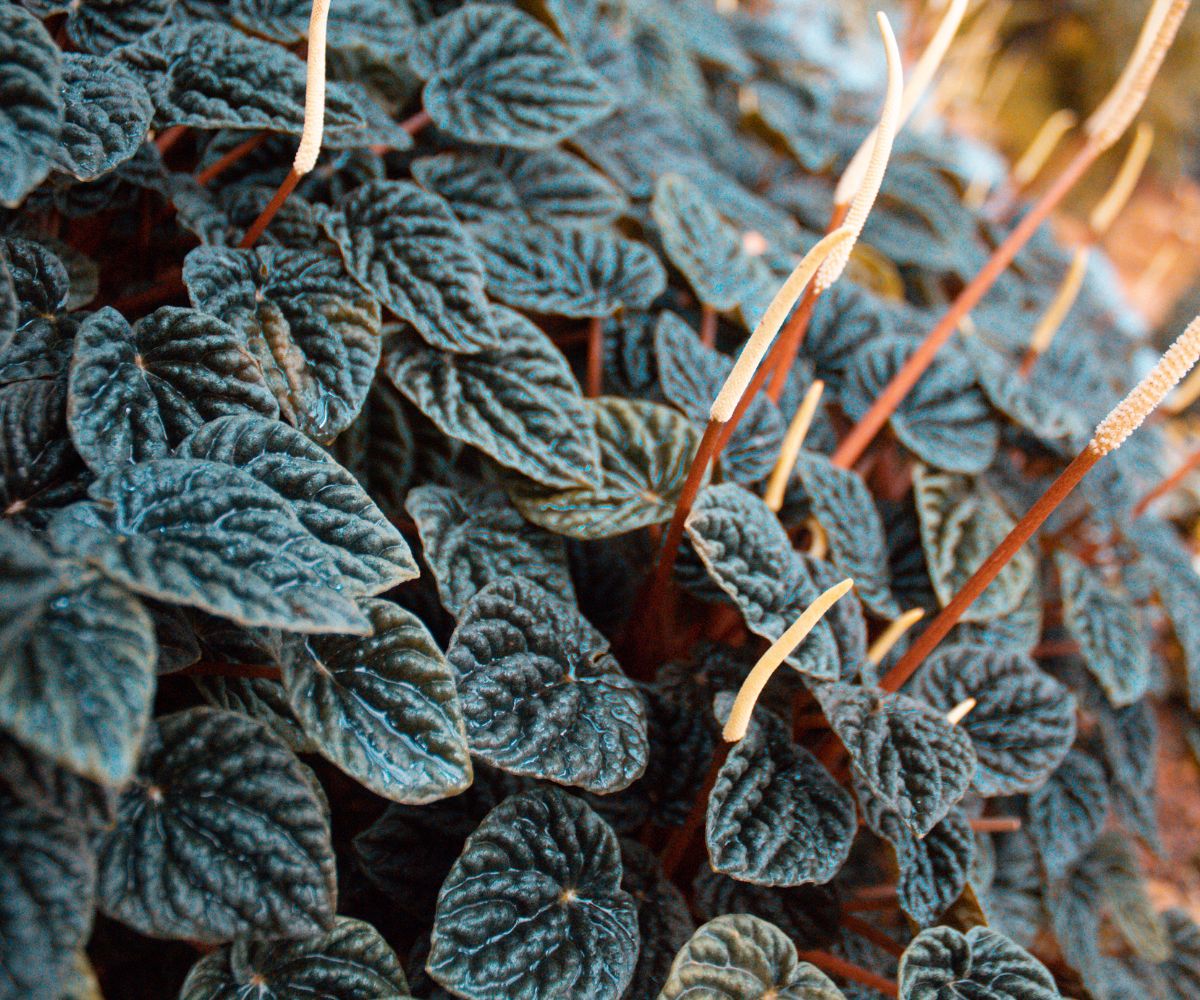 Your plant needs water to keep it moist, but you must not get it soaked. The watering routine is usually the trickiest and most challenging aspect of the peperomia caperata growing, with significantly too much watering.
When it comes to indoor plants, many gardeners fail due to overwatering because of their over-enthusiasm.
You can set your watering schedule at once every 7 to 10 days, but only once the top half of the soil dries out. Another exciting part is that peperomia caperata prefer to be watered from underneath, as it prevents water from remaining on the leaves and diseases.
Since it has thick leaves, it can retain enough water to make the plant survive without moisture for extended periods. If you notice your leaves wilting and turning yellow, stem rot, or waterlogged soil, it is a sign that you have overwatered.
Anytime you discover any crusty white substance atop your potting mix, give it enough room temperature twice, and allow the excess water to drain. Remember to empty the drainage tray. If you also notice your plant's leaves dropping, salt builds up in the soil from soft water.
Temperature & Humidity
Temperature and humidity both play a crucial role in the growth and sustainability of your peperomia caperata. The most suitable room temperature for these stunning plants is around 65°F and 80°F (15°C and 27°C).
Anything below this region will result in stunted growth or make your plant attract severe attacks from pathogenic fungi.
On the other hand, humidity is necessary for your plant, as when it is at a moderately high level, around 40 to 50% to be precise, it will enhance its healthy growth and successful blooming.
If you find it challenging to achieve this humidity level, you can buy a digital humidifier for houseplants to complement the humidity levels.
Fertilizing Needs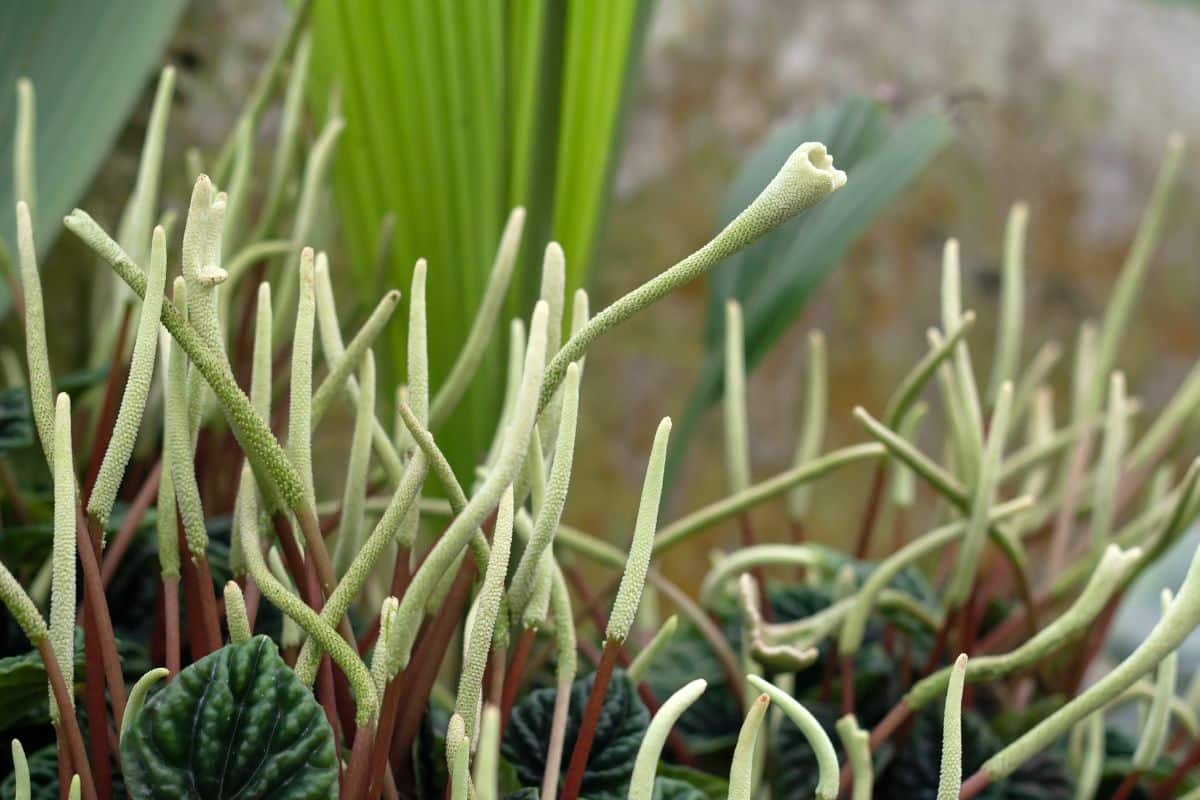 Peperomia caperata is not a heavy feeder, meaning overfertilizing is unnecessary. Feeding them with diluted houseplant fertilizer once a month in the growing season would be best. This extra feeding in spring and summer can make the plant's corrugated, ridged leaves look attractive.
There are several varieties of the peperomia specie that thrive without extra fertilizing. In most cases, the best care guide for a peperomia caperata is to position it in bright, dappled light and only spray water whenever the soil dries out.
Planting (Potting & Repotting)
Note that peperomia species must not always be repotted. Even if you must report, it has to be in a smaller pot. There's no significant danger in leaving your plant in its existing pot, but you can repot every 2 to 3 years whenever the potting mix has become very compacted and loses its drainage.
Make sure you repot in the exact size of the pot or one that is a bit bigger. Separate the old potting mix from the roots and ensure you don't compact the soil too much when putting it in the fresh pot.
Pruning Requirements
Pruning is not as essential to your peperomia caperata as other growing guides. In other words, it doesn't necessarily need any pruning, as it has a natural bushy, rounded growth. You can snip off stems from the caperata if they have grown leggy or developed rot symptoms.
Peperomia Caperata Propagation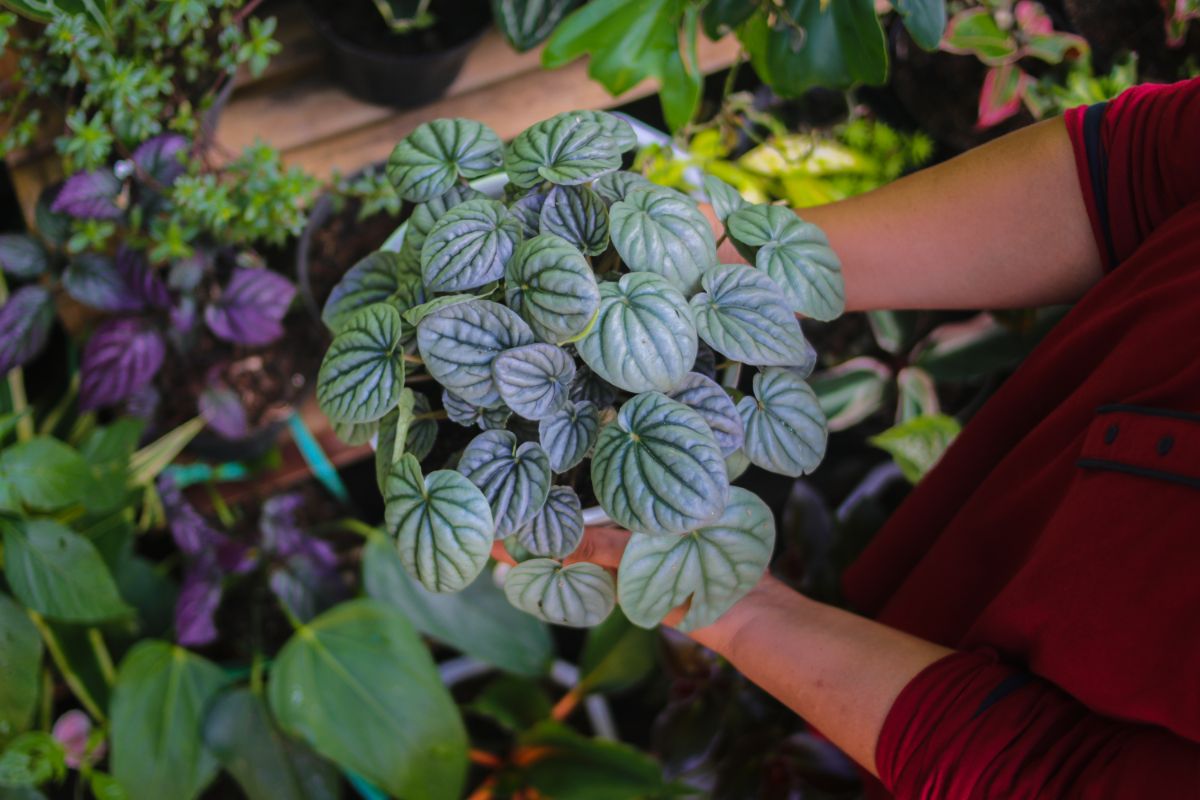 You can propagate peperomia caperata through three methods: stem cuttings, leaf cuttings, and division. But the most common propagation methods are leaf cuttings and stem cuttings.
Like most other succulents, peperomia species rot quickly in a well-draining potting mix. Leaves that fall on the soil easily take root. However, the best and most straightforward of them all is through leaf cuttings. Below are the steps to propagate your caperata by leaf cuttings:
Trim the part of the leaf where the petioles attach themselves to the stem from the parent plant.
Keep it outside to dry for some hours to give the edge of the petiole some good time to heal.
Please put it in rooting hormone to fasten the growth of new roots.
Prepare the potting soil with the formula we vouched for in this guide.
Sow the cuttings in an upright position and gradually squeeze the topsoil downwards to enable them to have a solid support base.
Place the pot in a bright, indirect light condition and water your plant once every two weeks.
Wait until about four weeks, and you will start seeing the roots germinate.
Peperomia Caperata Varieties
The peperomia caperata has several varieties, namely;
Emerald Ripple: This is a beautiful specie of peperomia species with a compact growing habit.
Peperomia Variegata is among the most common peperomia species and features white leaves with a green splash.
Peperomia Burgundy: this variety will make an excellent addition to any indoor space with its gorgeous reddish-brown leaves.
Peperomia Rosso: you can go for this variety, one of the most popular and most purchased, thanks to its smooth, bright, quilted foliage. These peperomia varieties will make an excellent addition to your indoor space.
Common Peperomia Caperata Growing Problems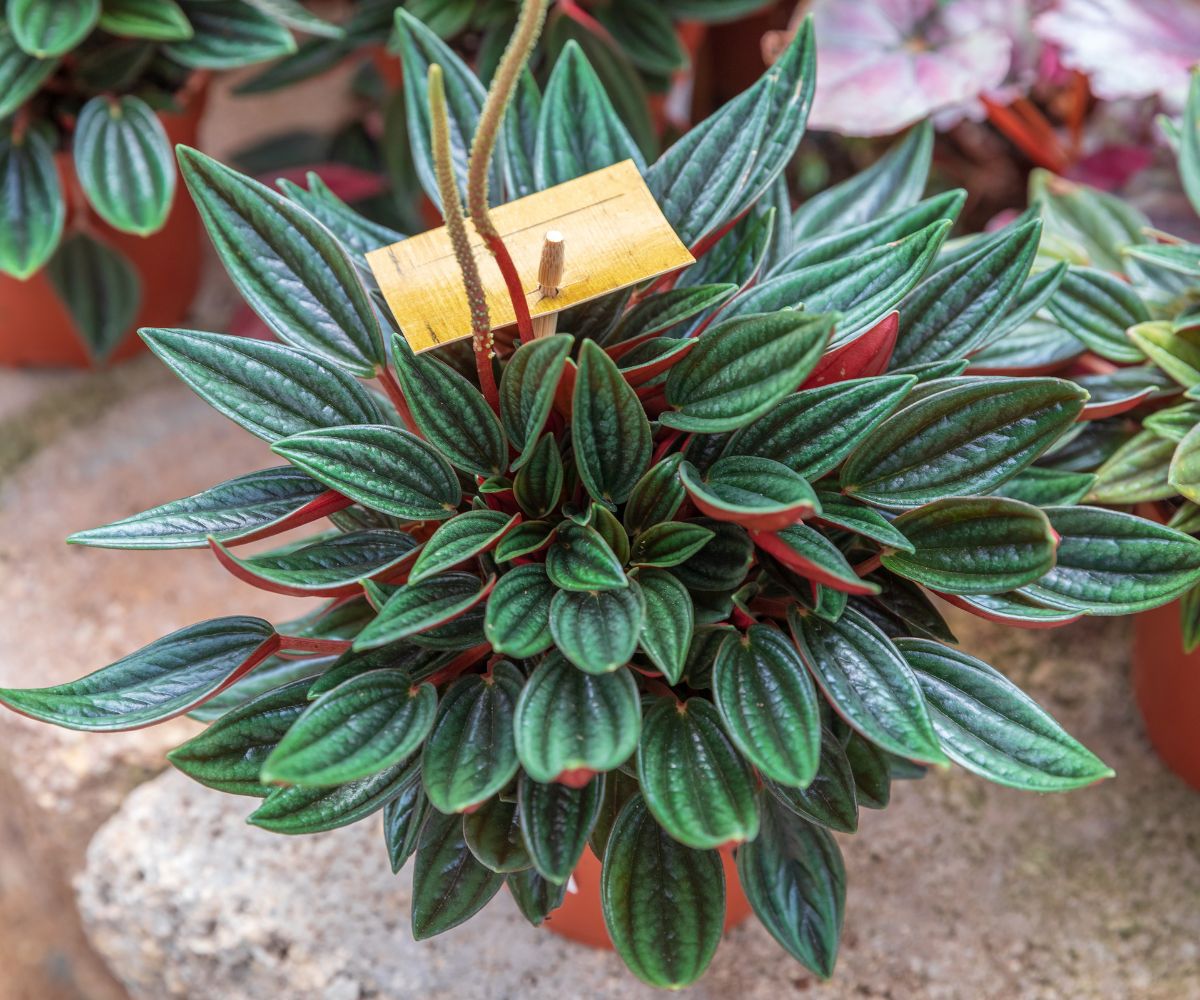 It is not often that the peperomia caperata encounters issues. But there are about a few common problems that it can attract, especially if you are careless with them.
Wilting: is one of the most common caperata growing problems that are most commonly caused by overwatering, underwatering and poor aeration.
Black stems & lower leaves: if your soil is too wet, it results in black stems and lower leaves. Cut off the stem from the base if there're a few infected ones and gently remove the plant from its pot to check the roots; if they are black and mushy, get rid of them, as they won't recover.
Leaf drop is most commonly a resultant effect of salt build-up in the soil from soft water or overfertilizing. It appears in the form of white crusty deposits on the soil surface.
Pests & Diseases: watch out for common problems that destroy your plants. Pests like spider mites, mealybugs, scale insects, and whiteflies can eat up your plants' roots, leaves, or stems and hinder their growth. On the other hand, fungal diseases and bacteria can be dangerous if you don't give your peperomia plant the required care.
Frequently Asked Questions
How big does a peperomia caperata get?
Peperomia caperata is a tropical perennial plant that can reach up to 8 inches (20cm) tall and wide.
Is peperomia caperata a fast grower?
If you want your peperomia plant to grow a little faster, you can add fertilizer. But don't apply too much because it wouldn't make it grow any faster but will rather stunt its growth. Additionally, since they are not very fast growers, you don't need to stress them by pruning.
How often should I water my peperomia caperata?
Endeavor to keep the soil slightly moist but do allow it to be too wet. It would be best to water your peperomia plant every 7 to 10 days, but only after the top half of the soil has become dry.
Do peperomias like misting?
Of course, peperomia plants love misting. They love moisture in the air, but you can enhance it with other methods, such as pebble trays, humidifiers, and water jugs.
Do peperomias like to be root bound?
Most peperomias do not like to be root bound. So, it would help if you did not allow them to get root bound by repotting them every two years to a pot one to three inches bigger than the initial ones.