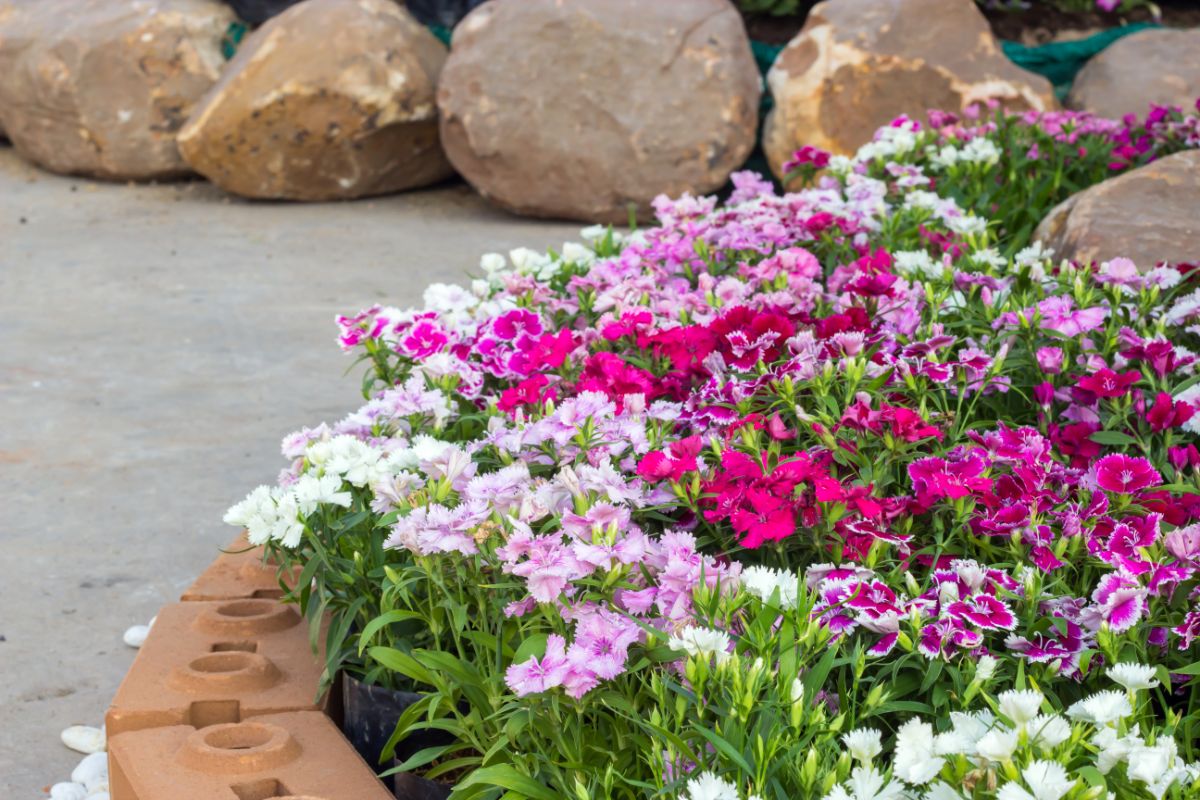 With its pleasant clover scent, artistic and great-looking blooms and low maintenance feature, Perennial Dianthus would forever remain in a league of its own.
Looking to own a garden with a breathtaking floral display? Perennial Dianthus flowering plants are just what you need to make that happen.
There are different perennial dianthus varieties, including Dianthus Chinensis, Dianthus 'Candy Floss', Dianthus 'Frizzy' (Pink), Dianthus 'Memories' (Pink), Dianthus Deltoids (Maiden Pink), and many more, which we will discuss in this article.
Let's get started!
Jump to:
What Are Perennial Dianthus?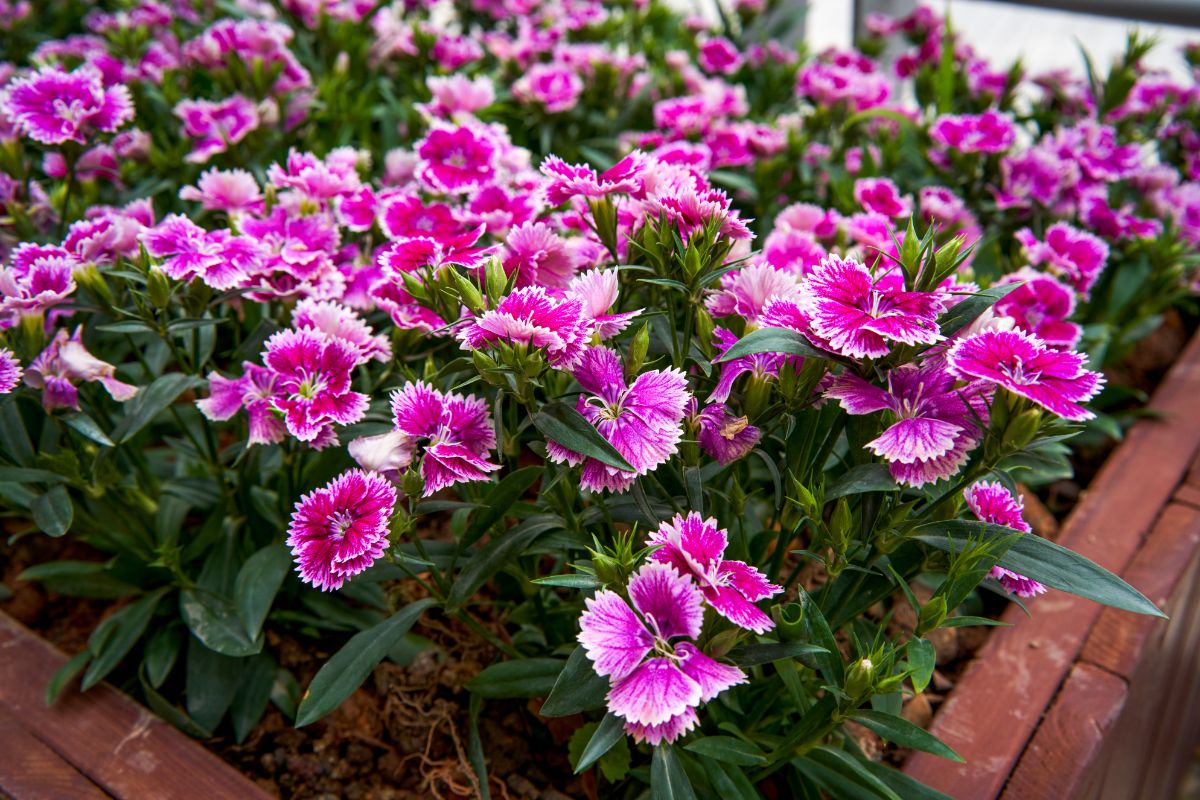 Dianthus is a genus home to over 300 different species of plant flowers. Native to Asia and Europe, the genus Dianthus has so many species that can either be annuals (plants that die off after a growing season), perennials (the ones that return for the next growing season and a lot more after that), and biennials (plants that survive for not more than 2 years).
From the Classic Sweet William of Cottage gardens to the mostly adored Carnations with the charming rock garden miniatures, there is no stop to the increasing beauty these plants offer.
They are primarily hardy from zones 3 - 9. It varies depending on the type but falls mainly within that zone range.
Perennial Dianthus Varieties
We bring you a list of some of the low-maintenance and very hardy perennial dianthus variants that would not only beautify your space but prove to be very beneficial in more ways than one.
As you read, you will discover how much of multipurpose plants the perennial dianthus are and the different ways they can be of use to you.
With the following 20 variants outlined, you will surely find one that suits your personal needs.
1. Dianthus Hybrid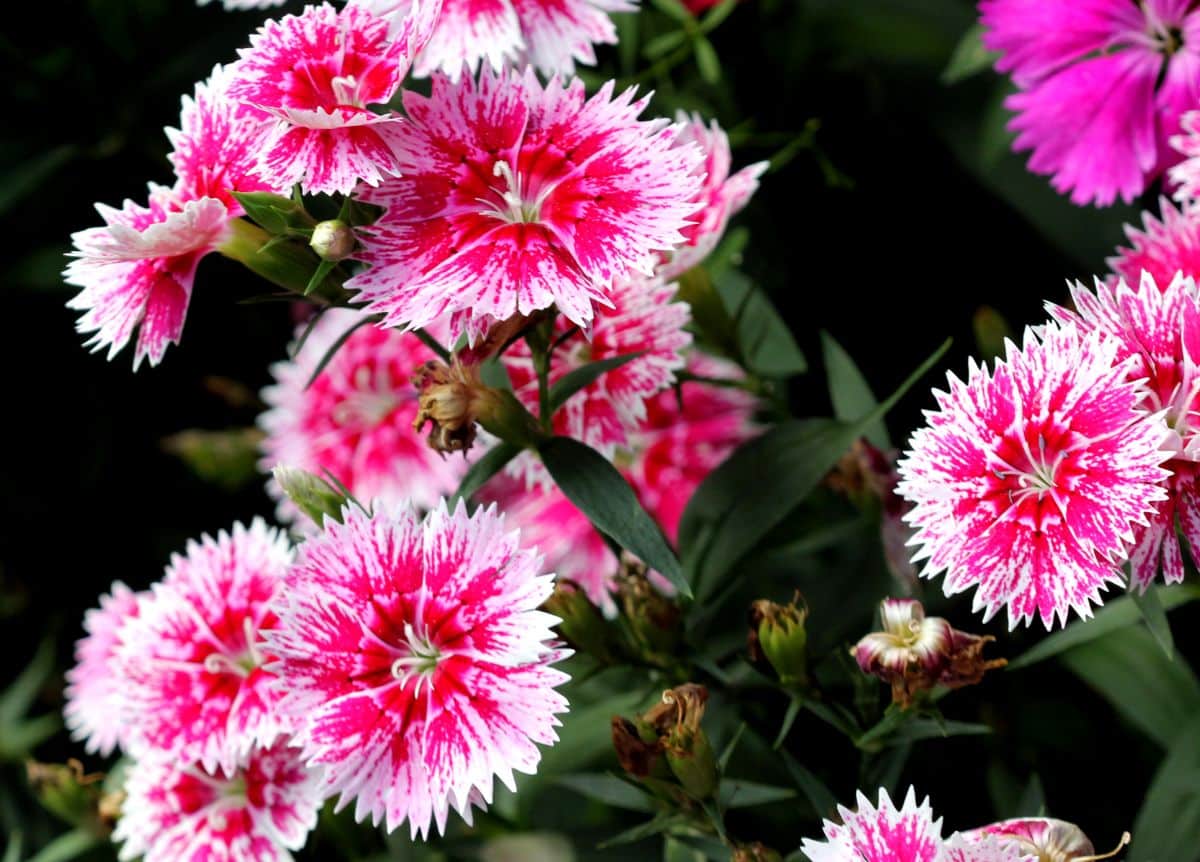 We begin this list with this magenta beauty. The D. Hybrid is one very dwarf flower with a mounding habit. Its height is about 8 inches tall, with some being way less. They grow as wide as 14 inches.
The D. Hybrid is quite hardy in zones 4 - 9; they can also tolerate heat.
For best results, have them planted under full sun to partial sun conditions and enjoy the visual beauty they offer, one that got them crowned as the 2022 National Perennial of the Year.
Their bloom time begins in early summer and makes a comeback in Fall.
2. Dianthus 'Candy Floss.'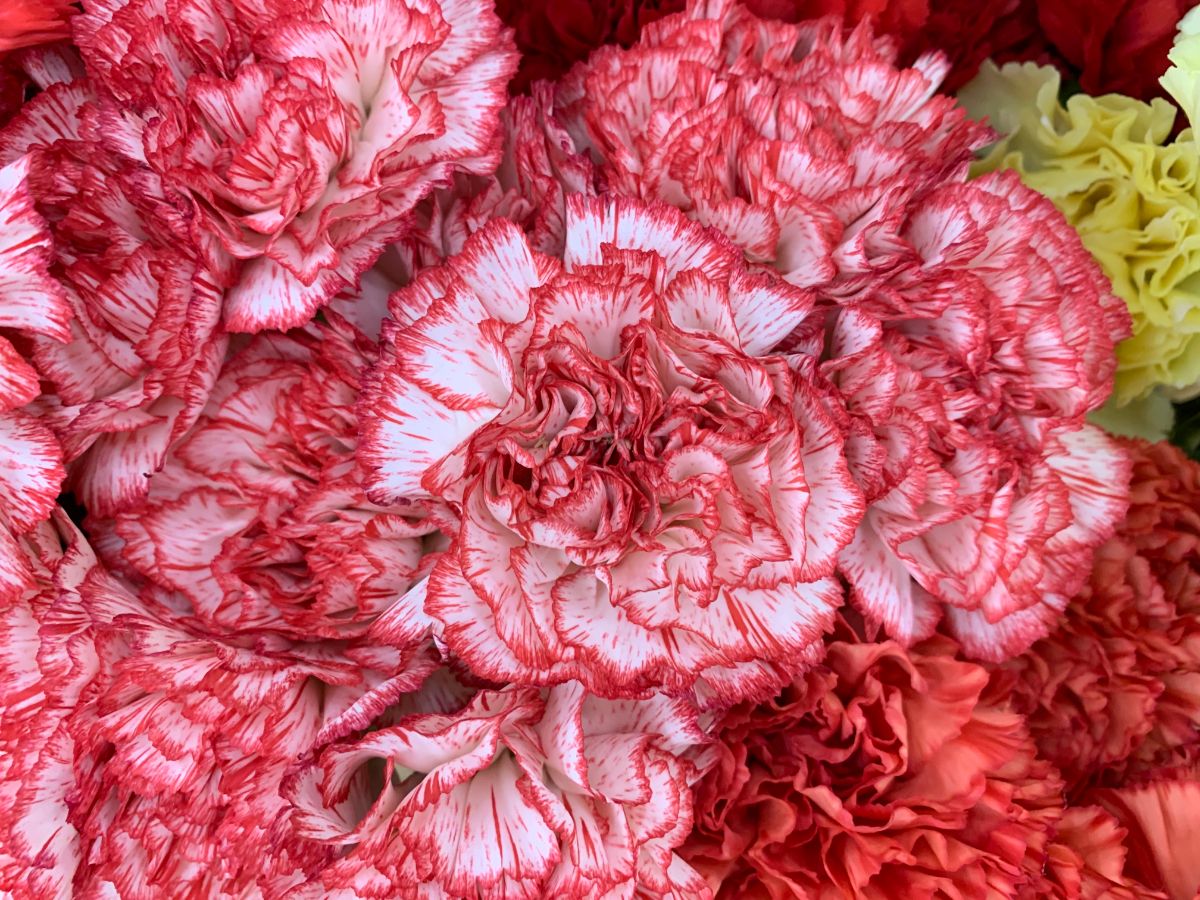 This alluring pink Dianthus perennial flower is sure to make your gardens look enchanting. Its beautiful scent, as well as a beautiful combination of double pale pink flowers with purple-red markings just close to the centers, makes them a sniff to experience and a sight to behold.
When they attain full maturity, the petals begin to transition into a darker shade of pink.
The candy floss flowers are very compact and free flowering, more than perfect for rock gardens. They are hardy in zones 5 - 9.
These plants have the tendency to grow as tall as 30cm and spread the same too. Their bloom season begins in late spring and sustains all through to Summer.
Consistent deadheading is required for this plant to enable more production of its lush flowers.
3. Dianthus 'Coral Reef' (Pink)
This is another perfect rock garden plant idea. They are pleasantly scented, double flowers with deep coral colors spotting beautiful whitish picotee just at its edges.
They are hardy from zones 5 - 9 and thrive better under full sun conditions. They have the potential of attaining a height and spread of about 25cm and have their bloom season in late spring all through to summer.
One feature that makes this plant highly desired is its compact nature.
4. Dianthus 'Coconut Surprise' (Pink)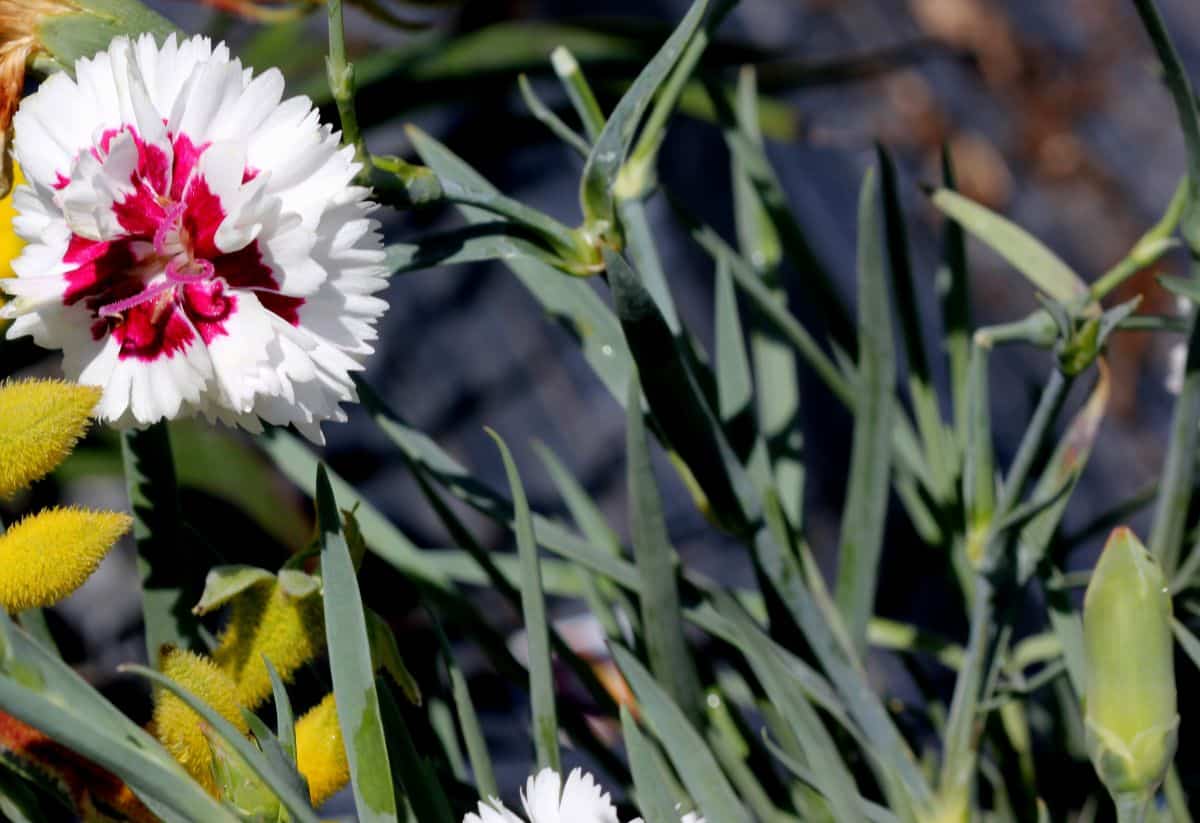 The compact and free flowering feature of this plant makes it equally great as a rock garden plant.
Other delightful features like its pleasant scent and sparkling white double flowers with a beautiful contrasting claret red eye in the middle make it the right choice of a beautifying plant for your gardens.
This plant is hardy in zones 5 - 9; they can grow as tall as 25cm and experience their bloom from late spring till summer.
5. Dianthus 'Frizzy' (Pink)
All hail the Frizzy. It is amongst the earliest and longest flowering dianthus variant.
The Frizzy can best be described as charming. From its magnificent scent to its double flowers of lavender, designed with serrated edges and a dark purple center, everything about it is so lovely.
Frizzy's are hardy in zones 5 - 9; they do very well when planted in a place where they can get full sunlight and attain an overall height of 15cm and a 30cm spread.
Their bloom season? Early/mid Spring down to late Summer as long as regular deadheading is practiced.
6. Dianthus 'Passion' (Pink)
If planted in mass, you get a bunch of compact, free flowering and pleasantly scented charming, velvety red double flowers.
This plant is hardy in zones 5 - 9; they prefer full sun and can attain an overall height and spread of 25cm, respectively. Their bloom season occurs in late spring and can be sustained all through summer if regular deadheading is practiced.
7. Dianthus 'Fire Star' (Pink)
One prominent feature of the Fire star is its long blooming season. Staying true to its name, the Fire star indeed has a star-like behavior in almost every faucet.
The speed at which it produces its clove scenting, bright red flowers, the abundance of the flowers when they appear, and the way it grows compactly are just a few of its star traits.
The Fire star is hardy in zones 5 -; they grow best under full sun and can get up to 22cm in height and a full spread of about 30cm.
Their bloom season occurs in late spring and continues till mid-summer. A rebloom in Summer would likely happen if you have the plants deadheaded regularly.
This bright red glowing flower with dark crimson eyes is one plant you need in your garden.
8. Dianthus 'Memories' (Pink)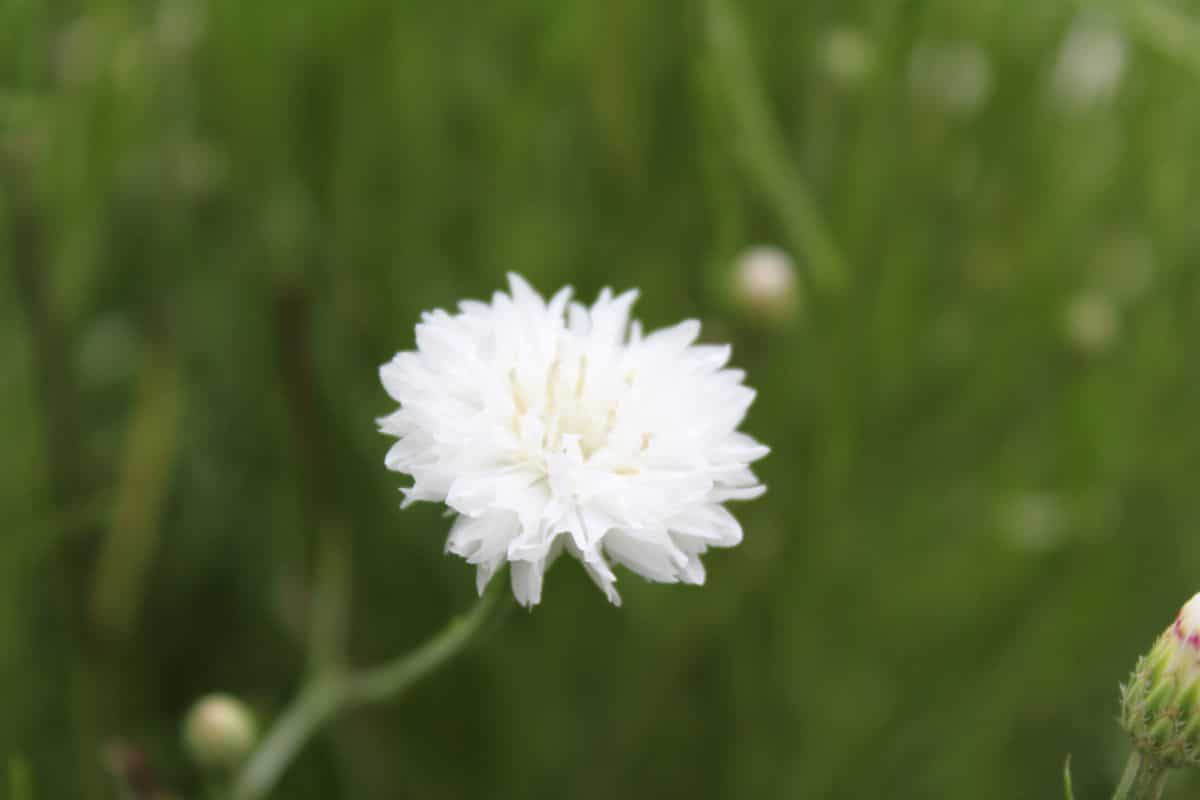 Remember the highly desired 'Mrs Sinkins' of old? Dianthus Memories is an upgraded and improved modern version of the Mrs Sinkins of 1863.
This plant is a lovely scented mass of double bright, white flowers.
They are hardy in zones 5 - 9, prefer to be grown under full sun conditions and can grow as tall and wide too as 30cm. Its bloom season occurs from late spring to late summer.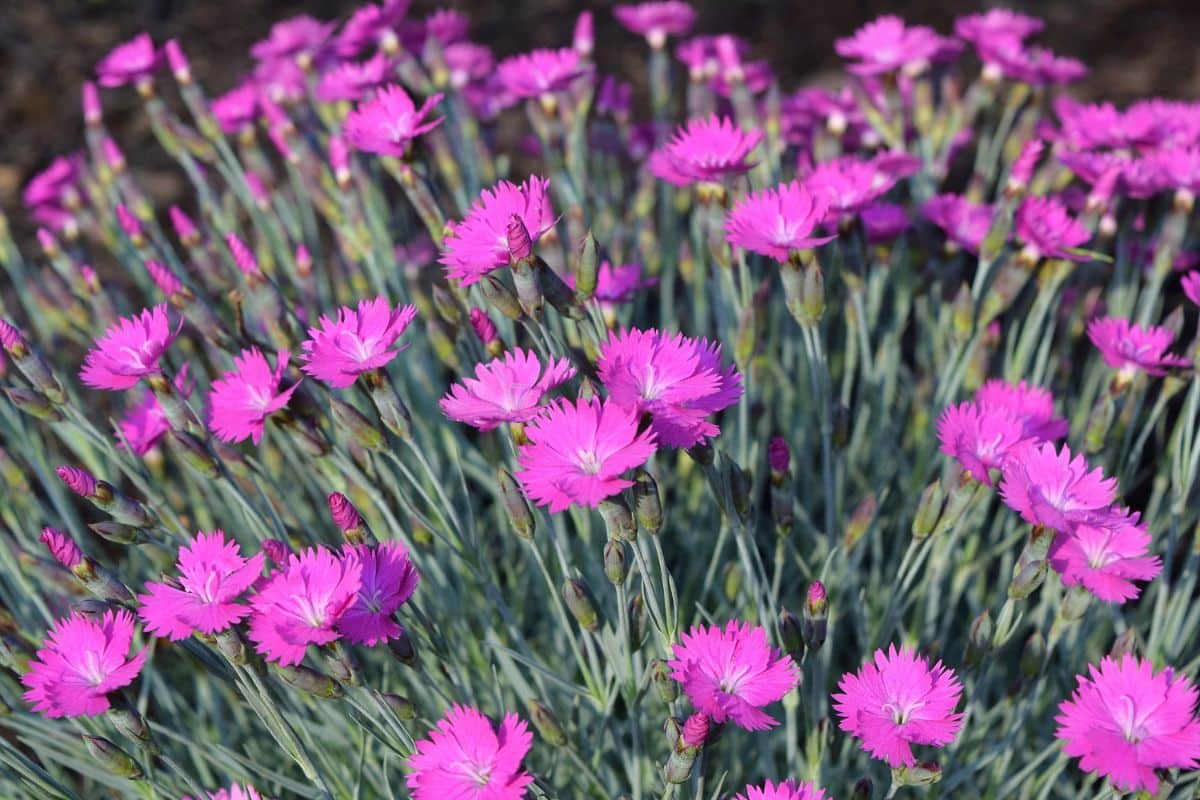 One of the evergreen Dianthus perennials you will find. The Firewitch cheddar pink produces flowers in abundance.
These sharp, purple-pink flowers have grilled petals in mounds of silvery, grassy foliage and release a sweet clove scent into the atmosphere, blessing your garden with its beautiful bloom every mid to late spring. You will find the blossoms covering the entire plant.
What's more?
A rebloom might still occur both in summer and fall if plants are well deadheaded.
The Firewitch is hardy in zones 3 - 9. They prefer being grown under full sun conditions and can attain an overall height of 20cm and spread of 30cm.
10. Dianthus 'Sugar Plum' (Pink)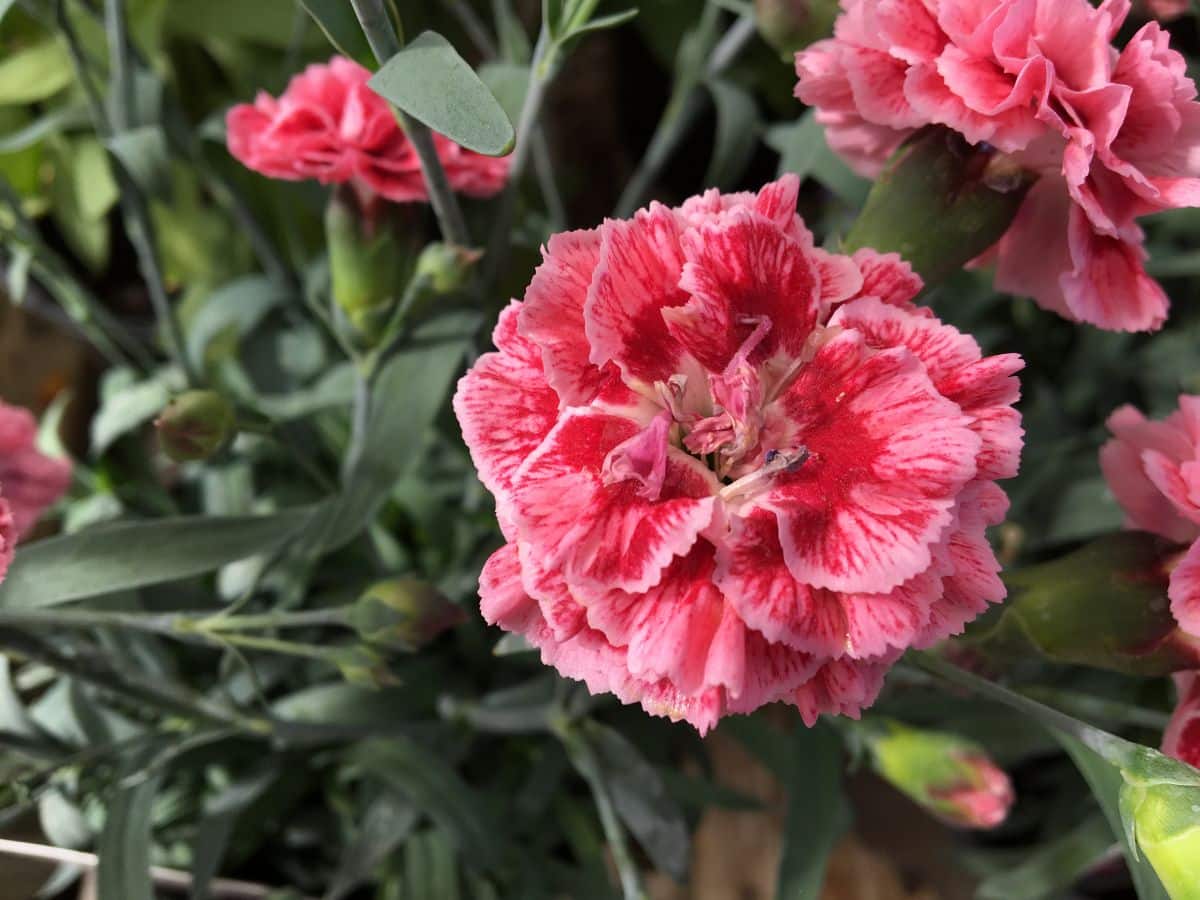 An absolutely adorable perennial plant, you will find this beauty in masses of richly scented double flowers, loaded with wavy petals of pink, white and maroon.
This plant is very compact and free flowering, which makes it an excellent plant for a rock garden.
It is hardy in zones 5 - 9, prefers full sun and has the potential of reaching a full height and spread of 25cm, respectively.
Their bloom season? From late spring all through to Summer.
11. Dianthus 'Pink Fizz' (Pink)
Features of the Pink Fizz include; highly compact growth, heavily scented flowers, fully double and beautiful bubble gum pink flowers and hardiness in zones 5 - 9.
Additionally, it can attain a maximum height and spread of 25cm, respectively.
Its bloom season occurs in late spring all through Summer.
12. Dianthus 'Romance' (Pink)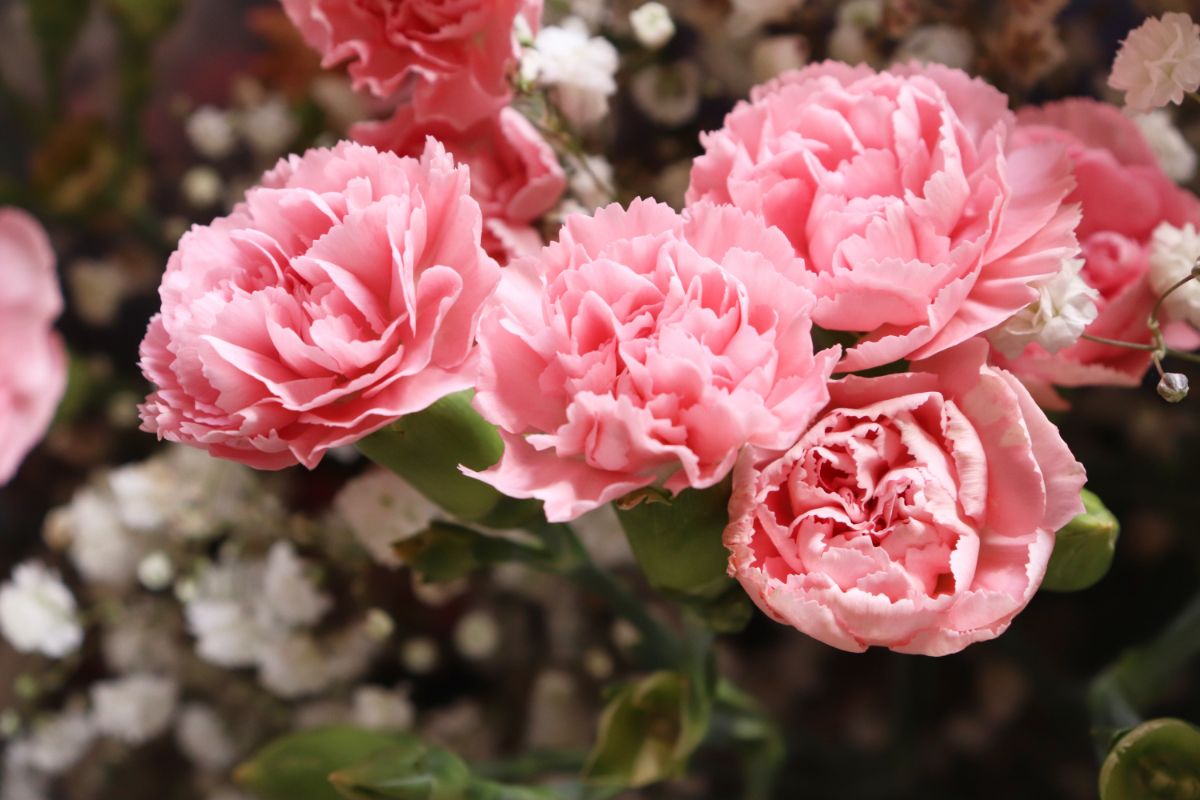 This perennial plant grows in masses of richly scented, salmon pink double flowers with a carmine blush eye spotted sitting pretty in the middle.
They are very compact and free flowering plants, hardy in zones 5 - 9.
Like most others, the Dianthus Romance prefers full sun. It has a minimum overall height and spread of 20cm and a maximum of 25cm, respectively.
With constant deadheading, they are sure to bloom every late spring through summer.
13. Dianthus 'Raspberry Surprise.'
This semi-double, heavily scented rosy pink flower with a burgundy-colored eye in the middle is one to make your day each time you see it.
They are hardy in zones 5 - 9 and prefer being grown under full sun conditions.
Their bloom season occurs in spring up until Summer.
Dianthus Raspberry Surprise's height and spread range are 20 - 25cm.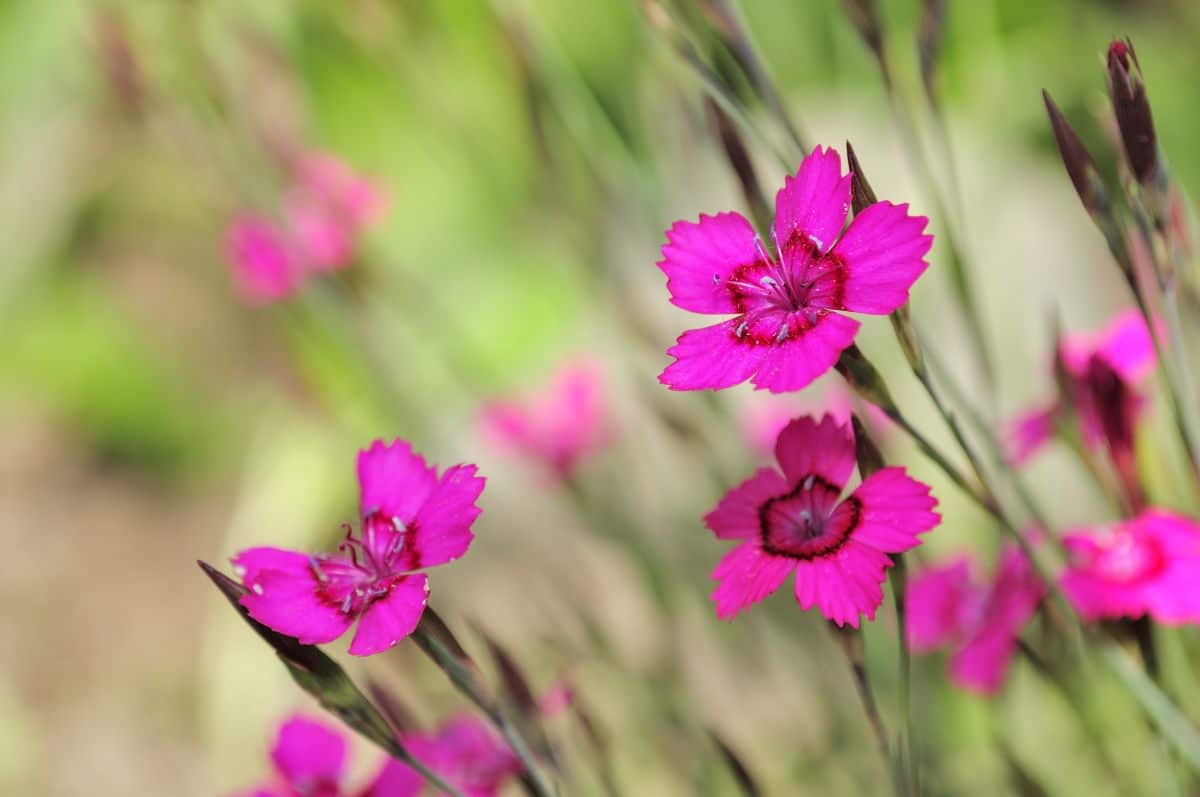 This perennial is quite different from others that you might know. The plant, in its bloom season, makes a spread of very narrow green leaves. In its foliage, you will find small-sized single flowers in colors of red, pink or white.
The Dianthus Deltoids are super easy to grow and maintain; they attract bees and butterflies but stay resistant to deers. This is due to the fact that they are branched on flowering stems.
They are hardy in zones 3 - 9, with a height set as 15cm - 30cm and a maximum spread of about 60cm!
This active and free flowering plant is perfect for rock gardens or ground covers.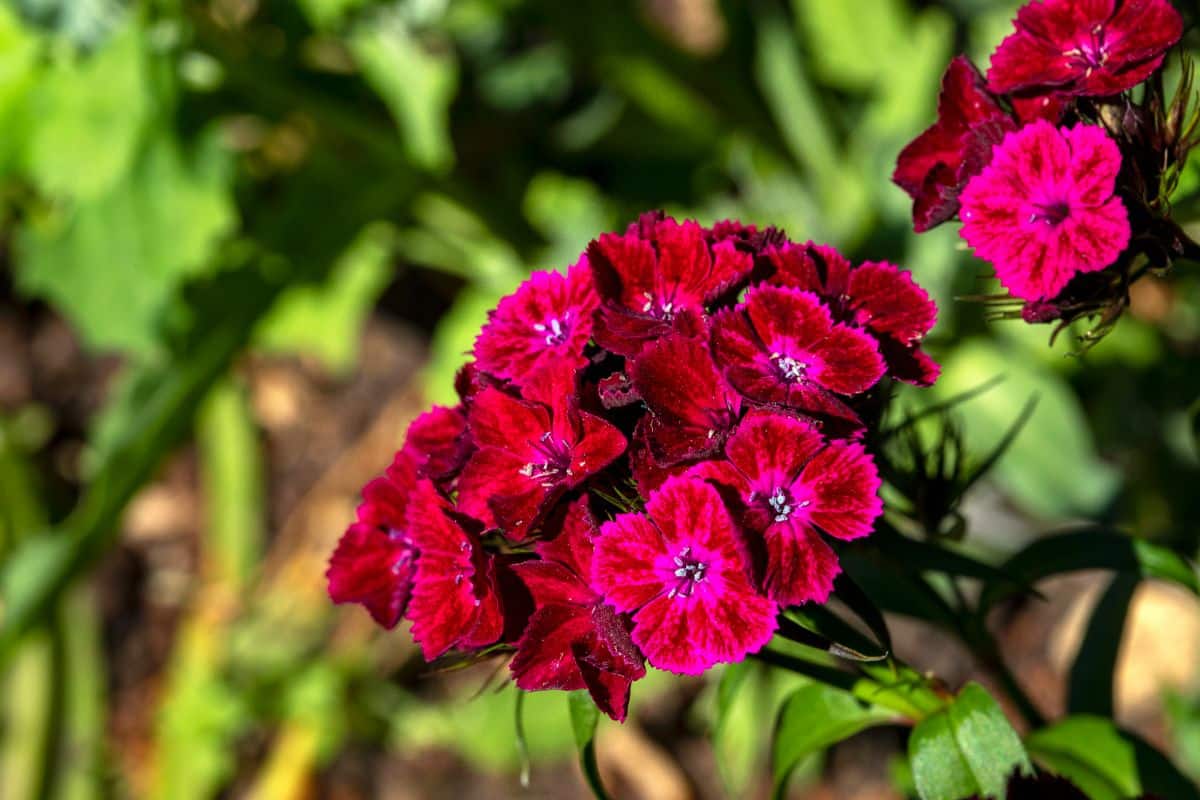 Ready to get your gardens rocking? The Dianthus Barbatus got you!
This hardy perennial is as versatile as you can ever imagine. They are perfect for cut flower gardens, wildlife, cottage and scented gardens.
Did you also know that the Barbatus are helpful in the culinary world too? The clove-like tasting petals are used in cake making as a flavor and also for decorative purposes. They are also used in the preparation of soups, sauces and salads.
They thrive better under full sun and have their flowering season in the months of June, July and August. This multi-purpose Sweet William Flowering plant is a sure bet to turn your gardens around.
A perennial specie belonging to the Caryophyllaceae family, this plant, also known as 'wild pink', garden pink or just Pink, is an extremely adorable mass of Pink flowers.
They bloom from late spring all through to late summer, making the garden attractive for bees and butterflies.
They can be used for different purposes - perfect for borders, edging, cottage gardens, ground covers and even ideal for planting in containers too.
They prefer to be planted under full sunlight in a well moderately moist, well-drained soil.
With regular deadheading, their flowering period would span way longer, and they would grow well, attaining a maximum height of 16 inches and spread of about 40cm.
The Dianthus Plumarius is quite sturdy, super easy to grow and makes the best, long-lasting cut flowers. Ensure you do keep them away from animals, as they are slightly toxic to a handful of them.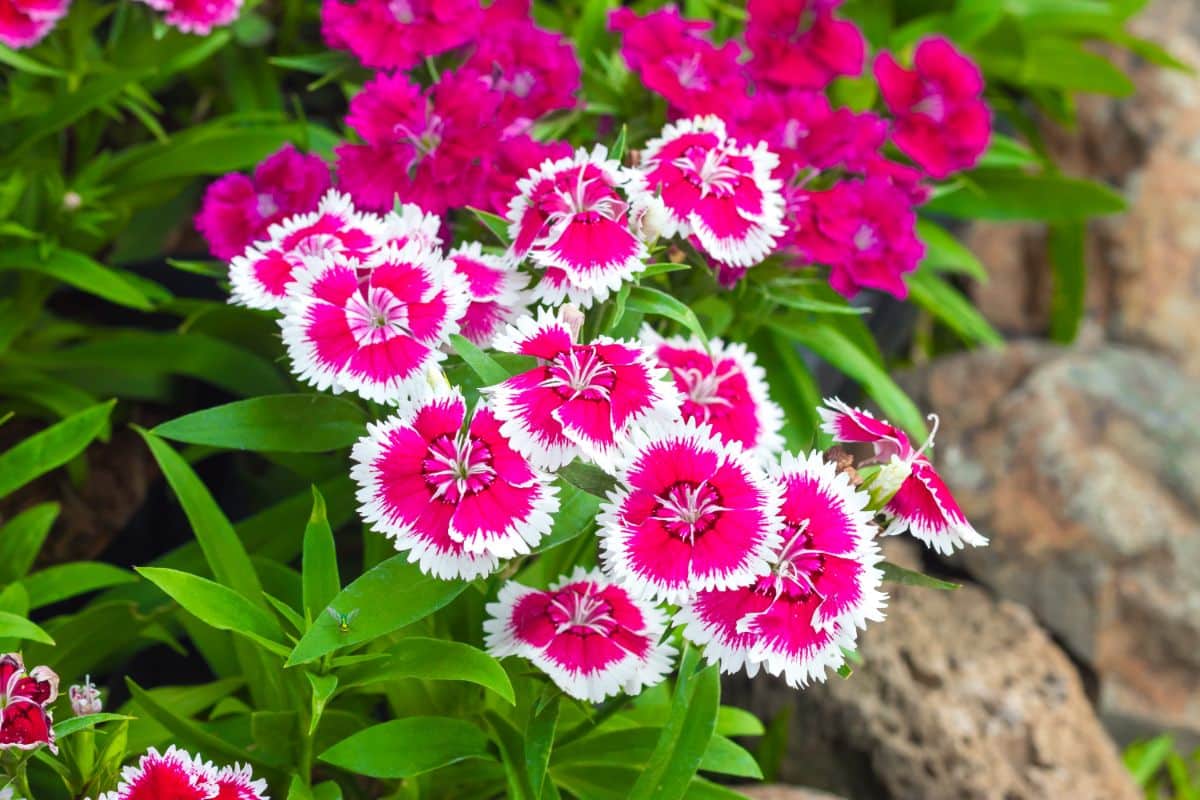 Rainbow Pink or China Pink are other names this flashy plant goes by. As you might have guessed, they are native to China but not just there; South Eastern Russia and Mongolia too.
The China or Chinese Pink plant has greyish green narrow leaves with white or pink flowers. Their bloom season, which usually occurs from spring to mid-summer, sees them form small clusters.
They thrive under full sun conditions, in dry to medium moisture and in well-drained soil.
The China Pink plant has the capacity to grow up to 50cm tall, and they are perfect for container planting, beds, borders, and edges too.
With hardiness in zones 5 - 10, you can be sure of the sturdiness of this plant.
Apart from its durability, this hardy perennial adds a rich color to your garden. Its burgundy red, double flowers its charming scent will captivate anyone who sets eyes on it.
They turn out perfectly when planted in containers on a patio or as a border plant. The herbaceous plants fare very well when planted under full sunlight in well-drained soil.
One good thing about them is how they attract beneficial insects into the garden and scare away deer. Always see that you deadhead regularly to experience an extended flowering period.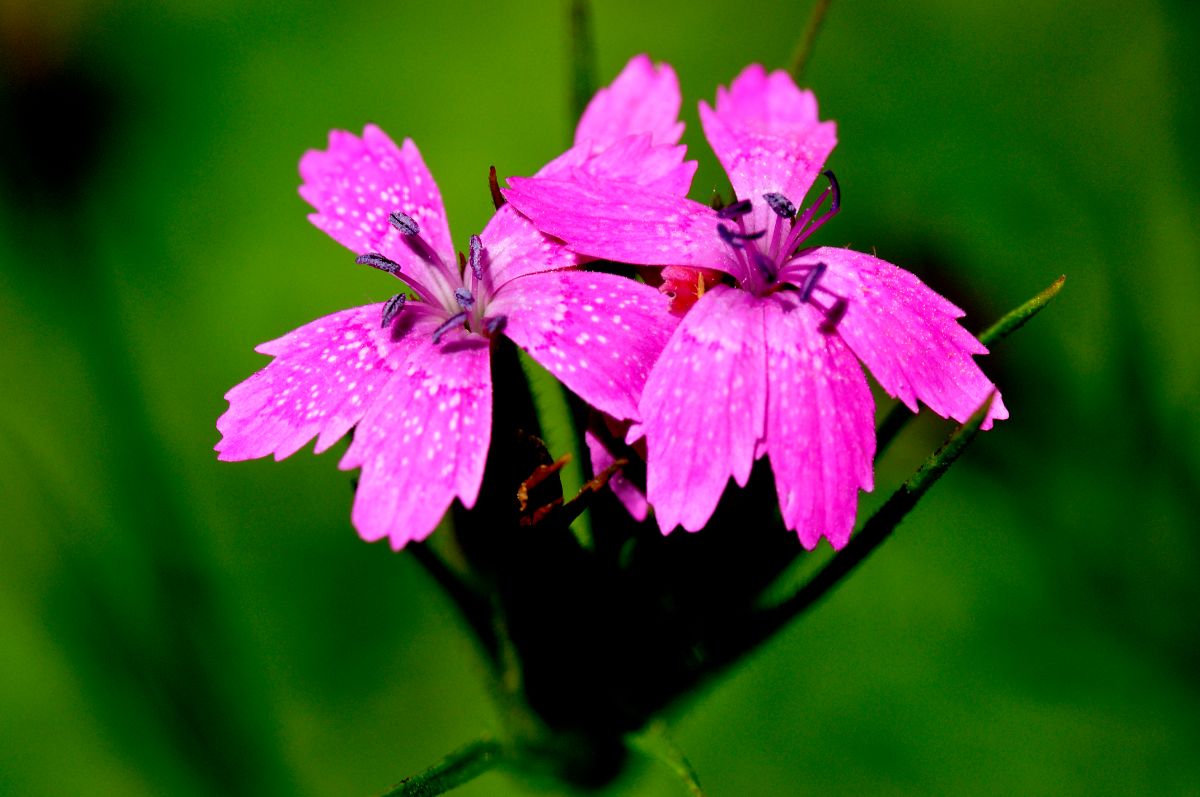 A lovely Pink Carnation flower. Its soft Pink colors add a burst of brightness to your garden.
The Dianthus Armeria can grow as tall as 12 inches out there in the wild without any form of care but will grow much larger when planted and established well in your home garden.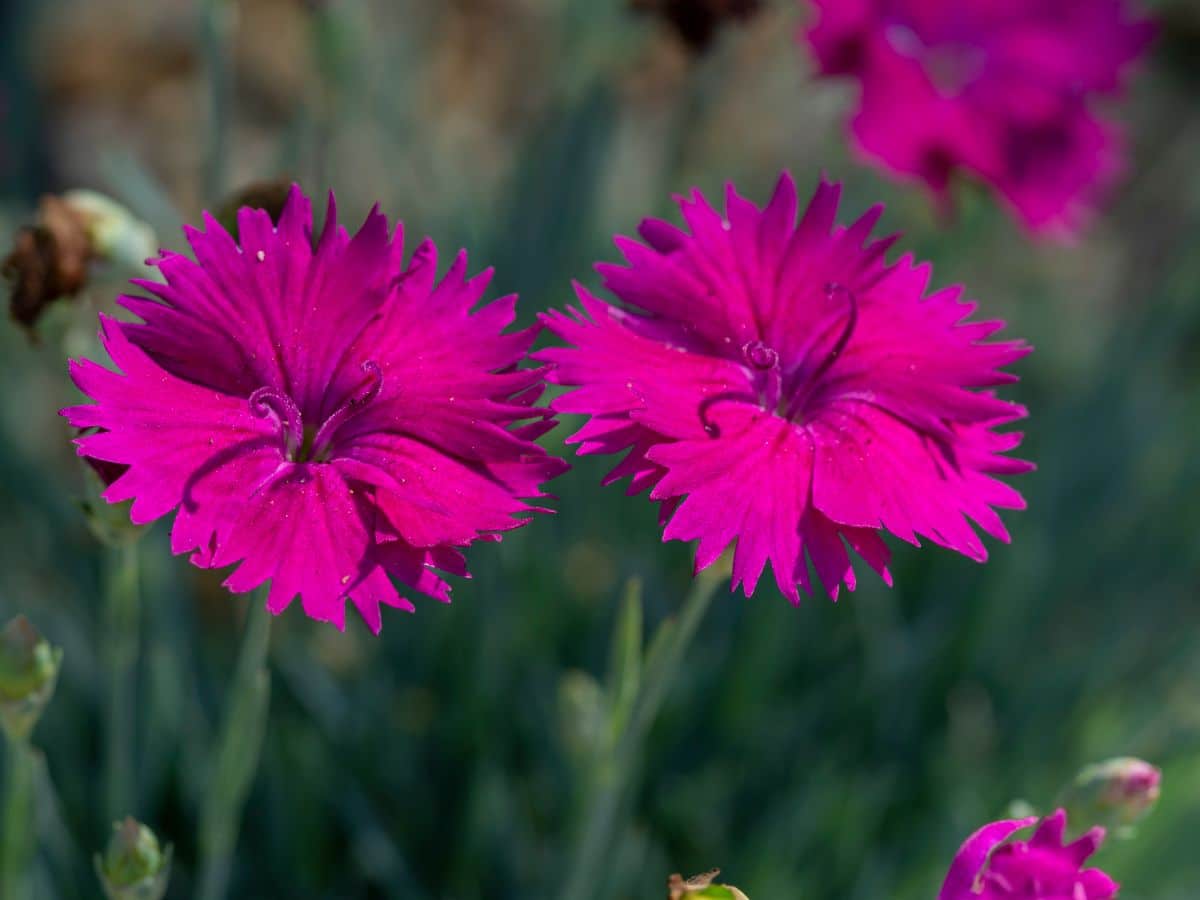 There is something about the Dianthus Neon Star that makes it give your garden a facelift when planted.
Perhaps it's the frilly flower edges or its star-like shape? Or perhaps it's both. Neon Stars are quite easy to grow and, if established well, can attain a maximum height of 8ft. They are also quite sturdy and can comfortably tolerate heat and drought.
Growth And Maintenance Of Perennial Dianthus Plants
Knowing the right growth process and care tips for the perennial Dianthus will save you from a lot of problems that might occur in the future.
For instance, knowing the right site for them to be planted will make your plants thrive and totally resistant to pests and diseases.
Planting Requirements
For Perennial Dianthus, it is best to commence planting once the cool months approach, usually during early Spring or Fall.
The art of dividing the plants should also be encouraged. This is because, as time goes on, old plants may begin to have dead spots at the foliage center. This is the point at which it needs to be separated.
You can get this done by cutting clumps into several places, settling down to remove the foliage's dead parts and replanting them into different spots.
Planting Site Requirements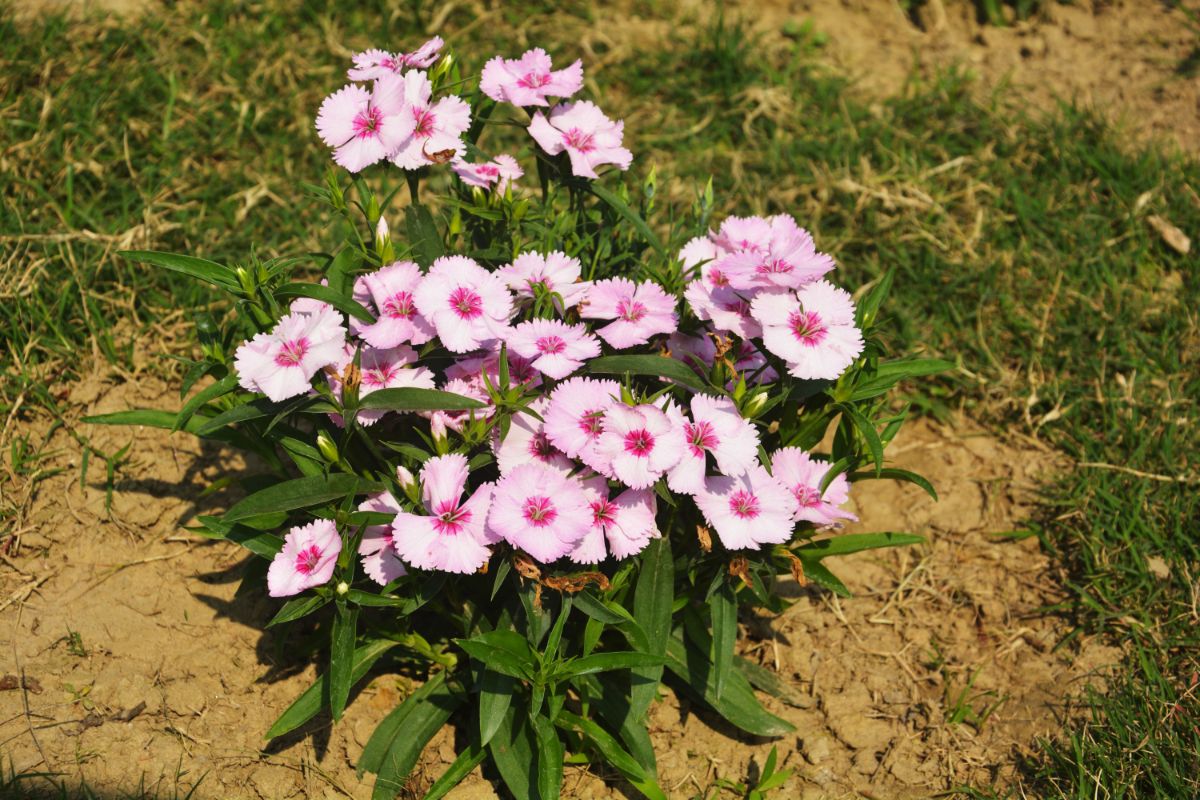 Perennial Dianthus are best grown with a minimum spacing of about 6 inches and a maximum of 12 inches. This means the site has to be spacious enough to accommodate your plants growing at most 12 inches from each other.
The site also has to be one in which they are sure to get a good dose of sunlight. Perennial Dianthus require full sun or, at least, part sun to grow well. Planting them in a shady site would make for the production of lesser flowers and rotting of the crown.
Soil Needs
Most Perennial Dianthus plants thrive best in rich and well-drained soil.
For best results in your perennial Dianthus growth project, have the soil loosened to about 12 inches depth and mix with 3 - 4 inches of organic matter, compost especially.
The essence of doing this is to fortify the soil with added nutrients, thereby making it richer.
Furthermore, ensure that the whole of the root ball is covered with the soil in order for them to adequately feed from its nutrients. Use your hands to tap the soil slightly around the plant's base to solidify it and keep it in place.
Watering Requirements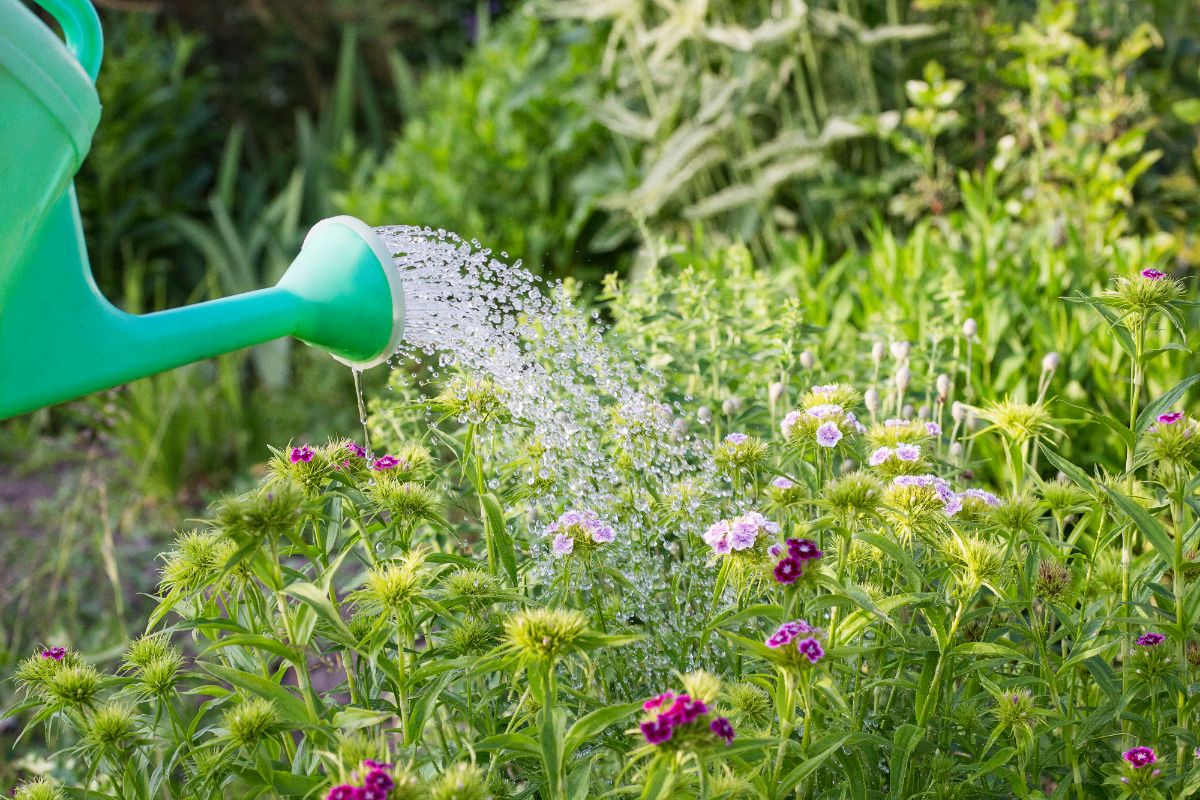 Watering of the plants should be frequent in the hot months of the year, but during summer, watering the plants once a week should be sufficient.
Watering should only be done when needed as too much watering can lead to rot. Watering from above should also be avoided to prevent the leaves from getting mold.
Deadheading The Plants
Deadheading simply means the process of removing spent blooms. This process is necessary as it aids the production of much more new flowers.
Fertilizer Needs
To ensure a perfect establishment of your plants, see that they get a sufficient dose of fertilizer during the spring season especially.
The use of organic mulch is really not necessary for the growth of the perennial Dianthus. The use of graves and stone chips is advised instead to limit weeds. Organic mulch tends to lead to fungal problems and rot.
Staking Needs
You might be required to have Perennial Dianthus variants with long stems staked to keep them from being bent but grow upright instead.
Frequently Asked Questions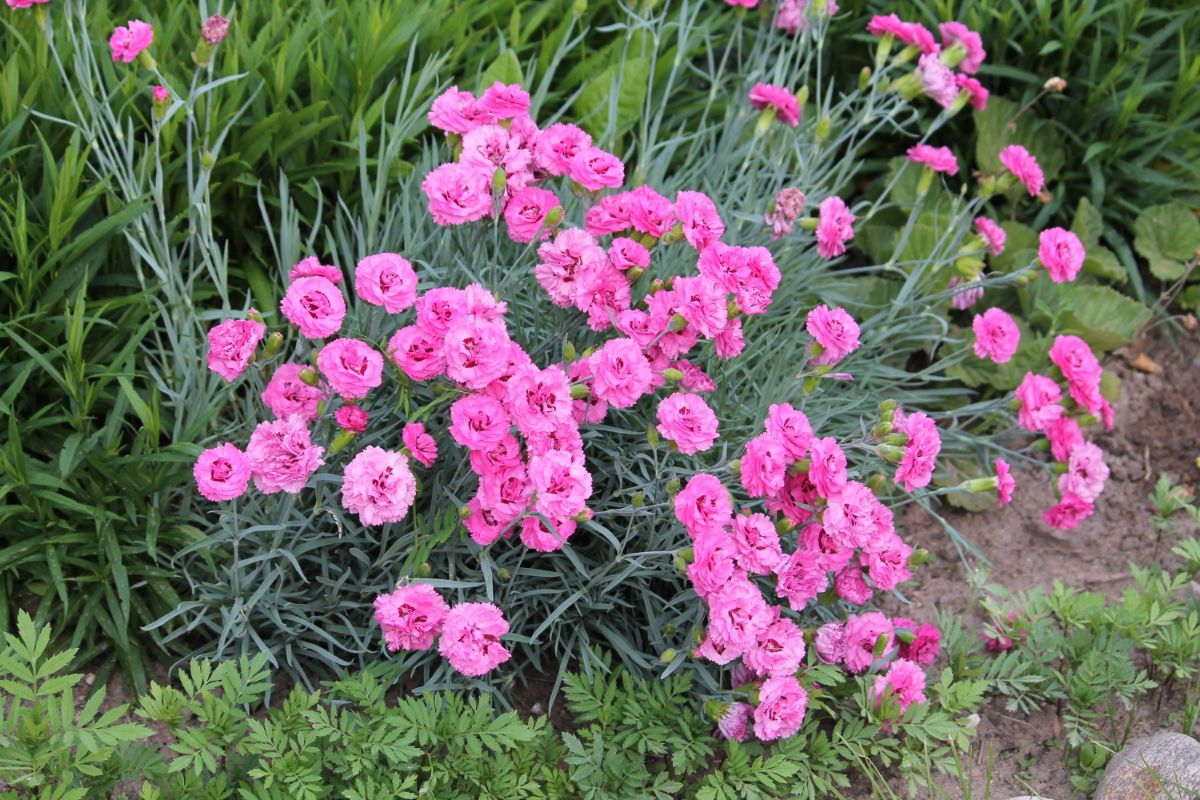 What Are Some Of The Reasons To Grow Perennial Dianthus?
We all know how much of a low-maintenance plant perennial Dianthus are, but they're many more advantages of growing them. Perennial Dianthus are available in all sorts of shapes and sizes.
They bloom in multiple colors, are a great attraction for butterflies and other pollinating agents, are beautiful as border displays, even when planted in containers and are perfect for cutting gardens.
Which Type Of Perennial Dianthus Is Great For Large Scale Landscapes Or Cutting Gardens?
For cutting and extensive scale gardens, tall perennial varieties should be planted, and the best way to have them planted is in rows or en masse for a great aesthetic view. Perennial Dianthus that fall into this category is the Sweet William or Carnation varieties.
Is The Foliage Of Perennial Dianthus Toxic?
We can say they are slightly toxic. There have been a couple of reports of skin irritation cases of some individuals. However, the discomfort was said to last for just a few minutes. Pets are to be kept away from the plants as ingesting them has been proven slightly toxic.
Final Note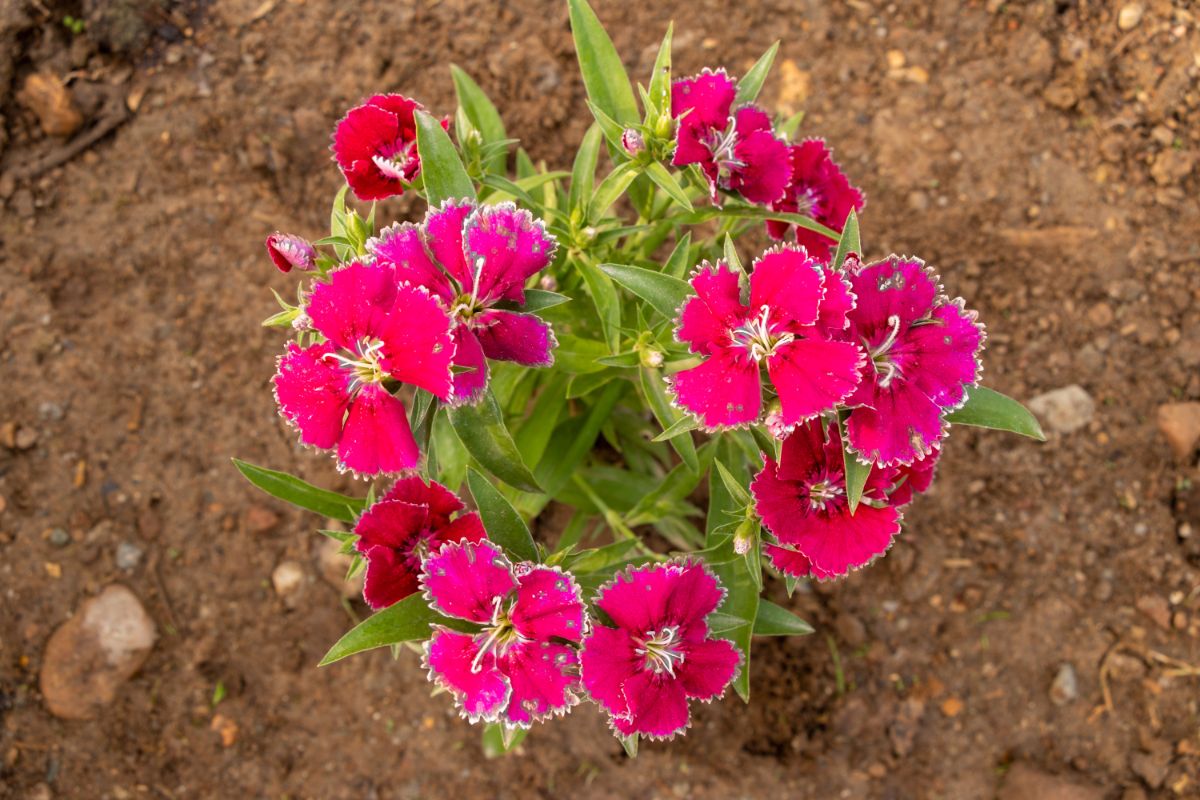 With the Dianthus Perennial plants, nothing should stop you from birthing to life in the garden of your dreams.
With the array of varieties at your disposal, the low maintenance advantage it offers and the extreme beauty it blesses your gardens with, we do not see any reason you are stalling.
Get some great Dianthus Perennial flower ideas from this article that work for you and fit into your garden's needs, as well as helpful growth and best care tips to get you started on the right footing and begin to create the garden you have always imagined.