If you're looking for more straightforward methods to retain the beauty in your garden or landscape for as long as possible, consider planting a collection of perennial flowers that bloom from spring to fall in your outdoor space. They are the ideal addition to your garden.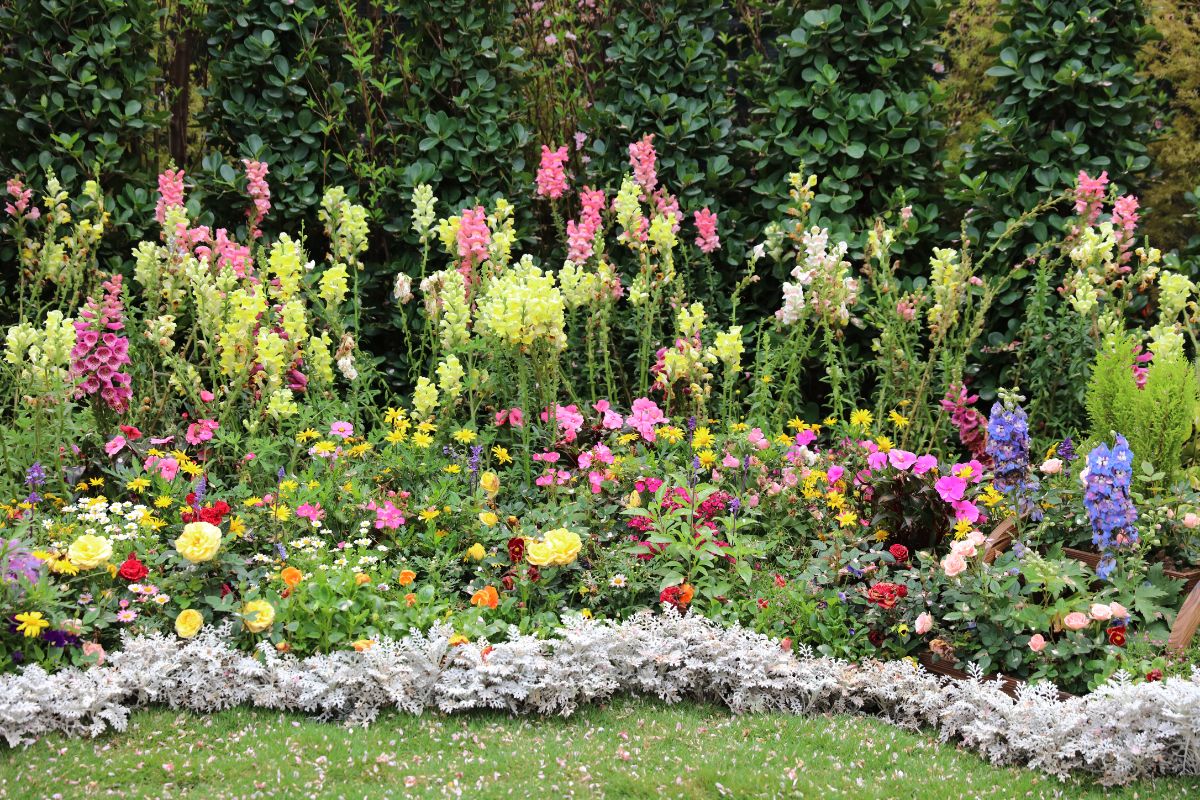 Interestingly, many perennial flowers can produce flowers from spring to fall, even in cold temperature zones, such as peonies, garden phlox, knock-out roses, flower carpet roses, Catmint, English lavender, allium, coneflowers, and lots more.
These perennials return yearly with little maintenance and improvements in display with time.
Jump to:
What are Perennial Flowers that Bloom from Spring to Fall?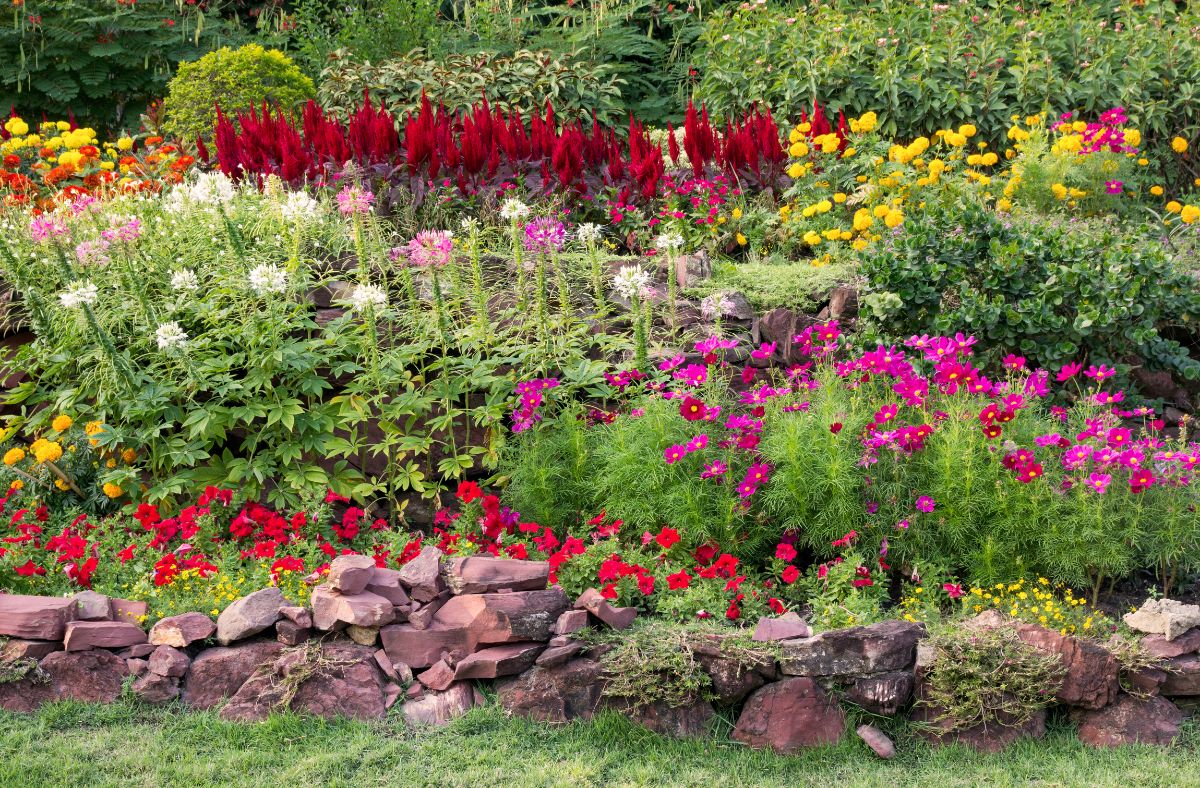 Almost all gardeners know that not every flowering period stays forever. Therefore, no matter the joy flowering perennials give us, specifically in spring, every flower desires an opportunity to recover from the stress of drawing pollinators like bees and butterflies.
However, we are not saying that you only need one-season flowering plants in your flowerbed. Why would you? When numerous flowering perennials bloom from spring to fall, you can retain your joy for much longer.
Perennial flowers that bloom from spring to fall are those flowering perennials that are not one-season wonders.
In other words, regardless of the condition or season, you'll still see them produce beautiful flowers from season to season. These plants always come back every year, with little or no maintenance, and still improve in display over time.
They are the perfect plants for every level of gardener, from beginners to experienced, and growing them can transform your landscape into an oasis that comes back every year. They also ensure your garden retains its beautiful blooms all year long. Read down to choose from our list of top 25 perennial flowers that bloom from spring to fall.
Perennial Flowers that Bloom from Spring to Fall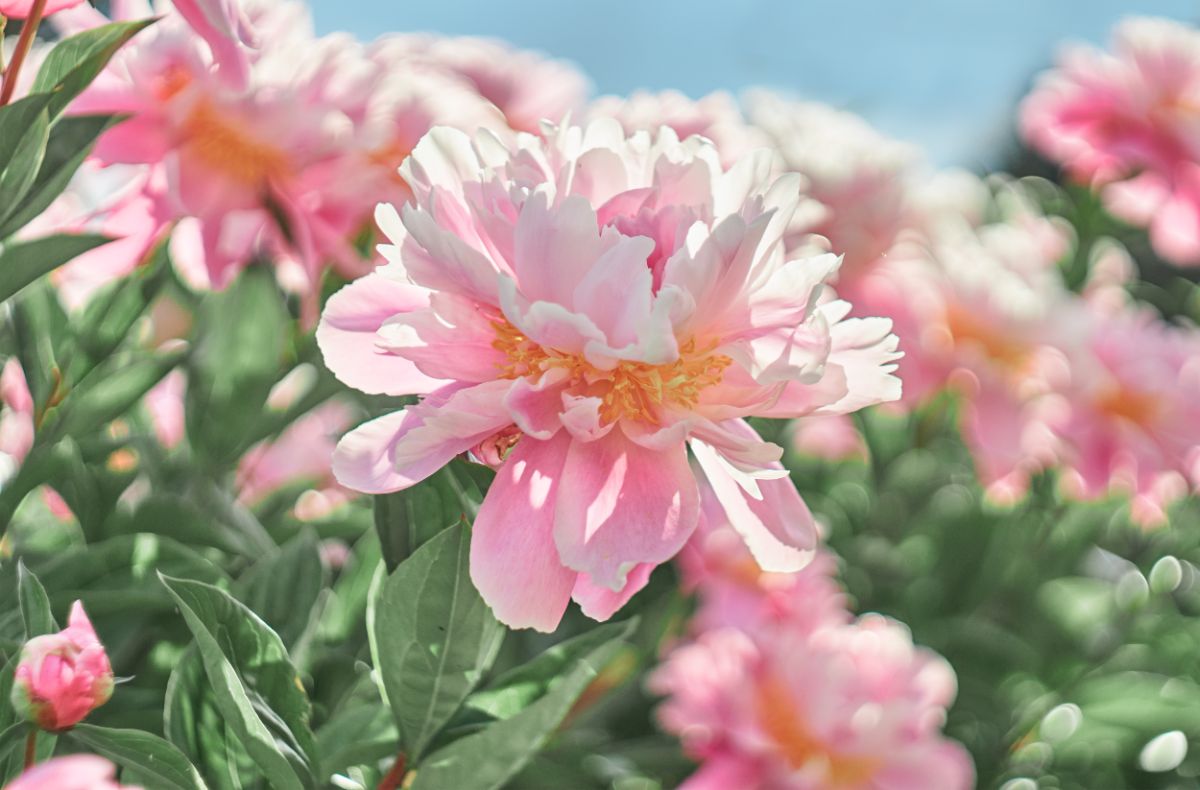 Peonies are at the top of our list of perennial flowers that bloom from spring to fall. Of course, there is a reason it comes first on this list. This perennial is an incredible plant featuring massive bulbous bloom and soft petals, which unveil itself during the day. They are shrubby perennials with glossy dark green foliage and lush, exuberant flowers.
Meanwhile, these flowers produce some pleasant fragrances in late spring. Peonies can last at least four years, and their flowers come in single, double, or semi-double forms in a vast collection of beautiful pastel colors and bi-colors. Therefore, if you plan to add some brightness and color to your landscape, you shouldn't look past peonies.
You can always see them in shades of pink and red. Like most perennial flowers, peonies prefer well-drained soil and are hardy to USDA zones 3 to 8. Even though they bloom from spring to fall, the best time to grow them is in the fall, ready to produce flowers in May and June.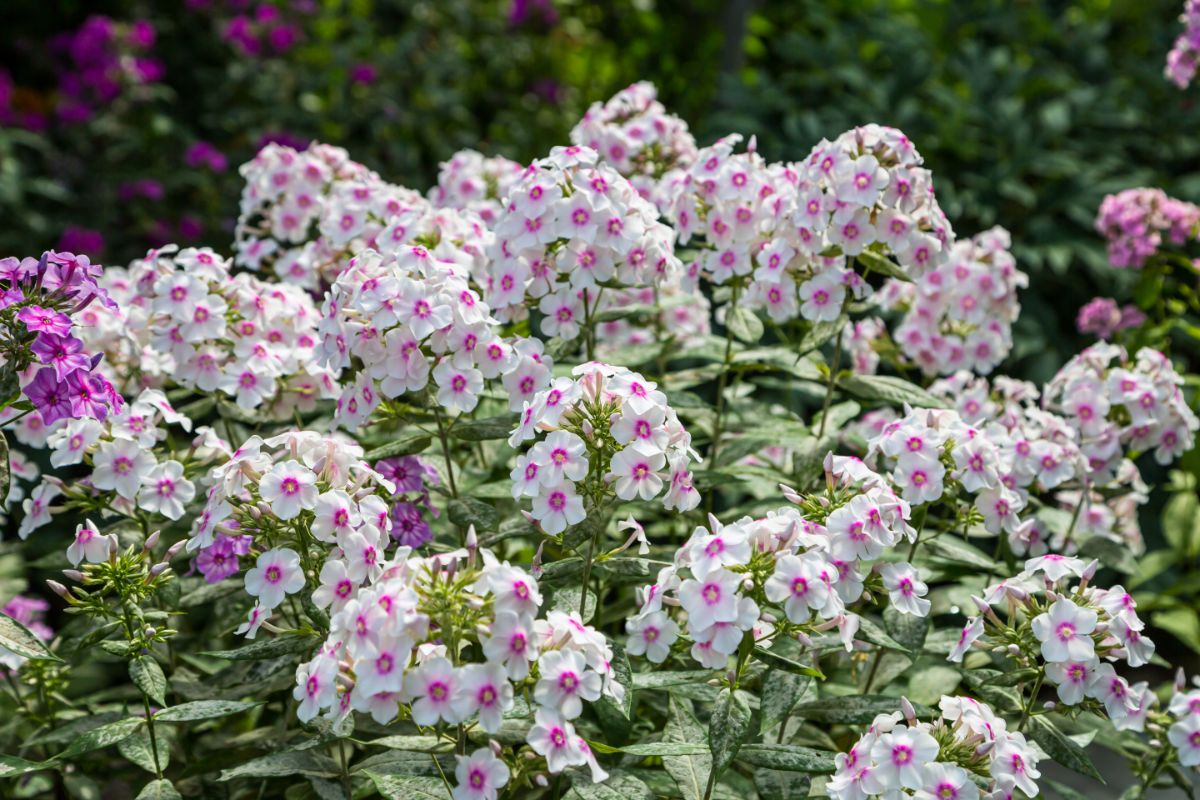 Another perfect perennial flower that blooms from spring to fall is garden phlox, especially in July. It is a long-blooming plant that blooms from midsummer and deep into the fall. However, it is always prone to powdery mildew, a fungal disease that can disfigure it even though its damage is hardly devastating.
But the phlox paniculata, scientifically called, has newer cultivars like the white David, which resist mildew and feature gorgeous foliage throughout the summer. Garden phlox thrives best in mild summer temperatures in an area with excellent air circulation.
But make sure you deadhead faded blooms to avoid rampant self-seeding. Meanwhile, this flowering specie comes in beautiful pink-purple or white color, prefer full sun to part shade spots, does best in average moisture and well-drained soil and is hardy in USDA zones 4 to 8.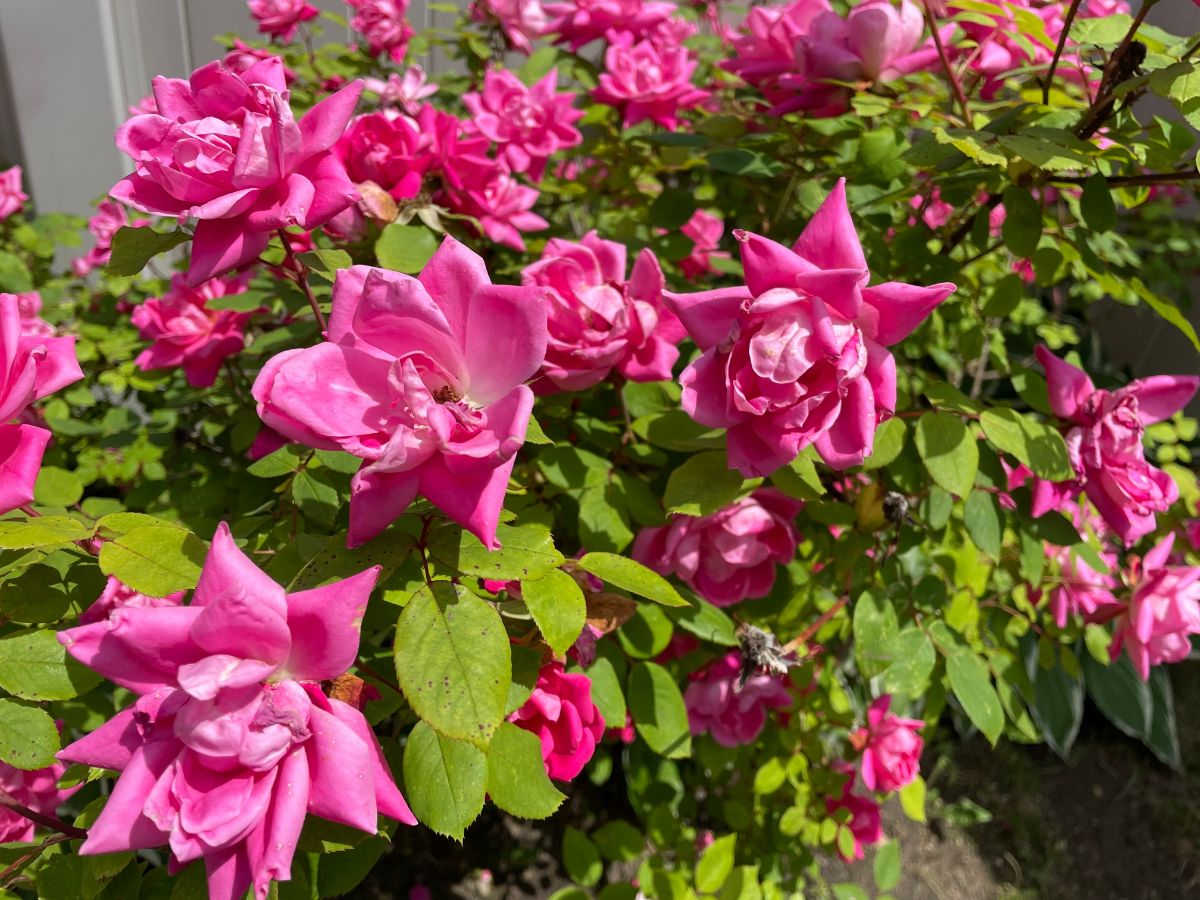 If your goal is to maximize your garden's fall, winter, and spring colors, you must consider adding Knock Out Roses to your beautiful perennial collections.
Meanwhile, before you plant this beauty, ensure the spot you wish to grow always gets enough sunlight and at least 6 hours of full sun. It is hardy in USDA zones 5 to 10.
Scientifically called Rosa hybrida 'Radrazz', this flowering perennial produces flowers heavily in spring. Then continues even deep into the summer and fall (but not as abundant as in spring) until the arrival of the first hard frost. It can grow up to 3 to 10 feet tall and wide. You must prune them to keep them neat.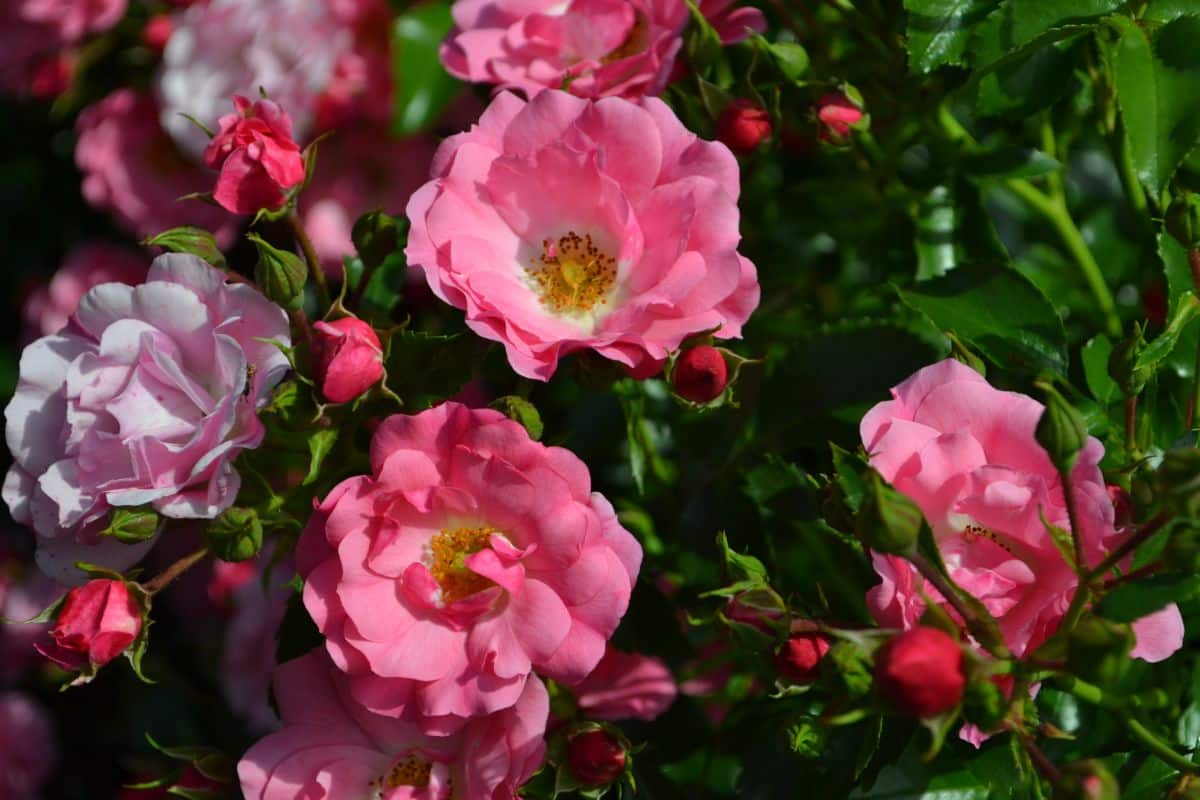 Another lovely flowering perennial that blooms from spring to fall is Flower Carpet Roses. However, it offers a more compact method for most of the year to enjoy an extended period of rose flowers. This specie is a low-growing, shrubby variety that blooms all spring, summer and even into the fall season.
Don't forget; it is among the sun-loving perennials that thrive in the full sun. It can grow as tall as 2 feet high and 3 feet wide. Rosa x, as it is fondly called, is not just a very easy-to-grow perennial but also a low-maintenance variety. It comes in different colors such as coral, red, white, yellow, and pink and is hardy in zones 4 to 10.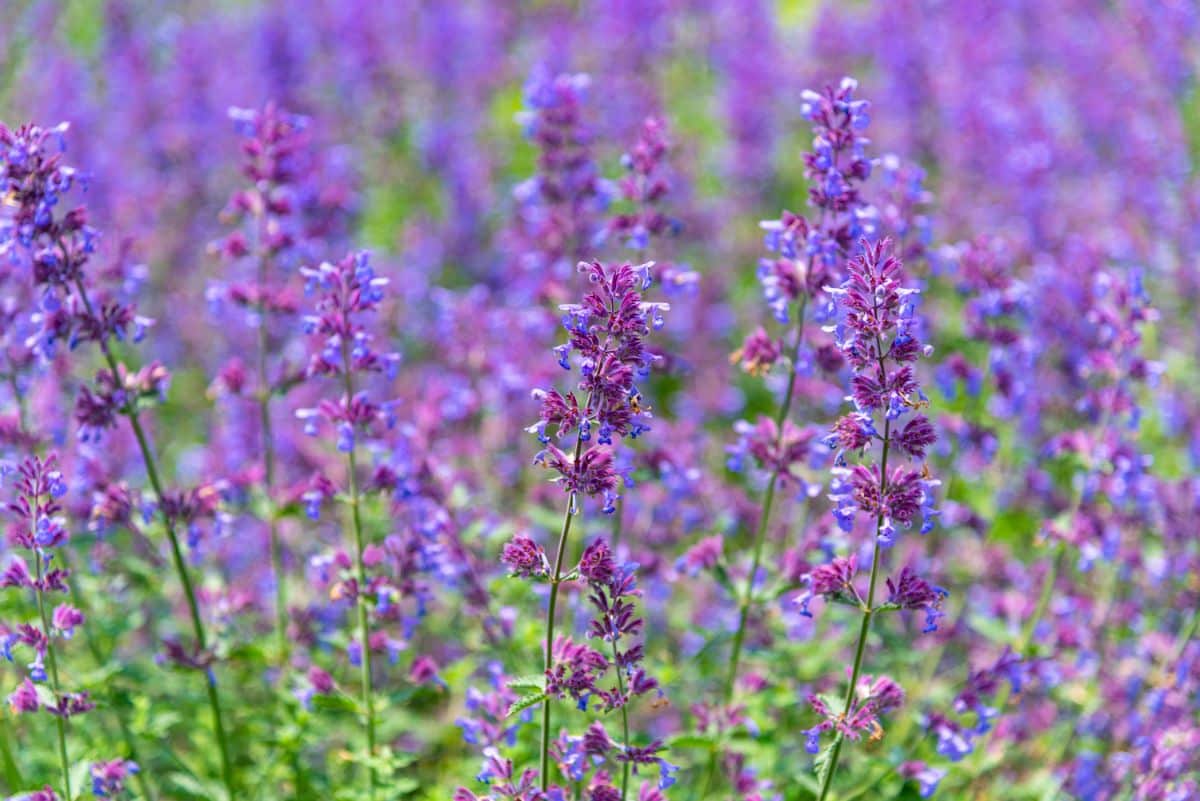 One of the most beautiful flowering perennials that bloom from spring to fall is Catmint. It is a member of the mint family, and it can brighten your garden every season and is also used as an herb. It is an easy-to-grow plant that is pests- and deer-resistant.
Although Catmint is a dwarf in size, it still has this rapid-growing nature and can withstand almost any climate and grow anytime from spring to fall (which is the feature that makes it gardeners' favorite). Scientifically called Nepeta, Catmint features blooms and leaves that can serve to prepare tea.
You can also use it as medicine for cough, congestion, and even menstrual cramp. It also draws cats, which has the same effects as catnip; however, Catmint has a surprisingly tasty, minty flavor. Catmint does best in full sun but can withstand partial shade conditions.
It can do well in well-drained humus-rich soil; several species can survive in various soil types. During its early growth stage, this perennial will need much water, but once it is established, minimize watering and keep it at a drought-tolerant level. Nepeta can grow up to 3 feet tall and is hardy in zones 4 to 8.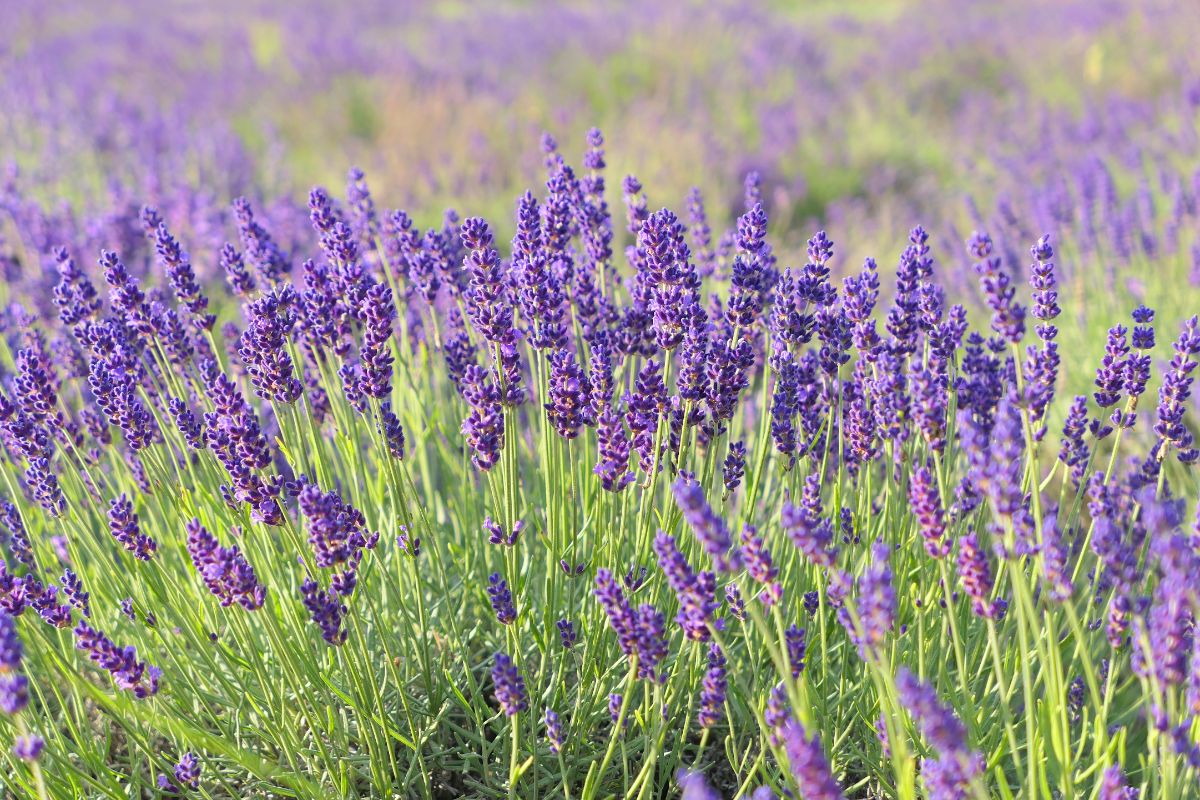 If you are a gardener and don't have the popular English Lavender in your collection or among your favorite plants, you are either a learner or something is wrong. There's a reason it comes at the upper end of our list. Who wouldn't want to have the all-purpose lavender?
Scientifically called Lavandula angustifolia, this lovely specie is a sun-loving perennial flower with a beautiful scent and beautifies the garden with its gorgeous flowers. It is a delicate-looking plant, yet it can take the heat and survive under the hot summer sun and dry conditions.
Surviving in spring through fall, English lavender has purple blooms gently rooted on top of gray-green foliage. It is a versatile plant that can beautify the garden, cut for dried use and for new use in bouquets. It does best in well-drained soil and can grow to at least 2 to 3 feet tall and 2 to 4 feet wide.
This lovely specie, however, doesn't require much maintenance as long as pruning is concerned. It will look scraggly if you permit it, so it would be best to prune it a little to enhance it's it tidy and healthy nature. Cut off spent blooms so fresher ones can arrive in the growing season. It is hardy in USDA zones 5 to 8.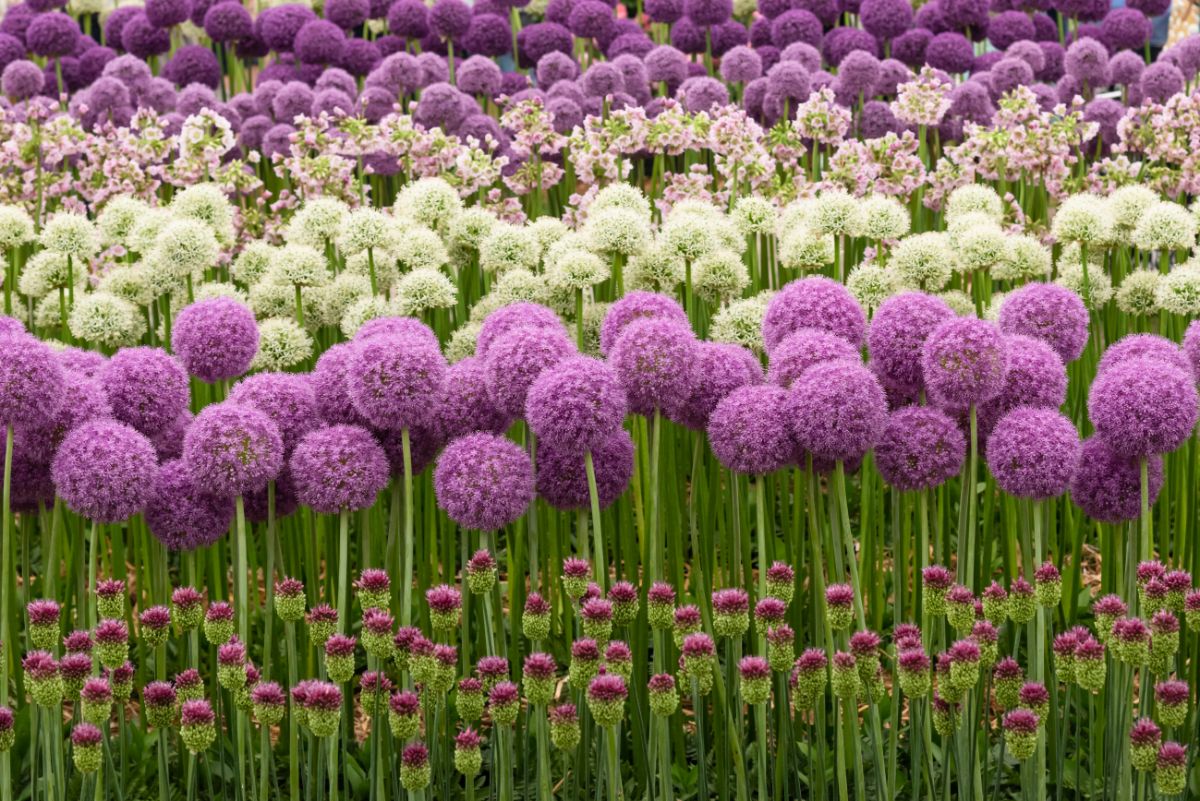 It is commonly called Ornamental Onions for a reason, and that is because they can beautify any garden. Most interestingly, allium is one of the loveliest sun-loving perennial flowers that bloom from spring to fall, given that it adds a tall, bulbous appearance in late spring and makes for a perfect addition to pollinator gardens or landscape beds.
Thanks to its clump-forming nature, allium was given its common name, 'Ornamental Onions,' and it features foliage only at the base of the plant. So, you can pair it with lower-lying perennial flowers of yellow and pink color to add texture and hide fading foliage. This specie likes dry to medium soil types.
Whether you want to grow a manicured-looking English garden or a casual bed of flowers, trust allium to always give a stunning effect thanks to its long, thick stem topped with a ball of tiny lavender florets. This perennial is susceptible to spread; however, you can easily divide it during the fall season. It is hardy to USDA zones 4 to 8.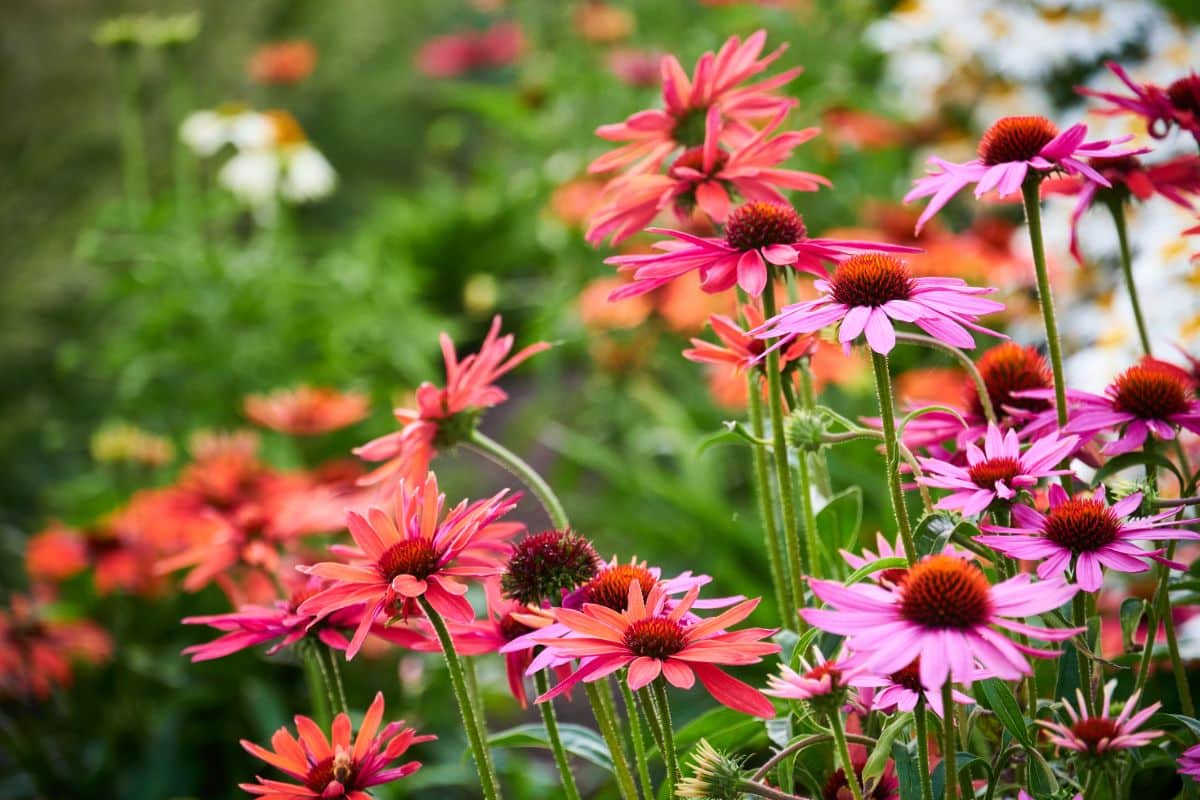 If you are looking for a perfect flower that will beautify your garden and keep it colorful throughout the spring season deep into fall, you must not look past Coneflowers.
This flowering perennial blooms bright and cheerful flowers that offer the garden a gorgeous and robust display. It displays various colors under the sun, especially Green Envy, which looks like they were tie-dyed.
Scientifically called Echinacea, the coneflowers are not only a decorative plant but is widely believed to have a wide range of use, including as a natural treatment for cough and cold symptoms.
It attracts pollinators such as bees and butterflies, as they like to enjoy its sweet flower nectar via the massive bulbous centers. It prefers well-drained soil and is drought-tolerant.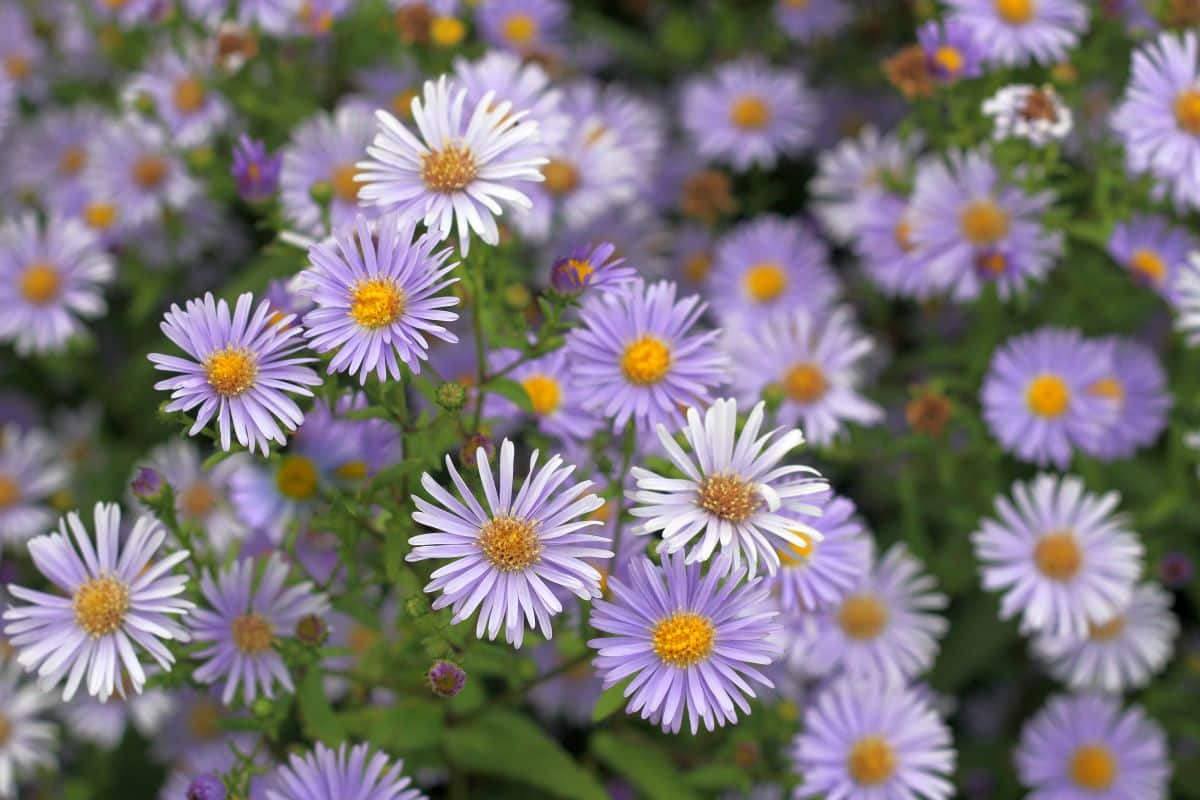 Almost every gardener loves Tatarian Aster especially given that it is a perfect addition to any garden. It comes in different colors like bright pinks and purples, beautifying any garden in spring and deep into fall.
However, asters are best grown in September or early spring and expect them to bloom throughout July to September.
It is a late-blooming plant that blooms purple color flowers as tall as 6 feet in height, and its lovely color blends draw various kinds of pollinators, particularly when no other thing is blooming in the garden. Meanwhile, the Tatarian aster is a sun-loving perennial flower that thrives in full sun and doesn't require any staking.
It is hardy to -40 degrees Fahrenheit. You only need to water it at its tender age, but at a reduced rate (if required) once it has been established, as that is when it will become tolerant to drought. Make sure you use moist, well-drained soil of any type.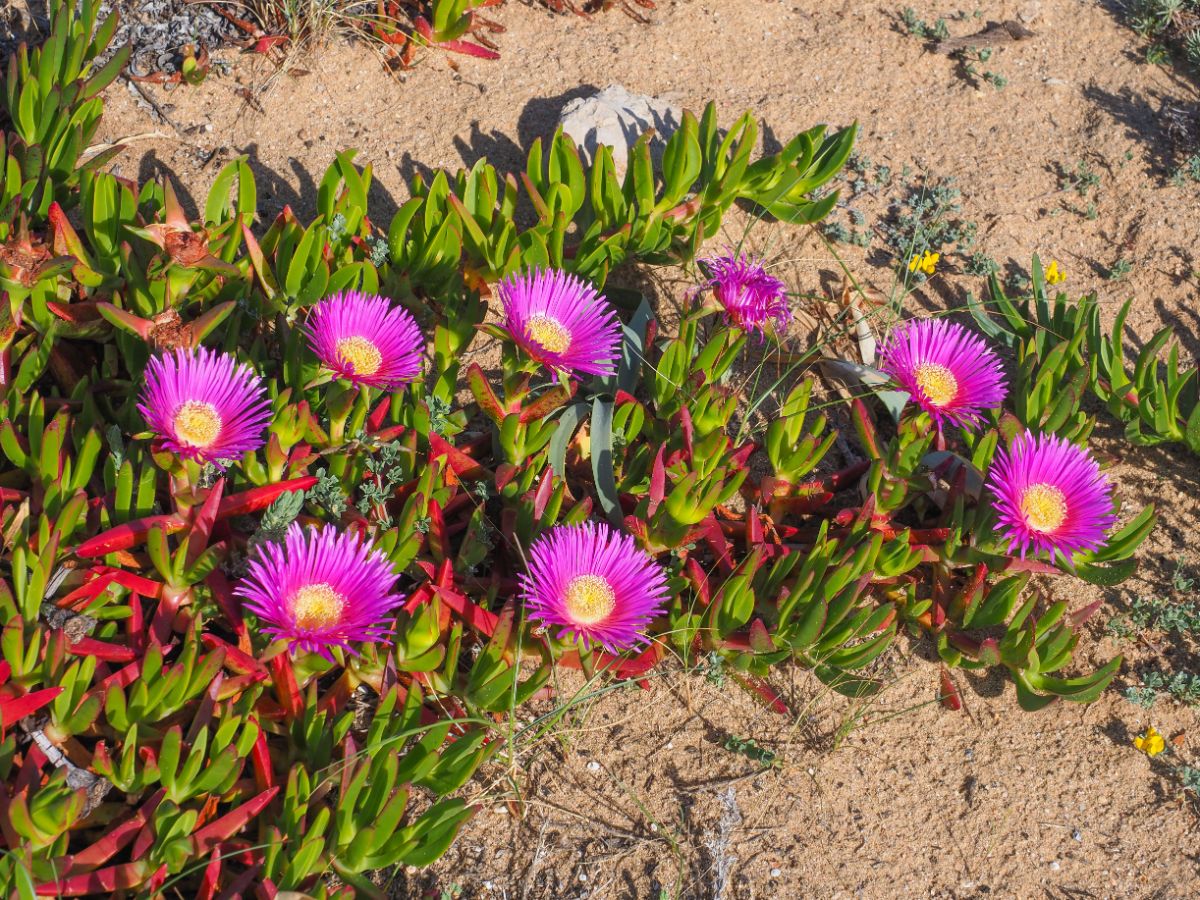 If you are planning to raise a low-lying flowerbed and are looking for a long-flowering perennial plant, then you have all you want with Ice Plant. This perennial makes for a perfect gardener favorite thanks to its colorful blooms and stunning leaves.
Meanwhile, Delosperma cooperi, scientifically called, can grow as tall as 3 to 6 inches high and flowers from June to September. It is a borderline plant that is hardy to zone 6 yet can tolerate the zone 5 climate if you can cover it much in the winter. Apart from this, Ice Plant is a low-maintenance perennial.
Again, this flowering perennial comes in color varieties, including red and purple, and I prefer full sun. Please make sure you use dry, well-drained soil, which is highly drought-resistant. It is a beautiful flowering specie that deserves to be on the top ten of our itineraries.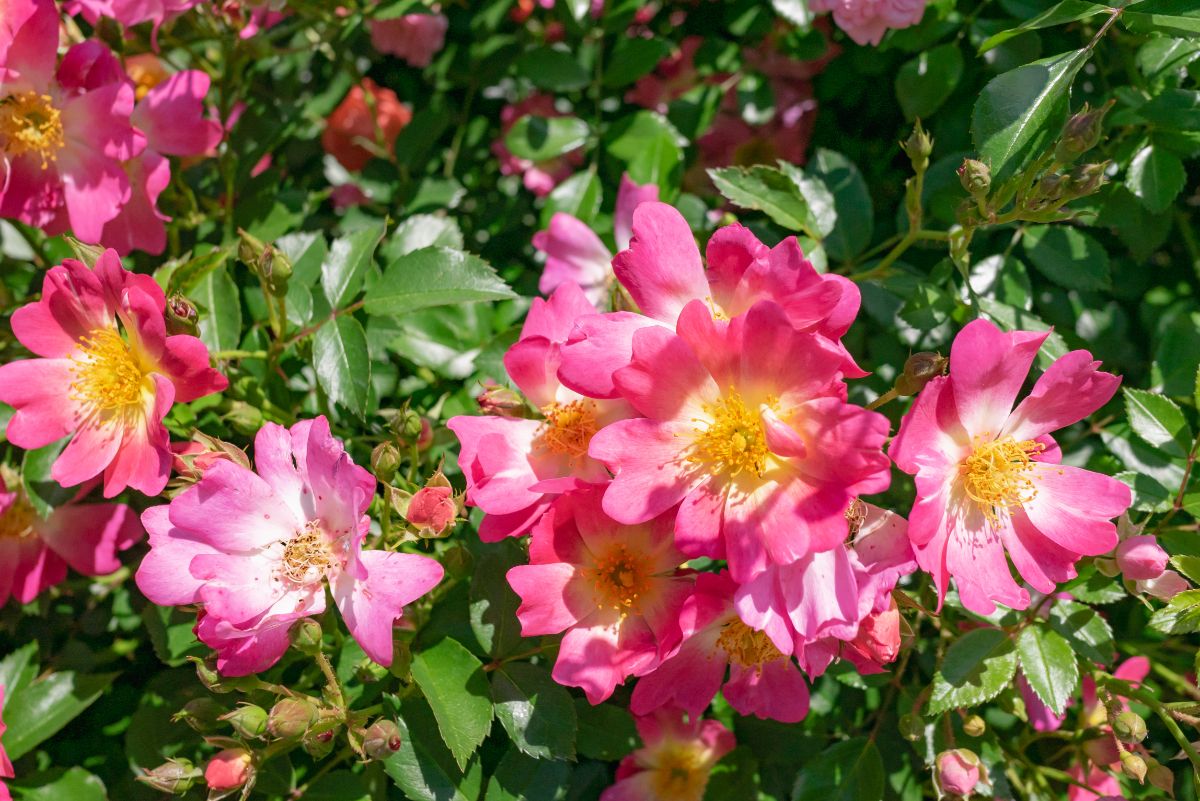 Drift roses are a perfect fit if you add an even more compact, long-flowering rose option to your landscape. They are hybrid roses produced by crossing miniature roses with groundcover roses, leading to a sturdy, disease-resistant, compact perennial that flowers in spring, summer, and fall.
Like others on our list, drift roses are sun-loving plants that prefer full sun. They can grow up to 1 to 2 feet high and the same in the spread. They feature different colors that include coral, pink, yellow, white and even peach. Meanwhile, Rosa hybrida 'Drift', scientifically called, are hardy in USDA zones 4 to 10.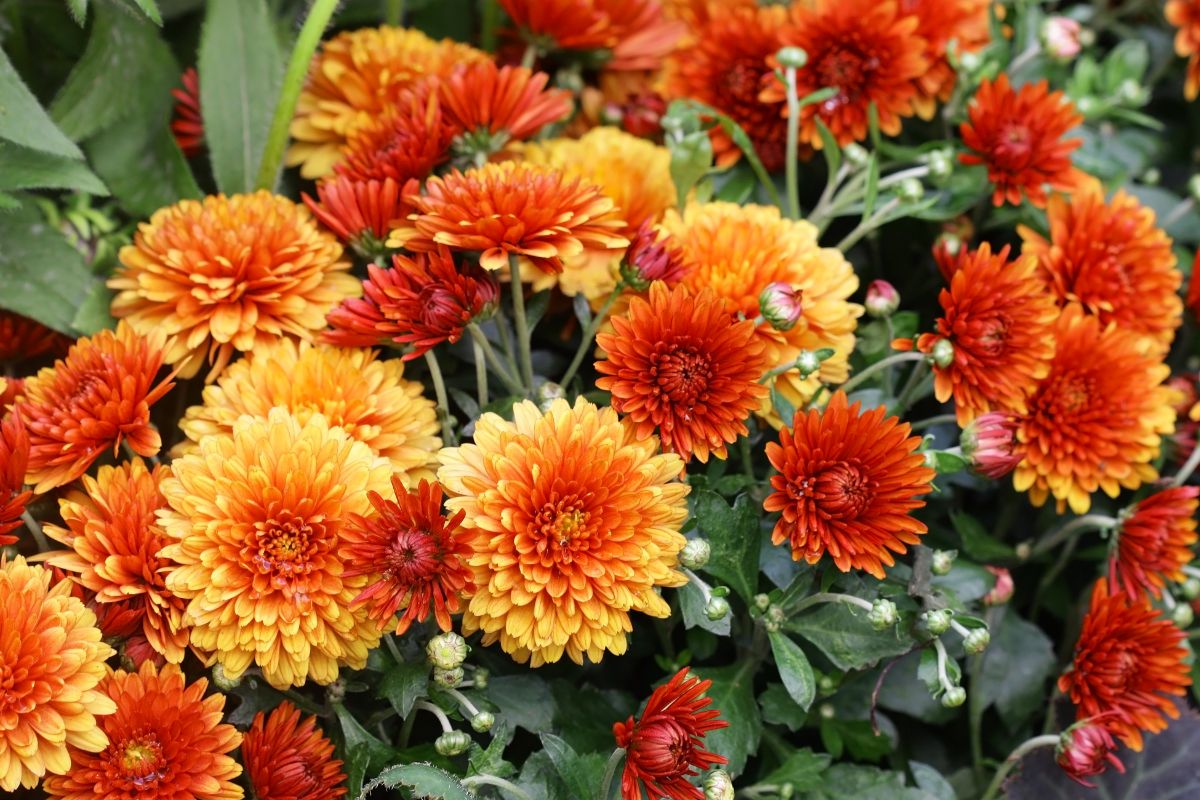 Chrysanthemums are among the best perennial flowers that bloom from spring to summer and feature vibrant clusters of petals on all blooms. If you are looking for the perfect colorful yearly addition to your garden collections, you have it all in chrysanthemums.
It is a perfect option to add to your flowerbed, whether in the spring or deep into the fall season. Meanwhile, you can purchase a garden in several grocery stores once it completely blooms.
However, if you want this specie to produce the best result, it would help if you plant them in the spring. It can grow up to 3 feet tall and be used as an ideal filler plant to add color in autumn.
Since garden mums are sun-loving plants, they will thrive in complete sun conditions and with less frequent watering. Therefore, ensure your water moistens the soil, but avoid overwatering.
If you want to add beauty to your home, choose those with unopened buds so they can bear blooms all season. Native to China, chrysanthemums are hardy in zones 5 to 9.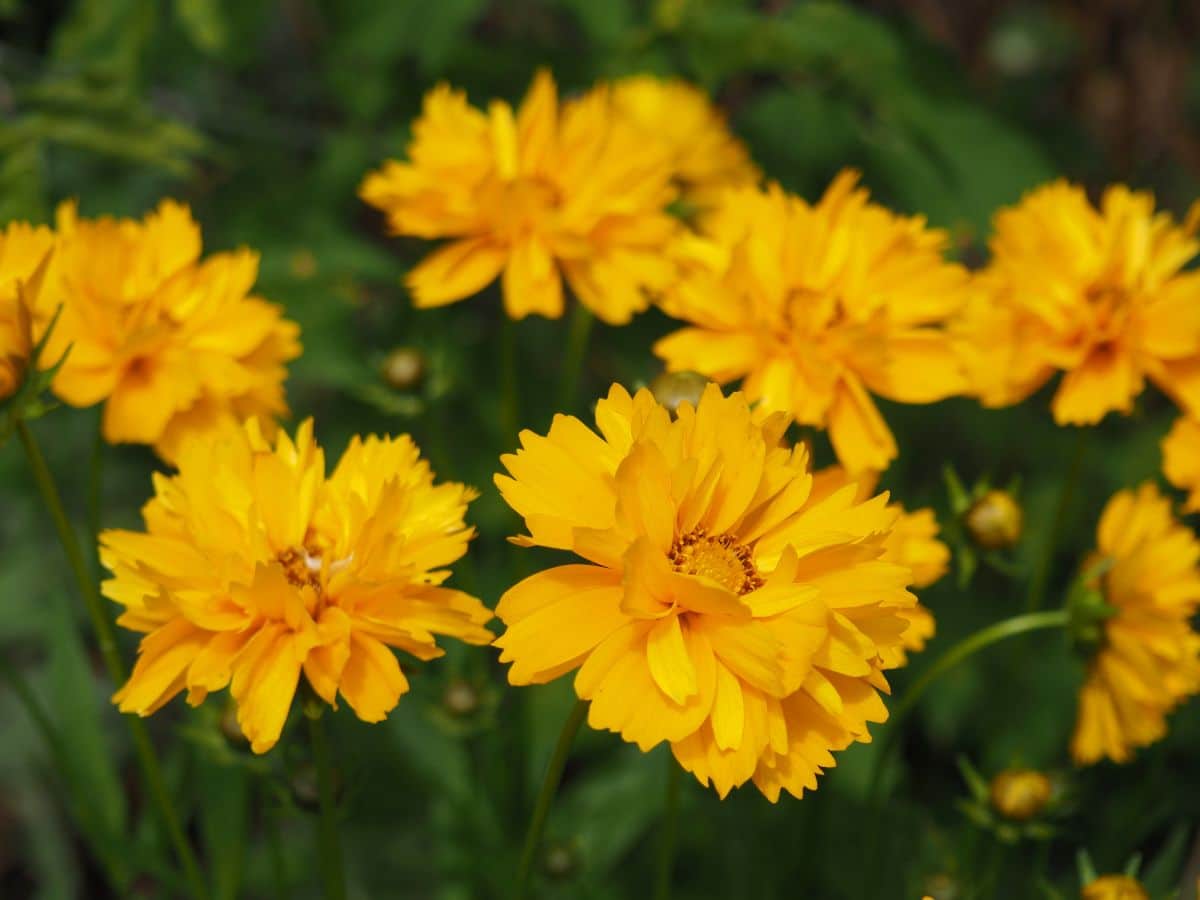 If you are looking for the perfect perennial to spice up your flowerbeds, then you can trust Tickseed flowering perennial to give you just that. You will also enjoy the fact that it is an easy-to-grow and ideal for unskilled gardeners, and it blooms from spring to fall.
Native to North America, Coreopsis Grandiflora will never disappoint with its colorful displays even when June ends and early spring blooms have all faded. Some can even extend deep into October once you cut them back after their first summer flower. It is ideally suited to thrive in the United States climate.
Tickseed is a sun-loving perennial flower. In other words, it thrives in full sun even though it can tolerate a bit of partial shade. It can quickly grow from seed and flowers for over three months while blooming pink or yellow-colored flowers. This beautiful perennial is hardy in zones 4 to 9 and can grow as tall as 18 to 24 inches high.
The perfect all-season perennial flowering plant is also available in smaller versions of about 6 to 12 inches high. It does best in well-drained, rich soil and is best planted in the spring once the frost threat ends. This plant bears its first flowers the second year after planting.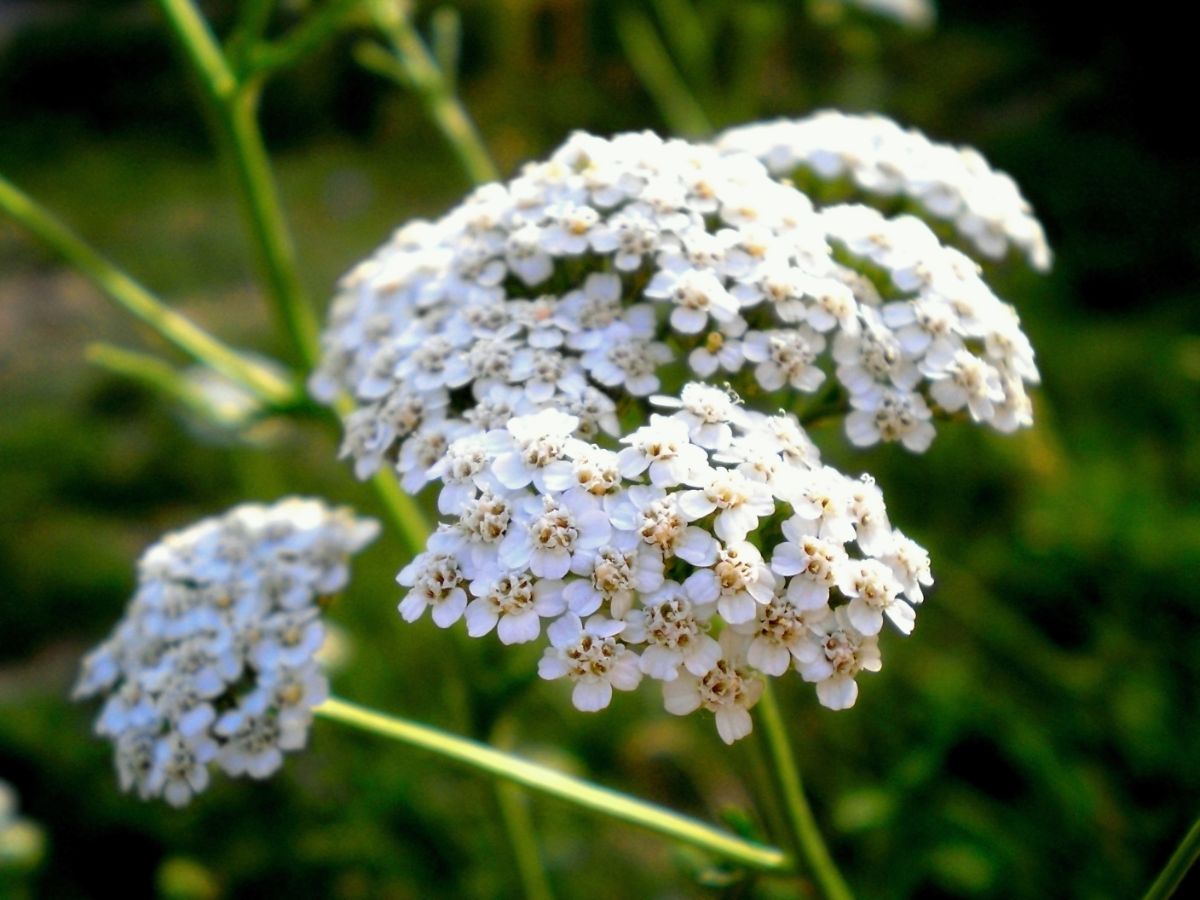 Yarrow is an herbaceous perennial flower that blooms every summer, from June to September, on stems of about 2 to 3 feet tall. It forms clusters of white blooms, but you can find cultivars of different bloom colors. This perennial has served as an herb to staunch the blood flow before this present time.
Its herbal function is the reason why it is scientifically called Achillea. Currently, most gardeners are primarily attracted to the beautiful nature and low maintenance of yarrow than its medicinal function. The plant needs to be divided every 3 to 5 years, and the deadheading of faded blooms tends to increase the bloom period. It prefers dry to medium moisture, well-drained soil.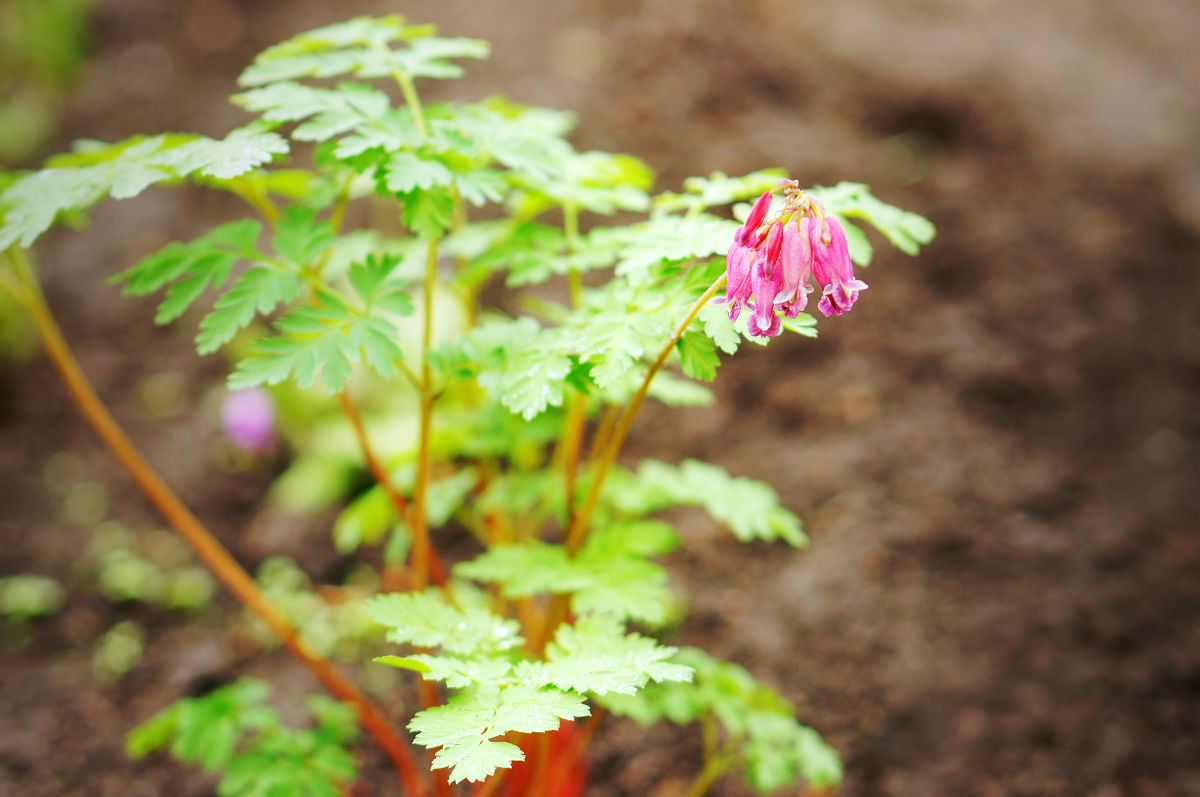 As far as long-blooming plants are concerned, Fern-leaf bleeding heart is a perfect option for any gardener. In other words, it is one of the best perennial flowers that bloom from spring to fall.
Like some perennials on our list, the Dicentra 'Luxuriant' is a medicinal plant, which is why it is commonly called Fern-Leaf Bleeding Heart.
Hardy in USDA zones 3 to 9, this lovely flowering perennial features gorgeous frilly foliage and bears beautifully dangling pink bloom pendants from late spring to early fall.
It can grow above 1 foot tall and 18 inches wide and survive in the ground or pots. However, you must ensure that it is grown in full sun conditions (or partial shade).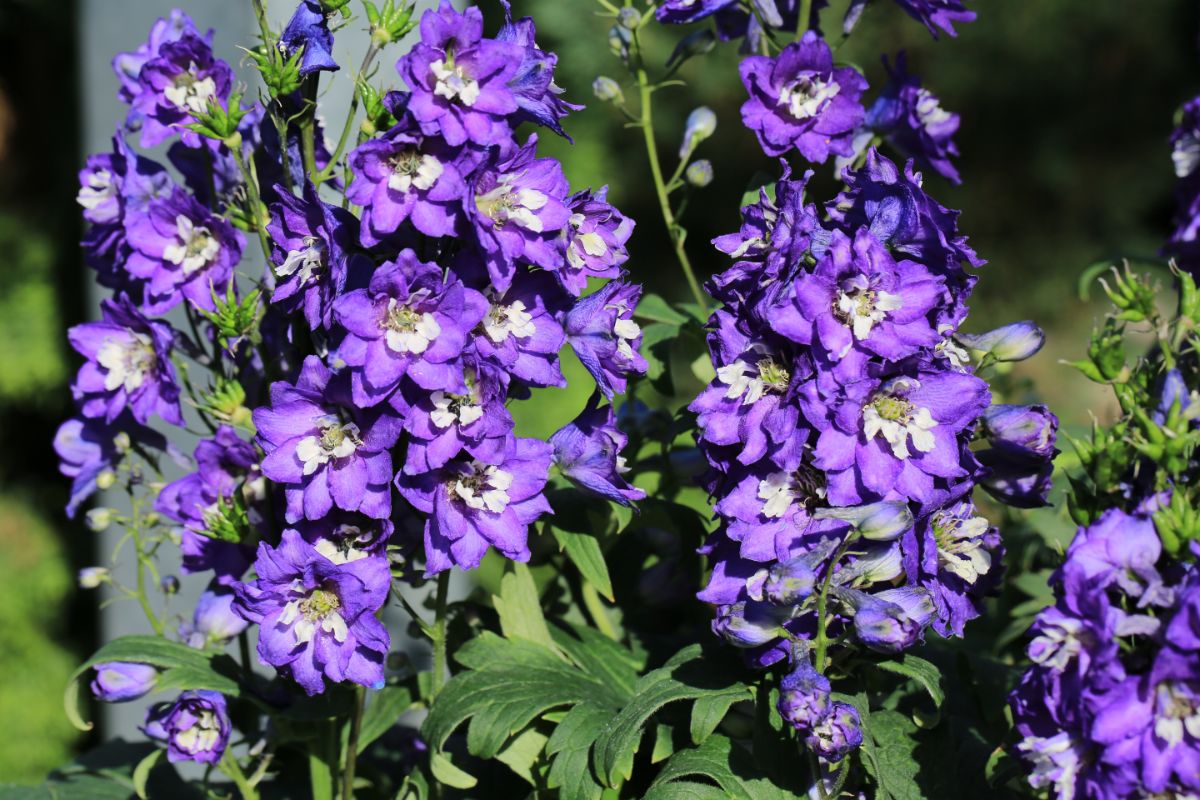 Another lovely perennial flower that can bloom from spring to fall is Delphinium. It comes in several varieties; you must not forget that all of its species are sun-loving plants.
Delphinium varieties are among our top list of most stunning flowering perennials, thanks to their beautiful colors and giant frame. It has a long-flowering season from June to September.
However, it requires well-draining soil. Meanwhile, Summer Skies is one of the most commonly known delphinium species, widely known for its gorgeous color and enormous presence, growing up to 2 meters tall with little blooms in a giant cone shape.
Delphiniums are popularly known for their bold blue color and are best grown in March and April.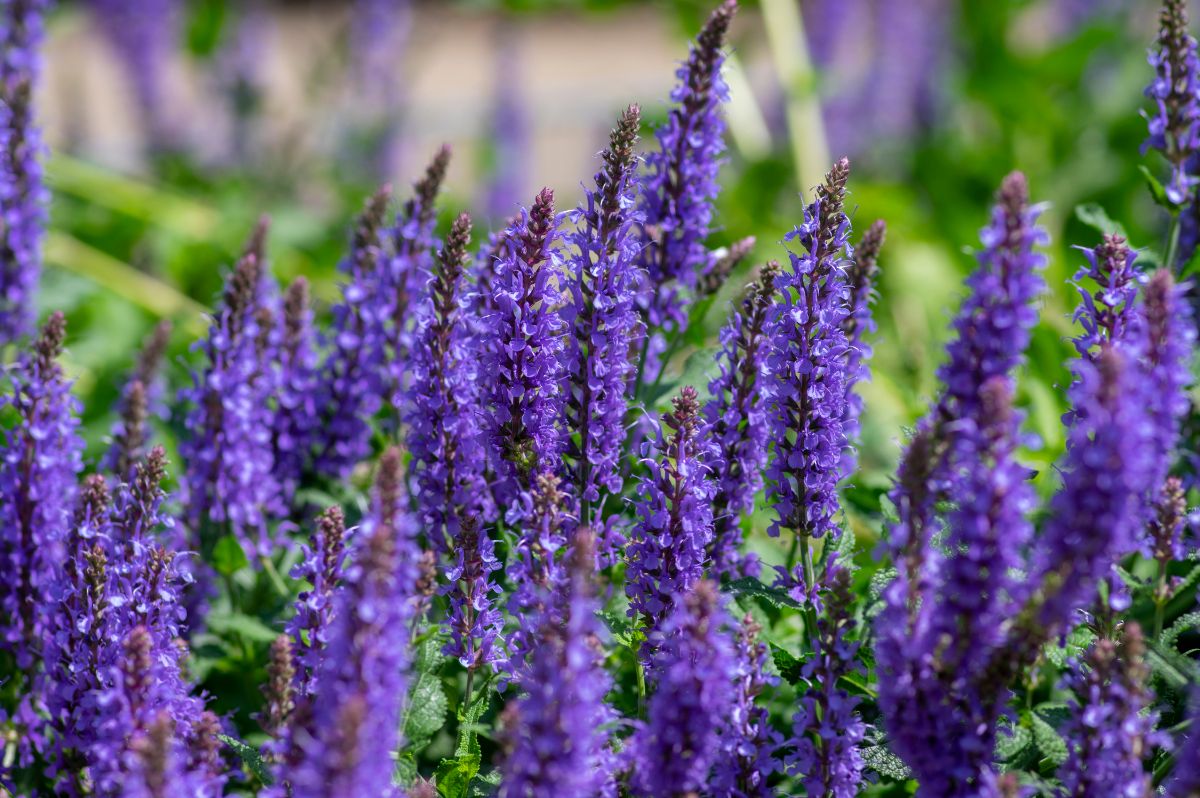 Are you confused about a perfect long-season perennial to add to your flowerbed? You can consider growing Salvia nemorosa to give your garden a beautiful display. It is an icy blue and purple flowering perennial that blooms throughout the summer.
However, if you prune the faded blooms, it will ensure the plant keeps reblooming deep into fall. Apart from the frequent deadheading of flowers, the Salvia specie is low maintenance and can tolerate drought. It is a sun-loving plant that requires full sun for healthy growth. It is best planted as a border plant behind your garden.
Meanwhile, this specie can grow up to 2 to 5 feet tall but prefers hot, sunny, and dry garden beds based on your chosen variety. It features slender bloom spikes with square-shaped stems, meaning the plant is part of the mint family.
It is a plant that can blend nicely with several other species in your garden. However, as we mentioned earlier, you must deadhead the salvia nemorosa if you want to see its flowers keep coming for months. It also features 18 inches of stunning purple flowers that are gorgeous but are strictly deer-resistant.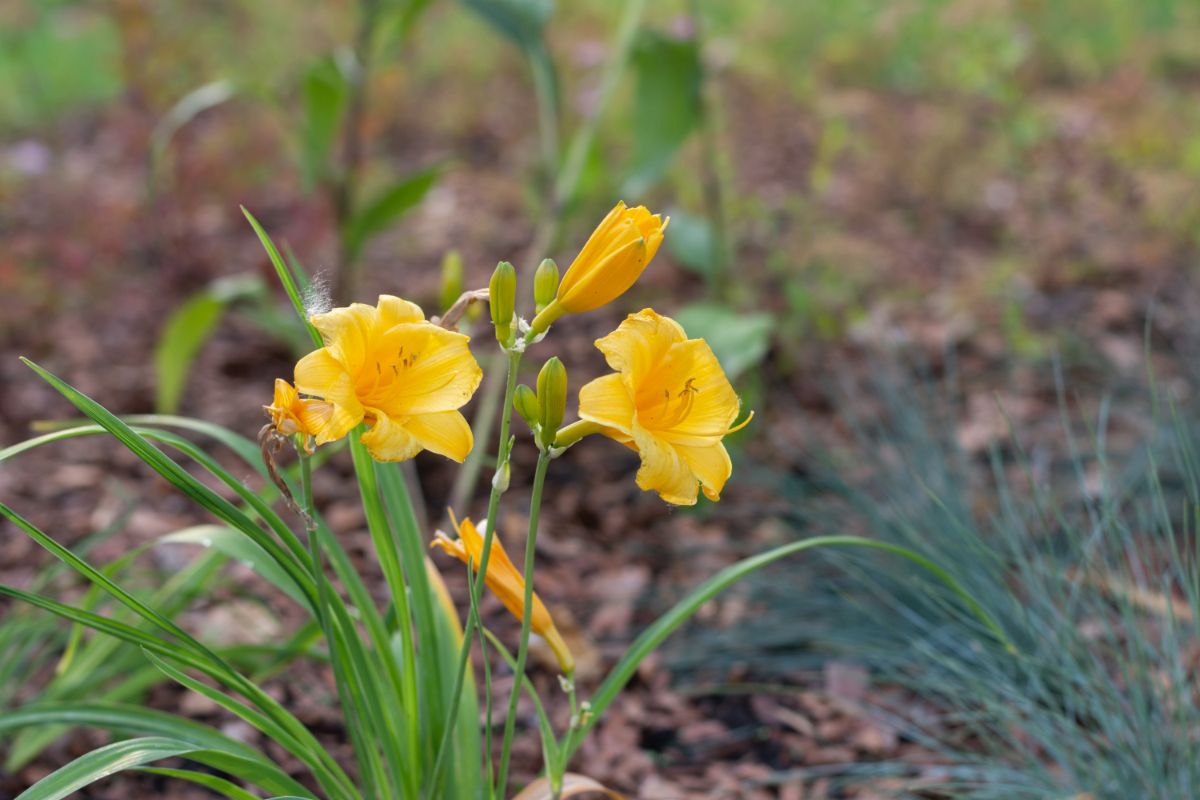 You will be stunned at how stubborn these lovely flowering flowers are. Like most other perennial flowers, Daylilies are hardy to drought, tolerant to pests and disease, and even low-maintenance plants.
They are also entirely unshakeable by traffic pollution, thus making Daylilies among the best, if not the best long-season flowering perennials.
However, not every daylily specie will keep reblooming; therefore, you can go for varieties like Stella de Oro and trim back the faded flowers to pave the way for another wave of color.
Just as its name implies, daylilies are lily-like blooms that come in varieties of beautiful colors, which can give your garden an exceptional look you crave.
Even though they are called perennial flowers, daylilies only bloom for a day. However, they can bloom in concession, which means each bloom comes after the other has gone, so you still stand a chance of enjoying them all summer.
The best time to plant them is in spring or fall when the soil is softer and needs full sun to partial shade for proper growth.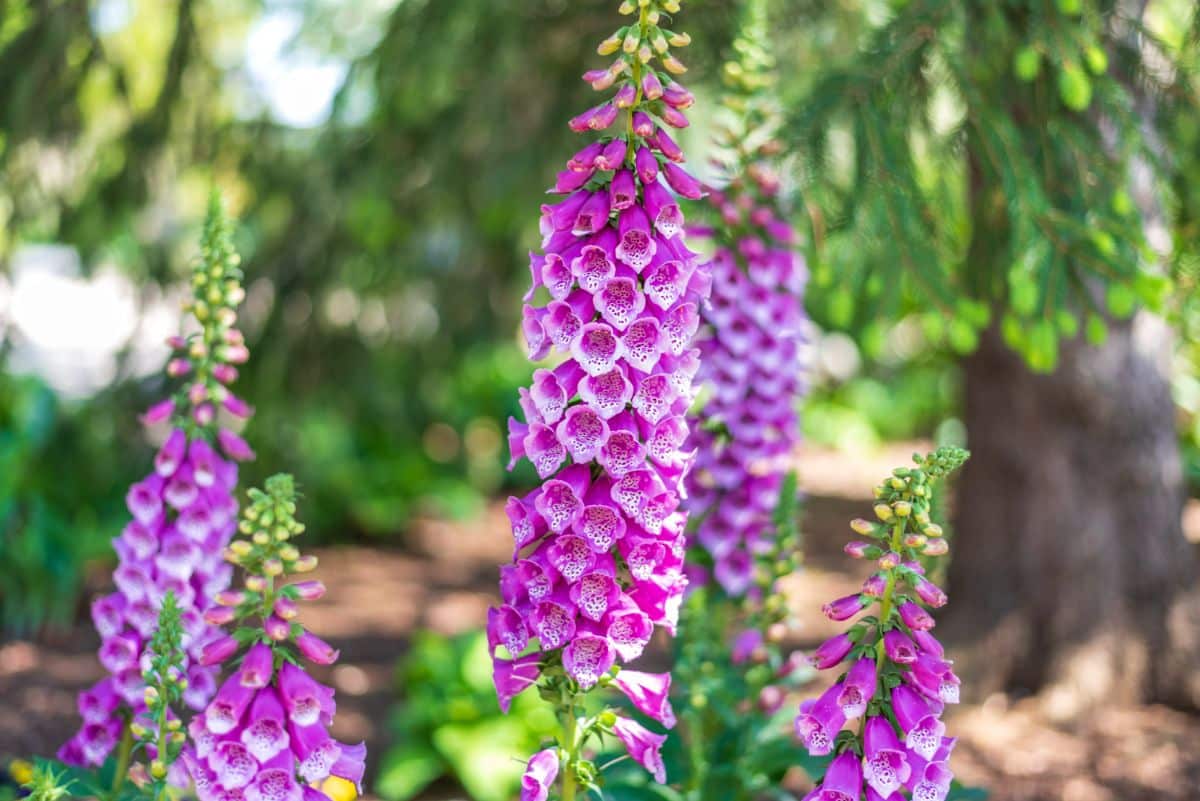 What makes this lovely plant so cherished by many gardeners is its bright and bold tubular-shaped blooms. However, not every variety of Foxgloves are perennials; it would help if you look correctly before buying. You must also note that these plants are poisonous if consumed.
Therefore, you must keep your kids or pets from them or avoid planting them in your garden. Foxgloves do best in well-drained soil and prefer full sun for healthy growth.
The best time to plant them is in spring or fall, and within the first year, they will focus on developing their roots. Therefore, you have to get used to not getting blooms until the following year.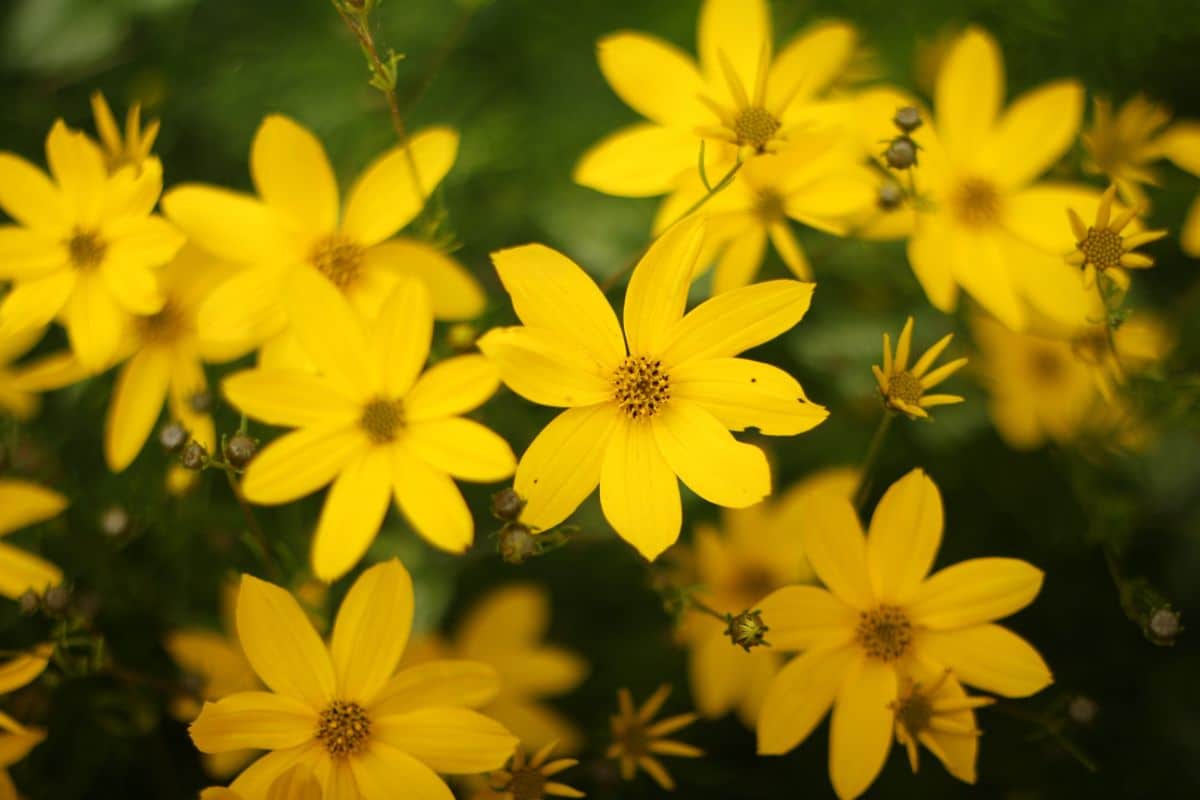 Also known as Fernleaf coreopsis, Threadleaf coreopsis features small, daisy-like yellow blooms on 2 to 3 feet tall plants featuring delicately textured foliage. It has well-known cultivars like Moonbeam, Zagreb, and Grandiflora, all compact and bushier.
Meanwhile, thread leaf coreopsis tends to be developed into a second fall flush of blooms if the plants are cut back in late summer once the first blooming season has ended. Apart from that, they are low-maintenance plants that prefer dry to medium-moisture, well-drained soil and are drought-tolerant. It is hardy in USDA zones 3 to 9.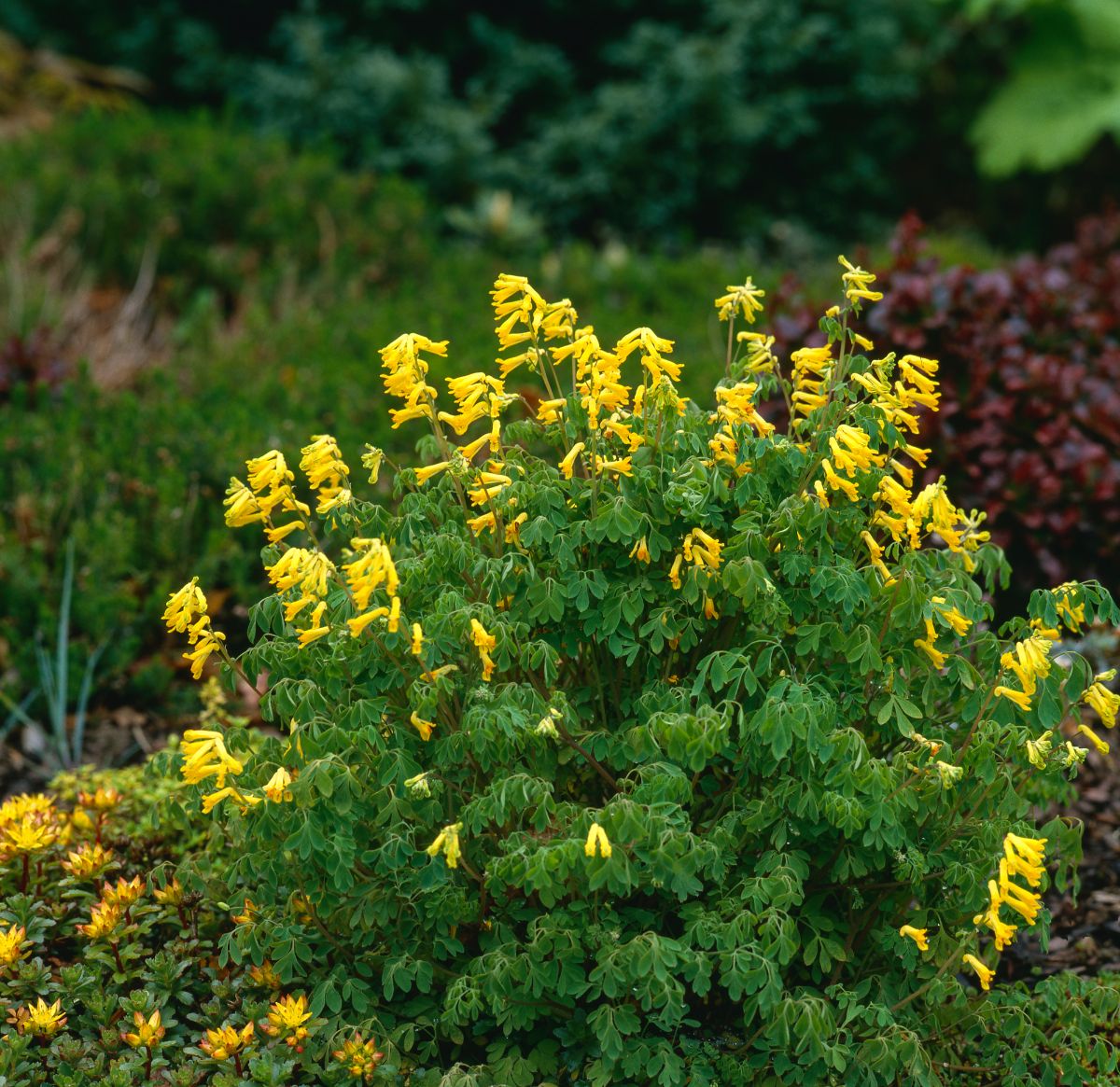 Another stunning perennial flower that blooms from spring to fall on our list is Yellow Fumitory. This variety features long blooms with yellow petals, hence the yellow fumitory. It begins to bloom in late spring and continues deep into fall's first frost season.
Meanwhile, it prefers full sun or partial shade conditions and can grow up to 18 inches tall and wide. Yellow fumitory readily self-seeds; therefore, it can spread quickly. The Corydalis lutea is hardy in USDA zones 4 to 8 and does best in dry, moderate, well-drained soil.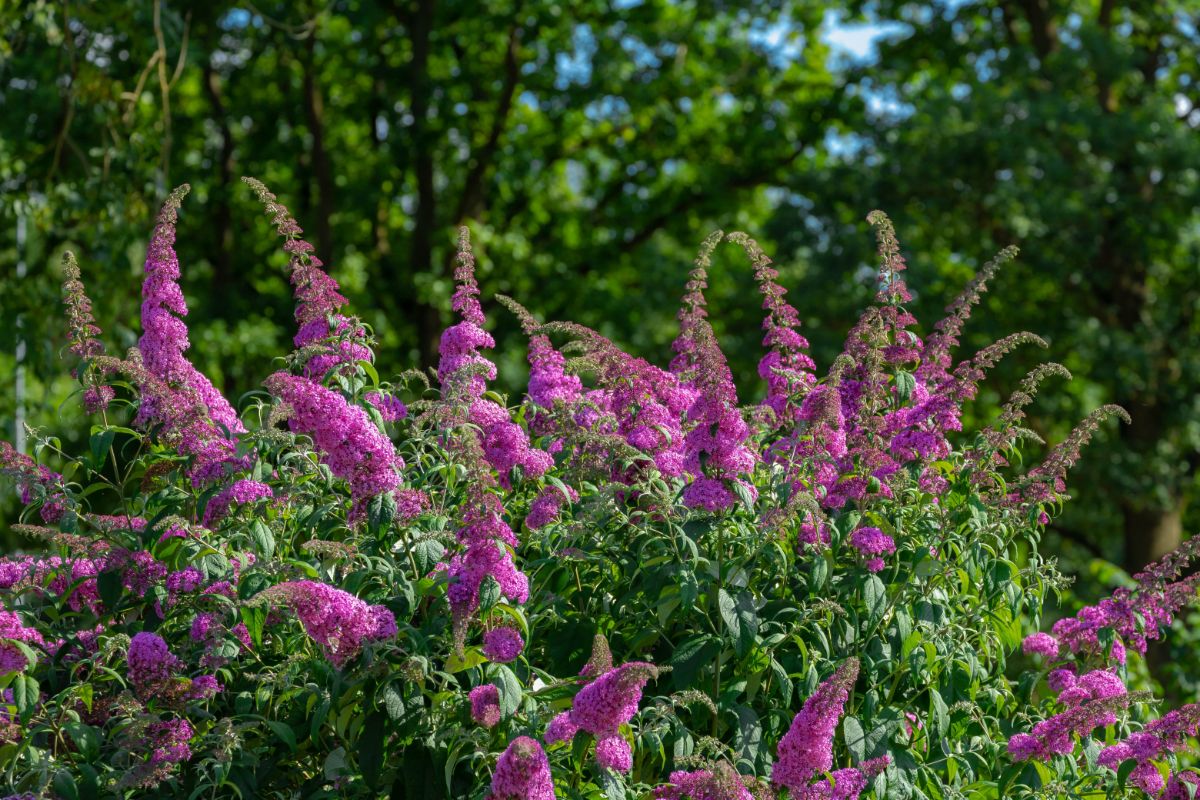 Buddleja genus has several species that are perennials or deciduous shrubs, most of which die back to ground level in colder temperate before sprouting again in spring.
Varieties sold commercially as landscape plants are hybrids and species of selected types like B. davidii, and they lack a similar reputation for invasiveness as the species produces.
Meanwhile, the butterfly bush significantly flowers from June to September, and most of its varieties are giant at about 6 to 8 feet, but some species are more compact.
But we recommend Blue Chip, a more dwarf 1 to 2 feet version, which will not spread uncontrollably. The rest varieties can be deadheaded after blooming to avoid spreading via self-seeding.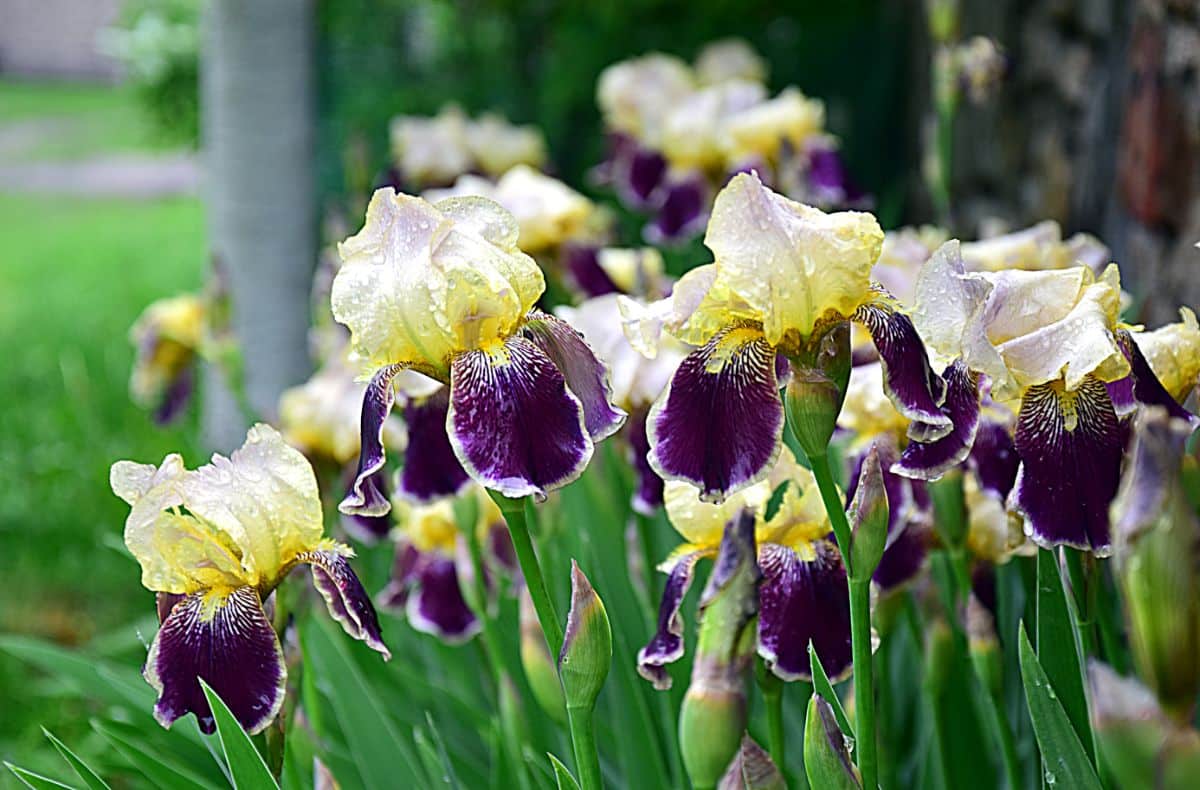 Irises are giant flowering perennials about 3 feet tall and are made of six petals featuring bold outer colors and soft lighter shades. Therefore, it is the perfect option if you are looking for a colorful landscape. It comes in different colors like the rainbow, with the most beautiful being violet or purple color.
Iris species have various varieties, including the Iris germanica, which will fulfill your desire for a perfect purple perennial flower for your garden. It prefers full sun and thrives in soil with proper drainage even though it is as tough as nails. It is best not to sow its rhizomes too deeply to avoid rot.
Meanwhile, the best time to plant iris species is in the fall season, and they like flowering early in summer, with several types blooming again later in the season. This perennial is deer-resistant and the easiest to grow among other deer-resistant perennials.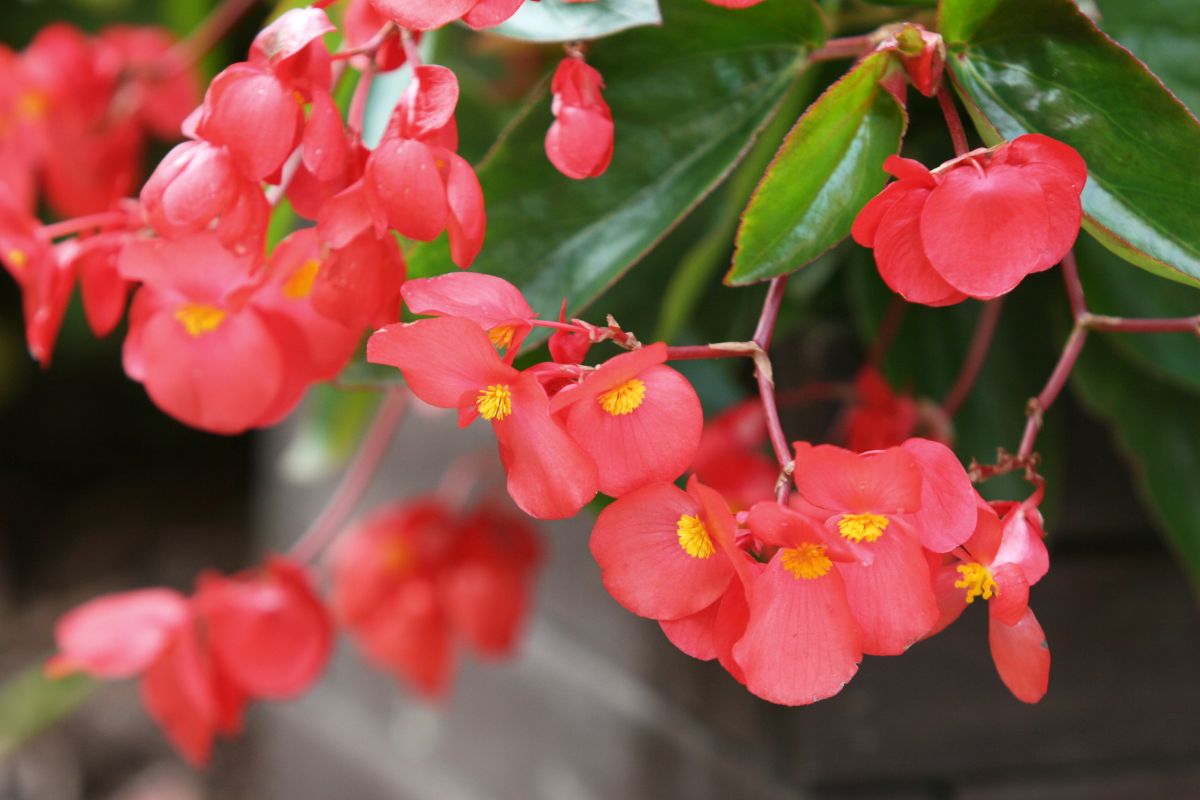 If you want a plant that will beautify your garden not just in spring but well into the fall season, you can trust Dragon Wind Begonia as the perfect option. This flowering perennial is an interspecific hybrid begonia, which begins to bloom in May and continues to produce beautiful red blooms until the final frost of fall.
Like most other perennial flowers, the begonia prefers full sun to partial shade conditions and grows up to 1 foot to inches tall and wide. It is hardy in USDA zones 10 & 11 and flowers in spring, summer, and fall in other regions, but it will hardly overwinter outdoors in zones under 10.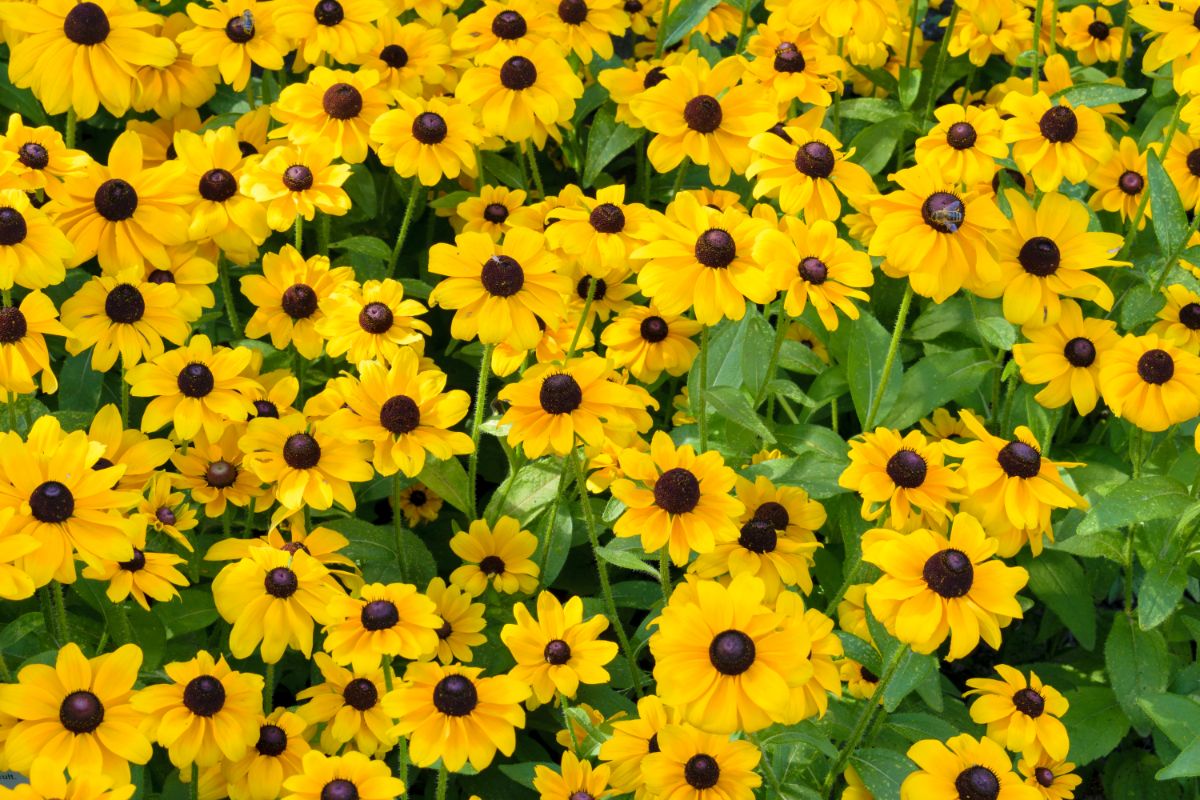 So many people tend to underrate Black-Eyed Susan as it is the most common among long-blooming perennials.
However, there's still a tangible reason why it has gained widespread fame. This plant is famous not just because it blooms throughout the summer but also because it warms the yard with its beautiful color.
Have you also considered the fact that it requires less care? This lovely plant flowers from June to September in several climates, on plants growing at about 2 to 3 feet tall. Deadheading is necessary as it will produce more frequent reblooming and stop the plants from spreading unnecessarily via self-seeding.
Black-Eyed Susan prefers complete sun condition, thrives in average-moisture, well-drained soil and is a drought-tolerant plant. It is also hardy in USDA growing zones 3 to 7. It comes in different colors, from yellow to orange, with dark centers.
Essential Care Tips for Perennial Flowers that Bloom from Spring to Fall
If you go through our list carefully, you'll discover that all our top 25 full sun perennial flowers are hardy plants or close to being hardy at the very least; hence, they are low-maintenance plants that can do without the attention. They are drought and heat-resistant plants, and while some are resistant to deer and other animals, others attract deer.
But most importantly, considering our key focus in the article, every one of these flowering perennials prefers full sun, which is why they are sun-loving plants.
However, some can tolerate partial shade, but the condition that will yield the best result is full sun. Without further ado, we'll briefly highlight the critical growing tips for perennial flowers that bloom from spring to fall.
Natural Habitat/Lighting Tips
Given that most perennials have their natural habitat in the South African wild and others within the dry, sunny deserts of Northern America, it shows that they can tolerate the hot weather conditions of full sun from their native location or jungle.
In other words, if you want them to thrive in your homes or gardens, or you want to maintain their healthy nature, then you must imitate their natural jungle conditions by growing them in a location that gets full sun or partial shade (depending on your climate).
But if you want to position them in a partial shade area, you must ensure you bring them out to receive adequate sunlight for at least 6 to 8 hours.
Soil Care Tips
Perennial flowers can survive in almost every soil, whether loamy, sandy, clay, etc., depending on the plant, but it must be well-drained.
However, you must ensure the ground is a little moist, especially immediately after planting, as this will ensure the plant grows healthier.
Watering Care Tips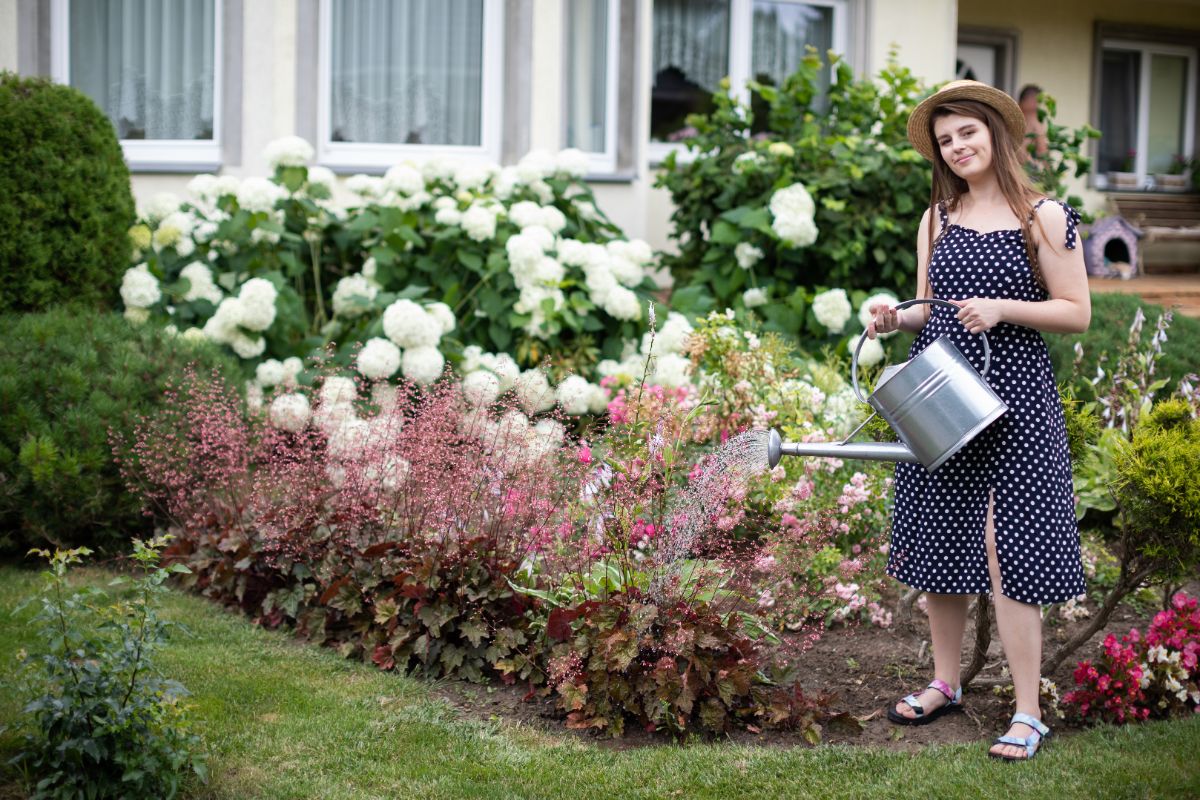 Perennial flowers are drought-resistant and, therefore, do not necessarily require water for sustenance, significantly if grown in the ground.
In their natural jungle, wild, or desert, they survive long periods without water, except for rare periods where they experience rainfall. Therefore, if you must water them, you must do so only sparingly.
Meanwhile, the best time to water these perennials is once after planting to enhance their growth. However, after they are established, you must reduce your watering routine.
In a prolonged drought season, within April or May, ensure water only moderately and use pots with well-draining holes that let the water dry out quickly and prevent waterlogging.
Temperature & Humidity Tips
Perennial flowers are famous for their hardiness in their natural environment, so they can tolerate extreme temperatures when the soil permits too much rain or snowmelt to drain out. However, the best humidity well-suited to your perennial flowers is in a dry place with enough air circulation.
As far as temperature is concerned, perennial flowers require temperatures of about 40 to 70 degrees Fahrenheit. In most situations, they will need cold temperate to help their roots to sprout well.
Therefore, whenever you notice some chill in the atmosphere in the fall, it is the perfect planting period for your perennial flowers to make them bloom from spring to fall.
Fertilizing/Nutrient Tips
Perennial flowers do not require too many nutrients for sustenance. After all, out in the wild, they hardly see any source of nutrients, yet, survive, regardless. However, in the spring, you can fertilize sparingly using a low-nitrogen fertilizer (6-10-10) around the plants to assist their healthy growth.
But you must not fertilize heavily, whether with nitrogen fertilizer or any other nutrient fertilizer, as instead of producing flowers, these perennials will only encourage foliage. Another ideal fertilizer for these sun-loving perennials is bone meal.
Potting & Repotting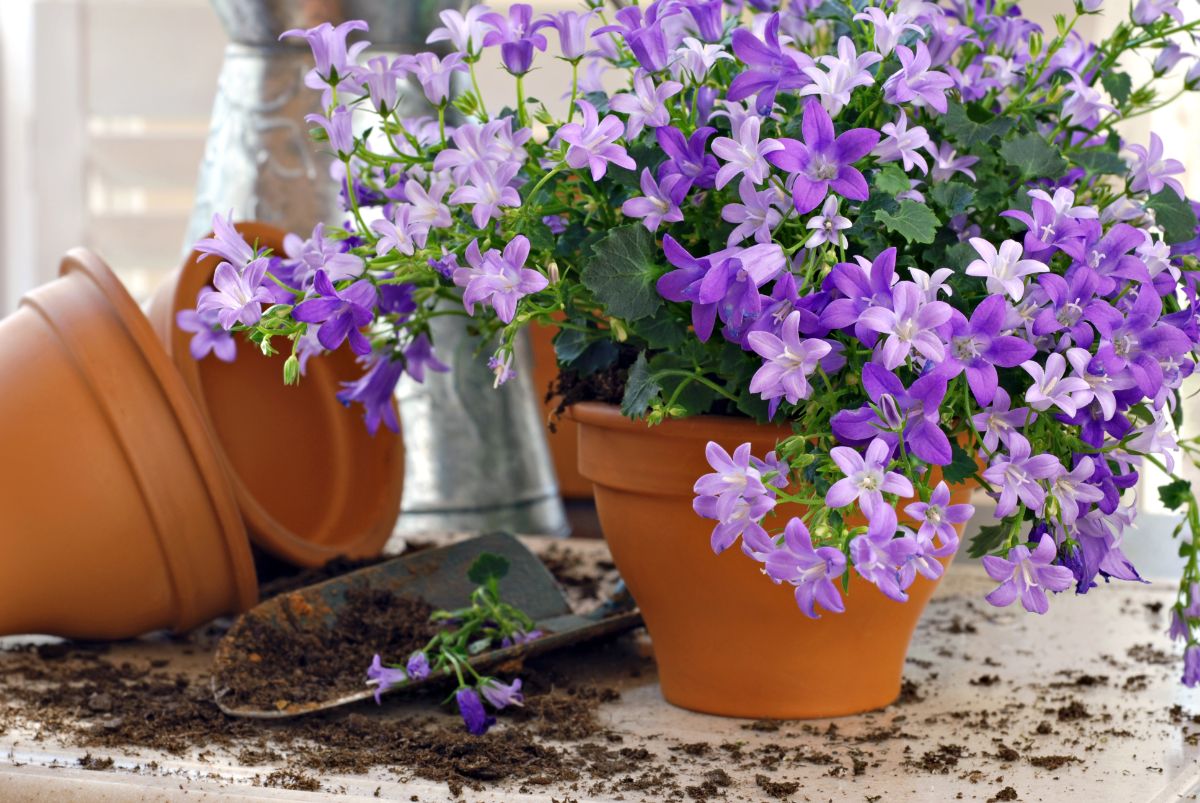 Generally, growing perennial flowers in vases is not a standard method; however, there's nothing wrong with planting them in huge pots. But while doing that, it must be with a loose, soil-free potting mix and leave the top of the rhizomes exposed.
In pots, perennial flowers do not require overwatering. Meanwhile, in colder regions or frost seasons, you must move the pots to a sheltered area for the winter to sustain their health. Transplanting and dividing in such conditions need to be done more often (yearly) than those grown in landscapes.
Deadheading Tips
Deadheading is cutting the spent blooms off your plants to make them appear neat and better. It also stops them from setting seeds to prevent a mess of perennial flowering seedlings from popping up in your landscape.
Fortunately, most perennials react to deadheading by producing more flowers. Some examples of these rebloomers are the likes of threadleaf coreopsis, delphinium species, phlox, yarrow, and veronica, amongst others.
Dividing Tips
One of the fascinating features of perennial flowers is that they get bigger and better every year, including those that bloom from spring to fall. Yet, most of them will begin to crowd themselves out if they grow too large.
You must ensure they perform well by uprooting them from the ground and dividing them into fragments every three to four years. Early spring is the best time to divide most of these flowering perennials.
But there are a few which do not require deadheading in spring, including Bearded Iris and Hosta, as they can only be divided in summer.
Frequently Asked Questions
What is the longest flowering perennial?
As we listed above, there are many long-blooming perennials, but Astilbe stands out as the longest amongst them. Astilbe species are hardy in zones 4 to 9 and easy to grow. They can survive in sunny and shady areas and feature feathery blooms providing months of lovely color.
What is the hardiest perennial flower?
Almost all perennial flowers are hardy, but the hardiest amongst them include; Hostas, Shasta Daisy, Black-eyed Susan, Peony, Daylily, Dianthus, Coreopsis, and Clematis, amongst others.
Is there a perennial that blooms all year?
Not many perennials can bloom all year quite like the way Coneflower does. It is an easy-to-grow perennial flower that comes in numerous colors and sizes. It is a great year-round plant, with summer and fall blooms on 2 to 5 feet tall stems and seedpods for winter interest.
What flowers come back every year without replanting?
About 29 flowers can return every year without replanting, but most commonly include peonies, Foxglove, daylily, yarrow, lavender, Coneflower, salvia, sedum, etc.
What is the best time of year to plant perennials?
The best time of year to grow flowering perennials is during the spring and fall seasons. It will enable the plants to grow healthy and strong. In the spring, the soil is warmer, and there's plenty of rainfall and more extended periods with sufficient sunlight, which is what perennials want.
Conclusion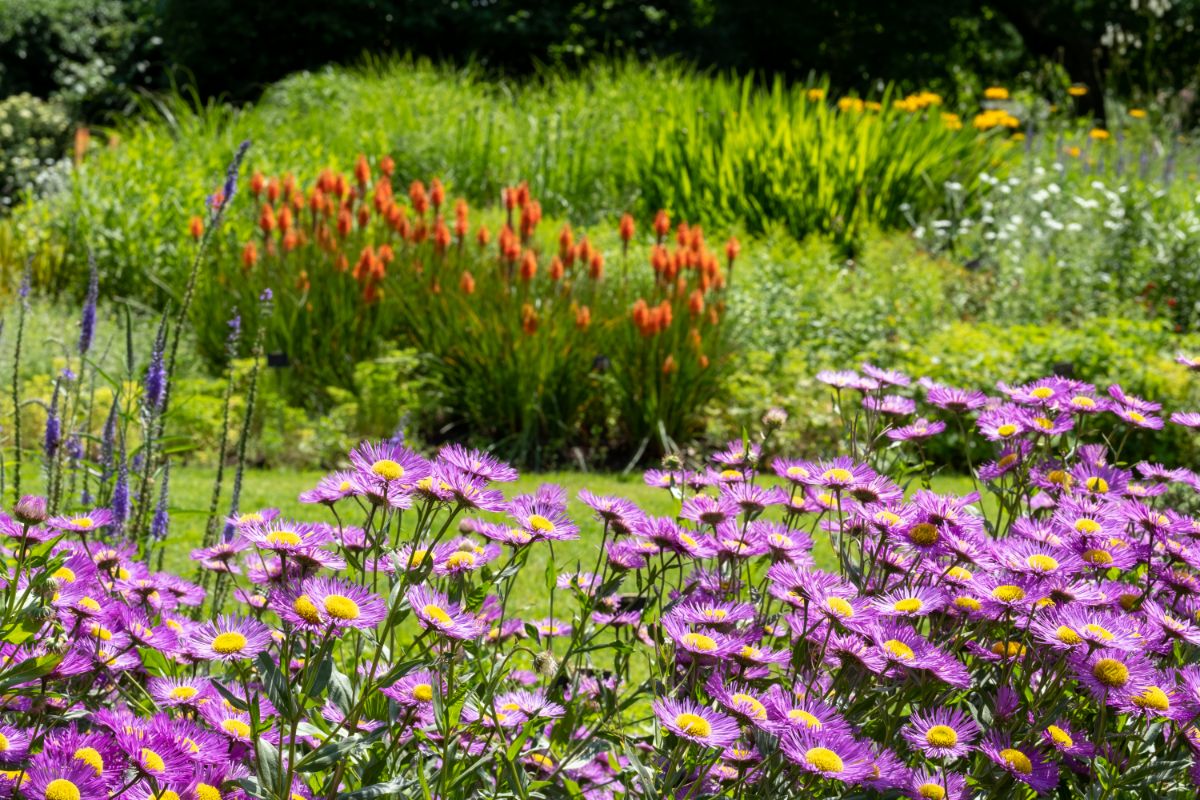 We hope that with our top list of perennial flowers that bloom from spring to fall, you can begin to work them into your overall landscape site plan. However, before you plan any perennial flowerbed, it would be best to figure out the area to position your long-blooming perennials.
As such, it will enable you to know how to perfectly utilize shorter blooming perennials to get all you can from your garden every season. It will also give you an idea of the best way to incorporate annual flowering plants into your garden.