Perennial geraniums come in different species and flower colors. They are gorgeous plants with lush foliage that will add a touch of class to your garden space.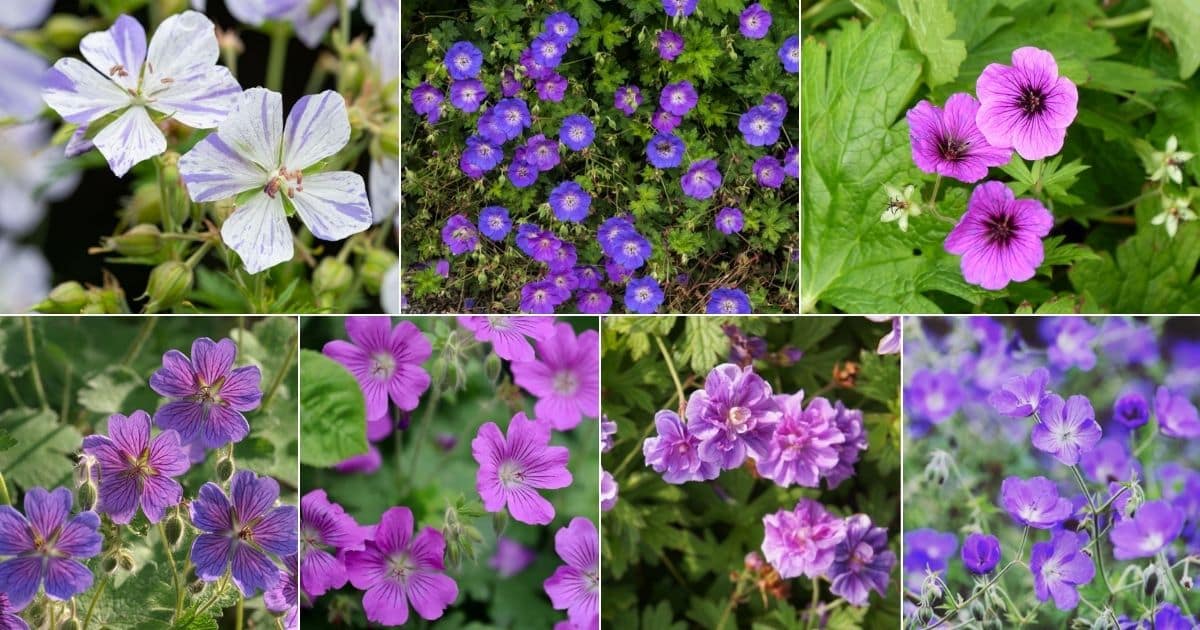 Interestingly, these plants are tough, deter diseases and pests, and most of them are insanely easy to grow and care for. With somewhat fertile and well-drained soil, geraniums will flourish effortlessly.
This article discusses the different perennial geranium varieties and how to grow and care for them.
Let's get started!
Jump to:
What Are Perennial Geraniums?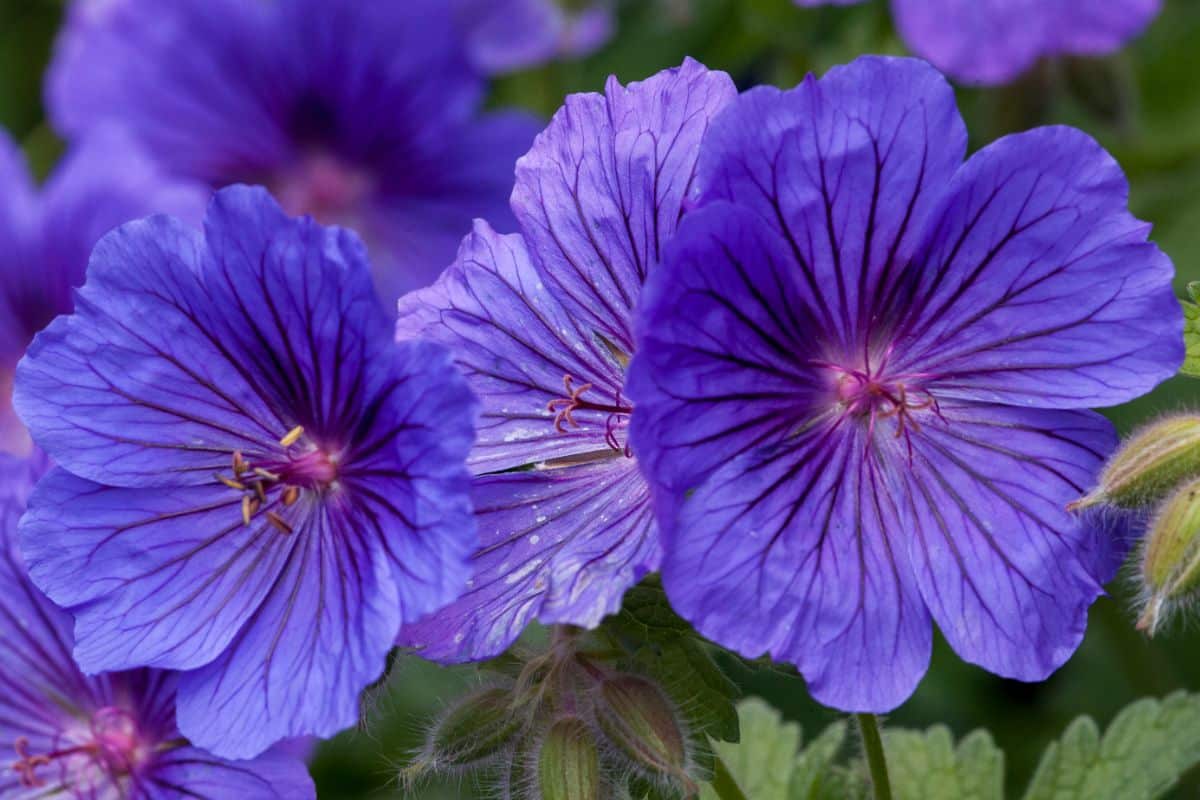 Let's dissect these words individually, with perennial being something that lasts indefinitely and Geraniums being a plant/genus that is herbaceous in nature and bear within, a unique long/slender fruit shaped like a crane.
From the definitions above, we can easily deduce Perennial Geraniums to mean Geraniums that reoccur yearly.
Geranium perennials are in manifolds. They make up a huge botanical collection totaling about 300+ species of genuine geraniums.
Amazing right? But that's not even the best part. The fact that these geraniums are so easy to maintain and flourish rapidly even when subjected to the worst growing experience, plus pest control while growing them is pretty easy, makes them a gardener's preferred choice of plant any day, anytime.
Is There A Geranium That Is A Perennial?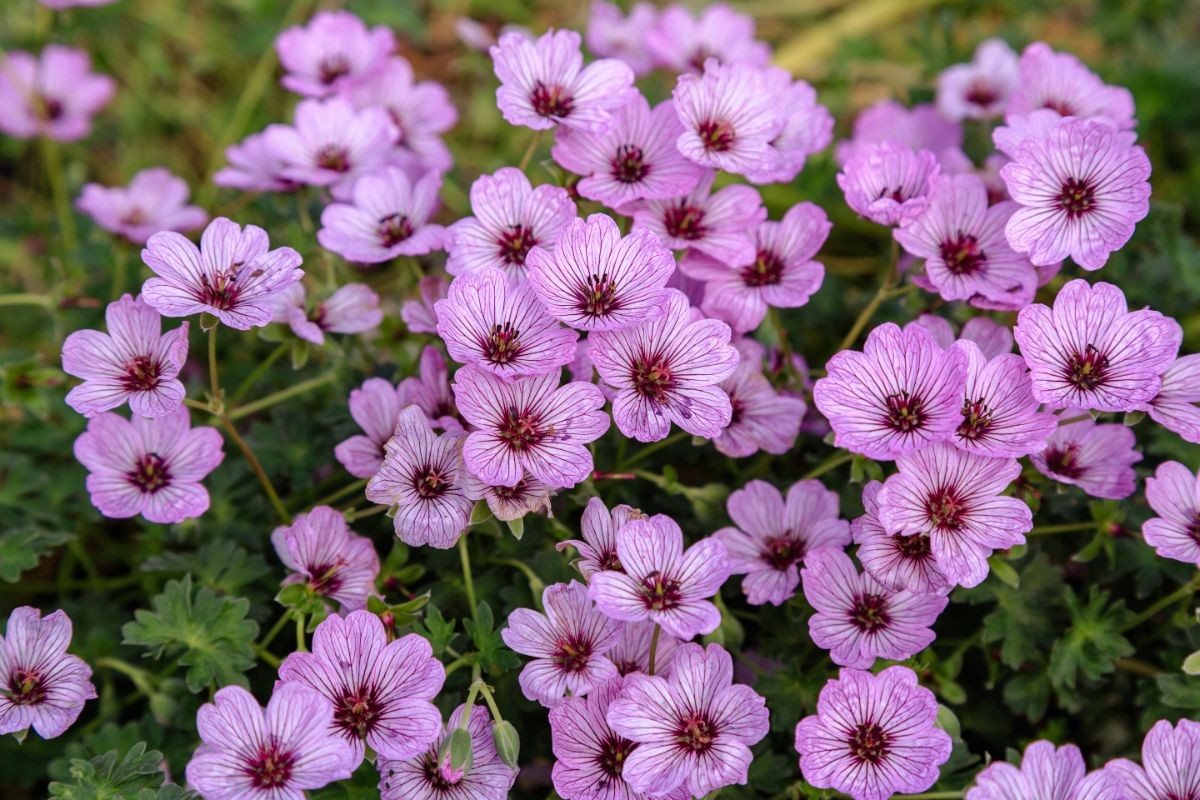 When a geranium lives through just a cycle and dies off even after being cut back down, it is an annual geranium plant. A cycle sees a plant from germination to seed production, then dies off right after.
Most of these plants do not fare well in cold seasons, and that's why most gardeners prefer growing them annually.
A perennial geranium, on the other hand, continues thriving for about two years and even more sometimes.
The best part is that you can turn your annual geraniums into perennial ones if and when you adopt the best growing methods for them.
Itching to learn about the different types of perennial geraniums available to us? Brace up! It's quite a ride.
Different Perennial Geraniums Varieties
When we talk of geraniums generally, they fall into six different categories, but out of the entire six categories, you will find just one to be the true perennial geranium, which is the hardy cranesbill, with others categorized as pelargoniums.
Perennial geraniums on their own consist of different varieties. They come under different names like; wild geranium with the botanical name; Geranium maculatum, there's the geranium macrorrhizum, otherwise known as cranesbill, hardy geraniums and bloody geraniums (geranium sanguineum)
Without further ado, let's discuss 32 different perennial geraniums and explain their individual uniqueness.
1. Geranium 'Tiny Monster.'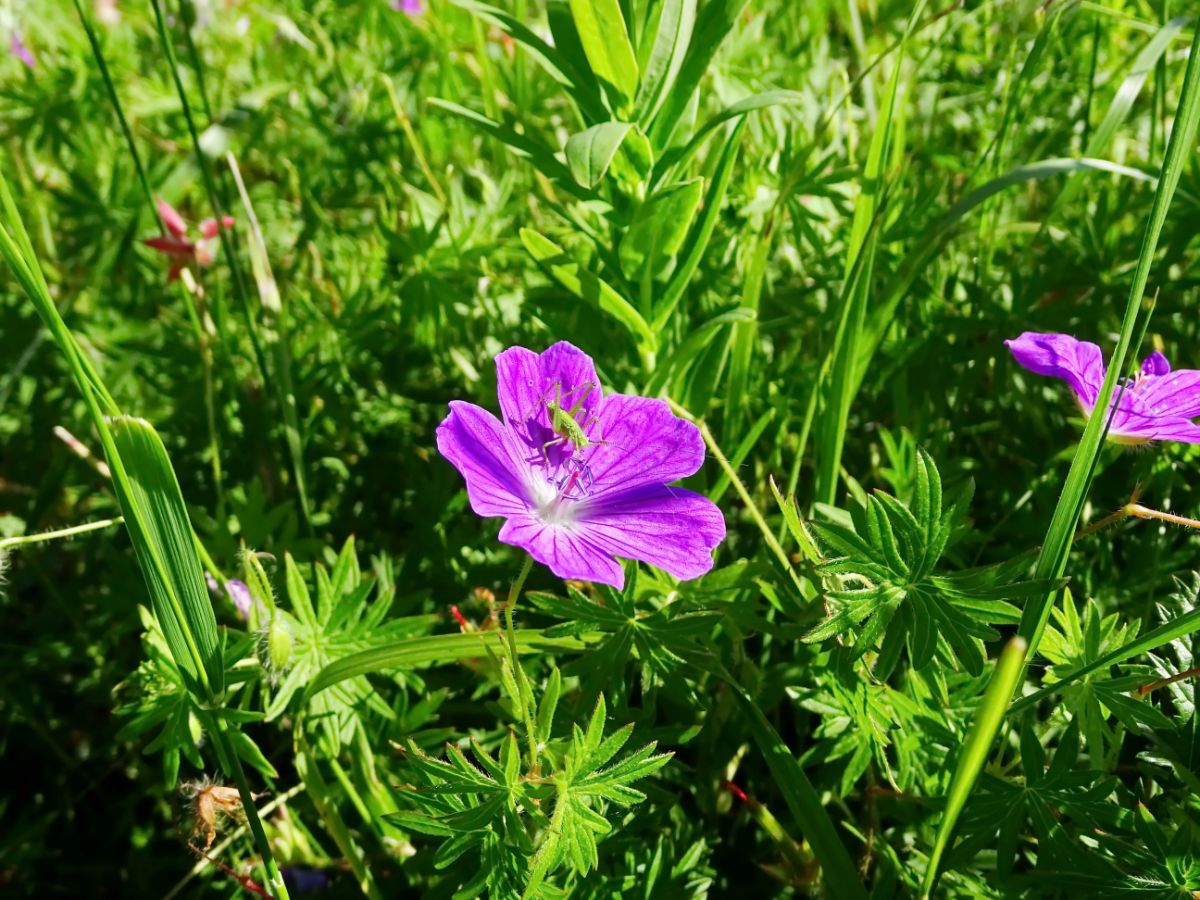 A hardy geranium with pinkish flowers and petals that look a little ruffled up. This robust sprawling geranium blooms best in the months of May - June. Then another of its season soon returns in late summer. The tiny monster spreads as wide as 45 to 60cm.
2. Geraniums Cinereum 'Sophie.'
This geranium requires both sun and part shade to grow, so having this plant grown under these conditions will see it grow beautifully well. At the same time, you must ensure the plant does not stay waterlogged, especially during cold seasons.
The plant blooms fully around the months of May - June and spreads even better in subsequent months.
3. Geranium Wallichianum (Havana Blues 35cm)
This is even a more compact dome than the geranium cinereum. You will find them bloom during the months of June end and all through to September. The Havana blues are very bright with unique magenta streaks.
4. Geranium pratense 'Splish splash.'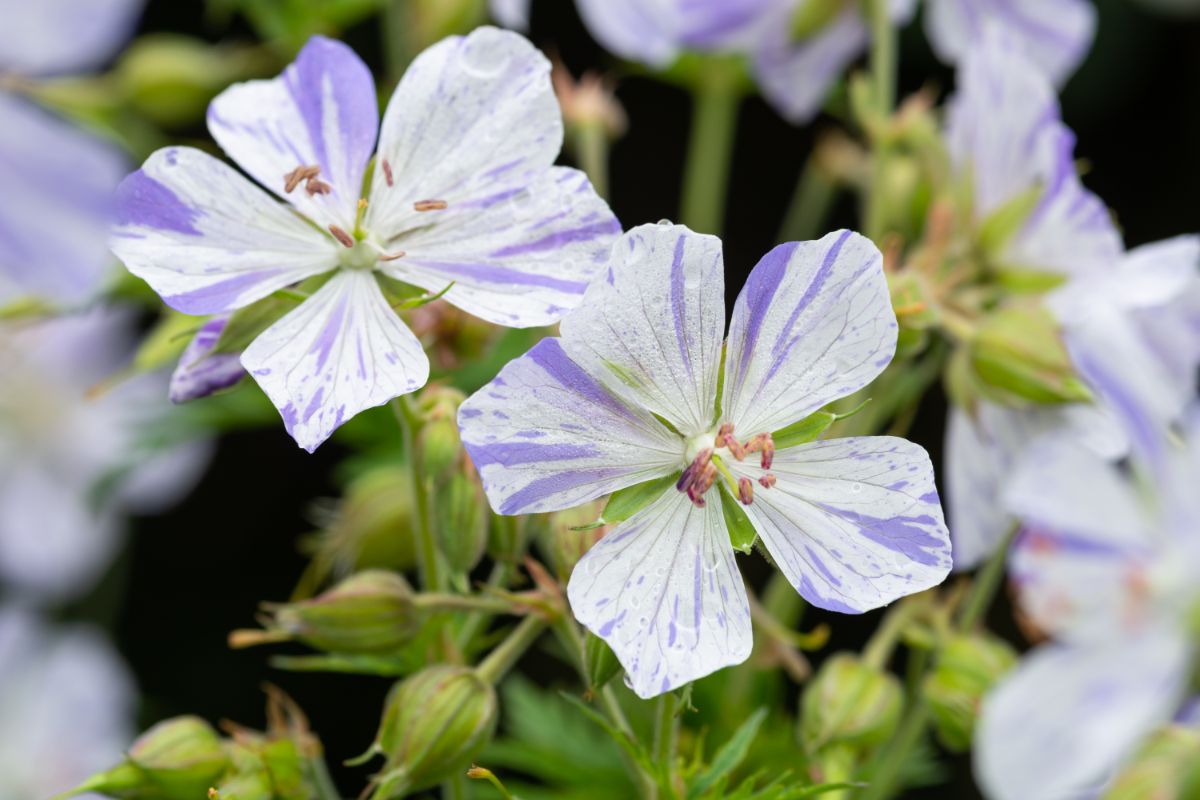 The best way to grow this plant is to have it cut back down when blooming drags in preparation for the next bloom season in Fall.
This unique plant spots diverse patterns of flecks on every single petal. It was first grown in Europe and Asia and fared well under full sun and part shade conditions.
5. Geranium Cinereum (Signal 15cm)
One of the most beautiful geraniums. This plant, grown in Germany way back in the 90s, forms neatly grown flowers, looking really bright and magenta-colored leaves with a silvery-grayish shine.
6. Geranium Cinereum "Carol."
A geranium that requires a great deal of shade as well as sunshine to grow well. Its bloom period begins in June and sustains all through summer. The Carol is a relatively new geranium that spreads as wide as 25cm as it grows.
7. Geranium 'Ivan.'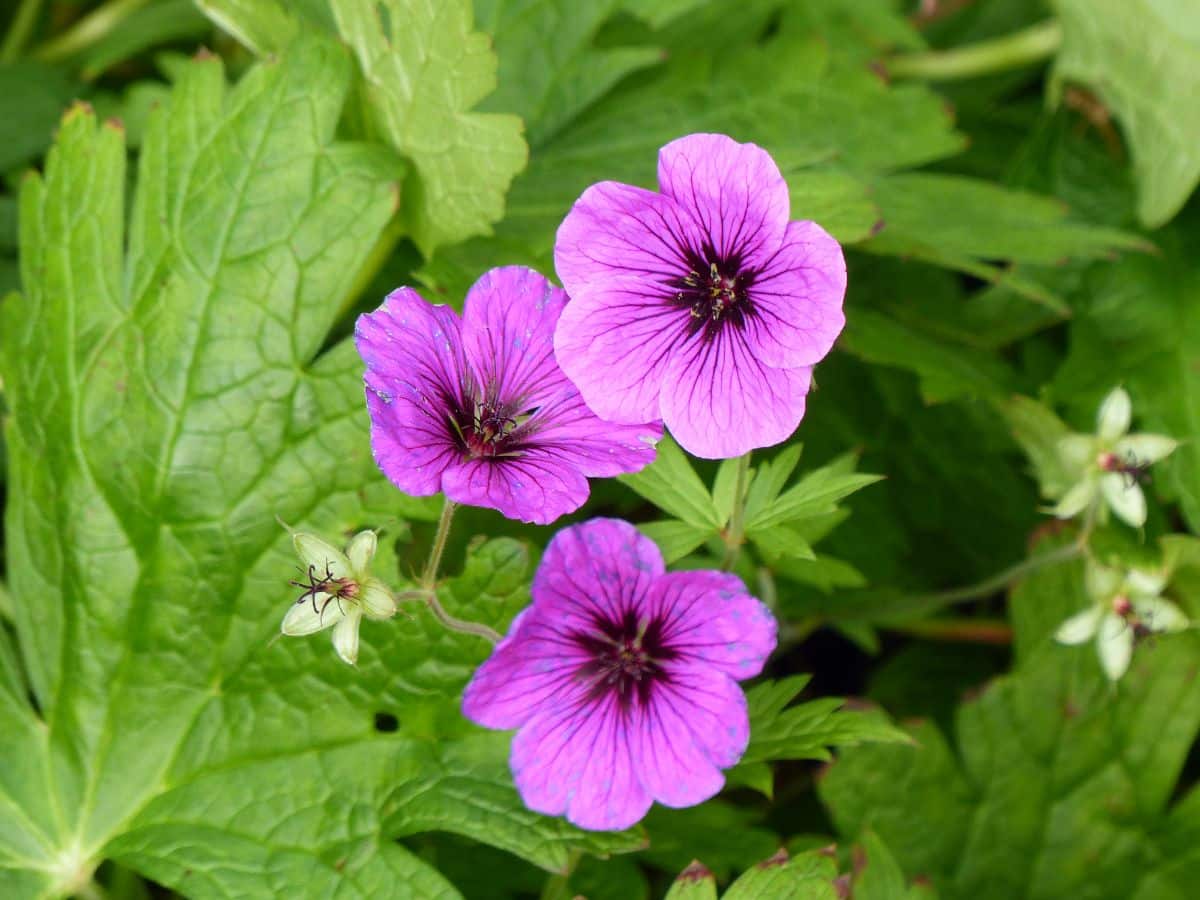 The big, strong and tall magenta-colored geranium. Its flowering period falls between June and July. You could get more flowers subsequently if you have the entire plant cut back.
8. Geranium Wallichianum (Sylvia's Surprise)
One hardy geranium cultivar that hardly goes unnoticed because of its bright big pink flowers. Avoid using waterlogged soil to grow this plant to see it bloom and flourish.
Talking about bloom, that happens in early summer and continues all the way through the end of the autumn season. Flowers are expected to spread about 40cm wide.
9. Geranium 'Rainbow.'
If you are wondering if it does look like a rainbow, well, not so much but, no doubt, colorful still. Its petals have a blue background that combines with its purple streaks and a pink hue at the base, giving it a magical look.
10. Geranium 'Terre Franche.'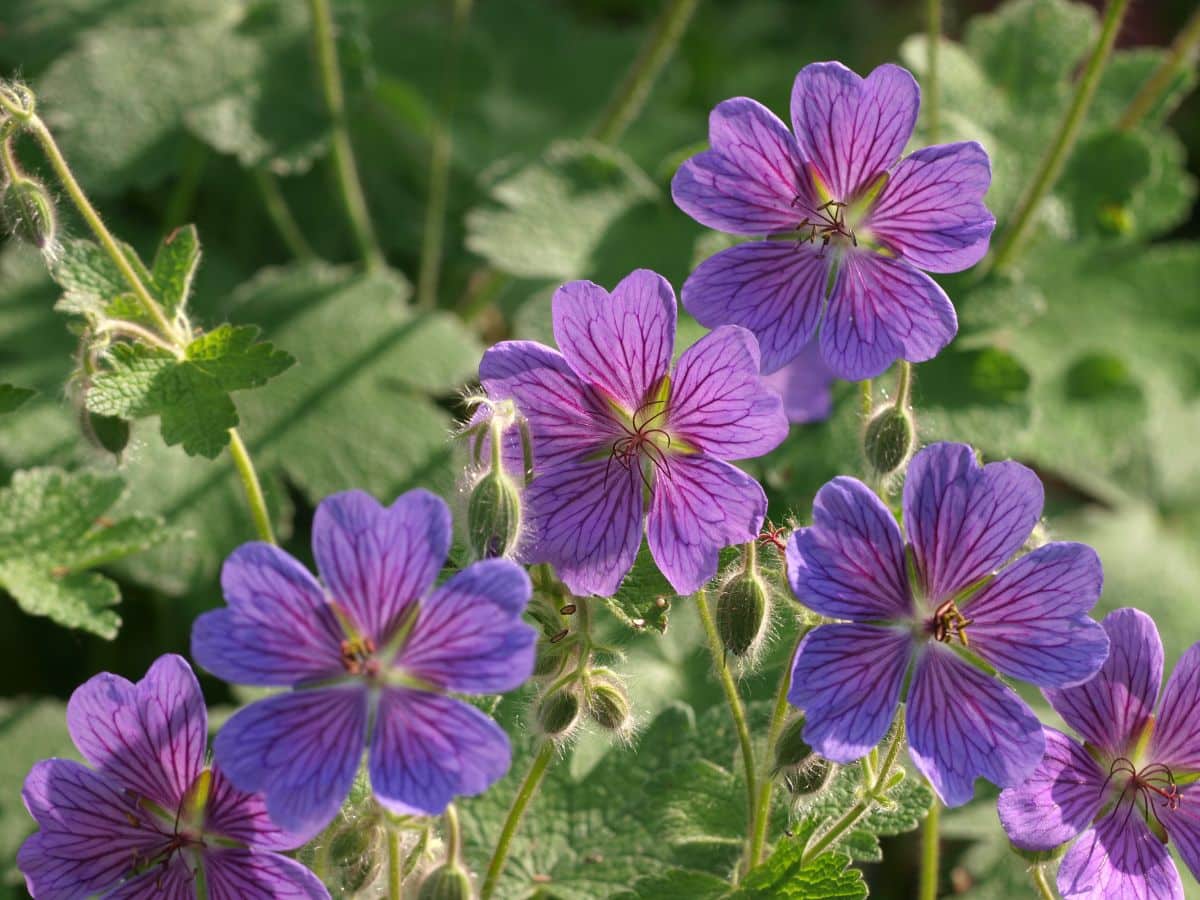 How best can we describe this very unique geranium? The geranium Terre Franche is a bunch of grey-green colored leaves with a velvety texture. Then, there are the beautiful purple flowers with blue streaks, which spread about 50cm wide.
Saying they make an attractive dome would be stating the obvious. This geranium and the Philippe Vapelle have a few things in common as they are bred from geranium renardii.
11. Geranium 'Fay Anna'
The different transformation that takes place in the various growth phases of this plant is one to leave you in awe.
The new foliage, at first, sprouts as a pink flushed gold, then turns olive green when it matures. Then in the autumn season, it turns fiery red and bronze.
You will find this flower sprout in the month and June all through to August and spreads about 30cm wide.
12. Geranium 'Sweet Heidy'
This lavender blue-colored plant is the latest addition, and going by what the breeders say, the purpose of its addition is to stand as a close rival to the Geranium Rozanne.
This somewhat explains why you would find certain similarities bordering on size and habits between them. The spread is about 50cm wide.
13. Geranium Rozanne 'Gerwat.'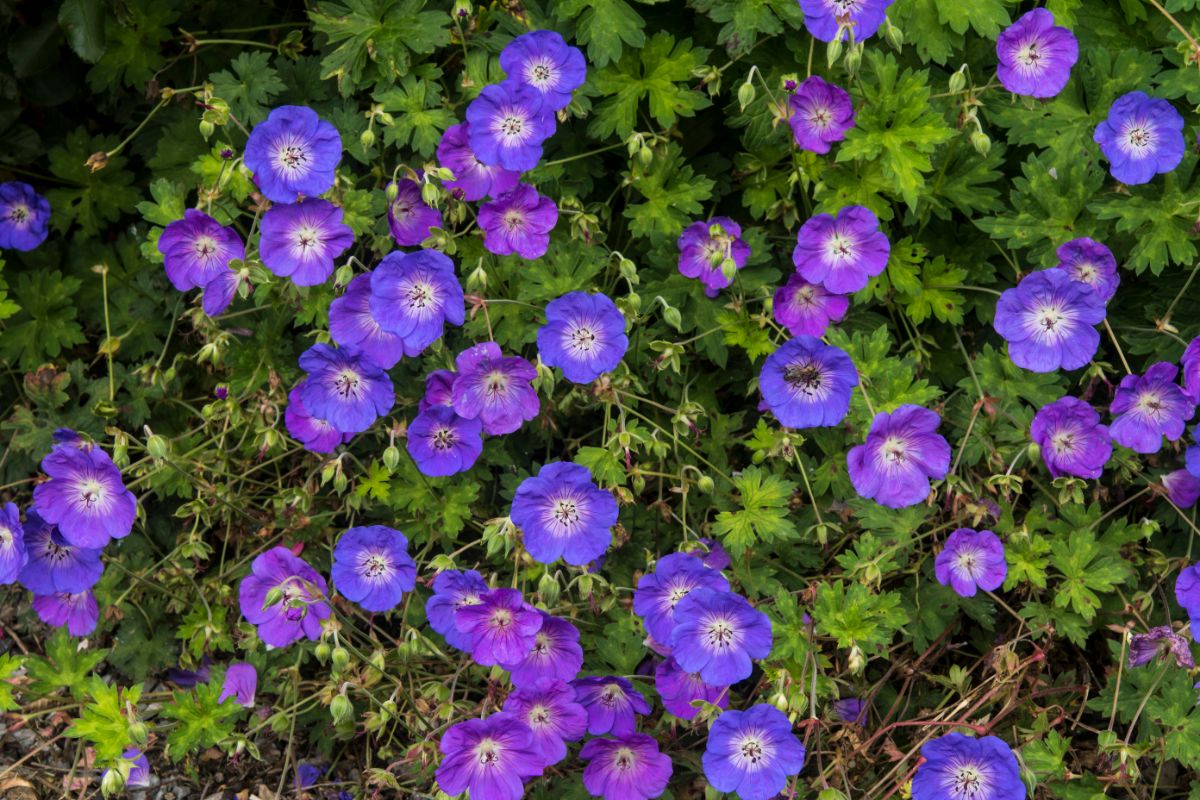 This plant has its name culled from the garden in which it was first found; Rozanne Waterer's Somerset gardens, in 1989.
The good thing about growing this plant well is that it will grow into a wide, neat bunch making your gardens beautiful. Its flowering period stands all summer long, June - October.
The plant can best describe as small violet bulbs with red veins and a tiny whitish dot in the middle.
A stunner, any day, anytime, with the prestigious award of the Royal Horticultural Society as a plant of the centenary during the 100th Chelsea Flower Show. A well-deserved award keenly voted for by members of the public and lovers of beautiful plants.
14. Geranium Cinereum 'Melody.'
Heard of geranium with flowers that almost look red? This is just the one. This hardy geranium is a part of recent foliage, and its silvery sheen-like leaves leave us with an everlasting impression.
The flowering period is May and would usually spread all through September. Its spread is about 15cm wide.
15. Geranium nodosum 'Clos de Coudray
We call it the flower with very fragile petals, which is why it is to be grown in a very shady environment.
You will find these petals hinged on wiry stems just below the plant's rosy foliage. Its spread is about 35cm wide.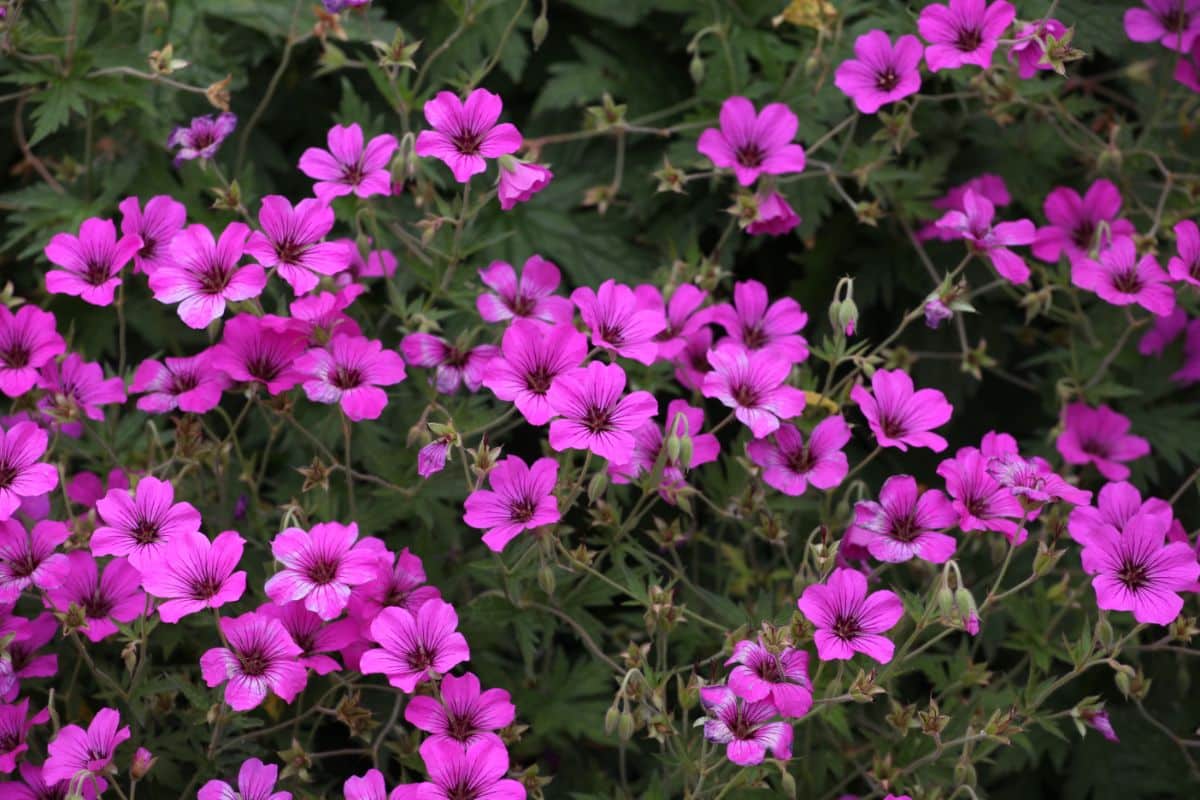 A cross breed between geranium endressii and G. Psilostemon.This plant has the potential to grow as tall as 30cm and thrives better under full sun and part shade conditions.
17. Geranium maculatum 'Expresso.'
One of the geranium plants that is hardly seen. This very unique plant makes your garden look so beautiful during Summer.
Unlike most geraniums that require well-drained soil, the espresso needs more moisture and shade to grow well. You should also see that the crown is not mulched to prevent it from rotting away.
First grown in eastern North America, its bloom period is set in May/June.
18. Geranium 'Tanya Rendall'
This plant gives us a burst of dark pink flowers with olive green leaves as ground cover. They sprout up around June/July and spread up to 50cm.
19. Geranium Dragon Heart ('Bremdra')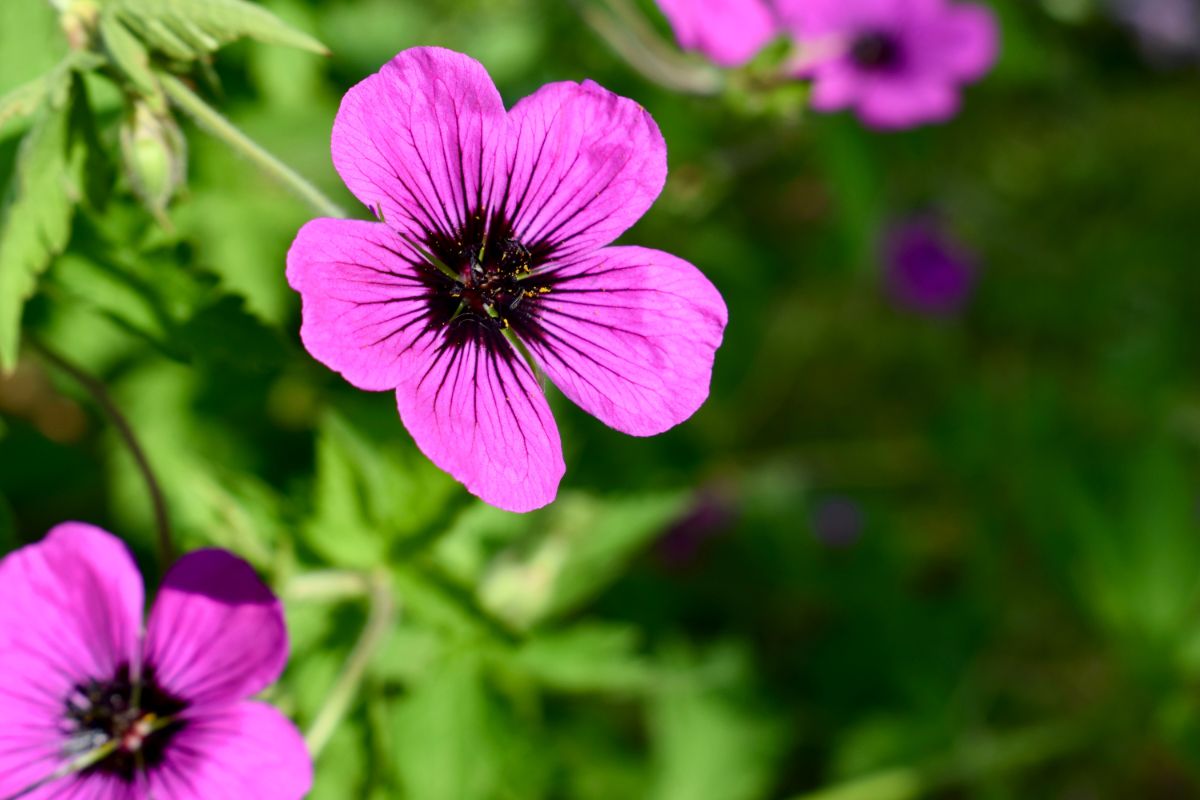 A magenta-colored plant with a tiny dark circle in the middle. This flower grows up to 4cm, and its spread is usually up to 80cm. Bloom period? From June to September.
20. Geranium Sanguineum 'Elsbeth'
A cultivar of the bloody geranium. The bloom period for this plant happens in June, with a mini-comeback in September.
This magenta-colored plant was first grown in Europe and western Asia and is proven to grow better in rich, drained soil under full sun and part shade conditions.
21. Geranium 'Sirak.'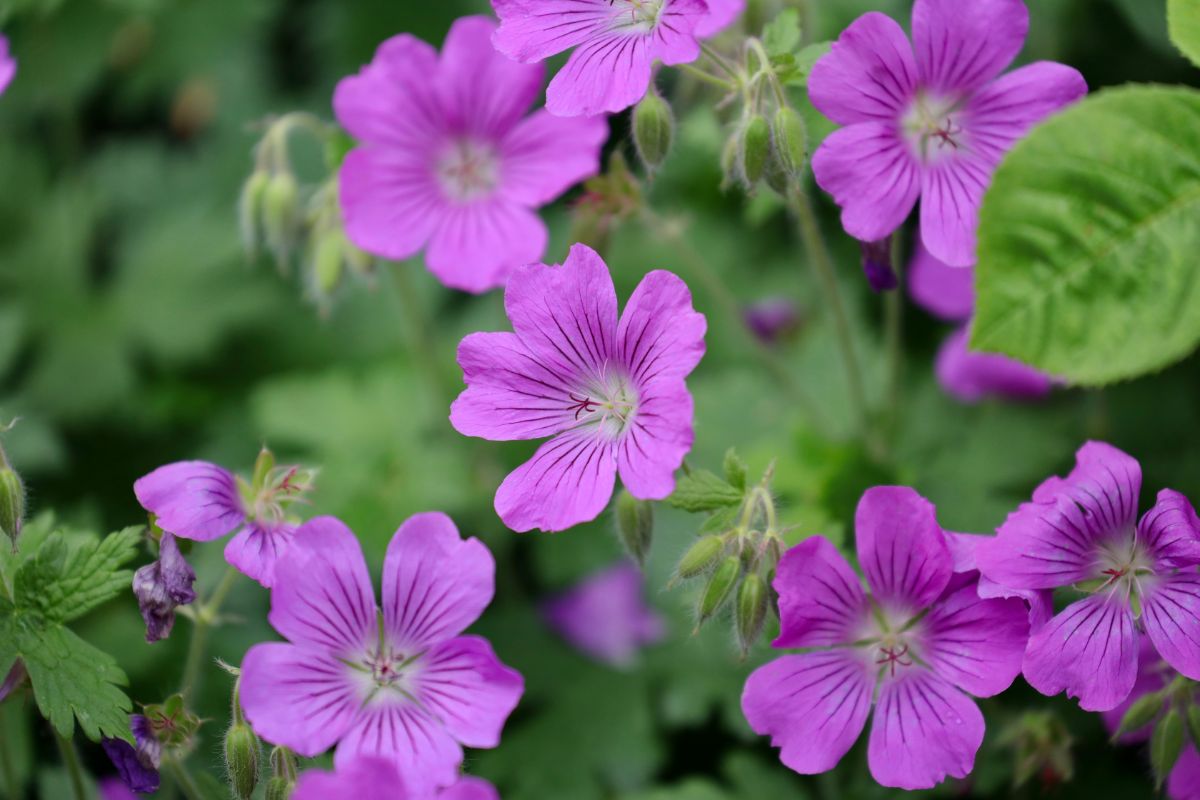 Another geranium requires being planted under a part shade, full sun condition. Its flowering period stands in June/July, then returns again when the temperature drops in late August.
This translucent, lilac-pink flower is one you undoubtedly want in your garden.
22. Geranium Cinereum 'Alice.'
This hardy geranium plant was said to have been introduced first by Devon nursery border Alpines. Its blooming period falls between July with a repeat in September and spreads up to 15cm.
Finally, it has been argued to be one of the largest flowers in the perennial geranium family.
23. Geranium Wallichianum 'Rosetta'
This plant makes an unbelievable spread of about 60cm when it flowers from the month of June down to September. It spotted dark pink flowers with magenta streaks and was made by no other than Dutch Nurseryman Hans Kramer.
24. Geranium 'Orion.'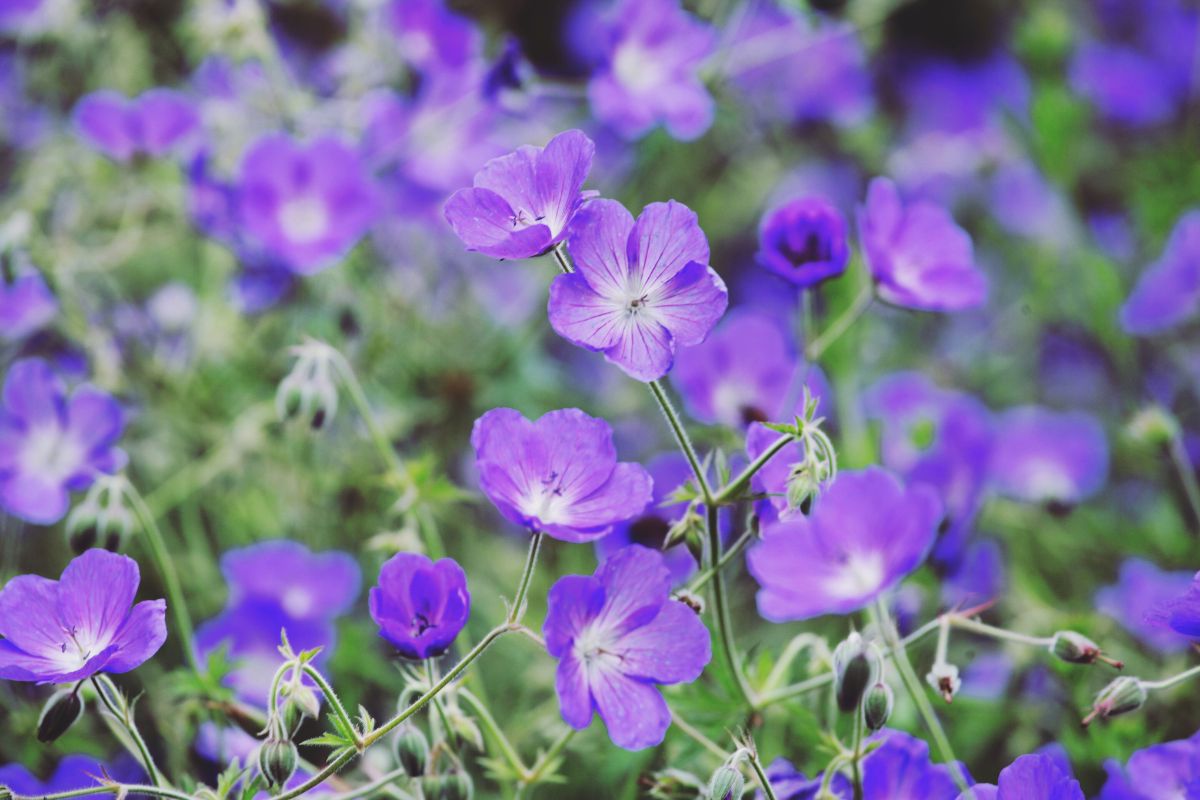 This luminous plant is named after the brightest constellation high up in the stars. It started off as a seedling from the well famous geranium 'Brookside' in Holland around the late 90s.
We cannot help but include the fact that this plant is a recipient of the noble RHS award of Garden merit.
25. Geranium 'Lilac Ice.'
The intriguing fact about this plant is that it usually grows attached to a group of Geranium Rozanne.
This discovery was made by Michael Steggles, and upon further evaluation, the lilac-colored plants were seen to be very delicate and pale looking during the months of June - September but glow at dusk and look very good.
26. Geranium Ibericum 'Johnson's blue.'
A well-known hardy geranium that springs forth sky blue flowers when it blooms in spring and lasts till mid-summer. A highly sturdy plant that stays resistant to pests and disease.
It was first grown in Western Asia, grows as tall as 14 - 24 inches and thrives well under full sun and part shade conditions.
27. Geranium macrorrhizum 'Ingwersen's variety.'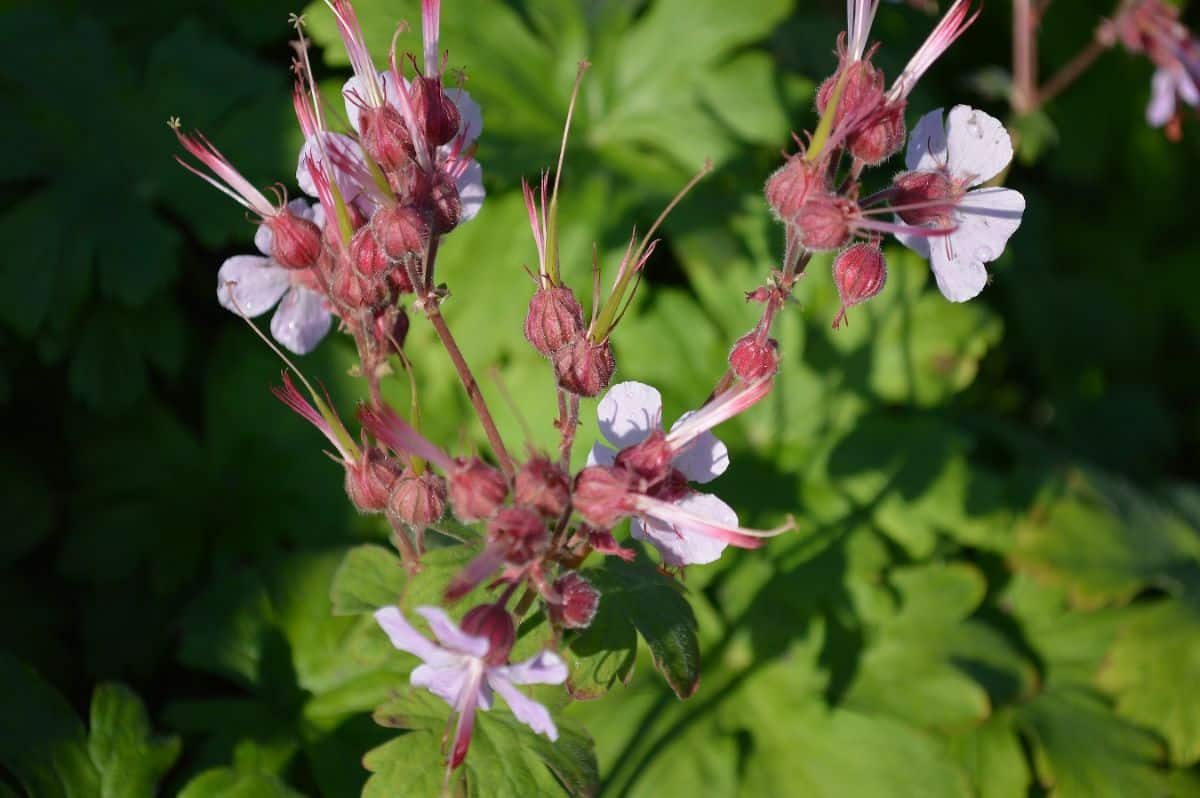 This plant-derived its name from its discoverer, Walter Ingwersen, in Yugoslavia in the 1920s. It has got pale pink flowers and aromatic leaves.
The macrorrhizum was first grown in the Southeastern Alps, thrives best under full sun and part shade conditions and has the potential to grow as tall as 12 inches. One prominent feature unique to this plant alone is the ability to squeeze fragrant oil from them.
28. Geranium madarense 'Alba'
Best grown on well-drained soil and cut down when bloom slows down. Its beautiful white flowers are sure to make your garden bright and colorful.
It was first grown in Madeira, Portugal and required full sun and part shade to grow well.
29. Geranium 'Stephanie.'
Best described as a highly compact plant that flowers during late spring. It was first discovered in Scotland at the Royal Botanical Garden.
The blue-colored flowered plant with purple streaks is said to be a cross breed between geranium peloponnesiacum and G. Renarrdii. It grows well under full sun and part shade.
30. Geranium 'Plenum.'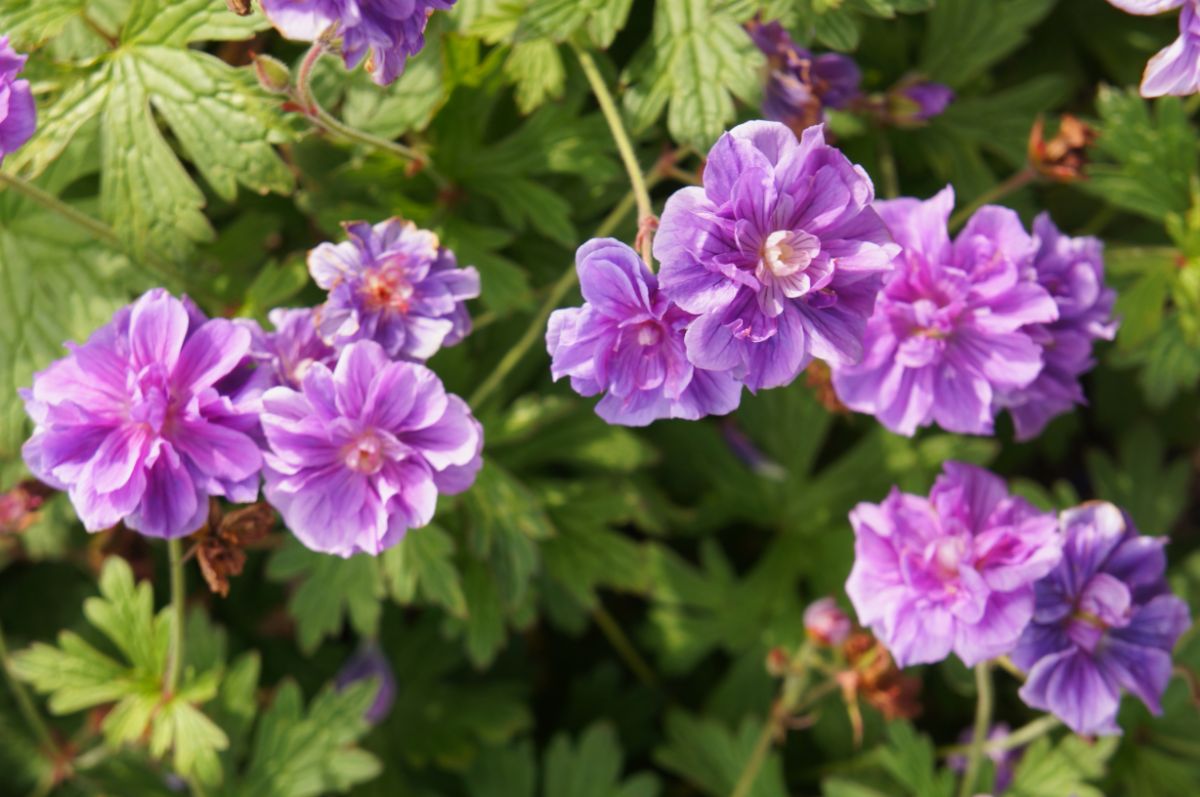 Beautiful set of violet-colored flowers, grown to be highly durable in the Himalayas. One known quality of this plant is its ease of planting. They stay where you have them planted and do not self-seed all over the place because they are sterile.
We know how annoying gardeners find self-seeding to be, which explains why they love this plant.
31. Geranium Phaeum 'Springtime.'
A burgundy-colored plant that flowers during spring. It was first grown in Southeastern Europe and fared well under full sun and part shade conditions.
Another name for this plant is 'mourning window.'
32. Geranium 'Ann Folkard'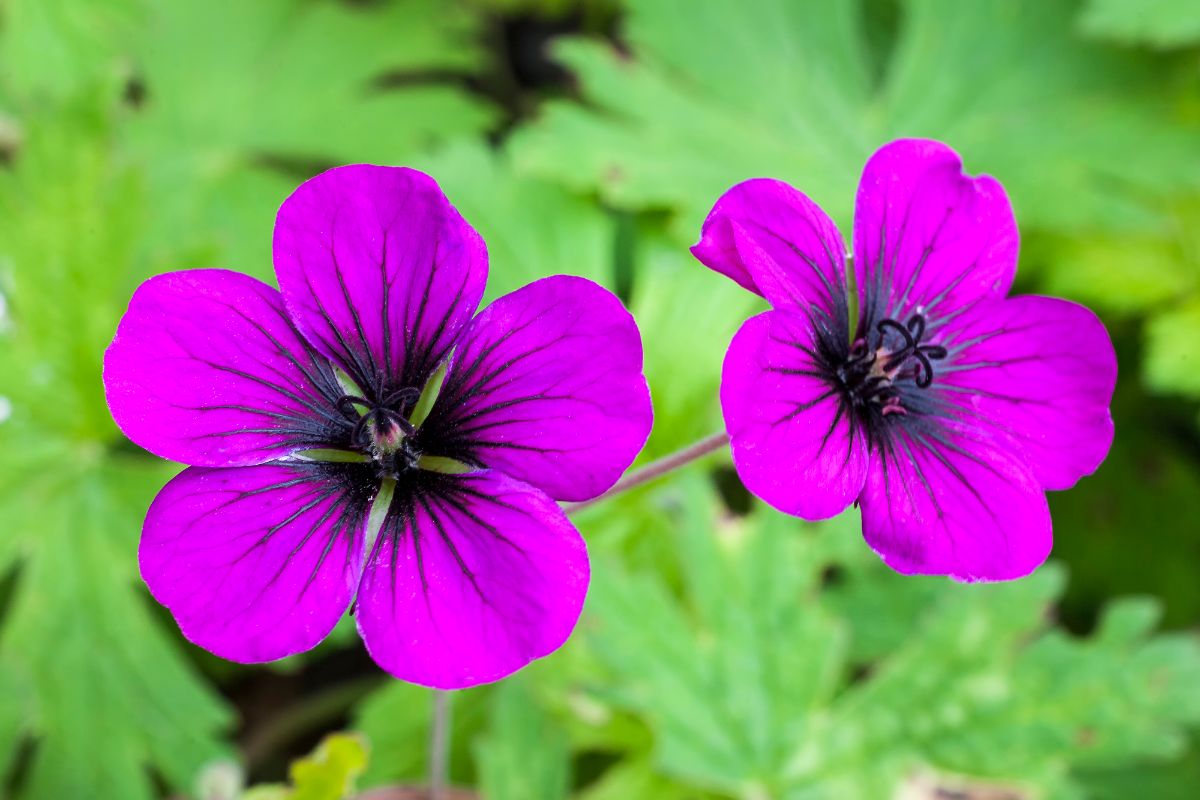 A stunning plant with sharp green foliage and purple flowers. Its parent species are said to be natives of Southwestern Asia and the Himalayas.
The plant gives a generous spread in your garden, grows as tall as 18 inches, and it's a cross breed between G. Procurrens and G. Psilostemon.
How To Grow And Care For Perennial Geraniums
Soil Requirements
To get started on the right footing when growing perennial geraniums, you need to start by using the right soil. One mistake you do not want to make is using soil that retains water for your perennial geraniums. Waterlogged soil is one in which they cannot thrive.
For instance, growing hardy geraniums would prove to be counterproductive as they thrive best when planted on semi-rich soil. For better results, consider applying organic matter to the soil just before you plant.
You are good to go once you can get it right from the soil, as perennial geraniums are very much easy to maintain. Readily available materials around you can be used; leaf mold, manure, compost, etc.
Sunlight Requirements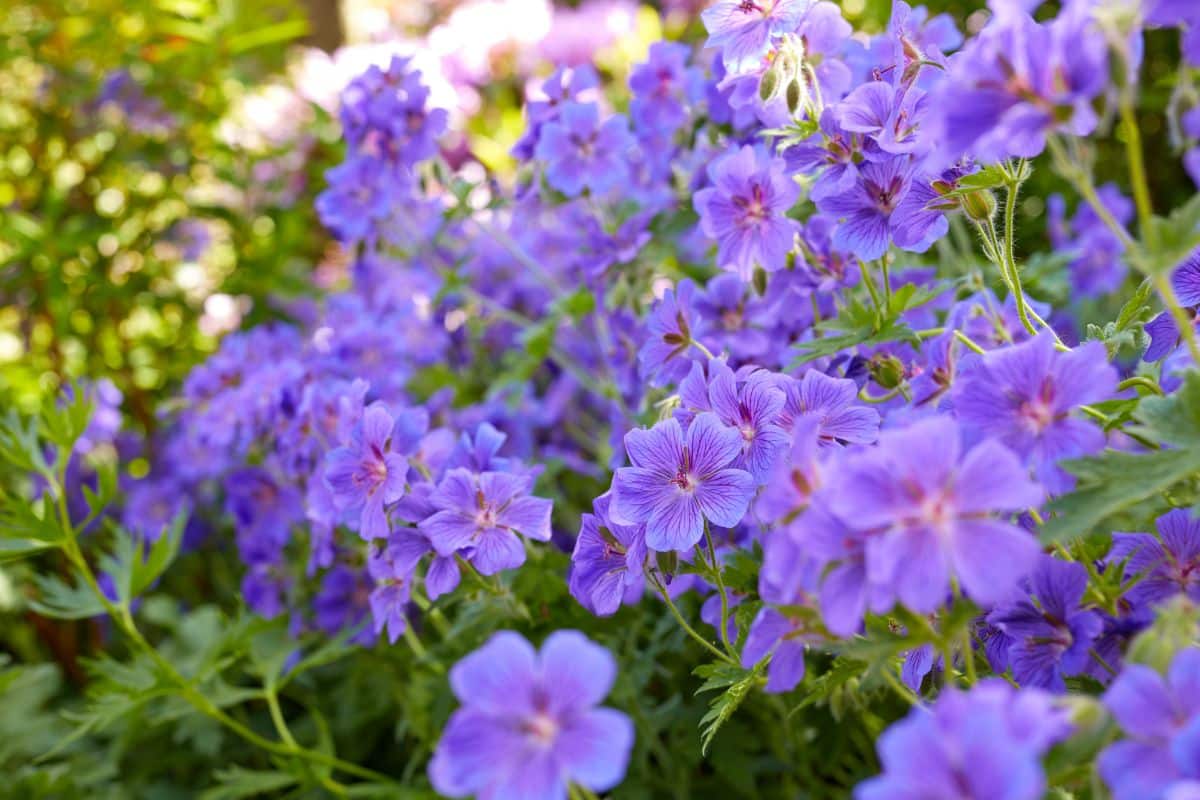 You will be needing varying amounts of sun/shade depending on the type of geranium you have planted. As they are different, so do they also have different requirements for sun/shade needed for their well-being.
On the whole, though, research has shown that the bulk of perennial geraniums fares better in either part shade or full sun.
Take the wild geraniums, for instance, botanically known as "geranium maculatum," this is one specie that requires nothing other than a full shade to thrive well.
Again, it is essential to emphasize the need for you to get accurate information about the right kind of soil and type of shade needed for the exact specie of perennial geraniums you intend to plant. The formation of its flowers and the overall well-being of the plant is dependent on these two factors.
When we talk of a geranium that must be planted under full shade, geraniums categorized as hardy comes to mind.
Geraniums under this category include cranesbill geraniums or geraniums x cantabrigiense. Now, the essence of having these species planted under full shade as required is that you would not have to perform the extra duty of providing a large volume of water for the plant as you would have had to do if you had them planted under full sun.
Fertilizer Application
Other essential things you need to know when growing perennial geraniums is the need to apply fertilizer once each year, preferably in spring.
Doing this helps provide the plants with adequate nutrients to grow and bloom.
Pest Control Techniques
You also need to know how to keep fungal diseases from the plants at bay. One of the ways you can achieve this is by having the plants watered first thing in the morning in order for the leaves to dry on time.
Wet leaves have proven to be a good breeding site for fungi causing fungal diseases and slugs.
Pruning Your Plants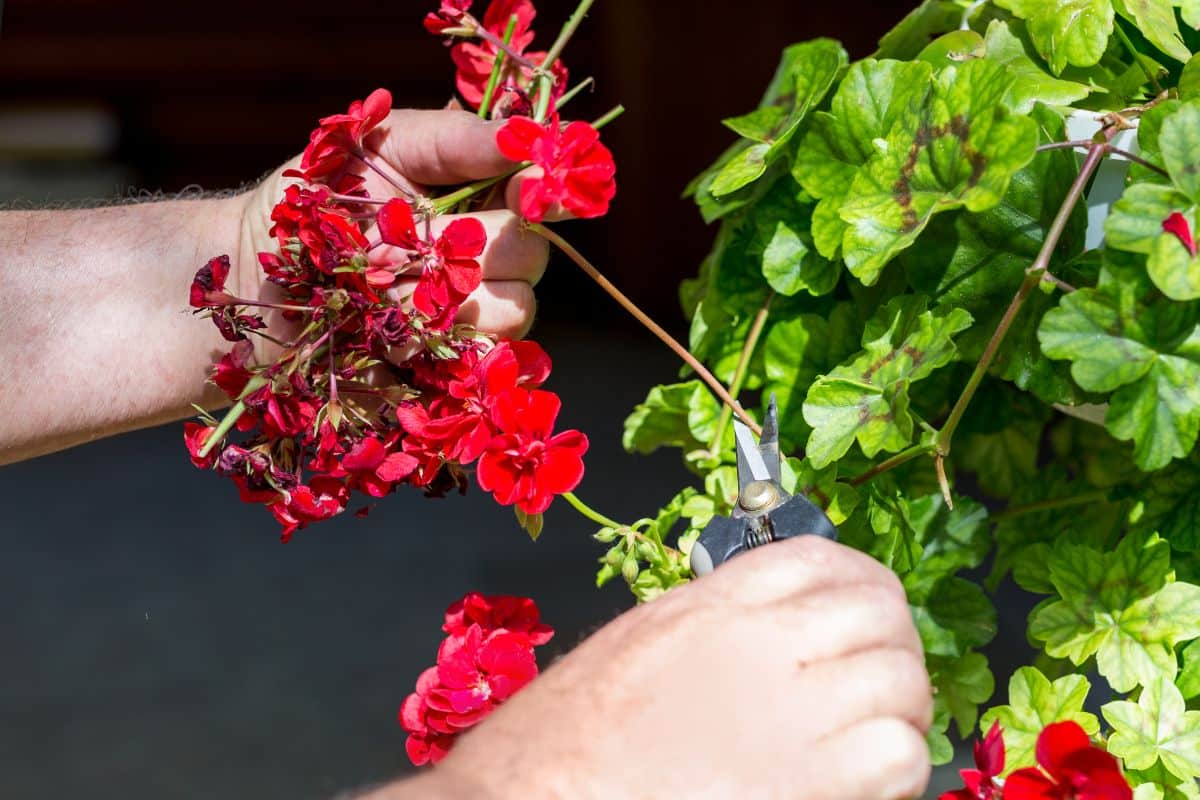 Pruning is yet another way in which you can take care of your plants as they go.
Getting it right as you grow these plants gives you a good head start as they naturally do not require too much attention.
However, you would find some distinct specie that looks unkempt with overly long stems as they grow. The right thing to do when this is noticed is to get down to do some pruning.
Pruning can be carried out using shears or gardening scissors, and the right way to get it done is by trimming the stems down to their basal growth.
The reward of pruning at the right time is a burst of new growth and bright-looking flowers.
For hardy geraniums, though, pruning should entail having just their individual stems removed and nothing too intense. This is done to prevent the plants from self-sowing.
Self-sowing occurs when a plant propagates its seed to form other plants.
Planting Space Requirements
One more thing to avoid would be planting them in tight spaces. Factor this into your plan as you prepare to plant. Watching geraniums grow, you would observe that they like to spread out and would need ample space to do that.
Lastly, watch out for the perennial geraniums like the geranium Rozanne that appreciates a little dose of sunlight and has them exposed to it from time to time.
Geraniums planted under part shade and not full would like to taste both worlds - some cool time and sunlight.
Frequently Asked Questions
Which Perennial Geraniums Grow In Shade?
Hardy geraniums grow best in not just full but dry shades similar to those that can be found just underneath a tree.
Examples of hardy geraniums are geraniums marcrorrhizum or cantabrigiense 'biokovo'.
Should I Cut Back Perennial Geraniums?
It is advised that you not just prune but cut back perennial geraniums plant from time to time. This is because geraniums seen to be taller than 30cm are likely to stay bent in shape after flowering.
The advantage of doing this is that it produces a new set of mass lush foliage and flowers.
Wondering the extent to which you should cut back the plant? For best results, have the entire plant cut down 10cm from the ground.
Do not fret. The results will be worth it.
Which Perennial Geraniums Grow In Shade?
Just a few species of perennial geraniums plants require shade to grow well. The bulk of the plant needs full or part sun in healthy and rich soil.
Final Note
Perennial Geraniums, also known as creeping geraniums, are a great plant inspiration for your garden. They have been around blessing gardens with their attractiveness for centuries.
Their bloom period, which usually falls in early spring and is sustained till mid/late summer, will see your garden looking all colorful and bright.
The bloom is usually a sight to behold, and that is one thing that endears most gardeners to the plant, as the foliage does not hold much potential.
Reasons why you should have these remarkable plants in your garden? They are super easy to grow and maintain; plus, they make your gardens smell heavenly with their sweet, unique scent.