If you are looking for a stunning, low-maintenance plant to add to your garden or landscape, you can trust perennial ground covers to provide you with much more. These plants will help beautify your garden while producing the best blooms you have ever desired.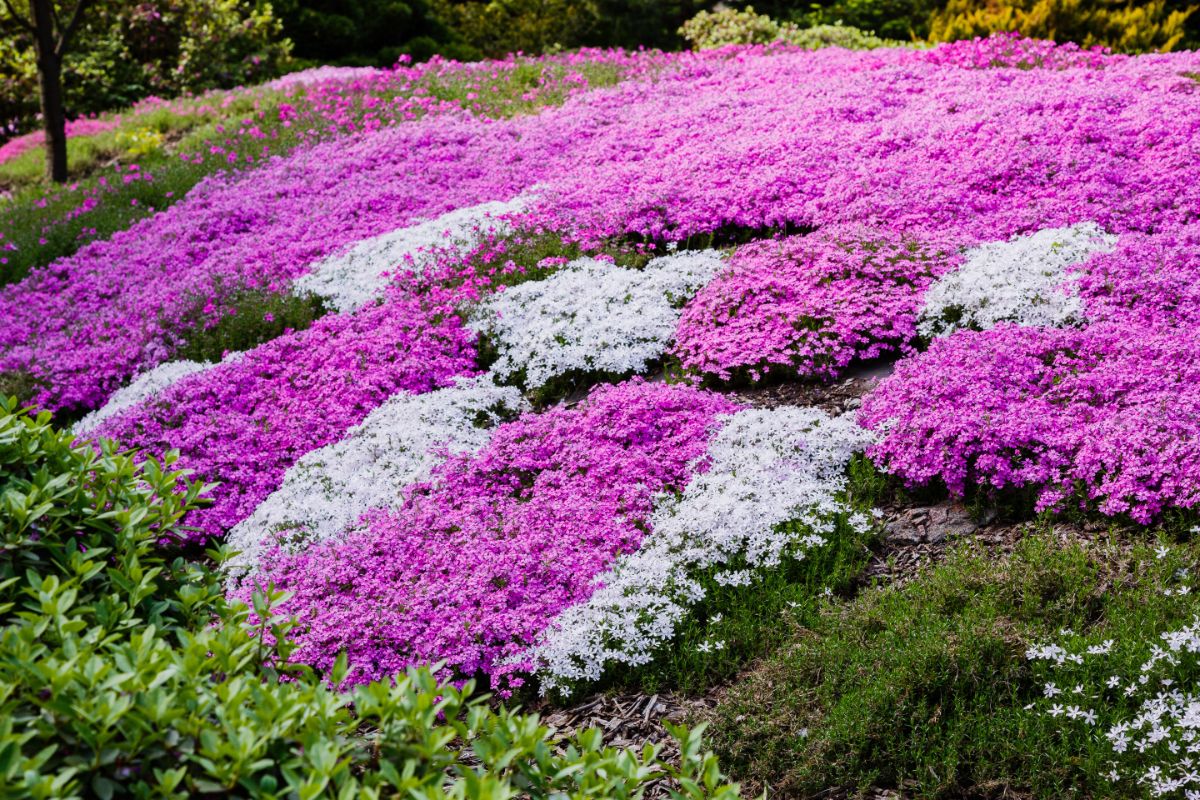 However, the only challenge you'll probably face is choosing one out of the wide varieties you can add to your landscape.
Perennial ground covers have many options, depending on where you plan to grow them. They include common soapwort, Barrenwort, Hosta, Liriope, candytuft, etc.
We'll come back to that later!
Jump to:
What Are Perennial Ground Covers?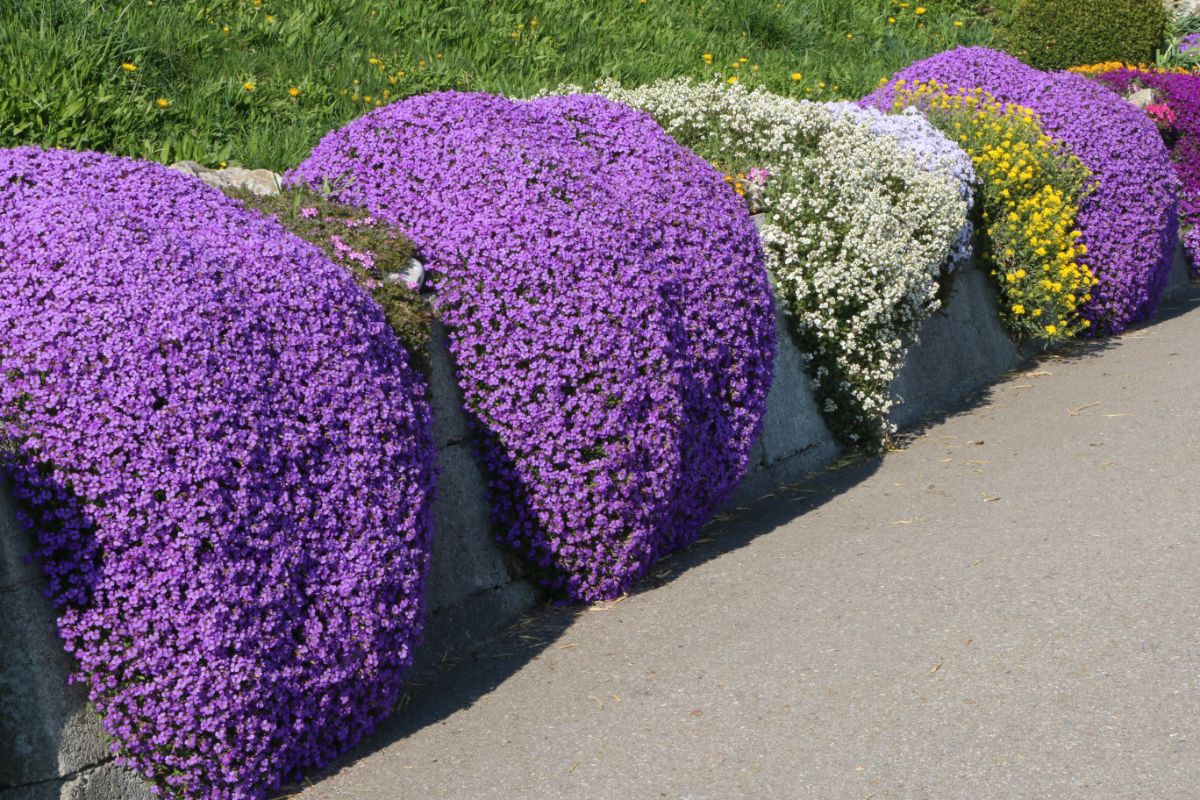 Perennial Ground covers are gorgeous, easy-to-care-for and robust plants. They are species that grow rapidly and produce a blanket of green leaves and attractive blooms that protect the soil and deter weeds, which is where the name originates.
Given that many perennial ground covers are hardy and are low-maintenance species, they are perfect for simple, elegant gardens. Most of these species are blooming varieties that are seen as something of a holy grail for gardeners. They are an ideal blend of beauty and simplicity.
In other words, perennial ground covers tend to give your garden a vibrant look even with less care. They provide a garden color while helping to suppress weeds and control erosion. Are you looking to find a solution for a problem area? You can trust perennial ground covers to solve it without compromising its display value.
Some landscapers love low-growing perennial ground covers, whereas the rest make taller ones their favorites. They also come with varieties of color, flower types and different bloom periods, which you must pick from.
Some of these plants bloom in the spring or summer, while others prefer to bloom in the fall or winter, irrespective of the hardy zone you are growing.
Below are our top picks of 25 of the best perennial ground covers to beautify your garden.
Perennial Ground Covers to Beautify your Garden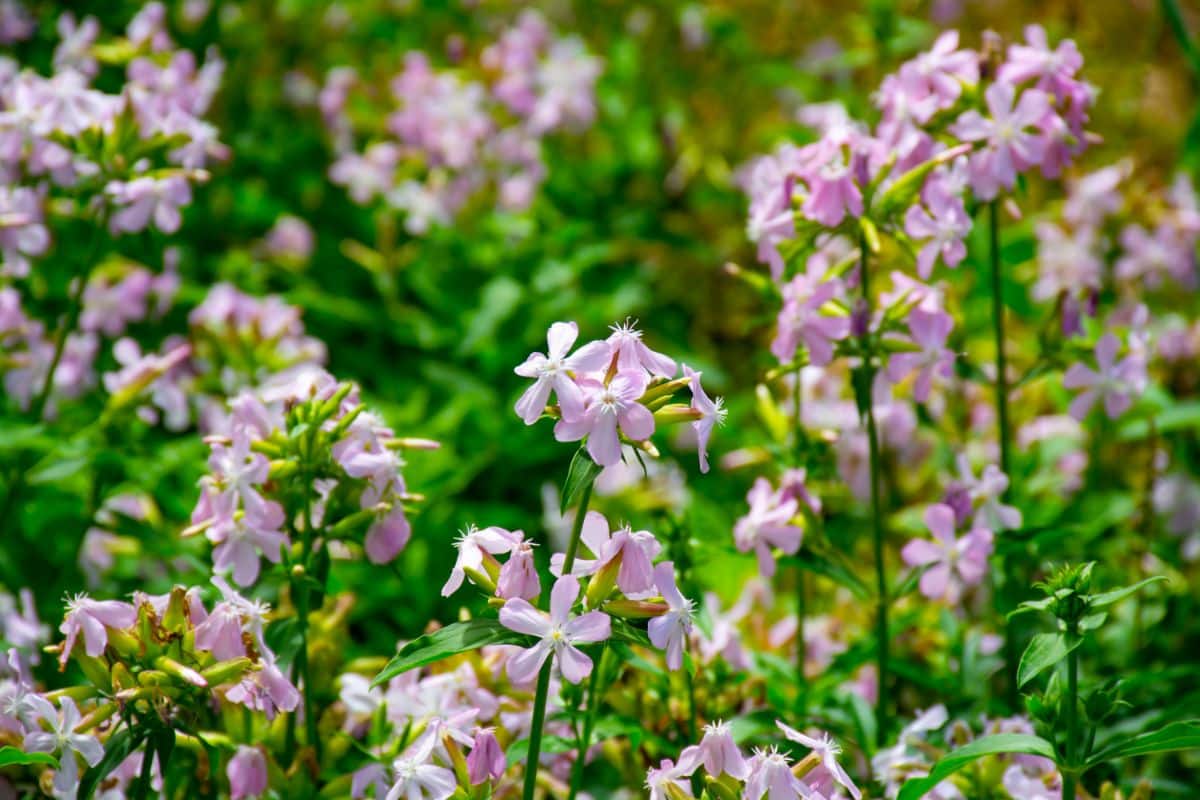 There's a reason why this plant appears at the top of our perennial ground cover itinerary. Also known as bouncing Bet, common soapwort is a ground cover plant that produces flowers with bold pink and white bloom clusters. Probably it deserves a better name than the "soapwort" it bears.
The Saponaria officinalis will not only beautify your garden, but at night, it also oozes a floral fragrance that indeed invites lots of insects to your garden. Common soapwort is a simple plant that works well in almost every garden.
However, it can spread rapidly and grow into places in the garden that you probably don't want it to grow in. Because of its small pink flowers, the soapwort makes for the perfect ground cover plant. You'll hardly resist the urge to grow this perennial in your flowerbed.
2. Barrenwort (Epimedium grandiflorum)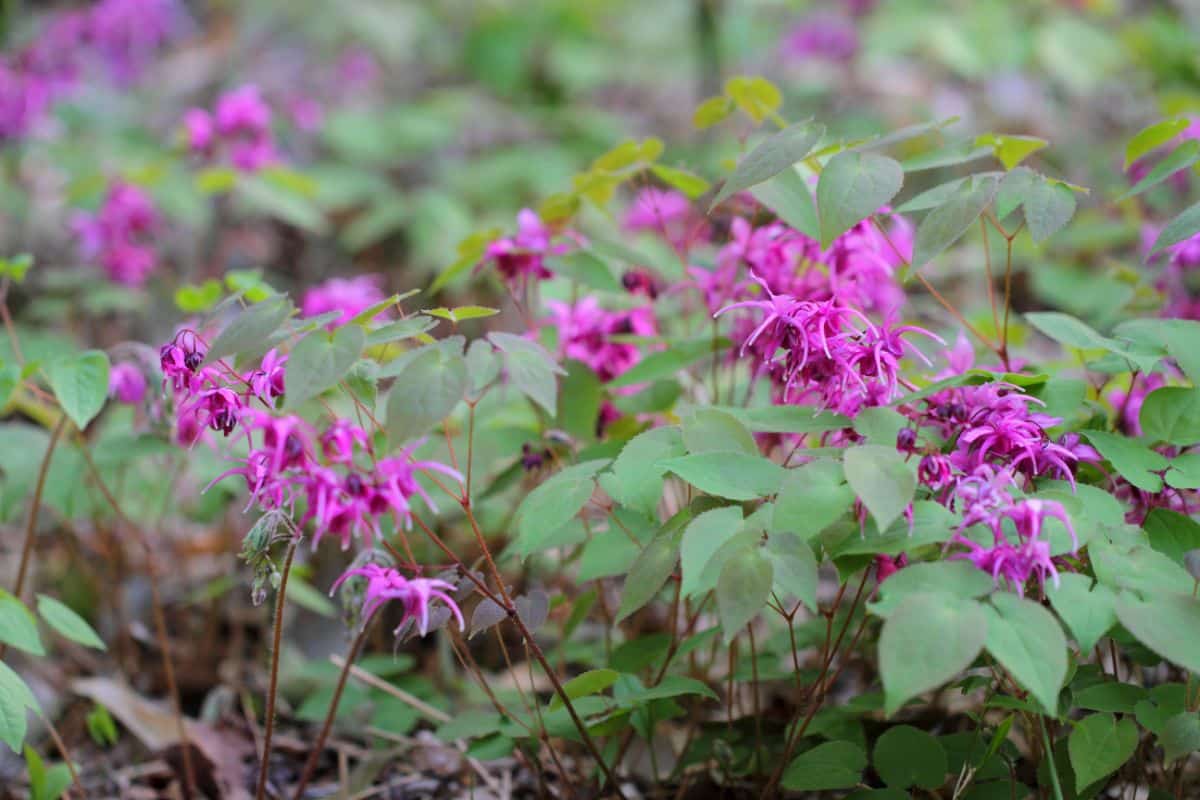 If you want to add elegance to your garden, you can consider Barrenwort as the best option. This perennial ground cover does not thrive in too much moisture and waterlogged areas; therefore, it doesn't like being planted in high groundwater or damp soils.
This plant is popularly called Rose Queen for a reason. It is a lovely, evergreen perennial ground cover that can survive drought season.
Native to China and Asia, even though it does best in the shade, Barrenwort can also survive direct sunlight without issues. It features dark green heart-shaped leaves with a bronze hue in the winter.
Hardy to zones 5 to 8, this perennial ground cover plant produces flowers in the spring. The blooms can grow up to 1 to 2 inches wide and features a fantastic contrasting center.
It thrives in moist, well-drained soil and, under direct sunlight, requires some leaf mold to retain its wet state. Meanwhile, this lovely perennial plant is resistant to deer and rabbits.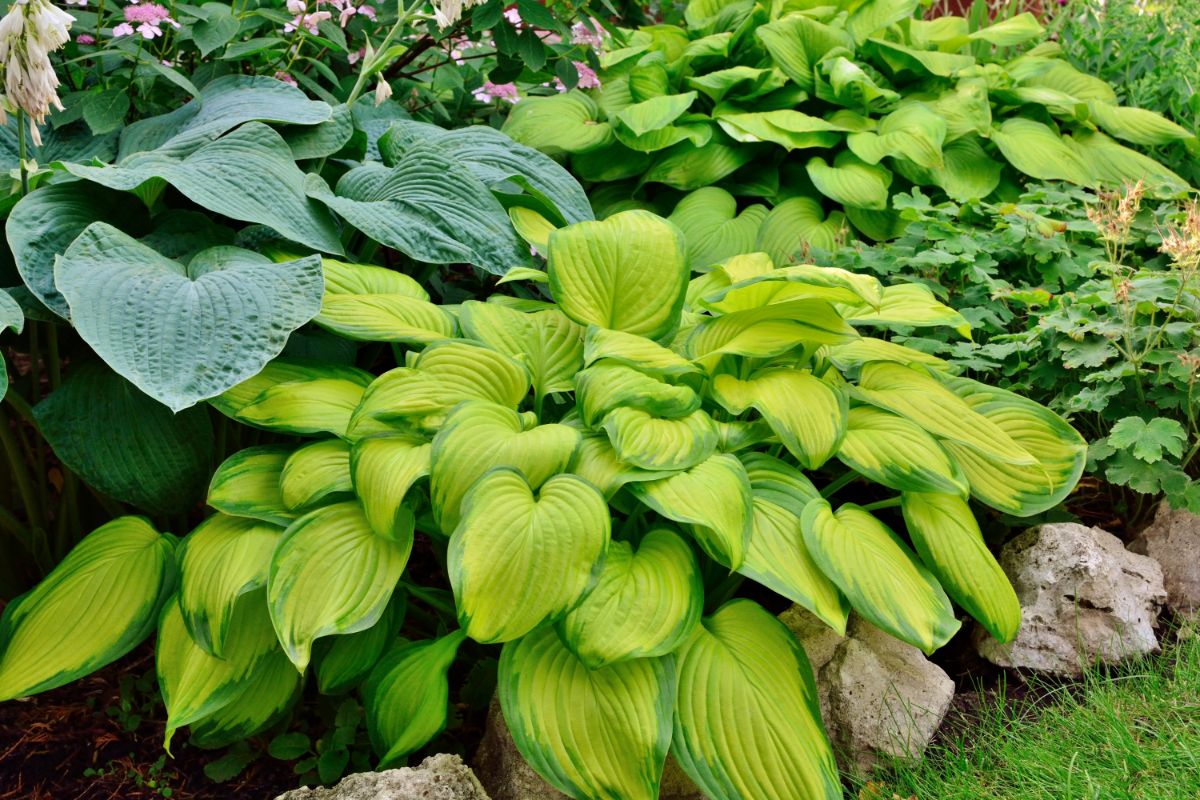 Another unique perennial ground cover plant that will beautify your garden on our list is Hosta. Widely known for their foliage features, many hosta species can also serve as great ground covers. Some varieties like hosta plantaginea even emit sweet scent blooms.
However, Hosta is not an award-winning plant in terms of its blooms, as it is mainly cherished for its leaves, which come in different sizes and colors, including white and purple. This perennial thrives in full sun to partial shade conditions and is hardy and durable.
It likes sufficient water and well-drainage soil, which can either be rich, organic, or slightly acidic. You can prune dead foliage in the fall to avoid decay in your garden. Meanwhile, hosta species are hardy to zones 3 to 9.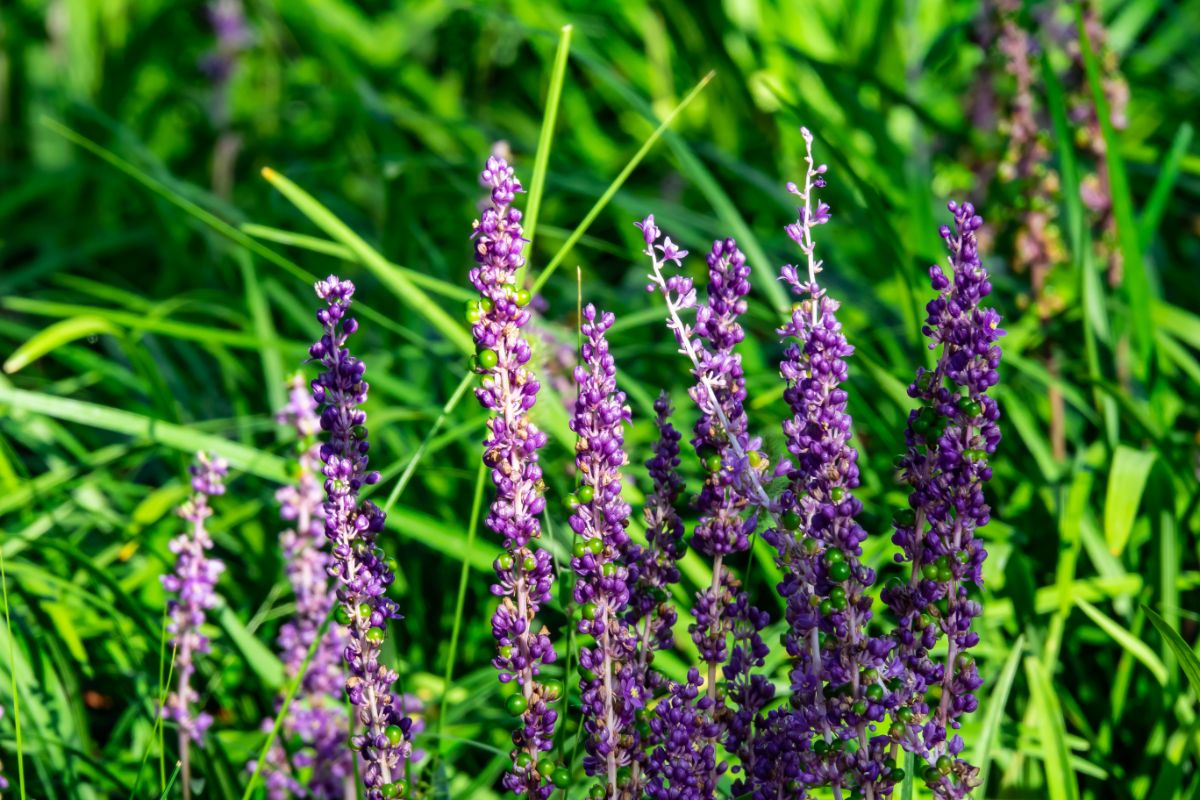 The best option is Liriope if you have a shady patch that hungers for a flowering ground cover. Best grown in full sun to partial shade, this perennial can grow in several conditions in as much as you provide it with a well-drainage system.
Popularly called Lilyturf, liriope spicata is mainly treated as an ornamental grass, even though it is a lily variety. Thanks to its beautiful flowers and gorgeous grass-like leaves, you can enjoy this perennial ground cover variety to the fullest.
Hardy to zones 4 to 10, the plant can thrive in either average, slightly acidic or neutral soil types.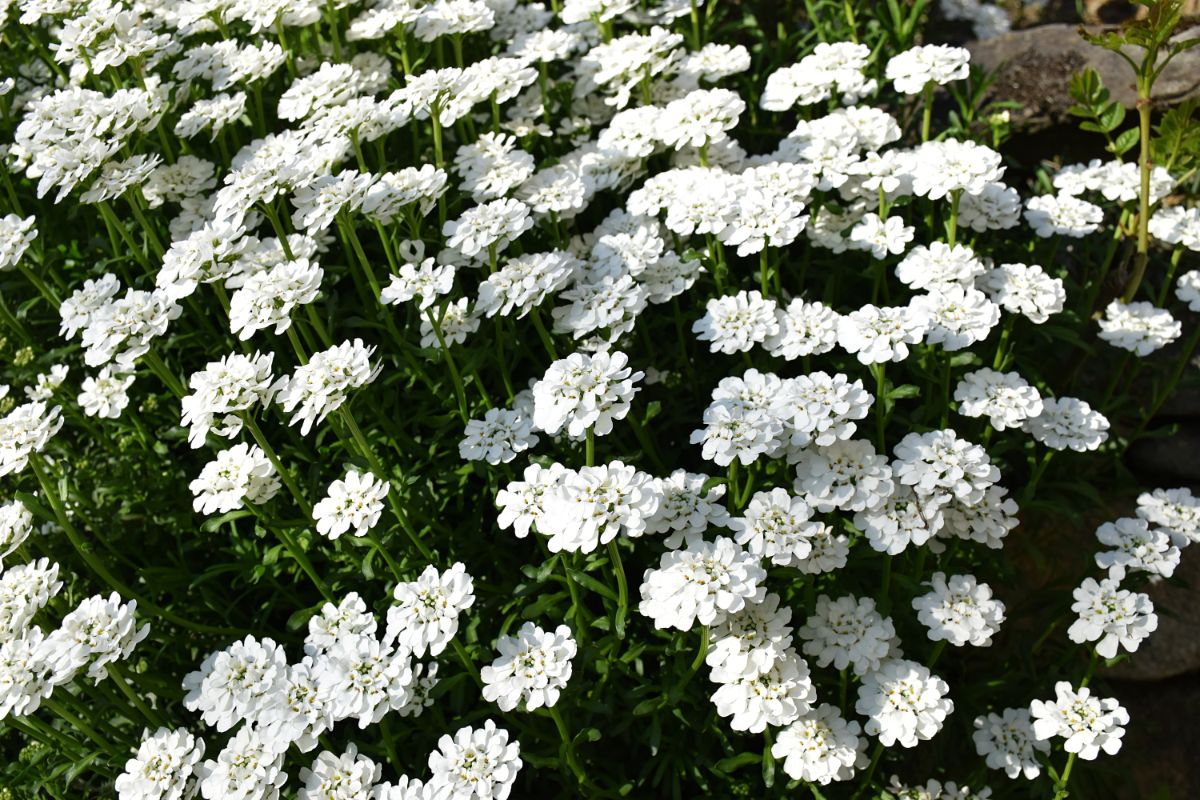 There's a reason why this perennial ground cover plant is at the top five in our itinerary. Candytuft produces flowers made up of lovely scented clusters of white petals, usually so profuse that you'll hardly witness its elongated leaves underneath.
Iberis sempervirens is a woody, mounding perennial ground cover plant, which prefers full sun, thrives in well-drained soil, and is drought-tolerant. Hardy to zones 3 to 8, the candytuft can grow up to 12 inches tall and is evergreen in warmer weather. Its blooming season ranges from April to May.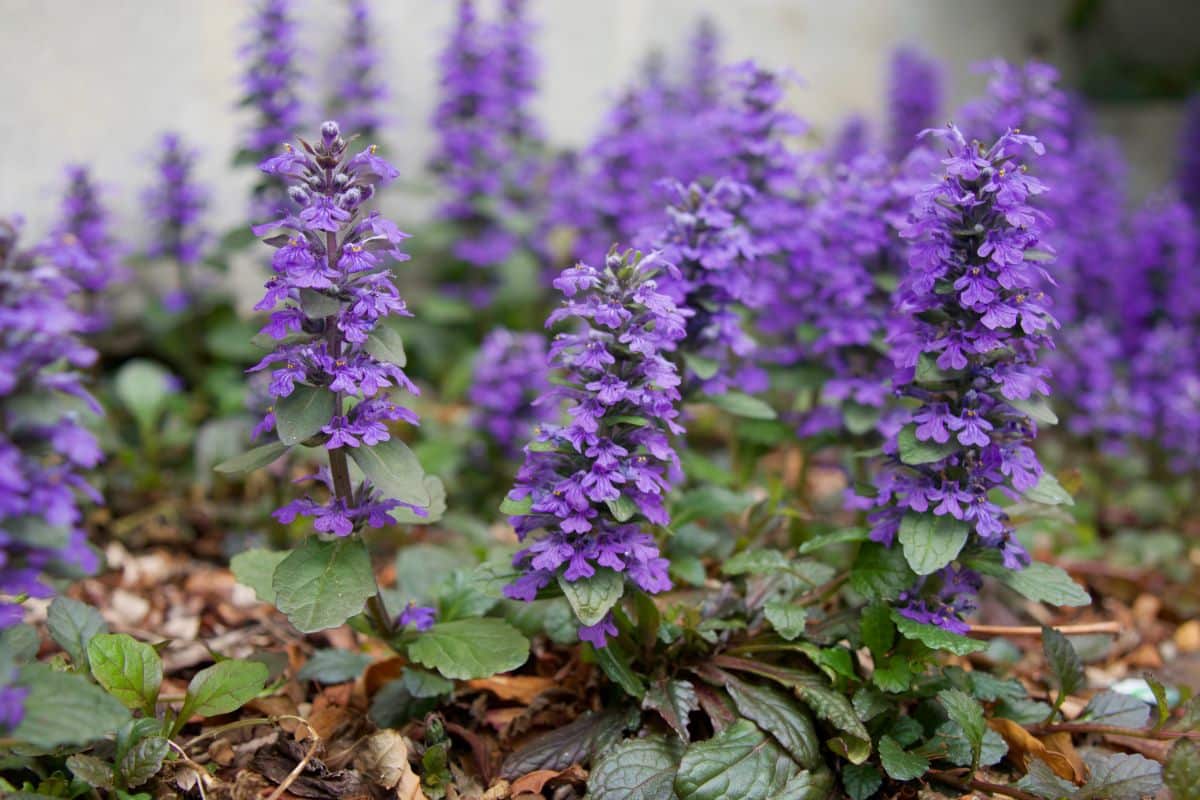 If you want to add elegance to your garden, you can consider Bugleweed among your top options. Originating from the mint family, the Ajuga reptans is hardy to zones 3 to 10 and thrives in average to moist soil. The best light condition for it is full sun, even though it can survive in partial shade.
Bugleweed can grow up to 6 inches and features spikes of tiny bugle-shaped flowers (which is why it is called Bugleweed) of different colors, including blue and white.
It features glossy leaves that are either toothed or smooth and usually has shades of purple. The best flowering season for this perennial ground cover plant is from May to June.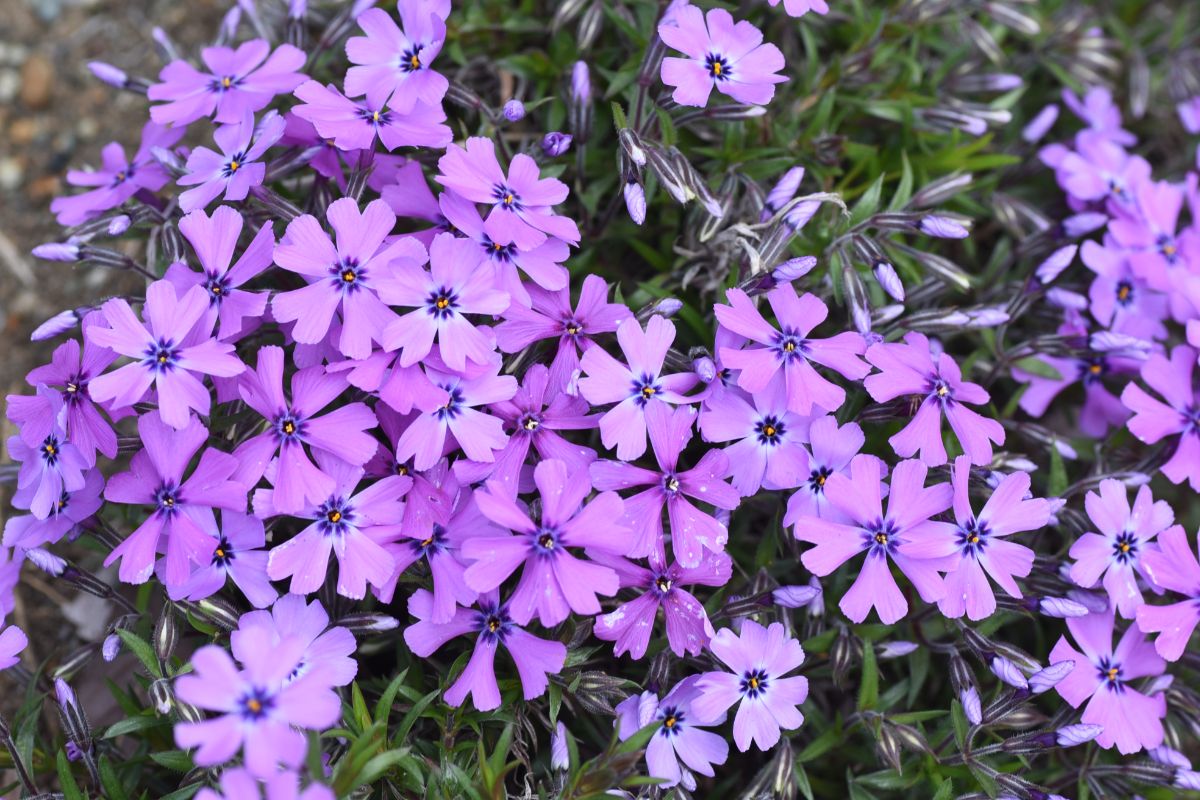 Whenever you discover slopes covered with beautiful blooms of Creeping Phlox, you will know that spring season has arrived. Also referred to as ground phlox, the phlox subulata differs from garden phlox's massive perennial variety.
Meanwhile, creeping phlox comes with many colors from which you can select. However, a good number of gardeners prefer to go for color combinations. This perennial needs little care, such as average watering, pruning to enhance a tidy state, and late winter or early spring nutrients.
Hardy to USDA growing zones 3 to 9, Creeping phlox does best in full sun. It requires rich, well-draining soil of either average, alkaline or slightly acidic soil type. It comes in various colors, including pink, white, blue, red, purple, lavender, and even rose.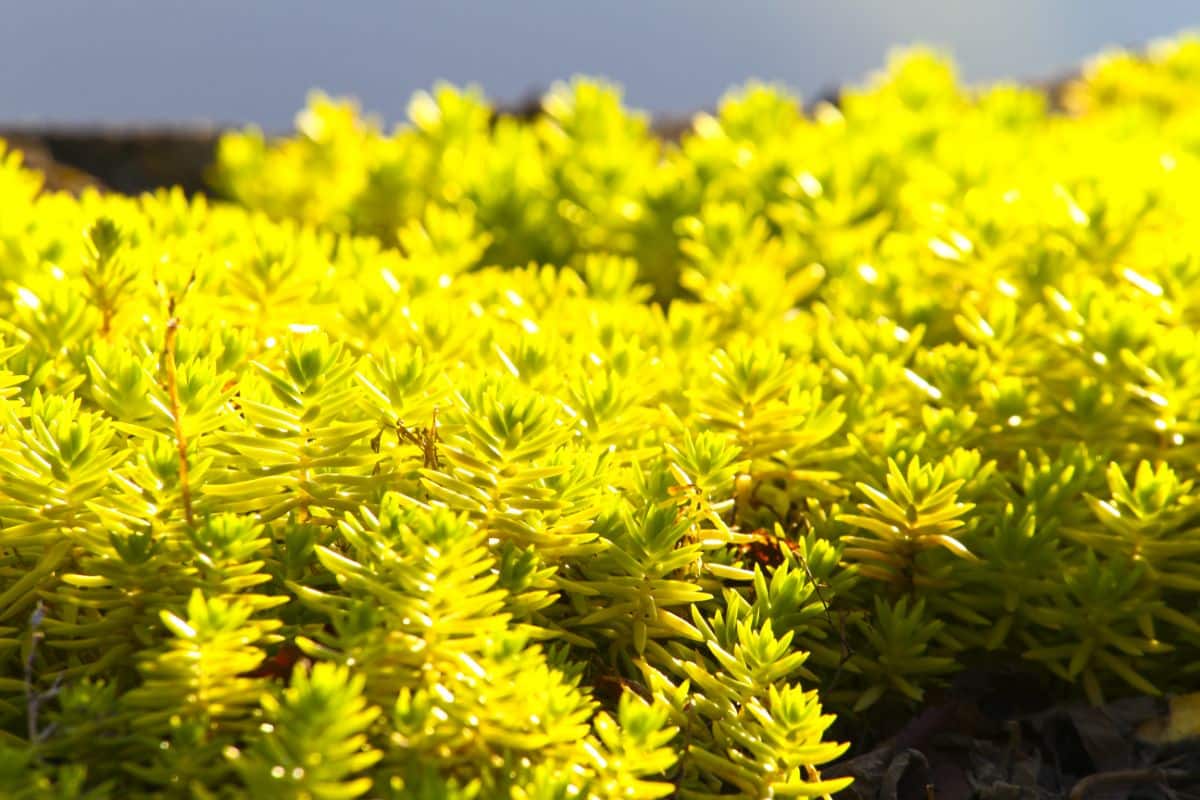 Having a stonecrop origin, there's nothing wrong with making the unique Angelina Sedum your favorite pick for your garden. It is a perennial ground cover plant that is easy to grow and has succulent flowers, which is ideal for hot, sunny locations of your landscape.
The Sedum rupestre features evergreen leaves that are yellow-green and change to gorgeous reddish-bronze in the fall and winter. It produces yellow blooms during the summer.
If you want the plant to become more attractive, you must find a way to make the plant hover above the ground. Excess moisture can cause root rot or even certain death.
The flowers of the Angelina will also beautify your indoor decor with their lovely color, significantly when you cut off the flowers and plant them nicely in a vase.
Native to Europe, North, and South Asia, this perennial is easy to grow and prefers clay, sandy, or loamy soil, as long as it is well-drained. Hardy to zones 5 to 9, the plant's size is 4 to 6 feet tall and 24 inches wide.
9. Shrubby Milkwort (Polygala chamaebuxus)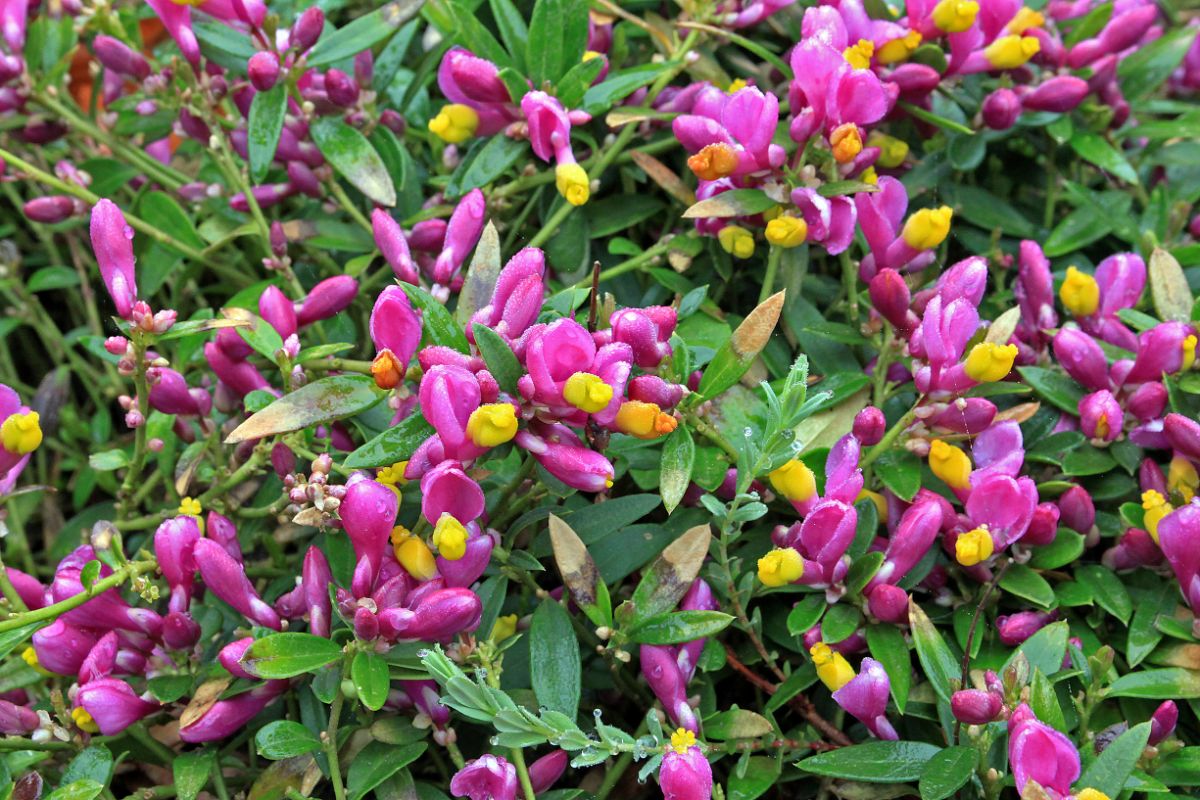 Thanks to its bright purple and yellow blooms, the Polygala chamaebuxus (as it is scientifically called) is a perfect option to beautify any garden or landscape.
Even though its flowers only come during the summer, shrubby milkwort always stays evergreen; therefore, it will hardly lose its leaves in autumn and will make your flowerbed stay green even in the winter.
This perennial ground cover shrub can grow up to 20cm tall and is an easy-growing plant. However, do not plant it in a wet area for better results. In other words, it desires a sunny spot that does not risk flooding. It is an absolute stunner with beautiful purple and yellow flowers.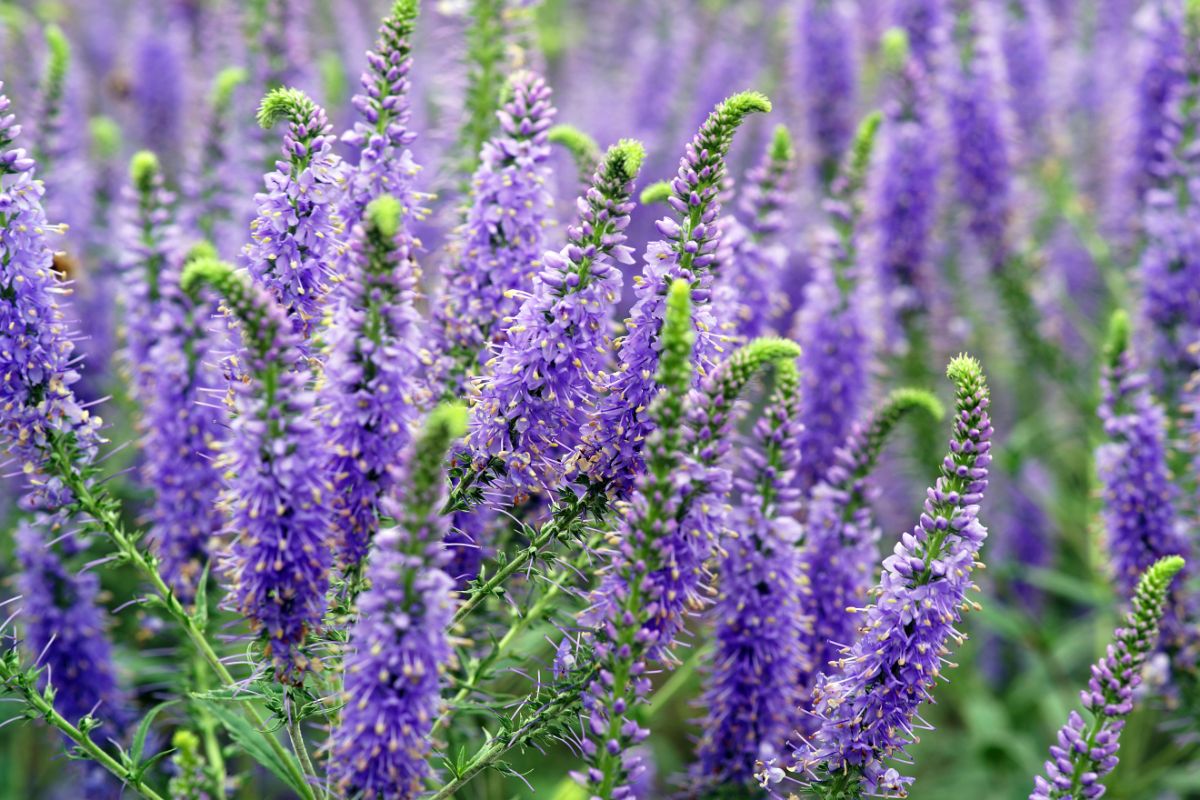 Many species (over 450) are under the speedwell or veronica family. And almost all are known for their low maintenance and deep blue blooms, thus making it a perfect option to beautify any garden. Speedwell species come in different sizes.
In other words, while some can grow as tall as 2 meters tall, others can only grow up to 20cm in height. However, not all speedwell species are ideal as ground cover plants. Therefore, whenever you buy any of them, you must ensure the specie you pick is a ground cover variety.
For instance, varieties like Rock speedwell (Veronica prostrata) and Creeping speedwell (Veronica peduncularis) offer excellent ground cover options. They desire well-draining sun, thrive in full sun to partial shade, and are great drought-tolerant perennials.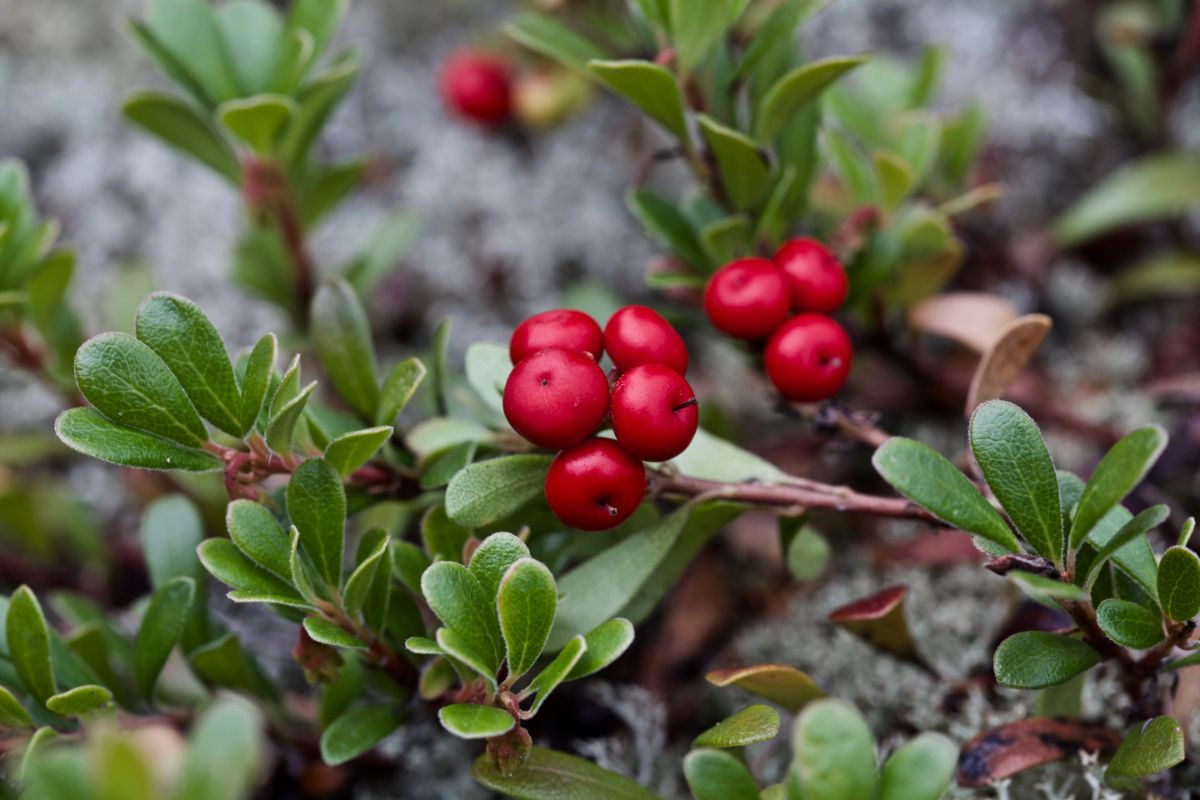 If you are looking for an ideal perennial ground cover to beautify your garden, Bearberry provides another exciting option. Hardy to zones 2 to 6, it is a beautiful and unique flowering ground cover plant that stays evergreen and produces red berries during summer.
Meanwhile, these berries are fresh, and the small, leathery leaves, which are dark green, are often used to brew tea. However, these colors change to shades of brown and orange in the fall. Bearberry produces white or pink flowers during the spring and is resistant to deer.
Bearberry prefers to be grown outdoors, where it will receive direct sunlight or partial shade. Its flowers can grow up to 1 inch wide and look like bells.
This perennial prefers moist, adequately drained soil. It often grows slowly in the first year and then spreads rapidly while creating mats that cover the landscape completely.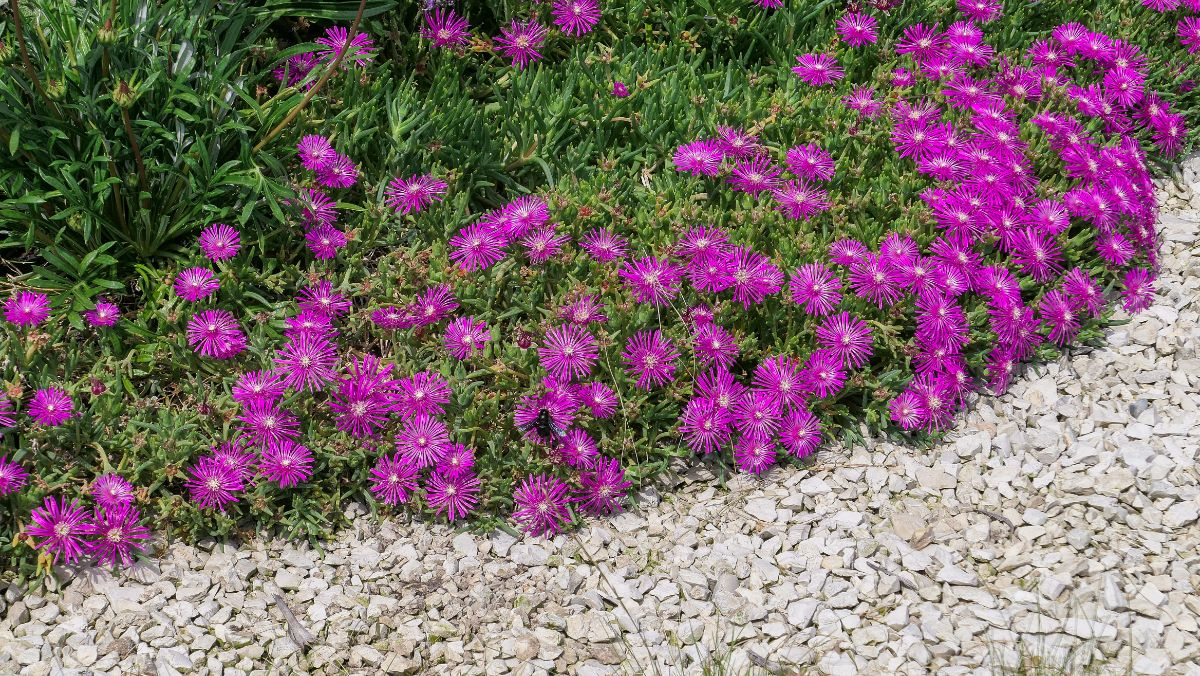 Ice Plant is a favorite of many gardeners thanks to its beautiful color varieties, including purple, pink, yellow, and white. It derived its name from how the sunlight hits its leaves, thus making them appear as if they are bejeweled with ice crystals, hence the name Ice Plant.
Meanwhile, despite the hardiness of the Delosperma cooperi variety, it is not widely considered a ground cover plant that a northern landscaper should trust for year-round erosion control.
But it can be used to dress up a place for the summer. It thrives in full sun and prefers dry, well-draining, and neutral pH soil types.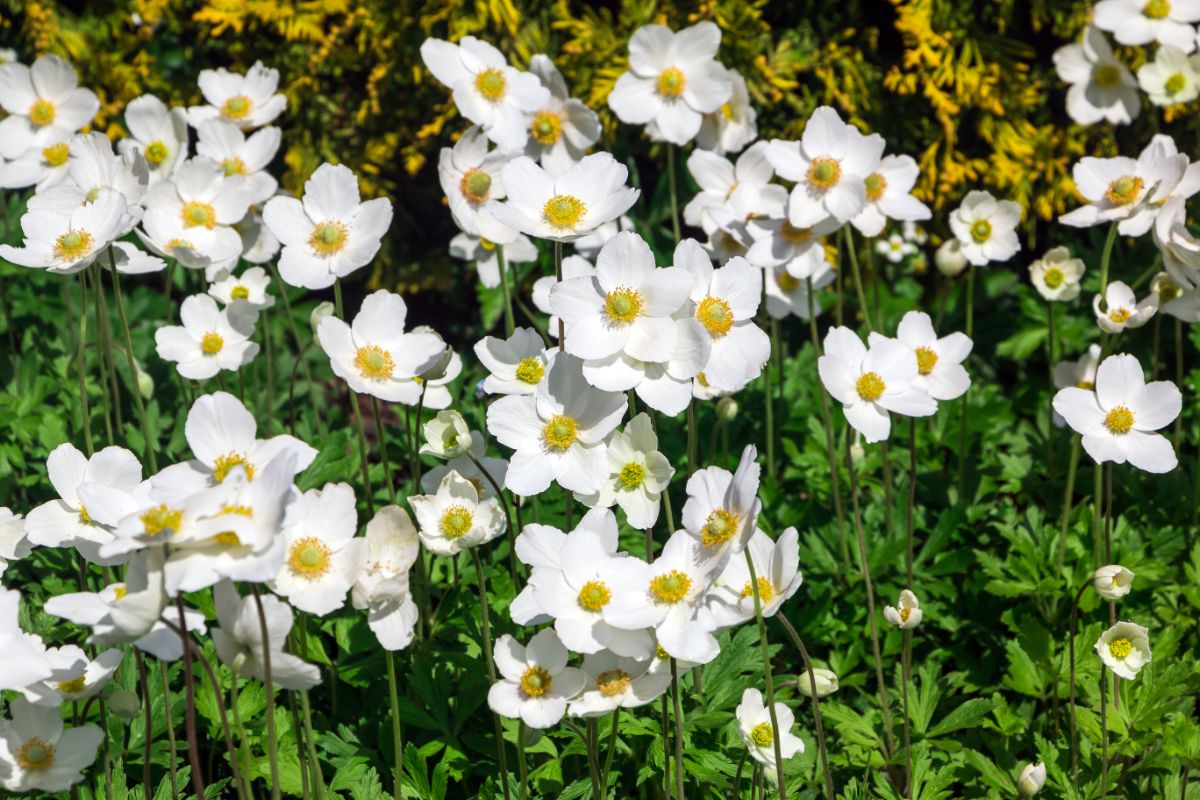 Canadian Anemone is one of the best perennial ground covers to beautify your garden or landscape. Native to the United States, this perennial wildflower is a plant that can spread well in zones 3 to 8 and grow as tall as one to two feet.
The Anemone Canadensis, scientifically called, will do best in moist, well-drained soil and prefers full sun to partial shade. It produces beautiful flowers of different colors, including white, and features bright green leaves with toothed edges.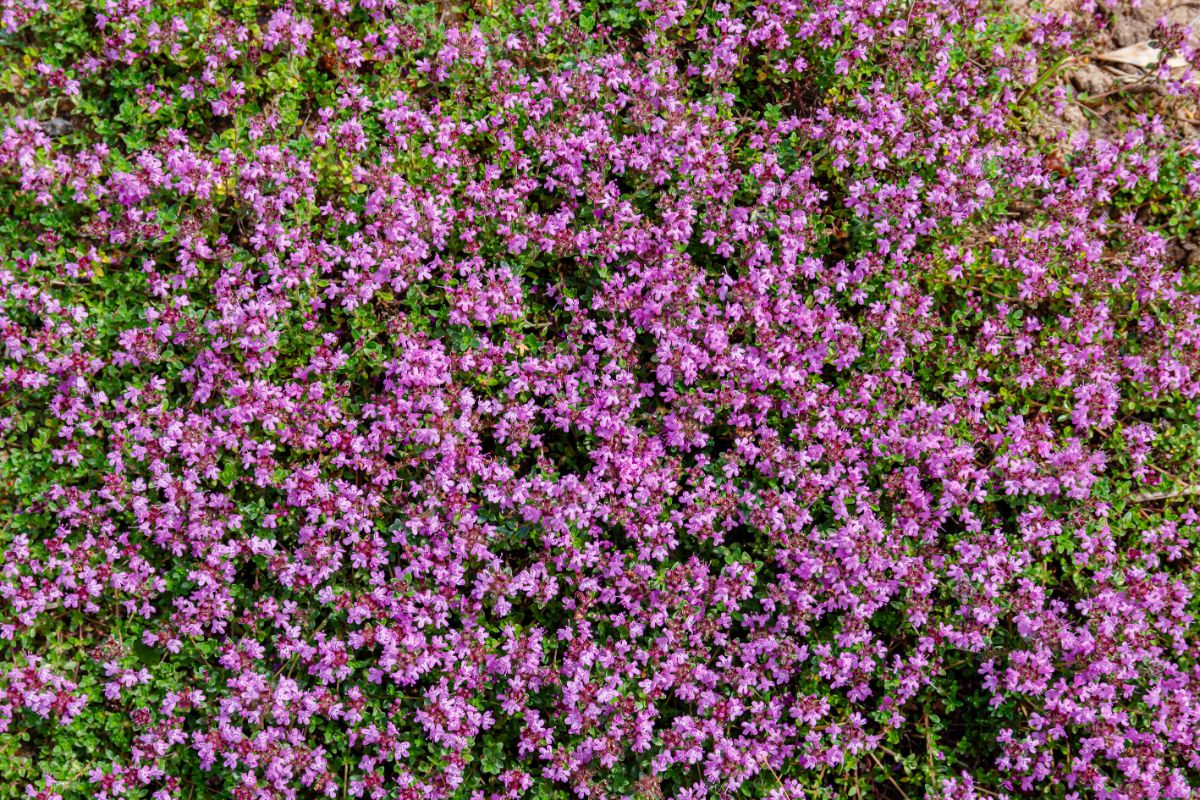 You will indeed find a perfect perennial ground cover in Creeping Thyme. This perennial is a beautiful herbaceous plant between stepping stones called Thymus praecox. It is hardy to zones 4 to 8 and prefers well-drained dry to moderate soil.
Also known as light foot traffic, apart from the beauty that it brings to the garden, creeping thyme often emits a sweet minty fragrance.
It thrives in full sun and is tolerant to drought, yet stays evergreen in mild climates. It can reach up to 3 inches in height and features slender, round, glossy leaves. It also produces spikes of slender pink-purple flowers from June to July.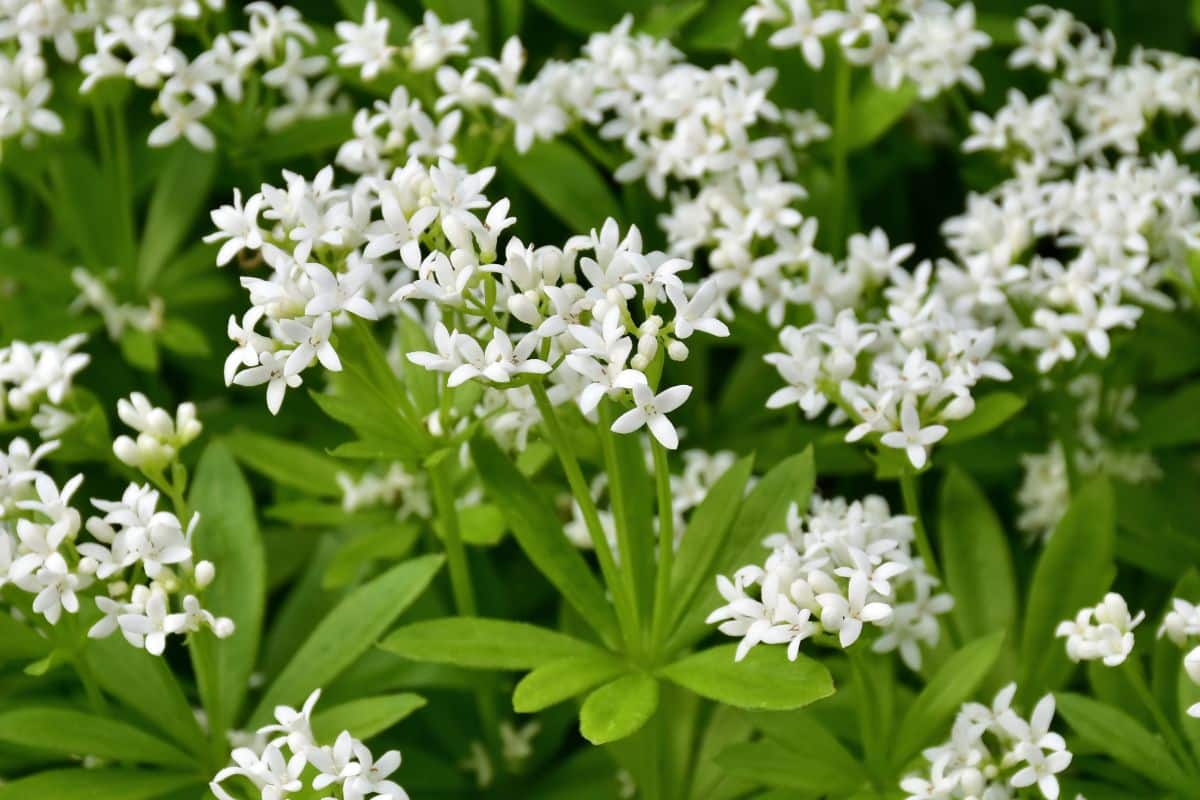 This perennial ground cover variety produces white blooms and tends to spread more than its allocated space in any garden. However, this spreading feature is often an added advantage, as plants that are not heavy spreaders cannot quickly be established as ground covers.
As long as Sweet Woodruff is concerned, its spreading can be curtailed using a lawnmower set at a high blade height. The most exciting part of the Galium odoratum is that it thrives as a ground cover under a tree, given that it is always difficult to grow a ground cover under it.
However, the only blot to the many lovely features of sweet woodruff as an excellent ground cover is that it tends to die back during the winter seasons; still, the root always survives.
Hardy to USDA zones 4 to 8, galium odoratum thrives in partial shade to full shade and does best under well-drained, rich, loamy, and moist soil.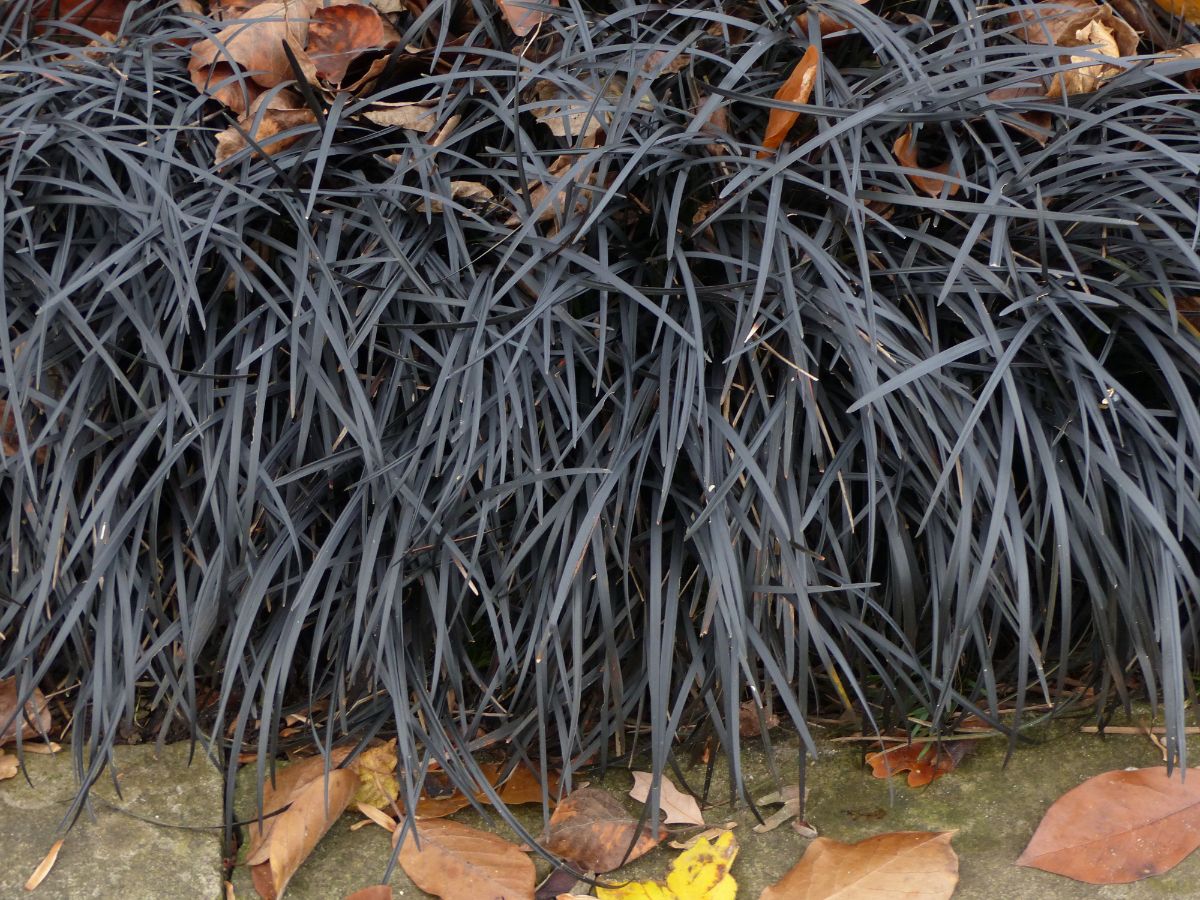 Black Mondo Grass is another perennial ground cover that will beautify your garden thanks to its dense, beautiful, evergreen flowers. It is a clump-forming perennial that comes from the Liliaceae family and offers a fabulous texture addition to the shady locations of your landscape.
Ophiopogon planiscapus 'Nigrescens', scientifically called, features long and slender leaves that look black and purple at the initial look. It produces lavender blooms in the spring on stalks growing out of the grass, with each branch growing flowers from top to bottom.
You must water Black Mondo Grass as often as required for healthier growth since it does best in moist yet well-drained soil.
Primarily native to Japan, this perennial is also resistant to deer and rabbits and can grow up to 6 to 12 inches tall and 18 to 24 inches wide. Hardy to zones 5 to 8, the plant thrives in full sun to partial shade.
17. Woolly Hedgenettle (Stachys byzantine)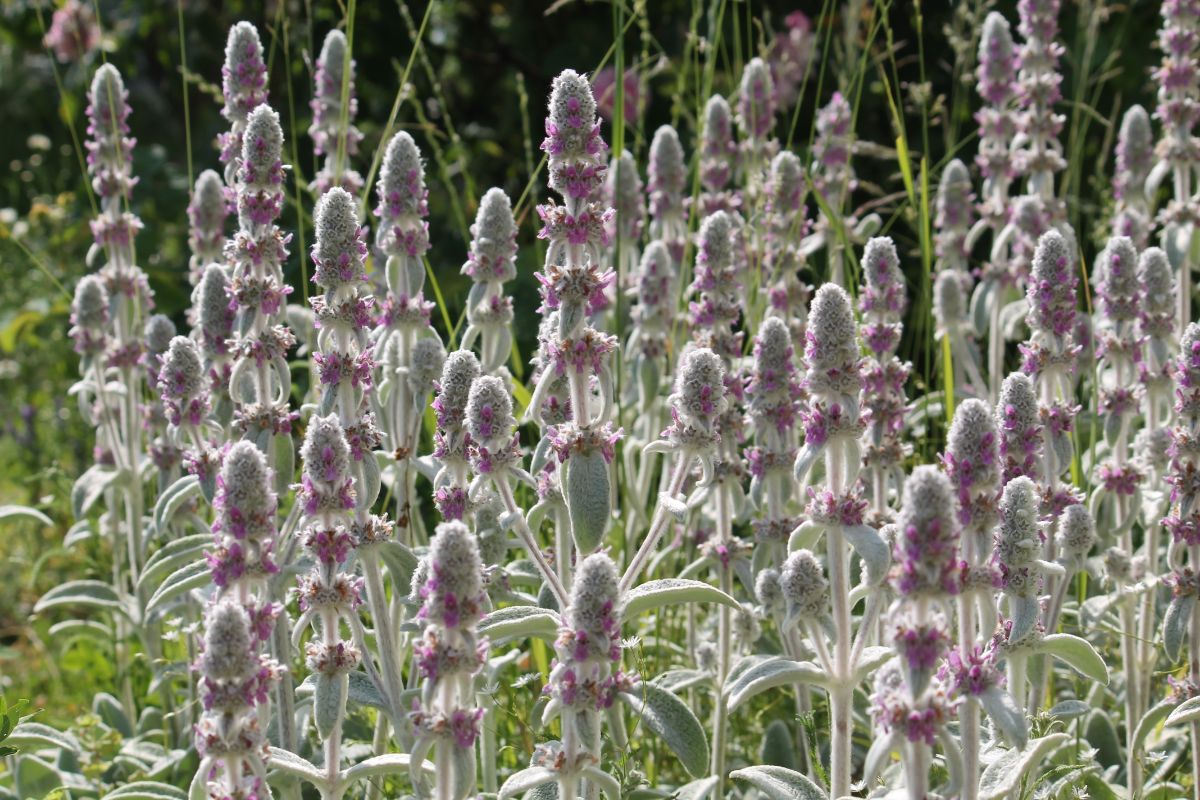 If you are looking for the perfect perennial ground cover to add beauty to your garden, you must trust Woolly Hedgenettle to provide just that. It is trendy because of its woolly hair-like filaments resembling that of bunny or donkey ears. The plant has an incredibly soft texture.
The Stachys byzantine produces leaves that look like they are covered in light grey dust and have delicate, subtle blooms that pop with purple color. This evergreen perennial does best in sunny locations and doesn't like waterlogged areas.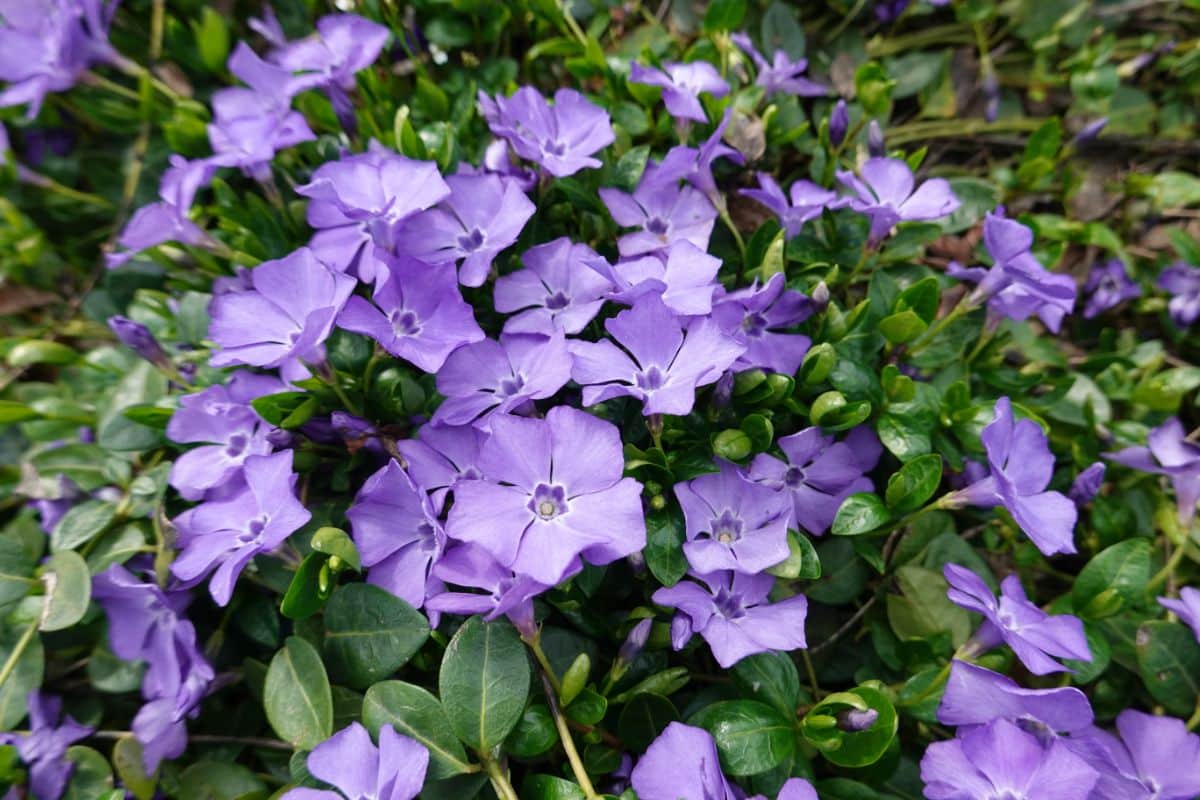 Even though it is a very short plant, the Vinca minor is still a great perennial ground cover plant that will give your garden a new look. Just as its name implies, Dwarf Periwinkle can only grow up to 10 to 30 cm in height. It is an easy-maintenance plant that can survive in almost any area.
It comes with leaves that stay dark green all year long, but from April to September, this perennial produces little periwinkle blooms that transform into a beautiful ground cover. The dwarf periwinkle is a natural beauty thanks to its numerous gorgeous flowers.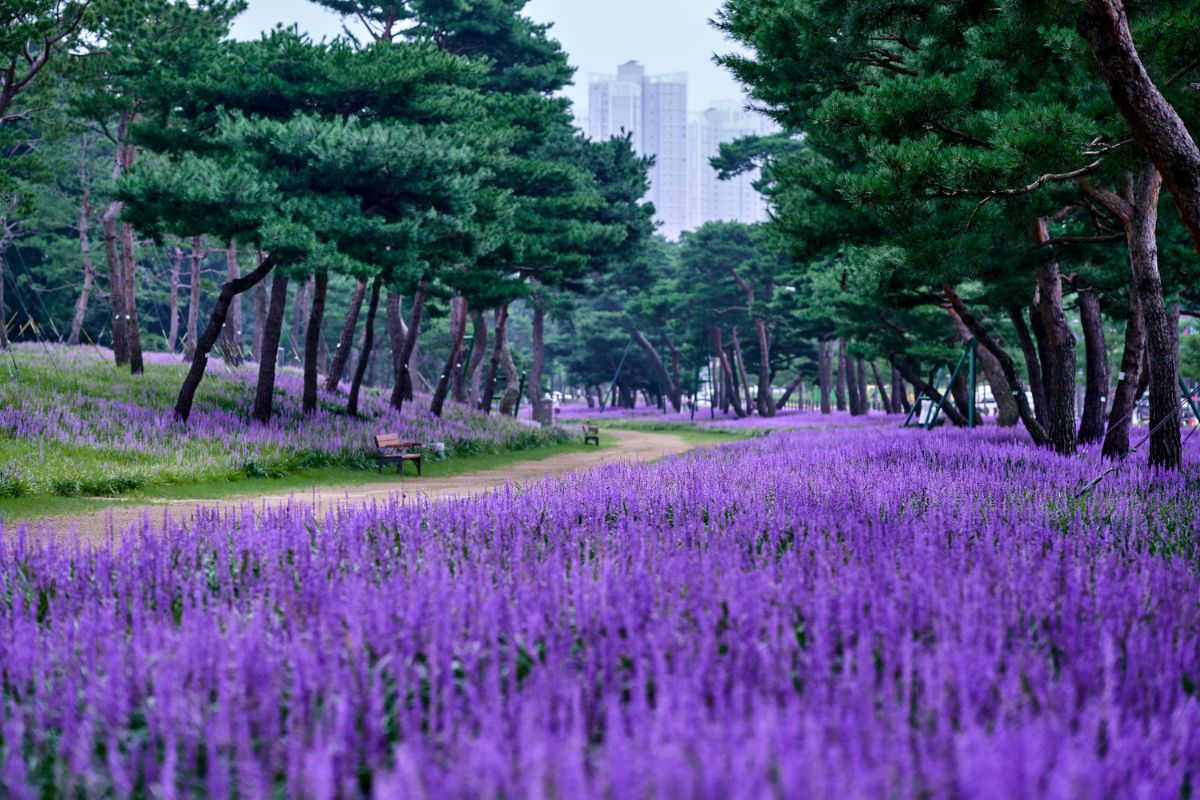 Another liriope species that makes a great perennial ground cover for any garden is Blue Lilyturf. Hardy to zones 5 to 9, it is a stubborn blooming ground cover for gardeners who prefer low-maintenance plants. It has leaves that are deep green and form spike-like clusters.
Native to Asia, Liriope muscari is a giant perennial plant that tends to spread out and become invasive; hence you need to pay attention to it.
It produces flowers in early summer, thrives in full sun to partial shade and prefers moist, well-drained soil. Blue Lilyturf can reach up to 8 to 12 inches tall and 12 to 24 inches wide.
If you are searching for an excellent ground cover plant that will beautify your garden and leave a sweet fragrance, you can trust Yellow Alyssum to provide you with just that.
Some gardeners often confuse this specie with the annual plant called 'sweet alyssum' because of the almost similar name they share.
Therefore, you can call it a gold basket if you do not want to share in their confusion. Hardy to USDA zones 3 to 7, the Aurinia saxatilis prefers full sun and moderate to sandy, well-draining soil. It can grow up to 1 foot tall and produces clusters of small yellow blooms offsetting against blue-gray leaves.
With the fading of the flowers, prune the plant at around a third to enhance more abundant buds and reduce its leggy nature.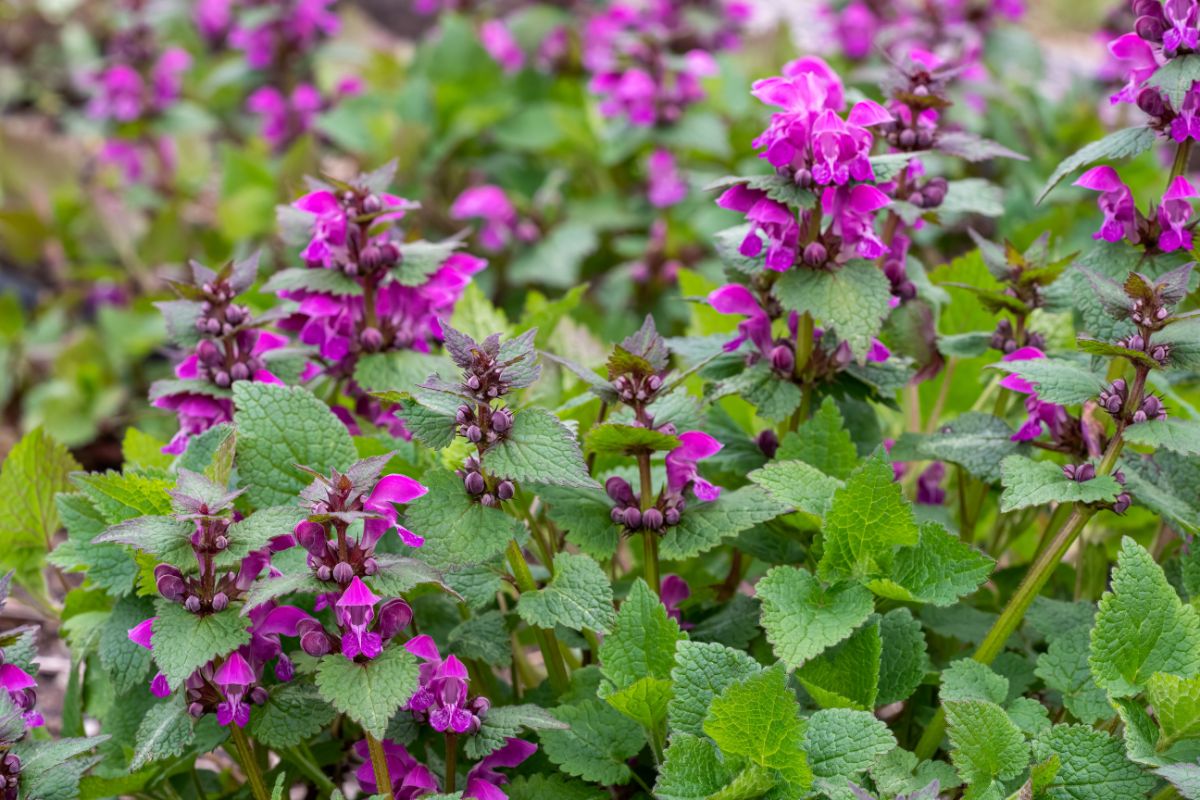 Have you considered adding this beautiful blooming perennial ground cover plant to your garden? It would be a perfect idea as Deadnettle is a drought-tolerant perennial featuring a variegated blend of green and silvery-white leaves and produces pink flowers that appear from May to July.
Hardy to zones 3 to 8, the Lamium maculatum prefers partial to full shade and stays evergreen in temperate zones. It also thrives in cold, low-humidity climates with well-drained soil. It has several varieties, ranging from many inches to around two feet tall.
Meanwhile, this plant grows in a clumping or creeping fashion and creates an interconnected network, suppressing weeds and preventing soil erosion.
Its dwarf varieties are suitable for narrow spaces between paving stones, rockeries, and border gardens where you wish to avoid the growth of weeds.
Have you heard of Horned Violet? They are double-faceted plants that are both annuals and perennials. They are annuals featuring green, rounded leaves and scented two-toned blooms in shades of purple and blue that produce flowers from April to June.
On the other hand, they are perennials in temperate climates, which is where our focus in this article lies. Meanwhile, this perennial is a perfect ground cover for any garden and is ideal for zones 6 to 11.
Creeping horned violet can reach 6 to 8 inches tall, prefers moderate soil and moisture, and thrives in full sun to part shade.
23. Yellow Archangel (Lamiastrum galeobdolon)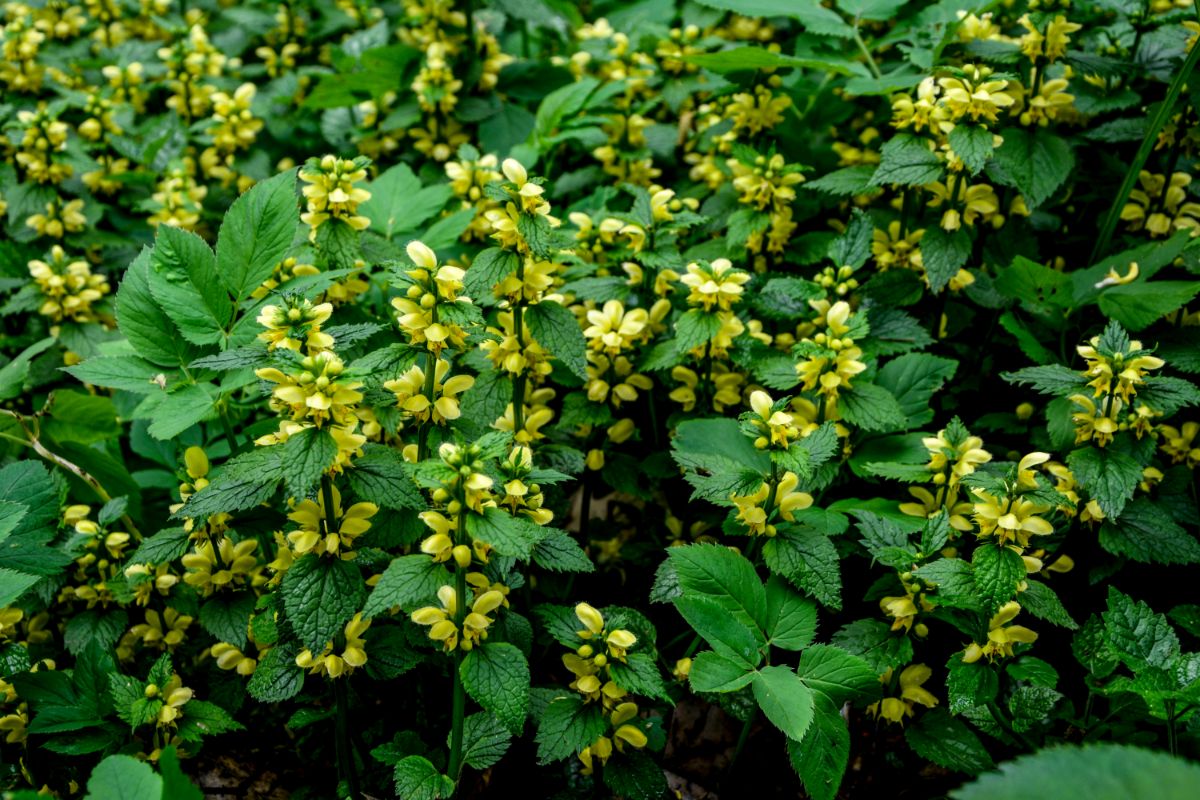 Yellow Archangel is considered a variety of dead nettle that produces yellow blooms and is a perennial ground cover that beautifies any garden. This perennial feature four exciting things that will make you love the plant.
The first and most exciting feature is that it produces beautiful blooms; secondly, it has variegated leaves; it also does best in partial shade; and lastly, it is tolerant to drought.
Therefore, if you want to grow a low-maintenance garden, it would be best to consider the Lamiastrum galeobdolon.
You can cut established plants once they become leggy to enhance a more compact look. Hardy to USDA zones 4 to 9, yellow archangel mostly comes in yellow color, which is where it derives its name and requires loamy and well-draining soil.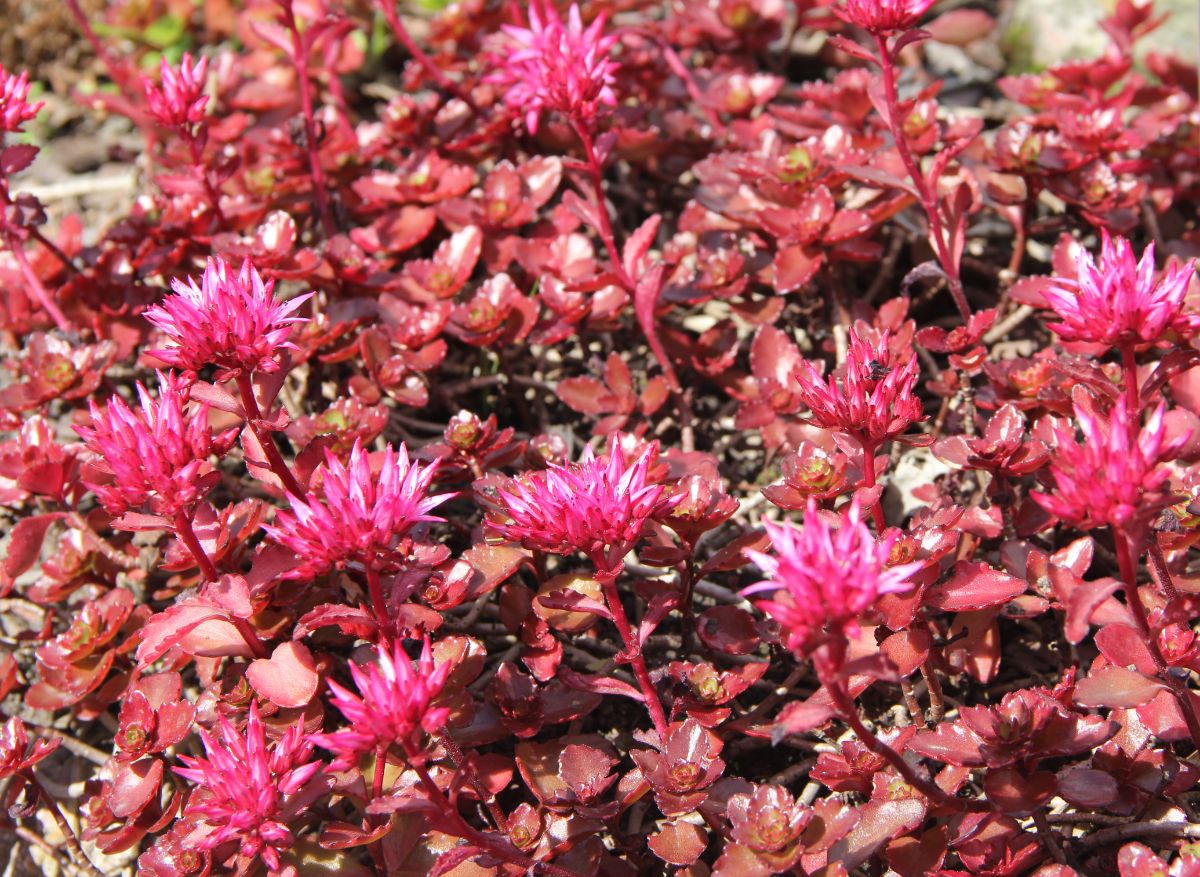 This particular perennial hugs the ground and features stems, leaves, and flowers that are red-colored based on its types and conditions. Even though it is a bloom-producing ground cover, Dragon's Blood Stonecrop doesn't need to be grown unless you also like its stems and foliage.
Sedum spurium has tiny flowers that are not durable enough to qualify as a fantastic feature. Yet, features stems and leaves that look pretty stunning in rock gardens.
Make sure you don't excessively water this plant to avoid root rot or certain death. Meanwhile, it thrives in well-drained loamy, sandy, or rocky soil and does well in full sun.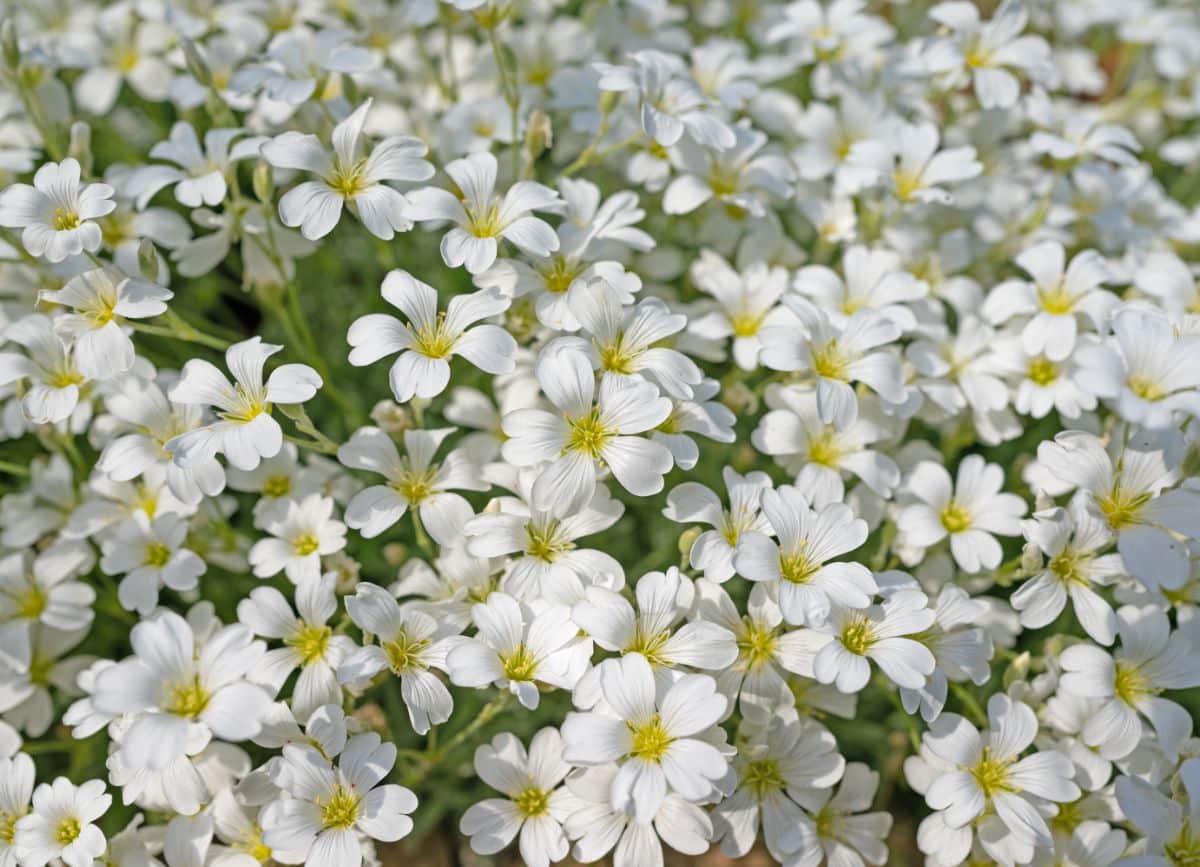 Felt Hornwort is our top list's final but not the minor perennial ground cover. It is a multi-faceted plant that can serve as a decorative ground cover. It is one of the perennial plants you can trust to beautify your landscape.
Meanwhile, the Cerastium tomentosum features very soft leaves with unique grey felt leaves and, in May, produces large, shiny, white star-shaped flowers. Because of the flowers' unique nature, the plant has been nicknamed 'Snow-in-Summer'.
How to Care For Perennial Ground Covers
Natural Habitat/Lighting Care Tips
Most perennial ground covers have their natural habitat in the jungle and tropical areas of America, Europe, and Asia, where they are used to the sun. You can even find some of them in the desert, where they survive prolonged periods of drought.
So, if you want to get the desired result from these plants or maintain their healthy state, you must learn from their natural wildlife by growing them in your home or garden where they can get full sun or partial shade (if the sun is too hot).
Soil Care Tips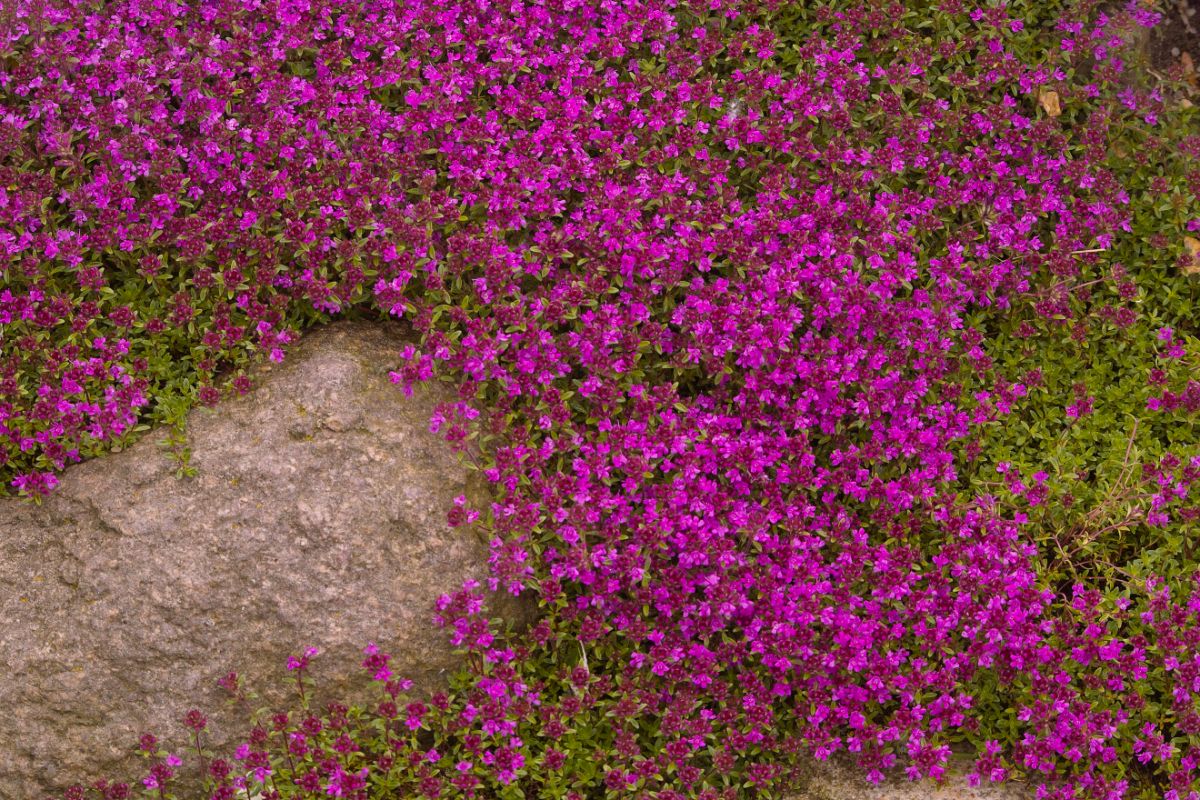 Most perennial ground covers like alkaline soil, while others can thrive in loamy, sandy, rocky, or slightly alkaline soil. But how does it survive an extended period in its natural habitat, given that it is a place that involves extended periods of drought and dry soil?
Well! Our top list of perennial ground covers will tell you that almost all of them are drought-tolerant. However, some of these plants have a deep taproot system to reach out for water deep into the soil to enable them to survive.
This shows why these plants are hardy and stay in many soil types, be they dry, porous, moist, or rich soil.
Watering Care Tips
As we noted earlier, perennial ground covers are drought-tolerant; hence do not require regular watering. In other words, if you want to maintain its healthy state, you must imitate its natural jungle life, where it survives long stretches without water.
The only period they require watering (yet not too often) is in drought seasons, extended periods without rainfall, or when new plants are getting matured. This is because these new plants will require water to enhance their growth.
Fertilizing/Nutrient Requirements
As long as perennial ground covers are concerned, they don't require much fertilizer, at least not often. When the soil becomes too rich and nutritious, it can cause the plants to turn leggy.
Therefore, the best soil condition is mixing compost or organic material into the soil to enhance much-needed nutrients without being excessive.
Pruning & Maintenance Tips
Perennial ground covers are low-maintenance plants. However, it requires the deadheading of faded flowers after the first bloom.
All you need to do is gently trim the plant, snipping around one inch off the tops, including the faded colors. It is much faster than cutting various clusters of flowers one after another.
Again, given that perennial ground covers may become leggy, cutting them back can help to keep the plants lower to the ground. Removing every mature flower will make the plant produce more flowers and channel the plant's energy into reblooming into another field of sunshine during the late summer or fall.
How To Grow Perennial Ground Covers
Most perennial ground covers well-draining soil and can survive under different pH levels, but the most suitable pH is between 6.0 and 6.5.
After putting your plant in the soil, feed it with standard plant fertilizer. For those grown outdoors, you'll need to apply fertilizer around four weeks after sprouting.
We advise you to choose organic fertilizer and feed the plant after the first blooms have occurred and died back. Firstly, you'll have to deadhead the faded flowers (see pruning tips & maintenance tips above), apply the fertilizer into the soil and water the plant thoroughly.
This deadheading activity will necessitate producing a new set of flowers in the late summer or early fall. Once the blooms are collected, allow the plants to go to seed. Since most perennial ground covers readily self-seed, you can expect their seeds to germinate, drop to the bottom to overwinter inside the soil, and display the following spring.
Remember that most perennial ground covers prefer a slightly moist condition, but not soggy; therefore, you must water them deeply every week.
Then, once every few days, you have to explore the soil moisture level by dipping your finger around one inch to check the soil's dryness before deciding whether it's time to water them again.
However, in the winter season, reduce your watering routine to once every two weeks at most. If the soil gets frost in your area, desist from watering and then commence after any snow or ice melts and is absorbed into the ground.
Essential Growing Tips to Note
· Grow your perennial ground cover in an area with full sun and well-draining soil.
· Make sure the soil stays moist but not too wet.
· Feed with fertilizer at least twice a year, once during the spring and again during the summer.
Propagation Tips for Perennial Ground Covers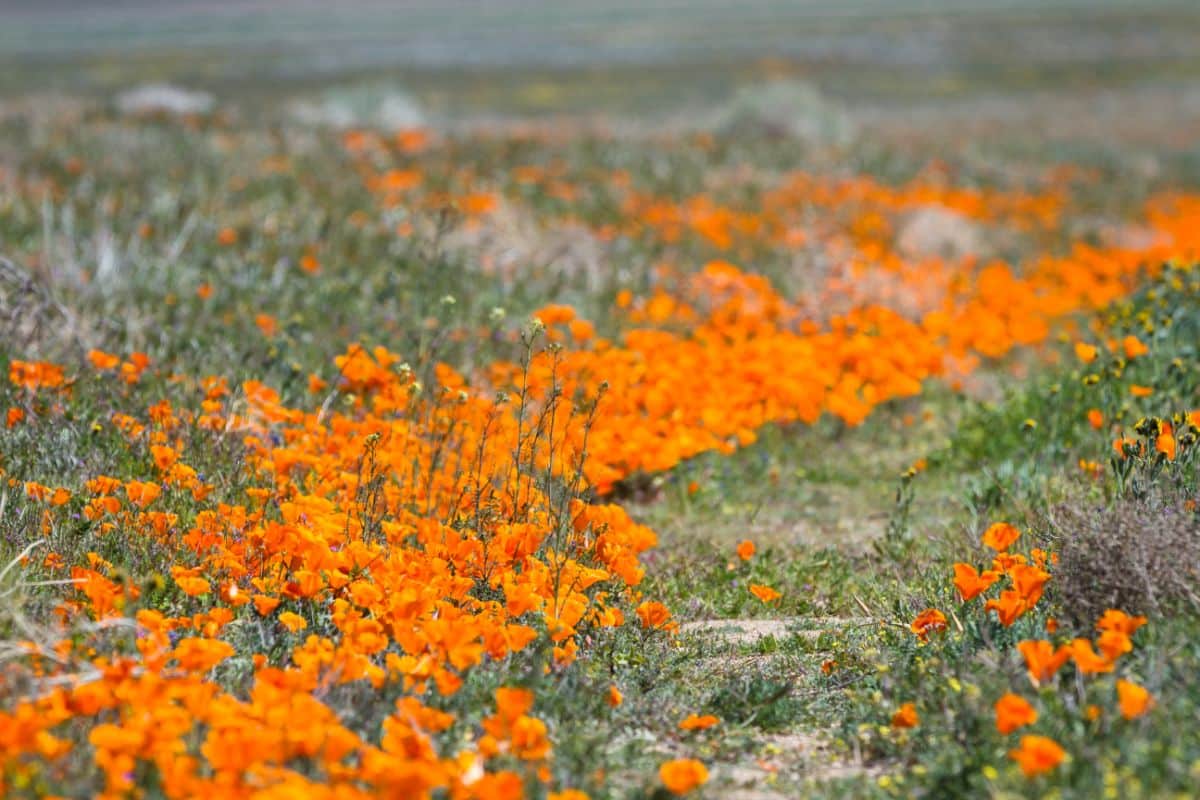 There are various ways of propagating perennial ground covers, but the best propagation methods for most perennial ground covers are through rooting softwood cuttings and sowing seeds.
If you wish to reproduce by seed method indoors, ensure you do it within six to eight weeks before your region's average final frost date.
On the other hand, if you wish to propagate your plant through the cutting method, the best time to do so is during the early summer, when new growth is soft and supple. Whichever way you choose, ensure you follow the required steps for the success of your perennial ground covers.
Transplanting Tips for Perennial Ground Covers
If you are looking to simply buy a tender plant from a nursery, or the cutting or seedling you trained, which features two or three sets of fresh, true leaves, you can transplant it to your garden or landscape through the following methods;
· Firstly, you must wait for the weather to become warm enough to make the plant stay happy and healthy.
· Immediately after your region's average final frost date is up to two weeks, you can begin to set the plant outside for one hour on the first day. Then two hours on the second day, and so on, ensure you gradually increase the time until it has spent most of its day outdoors.
· Look for an area of your garden or house that gets up to 6 or 8 hours of direct sunlight daily. Dress the soil using a cup of adequately rotted manure or compost and dig a hole that has a similar size to the root ball.
· Gently, pull out the plant from its container. You will probably need to loosen the soil away from the top of the pot with a butter knife.
· Then, install the root ball gently into the hole and backfill it with soil. Water the area as required, and sow the next plant about 6 to 8 inches away if you want a vigorous ground cover, or even 12 to 16 inches apart if possible.
Frequently Asked Questions
What is the best low-maintenance perennial ground cover?
Almost every perennial ground cover is low-maintenance, but the best includes Creeping Thyme, Checkerberry/American Wintergreen, Mondo Grass, Dragons Blood, Lady's Mantle, etc.
What is the longest blooming ground cover?
The veronica species are known for their long blooming ability, but of every veronica variety, 'Goodness Grows' is the best ground cover as it is among the lowest-growing, longest-flowering and most trusted cultivars.
What is the fastest growing perennial ground cover?
There are several rapid-growing perennial ground covers, but the fastest include Sweet Woodruff, Goldenstar, Creeping Thyme, Trailing Periwinkle, Bunchberry, Yellow Alyssum, Ice Plant, and Creeping Juniper, amongst others.
What perennial ground cover returns every year?
The perennial ground cover that comes back every year is White Stonecrop. During midsummer, it grows slender clusters of white blooms that draw butterflies. It offers all-year interest thanks to its reddish-brown leaves during the fall and winter.
What is the hardest perennial ground cover?
Almost every perennial ground cover is hardy depending on its climate, but the hardiest of them all is Lamium. In other words, under even the most intolerable conditions, Lamium still survives. Also called dead-nettles is a vining perennial that is cold, heat, drought tolerant, and resistant to deer.
Conclusion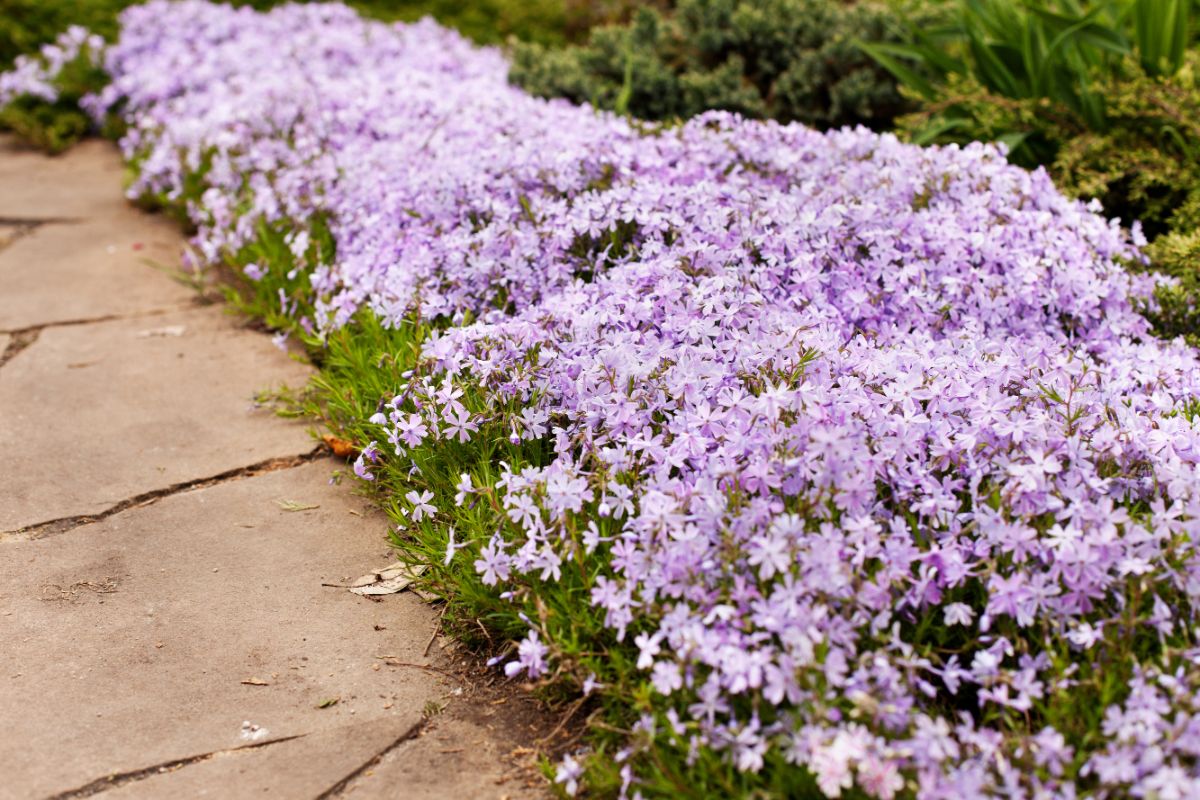 The list of perennial ground cover plants to beautify your garden goes on and on without end, but we have made things a little easier for you by cutting the list down to 25 of the very best. But one thing to note is that each of these perennials has unique features that can add elegance and attraction to any garden.
However, before you choose any plant, several key considerations must be analyzed; namely, size, sun exposure, and plant zone it is being planted. Again, you must also consider its maintenance factor and requirements based on your lifestyle.
After successfully picking your favorite, you should be sure of a stunning ground cover with attractive blooms. Happy planting!!!